Inov-8 running shoes turned things around when they hit the market, and the more than 100,000 shoe reviews show that the niche brand Inov-8 means business. The innovative shoe manufacturer has produced a wide range of running shoes that support the natural evolution of athletics.
These running shoes are designed for numerous purposes such as:
Mountaineering
Fell running
Track racing
Cross training
Obstacle course racing
Trail running
Fitness
Weightlifting
Inov-8 running shoes come in a variety of sizes and are available for men, women, and children, each of which comes with an exceptional blend of performance and protection. Inov-8 running shoes are minimal but very functional, lightweight, thus allowing for better flexibility for the committed runner.
Inov-8 running shoes are developed and designed to adapt to diverse environments and are used by elite athletes who engage in different disciplines.
The resourceful team behind this niche shoe brand is fervent about anything related to running, and this passion drives them to continue researching and producing new features as well as better technologies to keep their footwear supportive and reliable.
Athletes and runners trust Inov-8 and its collection of high-performance running shoes.
The brand's range of shoes has been talked about for years, and there is no sign that it will change soon.
How Inov-8 Running Shoes Make You A Better And Flexible Runner
If your goal is to improve your natural running movement, you need a minimal and lightweight platform that will protect your feet while bringing them closer to the ground. The niche shoe brand has low drop running shoes which can be an excellent investment for you. The minimal structure of this footwear will not get in the way of your natural range dynamics. Inov-8 minimalist running shoes possess the same features but with extra cushioning.
There is a guaranteed improvement in performance and speed for users that race with Inov8 running shoes. This is because these athletic pair comes with state-of-the-art racing technologies that will keep you highly protected from irregularities of the track or trail as well as shock forces.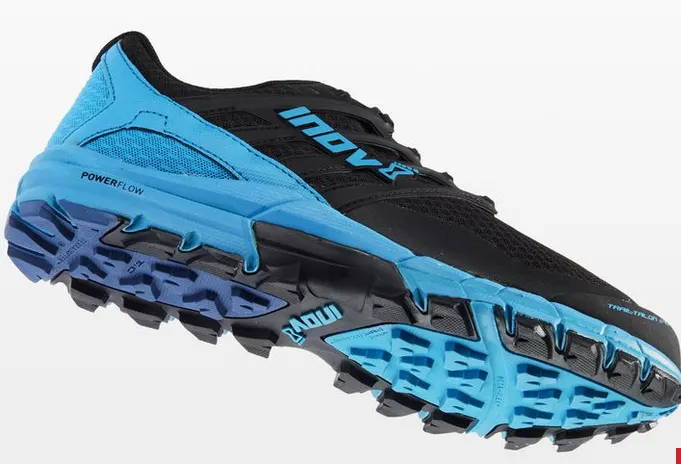 Inov-8 stability shoes, as well as Inov-8 motion control shoes, help with pronation control. If you are an overpronator or suffer acute pronation, you should consider investing in these Inov-8 models of shoes for proper cushioning, support, and gait correction. Neutral pronators, as well as underpronators, can both go for Inov-8 neutral shoes for natural fit, comfort, and flexibility and enjoy the wonders this footwear offer.
Runners usually run on the track, trail or both. Inventive footwear from the niche shoe brand Inov-8 provides the protection, performance, and comfort you need when running on rugged terrain. These running shoes also feature shock attenuation properties, support, and comfort that you need to overcome miles of pavement.
Inov8 Running Shoes and Why They Are Popular Among Athletes
Inov-8 running shoes have gained immense popularity based on the following attributes:
Footwear technology
The best Inov-8 running shoes are created with state-of-the-art innovations and top-quality materials.
The Inov8 brand makes use of 5 different outsole compounds – namely Sticky, Fusion, Dual-C, and Tri-C.
These outsole compounds – which make up the outsole technology from this remarkable shoe brand – are employed for different outsole categories such as Tri & Road and Functional Fitness, and Off-Road.
Fit technologies come in two varieties: the Precision Fit and Standard Fit.
Finally, the Arrow Shoc Zone is the Inov8 shoe brand's highly developed cushioning technology.
It features different heel to toe drops, i.e., 9mm, 6mm, 3mm, and zero drops.
Pricing
Inov8 has a wide variety of running shoe models that are suitable for entry-level as well as advanced runners alike.
So, whichever category you fall in, you can be sure that there is a pair of Inov-8 running shoes that are appropriate for your fitness routine and geared to enhance your running performance.
The price range of the best Inov-8 running shoes is from $90 to $170. Inov-8 trail running shoes may slightly be more expensive than the latter since the niche shoe brand's focus is on developing their varied range of off-road running collections.
Popularity
The niche shoe brand, Inov-8 is known to produce and showcase some of the best running shoe offering for off-road runners.
However, in spite of creating the bulk of their running shoes in the off-road running category, Inov8 has gone out of its way to offer a lot of different footwear in other running categories such as minimalist and track running.
Renowned running authorities such as Runner's World, Outside Magazine, and Trail Runner are keener than ever to discover new releases from the niche shoe brand, thanks to the numerous awards and high ratings that Inov8 has garnered over the years. Some of the awards or accolades showered on the Inov-8 shoe brand are "Best Trail Shoes" and "Editor's Choice."
Best Inov-8 Running Shoes
Since they were founded in 2003, Inov-8 has risen quickly to the top in the athletic shoe producing industry and has made a name for itself as one of the most prominent manufacturers in that niche today.
The Inov-8 Company's objective is to ensure that every athlete's experience when roughing it out in the wilderness is nothing but positive.
This is the primary reason why the niche shoe brand has gone ahead to create innovative footwear that can endure tree roots, rocks, roads, rain, and trails.
Now, athletes can get their run done with an effective and simple shoe that is relatively affordable.
Do you want to learn more? Check out the following list of the best Inov-8 running shoes in the market today:
The Inov-8 Parkclaw 275 comes in a variety of stylish colors and is very affordable. Past users have confirmed that the footwear provides exceptional grip, thus keeping you comfortable – on the trails as well as on the road – throughout the entirety of your run.
The Inov-8 Parkclaw 275 is versatile and can be used virtually everywhere. It is highly breathable, thanks to the high-quality mesh upper.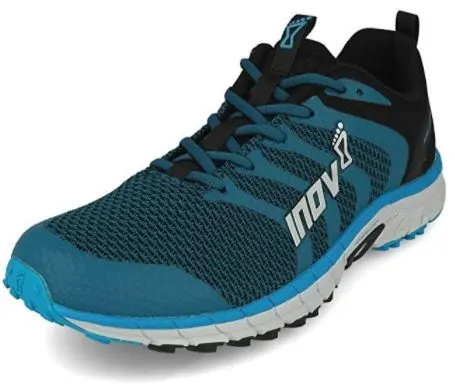 The Parkclaw 275 also provides great shock absorption capabilities and are very lightweight, thus allowing for natural movement.
The Inov-8 Parkclaw 275 comes with perfectly engineered rubber soles that enhance its durability and longevity.
They are available at a pretty good price, though this depends significantly on the color you decide to go with.
Pros
Durable
Shock absorbent
Breathable
Lightweight
Flexible
Comfortable
Lightly cushioned
Cons
Sizes vary
Different color comes with different and pricier tags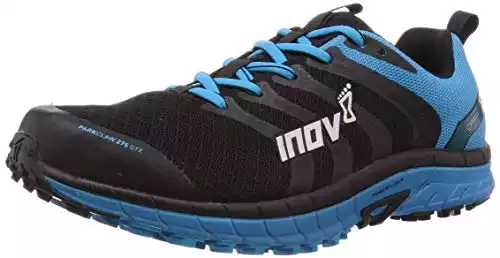 Inov-8 Parkclaw 275 | Amazon
This versatile shoe is perfect for runners wanting to run on paths and trails, or those looking to make a transition from road running to trail running.
Buy at Amazon.com
We earn a commission if you click this link and make a purchase at no additional cost to you.
02/08/2023 01:15 am GMT
The Inov-8 Road Claw 275 is one of the most comfortable running shoes in the world and from the stable of the niche brand.
It is sturdy enough to absorb shock on rough roads and provides excellent traction.  
This footwear has stepped up in performance and features, way more than its previous model which also enjoyed immense recognition and acceptance.
The Inov-8 Road Claw 275 is a stable and comfortable running shoe that showcases several holes that permit the inflow of air to promote breathability.
The midsole has underfoot protection explicitly designed to absorb shock when your feet strike the ground as you run.
The Inov-8 Road Claw 275 is built to weather all road conditions without showing any signs of wear.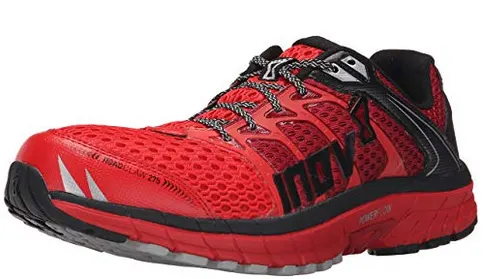 Since the Inov-8 Road Claw 275 was introduced into the community, no runner has come forward with a review about wear and tear.
This is because this Inov-8 running shoe is highly durable. The running footwear allows runners to have a firm grip on the road, thanks to its claw-cleat lug design that enhances traction.
The outsole is also very durable, and the addition of TRI-C – which provides solid traction/grip as you move through your gait cycles – make the combination so remarkable that the Inov-8 Road Claw 275 is touted as the leading footwear for all types of running.
The upper of the Road Claw holds your foot securely, thanks to the intricately woven fabric in the upper for the mid-foot section.
The Road Claw 275 is somewhat pricey, but pundits opine that they are worth the money spent.
Pros
Breathable
Comfortable
Shock absorbent
Durable
Traction
Wide toe box
Stability
 Cons
May feel burdensome to some extent
Sizes usually run small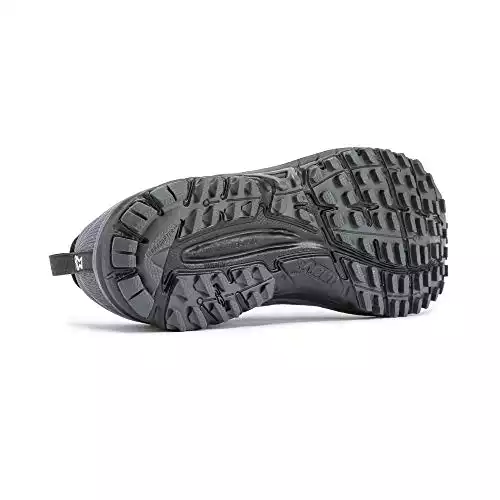 Inov-8 Parkclaw 275 V2 | Amazon
The shoe has a spacious toe box that allows extra room for foot splay and toe wiggle, helping to aid with comfort and stability on longer trail runs where your feet would naturally begin to swell.
Buy for Men
Buy for Women
We earn a commission if you click this link and make a purchase at no additional cost to you.
The X-Talon 212 is one of the successful training and racing shoes in the market today with an excellent grip on loose terrain.
The footwear is very stylish and made of top-quality materials.
The Inov-8 X-Talon 212 does not weigh more than 212 grams, making it one of the most lightweight footwear out there today.
It is this remarkable feature that allows runners to be quicker and faster in their movements.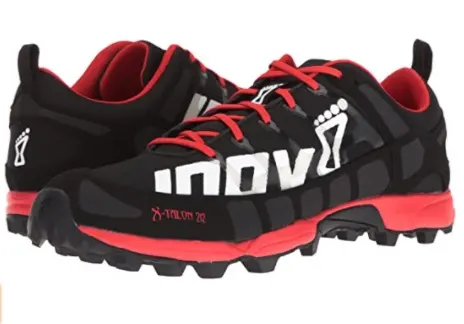 The thin sole of this impressive footwear came in at 16mm in the sole and 22mm in the heel, thus ensuring runners are close enough to the ground without sacrificing protection, thanks to the 8mm lugs.
Additional security is guaranteed as a result of the use of synthetic mesh and Met-Cradle webbing without compromising excellent ventilation.
These lugs engender stability in any rough terrain, thus giving the X-Talon 212 that ability to hold up on rocks, trails as well as extreme courses.
This running shoe washes very clean even after getting caked in mud and will accompany you on many of your forays into the wilderness.
Though the Inov-8 X-Talon 212 costs somewhere northwards of $100, the positive reviews it has garnered over the years indicates that the footwear is worth the money.
Without any doubt, the X-Talon 212 is a protective and highly flexible running shoe for athletes who think nothing of roughing it up in the wild as they embark on running adventures.
Pros
Extremely lightweight
Flexible
Sticky outsole
Water repellent
Precision Fit
Responsive
Minimalist style with a focus on the essentials
Injected with EVA sole, thereby enhancing comfort
The heel is just 6mm
8mm lugs for optimum tractions
Versatile
Cons
Minimal cushioning may be slightly inadequate
Soft rubber soles have the potential to wear out faster than the hard-endurance type of sole
More suitable for runners with narrow feet
Overall durability could be improved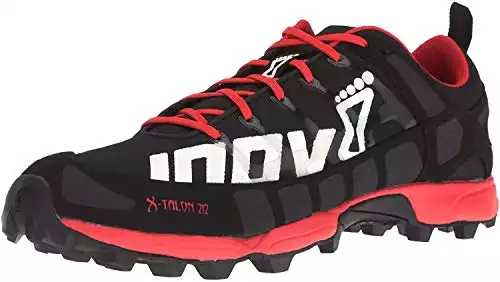 Inov-8 X-Talon 212 | Amazon
The classic, flexible, lightweight racing shoe delivers excellent grip over soft or extreme terrain and is super-fast on dry trails too. An off-road running legend that's done it all. Popular for both racing and training, this responsive yet protective shoe continues to leave footprints on all terrains across the world.
Buy for Men
Buy for Women
We earn a commission if you click this link and make a purchase at no additional cost to you.
02/07/2023 08:44 pm GMT
If you want great and affordable running shoes that will help you perform optimally when running, then all you need to do is to pick up a pair of sleek and fast Inov-8 Roclite 290 running shoes.
The Inov-8 Roclite 290 comes in a variety of stylish colors and are breathable as well as comfortable for every runner.
The Inov-8 Roclite 290 is lightweight, sleek, and its 4mm drop makes it a favorite among runners.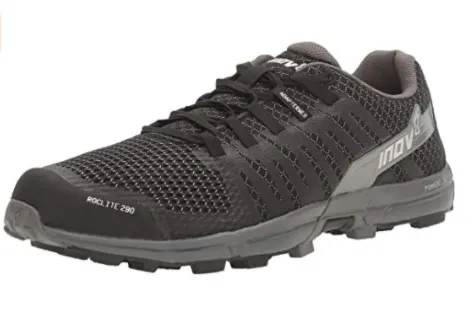 The footwear is highly responsive and extremely flexible, thereby giving you the energy returns required during your runs.
The Roclite 290' durability is unquestionable as it is built to last, thanks to the use of 3 sticky rubber compounds.
They are one of the most affordable footwear from the niche brand Inov-8 and have continued to garner positive ratings and reviews from customers who swear that it is worth more than the price tag.
Pros
Breathable
Responsive
Durable
Flexible
There are a variety of stylish colors to choose from
Lightweight
Comfortable
Suitable for multiple terrain surfaces
Energy efficiency is top notch
Perfect for fast-paced trail runners
Cons
Sizing is entirely off
Simple design makes it unattractive
Some specific areas lack adequate protection
Somewhat too narrow, causing runners with wide feet to steer clear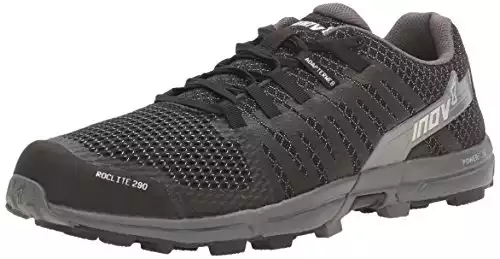 Inov-8 Roclite 290 Trail Running Shoes | Amazon
Our lightest, most flexible ROCLITE shoe is designed for running quickly over multi terrains. Delivering a responsive ride and high levels of durability, it's perfect for moving fast and with confidence over everything from wet mountain rock to muddy grass, hard-packed trails and roads.
Buy for Men
Buy for Women
We earn a commission if you click this link and make a purchase at no additional cost to you.
02/07/2023 09:40 pm GMT
The Inov-8 Trailtalon 290 is another highly affordable option for runners without looking bulky yet highly impressive.
This excellent running shoe is excellent for running on trails without showing any signs of wear or tear in any way.
This comfortable running shoe is also breathable, thanks to the upper that is designed with mesh.
The Inov-8 Trailtalon 290 is one of the best options for long-distance runners and will keep you comfortable as you eat up the miles.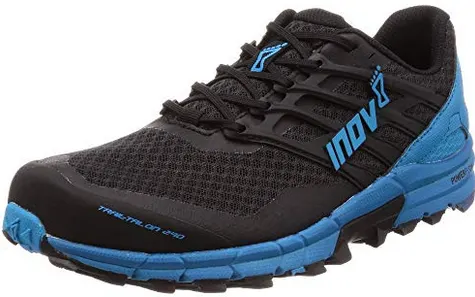 The durable soles of the Inov-8 Trailtalon 290 are built to last, and the overall durability of this ingenious creation from the niche shoe brand is indisputable.
They are also available in a variety of colors, so there is definitely one for you, too!
Pros
Excellent traction
Designed for long-distance running
Breathable
Durable
Comfortable
Available in several color options
 Cons
Inov-8 Trailtalon 290 | Amazon
Enjoy a trifecta of peak performance, rock protection, and smooth cushion as you pass your expectations and take in the mountain top view. Soar higher and fly through trails in the Men's Inov-8 TrailTalon 290. 
Buy for Men
Buy for Women
We earn a commission if you click this link and make a purchase at no additional cost to you.
Are you planning to run an ultramarathon or need to really get dirty in your next mud run without impediments?
That's right; you need a pair of running shoes that can endure all that and more, and there is no better one than the Inov-8 Trailroc 285.
The Inov-8 brand does not joke with comfort in any of its line of running shoes which is why the Trailroc 285 comes highly responsive and well-cushioned to take on external forces without breaking down.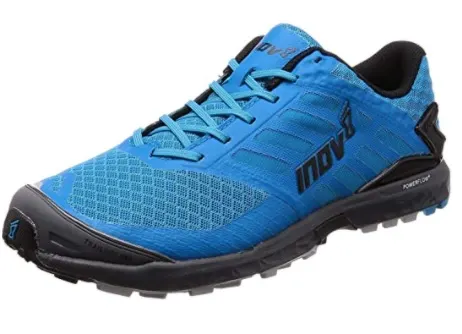 These running shoes provide adequate support and stability, yet protective and extremely lightweight.
The Inov-8 Trailroc 285 is fitted with sticky rubber soles which enhance its durability. These remarkable running shoes are exclusively designed for long distance hardcore running, so they are innovatively built to last.
The Inov-8 Trailroc 285 is surprisingly affordable, and you should have no problem grabbing one off the racks or online soon enough.
Pros
Breathable
Relatively affordable
Great grip and traction
Well-cushioned and highly responsive
Excellent choice for long-distance running
Cons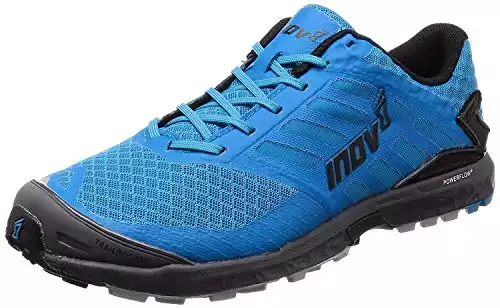 The Inov-8 Terraclaw 220 is a remarkably comfortable trail running shoe that is designed for tackling soft trail surfaces.
The lugs and grippy outsoles – which shed off wet mud quickly – are its most impressive features.
When the running shoe sheds off excess mud, you can continue to enjoy your run while keeping your pace.
The shock zone technology, as well as the midsole cushioning, provides users with excellent rebound.
The upper unit of the Inov-8 Terraclaw 220 utilizes durable synthetic mesh materials that you can hardly find in any other running shoe.
The fabric – in addition to providing proper ventilation – is strong enough to withstand wear and abrasions even after running hundreds of mile.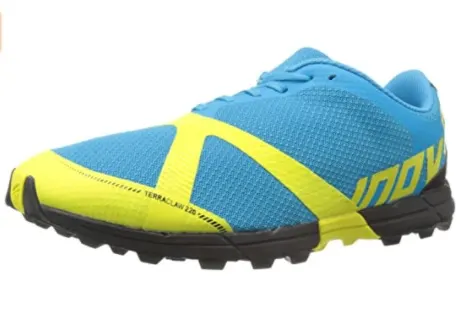 A synthetic leather band is added at the front of the running shoes by the Inov-8 brand to boost or strengthen the durability of the upper mesh.
The synthetic leather rand's purpose is to prevent injury significantly when a runner bumps accidentally into sharp rocks.
The toe box of the Inov-8 Terraclaw 220 is also very roomy and protected with the X-lock overlays.
It is moderately wide enough to prevent injury when you hit a rock as you run downhill. The heel unit is relatively cushioned, thus preventing chaffing.
The diagonally-stitched tongue, as well as the lacing system, prevent debris and dirt from coming into the main foot chamber while ensuring your foot is secure and safe.
The Inov-8 Terraclaw 220 also has a reasonably snug fit that is suitable for trail running shoes.
A generous quantity of compression molded EVA is loaded into the midsole of the Inov-8 Terraclaw 220, thus giving users a firm ride which is essential for improving responsiveness and performance as they run on sandy, muddy, and soft ground.
This is what the Terraclaw 220 was specifically designed for, even though they can be used on hard surfaces as well.
Pros
Close-fit
Responsive
Excellent protection
Spacious toe box
Exceptional grip
Breathable
Adequate support
Durable
Energy efficient
Cons
Color options are severely limited
Somewhat expensive
Not suitable for terrain with pointed and sharp rocks due to the absence of hard rock plates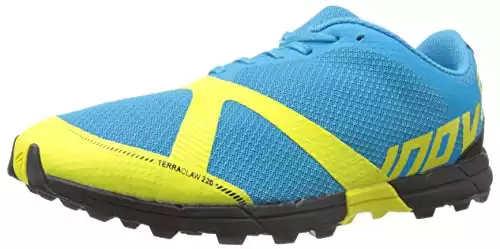 Inov-8 Terraclaw 220 | Amazon
From single-track to steep descents, the Terraclaw performs on the widest range of trails imaginable. Our unique lug design releases debris and grit like no other, delivering optimum grip with every footstrike. 
Buy for Men
Buy for Women
We earn a commission if you click this link and make a purchase at no additional cost to you.
02/07/2023 07:15 pm GMT
The Inov-8 Mudclaw 300 is another remarkable trail running shoe with excellent grip with each step that you take, especially on slippery, muddy or soft terrain.
The aggressive, specially-designed studs on this innovative product provide enough traction on soft ground, thus effectively preventing mud from sticking to the soles.
Every runner is guaranteed to enjoy protection and durability when they use the Inov-8 Mudclaw 300 trail running shoes.
The upper unit of the Mudclaw 300 is covered with synthetic, yet breathable mesh material.
The synthetic mesh material is also incredibly lightweight such that the airflow into the foot chamber that cools your foot and keeps it dry is highly superior.
In addition to this, the unit also provides exceptional protection for your foot against debris, mud, and sand.
The gusseted tong also prevents dirt from gaining access to the interior chamber of the footwear.
There is also a Met Cradle in this section that offers a secure fit along with additional forefoot support.
The lacing system of the Inov-8 Mudclaw 300 which utilizes the niche shoe brand's traditional nylon lacing support ensures the footwear fits your foot snugly without compromising comfort.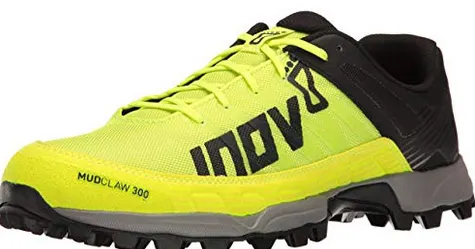 The new Inov-8 Mudclaw 300 also comes with an intuitive stitched rand at the base of the footwear.
This effectively replaces the bonded version that was prevalent in the previous models. The stitched is in place to offer protection from gritstone boulders and abrasive surfaces that runners encounter on numerous trails.
The pattern of the heel collar in the new Mudclaw 300 has also been modified and re-designed for a secure fit and extra comfort.
The heel cup has a less rounded shape which does not extend as high up as those in the previous models.
The midsole of the Inov-8 Mudclaw 300 is packed with numerous technologies such as the 2-arro Shoc Zone that provides ample underfoot cushioning which allows runners to keep running after stepping on uneven, pointed or sharp surfaces.
The traditional EVA midsole foam which covers the entire length of the Mudclaw 300 running shoes from heel to the toe box area is another remarkable technology that sets the Inov-8 shoe brand apart from others in the industry.
The toe bumper provides exceptional protection that prevents your foot from experiencing damages and bruises while running on rugged trails.
The midsole this Inov-8 running shoe has a flat shape as against the curved shape favored in the previous versions.
Pros
Durable
Flexible
Water repellent
Protection from debris and dirt
Secure fit
Exceptional grip
Eye-catching design
Cons
Size may run small
Arch support is inadequate according to users with flat feet
Inadequate traction on wet surfaces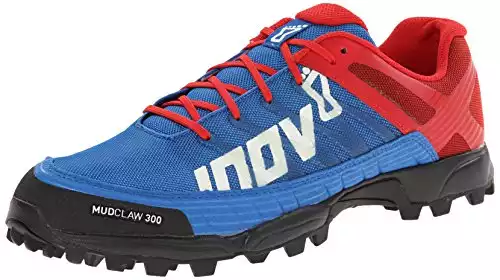 Inov-8 Mudclaw 300 Trail Running Shoe | Amazon
Inov-8 designs its athletic gear to meet the demands of various environments and terrains at a peak level of performance. The comfort and durability of inov-8 products are what make this brand a top-quality choice for the high-performance athlete and the recreational user alike.
Buy for Men
Buy for Women
We earn a commission if you click this link and make a purchase at no additional cost to you.
The Inov-8 Race Ultra 290 is designed specifically for the Ultrarunner. It has a significant amount of support and cushioning than other running shoes from the niche shoe brand, Inov-8. It is also an excellent option for long distance running.
The upper unit of the Inov-8 Race Ultra 290 is built with a synthetic, soft mesh for superb breathability and for keeping dirt or debris out when you run on dusty and dry trails.
Coming in rough contact with pointed objects such as rocks shows no sign of wear or abrasion along the upper midsole junctions.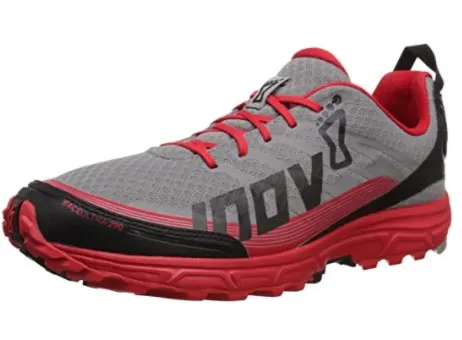 The Race Ultra 290 running shoes come with reinforced toe bumpers that dovetail into the rand; its purpose is to improve protection from roots, rocks, and brushes. Runners with the Inov-8 gaiter can add it to the lateral or medial section of the rand.
The Inov-8 Race Ultra 290 also comes with a gusseted, padded tongue as well as a secure lacing system which keeps dust and dirt out of your running shoes without sacrificing comfort. If you tie the laces correctly, they will remain that way till the end of your run.
The toe box is roomy, and this helps in protecting your foot from unexpected injury. The lacing system, as well as the overlays, is attached for enhanced stability.
Pros
Odor-free
Breathable
Effective protection
Good traction and grip
Special gaiters
Efficient mud shedding
Flexible
Cons
Somewhat narrow in the forefoot area
Unsuitable for runners with wide feet
A few runners prefer the products have more flexible midsoles
Extra weight added because of the additional cushioning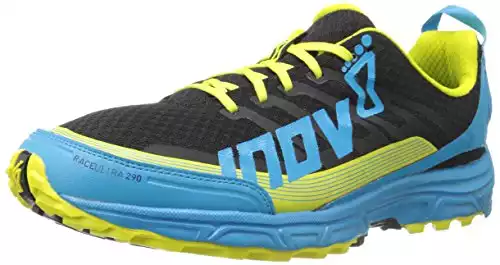 Inov-8 Race Ultra 290 | Amazon
The ultimate shoe for running limitless miles over hardpack trails, the award-winning Race Ultra series brings comfort, protection, grip, and debris-free running with integrated gaiter options (gaiter sold separately).
Buy for Men
Buy for Women
We earn a commission if you click this link and make a purchase at no additional cost to you.
The Yardstick for Evaluating Inov8 Running Shoes
Materials
Some running shoe manufacturers are only good at making a pair of athletic footwear look good and stylish but make use of inferior or low-quality materials in constructing them.
When inferior materials are used in creating running shoes, it exposes the user to injury which could be debilitating, thus leading to profound disappointment and lack of trust in the brand.
This occurs because the poor-quality running shoe cannot withstand the ruggedness or roughness of the terrain, thereby falling apart shamelessly.
Inov-8 makes use of top-quality materials in the construction of their line of running shoes.
These materials were rigorously tested by checking the longevity, protection factor, durability, stability, and comfort. These materials passed the tests flawlessly.
Durability
Durability is a very crucial aspect of running shoes that must not be taken for granted. It has to do with evaluating the quality of the footwear based on the design as well as the material that is used in creating the innovative product.
When evaluating the durable aspect of Inov-8 running shoes, the following questions were taken into consideration:
Are the materials used in making the running shoe durable? Yes, they are.
Can these running shoes withstand challenges or barrel through them while running rugged terrains in any weather condition? Yes, they can.
Style
The style is another vital aspect that shoe manufacturers take very seriously when it comes to the design of modern casual or athletic shoes.
The majority of companies out there value the overall outlook of the final product compared to its predecessors.
Therefore, to market a pair of running shoes properly, "style" contributes to the persuasion aspect of marketing and will go a long way in assuring customers to purchase your product.
Since Inov-8 makes some really awesome and stylish running shoes that come in various sizes, shapes, and colors, this criterion was also checked and the niche shoe brand passed in flying colors.
Value
Evaluating a brand is nothing if pricing is not part of the criteria used for the product. When every feature of an impressive pair of running shoes has been checked, the last thing that usually follows is the price.
The primary reason why people go ahead to purchase expensive, stylish and durable running shoes is that they are knowledgeable or up to date about the quality of the footwear as against buying one that is devoid of stunning features cheaply.
Pricing also inherently informs the consumer how good a product is.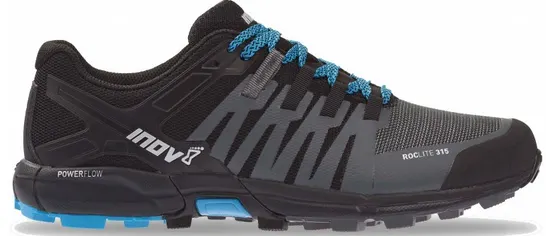 Frequently Asked Questions for Inov8 Running Shoes
Question: I'm a beginner: what season is the best for trail running?
Answer: Seasons come in variations; some runners like it cold while some like it hot. So, it depends mostly on what you want. Do you love hitting dry and dusty trails or do you enjoy running on snow? Or maybe you're a firm-surface runner; it all depends on you.
Question: What lug size is best for trail running?
Answer: Durable lugs come in different shapes as well as sizes and are designed for different surfaces. Therefore, the size of the lugs that come with your preferred Inov8 running shoes will be determined by which surface you intend to use them on.
Question: Is it true that minimalist running shoes are the best choice?
Answer: Again, this depends significantly on what independent runners are looking for, so there is no set answer for this question.
Question: Do the soles of Inov-8 running shoes come with stabilizing assertive tech, shockproof attributes, and comfort?
Answer: Yes, every running shoe from the niche brand comes fitted with most of these qualities since the major aim of Invov-8 is to make running an enjoyable experience for every runner.
Question: Is there any tech that is uniquely designed into Inov-8 running shoes to provide stability and comfort for the foot arch?
Answer: Yes, there are several state-of-the-art techs created or developed – or partnered with – by Inov-8 to provide maximum stability and comfort. The following innovations are employed in the outsole regions, and they include:
•Tri-C
•Dual-C
•Sticky
•Endurance
•Fusion
Arrow Shoc Zone is the niche shoe brand's remarkable cushioning technology and features varied heel to toe drops, i.e., zero, 9mm, 3mm, and 6mm drop.
Conclusion
In conclusion, Inov-8 shoes are top-of-the-line running shoes that deliver serious performance and comfort.
We have really enjoyed using our Inov-8 shoes and we recommend every shoe listed above. Do you use Inov-8 shoes? If so, what pair do you use? We would love to hear from you!