If you're in the market for a new pair of gray shoes, we may have you covered in this guide to the best gray New Balance shoes. I'll look at why gray is a trending color this season and the many benefits of buying from the New Balance brand.
In addition, I will discuss all of the things to look out for when buying a new pair of shoes to ensure you make the correct purchasing discussion. I'm going to be mainly concentrating on Joe's New Balance Outlet, as I have found this website to have some of the most significant financial savings around and an excellent range of gray shoes!
However, I have also included a couple of pairs from elsewhere – including, Amazon. This is because we know you can get great shoes from Amazon.
My Bottom Line up Front
For Men, my top pick is the Men's Lerato; although an expensive pair, they are super durable with great longevity. My favorite pair of women's gray New Balance shoes are the Women's Fresh Foam 880v10; I found these to offer exceptional comfort all day long!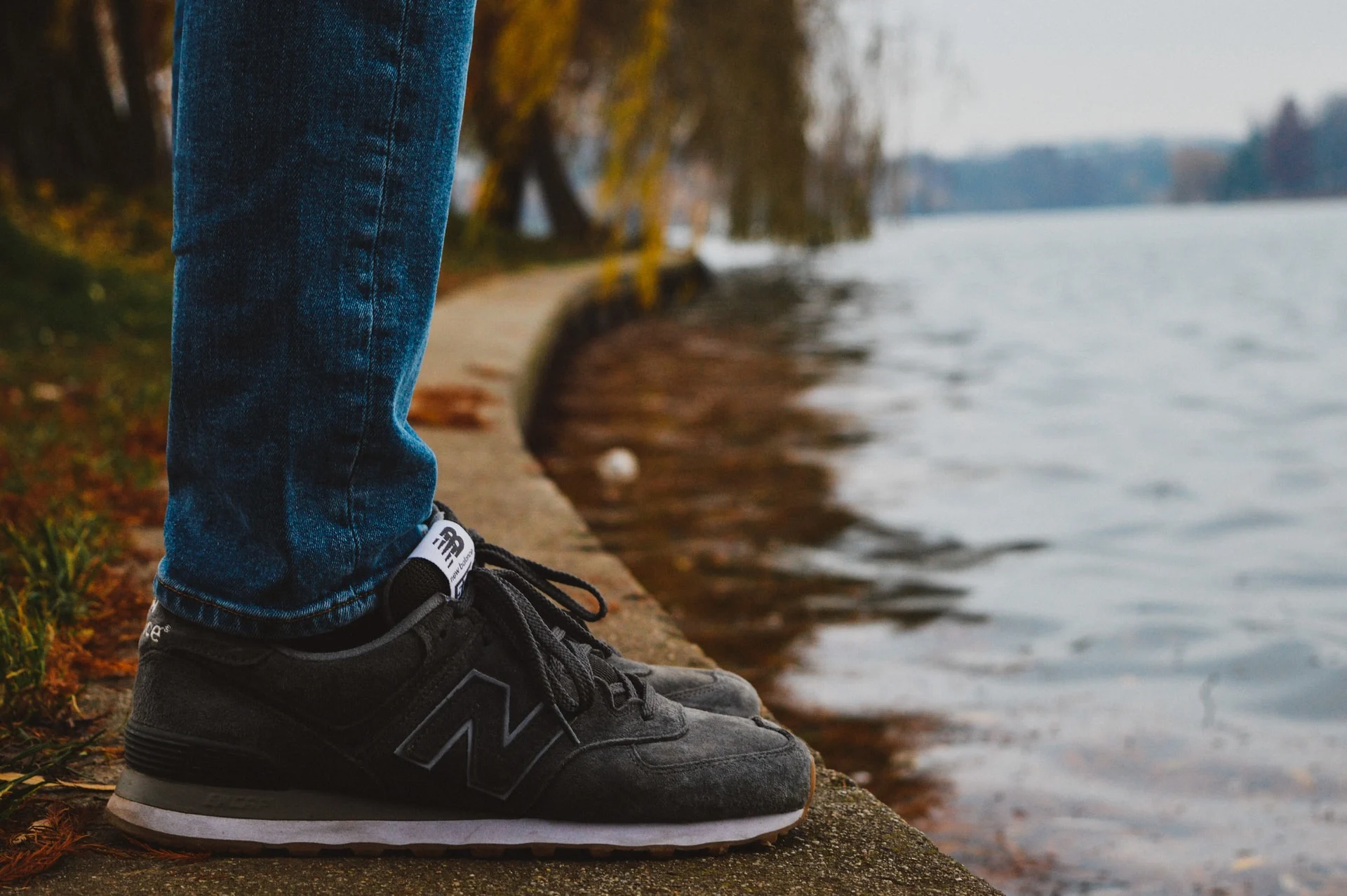 At a Glance: 10 Best Gray New Balance Shoes
For Women
For Men
Why New Balance?
New Balance is an all-American brand that has over 100-years of experience in footwear. This is an innovative company striving for environmentally-friendly products and is a founding member of the Sustainable Apparel Coalition.
When it comes to quality, New Balance shoes rival more expensive brands such as Nike and Adidas, but their prices are much more wallet-friendly. This is especially true when purchasing New Balance shoes through Joe's New Balance Outlet, where genuine savings of up to 70% can be made.
While you can buy from Joe's New Balance Outlet or the official New Balance Online Store, you can also purchase the brand's shoes on Amazon. If you're a Prime Amazon member, you can have your shoes the very next day, plus there is free shipping and free returns available.
Why New Balance Takeaway: High quality and affordable.
Benefits of Gray Shoes
Gray is a trend we can't avoid. From gray walls and flooring to soft furnishings, hair color, and clothing, gray is a color choice that is literally everywhere at the moment. So, why not on your feet, too?
Traditionally, gray as a color choice for shoes may have been overlooked or considered conservative office wear. But, this color of in-between black and white can be a stylish alternative to more outdated color choices and provide a well-needed pop of color to a variety of otherwise drab outfits.
Gray can actually complement most outfits and works well with a range of colors. Check out this guide to gray color schemes, and although focused on interiors, it gives the general idea of where gray sits on the color wheel.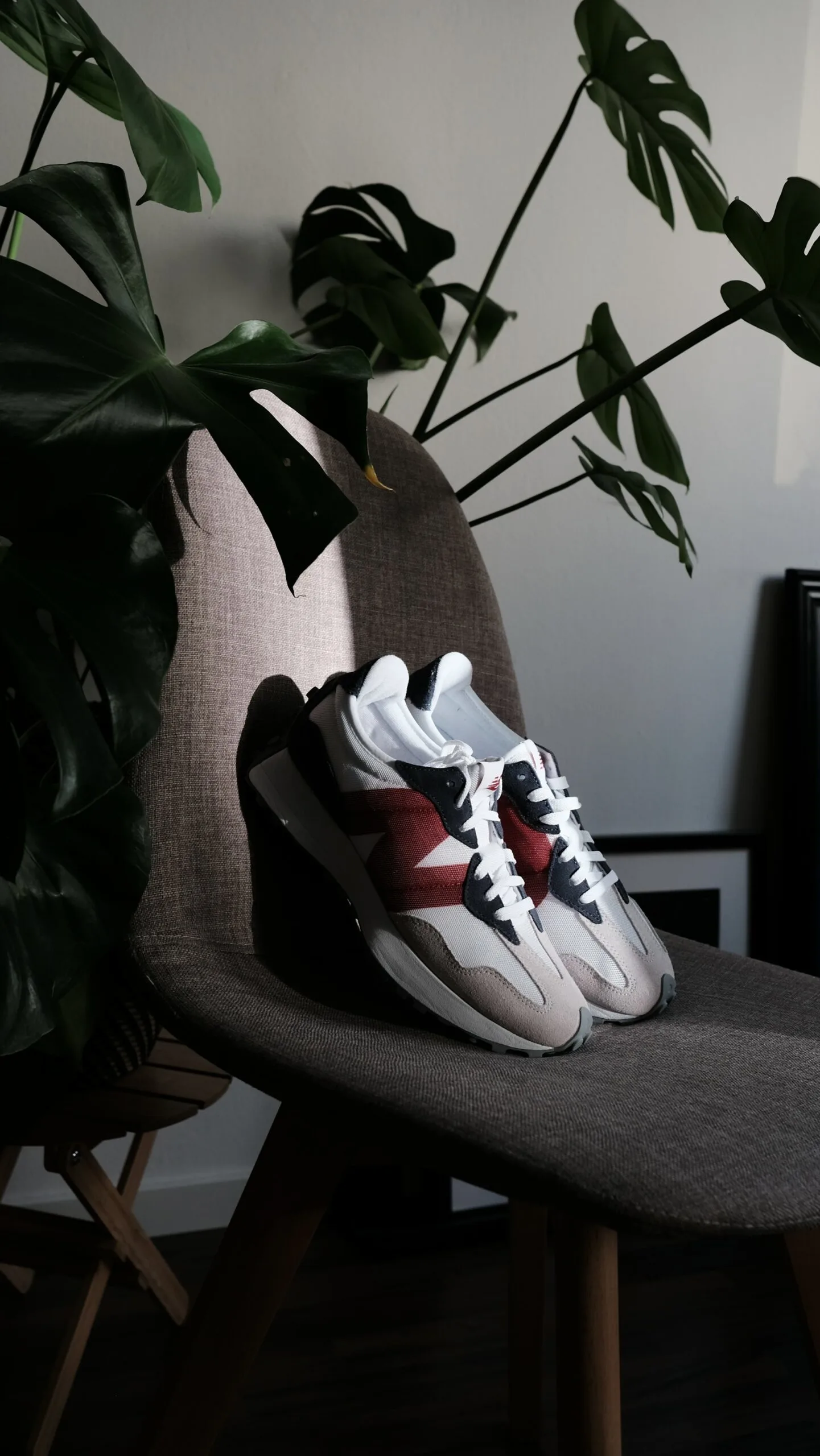 Buyers Guide to Gray New Balance Shoes
To still be with me at this point, it is likely that you are considering gray shoes and you're interested in New Balance shoes. While this makes shopping for gray New Balance shoes more straightforward, there are still some things to consider when choosing the right shoes for you.
These are as follows:
The Activity
The biggest consideration, and easiest way to eliminate ranges of shoes, is to look for the shoes that are suitable for your requirement. This could be trail running, training, walking, or simply everyday shoes, all of which will have their own set of criteria.
The Material
The material of a pair of shoes is so important, and certainly something to look for when going on this shopping venture. If you're planning on doing a lot of running in a warm climate, you're going to want shoes that are highly breathable and allow good ventilation. Conversely, if you're off on a hike, you will need a firm and supportive shoe that's extremely durable.
It may be that you suffer from back pain or flat feet and need shoes with material that will accommodate these conditions.
The Financial Outlay
How much you have to spend on a pair of shoes restricts the process, and shoes are certainly not something to get into debt for. However, New Balance tends to have a mid-range price point, and there are some shoes by this brand that are eligible for Medicare reimbursement. So, New Balance is definitely not a brand to rule out based on price alone.
My advice would be to consider how much the shoes will enrich your life and how you can justify the financial outlay.
My Product Criteria
When researching gray New Balance shoes, I had some requirements before settling on any shoe to look into further.
These were as follows:
Variety
New Balance is commonly associated with running shoes and sneakers, but its range is more than this. I explored each category thoroughly to find what I believed to be the best gray shoe there. That shoe was then fully explored by me!
Price
I wanted to ensure that all readers could find a reasonably priced shoe in this guide. I likewise wanted to be able to recommend shoes with Medicare qualifications. Once these were found, I looked into whether I found the prices justified. When all this was done, I had my gray New Balance shoes shortlist.
Quality
New Balance is known for its top-notch shoes and fitness clothing, so it wasn't difficult to find good quality in the shoes I checked out. From insoles to bands and outsoles to coating, I examined the shoes thoroughly, guaranteeing hands down the absolute best made it into my guide.
Reviews
Online reviews are your best asset when looking to buy any product on the internet. The shoes I have chosen have good, accessible feedback in various places online.
My 10 Best Gray New Balance Shoes
For Women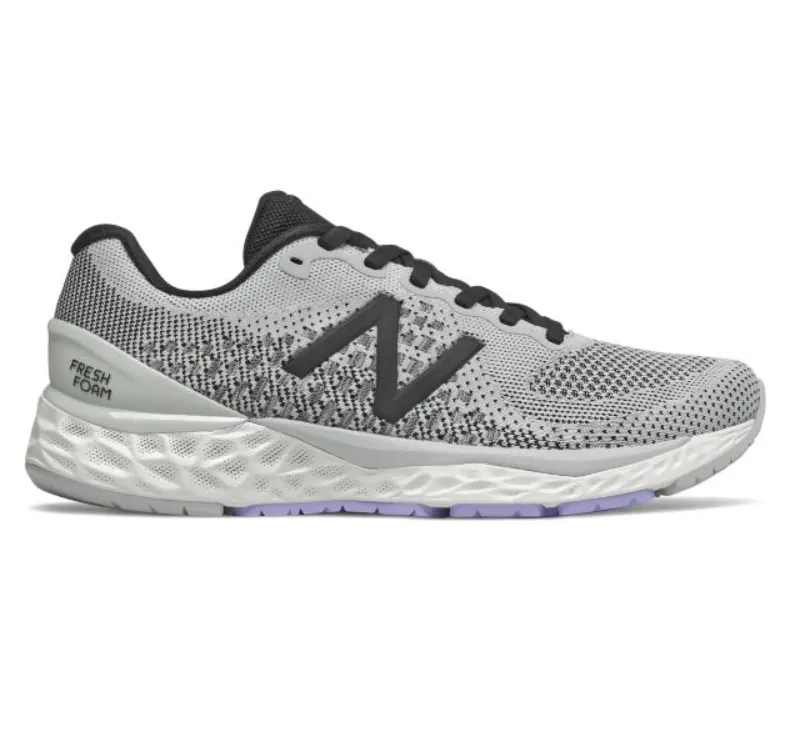 The Women's Fresh Foam 880v10 is one of the most comfortable shoes I have ever found; you can wear them all day long and experience no foot discomfort. They almost create a second-skin feel and adapt to your feet like a favorite pair of slippers, yet perform exceptionally well throughout various activities.
The shoes offer excellent support with premium underfoot cushioning, they're moisture-wicking, and they look on-trend! At Joe's New Balance Outlet, the 880v10 are available in sizes 5 to 13. If you're not fully taken with this, I find them comparable to the New Balance Fresh Foam 1080 v8, which you may want to check out.
In addition to their exceptional comfort, the 880v10 are highly breathable and leave you cool and dry. I found them incredibly lightweight, and I love the eye-catching geometries and shock of lilac on the undersole. However, these are not budget-friendly picks and may not be worth the financial outlay to everyone.
Pros
Exceptional Comfort
Stylish Design
Lightweight
Breathable
Durable
Cons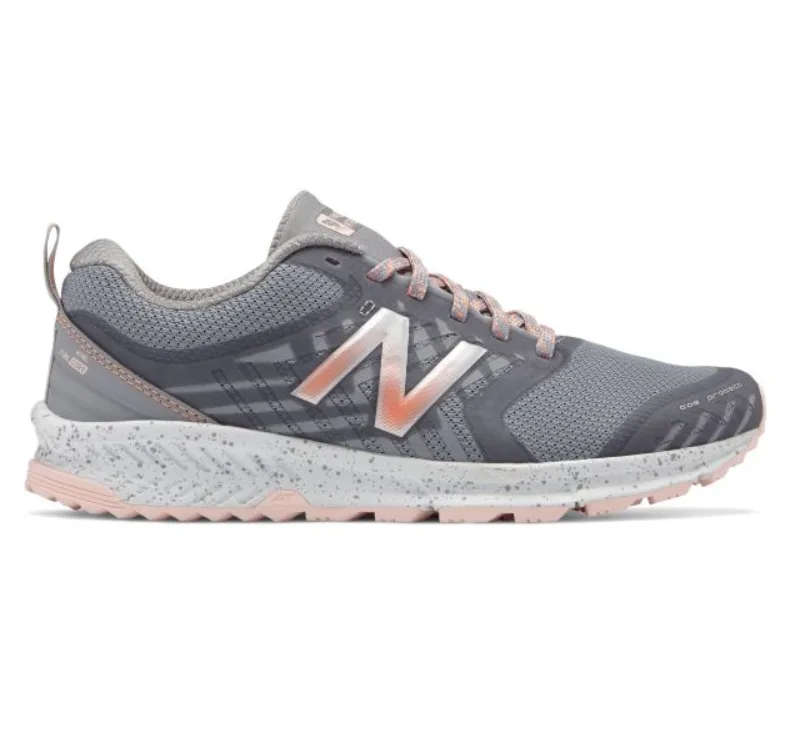 I don't believe that budget-pick items should mean you miss out on quality, and with the Women's FuelCore NITREL Trail, it's clear that New Balance feels the same!
The biggest financial saving to be had is at Joe's New Balance Outlet. However, currently, there is only one size option available there; a 6. Amazon has a range of size options available, but the price is more: check the Amazon range here.
If you're on your feet all day long, these shoes can make a difference. I have read consumer reviews from ER nurses, Vets, and athletes who confirm the huge comfort provided with the FuelCore NITREL Trail. The shoes are lightweight and versatile, and if you're a little girlie in your preferences, then the added pink coloring contributes to these being super feminine shoes.
Pros
Supreme All Day Comfort
All-Terrain Sole
Versatile
Feminine Coloring
Highly Rated Online
Cons
Variable Prices
Limited Stock at Joe's New Balance Outlet
#3 Best New Balance Gray Shoes for Everyday Wear: Women's 515v3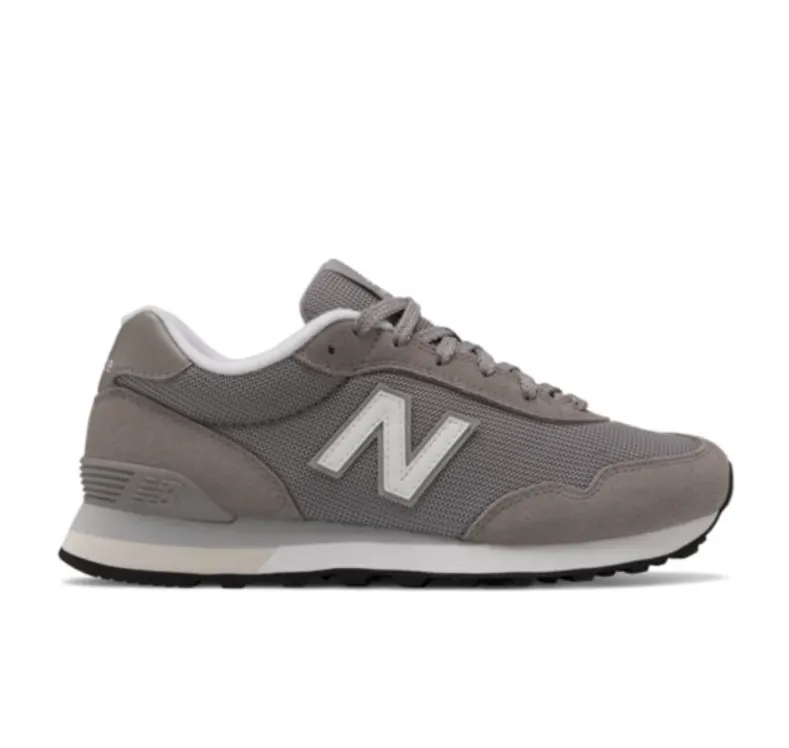 If you're looking for a new pair of shoes for everyday wear, you may want to consider the Women's 515v3. I found these shoes to be comfortable, breathable, and convenient to slip on and off, thanks to the adjustable lace closure for a customized fit.
There is lightweight midsole cushioning and a New Balance Comfort insole, which results in great support and comfort, exactly what you want from a pair of everyday shoes. The outsole is durable rubber, and although white, it doesn't seem to stain or mark easily.
The mesh and suede blend makes these shoes super stylish and highly breathable. My only critique is that they're a little expensive.
Pros
Convenient Day-to-Day Shoes
Breathable
Durable
Comfortable
Stylish
Cons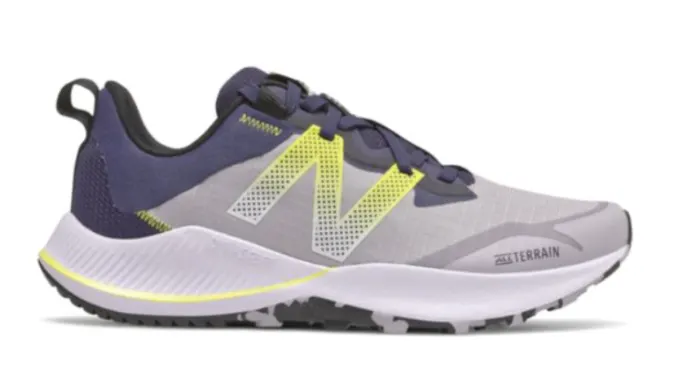 Affordable running shoes that actually perform well aren't easy to find, but I believe the Women's DynaSoft NITREL v4 Trail has found this balance.
The shoes are equipped with an AT TREAD outsole, which provides enhanced impact support and traction, perfect for long-distance runs. There is DynaSoft cushioning and EVA foam inserts for further comfort, and the mesh material gives excellent breathability.
The DynaSoft NITREL v4 are available in a range of sizes, and color options, at Joe's New Balance Outlet, and the reviews I have found online back my findings that these are simply a great pair of running shoes that won't break the bank.
Pros
Good Value for Money
Supreme Comfort
Excellent Durability
Versatile
Exceptional Breathability
Cons
Unsure as to how modern and stylish this design is.
#5 Best New Balance Gray Shoes for Walking: Women's 1201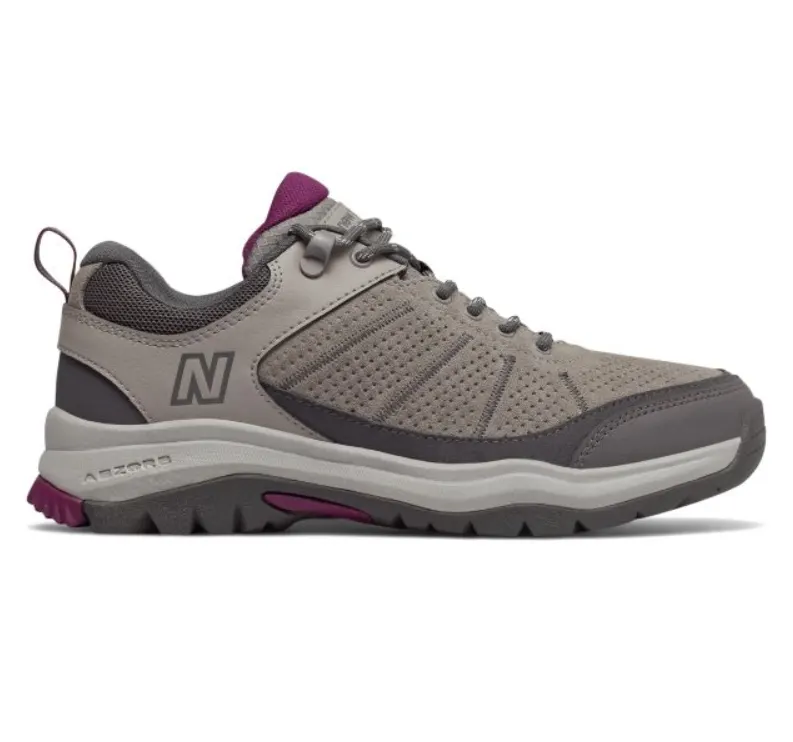 For hiking or simply walking, the Women's 1201 performs extremely well. They almost hug your feet on the go and can feel a little too tight at times, but this is a common complaint with this shoe style.
The 1202 is suitable for all kinds of terrain, and the leather upper contributes to outstanding durability.
I often find that women's walking shoes are anything but stylish. However, I do like the look of these, especially with the added purple color for more femininity. They're breathable but not waterproof; it is kind of climate-depending as to which option you'd rather.
Pros
Greatly Durable
Feminine Design
Suitable for all Terrain
Breathable
Cons
Not Waterproof
Limited Availability at Joe's New Balance Outlet
For Men
#1 Best New Balance Gray Shoes Overall Top Pick: Men's Lerato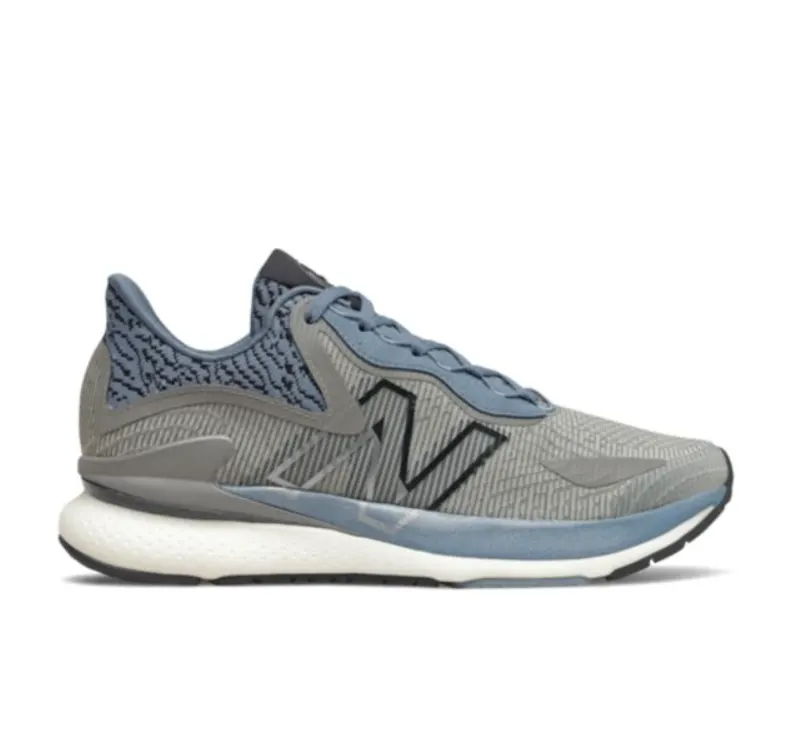 The Men's Lerato is expensive, but there is currently an 11% discount at Joe's New Balance Outlet. Even when discounted, the Lerato's are $199; however, if you want a shoe that indeed does it all, you may be able to justify them.
The shoes have an innovative design to help with training, a fiber plate, and a premium rebound. For running, training, working out, playing sport, or day-to-day living, these are a do-it-all pair of shoes. The TPU heel clip adds extra stability and feels extremely robust.
I like the breathability and the look of these shoes; the light blue compliments the gray beautifully and opens up lots more outfit choices.
Pros
Modern, Stylish Shoe
Exceptional Comfort
Great Breathability
High Level of Support
Cons
Very Expensive
Unlikely to be Covered by Medicare Insurance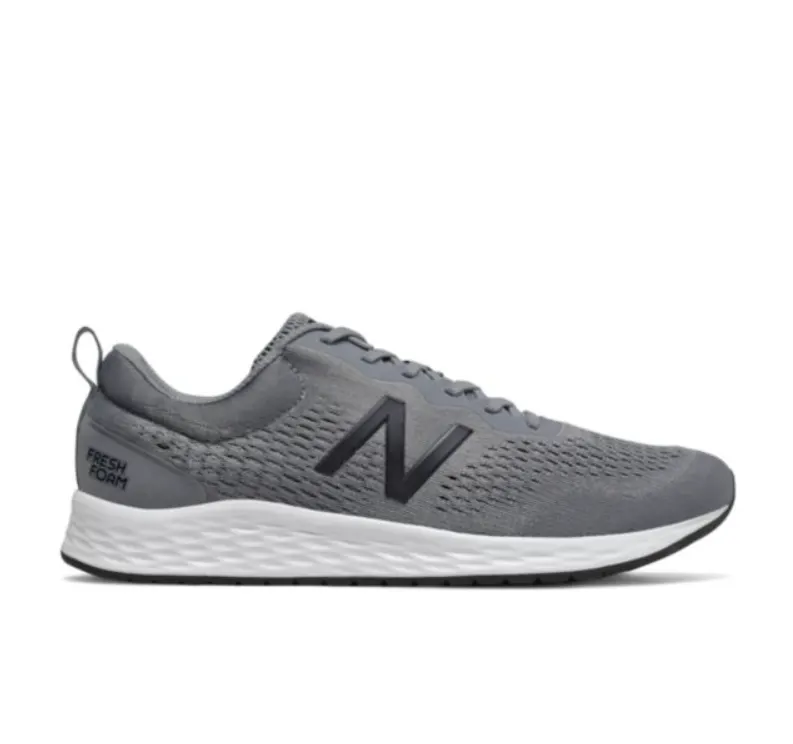 From the most expensive to the least! The Men's Fresh Foam Arishi v3 is a true budget pick at $39.99 and a considerable bargain due to being discounted by a staggering 42% (Joe's New Balance Outlet only, these are more expensive elsewhere).
The Arishi v3 shoes are available from a size 9 to a 13 and come in an extra-wide fit.
They're a pretty basic-looking shoe, but the Arishi v3 performs well and is super comfortable to wear. I'm not sure how well they'd perform on long-distance runs, but as day-to-day or low workout shoes, they're more than up to the job.
I found the Arishi v3 to have excellent airflow and to keep feet cool and dry on the go. These shoes are upgraded and feature a New Balance Response 1.0 Performance Insert for superior comfort.
Other colors are available.
Pros
Excellent Value for Money
Exceptional Air Flow
Upgraded Response Performance Insert
Comfortable
Cons
May not perform too well on long-distance runs.
#3 Best New Balance Gray Shoes for Everyday Wear: Men's 1300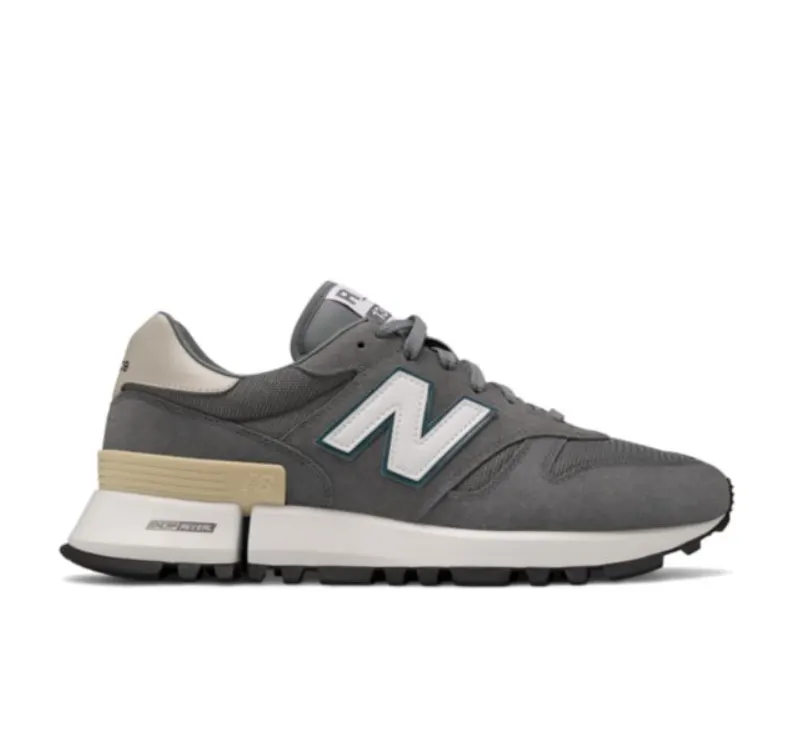 I'll begin by saying that the Men's 1300 is not within the budget or affordable range. But, if you value comfort and style and need a good quality pair of sneakers to wear for multiple hours each day, they're so worth the price point.
These gray-hued sneakers feature a soft suede and mesh blend, with crisp, bold branding to add a touch of style. I am confident in the durability of the ENCAP cushioning technology and feel okay in saying that each step feels almost cloud-like.
There is a superior grip on the sole, and these sneakers are perfect for a range of activities. The 1300s are highly rated online but rarely discounted.
Pros
Cloud Like Feel
Very Durable
Retro Classic Design
Highly Rated Online
Cons
Expensive
Rarely Discounted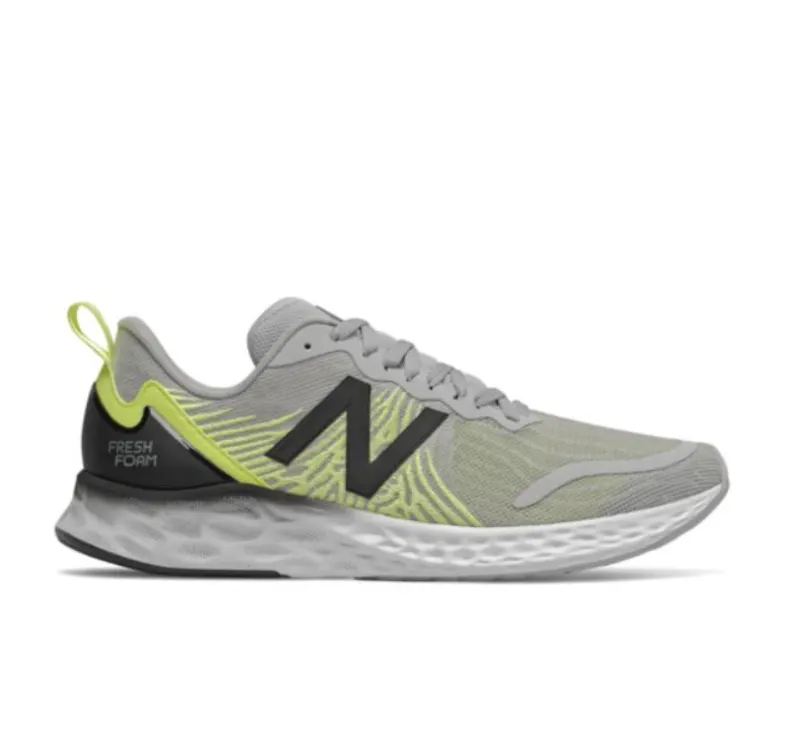 With an incredible size range from 7 to 14 and a wider fit option, the Men's Fresh Foam Tempo is sure to be in the perfect size for you. Runners need stability, comfort, and breathability, as these running shoes check every one of those boxes and more.
With engineered, lightweight comfort, the Fresh Foam Tempos fit like a glove but keep the foot feeling well supported throughout any duration of the run. The sole feels rugged and robust, while the interior is much more padded with fresh foam midsole cushioning.
If you're not taken with this color option, these sneakers are available in black and gray here.
Pros
Incredible Size Option
Provide Good Stability
Breathable
Lightweight Comfort
Robust Sole
Foam Midsole
Cons
Quite Pricey
Other Color Option is More Expensive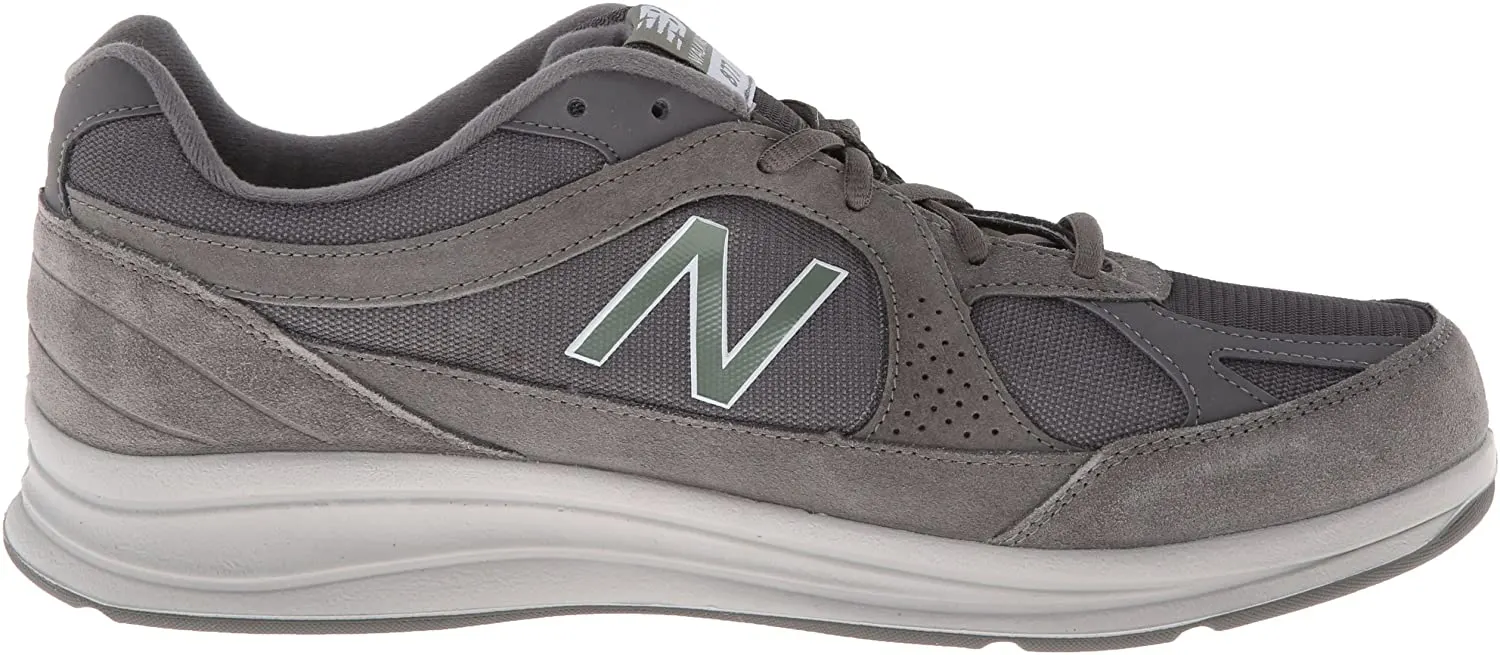 There are three gray color options with the Men's 877 V1 Walking Shoe, meaning if you like gray but aren't sure how much, you can take your pick! With almost 8,000 reviews on Amazon and mostly highly positive, these are hugely popular walking shoes that have been tried and tested by the masses.
As well as various color options, there is a superb range of sizes and fittings, and these walking shoes may be eligible for Medicare reimbursement.
These walking shoes are made from a suede and mesh blend and have a durable rubber sole. I have found the 877 V1 Walking shoe to offer incredible support and be a well-functioning shoe that will perform well on various terrain with good longevity. However, they're not the most stylish-looking shoes, but show me a pair of specifically designed walking shoes that are!
Pros
Well Regarded Online
Excellent Longevity
Durable
Good Foot Support
Various Colors and Sizes
Cons
FAQs
Best Grey New Balance Shoes: My Final Verdict
Gray shoes have a lot to offer and work well with so many styles, colors, and materials of clothing. For a classic sneaker look, you can't really beat the Men's 1300 and Women's 515v3. Both of these shoes have outstanding durability, comfort, and style.
Those looking for running shoes may want to look further into the Women's DynaSoft NITREL v4 Trail and Men's Fresh Foam Tempo. While the Men's Foam Tempo isn't the most affordable, and the Women's Dynasoft NITREL isn't the most attractive, both pairs are great performance running shoes.
However, my top picks are the Men's Lerato and, for women, the Women's Fresh Foam 880v10. I found these shoes to slightly take the edge from others in forms of quality, comfort, durability, and longevity.
02/07/2023 07:20 pm GMT