A Brief History of the La Sportiva Brand
La Sportiva was founded by Narciso Delladio several decades ago, though the business initially started with the sales of custom-made boots for farmers and lumberjacks. Since the company originated somewhere in a village-on-a-mountain part of the Italian Dolomites in an area with vast potential for sports and other off-road adventures, it was able to create many products designed for these activities. There was no inkling that La Sportiva would expand to the realm of sports back then.
La Sportiva started with products for skiing, and then trail running, and mountain-climbing products joined the line of products. Soon, the company became famous for producing trail running shoes for men and women.
The expertise of the La Sportiva brand when it comes to outdoor adventure – especially the trails – is indisputable. The brand strives for longevity, quality, and durability. The shoe manufacturing company has one creation hub in the heart of the mountain village known as Ziano di Fiemme. The running shoes – as well as their entire line of products, are handcrafted.
Despite being in business for almost a century, La Sportiva still follows the footsteps and ideals of its founder, Narciso Delladio, never sacrificing quality or discarding the handcrafted beginnings that have made the manufacturing company a force to be reckoned with in the shoe manufacturing industry.
The Features of La Sportiva Trail Running Shoes for Men and Women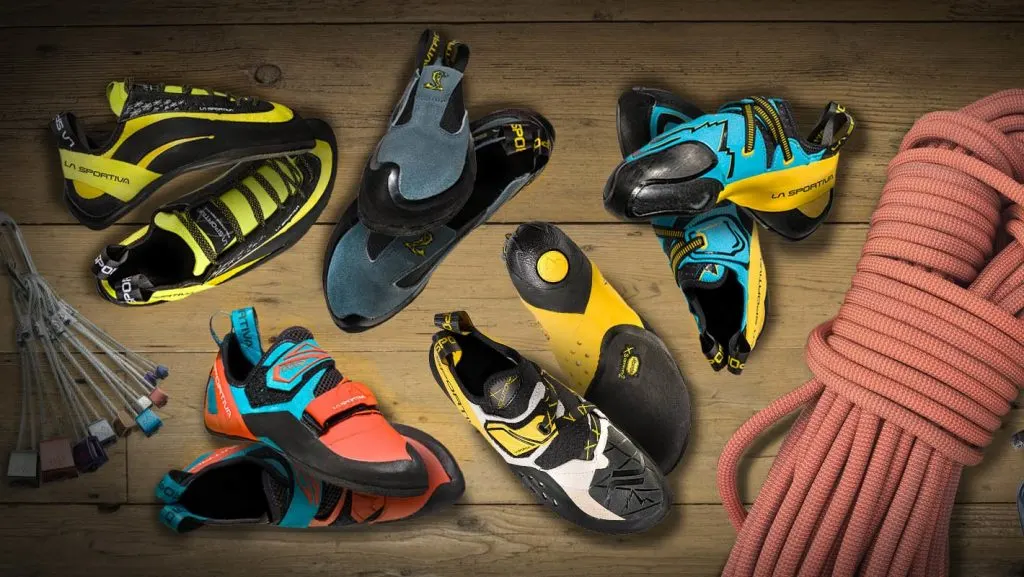 Every trail running shoe from the La Sportiva brand – for both men and women – are equipped with traction-ready and protective outsoles. These outsoles are highly aggressive and geared to combat off-road trails and paths.
The prominent and gripping lugs are optimized for the off-road paths and angled in multiple directions for maximum efficiency. The layers of rubber are designed to weather the sharpness of the off-road trails rubble as well as surface contact.
Some trail running shoes – such as the La Sportiva Mutant and Akyra – have cleats that jut downward from the external pad, other running shoes – such as the La Sportiva Ultra – are equipped with a set of rubber protrusions which are curved like an eagle's claws. These configurations of the outsole provide multidirectional support and grip when embarking on irregular topography.
Running shoes cannot be classified under the "high-quality" or "durable" category if they do not have technologies that protect the foot from impact with the ground. It is highly essential, therefore, for any shoe-making company that knows its onions to have shock-absorbing midsoles for adequate protection as the foot strikes the ground.
La Sportiva does not lack in this regard as it equips its entire range of trail running shoes with sturdy and high-quality midsoles that are capable of attenuating the shock of impact as the foot hits the ground during a run.
Most of the trail runners from La Sportiva have cushioning units with liquefied beginnings that is injected into a mold. Next, they are formed and then cooled into the final piece. The injection molding process reduces air bubbles and material wastage, hence resulting in an appropriately shaped end-product.
The La Sportiva Lycan and Unika are two running shoes with a decent amount of cushioning respectively.
The upper units of La Sportiva running shoes are shield-like, yet breathable. It is a known fact that La Sportiva does not create upper units devoid of protective features or minimal in any way. The shoe-making brand furnishes its products with units that secure the foot extensively, thus keeping the foot safe from the elements encountered on the trails.
Rocks are very abrasive, and this why the highly creative minds of the La Sportiva brand fill the uppers ingeniously with a mix of stitched-on and printed overlays. The forefoot has a bumper or barrier that protects the toes from anything that might hurt them.
Breathability is also retained as a result of the open-weave mesh. La Sportiva Bushido and Akasha are some of the trail running shoes that showcase this unique feature.
La Sportiva has also ensured that every trail running shoe in its line of products is extremely lightweight. It doesn't make any sense if a trail running shoe weighs a ton because it is jam-packed with all the first-class features that make it the bad guy among its peers.
La Sportiva has been able to pack all their trail running shoes with features that enhance their effectiveness on the trails, yet light enough for every runner to enjoy and stay out there for more extended periods.
There is no doubt about it: La Sportiva footwear is what you need to tackle the wilderness or off-road trails out there.
Best La Sportiva Running Shoes
The La Sportiva Bushido running shoe is robust enough to tackle any harsh environment. Some of the materials used in constructing the La Sportiva Bushido running shoes are synthetic, making them ultra comfortable.
La Sportiva Bushido running shoes are also vegan-friendly: what a surprising little bonus!
La Sportiva Bushido running shoes are incredibly reliable and lightweight, though not too flashy.
Nevertheless, these running shoes do the job they are designed for, and that is to ensure every user has an enjoyable experience while hitting the trails without fear or favor.
The outsole of the Bushido running shoes is wide for enhanced traction and stability, thereby spreading your eight across a wide surface area as you run along the trails.
The mesh allows ample ventilation properties while the in-built impact brake system is cherished and highly valuable for runners who make sudden turns or twists on the trails.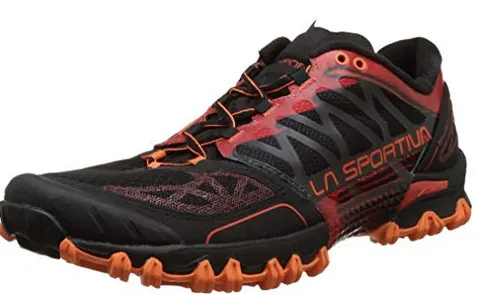 The La Sportiva Bushido is also a sturdy trail running shoe and one of the most durable in the market today.
The quality of materials used in the overall construction of this ingenious creation is top notch. This means that you should not expect these footwear to fall apart anytime soon.
The Bushido is somewhat on the expensive side of the scale, but the features it comes with are worth the price tag.
It is an excellent choice if you want to invest in a durable and functional pair of trail running shoes without splashing out too much.
Pros
Breathable
Extremely durable
Ultra comfortable
Cons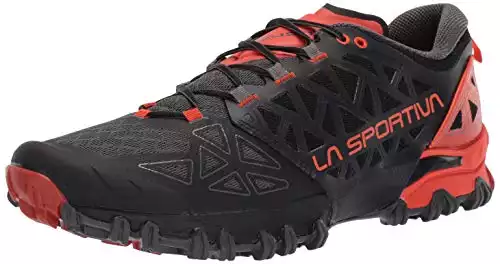 La Sportiva Men's Bushido II Running Shoe | Amazon
For those looking for the perfect combination of responsiveness, stability and comfort with bomber protection and superb traction, the Bushido II has all that and more. They offer enhanced cushioning while also providing the user with a neutral, stable, lightweight, sticky and aggressive outsole.
Buy at Amazon.com
We earn a commission if you click this link and make a purchase at no additional cost to you.
02/07/2023 11:54 pm GMT
This is another vegan-friendly, leading edge configuration from the La Sportiva brand, and is constructed for the 21st-century lifestyle.
The La Sportiva Ultra Raptor running shoes are built with the brand's unique synthetic solution that makes the footwear feel amazing against your skin while in use.
The Ultra Raptor also comes with features that ensure all nasty stuff such as rainwater, dirt or debris stay off and have no chance of entering your footwear, thereby compromising your output or performance.
It comes with a Vibram Sole which provides users with astonishing grip while they run on rough terrain and trails, thus making the La Sportiva Ultra Raptor one of the most rugged running shoes in the market today.
The ankle support that comes with the Ultra Raptor is exceptionally designed for additional protection, enhancing that locked-in feel as well as managing those twists and turns on the trails.
The soft materials are snug, yet gentle on your feet while the icing on the cake is the super-stable soles which have made La Sportiva footwear the household name it is today.
The La Sportiva Ultra Raptor is built to last for thousands of miles, and that probably explains why it is also on the expensive side of the scale.
As with all running shoes from the La Sportiva brand, the quality, exceptional features, and construction more than compensate for the high price tag.
Pros
Configured with high-quality materials
Colorful and modern design
Exceptional support
Excellent breathability features
Equipped with Vibram Soles for magnificent traction
Cons
Somewhat heavy for some users
Somewhat too bulky for super-fast runners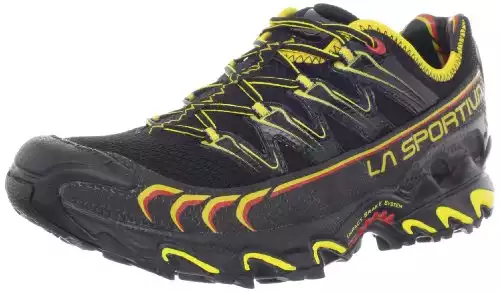 La Sportiva Ultra Raptor Trail Running Shoe | Amazon
The La Sportiva Ultra Raptor is a high-performance, do it all, trail running shoe for those with narrow feet. Just enough cushion, shock absorption and an 8mm heel-to-toe drop make for a smooth foot strike and all-day comfort that doesn't quit.
Buy at Amazon.com
We earn a commission if you click this link and make a purchase at no additional cost to you.
02/07/2023 05:44 pm GMT
The La Sportiva Mutant backcountry running shoe is state-of-the-art footwear that comes with great protection and excellent cushioning for your feet while allowing enough inflow of air to keep them dry and cool.
The outsole of the Mutant is uniquely designed to stick to anything on rocky or sticky terrain, all without sacrificing comfort and durability.
And talking about durability, the La Sportiva Mutant is engineered to last for a very long time, and you will be forced to replace them long after the 300-500 mile yardstick or benchmark set unofficially for the replacement of old running shoes with a newer version.
Of course, there is no doubt that you will go for another pair of Mutant running shoes.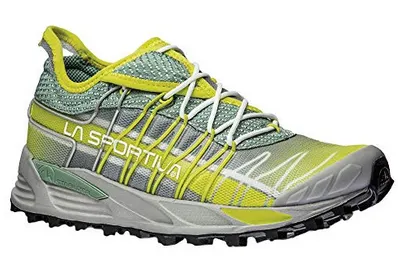 This is because the top-quality cushioning that comes with this running shoe gives you the courage to conquer any terrain.
There are some environments that less durable running shoes may not be able to tackle.
But there is nothing like the word "Impossible" when it comes to the La Sportiva Mutant trail running shoes.
They can tackle any harsh environment while providing exceptional stability to overcome unpredictable and grueling routes as you run.
These features – along with the reinforcements inside the running shoe – will give you extraordinary value for your money, especially since the La Sportiva Mutant comes at an incredibly low price that almost any serious runner can afford.
Pros
Modern design
Protective toe cap
Sticky outsole provides exceptional stability and traction
Extremely durable
Remarkably breathable
Excellent protection
Cons
Looks ugly to some users
Somewhat too heavy for super-fast runners
La Sportiva Men's Mutant Backcountry Trail Running Shoe | Amazon
The award-winning La Sportiva Mutant is packed with cushioning to keep your feet feeling good at the end of a full day on the trail. Its ultralight design is all about high performance, making it a great option for ultra-marathons, trail running, and thru-hiking even the roughest trails and terrain.
Buy at Amazon.com
We earn a commission if you click this link and make a purchase at no additional cost to you.
02/07/2023 06:30 pm GMT
4. La Sportiva Helios SR
The La Sportiva Helios SR is a breathable and abrasion-resistant running shoe that has garnered attention among elite runners.
Its cutting-edge sweat-wicking attributes make this running shoe the ideal pair to use when scaling or tackling rocky terrain.
The Helios SR is loaded with a unique technology from La Sportiva known as MorphoDynamic midsole technology that is designed to keep your running shoe rigid.
This technology also provides great edging capabilities which imply that the Helios SR is useful for running as well as for climbing.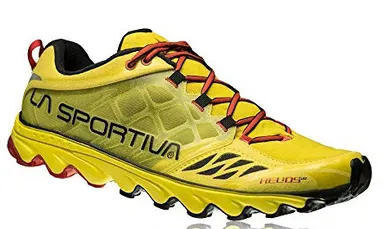 Rigidity and stability are the attributes that both mountain and fell runners look for when searching for an appropriate running shoe that will fuel their passions.
The La Sportiva Helios SR running shoe offers these qualities while the design provides real comfort. This ensures that you will not hurt your feet as you run up the trail or hillside.
La Sportiva Helios SR is undoubtedly one of the most durable footwear from this brand because the material used for fabricating them are top-quality.
However, what makes the Helios SR running shoes extremely endearing to outdoor enthusiasts is its abrasion-resistance attributes.
The La Sportiva Helios SR comes at a relatively hefty price, which is perhaps the only disadvantage portrayed by the brand. But if you consider the fact that the La Sportiva Helios SR is built to last for an extremely long time, then investing in a pair will not be a bad idea after all.
Pros
Modern design
Mesh systems allow for enhanced breathability
Excellent lacing system
Exceptional cushioning for the feet
Cons
Too expensive
According to some users, the outsole wears out quickly
The La Sportiva Akyra is fitted with air mesh for exceptional ventilation and built-in shock absorbers which attenuate the impact of your feet striking unforgiving surfaces as you run or jump every now and again.
The impact brake system also contributes by further reducing the effects of any hard landing when you jump, a common trait if you are a mountain runner.
The La Sportiva Akyra is remarkably protective, thanks to the avalanche of cushioning it comes with to ensure users remain comfortable and hurt-free. This running shoe is not too overweight as well.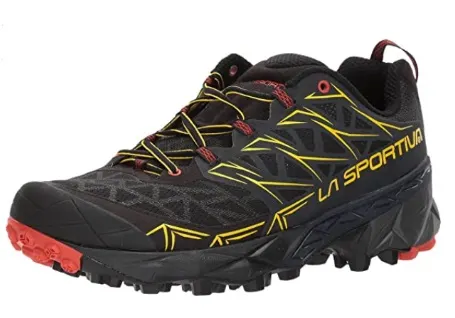 The Akyra is pricey, no doubt about it. But durability and high-quality always come at a cost, and it's better you invest in something that will protect you when you are out there in the wild than spend it taking care of yourself in a hospital as a result of a running accident.
Besides, the Akyra running shoe offers great value for money, and its durability is unquestionable since it is built with the required impact absorption system and technology for long-lasting usage.
Pros
Extremely durable
Excellent shock absorption capabilities
Brilliantly robust against mountainous terrain or trail
Built with top-quality materials
Cons
Pricey
Somewhat on the heavy side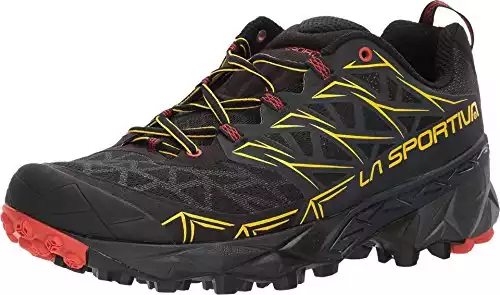 La Sportiva Akyra Mountain Running Shoe | Amazon
Akyra is the structured and protective, mountain running boot suitable for endurance routes such as Ultra Trails and Ultra Marathons. Particularly snug fitting, comfortable and protective, it is a trail running shoe designed for extended use on off-road terrain.
Buy at Amazon.com
We earn a commission if you click this link and make a purchase at no additional cost to you.
02/07/2023 10:19 pm GMT
This is a lightweight trail running shoe which is a newer version in the Helios line and comes with extra padding as well as a unique lacing system. However, it remains one of the most efficient and compact running shoes in this category.
The La Sportiva Helios comes with ultra-soft cushioning for extra comfort and users have proclaimed their love for this unique feature, according to the myriads of reviews by proud owners.
The heel unit is soft as well and designed to prevent the occurrence of blisters. The Helios is purportedly more suitable to use in colder temperatures as some users have claimed that they were not breathable enough on warmer days.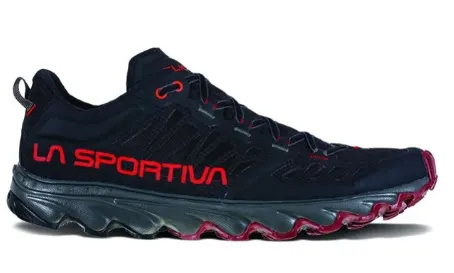 The La Sportiva Helios is minimalistic and may, therefore, not offer the stability that some runners seek when searching for a suitable running shoe to purchase.
Some users even claim that the La Sportiva Helios is the "minimalist running shoe for trail runners" since users can feel the ground through the soles as they run.
It is ideal for moderate trails that are devoid of sharp rocks. It is also extremely durable, though a few users complained of its inability to get dry quickly when they ran on wet surfaces for an extended period.
The La Sportiva Helios is relatively affordable; if you are a minimalist, then this is the shoe for you.
But if you prefer something more rigid that you can use on demanding terrain, then you may have to look for another pair altogether. All in all, the Helios 3.0 is a perfect running shoe for trail races.
Pros
Additional padding
Ultra-lightweight
Eye-catching
Cons
Not as stable as alternatives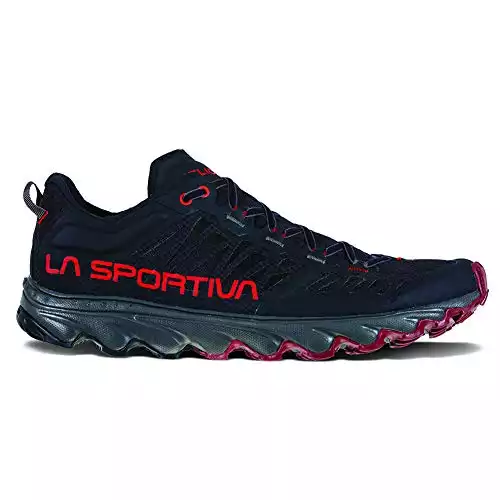 La Sportiva Helios III | Amazon
This is designed for training and racing on hard off-road terrain. The fit is extremely comfortable and snug-fitting, derived from the Helios SR model.
Buy at Amazon.com
We earn a commission if you click this link and make a purchase at no additional cost to you.
02/07/2023 07:09 pm GMT
The La Sportiva Akasha is an extremely good-looking trail running shoe on the market today and features an excellent blend of colors in a neat, modern design.
It is constructed with leather, fabric, and its traction is highly remarkable along with exceptional support and comfort.
The Akasha trail running shoe comes with a high-cushioned sole and built with top-quality material. The leather is best referred to as a long-lasting and highly durable material.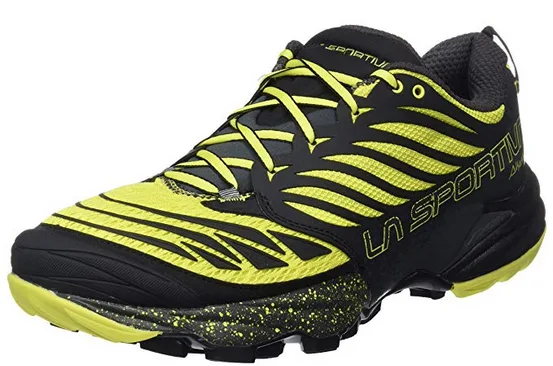 This running shoe comes at a relatively steep price, though only a few people are complaining about the cost.
This is because every runner out there in the La Sportiva clan knows that the Akasha running footwear is engineered with STB technology for additional comfort.
The overall quality of this running shoe cannot be faulted in any way, too.
Pros
Extremely good-looking
Excellent traction
Well-ventilated
Ultra-light reinforced uppers
STB technology for extra comfort
Cons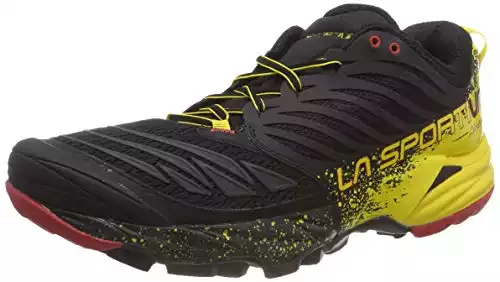 La Sportiva Akasha Trail Running Shoe | Amazon
This provides stability and support from high cushioned sole gives you a stable platform on flat rolling trails yet nimble enough for technical terrain, mountain running, steep ascents and high alpine runs.
Buy at Amazon.com
We earn a commission if you click this link and make a purchase at no additional cost to you.
The La Sportiva Crossover 2.0 GTX has high ankle supports for extra protection and stability. It is a robust running shoe that looks more like casual footwear than a tool for overcoming the harshness of the trails out there.
The Crossover 2.0 GTX has a fine-looking but simple lacing system and the grip zone – which is the best feature this stunning trail running footwear showcases – is designed to help users negotiate icy and snowy conditions.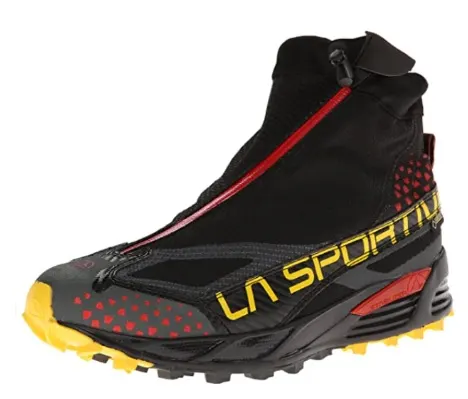 The Crossover 2.0 GTX is built sturdily, and this contributes to the overall comfort as it grasps the user's feet in all the right ways.
The polyester mesh looks relatively lightweight, but it does the job it is designed to do exceptionally well, over and over again. The shoe also provides excellent stability and great grip, thanks to its lug-full outsole.
The durability of the La Sportiva Crossover 2.0 GTX is undeniable which may explain the high price tag attached to it. But it is highly recommended for people who love slogging through ice and snow.
Pros
Provides excellent stability and a lot of support
Highly durable
Extremely comfortable
Excellent traction
Cons
It is bulky
It is expensive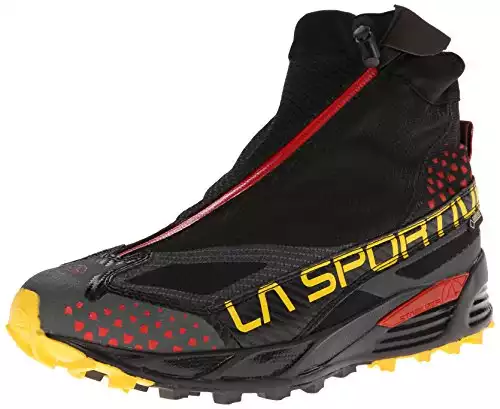 Factors Considered For Evaluation
Comfort
Only a few numbers of people are aware that La Sportiva is a 250-person factory situated in a mountain village in faraway Italy. The dedicated team of designers and craftsmen are focused on quality over quantity and work day and night to maintain the remarkable reputation of the brand in the outdoor footwear industry.
There are no marketing, sales figures or production quota team. The heritage and tradition of La Sportiva make it one of the most loved and highly respected company in the trail running footwear industry.
La Sportiva has the highest customer satisfaction rate, especially when it has to do with their comfortable toe boxes that most of their footwear are known to showcase. There was a perfect blend of fit and freedom when it came to the toes in, as evidenced by their unique line of footwear – which encompasses trail runners, mountain climbing shoes, ski boots, etc. –according to reputable testers.
Since the brand can test its product right there in the Italian Dolomites, it is not surprising that they can maintain and churn out top-quality footwear consistently.
Durability
Believe it or not, the integrity of your footwear can have a significant impact on your performance and confidence. La Sportiva users continue to trust and count on this brand as they are known to create durable running shoes that have undergone harsh and rigorous testing in the mountains of Italy.
This is to ensure that the trail runners are sturdy enough to withstand whatever outdoors condition it is subjected to, thereby assuring users that they can count on their footwear to last them throughout any ordeal they may face in the wilderness.
The only thing is that you must adhere to the standard rules of replacing your runners at appropriate intervals. Standard running shoes can last from three hundred miles to five hundred miles. But trail running shoes are subjected to more aggressive usage; therefore, users are advised to keep a log on miles and time.
Additionally, always look for telltale signs of wear on the outsoles of your runners. If your running shoes no longer feel right when you wear them, perhaps it is time to get a new pair.
Breathability
Breathable runners help the feet to remain cool and dry even as they are tasked with the job of continually pounding on the terrain as you cover the miles every day. Ventilation and breathability are highly crucial since these attributes prevent chafing and the formation of blisters. A lot of trail shoes out there are not too breathable. However, you can count on La Sportiva as one of the known brands that do not sacrifice breathability in all its outstanding line of products.
Stability
Stability has to do with you and your running style. This is why experts recommend that you go for or select footwear that is similar to your road running shoe. So look out for La Sportiva shoes with excellent stability, extra cushioning, and flexibility features. Armed with this information will help you make the best choice when searching for the best running shoe to buy.
Protection
Safety should come first in anything you do. Keep in mind that Mother Nature is pretty erratic and running on the trails exposes you to numerous hazards from jagged, sharp rocks to wet surfaces and loose gravel. This is the primary reason why La Sportiva runners come with adequate toes caps, rock guards as well as aggressive traction like no other brand within the industry.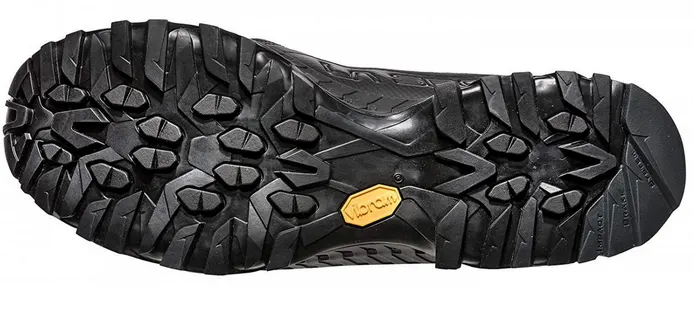 This is because the La Sportiva brand understands the value of safety and will never compromise for anything.
Features
Most of the La Sportiva footwear highlighted in this guide come with La Sportiva's proprietary moisture-wicking technology along with other tremendous features that make other trail runners from other brands look like a joke.
Water Resistance
The La Sportiva GTX, i.e., Gore-Tex material is highly effective in combating the elements, yet stays very breathable. Therefore, if your trail is always wet or you still have to suffer an occasional puddle splash when you run, you need to get one of the GTX models from La Sportiva.
What is more, the Gore-Tex material will prevent water from getting into your footwear while it maintains the breathability and ventilation.
Terrain
It is vital for you to strike an ideal balance of weight and protection when it comes to choosing trail running shoes. If you are running on nontechnical or well-groomed trails, you don't need trail runners with too many protection features. This means you can go for a lightweight trail runner that will keep your comfort as well as endurance levels high for extended periods.
But if you run on trails that are rife with sharp rocks, loose gravel, and jagged stones, then you need trail runners with all the accouterments for extra protection. This includes models with excellent rock plates and toe guards, etc.
Wet surfaces can also be an issue when running on trails; therefore, choose runners with Vibram Soles for extra grip and traction.
FAQs
A lot of potential runners usually have questions they would love to ask about a particular brand's line of running shoes, etc. They usually balk at contacting the brand's customer care unit to badger them with questions.
However, these are some of the frequently asked questions that real users ask when it comes to getting the best from their remarkable running shoes. Hopefully, you will find enough information about the La Sportiva line of footwear products to help you make an excellent buying decision.
Without wasting time, let's dive in:
Q: What are the differences between men's La Sportiva trail running shoes and the women's version?
Answer: All running shoes from the La Sportiva brand are crafted by hand, and the brand always adheres strictly to industry standards as regards sizing and fit. The women's version of running footwear are also crafted especially but with less foot-volume based on the stature of most women. For instance, in most of the women's version of La Sportiva running shoes, the heel is close-fitting or snug even as the forefoot is somewhat broad to encourage natural toe-splay and better security.
But the midfoot is usually narrow, and this deliberate design is to further lock the foot in place. The collar is also cut lower than the men's version and configured accurately by tailoring to low foot dimensions.
Most of the trail running shoes from La Sportive – or any other shoe manufacturing company for that matter – are constructed for neutral pronators. This implies that the platform is flexible, well-cushioned, and molded evenly.
There are pronation-correction components or stability mechanisms.
Question: I love my La Sportiva running shoes: Please, how do I preserve the quality and form of my La Sportiva running shoes?
Answer: The first thing you should always keep in mind as a proud owner and user of a pair of remarkably engineered La Sportiva running shoes is to ensure that they are clean at all times. Do not allow grime or dirt to get stuck in the various recesses or fissures of the running shoes.
If you can – and you well should – always create the time to thoroughly clean your La Sportiva running shoes after you complete every activity. This is to prevent the congealing of unwanted stains and the hardening or caking of mud on your running shoes. Several outdoor elements can wreak havoc on the structural integrity of the La Sportiva fabric; therefore, keep them off your running shoes.
Secondly, whenever you wash your foot-apparel, endeavor to use only mild soap, cold water, and your bare hands – though you can use a brush with soft bristles – to clean up the areas that require extra scrubbing. Do not spin-wash your La Sportiva footwear, no matter what. This is because such action will damage your washing machine or the footwear itself.
Always check for small stones and rocks that may lodge themselves in the sole and remove them immediately. Wipe off all debris before you dry them, and make sure the Gore-Tex is clean as well so that its ability to provide ventilation for your feet will not be hampered.
Check the laces of your La Sportiva footwear as they can quickly snap if they happen to be sniped by a random twig or stone.
Last but not least, you should allow your La Sportiva footwear to air-dry only. This is not, in any way, meant to imply that you should expose your running shoes to the harshness of direct sunlight. If you do, the foam and the plastics will warp inevitably, and this will potentially shrink them in such a way that your La Sportiva footwear will not fit your feet well afterward.
So, allow outdoor air to dry your running shoes without undue exposure to direct sunlight.
Question: But I own some high-quality La Sportiva road running shoes. Can't I use them for trail running?
Answer: The truth is, no one will recommend that you use road running shoes for trail running. Trail running shoes are specifically designed to handle things that road running shoes can't.
For instance, La Sportiva trail running shoes – as well as trail running shoes from other brands – are designed to combat elements such as sharp rocks, loose gravel, dusty surfaces, and even mud.
These elements will destroy your beloved but standard road running shoes. If you are not careful, you may end up getting injured in the process.
Of course, you can get away with using standard – i.e., road – running shoes on non-technical trails, but don't risk it at all for intense stuff.
Question: How long should I expect my La Sportiva running shoes to last?
Answer: It is standard procedure to replace running shoes – no matter the brand – after every 300 to 500 miles. That is a lot of coverage which some regular runners traverse within a year or more.
The rules that guide the use of trail running shoes are a bit different, based on their design and level of usage. Trail running shoes are built to withstand rugged use and the toughest outings or treks. If you are a pro runner, you should get at least 200 miles from your La Sportiva trail running shoes before replacing them with a new pair even when the former is still in excellent condition.
La Sportiva trail running shoes are designed and configured to last long, but keeping a fresh pair at hand will be good for several safety reasons.
Question: Is it true that wearing socks while trail running is not considered wise? What is your opinion about this?
Answer: Well, wearing socks when trail running is a personal preference. There are differing opinions about this subject, but the best way to go about this is to give it a try yourself. Find what works for you.
If you go trail running without socks, you may experience some skin irritations that may be taken care of when you use some liniment. However, to avoid further mildly painful experiences like this, you should consider using some runner's tape on specific problem areas before you hit the trails again.
Some experienced runners will advise that you should go trail running with socks while other veterans will advise against it.
So, the best thing to do is to try it out: find what works best for you and stick to it till the end.
In conclusion
We definitely recommend La Sportiva as a go-to running shoe. They offer an awesome combo of both road and trail running shoes that simply get the job done.
Do you use La Sportivas when you run? If so, what kind are you using? Let us know
Recommended Reads: