When you are running on trails, outdoor terrain, mountains, etc. there is no doubt that you will come across challenging surfaces that tend to make your workout unbearable.
When this struggle comes around, it is nice to know that we can rely on a variety of running shoes from the stable of one of the most versatile shoe brands in the world today known as Salomon.
A Brief History of the Salomon Company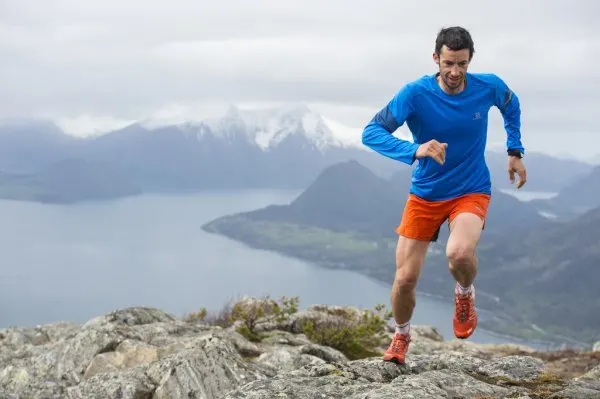 Everything began way back in 1047 when the Salomon family started a business in France where they opened a store and sold edges of skis and woodcutting saws. The town was close to the mountains, and this gave the Salomon business the opportunity to thrive in that area.
But that was just the beginning; soon, the Salomon Company started thinking proactively towards their future contribution to the fantastic sport of skiing.
From creating one of the earliest versions of Salomon ski binding – known as "le lift" – the manufacturing company went ahead to create the first-ever binding with a self-releasing heel piece.
Ski enthusiasts no longer had to struggle with bindings securing their boots in place in order to free them from the boards. This product became a staple in the world of ski sports, and thus, Salomon rose to fame.
Over the years, the Salomon Company has created skis – i.e., S9000, the first Salomon Ski – in the '90s, hiking boots in 1992, and snowboarding gear in 1997.
Winter apparel was introduced from the Salomon stable with the arrival of the new millennium. The Salomon Company was eventually acquired in 2005, and a UTMB record was set by Kilian Jornet while using a Salomon shoe.
Salomon has gone beyond snow-covered peaks and skiing and covers a variety of activities including climbing, running, and hiking.
.A range of clothing and footwear have been created, thanks to the creative and inventive minds within the innovation centers with even more to come as time goes on.
Best Salomon Running Shoes
Salomon Speedcross 4
The Salomon Speedcross 4 is considered by many as the #1 Gold Standard of the trail running industry. The footwear is versatile, extremely dependable, and high-quality off-road choice for beginners and pros alike.
It is built for action, and this is obvious by the abundant tread the running shoe comes with. It also comes with a debris-resistant upper that backs you anywhere you or anywhere you go in your trail-running adventure.
The lacing system that comes with the Salomon Speedcross 4 is somewhat unconventional as it uses quick-lace restraining laces which help to enhance midfoot support.
The footwear is also very lightweight and features EVA cushioning in the midsole.
The anti-debris mesh shuts out the muck without sacrificing breathability.
The Salomon Speedcross 4's deep outsole lugs provide exceptional traction along with contra grip materials for excellent hold even in wet conditions.
You can be sure of long-term durability and support because the Salomon Speedcross 4 is sturdy enough to withstand the toughest terrain you know.
The Salomon Speedcross 4 will sure set you back some dough, depending on the color and size you prefer.
However, the stability, quality, and comfort this innovative running footwear offers is well worth the money and considered an excellent investment by frequent trail runners.
Pros
Aggressive, unparalleled grip
Ortholite insole
Water and debris resistant upper/mesh ventilation
Synthetic strong/lightweight
Rubber toe cap for increased protection
Cons
A few testers opine that the sizes of this footwear ran small
Salomon Sense Pro
Salomon Sense Pro is another excellent option that provides athletes with profound support, stability, and comfort.
They are designed to help you boost your speed while, at the same time, enabling you to perform at your peak while hitting the trails out there.
The Salomon Sense Pro is constructed using a minimalistic design geared towards increasing a runner's speed.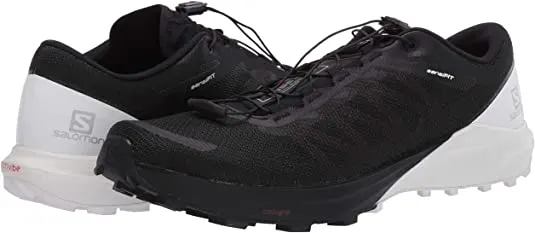 They are best suited for natural terrain to help you build your stamina and performance in preparation for tougher terrains.
The footwear comes with a breathable mesh and fits your foot securely as you perform drills.
The Salomon Sense Pro has a firm feel for people who are minimalists or those who love to feel the ground while they run.
Salomon Sense Pro is highly durable, thanks to the high-quality materials they are constructed with.
They are not suitable for use in a wet or muddy environment as a result of the near absence of lugs. But they are an excellent choice for runners on inconsistent and rocky terrain.
It is also moderately priced and relatively affordable for beginners and pros as well.
Pros
Provides support and stability
Comfortable
Easy-pull lace-system
Ortholite sock liner
Thick lugs help to secure the feet
The toe box is very wide
Lightweight midsole form.
Cons
Product not cushioned enough for all users.
Salomon X-Mission 3
The X-Mission 3 is highly durable footwear from the Salomon Company that provides sufficient stability, protection, and comfort on erratic terrains that pepper the wilderness.
The Salomon X-Mission 3 provides optimal comfort for all users, and this was made possible by the use of 3-D mesh material to promote ventilation and breathability.
The mesh also prevents debris from entering the footwear as during your exercise sessions.
The running shoe also features the Sensi-fit construction for a more comfortable and secures fit.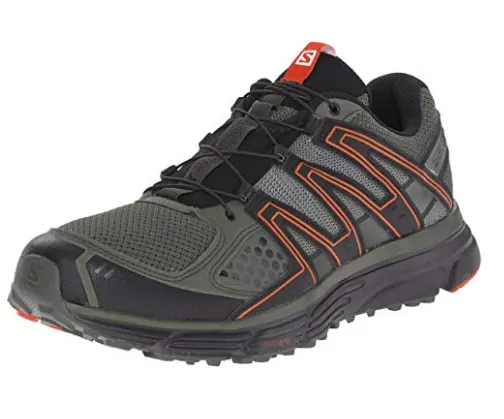 The Salomon X-Mission 3 is durable with a rubber contra grip that enhances traction on rough terrain.
It also features a Quicklace system for easy on-and-off wear, thus adding to the sturdiness of the laces and ensuring a secure and snug fit.
The Salomon X-Mission 3 has a price tag that is not too surprising, given the manufacturing company that created it. However, X-Mission 3 is somewhat less expensive compared to other models.
Pros
Quicklace system
Secure fit
Protective
EVA midsole
Good responsive stride and shock absorption
Contra grip traction outsole
Breathable mesh uppers
Sturdy synthetic overlay
Comfortable
Cons
It is not too stable on terrains that are very rough
Salomon Sense Ride Running Shoe
This running shoe provides sufficient grip, stability, as well as protection and is designed specifically for easy but uneven terrain.
The Salomon Sense Ride Running Shoe is an excellent option for people who love intense outdoor activities.
The Salomon Sense Ride Running Shoe features a wide toe box that allows users to wiggle their toes freely for a custom fit.
The Sensefit and Endofit technology that is showcased in this remarkable running shoe secure and hugs the foot to keep you very stable when you run.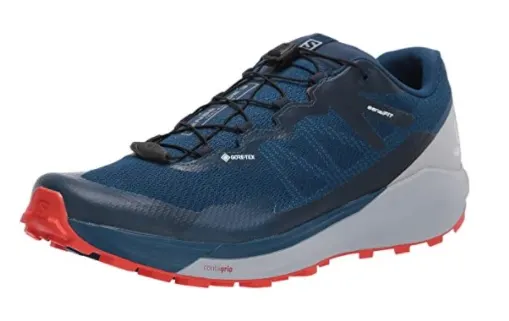 The footwear uses a high rebound midsole in combination with lightweight cushioning to increase responsiveness and provide shock absorption.
The running shoe from Salomon also utilizes an Ortholite sockliner to provide additional cushioning along with mesh for enhanced breathability.
The Salomon Sense Ride Running Shoe is built with high-quality and durable materials.
The athletic shoe features Premium Wet Traction Contragrip outsoles for enough traction while providing you with a lot of stability during your multiple workout sessions.
The Salomon Sense Ride Running Shoe is built to last very long, thus ensuring that you will not replace it any time soon.
Whatever the rough terrains in your neighborhood have, the Salomon Sense Ride Running Shoe can take it all and then some.
They are relatively affordable, and you can easily find a pair that is suitable for your workout regime if you search hard enough.
 Pros
Quicklace system
Contragrip traction
EVA heel cup
Lightweight cushion
Ortholite sockliner and foam
High-rebound midsole
Breathable mesh
Cons
Users may experience rolling ankles and stability issues with this
Snowcross 2 CSWP Trail Running Shoe
The Snowcross 2 CSWP Trail Running Shoe is the ideal option for optimum performance in terms of waterproofing and grip. The inventive design of the Snowcross 2 instills confidence in users as you take each step.
The Snowcross 2 CSWP Trail Running Shoe is one of the most stable models that an outdoor enthusiast can buy in this guide, it is popular for its ankle and footing support features which is virtually unparalleled in this line of products from Salomon.
The Snowcross 2 CSWP Trail Running Shoe is incredibly comfortable and guaranteed to keep your foot dry no matter the weather you find yourself when performing your workouts.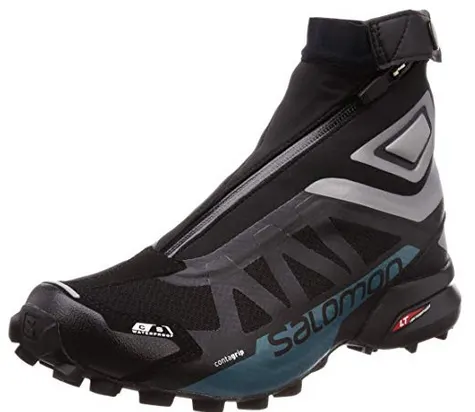 The Snowcross 2 CSWP Trail Running Shoe has had no reported issue when it comes to durability as well as overall quality, thus effectively reflecting the standards of the Salomon brand.
It is available at a significantly high price, but if you consider the performance and the features you will have access to for a considerably long time, you will see it as a worthwhile investment.
Pros
Mud protection
Shaped footbed
Waterproof
Comfortable EVA midsole
Stable footing with Contragrip sole
Ripstop uppers and built-in gaiter
Protective toe cap
Cons
The Standard Used For Evaluation
Comfort
A lot of passionate runners choose Salomon for apparent reasons, and many keep coming back to the remarkable brand again and again!
There are lots of impressive features – specific to this brand – that come with every Salomon running shoe that assures users of great comfort.
For instance, the Sensifit midfoot support is unique to this brand and is tasked with adding a snug hold across the midfoot as a result of the way its overlays link up with the Quicklace system.
Many of Salomon's fashionable line of footwear is loaded with EVA injected midsoles and heel caps, Ortholite sock liners, protective toe caps, footbeds along with breathable mesh uppers. All of these extraordinary features brought a lot to the table and engineered to achieve one thing: comfort.
Traction
Off-road paths are rough, and the terrains are mostly uneven and full of debris. Changes in the ground, i.e. from leaf- to dirt-covered, etc. as well as steep inclines calls for footwear with excellent traction.
The Salomon running shoes highlighted in this guide come with extra sticky rubber outsoles and a lot of lugs to keep runners stable even as they tackle difficult outside conditions, thanks to superior traction.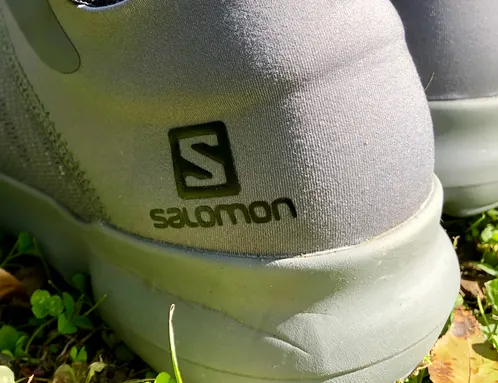 This is a significant advantage when it comes to sturdiness or resilience since a genuine outsole can make a huge difference when it comes to longevity.
Durability
Salomon is the go-to brand for products or footwear that can move on loose, wet stones while maintaining the stability and sure-footedness of users.
Real testers who have had the privilege of getting and using some of the remarkable running footwear from the stable of the Salomon brand have attested the fact that the running shoes are highly durable and practically rugged.
It doesn't matter whether you are a weekend runner or someone who hits the trail hard for several days back-to-back; you need an excellent and additional pair of running shoes, especially the waterproof variety if you exercise in soggy and wet conditions.
Allowing your footwear to air dry is crucial for maintaining comfort at all times. Bear in mind that no matter the number of exercises you engage in, you need to put a sound rotation of footwear strategy in place to enhance the integrity and durability of your workout gear.
All supportive and cushioning materials – i.e., gels, composites, foam, etc. – require ample time for recovery or "spring back" to promote longevity.
This is why a beneficial rotation of trail runners is always an excellent idea.
Although you should expect any product from Salomon to hold up pretty well extensively, it is essential for you to be conscious of when they need replacements.
A typical pair of good running shoes have a lifespan of at least three hundred to five hundred miles; this may not readily apply to trail running shoes.
So, start keeping some check on the number of miles you cover each time you run as well as the hours you put in each session.
This is because it can be very tricky to pinpoint the exact period to replace them since they are relatively in good shape most of the time.
Value
Even though Salomon running shoes come with higher-than-average prices, there have been a growing number of countless reviews of many runners and outdoor enthusiasts boasting of being on their third, fourth, and even fifth pair with zero intentions of trying other brands. Indeed, Salomon running shoes have an impressive cost-to-value ratio.
Additional Factors that were taken into Consideration
Overall fit
When considering your ideal pair of running shoes, you should always aim at selecting footwear that closely matches your regular running shoe.
For instance, if you enjoy workouts only when your feet are encased in cushioned and breathable footwear, you need to look for the same qualities when selecting your new Salomon's.
However, you should take note that waterproof running shoes from Salomon are somewhat tighter on the uppers because of features such as the unique lacing systems and Gore-Tex.
You may end up choosing a pair whose sizes do not accurately fit the right way. But don't be discouraged; this is just your first attempt. Keep sizing up or down until you hit the right one that fits you satisfactorily.
Weather resistance
Great outdoor activities come with the possibility of plenty of water. With puddles serving as hurdles from below and rain from above, Mother Nature can indeed be generous even when you don't ask for it.
Salomon running shoes constructed with Gore-Tex are waterproof, but you need to know how that capability is implemented.
It is crucial for your running shoes to be breathable as well, so concentrating on the waterproofing capability alone won't cut it.
The positioning of the Gore-Tex material can have a significant impact on how you feel when using Salomon running shoes.
For instance, the first line of defense against water is a Gore-Tex upper which does not sacrifice anything in terms of temperature control and ventilation.
Style
It must be pretty evident to you by now that most Salomon shoes come in flashy styles and looks, thereby making you look good even as you sweat it out in the rough.
There are a wide variety of low-key color options for people who don't like being conspicuous when engaging in roadwork.
Outstanding Technologies Showcased in Salomon Running Shoes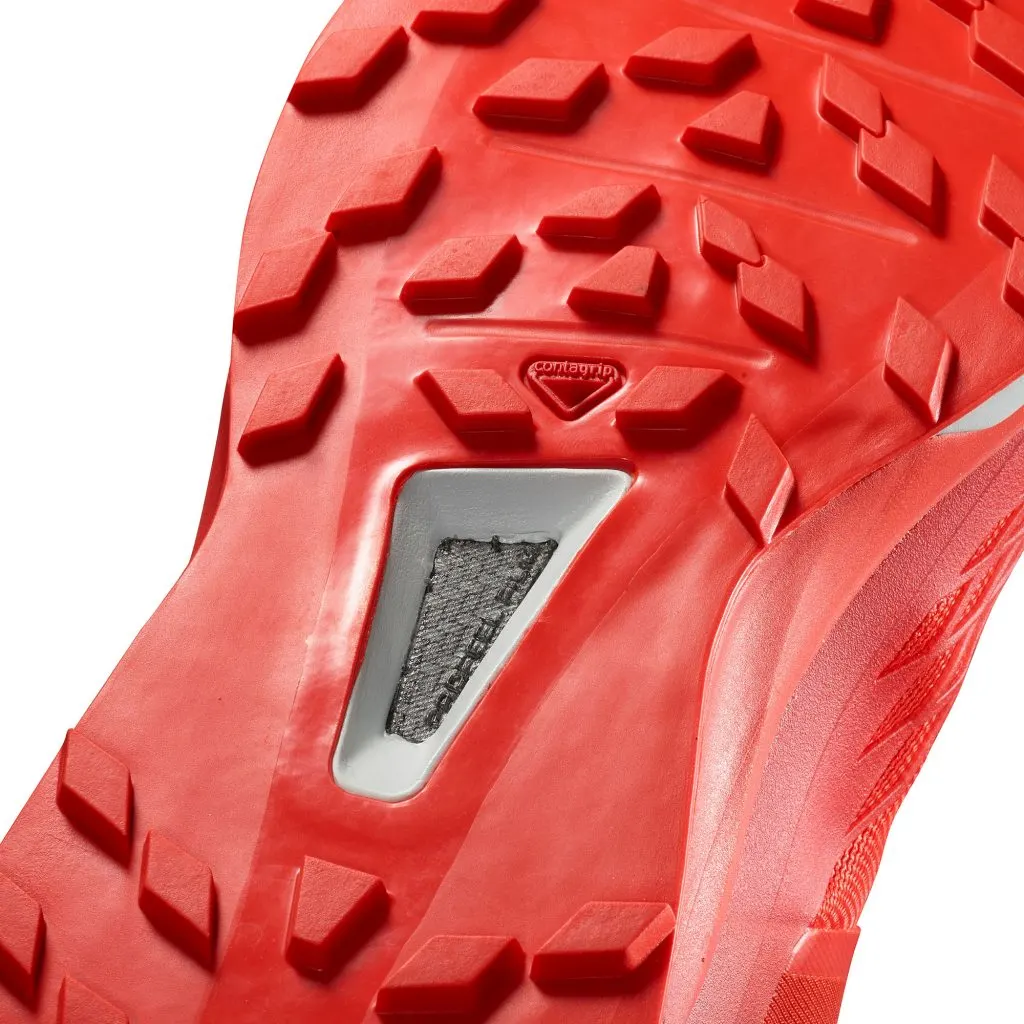 Salomon has a pack of state-of-the-art technologies that can never be found anywhere else except in their line of running shoes.
A few of these technologies are sourced externally; however, most of them were conceived in-house for product design.
The features were developed with the aim of assisting runners to dish out their best performances as they eat up the miles in their outdoor activity.
Here are some of the prominent elements showcased in the range of Salomon running shoes:
Sensifit™
Sensifit™ is a feature that is made up of overlays that look similar to panels. They are usually stitched onto the heel and the sides or hot-melded onto Salomon running shoes.
These additional layers are directly connected to the lacing system of the running shoe, thereby adapting to the looseness or tightness of the coverage.
Quicklace™
Quicklace™ is an arrangement or system of fit-securing components that are specifically designed to regulate the in-shoe feel quickly.
A thin, sturdy cable meanders through unobtrusive eyelets and ends in a securing toggle at the perimeter of the tongue unit.
All you need to do when using the Quicklace™ system is to pull on the durable cables and secure them in position via the use of the toggle.
This means no more of the usual tying-and-looping procedure.
Anti-debris mesh
The upper of a trail running shoe from Salomon features mesh that is created as a barrier against debris and dust.
A structure that looks much like a filter isolates physical elements while gently obliging air into the foot-chamber.
EndoFit™
EndoFit™ is an internal sleeve that is tasked with hugging your foot and securing it tightly, though not uncomfortably.
This feature has a stretchy and smooth disposition designed to accommodate natural movements while adequately preventing skin irritation. EndoFit™ has microscopic pores that promote breathability.
Molded EVA
Molded EVA is full-length foam and the major component in the midsole unit of Salomon running shoes.
It is an industry-standard compound – usually molded into processing frames – that takes its full form only after it has cooled down.
The end product is a responsive and highly flexible material that attenuates impact during landing phases.
Mudguard
Mudguard is an add-on that is commonly found in trail running shoes.
The base of the upper unit is fitted with a protective overlay that is tasked with staving off mud or any liquid, thus preventing them from staining the outer fabrics or getting absorbed into the shoe.
Gore-Tex®
Gore-Tex® is an innovative technology which was licensed from a source outside the Salomon brand. It is made of a membrane that is entirely waterproof and designed to boost your confidence when you run in wet conditions.
EnergyCell+
EnergyCell+ is a foam that is created for springiness. It furnishes the leg and feet of the runner with energy, thereby powering each step or stride. This mechanism is helpful when it comes to invigorating the toe-off phase of the gait cycle.
Vibe
Vibe is a technology that was created as a result of the merger of the OPAL and EnergyCell+ cushioning pieces.
The amalgamation of these two results in a well-supported underfoot experience. The runner receives energized steps even as the foot benefits significantly from landings that are well-attenuated.
The OPAL unit is tasked with reducing shudder that occurs when the foot strikes the ground while the standard-length material steadies the runner's stance.
Ortholite® sockliner
Ortholite® sockliner is an additional layer of cushioning – that adds extra support to the underfoot – and is also sourced from an external brand.
Moreover, the Ortholite® sockliner feature comes pre-loaded with anti-moisture as well as antimicrobial properties that help in maintaining a healthy and cool in-shoe environment.
Contagrip®
Contagrip® is a layer of protection utilized for the outsole unit of trail and road shoes from the Salomon brand.
There are several variants of this innovative feature, but the one specified for running shoes consist of multidirectional grip lugs for traction over wet terrains, slope traversal, and braking.
The Contagrip® feature also showcases flex grooves on the underfoot.
OPAL
OPAL is an add-on with an elongated shape that rests in a hollow within the EnergyCell+ structure in the heel section. This lightweight piece provides shock attenuation along with high-rebound support.
Frequently Asked Questions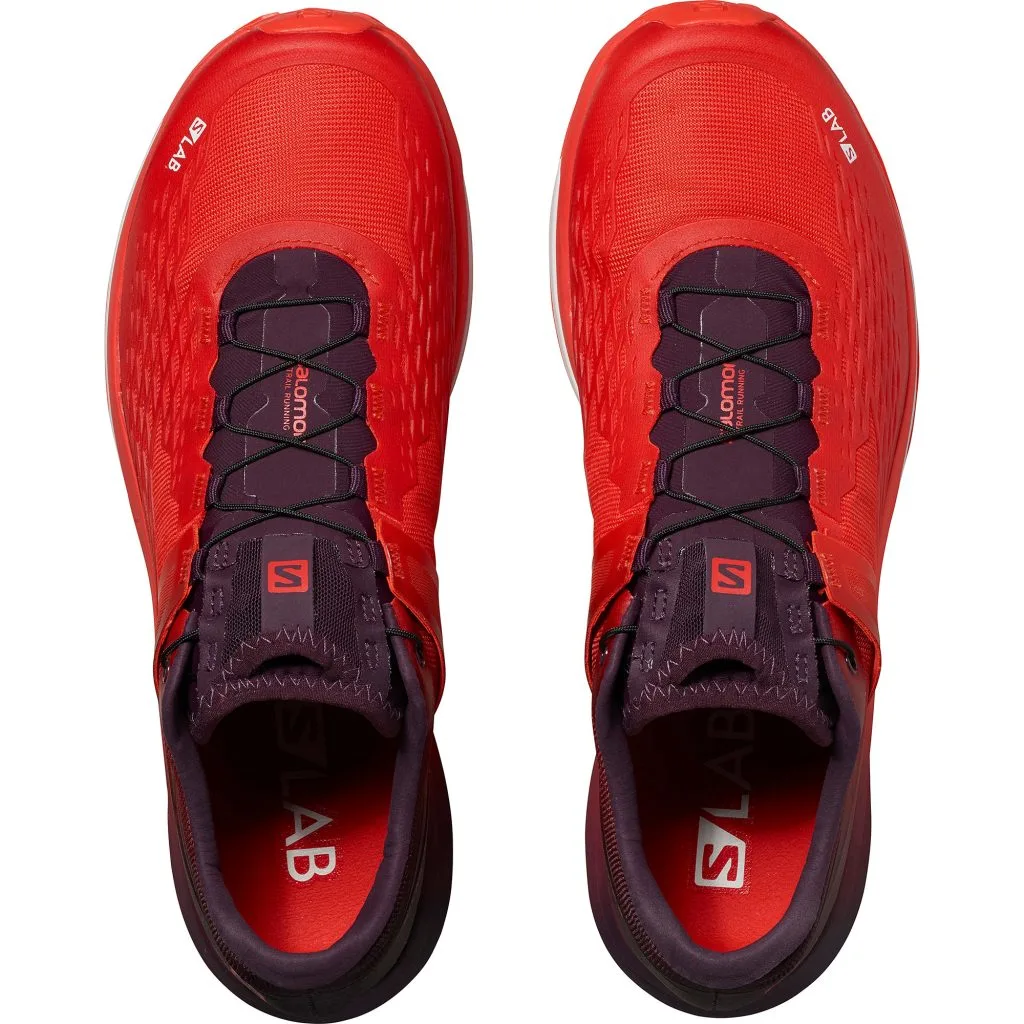 Question: What Makes The Designs From Salomon Different From Others?
Answer: Salomon has always been a favorite brand that is dedicated to outdoor sports, specifically running. It is the brand that pros rely on when packing the camp stove for a week-long or weekend adventure or hitting their favorite trails for the day.
So if all you want to do is get a GPS watch and head out into the wilderness without much fuss, this is the brand that backs you up with its outstanding line of footwear. Only a few other brands can adequately measure up to the value, comfort, and confidence that exude from the use of Salomon products.
People looking for rugged outdoor options come to Salomon because they know the brand will deliver, and they have never been disappointed.
All Salomon products are designed to take on the elements in no holds barred feats and are sturdy enough to last longer than other options in the market which claim to do the same.
Question: How Do I Care For My Salomon Running Shoes?
Answer: Running shoes from the Salomon brand are engineered with care and precision as well as with high-quality materials. Designers at Salomon are only interested in making sure that your footwear commands performance in a long-lasting package.
However, caring for your Salomon running shoes is crucial to promote longevity and durability. The first thing you should do is to check the care instructions. New items usually come with care instructions inserted in the package or on the tag.
Never wash your running shoe – or any other shoe for that matter – in a washing machine. Post-use wiping of mud/dirt, as well as mild cleaning, should be more than enough to eliminate any debris that may affect the overall look and structure of your beautiful Salomon pair.
It is not recommended to use outside heat, i.e., heat from the sun to dry your running shoes as heat or other related sources can significantly damage the materials of the footwear.
Treat your leather uppers with a wax coating as recommended by Salomon. An additional layer of protection is beneficial when it comes to preserving the integrity and health of leather covers, thus averting cracking and stiffening.
Question: Do Salomon Running Shoes Work With Laces?
Answer: Lace selection – for users of Salomon footwear – is a careful process that requires you to pay close attention to the size of the eyelets. If you can pass the lace through the aperture, then you can use it.
Some running shoes are designed to be used only with specific laces for purposes of durability and fit. So, don't stray too far from the running shoes' intended lacing style.
Question: Can I Replace A Damaged Quicklace™ Setup of My Salomon Running Footwear?
Answer: Many of the running shoes from the Salomon brand feature the Quicklace™ system which has to do with thin, sturdy cables that are connected to a pull toggle. Although these reedy stands are very sturdy, you can replace them if they start showing signs of late wear or if they break.
If that is the case, then you may have to get hold of replacement kits that can handle this technology without compromising it. Replacement kits are available as they come with a set of components including:
• A new set of toggles
• Long lace-strands
• Pairs of lace-end connectors
• Instruction manual
Putting on the new laces is a tedious exercise that mostly includes the conventional technique that you follow to lace a shoe. The finesse, however, is in the determination of the cable's length as well as securing the entire setup with a push-button.
All you need is a long strand of wire that will meander through the eyelets of the running shoes. After you thread the strand, you will be required to loop the ends through the push toggle.
You should keep in mind that anchoring the system in place requires the use of a securing gear that will separate both ends.
Question: What Advantages Does A Rock Plate Offer?
Abswer: Gear for rough, uneven surfaces or terrain is adapted towards protection than other designs. Every obstacle that you will encounter as you run on trails are threatening and different such that they can put you out of commission for weeks in case of an injury.
Rock plates are therefore essential in trail running shoes to forestall such an occurrence. They are solid pieces of material embedded in the sole of most trail running shoes and help to shore up its rigidity if you happen to step on a rock as you run.
If the sole of your running shoe is too flexible, there is no way you can avoid incurring debilitating injuries or pain. But this unfortunate occurrence is what a rock plate is designed to prevent.
Question: Can Trail Shoes From The Salomon Brand Help Me Perform Very Well Off-Road?
Answer: Salomon has been in the business of creating high-quality performance shoes with sound design as well as other athletic products for decades. The brand has also gathered years of experience in outdoor activities such as hiking, mountaineering and skiing and they have channeled these experiences into creating some of the best trail running shoes in the world today.
This should be more than enough to assure you of the efficacy of Salomon trail shoes in enhancing your off-road performance, all thanks to the combination of creativity, biomechanical functions of the foot as well as the knowledge of the parallelism of the build of a shoe.
Each element of the trail shoes from the Salomon line of products – from the sole to the upper unit – are designed to face the great outdoors without fear or favor. There are several options configured to tackle aggressive terrains while a few are ideal for soft ground or even surfaces. Yes, Salomon shoes function exceptionally well on flat or even surfaces.
Some Salomon running shoes are water-resistant while a few others are completely waterproof. So, performing effectively off the road depends entirely on the shoe you are using.
This list of Salomon shoes should give you enough of an idea as to which shoe is going to work best for you.
Salomon is a trusted brand that has delivered some of the world's best running shoes. After proper research and testing, you should find an excellent running shoe from this list!
Do you already run in Salomons? If so, which ones? We would love to hear from you!