When it comes to the best techniques for winter running, Derrick Spafford is a pro. He's worn out countless running shoes competing in some of the most brutal conditions, including races like the 100-mile ultramarathon in the Yukon Arctic.
Not to mention that he's been running every day continuously since 1989.
Preparing for running in harsh winter conditions, even for a seasoned runner like Spafford includes even some extraordinary measures. He travels with light supplies, dresses in careful layers, and even is on the lookout for polar bears, for whom he says, "the best defense is not to see one."
If that isn't dedication to winter running, it's hard to say what is.
Of course, winter running isn't just for extreme runners like Spafford. In fact, winter running can be rewarding, not to mention that it'll keep you training year round and may even help to alleviate the all too ubiquitous seasonal affective disorder.
But winter running can also wear on your body–and your gear. Here, we'll go through what you need to know about winter running, and how to find the best shoes for your adventures.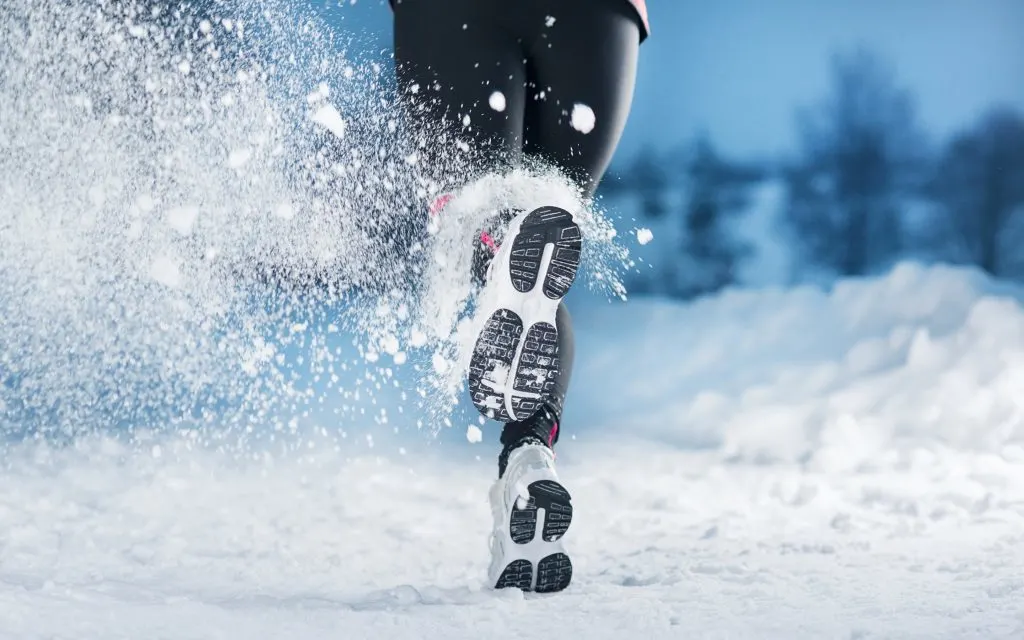 Besides year-round training, are there are any other benefits to winter running? Winter running may present a number of challenges, but it also presents a number of benefits you may not be aware of. Running in the winter, provided you have proper running shoes, can actually make you a more focused and stronger runner.
Winter running increases your tolerance for bad weather days, can sharpen your resolve, and help prove to yourself your willingness to stick to running even when it's less than optimal outside. Winter running may also:
Build up strength:
by being forced to run on snowy surfaces that require more energy, balance, and force
Burn more calories:
In cold weather, your body burns more calories to stay warm. That said, a caveat is that it usually isn't enough to make a huge difference, and you still want to make sure you're dressed warmly.
Strengthen cardiovascular function: by making your body pump blood more to warm your core temperature
Provide a change in pace:
This is both literal and psychological. In cold winter running, you may be forced to slow down your pace–especially if there are elements like snow or ice. Switching up your pace can actually good for you, plus you'll be working on strength, which is valuable to improving speed. Psychologically, even if winter isn't your favorite season, it presents an opportunity to shake things up a bit and see routes in ways you don't at the height of summer.
Should I be worried about anything when it comes to winter running? You probably don't need this article to tell you, but winter running comes with its risks. Snow and ice can make your path slick. Falling temperatures can make you more than just a little sick. And even if you live in a more Southern climate, you'll still need to keep decreasing daylight hours and reduced visibility in mind.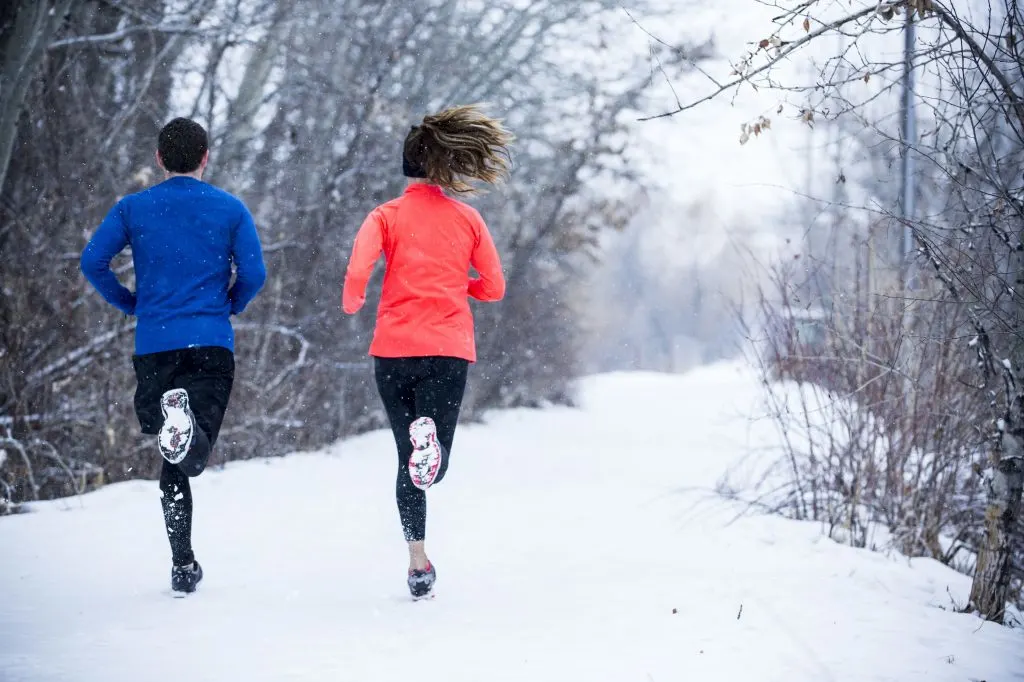 Here are the main risks you should be aware of, especially if it's your first time running in the winter:
Hypothermia:
Hypothermia is a condition that happens when body heat is lost more quickly than it can be replaced. It doesn't actually have to be that cold outside for this to happen; it happens, usually over a period of time, from exposure to weather or cold precipitation.
While this is rare, especially if you're running, it can happen if you aren't adequately dressed, get lost, or are exposed to wet elements for too long (this is another reason why running shoes for winter are important). Symptoms include shivering, weak pulse, confusion, lethargy, and bright red skin.
You also need to wear off when it's too cold to run–which mostly involves issues of precipitation, wind chill, and how you're dressed.
Visibility:
Unless you have odd job hours or can set your own, chances are you're going to find it harder and harder to run with daylight. If you can't slip out for a noon run, you'll have to consider the shortening days.
Wearing reflective gear is critical to making sure you're seen by cars. And make sure, if you are running when it's getting darker, to only run on familiar paths and let someone know where you'll be and for how long.
Ice, Snow, and Slush: You can dress for the cold and you can make sure you're fully visible, but one thing you can't change is the weather itself. Snow, ice, and even melting slush all pose hazards. When it's falling, snow can make it hard to see (consider wearing something like a running visor). When it's on the ground, snow and ice can make your path slick, leading to potential injuries.
As a rule of thumb, try to run on fresh snow. Running on ice or packed snow is more likely to lead to falls. Packed snow can also contain layers of ice that you can't see.
Wearing running shoes best fitted for winter. Year-round shoes won't have the special traction and waterproof technology that is critical for running shoes for the winter
When in doubt, go slow. If a path is icy, skip it, or find a treadmill for the day if you need to.
How do I find the best running shoes for winter? As with any pair of running shoes, you'll want to make sure that the shoes fit your needs as a runner. They should have room in the toe box to allow for swelling while you run (but not too much); the level of cushioning you're accustomed to; and, ideally, they should come from a brand that makes reputable shoes. As always, you'll also want to break them in some before hitting the road.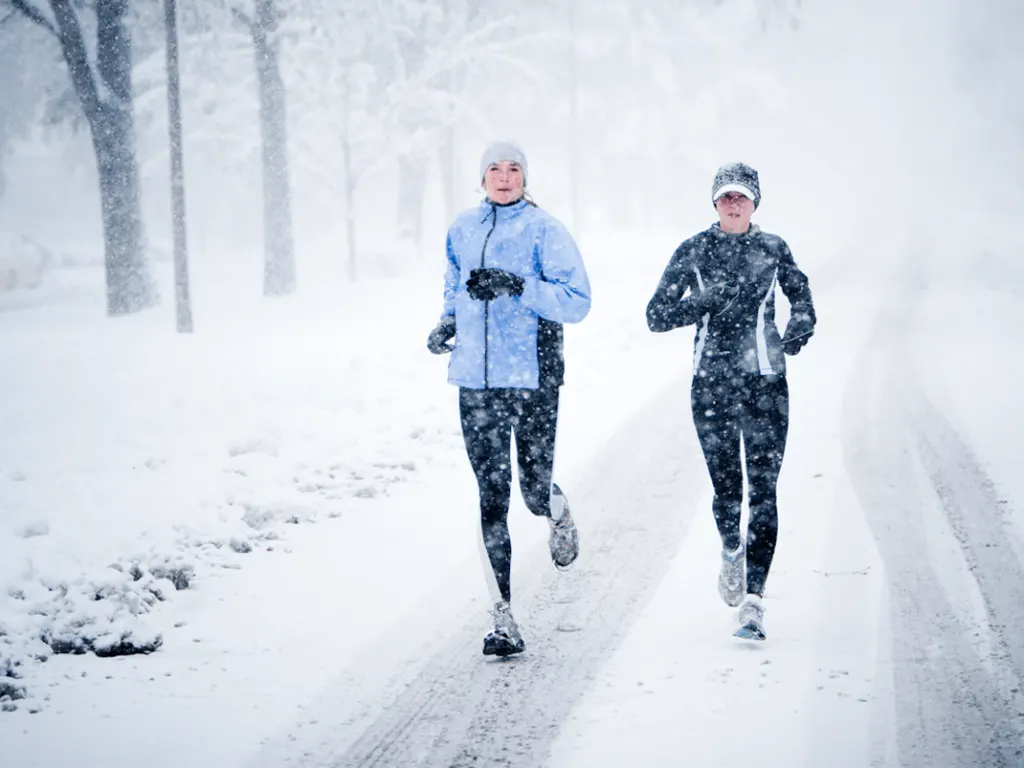 But for winter running shoes specifically, keep these criteria in mind:
Waterproof or Moisture Wicking Technology:
There will be snow, slush, maybe ice, and maybe freezing rain. While you can get by without this feature in the warmer months, it's crucial in the winter not only for keeping you comfortable but so there's very little chance you'll suffer from frostbite or any cold-related ailments to your feet, which you may not feel or notice as much while you're running. Plus, it'll keep your socks dry and can prevent related blisters.
Traction:
Technically, all of the best running shoes have traction, but winter running shoes call for a little extra. Specific grip technology can be found on a number of winter running shoes. Trail shoes, in general, are heavier but tend to be more suited to winter because of features like this.
Durability:
The durability of running shoes depends on a number of factors, and when you're looking for a pair it can be hard to tell if they offer what you're looking for. To improve your chances of a shoe that can withstand the elements, not to mention additional aspects of winter running, such as road salt, you'll want to make sure the shoe is specifically designed to handle mucky and icy days.
You can also speak with a shoe professional, and consult reviews to get a feel for how suited the shoes are for winter.
The best winter running shoes for men and women–our picks:
Taking into consideration essential winter technology, ratings, brands, and prices, we've compiled a short of list of some of the best winter running shoes for both men and women. Keep in mind that these shoes depend on personal taste, and models may change slightly depending on when you decide to purchase.
Disclaimers aside, these winter shoes are sure to make running just a little bit more enjoyable, and safer, for even the coldest and snowiest of days.
For Women:
1. Brooks Cascadia 13 GTX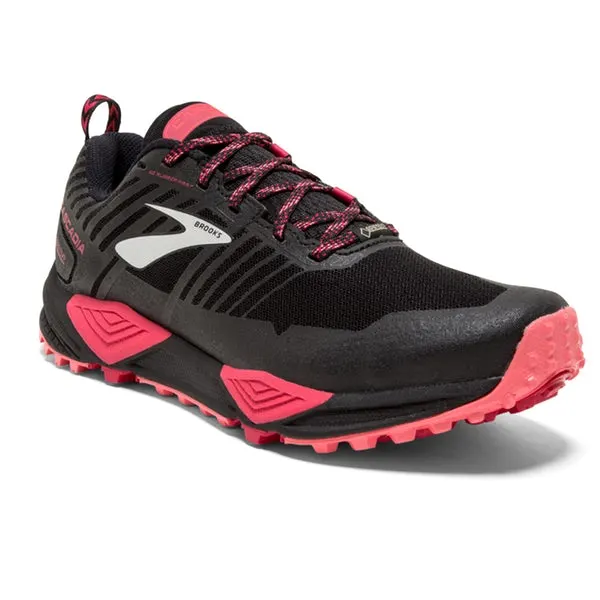 The Cascadia 13 GTX shoes by Brooks is a well-designed winter running shoe with principle features you want, and little of what you don't. It's available only in hot pink and black, but get past that and you'll find some essential features you'll want before hitting the trail.
Since it's specifically a trail shoe, it's designed for 'rugged traction', but with built-in cushioning for extra comfort, making the price tag worth it.
2. Saucony Women's Peregrine 8 ICE+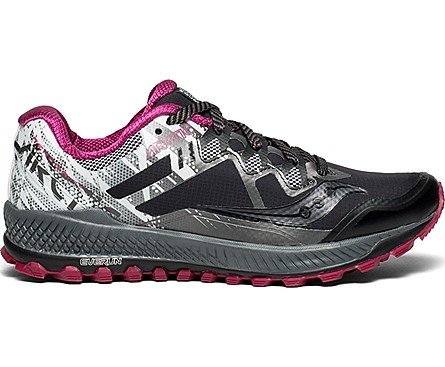 As the name implies, Saucony presents an impressive winter running shoe specifically equipped for icy weather. This trail shoe features a slick, not clunky design, with responsive cushioning and neutral stability.
The Saucony Women's Peregrine 8 ICE+ are designed for running on trails, grass, and even surfaces slick from ice. The outsole features wet-ice technology, keeping you not only dry but less prone to slipping. This excellent if you live somewhere where it's slick often.
Just note that this pair is water resistant, as opposed to waterproof. Available in one color (pink, black, white, and gray).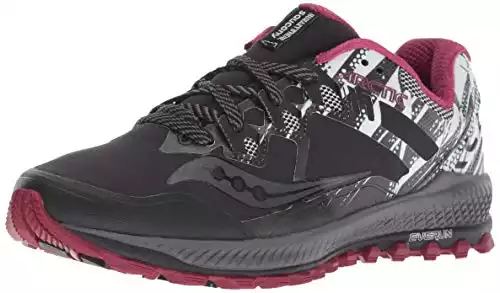 3. Nike Women's Odyssey React Shield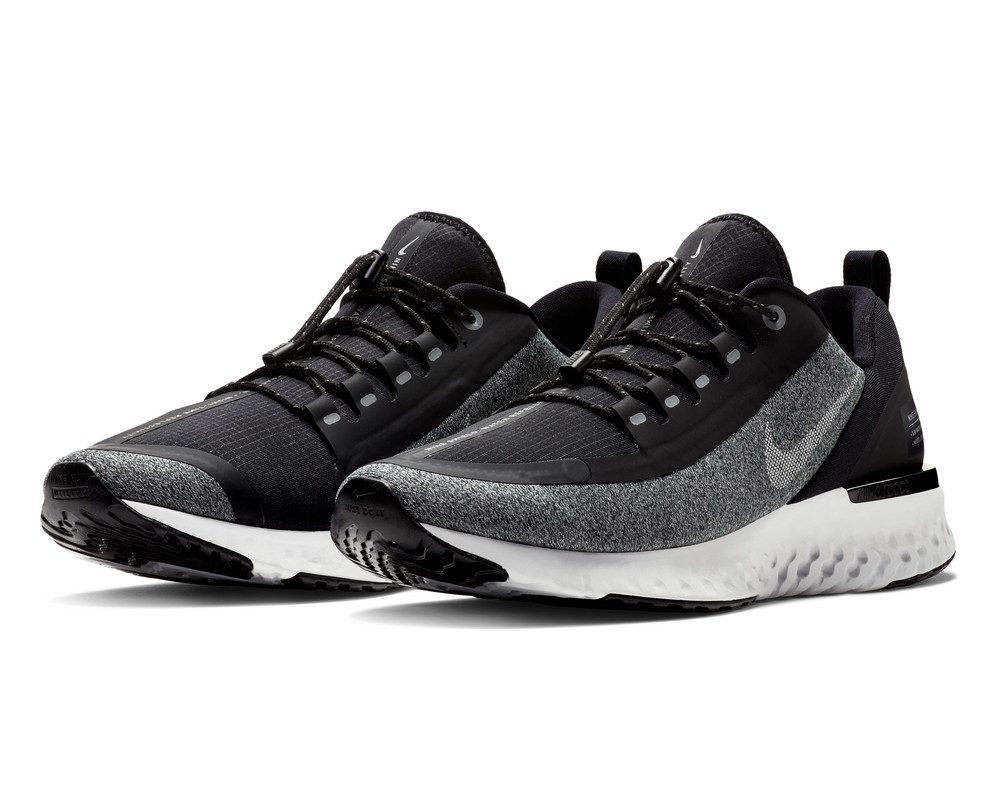 If you live in a warmer climate, and/or if you don't see yourself tracking on trails in the winter, Nike's Odyssey React Shield might be a good option. A 'durable tread' will last well in slick conditions, plus it doesn't appear as bulky as some other winter shoes, making it a shoe you could also use in other wet months.
Water resistant technology will also keep you dry and comfortable. Available in one color (black/gray/ silver).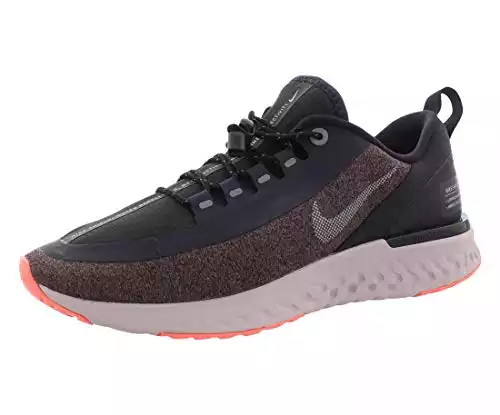 4. North Face Women's Endurus TR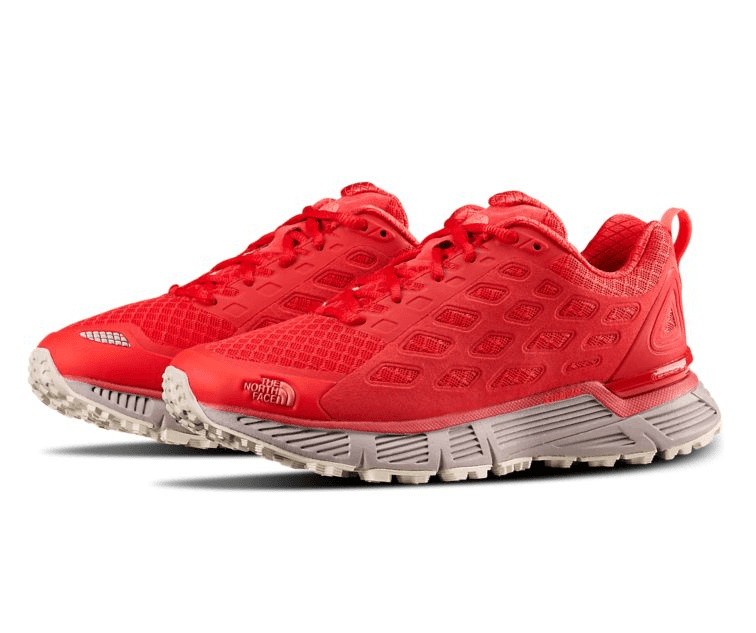 North Face may have made a big name for itself for its skiing and snowboarding gear, but they also have a line of running shoes with a similarly attuned focused to braving wintery elements. These winter running shoes for women are actually lighter weight than typical trail shoes, but still, boast a host of features.
Seamless suede offers breathability, while foam technology provides lightweight comfort. To keep your feet dry, there's a flash dry collar, which works by accelerating the process of evaporation. Available in two colors (red and orange; black and pink).
With heel technology and multi-terrain traction, this is your best option for a stability winter running shoe.
For Men:
1. Merrell Men's All Out Crush Tough Mudder 2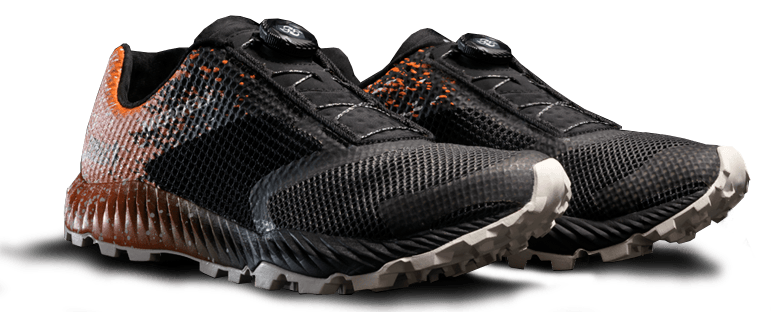 It may have a lengthy name, but the All Out Crush Tough Mudder 2 winter running shoe by Merrell is one of the best and most affordable options for men, at just under $80.00.
It is more of a multi/wet season shoe, so it's best suited for mild climates that get moderate to low snow accumulation. An integrated footbed, padding, and adaptable grip outsoles make it a good fit for trail running. Available in one color (black and orange).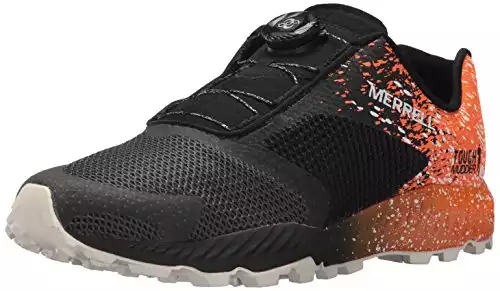 Read More: The Best Merrell Running Shoes [2021 Guide]
2. North Face Men's Ultra 109 Gore-Tex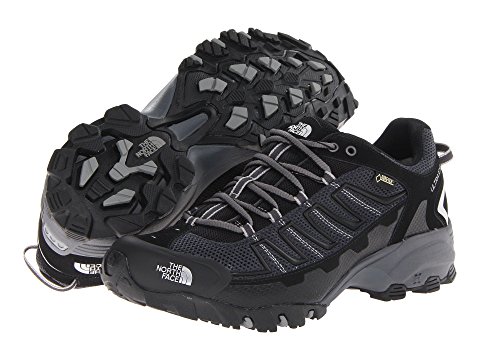 This winter running shoe is one of your best options if you're prone to overpronation. The stability shoe is also well suited for winter weather, with Gore-Tex grip technology, rubber sole traction for wet surfaces, and waterproof technology.
You'll also get breathable mesh, and a coated midfoot support system. The North Face Ultra 109 Gore-Tex is designed for more rugged conditions, there's a lot to admire in this pair of shoes. Available in one color (gray/ red).
3. Saucony Men's Peregrine 8 ICE+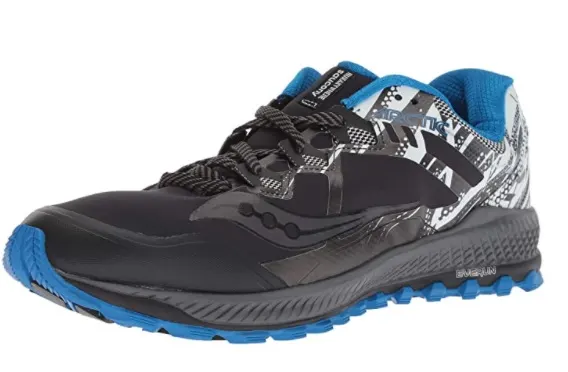 This is the men's version of the women's winter running shoe we recommended. Specifically designed to run on icy conditions, we can't help but recommend this design for men as well. You'll get the same responsive cushioning, arctic grip outsole, and Everrun cushioning system for optimal comfort.
The Peregrine 8 ICE+ is suited for running both on grass and ice, but may not be as suited for heavy trail running. Available in one color (black/white/ blue).
Best Unisex Shoe:
Salomon's Speedspike CS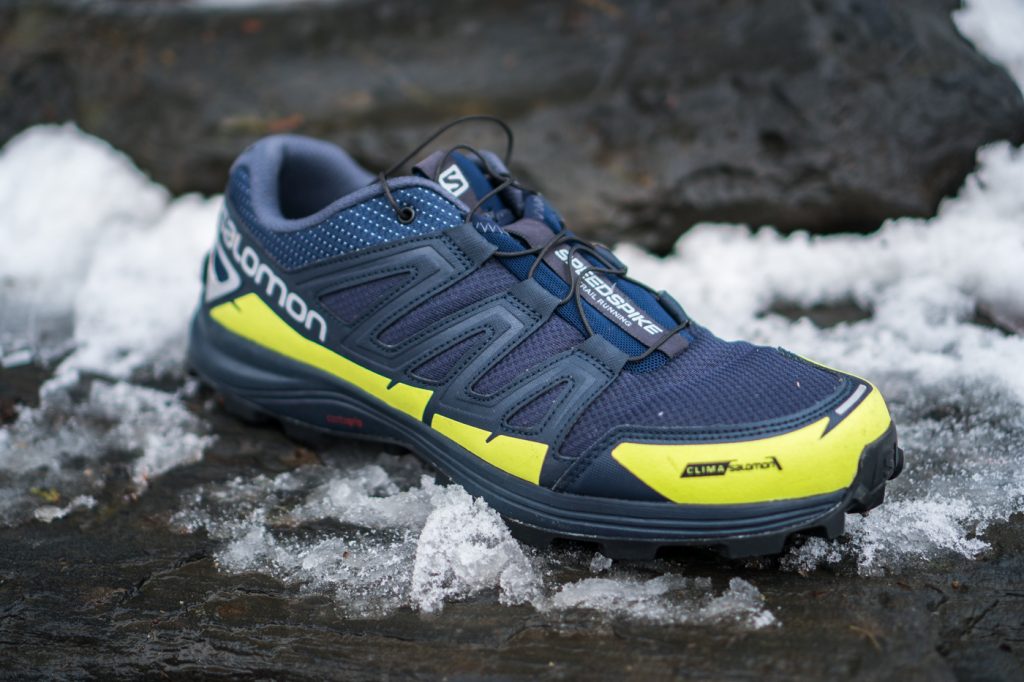 It's unusual to find a unisex running shoe, but this one deserves a mention. This unisex shoe, by Salomon, is great for the very iciest conditions. Why does it stand above the rest? It features spikes for ice grip so you can train through the very worst conditions.
A stability shoe, the Speedspike CS is not lightweight but offers great traction, plus a ClimaShell for extra warmth around the toes for wet conditions. Available in one color (black/mint).
Honorable Mentions
Getting the best running shoes for winter is only the start to a safe and great run. Even if you don't buy a running shoe with built-in spikes, there are a number of products you might consider to improve traction and reduce the impact of wet conditions, including:
Kahtoola NANOspikes Traction System
You can attach this to almost any pair of winter running shoes. The attachment looks like a harness of sorts and is easy to slip on. It works sort of the way snowshoes do and is great for improving traction, especially in deeper snow.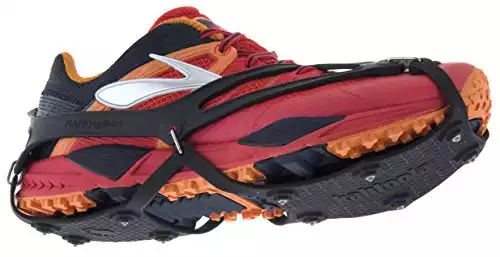 Korkers Ultra Ice Cleats
This is larger and adjustable cleat goes on the bottom of your shoes and is used in deep snow or icy conditions. It includes 16 ice steel studs that line the toe, heel, and ball of your feet.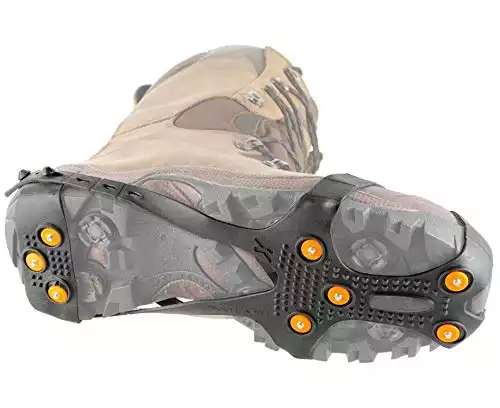 Hillsound Trail Crampons
This option features a small chain-like traction device that fits on the bottom of your running shoes. The flexible design is supposed to provide a tighter fit but without cramping issues. An elastic harness and velcro strap helps secure equally distributed spikes.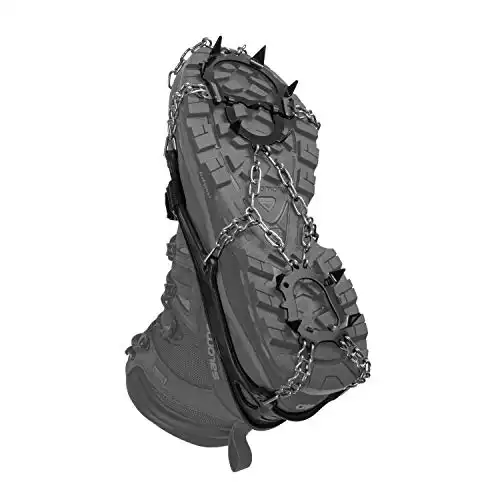 Final Thoughts
Knowing how to find the best winter running shoes and add-ons are the first step to ensuring a safe, fun, and rewarding winter running season. Be sure to wear reflective clothing when it's getting darker, always let someone know you're headed out, and travel on familiar and close routes when the weather's wintry.
The best advice when it comes to winter running? Use your best judgment. One day on the treadmill won't put back your training. And above all, happy trails.
Read more: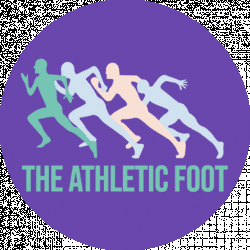 Latest posts by The Athletic Foot Team
(see all)