Puma is a well-known footwear brand that has been on the market since forever. Part of the company's success lies in the fact that it keeps launching great and improved new running shoe models that work for both trail and road runs. Puma fans will never get bored choosing from a large variety of colors and designs.
These sports shoe suit experienced and novice runners alike.
Furthermore, the majority of clients say Puma shoes provide comfort and durability. Below, there's a list of some of the best Puma running shoe options.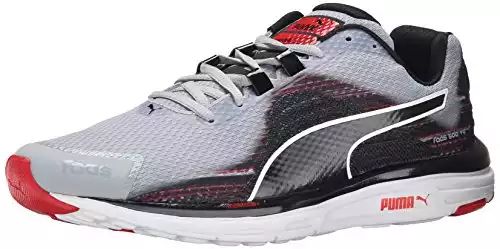 PUMA Faas 500 | Amazon
The NEW Faas 5 v4 has an improved upper fit with a brand new tooling that is built for the everyday runner who is looking for a minimal and light-weight cushioning training shoe.
Men
Women
We earn a commission if you click this link and make a purchase at no additional cost to you.
What Makes Puma Running Shoes Stand Out?
There are several important things that differentiate Puma running shoes from those made by other brands. First of all, the company has successfully accomplished its goal of creating good sports shoes that still look classy.
In other words, you can buy a pair of Puma sneakers and wear them during runs, at the gym, or simply use them to complete your daily casual outfit. One of the elements that help us recognize the brand is given by Puma's Formstrips. The manufacturer focuses on providing safe, functional, and comfy shoes.
The outsole is usually made from EverTrack Carbon rubber. Moreover, it comes cushioned with EVA foam which enables optimal impact absorption.
Puma running shoes feature a T-toe structure which means your toes will have plenty of space to move naturally. A snug and a safe fit are given by the EverFit straps which will make the shoes wrap around your feet and adapt to their shape.
Another important aspect that the company takes care of is constantly improving and upgrading their technologies.
Some Puma models even come with foam beads included in the midsole cushioning which is meant to simulate a run session on the sand.
All these efforts and details make us think that Puma is doing its best to meet and even exceed its clients' needs and expectations.
Based on their use, the company has introduced purpose-specific features such as Velcro fabric in sports footwear or TPU shank for better underfoot support.
Other appealing elements are ventilated designs, chevron tread patterns, and Eco OrthoLite insoles.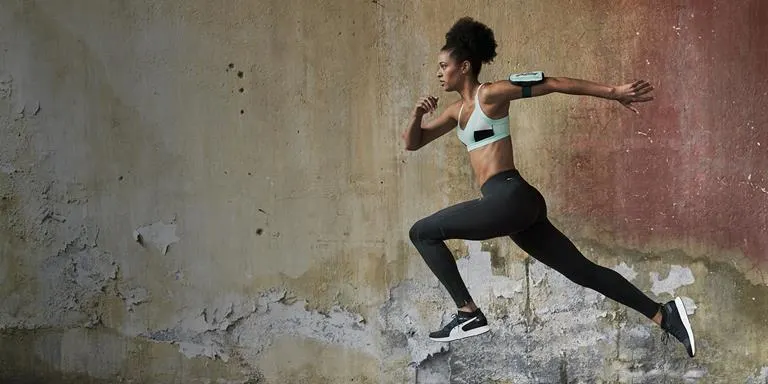 Puma Shoe Types
To target specific interests, Puma has created plenty of shoe models and options.
For instance, Lifestyle Puma shoes are made for outdoor activities. They are breathable, roomy, and comfy sneakers which feature well-cushioned heels. Simply put, with this footwear, your run will become effortless.
Besides their regular products, the company has also launched specially designed shoes that suit different types of activities such as soccer, tennis, training, golf, etc.
They have even marketed ergonomic sandals which were definitely a bold marketing move.
Puma Shoes – Key Features
Let's face it! When it's time to pick a certain sports footwear model, most people tend to first look at design and aesthetics. We all want a shoe that looks sleek and eye-catchy before we pay attention to other aspects such as functionality and price.
Puma shoes have always been stylish, with their appealing logo and ageless formstrip. But what kinds of characteristics are taken into consideration by the manufacturer to create the perfect running companion? Here are a few features that make you want to purchase a pair of Puma shoes:
If you're used to running miles at a time, having responsive and supportive shoes is crucial. Good support is also necessary when you go for runs on uneven terrains or trails. All Puma sports shoes come with great arch support offered by a specially-designed midsole and sock liner.
Certain models have mid-foot panels which further enhance the support level. Many Puma footwear alternatives also cover the ankle. This translates into great support and it isn't seen in a lot of other similar products;
Puma makes no compromise when it comes to their shoes' outsole, midsole, and insole. Your feet will be cushioned and supported while also remaining cool and dry.
Basically, you will get all the benefits you need when you're about to walk, run, or stand for hours.
As a matter of fact, the brand has created wonders by inserting foam beads, Ignite foam, and cell cushioning technology in the footwear's midsole.
The outsole has remained secure and robust;
Both ventilation and moisture management are essential factors that make or break the quality of a good sports shoe.
Many Puma models feature perforated mesh or breathable fabric that keep the airflow intact;
This is another important factor that makes Puma shoes stand out. Their sturdy materials make these shoes last longer.
You can safely use them at least until you reach the milestone of 500-600 miles.
The Characteristics I Used in the Evaluation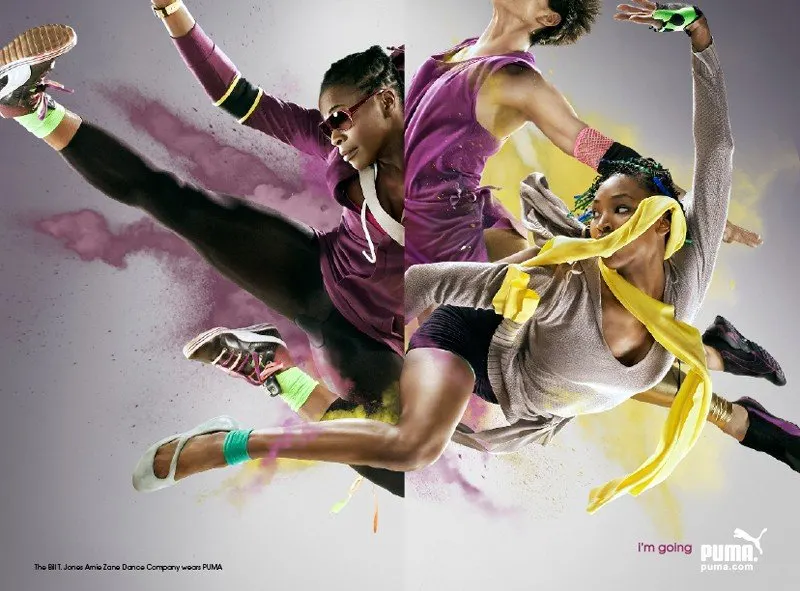 a. Main Features
Sports footwear is as good as its elements. I have tried to look at both perks and flaws of each model before including it in the list above.
I did my best in finding the ones that had the total package and which will improve the performance of any runner.
It wasn't easy, I must add because there are tons of Puma shoes out there. Furthermore, some new Puma models aren't meant for running so I made sure to select only those who can provide comfort and safety during training.
First and foremost, I have taken into consideration the main features that generate high-quality sports shoe.
Besides having great looks, these models must also be excellent in terms of fit, performance, functionality, and technology.
With Puma, you will benefit from wearing a high-performance shoe that also looks great and it is trendy.
In the list above, I have included some options that are good for running but can also be used for other types of physical activities like workouts, weight lifting, training, etc.
Make sure you pick the one that suits your size, budget, but mostly that fits your sporting pursuit. For long runs, there's nothing better than a breathable, flexible, durable, and lightweight shoe.
b. Durability
The company has a long history as well as a great reputation. All these were achieved due to the fact that its employees take the creation of high-performance running shoes seriously.
When we think about durability, we should also consider another factor: maintenance. Puma uses runner-friendly and durable materials into making these shoes.
On the one hand, if you want more breathable footwear, you should opt for knitted fabrics. Still, these are harder to clean.
On the other hand, if you want a more convenient option, synthetic leather might be a good choice although it has a less breathable design.
c. Level of Comfort
Another thing that I love about Puma sports shoes is their comfort level. Their footwear is versatile which means you can easily use it during runs, training, and other sports activities.
Part of this feature is given by the fact that Puma products are both comfy and they support your feet. I know from experience how tedious the process of finding just the right shoes that fit you well can be.
So, receiving the appropriate amount of support, especially during long runs, isn't a luxury anymore. It has become a necessity.
Not only are Puma sports shoes well-cushioned, but they are also breathable which means your feet won't sweat during runs.
Regardless of the weather, good footwear must remain breathable if you want to achieve great things from your training.
In terms of size, Puma footwear can be grouped into two main categories: narrow and wide.
So, keep in mind that before purchasing this type of product, you must first find out your foot size and measurements and inform yourself regarding the width of the shoes you're about to order.
Although the brand markets some wider models, most of its shoes tend to be more on the narrow side.
d. Weight
Most runners search for lightweight running sneakers which is totally normal. These types of shoes won't strain your foot and they will help you perform better.
Surprisingly enough, having lightweight footwear isn't always good. What I mean is that, like all the other features, you should find a pair that has just the right size and weight.
Too light shoes will probably fail to offer the level of support you need during a run.
Top 7 Best Puma Running Shoes on the Market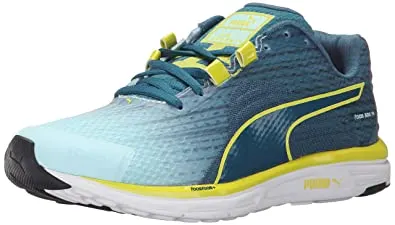 This Puma shoe model is durable and makes your feet feel comfortable during running sessions. There are plenty of appealing colors and the product's design is simply gorgeous.
It comes with a lot of useful features such as supportive midsoles, breathable mesh fabric, durable outsoles, etc. These shoes are excellent for your daily training.
They are a tad wider compared to regular running shoes which makes them the perfect choice if you want to avoid issues like squeezed or pinched feet.
Features
Rubber soles;
Faas Foam;
Breathable Airmesh;
Lightweight shoes;
Evertrack outsole;
Forefoot flex enabling smoother transitions;
Molded OrthoLite sock liner.
Pros
These high-quality shoes are affordable;
They help you maintain healthy feet due to their anti-bacterial sock liner;
The way they're made promotes a lot of flexibility and natural foot movements;
Their foam technology makes take-offs a lot easier;
You will definitely enjoy the shoes' reflective overlays.
Cons
The laces can be a tad slippery;
Some people find them a little stiff.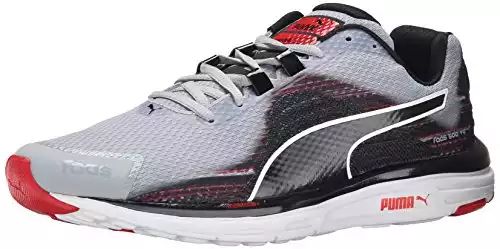 PUMA Faas 500 | Amazon
The NEW Faas 5 v4 has an improved upper fit with a brand new tooling that is built for the everyday runner who is looking for a minimal and light-weight cushioning training shoe.
Men
Women
We earn a commission if you click this link and make a purchase at no additional cost to you.
Price
You can get the Puma Faas 500 on Amazon. They cost between $50 and $85, depending on the size, color, and seller.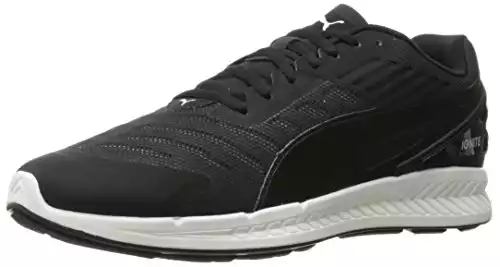 PUMA Ignite V2 | Amazon
Ignite is a superior cushioning material that disperses impact while providing optimal responsiveness. Puma's unique pu foam formula offers high rebound and fantastic comfort.
Buy for Men
Buy for Women
We earn a commission if you click this link and make a purchase at no additional cost to you.
Puma Ignite V2 will maintain your safety and comfort during daily training as well as long runs.
They have an amazing cushioning and they feature a high level of flexibility. Your feet will enjoy a snug fit without being too squeezed inside the shoe.
You can even use this product for your endurance workouts because they are durable and they absorb shock. Moreover, the overall structural design of these shoes won't disappoint you.
Features
Breathable mesh for the upper part;
Suede tongue to alleviate lace pressure;
Silicone heel print as a non-slip feature;
Reflective details to boost your visibility on the road;
Custom overlays.
Pros
The upper part is made from a good-quality mesh which allows airflow;
These Puma shoes are durable thanks to their EverTrack technology;
Most clients are pleased with the way they feel in these shoes, saying they experience a smooth run;
The tongue is made from suede and it is very thin to increase your level of comfort;
The inner heel part comes with a silicone print that secures the foot even better.
Cons
The forefoot is a bit narrow and it might cause discomfort, especially if you have wider feet;
Although the regular size is quite affordable, the bigger sizes are a tad on the pricey side.
Price
You can purchase the Puma Ignite V2 shoes on Amazon. The smaller size costs $39.59 while the larger size is sold for $201.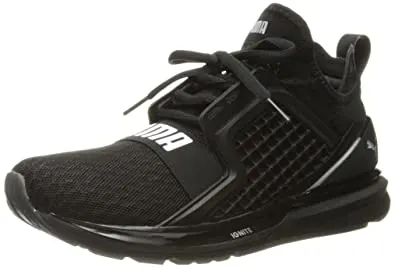 This model is a bold one with eye-catching colors that will definitely fit any style. The shoes are very comfy and lightweight. With them, you will achieve a smooth strike-liftoff transition.
The product features Neutracell technology as well as other amazing benefits like reflectivity and optimal breathability. The cushion system feels very good and it has the proper amount of balance.
Features
Rubber sole;
Heel cup featured with pull loops;
Lightweight cross-trainer shoes;
Upper part covered with mesh;
The front part has a cage overlay for support-related purposes;
Great cushioning.
Pros
The cushioning of these shoes is simply amazing. It promotes responsiveness while also dispersing impact;
These shoes are durable and breathable;
Your feet will feel very comfortable in them;
Ignite Limitless shoes are lightweight without sacrificing protection;
The midsole has a special foam that ensures flexibility;
The design is an attractive one and the shoes can be found in a wide range of colors.
Cons
For some people, these shoes might be a bit narrow;
According to some clients, these shoes aren't good for all types of workouts. They claim that Limitless shoes won't work as good for weight lifting and HIIT training as they do for running. It seems that the heal part tends to slide around.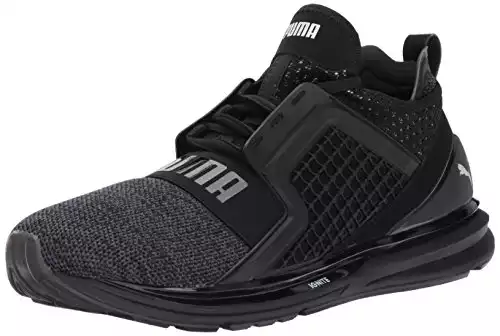 PUMA Ignite Limitless | Amazon
This fuses highly technical running features with the design mentality and attitude of modern streetwear. This model provides premium cushioning and energy return with full-length IGNITE Foam embedded in the midsole. 
Buy for Men
Buy for Women
We earn a commission if you click this link and make a purchase at no additional cost to you.
Price
The price of the Puma Ignite Limitless running shoes starts at around $50 and it can go up to $199, based on the size you order.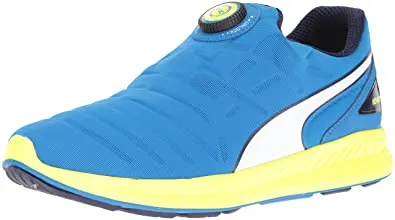 With Puma Ignite Disc, you will surely be noticed by people on the street. These medium-priced shoes are lightweight and most users are happy with their level of comfort.
You can either purchase the standard version or opt for single width sizes. The forefoot is well cushioned while the heel part is harder which provides better adhesion.
Moreover, the grip of the outsole is also very good.
Features
Breathable mesh;
Lightweight shoes;
Rubber sole;
Disc Fit System – ensures a comfortable fit;
Comfort foam – stretches and gives you a comfortable sensation.
Pros
The upper part of the shoe is mostly made of soft plush durable materials;
The fabric is breathable so your feet will have the proper level of ventilation;
Puma Ignite Disc comes with a high level of flexibility;
You will enjoy a great transition and very good cushioning;
These shoes are responsive and their design is a futuristic one.
Cons
At times, the shoe's tongue might slide to one side or the other which can become quite annoying;
One user complained about the fact that the product is rigid; hence it isn't as comfy as he expected.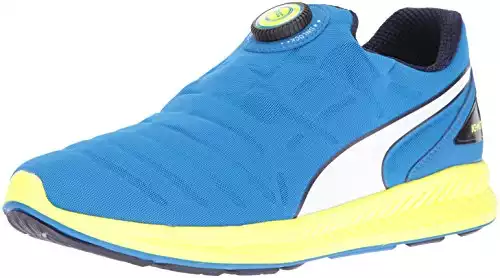 Puma Ignite Disc Running Shoe | Amazon
Ignite disc offers a quick fit, allowing the runner to put their shoes on and go. A custom secure fit along with breathable mesh hugs the foot providing comfort and breathability.
Buy at Amazon.com
We earn a commission if you click this link and make a purchase at no additional cost to you.
Price
You can buy the Puma Ignite Disc shoes on Amazon, for the price of $71.18.

If you want a more fancy yet retro style, these shoes are definitely the right choice for your preference. Compared to all the other running shoes, these are the ones made for legends.
They might look retro but they are packed with all kinds of new technologies all of which will make you perform better during running sessions.
The upper part is made from synthetic leather which provides all the advantages of real leather without the extra weight. However, fake leather might not be as durable as the real one.
Features
Rubber sole;
Retro-inspired design;
Features T-toe overlay and Formstrips;
Saw-tooth traction outsole;
The midsole is well-cushioned and it comes with arch support.
Pros
The upper part is made from synthetic leather which makes the shoes durable;
The shoes come with signature foam strips;
Roma shoes have an impressive reinvented retro style which is very cool;
They feature an extra arch for boosted support;
The outsole has a saw-tooth traction system;
The product comes fully equipped with many interesting characteristics, including padded tongues.
Cons
Unfortunately, many people say these shoes are very narrow which can make them a bit uncomfortable;
The synthetic fabric makes these shoes less breathable than other models.
PUMA Roma Basic | Amazon
The Roma is the stuff of PUMA Archive legend with its sport-turned-street style. It is fully equipped with a padded tongue and arch support. Fresh details include its leather upper and modern color palette.
Buy at Amazon.com
We earn a commission if you click this link and make a purchase at no additional cost to you.
02/07/2023 09:50 pm GMT
Price
Based on the size you need to buy, the price of a pair of Puma Roma sneakers ranges between $34.57 and $126.34.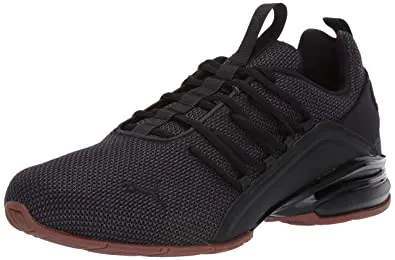 These shoes are the perfect combination of comfort, flexibility, and fashion. They are modern and edgy and they will be an excellent workout companion.
According to the manufacturer, Puma Axelion sneakers will transform your runs, making them feel just as easy as a stroll in the park.
The lacing system is innovative and provides plenty of support. Also, the product's dual pull tabs allow a smooth transition so you can easily wear these shoes on a daily basis, not only during your training.
Features
Modern design and cool colors;
Memory foam insole;
Two-tone knit upper part;
Visible Puma logo on the side;
Chunky rubber outsoles;
TPU shank.
Pros
These shoes are some of the most comfortable options on the market;
They are great for running and training alike;
Both their design and style are delightful;
Axelion shoes offer great value for the money – this is a high-quality product;
Users will enjoy the shoes' softness, flexibility, lightweight, and breathable characteristic.
Cons
The sole can be pretty flimsy;
Not all people love Axelion sneakers. Some say they are a bit uncomfortable;
A few clients have even said they weren't satisfied with the quality of these shoes.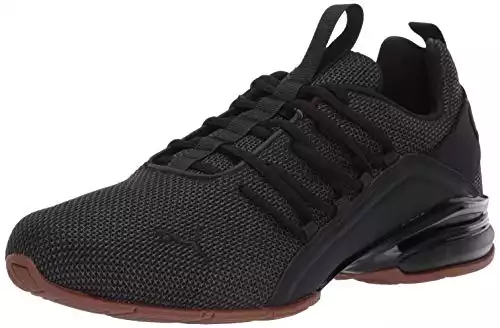 PUMA Axelion | Amazon
Up your game with the Axelion. The breathable heather knit upper combines with a TPU shank in the midfoot for support and control through movements. The Axelion is a true game-changer for everyday comfortable training shoes.
Buy at Amazon.com
We earn a commission if you click this link and make a purchase at no additional cost to you.
02/07/2023 08:55 pm GMT
Price
You can buy the Puma Axelion sneakers online, for as low as $39. Still, if your foot size is a bigger one, the price will be higher and can reach a maximum of a little over $132.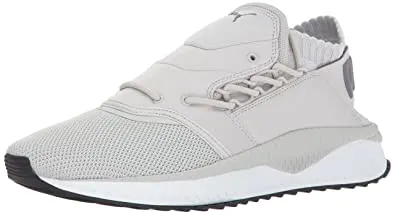 The most interesting thing about these shoes, besides their design, of course, it's their name. Tsugi Shinsei, in Japanese, translates as "next rebirth."
So, the shoes are a blend of new and old, combining the best of both worlds, and including some influences from the East.
The final product is a high-quality and durable sneaker that features a unique lacing system. You can easily use these shoes at the gym, for a run, or when you want to put together a casual look.
Features
The upper part is a mix of synthetic leather and soft breathable mesh;
Evoknit sock collar;
Ignite foam midsole;
Side lacing system;
Rubber razor-style outsole.
Pros
Puma Tsugi Shinsei is durable yet flexible, breathable, and lightweight;
The sock collar provides padding support;
The foam element offers reboundable support;
These shoes are very comfortable;
The unorthodox lacing type ensures a secure fit as well as a good grip;
Clients simply fall in love with the way these shoes look; they have a great edgy design;
You will enjoy the good traction of this product;
They are suitable for people who have wider feet.
Cons
The insole is non-removable which might represent an issue for some people;
If you have narrow feet, you should pay attention to what size you buy because these are wide fitting shoes.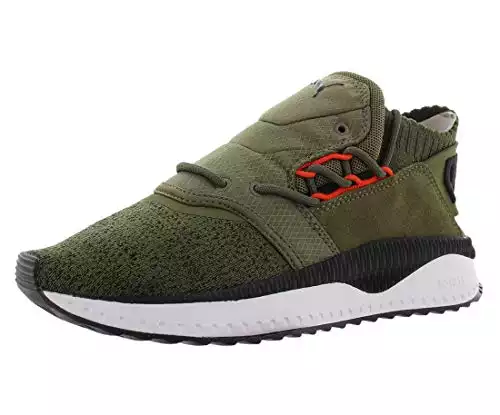 Puma Tsugi Shinsei | Amazon
Inspired by Japanese architecture, the Puma Tsugi Shinsei features a progressive and stylish design. They are crafted with a unique lacing system, feature bootie construction, leather side panels, Ignite foam midsole, and a razor-edged rubber outsole.
Buy at Amazon.com
Buy at Kickscrew
We earn a commission if you click this link and make a purchase at no additional cost to you.
Price
The Tsugi Shinsei sneakers can be bought on Amazon, and their price varies based on the size (from $40 to $190).
Best Puma Running Shoes Guide – the Bottom Line
In conclusion, all Puma shoes are good. Therefore, you must think about all the factors that are important to you.
Consider all the elements presented above and don't forget about flexibility. Flexible shoes will allow your feet to move naturally, almost like they would when you're barefoot.
There shouldn't be any aspect that prevents you from feeling comfortable. Still, make sure you pick a pair that has the proper level of flexibility because footwear that bends way too much can also be harmful to your feet.