A Brief History of the Merrell Brand
The Merrell brand was launched back in 1981 when the founder, Randy Merrell teamed up with the duo, John Schweizer and Clark Matis. Between the clever workmanship and the American Olympian's athletic background, the three were able to create a high-performance – yet affordable – hiking boot.
Since then, Merrell continues to be a prominent favorite among runners and outdoor enthusiasts alike.
The brand's mission to ensure athletes keep advancing at their respective paces has led them to continue developing new groundbreaking ideas to integrate into their line of products.
The exceptional durability, versatility, comfort, and design of the majority of Merrell running shoes make them an excellent option for all runners, beginners and pros alike.
This is why the best Merrell running shoes that are currently available have been compiled as a list with the hope and confidence that you will find and select your next pair of remarkable running shoes.
Here they are in no particular order:
1. Merrell Men's Vapor Glove 3 Trail Runner
This running shoe comes with a premium rubber sole that gives your foot an extremely cozy feeling. The pull-tab together with the lace-up vamp at the counter are nice add-ons for this trail runner.
The Vapor Glove 3 Trail Runner comes with a Vibram outsole which provides lots of traction and also features a remarkably durable insole.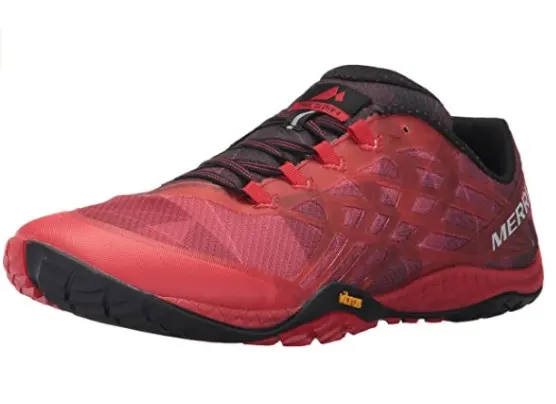 The upper is constructed in such a way that it withstands rocks or other sharp objects and the toe protection from debris is a nice addition.
Pros
Exceptional ground contact
Highly durable
Minimalist design
Highly breathable
Rear Foot sling shore up the heel effectively
Excellent toe protection against debris
Soft microfiber footbed for additional comfort
CMEVA provides cushioning
Cons
Sizes may run large
A few runners believe the responsiveness can be improved on
Users may encounter some resilience issues with the toe area of the shoe's upper
2. Merrell Men's Trail Glove 4 Runner
The Men's Trail Glove 4 Runner is Merrell's prominent running shoe series and the only reason why you need to pick up a pair of shoe from Merrell.
The comfortable running shoe has several benefits that minimalists look for when shopping for a minimalist shoe with class.
The Trail Glove 4 Runner is a lightweight, comfortable shoe with short break-in time and comes with a mesh lining for breathability, thus keeping your feet cool at all times.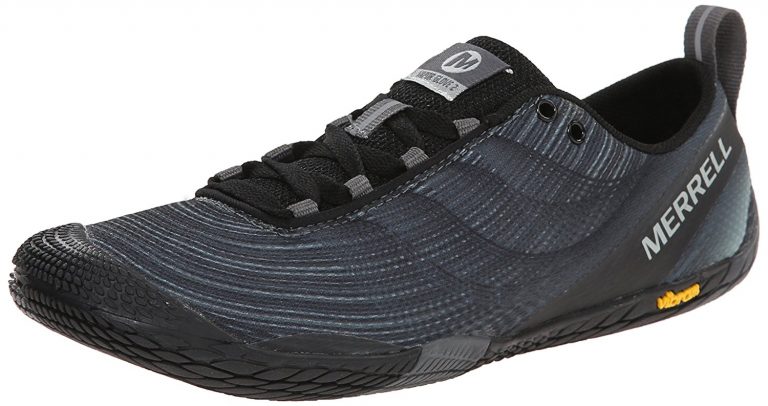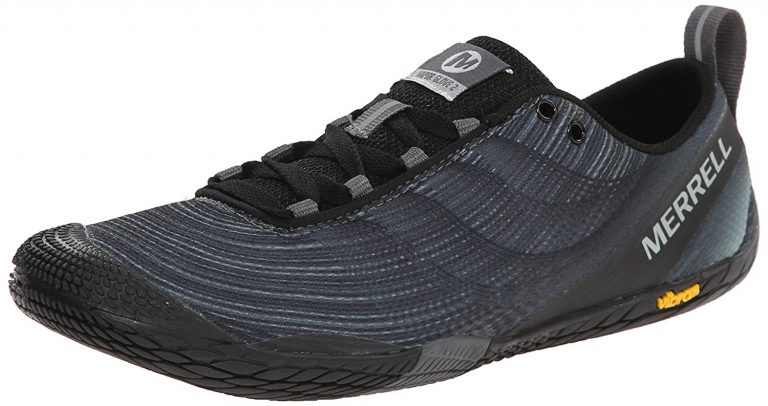 Many users have also confirmed the supportive attributes and how stable this innovative shoe is, and these are rare traits in the majority of minimalist shoes out there.
The Trail Glove 4 Runner is not only high-quality in appearance but functionality as well. This running shoe grips the trail pretty well even with a toe box that allows for one hundred percent spread.
The shoe surprisingly washes easily, thus contributing to the overall durability of the trainer.
The price of this minimalist running shoe is relatively affordable, though the features that are jam-packed in this trail runner are much more than the cost.
Pros
Lightweight
Dries quickly when washed
Short break-in time
Breathable mesh lining
Highly comfortable
Exceptional grip
Impressively supportive
Cons
Shoes may be too narrow for some runners
It may be too firm
3. Merrell Women's Bare Access Arc 4 Trail Running Shoe
This running shoe has you covered when it comes to practical use and style.
The Bare Access Arc 4 Trail Running Shoe features a breathable mesh lining at the top and is powered by the Integrated EVA footbed along with 2mm lug depth.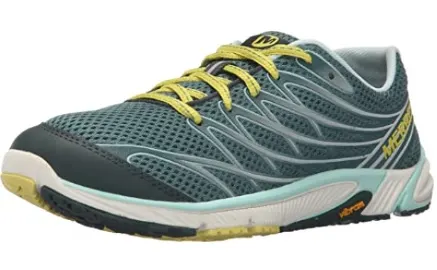 A few runners registered their displeasure at the extra cushioning and new arch support; however, most outdoor enthusiasts were contented with the comfort level.
Users have also expressed their satisfaction at the durable attributes of the Bare Access Arc 4 Trail Running Shoe, and the unbelievably low price of this footwear makes it a steal.
Pros
Exceptional breathability
Extraordinary responsiveness and great feel
Cons
Soles are slippery when wet
4. Merrell Pace Glove 3 Trail Running Shoe
The Pace Glove 3 Trail Running Shoe comes with its distinctive "TrailProtect pad" feature which has endeared it to runners worldwide.
This running shoe features an all-around synthetic sole along with fine fabric to give users a comfortable feeling. The padded collar, as well as the highly breathable mesh, make the running shoe all the more exciting to use.
The Pace Glove 3 Trail Running Shoe is equipped with the unique "Omni-Fit lacing system" which keeps the foot tightly gripped without any form of harshness.
The mesh liner is another perfect addition that enhances the comfort of the user as it keeps your feet devoid of temperature buildup and sweat inside the footwear.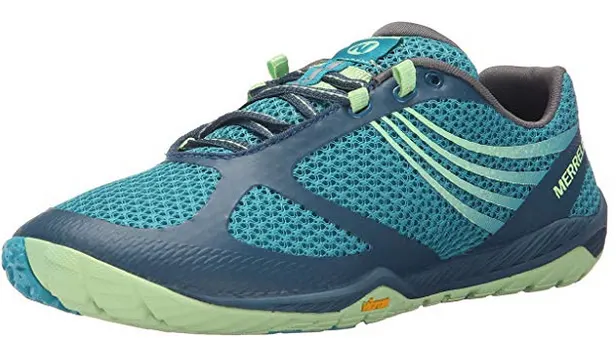 The Pace Glove 3 Trail Running Shoe is constructed with materials that assure users of its longevity and sturdiness.
The "TrailProtect pad" which is a new addition from the Merrell brand, protects your underfoot remarkably well from sudden shock and any kind of external injury.
The Pace Glove 3 Trail Running Shoe may seem a bit overpriced, but even experts have acknowledged the authenticity of the features showcased in this Merrell running shoe model.
Pros
CMEVA provides ample cushioning
Breathable, lightweight mesh
Very flexible
TrailProtect pad offers adequate underfoot protection over a variety of terrains
The Omni-Fit lacing system ensures a confident and secure fit
Highly durable Vibram TC1 outsole
Upper non-stitched overlays for additional support and durability
 Cons
Sizes run small
Some users believe the product could be more snug
Sizing seems somewhat off
5. Merrell Men's Crusher Trail Runner
Merrell Crusher Trail Runner is a reasonable option for any runner who wants to pick between full-support and minimalism.
Not minimalist by barefoot standards, it comes in four colors for men and women respectively. Of course, the women's selection is more vibrant – in terms of colors – than the men's muted collection.
The Crusher Trail Runner offers no delays when it comes to break-in time, and the delivery of comfort is top notch. The upper layer of this footwear is made of breathable and permeable mesh for wet and dry terrains respectively.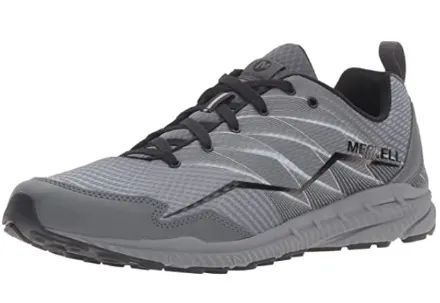 The protective toe cap also helps in shielding users from debris.
The outsole of the Crusher Trail Runner has a less-aggressive tread, yet retains excellent traction and grip on slick surfaces.
The air cushion in the heel is primarily designed to add stability and absorb shock when running. This promotes the spread of energy throughout the system from start to finish.
If you are a beginner looking to enter the world of minimalism, the Crusher Trail Runner is an excellent starting point for you as it is extensively minimalist by both barefoot and trail running standards.
The price is relatively affordable, despite the features packed in this flexible work-to-gym or trail-to-pavement footwear.
Pros
Permeability and breathability
Traction and grip for mixed-terrain running
Little to no break-in time required
Supportive enough for use throughout the day
Cons
There have been complaints by some users about the scratchy rubbing around the heel area for the female version
6. Merrell Men's All Out Charge Trail Running Shoe
The All Out Charge Trail Running Shoe is rugged and versatile footwear that features a synthetic textile which gives your feet a smooth feel.
The upper sole – which is made of synthetic as well – gives profound comfort while the mesh liner safeguards your feet from slip, moisture, and displacement.
It comes with a Hyperwrap 360 degrees fit system that secures your foot in place even when you are sweating profusely.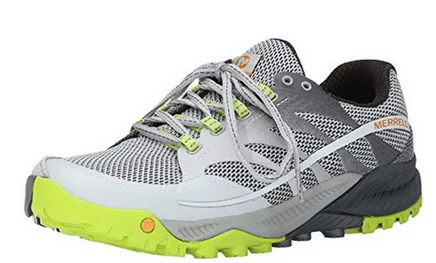 The All Out Charge Trail Running Shoe – with detachable footbed, a feature for the orthotics – is more protective than the previous model and an excellent choice for both minimalist and traditional runners alike.
The Unifly midsole readily absorbs shock and protect your feet when they strike the ground.
The Hyperwrap 360 degrees fit system increases the sturdiness of the footwear along with superior grip for your feet.
The balanced combination of a 6mm drop, 12mm heel cushion as well as 27mm of heel stack height contribute to supporting the feet while enhancing the durability of the footwear.
Pros
Highly breathable
Extra cushioning provides comfort
Removable footbed gives room for the addition of custom orthotics
Unifly midsole provides exceptional responsiveness
Available in a variety of colors
Hyperwrap 360 degrees fit system offers excellent support
Reflective detailing for protection
Boosts your take-offs remarkably well
5mm multi-directional lugs provide exceptional traction
Cons
Sizes run small
It is somewhat expensive and not readily affordable for all and sundry
They look as if they run slightly narrow
Technologies Used In Most Merrell Running Shoes
Most running shoes produced from the Merrell brand are sleek-looking and colorful. But do not be fooled by the flashy colors;
Merrell running shoes are jam-packed with proprietary technology that makes them highly responsive and sturdy.
Here the technologies showcased across all the models of Merrell running shoes in the market today:
Vibram® Outsole
Vibram® outsole compound is perhaps the most popular shoe technology in the industry today because it is utilized by many shoe-making companies.
It is a dependable layer of protection against deterioration or wear-and-tear. The source of this remarkable technology is a high-quality rubber, and it is meant to resist the abrasive nature of outdoor topography in addition to lasting very long.
The Vibram® outsole compound is designed to combat tough terrains, though it is good enough to handle slick surfaces as well.
Many runners who love working the trails stick to this innovative external layer, respecting its shielding and steadying nature.
Majority of Merrell running shoes feature this extraordinary trapping which is associated with running footwear than any other type of shoe.
M Select™ FRESH
The M Select™ FRESH is an antimicrobial treatment process that the Merrell brand utilizes in some of its running shoes (trail). This protective patina is responsible for breaking down microorganisms, thus eliminating the propensity for odor.
M Select™ FRESH also has moisture-wicking capabilities which prevent the absorption of sweat into the inner padding and fabrics. It has a disguised structure and is thin enough not to impede breathability.
M Select™ GRIP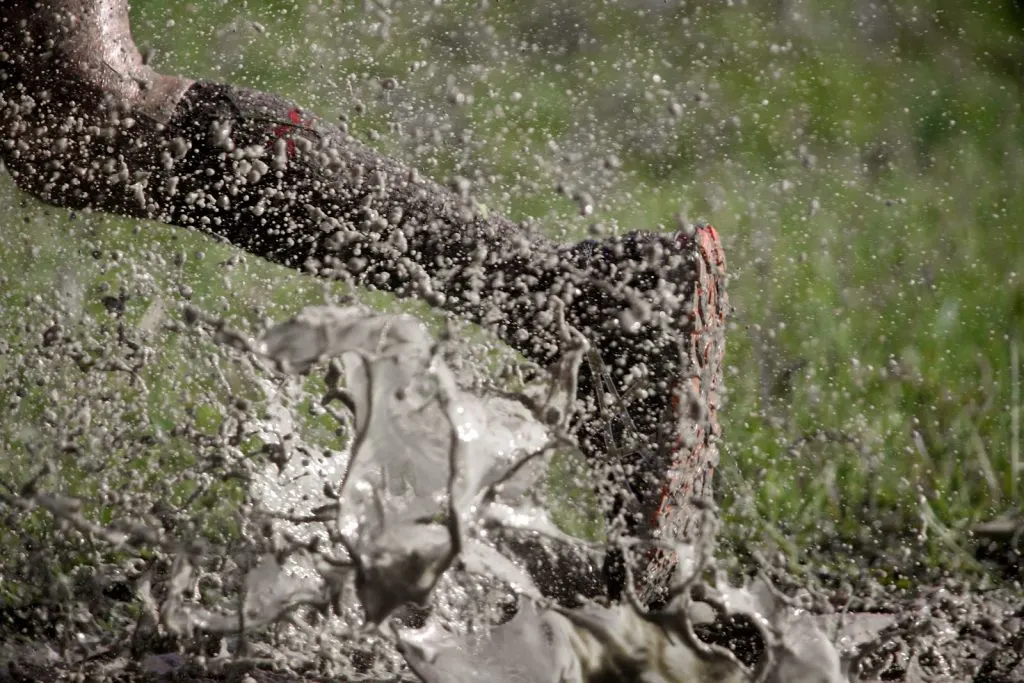 M Select™ GRIP is a custom-selected line of technology by Merrell which specializes in the tear-resistant performance of different types of terrain.
The GRIP also features gripping lugs that are well-spaced to provide self-cleaning and traction capacities, mostly since most trails are replete with outsole-hugging stones and mud.
The gripping lugs are "pillars" of stability on the boundary or edge and help the runner remain stabilized on irregular paths.
TrailProtect™ Pad
TrailProtect™ Pad is a durable but very thin layer that is embedded in the midsole, just between the outsole and midsole.
Although it looks irrelevant to the overall design, the TrailProtect™ Pad's purpose is to fortify the structural integrity of the underfoot section. What is more, this unique add-on is designed to protect your foot from sharp objects, that is if you are a trail runner.
What Were The Criteria Used For This Evaluation?
The following criteria were used for this evaluation:
Comfort
Good running shoes are designed to keep you comfortable while feeling the ground beneath your feet and also give your body the opportunity to adjust to your running mechanics as well as your natural running form. How firm and thick a pair of running shoes is also determined – to an extent – the amount of protection they offer.
It is highly crucial to keep the comfort factor in mind when it comes to selecting the best natural-style or barefoot pair of running shoes.
You should also bear in mind that you may not find these types of running shoes too comfortable the first few times you try them on, irrespective of how well the footwear is built and designed.
This is because your running gait, as well as your feet, need some time to adjust to the new footwear.
Runners who are used to wearing traditional-style running shoes will discover how uncomfortable these natural-style running shoes are at first. Some of them may even start wondering whether or not this barefoot-style thing is worth it at all.
But if stick with it, your body will start to adapt to it slowly but steadily and revert to its natural form – which had evolved – when men used to run without shoes for several centuries.
Flexibility
One of the essential features found in running shoes is flexibility. This feature gives room for your natural stride and provides you with a complete range of motion.
Flexibility is crucial because it allows runners to avoid unnecessary injuries while ensuring they have a complete range of motion
Running shoes must be flexible enough to meet the needs of runners. But experts advise beginners just starting with barefoot running to avoid running shoes that are too flexible.
Runners in this category will do well to pick up a pair of running shoes with mid-range flexibility until their stride and feet adjust accordingly to more natural motion.
Breathability
The minimalistic design of some running shoes allows for profound breathability. This points to the fact that these running shoes possess great ventilation capabilities which ensures your feet remain dry and cool during your regular runs.
Breathability is a key feature that must always be considered when picking up a new pair of running shoes as the last thing any runner wants is for chafing and blisters to occur. These problems are usually brought about as a result of excess moisture in running shoes that had little to no breathability feature on them.
Not all Merrell running shoes are on the minimalist category; some shoes are designed with less minimalistic features than others.
However, even the running shoes that are not mainly in the barefoot/minimalistic range are still designed with extraordinary features such as ventilated uppers and mesh panels. This is to ensure that the breathability factor remains high at all times.
For instance, if you live in an area with a hot climate, you will love running shoes that come with high breathability factors as they are exceptionally designed to keep your feet dry and cool as you hit the pavement in the sun.
Remember, however, that if moisture can get out, the chances that it can get in is pretty high. So, always watch where you run and do your best to avoid large puddles as you cover those miles.
Value
Price is not always a prime determinant of the value of a product even though it is generally considered when evaluating running shoes. This is because runners don't have the same budget; what it might be a piece of cake to some runners who can readily afford them, some runners may find it difficult to raise such money.
However, although the budget is an essential factor that must readily be considered when it comes to picking up a pair of running shoes, you need to ensure that you pick a pair with all the essential features you need.
Do not overpay for something that you will end up not using at all or be too penny smart and dollar foolish to skimp on an excellent pair of running shoes that would have been ideal for you.
Ending up with running shoes that do not match or meet your needs can hurt your goals significantly and still end up spending even more money to get yourself a good pair which you should have purchased in the first instance.
Responsiveness
Running enables runners to make use of several muscles at the same time. Barefoot running, for instance, allows runners to improve their overall balance as well as proprioception easily and naturally.
Having better ground contact is vital for minimalistic runners as they can readily activate the small muscles in their hips, legs, ankles, and feet which are responsible for coordination and balance.
The vestibular system also jerks into action by stimulating and remapping all previously unexploited neural connections for enhanced balance. This is crucial for a few older runners as a single fracture or fall can initiate a full-blown decline in overall health.
Responsiveness has to do with how much rebound and response a running shoe gives you in return for the energy you put in with each stride. Trail runners will want shoes with more responsiveness to interact with uneven terrain while helping them to negotiate obstacles smartly.
Responsiveness, however, comes from torsional rigidity and additional padding; so, it all depends on the running you do most – whether road or trail running – to select the pair of running shoes that are suitable for you.
Drop
Some shoe companies have introduced flexible and thin-soled shoes to facilitate the revival and popularity of barefoot running. Some of these running shoes have zero or reduced cushioning and are generally lightweight.
Experts claim that wearing shoes have led to the weakening of tendons, ligaments, and small muscles in the feet, thus hindering the natural arches and preventing them from doing their job.
These experts also believe that extra cushioning, orthotics and supportive shoe inserts increase the risk of knee, leg, and foot injuries.
Runners that wear well-padded running shoes, i.e., with a high drop – in most cases – land right onto their heels, relying mostly on the running shoe's large amount of padding.
Runners that wear zero drop running shoes will help their gait and feet return to a pattern that is more natural in the long run.
Other Factors You Must Consider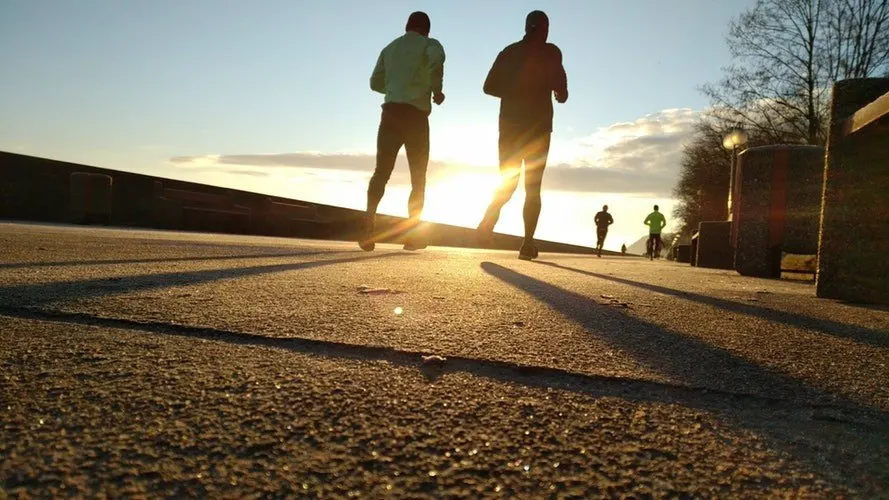 Support
You should always focus on support as one of the main criteria for choosing the best running shoe that is suitable for you. It is only an outdoor enthusiast or a trail runner that will be interested in obtaining a pair of high-quality Merrell shoes.
Whichever one you are, it is necessary for you to know that Merrell trail running shoes come with the needed support, protection, and stability you need when braving it out on the trails.
Features
Running shoes have unique characteristics that differentiate them from regular or casual shoes. Here are some of the elements to watch out for:
Traction – Are you a trail runner? Then what you need is a pair of running shoes with an exceptional grip so that you don't have to worry about falling or slipping.
Durability – High-quality running shoes should last between 400 and 600 miles.
Breathability – No runner likes sweaty feet. Read the reviews above again to find the best Merrell running shoes that is suitable for you. Some are well-ventilated while a few could use better airflow.
Make sure you look into all the other essential features that you want in a pair of running shoes before purchasing them.
Comfort
It is highly crucial for you to find and use running shoes that are very comfortable at the start as well as the end of your runs. The importance of comfort when it comes to choosing the best running shoes in the market today cannot be overemphasized. No runner would like to develop pain, blisters or endure discomfort during their runs.
Trail running shoes can be somewhat on the heavy side as a result of a few additional features utilize to protect users when they run.
Use
Knowing what works best for your feet will enable you to run efficiently, comfortably, and safely. You need to find out if you underpronate, overpronate, have high arches or flat feet, have wide or narrow feet, etc. These are vital factors you need to address when the time comes to choose a pair of running shoes.
The different levels of pronation known today call for the right kind of support for correction. At times, the running shoe model with the appropriate support may not meet your expectations as regards the style. But if you don't have the right support for your feet, it could develop into a big problem later on.
So, irrespective of your foot type, it is necessary for you to know all the specificities to find the most efficient running shoes for your needs.
The Merrell brand offers an array of running shoes which are available in a variety of styles and colors. Each running shoe is created with unique technology and designed to serve different purposes. The brand has running shoes for men, women, and even children.
The Merrell brand specializes at putting out the best performance in all their products, and this is why you will never be at a loss when looking for a suitable pair of running shoes.
Terrain
You need to consider the traction, and how much stability you need along with the level of breathability you fancy. Narrowing down your specific needs will open you up to the numerous options that Merrill has to offer when it comes to the best running shoes in the market today.
What type of running do you engage in? Do you love running long distance or shorter ones? How about trails: what kind of trails do you frequent? Do you like running on easy or difficult trails? Or do you prefer rocky or well-groomed paths, etc.?
You can choose the perfect pair of Merrell trainers depending on the climate, the length of your run, and the surface. The state-of-the-art technology used by the Merrell brand in their line of running shoes can provide you with the best quality across a variety of running locations.
For instance, if you live in a coastal location or an area with a wet climate, you will need to get a pair of waterproof trainers for greater stability and grip if you plan to run on off-road paths or trails.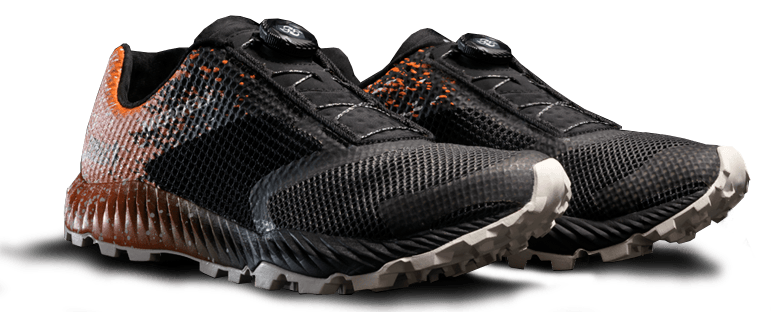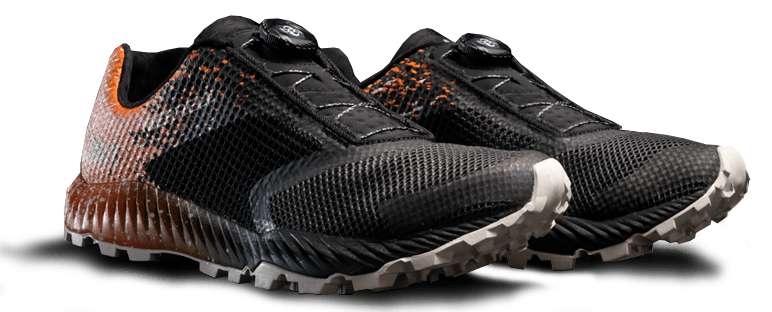 Frequently Asked Questions
Question: Is There Any Difference Between Minimal, Barefoot, And Cushioning Options?
Answer: A: The Minimal line comes with medium drop – i.e., 0-8mm – thus, helping you to enjoy more connection with the ground. They are trainers meant for keeping stability and the ideal choice for you if you don't undertake intense runs. The Barefoot line provides no drop at all, i.e., 0mm, thereby providing a full range of contact with the ground in a sturdy but lightweight design. This is the minimalist line of Merrell running shoes.
The Cushioning line, on the other hand, provides a significant drop, i.e., 8-12mm for intense runners. Intense runs call for the use of resilient cushioning at all times.
Question: What is Pronation? Is It All That Important That I Must Consider It When Shopping For Running Shoes?
Answer: Pronation is a condition which has to do with the rolling motion that takes in the effect of landing – when you run – on the outside of your heel as your heel strikes the ground. It is very crucial for you to understand how you walk and your pronation as these factors will go a long way in helping you decide on the particular type of running shoes you should purchase. Many running shoes out there can alter or improve your pronation significantly; therefore, take some time to carry out a little research about your potential choices as well as how they impact the way you walk.
Question: Is There Anything I Can Do If My Half Size Is Not Available?
Answer: Merrell recommends that you size up since the feet swell up when you run. But if after sizing up, the shoe does not fit, Merrell has simple and straightforward return processes and also offers free exchanges.
Question: Slip-Resistant Merrell Shoes: How Do They Work?
Answer: Merrell innovatively designs running shoes with breathability and balanced weight in mind. They also aim to ensure all running shoes from their stable provide adequate support for every kind of trails out there. The slip-resistant technology is designed to work starting from the outsole of Merrell running shoes.
There are two options offered by the brand:
The outsoles with M-SelectTM GRIP traction technology which comes with specialized lugs that deal with debris and dirt for users
The high-performance Vibram® rubber soles
Question: Is it true that Vibram has become part of Merrell?
Answer: Vibram® partnered with the Merrell brand to create one of the highest performances of rubber soles within the industry.
Question: I Have Flat Feet, What Type Of Footwear Will Work For Me?
A: Runners with flat feet do not joke with support. There are running shoes that can help you, although it depends significantly on your running style. If you are a barefoot runner, for instance, there are several barefoot running shoe designs out there – such as the highly recommended Merrell Vapor Glove 3 or Merrell Pace Glove 3 – that have the type of support you need to help your condition.
Question: What Do I Need To Do If A Merrell Trail Running Shoe I Like Is Not Available In Half-Sizes?
Answer: If you like a running shoe – or any shoe for that matter – but you find out that the shoe does not fit you well as it ought to, the logical choice is for you to either get the next half or full size that succeeds or precedes it.
One of the most profound aspects of purchasing decision is being able to wear running shoes that are comfortable and snug.
But if a half-size option is not readily available, you may have to try that first as it usually opens up the in-shoe experience slightly. If the half-size is still too tight for you, then you need to set your sights on the next size above your initial or preliminary choice which may open up the in-shoe fit.
If the half-size version is somewhat too loose for you, then size down from your first selection.
Question: How Do I Clean My Merrell Trail Running Shoe?
Answer: It depends on how often or how infrequent you use your Merrell running shoe. If your trail running shoes are not used for aggressive trail escapades or its use is few and far between, you should only wipe off any accumulated dirt using a piece of cloth or a brush with mild bristles.
As soon as you get rid of all the dust, proceed to store your trail running shoes in a location that is not stuff or devoid of air. Storing your running shoes appropriately can affect the cleanliness as well as the longevity of your footwear.
But enthusiasts of rough or rugged-road running should always remember to clean off any mud, trail debris or stones that stick to their running shoes with the use of a piece of wet cloth and a mild soap solution. To preserve the structural integrity of your running shoes silhouette, use warm water as this is the best option for the operation.
Dry off the shoe by opening it via the removal of the insole and the laces. Direct sunlight is not good for shoes – and has never been for any kind – so opt for air exposure as this is the ideal way to dry the shoes off after a wash.
In conclusion
Merrell offers an awesome list of running shoes. Not only that, but their hiking and outdoor shoes are very high-quality as well as affordable.
We recommend all of the shoes listed above and hope that this article has better prepared you for purchasing a great pair of Merrell running shoes!
Recommended Reads: