Imagine feeling like you have a knife sticking into your foot when you first stand up in the morning or walking. According to WebMD, this is how most people describe the pain of heel spurs and plantar fasciitis, two commonly linked ailments experience by runners and might not be comfortable at all.
Luckily there a supportive shoes for any type of foot issue.
What are heel spurs?
Heel spurs can cause significant pain, and appear often when dealing with common running ailments.
Research can lead runners to links with plantar fasciitis and Achilles tendonitis, causing them to self-diagnose based on their own assessment of pain. 
When plantar fasciitis – or Achilles tendonitis – is present, heel spurs may be as well, with the reverse also true. They can occur independently or together, and neither is exclusive to runners.
Heel spurs are calcium deposits (bone-like calcium buildup), which can be found anywhere on the heel.
When located at the rear of the heel, it can be related to Achilles tendonitis; when located towards the sole of the foot, it is often linked to plantar fasciitis.
Plantar fasciitis is one of the most common conditions diagnosed with foot and heel pain, with an estimated 2 million treated each year.
Who suffers from heel spurs?
While heel spurs can be most commonly found in individuals over 40, due to the decrease in ligament elasticity with age, runners can expedite that process with excessive use.
They can be associated with other underlying issues, but they can also be present unbeknownst to their host. Heel spurs are known to be revealed on x-rays for other issues, while there may be no pain or problems associated.
Individuals who spend excessive lengths of time on their feet, like walking, are overweight, or do a jarring activity on hard surfaces are at a higher risk of developing heel spurs.
They are a result of sustained strain by the ligaments and tissue of the feet and build up over time. Eventually, heel spurs can cause significant problems without proper attention.
The calcium deposits can range in size with small ranging from 0 to 5 mm – roughly the size of a pea – which is most common, and some over 10 mm.
Their shape can be vertical, horizontal, or hooked in relation to its protrusion off the heel, none of which sound overly comfortable.
However, based on a study the American Orthopaedic Foot and Ankle Society, heel spur shape and size do not affect pain levels experienced by sufferers of plantar fasciitis.
Shoes
Regardless of their connection, plantar fasciitis and heel spurs are separate issues, and need different kinds of athletic shoes.
Their correlation, however, makes them issue shoe manufacturers are striving to address with their products. When it comes to shoes, the same features will prove helpful for both.
You will need a highly cushioned, comfortable shoe or footwear, particularly from heel to midsole, with arch support to alleviate tension on the plantar fascia ligaments.
What type of shoe should I look for? 
If you struggle with either ailment, rest assured there are shoes designed with you in mind. Because sufferers are often looking for added cushioning and support to ease their pain and being more comfortable, the road to finding a great shoe or footwear will often lead to the stability and motion control support options, which provide the highest level of cushioning and comfort.
Neutral shoes can provide great cushioning and comfort, but will not give you motion control and stability features like other athletic shoes. When trying to thwart serious recurring pain, less is not more. Finding a stability shoe is a good place to start.
However, if you find it difficult to run instability or motion control shoes, look for a neutral shoe that provides ample cushioning and still gives you some arch support. 
In addition to the shoes ability to provide ample comfort, there are still other features to be mindful of.
You have a unique stride to accommodate with your shoe selection, and should give appropriate attention to heel to toe drop (sometimes referred to as "offset"), weight, and the surface and strike the shoe is recommended for.
Minimalist shoes or flat sandals can aggravate issues such as heel spurs, plantar fasciitis, and Achilles tendonitis.
However, even if you eliminate that support option, you will still need to decide which level will work for your stride, while still helping you overcome your pain. The three remaining support options are neutral, stability, and motion control.
Shoe Recommendations for Heel Spur Sufferers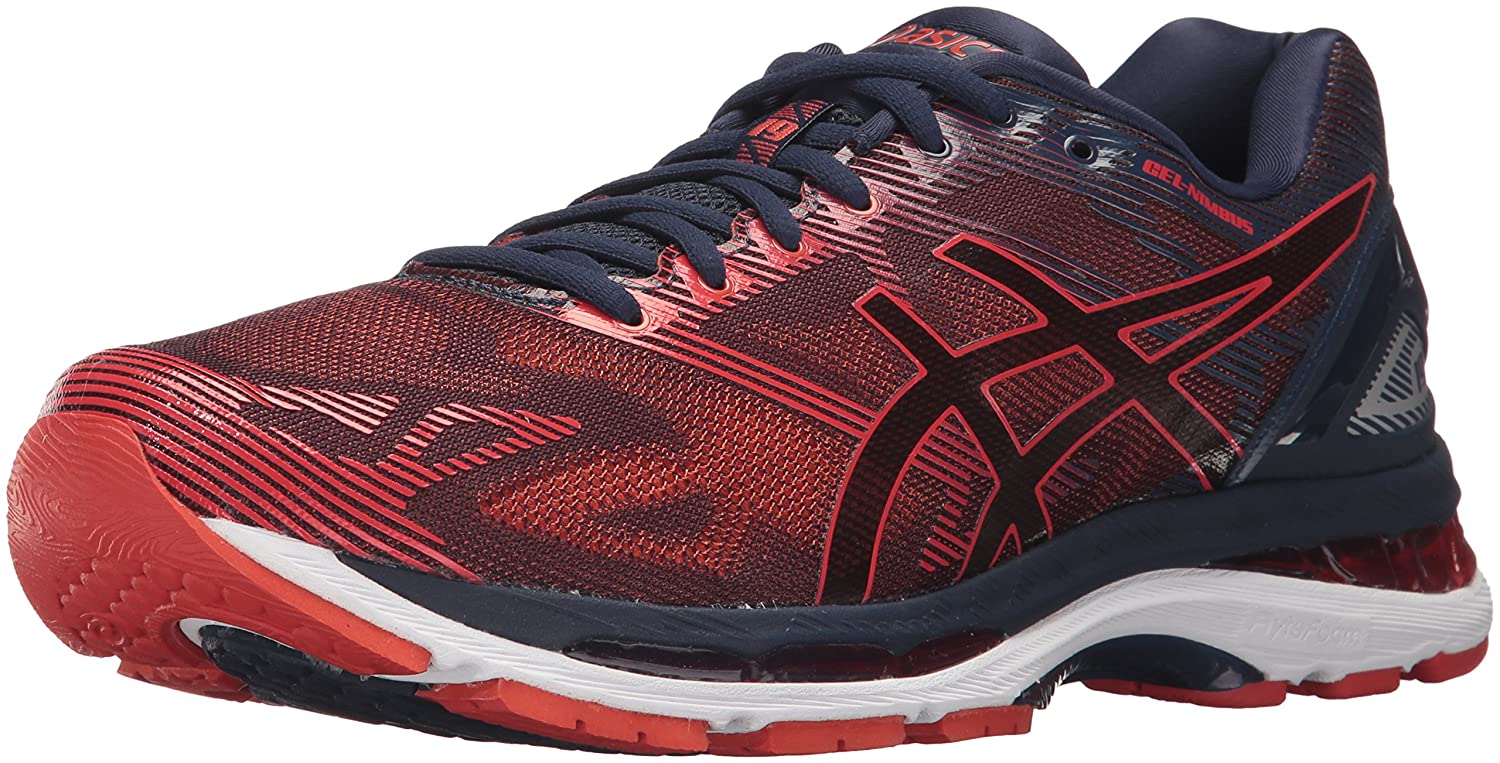 The Asics Gel Nimbus is a great shoe that meets the neutral shoe features given above. It is a great shoe to address the common ailments of heel spurs, and heel spurs related to plantar fasciitis.
The latest release in the series is the Gel Nimbus 22. The reviews on this model, however, are minimal and mixed. As with most models with a long history, it is hard to please everyone with each new release in the footwear industry.
Some reviewers cling to the former models as a better option, claiming they are "disappointed" or worse. One Amazon reviewer calls the shoe a disaster.
One thing is abundantly clear by reviewers, positive and critical alike – the shoe is narrow compared to its former models.
They do offer width sizing, though, and more than most. You can get the shoe in narrow, standard, wide, and extra wide. If you know going in the shoe is narrow, you can adjust your sizing accordingly.
Over 80% of Amazon reviewers give the Nimbus 22 a 5-star review, mostly attributing it to comfort.
The Gel Nimbus is a proven shoe that is still widely available. Many reviewers stand behind it as a great shoe to address plantar fasciitis, with the most extreme claiming the shoe "cured" it.
Asics product details reveal the features that give the comfort found by so many wearers.
"REARFOOT AND FOREFOOT GEL® TECHNOLOGY CUSHIONING SYSTEMS" – This is the feature that provides shock absorption on contact and toe-off. The transition period of the feet on the ground is critical for runners. By providing support through the full flow of the stride, you are less likely to aggravate plantar fasciitis and the contact pain of a heel spur will be reduced by the cushion's give.
FLUIDFIT® UPPER – Featuring a "glove-like" fit will provide support and security for the feet.
Asics Gel Nimbus plantar fasciitis running shoes Features:
Heel to Toe Drop: 13 mm (Women's) to 10 mm (Men's)
Weight: 9.2 ounces (Women's) to 11.4 ounces (Men's)
Recommended Surface Type: Road
Designed for under or neutral pronators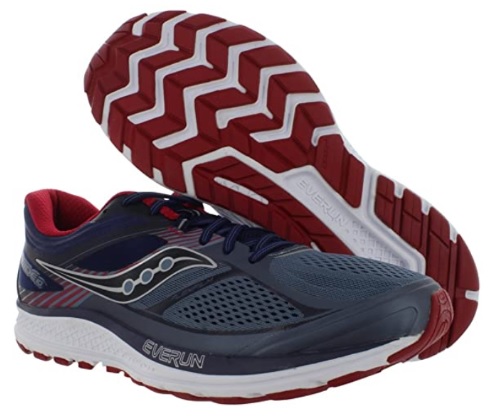 The Saucony Guide is labeled "plush" for cushioning and comfortable feeling. It is a stability shoe, but just skirting the line with "light stability" that might work as walking shoes as well.
This makes it a great way to dip your toe in the stability realm if you have previously stuck to a neutral support shoe (or less) and are looking for more support.
More than a few reviewers call the shoe out specifically for its aiding in plantar fasciitis pain relief; a great indicator that fellow sufferers reveal it as tried and true.
Saucony highlights four features for their Guide 13: the 8 mm offset, Everun cushioning, Flexfilm, and Tri-Flex.
Saucony uses an 8-mm offset to allow users to feel more balanced as they progress through their foot strike.
Everrun technology is the responsive cushioning that brings the shoe's comfort and responsive feel.
As indicated by its name, Flexfilm gives the Guide 13 its seamless flexibility.
Tri-flex tread disperses the force of landing and takeoff. It also contributes to the flexibility and traction of the shoe.
Saucony Guide 13 Features:
Heel to Toe Drop: 8 mm (Both Men's and Women's)
Weight: 8.9 ounces (Women's) 10 ounces (Men's)
Recommended Surface Type: Road, Track
Designed for mild to moderate pronators
The GTS Adrenaline promises a smooth and stable run in Brooks' best-selling shoe. The short video on the website reveals the meaning of "GTS" as "Go-To Shoe."ix 
The features that make up this adaptable shoe are the Progressive Diagonal Rollbar (PDRB), Segmented Crash Pad, and Structured Saddle.
Progressive Diagonal Rollbar (PDRB) – The PDRB is Brooks' proven support structure. It is designed to keep the runner's body in proper alignment by providing the stability needed to keep your stride in check.
Segmented Crash Pad – Regardless of your strike or stride, the full-length Segmented Crash Pad is Brooks' caterpillar-shaped midsole. It is made up of shock absorbers to provide individualized levels of cushioning and maximize your stride efficiency.x
Structured Saddle – Designed to secure your feet as they rest on the proven base of the Adrenaline, the Structured Saddle wraps from your heel to your midfoot to give you a confident fit.
Brooks Adrenaline GTS Features: 
Heel to Toe Drop: 12 mm (Both Men's and Women's)
Weight: 8.9 ounces (Women's) to 10.7 ounces (Men's)
Recommended Surface Type: Road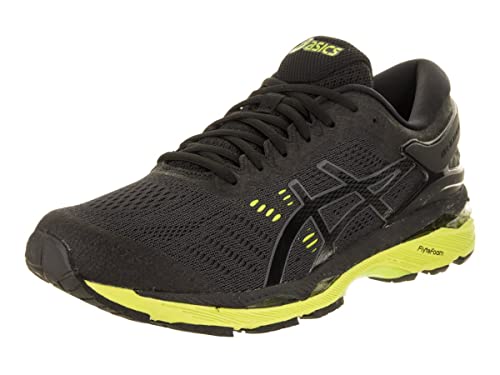 The Kayano series, approaching a quarter of a century on the market, is a popular motion-control option designed for overpronators. While the Kayano also incorporates the FluidFit® Upper and Rearfoot and Forefoot Gel® Technology Cushioning System, the highlights for this motion control option feature:
I.G.S® (IMPACT GUIDANCE SYSTEM) TECHNOLOGY  – "ASICS design philosophy that employs linked componentry to enhance the foot's natural gait from heel strike to toe-off." xi
DYNAMIC DUOMAX™ SUPPORT SYSTEM – "This evolution of DuoMax® system enhances stability and support, with reduced weight and increased platform support."
Reviewers seem to feel that the 26 is on-point with the best in the series, unlike the latest Nimbus.
While there are always naysayers, it appears there are no major faux pas on behalf of Asics with their latest Kayano. The most important thing to be aware of is the narrow fit, which appears in the Nimbus 19 as well.
Heel to Toe Drop: 12 mm (Women's) to 10 mm (Men's)
Weight: 9.3 ounces (Women's) to 11.3 ounces (Men's)
Recommended Surface Type: Road
Designed for neutral to overpronators.
Specialty Shoe: Kuru
KURU is a shoe that uses a technology called KURUSOLE™ to provide orthotic support designed to form the natural shape of the foot pad.
Kuru recommends wearing the shoe for two to three hours a day for two to three weeks for the shoe to mold to your individual foot shape.xii
Since this shoe is available online only, they do provide free shipping, exchanges, and returns. The return policy is new or unworn shoes only, however, so you cannot take them out for a neighborhood stroll.
In fact, they seem especially concerned with the unworn state advising buyers to "try them on a clean, carpeted surface to confirm the correct size and style," and they proceed to say that shoes with even pet hair will be deemed worn and returned to the buyer rather than given a refund.
If you have access to a treadmill in your home, you might be able to get in a brief trial run without showing the "wear."
The Carerra Mesh is Kuru's running shoe. With over 400 reviews on their site, the shoe averages 4.5 stars. Many of the critics claim the shoe is not durable, or simply not a good fit for their foot.
Heel to Toe Drop: 8 mm (Both Men's and Women's)
Weight: 11 ounces (Women's) 12 ounces (Men's)
Recommended Surface Type: Road
Kuru believes that their orthotic, moldable sole makes them adaptable to various foot types and strike patterns. Every shoe offers arch support and shock absorption.
Conclusions
It is important to say explicitly that individuals respond differently to the same product. Of course, we know this – but it is a great reminder when you tackle the frustrating process of searching for pain relief from a shoe.
Individuals are unique. Shoes are unique. Pain is unique.
The good news is many people have been able to alleviate the pain of heel spurs whether they are in conjunction with Achilles tendonitis or plantar fasciitis. Identifying where your heel spur is and the relation it may have to these conditions is great, and hopefully less painful, step in the right direction.
Relief can often be found in some combination of stretching, cushioning, and a properly fitted shoe.
Further read: