Running is a form of fitness that has been practiced widely for several decades, and its popularity shows no sign of waning. Several reasons could are responsible for the endless popularity including low startup costs as well as easy accessibility.
All you need to be up and 'running' is a good pair of shoes and some motivation. Now, the longer you run, the more pain and aches you may feel. Some of these pains and aches may be as a result of a breakdown or cessation in your shoes. This is why it is highly crucial for you to make use of shoe insole or inserts.
Shoe inserts are beneficial as they can help to combat pains and aches which may flare up after you cover several miles.
How do I know the best athletic insole for me?
The best athletic insole will fit the profile of your foot, with more emphasis on the arch height and the heel cup of the person. To find the perfect fit inserts for athletic shoes – and by extension your feet – you may have to go for insoles that do not affect your footwear fit negatively. Try using insoles with varying thickness to find the perfect one for you and achieve maximum comfort.
The best athletic shoe insoles will do the following:
Reduce hot spots or blisters
Increase comfort
Keep your feet adequately aligned throughout your running session.
Improve the absorption of shock
Relieve tired feet.
The importance of insole cushion and support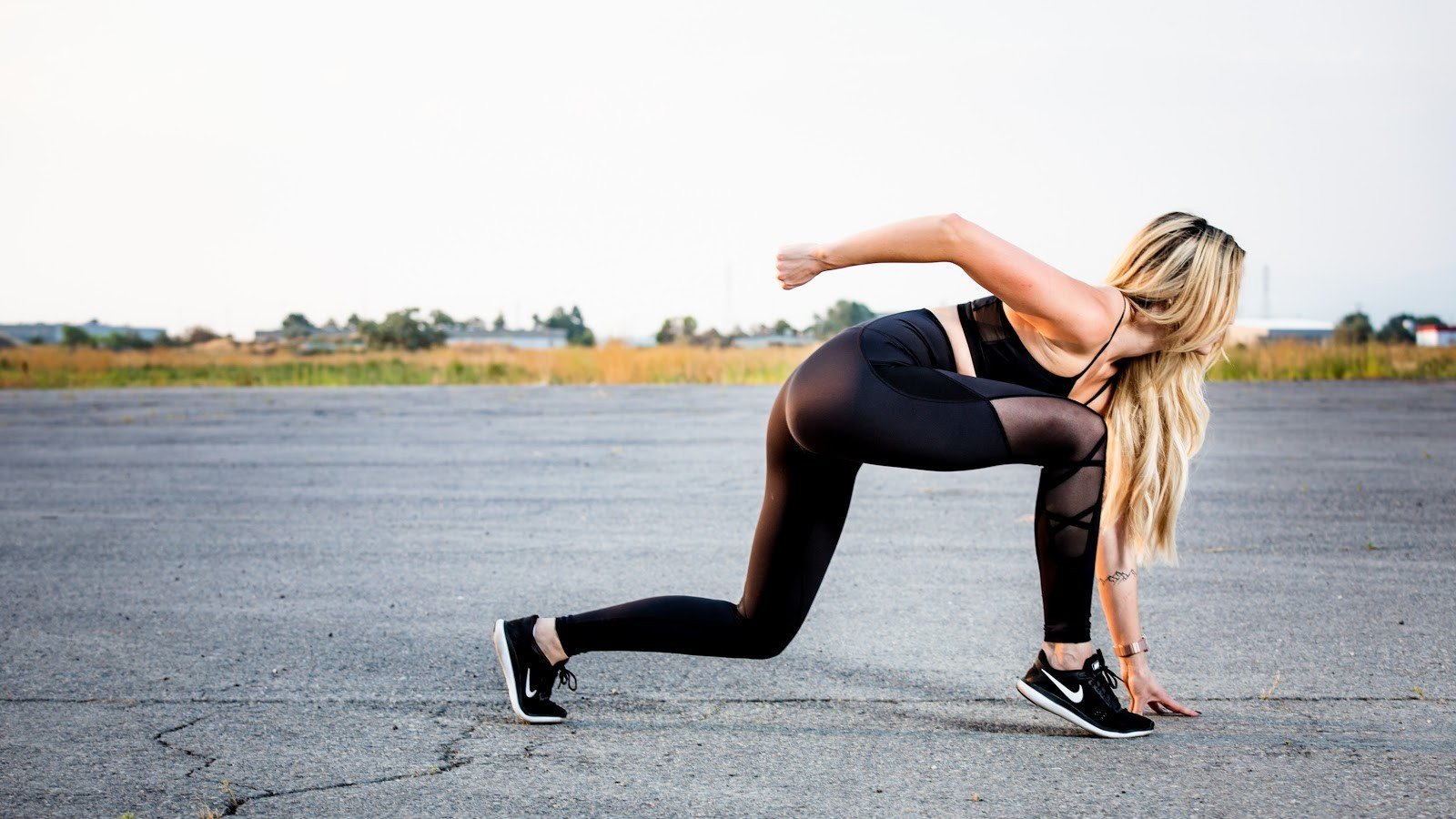 The simplest types of insoles are the cushioned varieties which are designed for people who want to minimize shock when running. Some individuals may love the springiness or flexibility of their athletic shoes, but their feet are still going to be getting pounded or bruised. It may also be that the padding at the bottom of their footwear has depleted and is not what it used to be.
Experts have stated that the ideal athletic insole should be flexible, lightweight, and constructed with durable materials that can withstand wear and tear.
The first thing that enters people's minds when they hear "shoe insole," is an image of a complete footbed with a shaped heel and arch designed to minimize the stress on the forefeet. Insoles such as these are very useful for people feeling some pain in the arch or suffer from plantar fasciitis. It is also ideal for individuals with overworking muscles on their ankles and the outside of their feet.
When do I need insoles?
Several health conditions can call for the need to buy insoles. The majority of conditions known today are commonly found among runners or outdoor enthusiasts like bikers, hikers, etc.
Here are some of the reasons why you may need to buy insoles
Arch Pain and Plantar fasciitis
Arch pain and plantar fasciitis are the two most prominent reasons why you may need to get and use insoles. Insoles offer the required cushioning and support needed for a comfortable run. Foam cushioning – along with orthotic arch supports – are used to mitigate intense pain. There are specialized insoles designed to combat plantar fasciitis.
Heel spurs and heel pain
Insoles also help to alleviate heel spur or heel pain as they provide a considerable amount of cushioning and padding at the heel area. This helps to keep the pain at bay. There are also special insoles that target heel spurs and heel pain; they are designed to combat the pain and also provide adequate comfort to the wearer.
Over-pronation
Pronation can be defined as the natural inward movement of the feet while walking. Although this is a natural phenomenon, the issue is that the feet can move too far inwards, and this condition is known as "over-pronation." It causes instability as well as severe pain in the feet.
One of the ways this condition can be dealt with is by using insoles with rigid or semi-rigid support. Insoles with these features can readily correct this abnormal condition by keeping the feet aligned properly while providing adequate support as well.
Supination or underpronation
This condition is the opposite of "over-pronation." It occurs when the feet begin to slide outwards as you walk. It is natural for the feet to pronate as you walk, but if they underpronate, you will experience severe discomfort. To correct this anomaly, you must get hold and use either rigid or semi-rigid orthotic arch support.
Running, walking, and shin splints
Runners – and walkers as well – often expect flexible support and shock absorption from their insoles. People with shin splints also need to use insoles to alleviate the problem.
Cushioned or semi-rigid arch support with partial or full gel construction is a requirement for these conditions. This is because the gel padding at the forefoot as well as the heel area absorbs shock and reduces fatigue. The cushioned arch support aids performance by providing flexibility and optimum support.
Morton's Neuroma
This is a burning, tingling or painful sensation experienced at the forefront area of the foot. It occurs as a result of compression or irritation of a nerve in the forefoot. If you experience this condition, then you need an insole that comes with a metatarsal pad as it can significantly relieve the pain.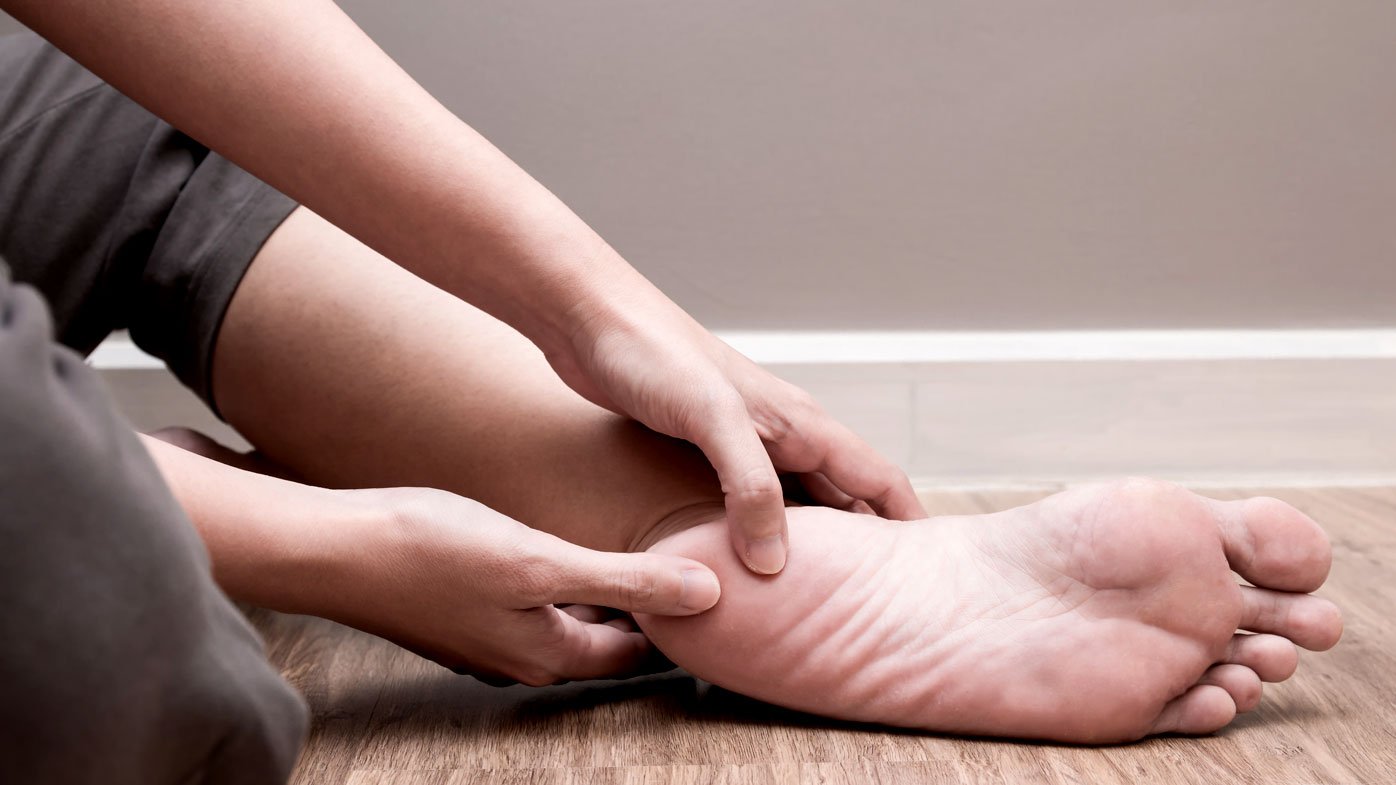 Types of Athletic Insoles
There are a variety of athletic insoles that are perfect for your needs in the market today. Take a look at some of the different designs that are available based on the essential features that are dear to you:
Full-length insoles – Plantar series
Full-length gel insoles
Full-length insoles – plantar plus
Full-length insoles – Envelope
¾ Length Gel insoles
¾ Length Insoles – Plantar Series
¾ Length Orthotics
Full-length gel insoles – Envelop
Common Footwear Fit Problems
If you have any of the following common fit problems, insoles may help. Insoles vary in heel and arch dimensions; an REI footwear specialist can easily assess your feet to see which type works best for you.
Heel slippage: A shoe that fits well in the mid- and forefoot but allows heel slippage or lift may be improved with a supportive, mid- to the high-volume insole. This reduces excess volume in the rear of the shoe and stabilizes the heel of the foot, minimizing the heel slip that can cause hot spots and blisters.
Foot elongation: For those with significant foot elongation in one or both feet when measured standing as compared to sitting, a supportive insole can help. This reduces foot elongation when weight bearing, creating a better fit and lessening the need to size up when buying footwear.
Low or collapsed arches: People who have low or collapsed arches often ask for "arch support" insoles. What is really needed, though, is "foot support" which helps stimulate the arch muscles to be engaged and active. A supportive insole stabilizes the heel and distributes pressure across the base of the foot, instead of concentrating pressure into the arch area. Direct arch support is actually uncomfortable for many people since it inhibits the normal flexing of the foot.
Tips for Insole Car
Aftermarket insoles last about 12 months for regular or use. This may be extended to more than a few years if you have a pair of them in your footwear that sees only occasional or seasonal use.
Additional Care tips:
Air them out: Wet or sweaty feet? Remove the insoles regularly to allow trapped moisture in between the insole and shoe to dry out.
Wash them: Wash the insoles by hand using a mild detergent or sports detergent and then air dry before re-inserting into your shoes.
Inspect them: Periodically remove and inspect insoles for signs of deterioration and replace as needed.
Best Athletic Shoe Insoles
Tread Labs has rapidly climbed our charts as one of the BEST insole options for active feed. In our live testing, we definitely preferred Tread Labs for their optimal support, comfort, and smooth fit (no returns needed). They easily slip into athletic footwear and tend to hold up well even with extended use (ours are still going strong after 6 months of daily running on pavement).
Tread Labs also offers metatarsal support pads if you are specifically struggling with forefoot pain.
They also offer an excellent "Find Your Fit" tool to ensure that you receive the perfect customized insole for your foot type.
Superfeet Green insoles are the best-selling Superfeet insole on the market. It comes with amazing features such as excellent orthotic support, adequate cushioning and a broader, deep heel cup design.
They come with a natural anti-bacterial coating to prevent foot fungus and other foot-related bacteria and are 100% vegan (plant-based).
You can pick them up on most online retailers and they offer almost a dozen different variations depending on specific use and foot type.
Further Reading:
Protalus is another leading brand of athletic orthodics, with a variety of inserts available for mitigating foot pain.
Rather than just treating the symptoms of foot main, Protalus is actually geared towards corrective action to stop the pain or discomfort at it's source. Of note, Protalus features wider designs which can be ideal for wide running shoes, basketball shoes or even work boots.
Like Superfeet, Protalus has a wide array of models and lines with a variety of adaptive purposes (depending on foot size, arch type, pain source, and intended activity).
Further Reading:
Only a few shoes provide the necessary support and balance that your feet need. This is the reason why Spenco Arch was created; to provide that all-important support.
Just slip these insoles into your shoes, and you will experience something new as if you just changed into another pair of shoes.
With the Spenco Arch support, you are in better control of how your feet are supported and balanced, whether you are walking or running.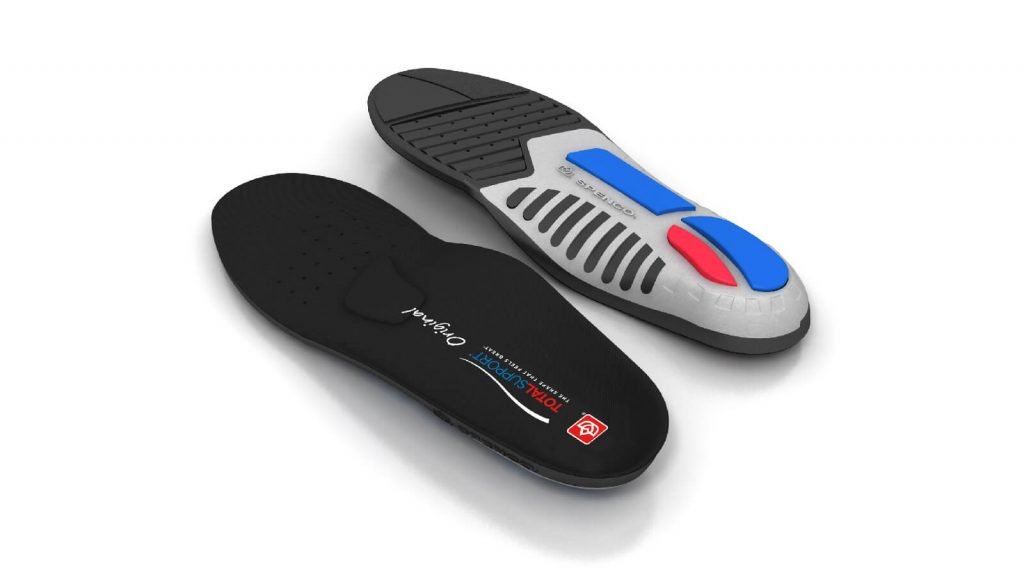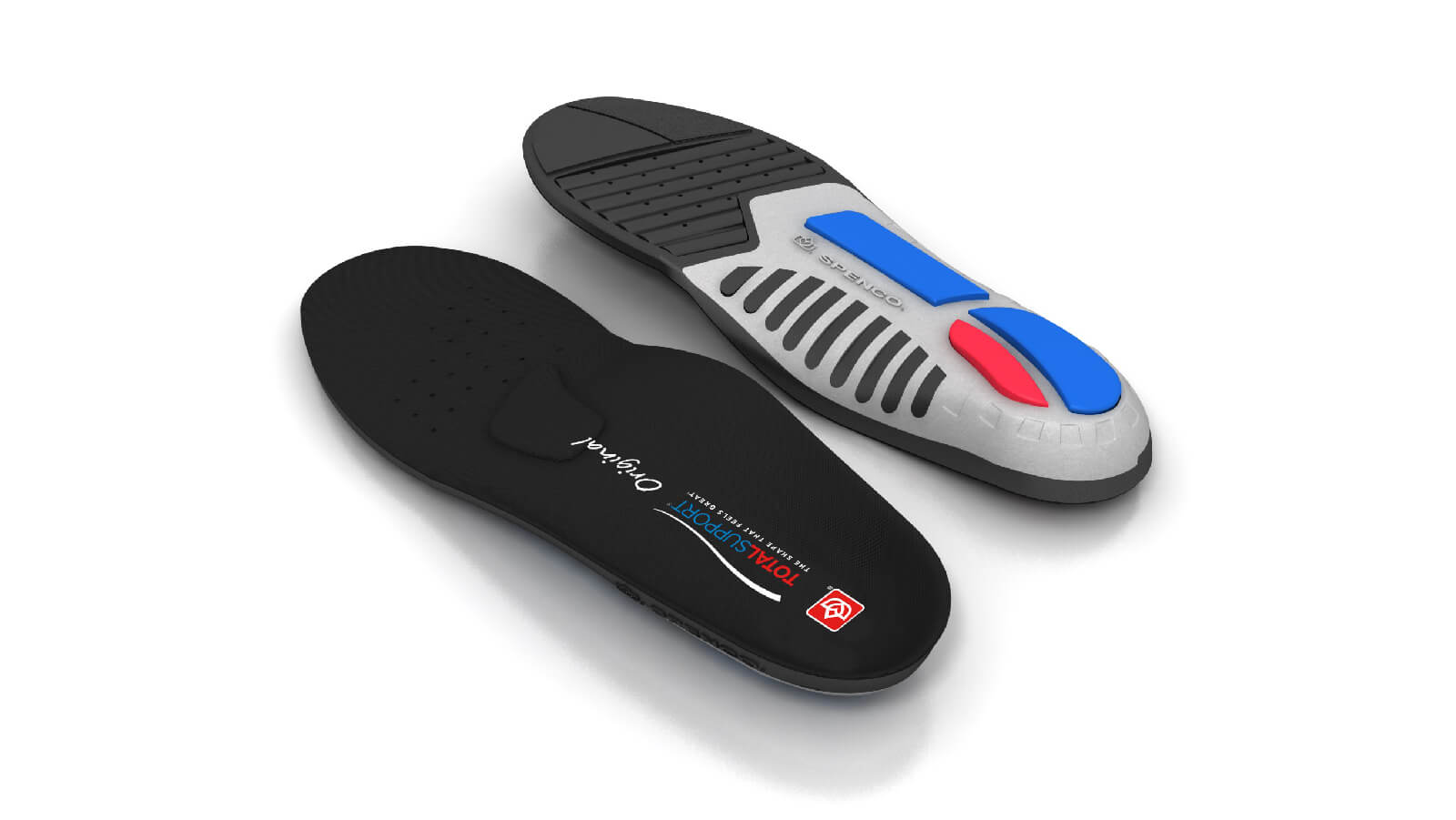 Spenco Arch also provides incredible padding and cushioning, thus making your feet comfortable.
It even contributes to the reduction of the amount of friction that is created within your footwear.
Since Spenco Arch can be molded by heat, all you need to do is to ensure that the insoles fit both your feet and your shoes like a dream.
The Spenco Arch also comes with additional features that allow them to absorb the impact of the ground, thus ensuring that your feet are not subjected under any form of pressure.
These gel inserts will fit any type of shoes perfectly and easily, thanks to its flexibility and thinness. They can even be used with a pair of sandals, and no one will even notice!
The Air Feet Gel insoles are also perfect for people who lead varying lifestyles. It doesn't matter whether you are sedentary or always on the go, these insoles will be of tremendous help to you.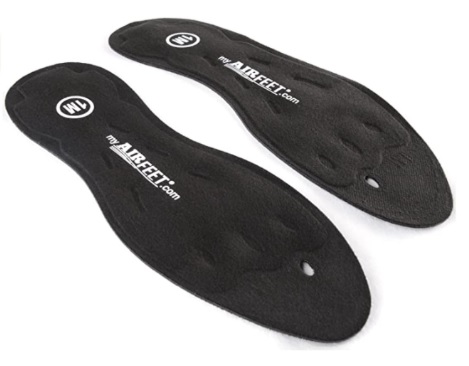 The gel composition of the insole allows it to change constantly along with the pressure mounted on your feet.
This implies that every part of your feet is supported properly, no matter your posture or position.
This is important and helps in two major ways: first, it lowers the amount of shock that courses through your feet and legs while working to lessen any pain or discomfort that you may be feeling.
This is why the Air Feet Gel insoles are perfect for people with plantar fasciitis.
The unique thing that makes New Balance insoles to stand out is its ability to target many different areas of your foot at the same time.
Most of the time, some parts of the foot lack the necessary support they need, and this can result in injury or severe discomfort.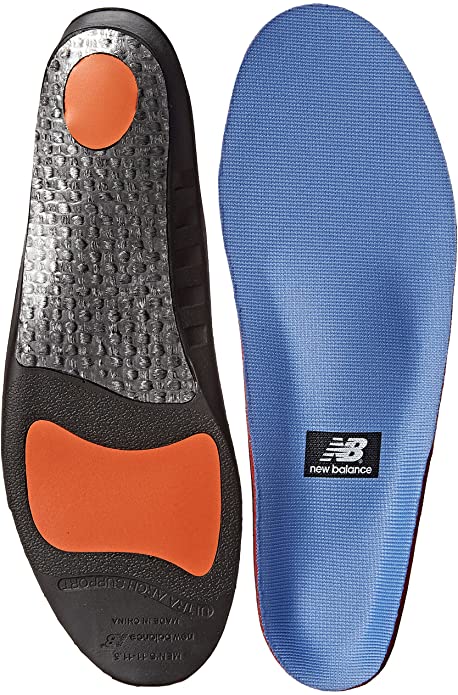 This is the reason why these insoles were created; both the front section of your foot as well as the heel are adequately taken care of. This is possible, thanks to the excellent shape of the insole.
A significant amount of cushioning is also provided in addition to the perfect support. The metatarsal pad section of the foot redistributes your weight while relieving immense pressure as well.
This phenomenon has been proven exceptionally well, especially with people who have Morton's neuroma, plantar fasciitis, and metatarsalgia.
The New Balance insoles also help in the reduction of the frequency at which blisters occur while ensuring your feet remain dry at all times.
This insole has several highly impressive aspects to it. First of all, the ArchFlexSystem insole offers plenty of cushioning from the soles of your athletic shoes.
This attribute adds to your comfort and also significantly reduce whatever additional abuse your feet may undergo on a daily basis.
Another unique trait that is associated with the ArchFlexSystem insole is how it adequately supports every movement of your foot.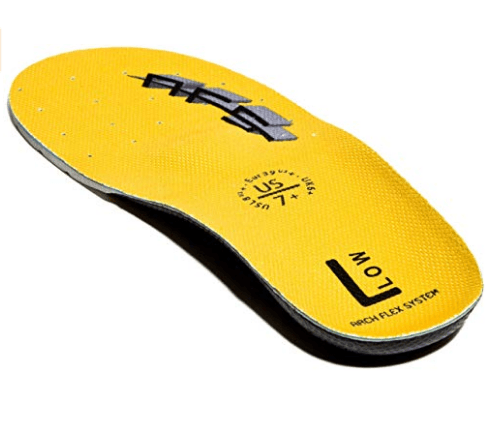 The ingeniously designed insole adapts to the natural movement of your feet and also alleviates the blows to your heels.
The heel is permitted to bounce up instead of absorbing the impact. The insole also comes with a high-density foam layer that conforms favorably to the shape of your foot, thus ensuring a better fit.
The ArchFlexSystem insole also comes with anti-bacterial properties which makes it more hygienic.
The best part is that this insole can be washed easily by hand whenever you need to clean it.
If you sweat a lot, especially when you wear shoes for an extended period, your feet may develop blisters, thus creating an ideal environment for bacteria to foster.
If your feet release odors when encased in a pair of shoes, then it is a good indication that bacteria are present in there somewhere.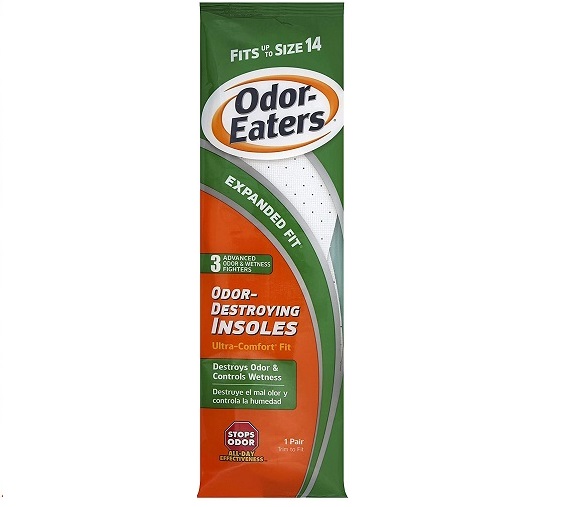 The scenarios painted above are not pleasant in any way as they can bring about severe infections.
Odor Eaters gets rid of this worrisome problem by making use of natural ingredients such as baking soda and charcoal.
Not only will your feet be drier for extended periods – and thank you for it – but you will also have no reason to worry any unpleasant odors.
This insole also helps in keeping fungal infections and fungus away from your feet.
In addition to all these, Odor Eaters also helps in cushioning your foot so that you enjoy maximum comfort even as you wear your shoes.
This innovative insole makes use of a combination of moisture control technology and air cushioning system, the result of which is an exceptional cushioning impact on the feet.
The Coolmax top ensures your feet remain cool and dry all day long while the enclosed air chamber provides excellent cushioning.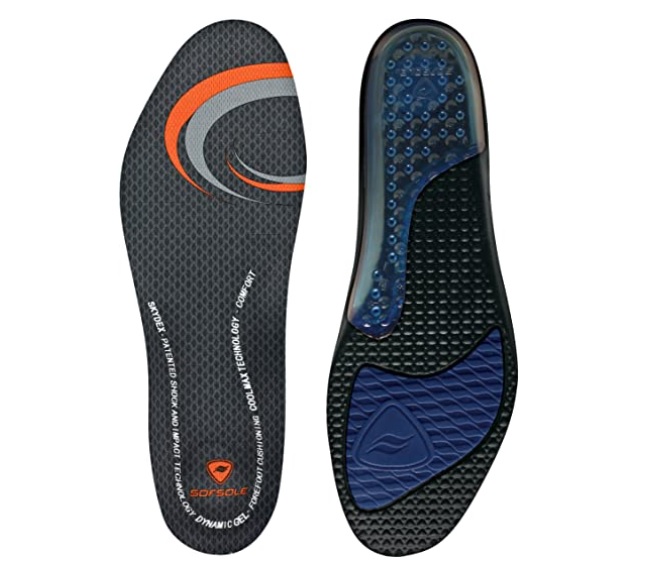 The Sof Sole Airr is one of the best insoles in the market today and uniquely designed using state-of-the-art technology to protect your joints during high-impact exercises – such as sprinting, etc. – while contributing significantly to comfort and breathability.
The superior shock absorption of this original insole gives you that additional support that you need to carry out all your athletic activities with composure and ease.
The arch and heel support are the trademarks of this unique insole design, and the difference will be very obvious from the first moment you start making use of the Sof Sole Airr.
It is a remarkable addition to supportive and athletic shoes and the best thing you can do not only for your joints but also for your overall comfort.
Dr. Scholl's is a trusted brand when it comes to matters that have to do with taking care of the feet.
This is one of the reasons why it was included in this exclusive review of the best athletic insole on the market today.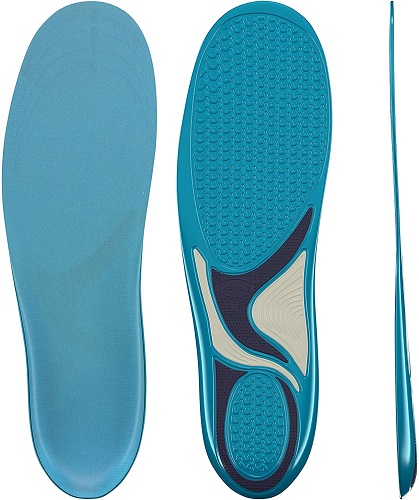 Dr. Scholl's insoles are designed specifically for individuals who do a lot of walking, running or standing around throughout the day.
They will help in alleviating pain as well as other secondary effects of staying on your feet all day.
Dr. Scholl's insoles also come with gels that cushion your feet luxuriously in your shoes, thus adding to your overall comfort.
You will feel as if you are virtually walking on clouds, thanks to the gels. This feeling is further enhanced by the fact that the high-tech insole molds really well to your feet, thereby becoming a perfect fit.
It will not move around inside your shoe like other less desirable insoles that are somehow still on the market out there.
As a final point, Dr. Scholl's insoles can be customized by trimming them according to your specifications or shoe size.
These high-quality active insoles are highly effective when worn in combination with a pair of superior sneakers, athletic shoes or even casual footwear.
If you love running, tennis, power walking or any other fast-moving activity, the cushioned support of the Active Orthotic insole will help you enjoy each and any physical activity you engage in.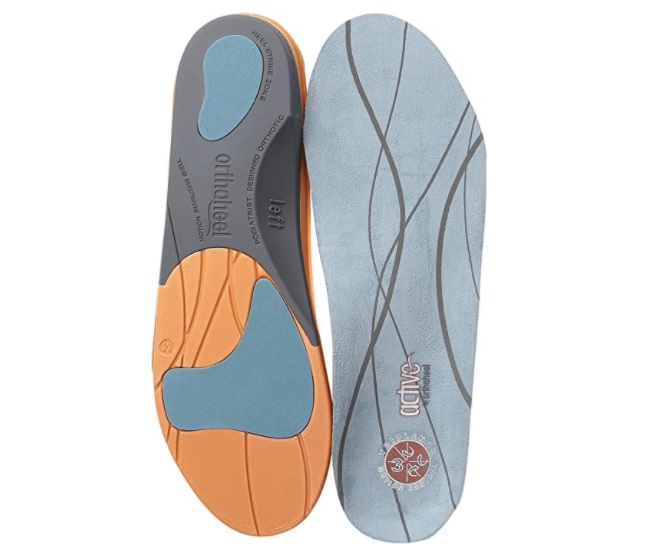 It is made using hardened, reinforced plastic shell that provides motion control and stability under high impact.
The cushioned dot on the heel section also provides additional shock absorption. The Active Orthotic insole comes contoured around the arch and heel areas to achieve up to 100% foot contact.
The Active Orthotic insole features a four-degree rear foot wedge which helps in the prevention of extreme pronation.
It can even be trimmed at the forefoot as required to give you that perfect fit in your athletic shoes, i.e., it is customizable according to your desire or specification.
The insole comes finished with EcoFresh anti bacterial odor absorbing cover, thereby making it a must-have accessory for every sportsperson.
Are you in need of an extraordinary insole that will provide you with medical-grade care and support? Then, today is your lucky day because the Powerstep Pinnacle insole is what you are searching for.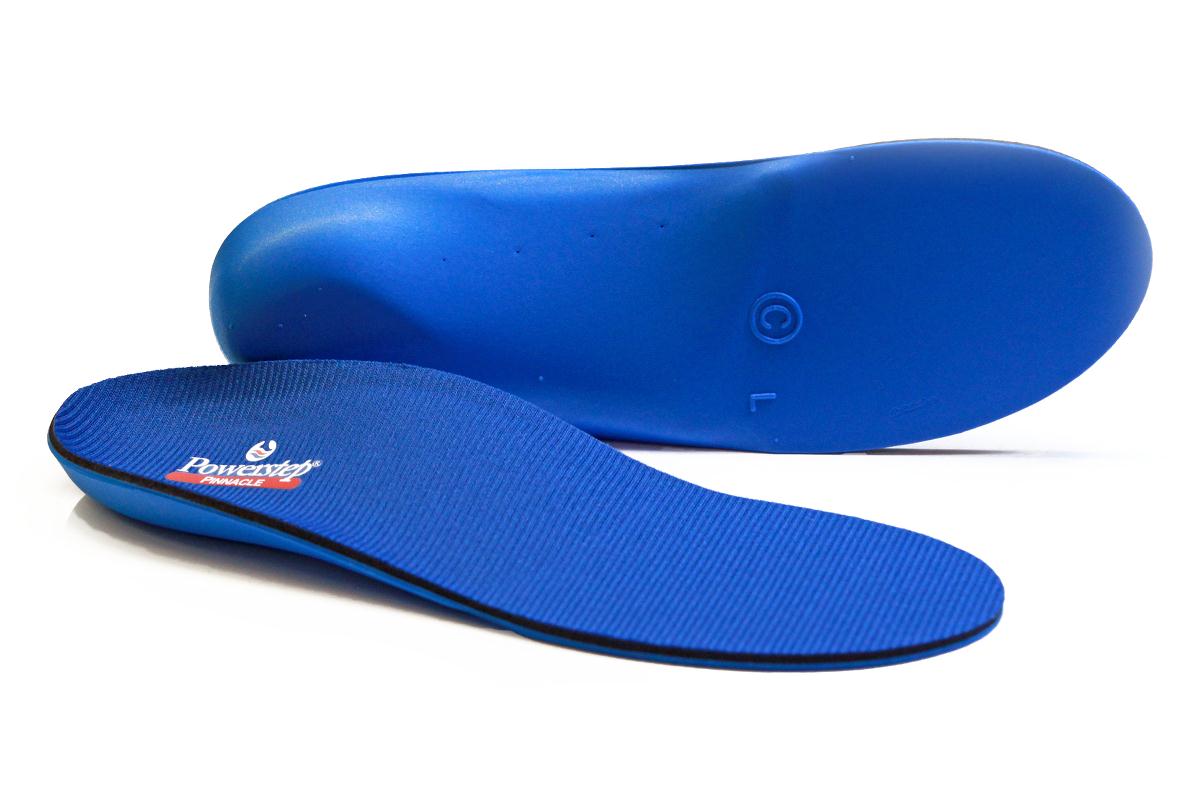 In reality, this popular insole was produced by those in the medical line of work. Irrespective of the type of shoe you wear – athletic or casual footwear – you will be surprised at how effective it is at cushioning impact or force on the soles of your feet.
The Powerstep Pinnacle also contributes to the way you walk, and you will receive compliments and praise as a result of the better motion initiated by this innovative insole.
The "better motion" feature is on account of the arch support in addition to the heel cradle that comes with the insole.
You will also be pleasantly surprised to discover that you no longer exhibit the symptoms associated with plantar fasciitis and many other foot problems.
If you have been diagnosed with any medical condition, you will discover how useful the Powerstep Pinnacle insole can be in that regard as premium insoles.
The top layer of this medically inspired insole is anti-bacterial, and this additional bonus helps to keep infections and bacteria away from your feet.
Further Reading:
The Physix Orthotic Inserts is ergonomically designed for maximum performance as it has dual-layer cushioning i.e. Variable Cushioning Technology and EVA foam base.
These features provide long-term comfort and targeted cushioning with a supportive, soft feel to the ball of your feet and the heel respectively.
It is the perfect insole for re-aligning your feet and controlling excess pronation i.e. the inward rolling of the feet and the complete collapse of the arches.
When you use the Physix Orthotic Insole, you will begin to experience an improved balance and stability which culminates in improved running efficiency, efficient power transfer, and reduced fatigue. It has a deep heel cradle for additional stability and anti-microbial top fabric.
Some other insoles to consider:
Best Athletic Insoles By Activity
Are you doing a specific sport or activity that requires insoles? We are actively researching the best insoles for a wide variety of activities. See the list below as it develops:
Insole Volumes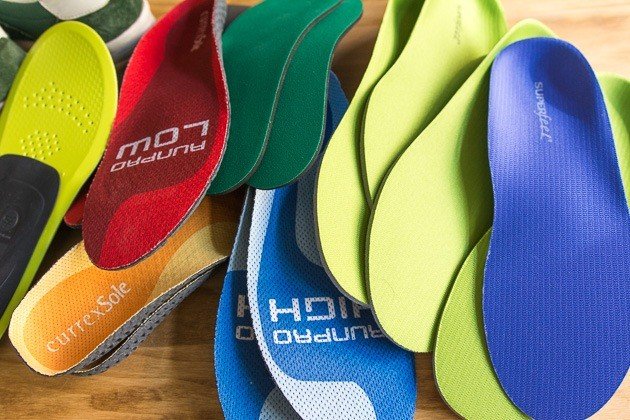 Insoles come in in a variety of volumes, which means that they take up different amounts of space inside your footwear. For most insoles, there is also a correlation between the arch shape and the volume that the insole is designed to fit.
High-volume insoles best suit high-volume shoes such as hiking boots, ski boots or running shoes. They typically work best with high arches.
Medium-volume insoles fit average-volume shoes, like casual shoes and some athletic footwear. They work well with a variety of arch profiles.
Low-volume insoles are needed for low-volume shoes such as cycling shoes, in-line skate boots or ski skate boots. People with very low arches often find a low-volume insole works best for them.
(Note: The thickness of your socks will also have a big influence on footwear fit.)
Questions and Answers on the Best Athletic Insoles
Conclusion: So which Insole to Pick?
So, there you have it; the best athletic insole and how to find them. We hope that this article helps you on your quest of finding the best insole in the market today!