Are you dealing with running injuries like runner's knee, plantar fasciitis, and shin splints? Are you looking for the best insoles for running? If yes, then we're here to help you. Finding the best insoles for running can be a doting task. The markets are full of running insoles that target the specific problems of the runners.
If you are planning to buy an insole for running, don't do it before reading our article.
In this guide, we'll answer important questions such as why you need an insole in the first place, what are the kinds of insoles available in the market, and which ones would work the best for you?
Read further, and we bet that by the end of this article, you will find out the best insole for you.
When do you need insoles?
Several conditions hint towards the need for buying insoles. Many conditions that affect the feet make it necessary for anyone, especially runners, to invest in a pair of good insoles.
Here are some common reasons that call for the need for buying insoles:
Plantar fasciitis & Arch Pain
Plantar fasciitis and Arch pain are two leading reasons that demand the use of insoles. The insoles offer the required support and cushioning.
Foam cushioning is used along with orthotic arch supports to relieve the intense pain. There are special insoles designed to deal with plantar fasciitis.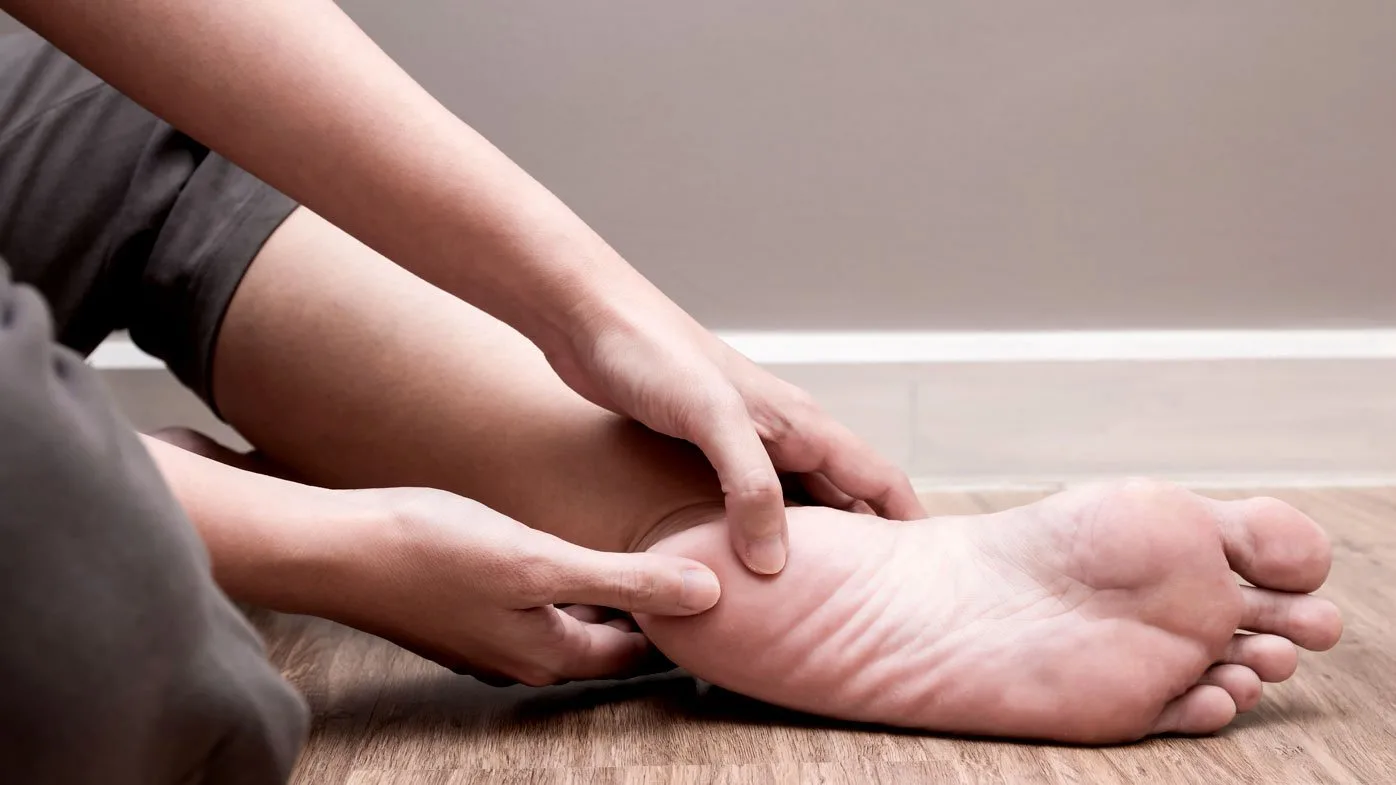 Over-Pronation
Pronation is the natural inward movement of the feet while taking steps. It is a natural phenomenon. The problem is when the feet move too far inwards. This condition is called over-pronation. It can cause instability, as well as pain in feet.
Using insoles helps in dealing with this condition. Using semi-rigid or rigid support helps in correcting this condition. The correct kind of insoles helps in keeping the feet aligned and offering proper support.
Under-Pronation or Supination
Under-pronation or supination is the outward sliding of the feet while taking steps. The feet must pronate while walking and if they under-pronate, it causes discomfort and pain.
To correct this problem, you must use either semi-rigid or rigid orthotic arch support.
Heel Pain and Heel Spurs
Insoles also help the people who go through heel pain or heel spurs. Insoles offer a great amount of padding and cushioning at the heel area. This keeps the pain away.
There are special insoles that target heel pain and heel spurs. They are designed to tackle the pain and offer comfort to the wearer.
Walking, Running, and Shin Splints
Runners, as well as walkers, often expect shock absorption and flexible support from their insoles. Insoles are also essential for those who are suffering from shin splints.
Semi-rigid or cushioned arch support with full or partial gel construction is required in such conditions. The gel padding at the forefoot and heel area absorbs shock and ultimately reduces fatigue, whereas the cushioned arch support offers flexibility aiding performance and optimum support.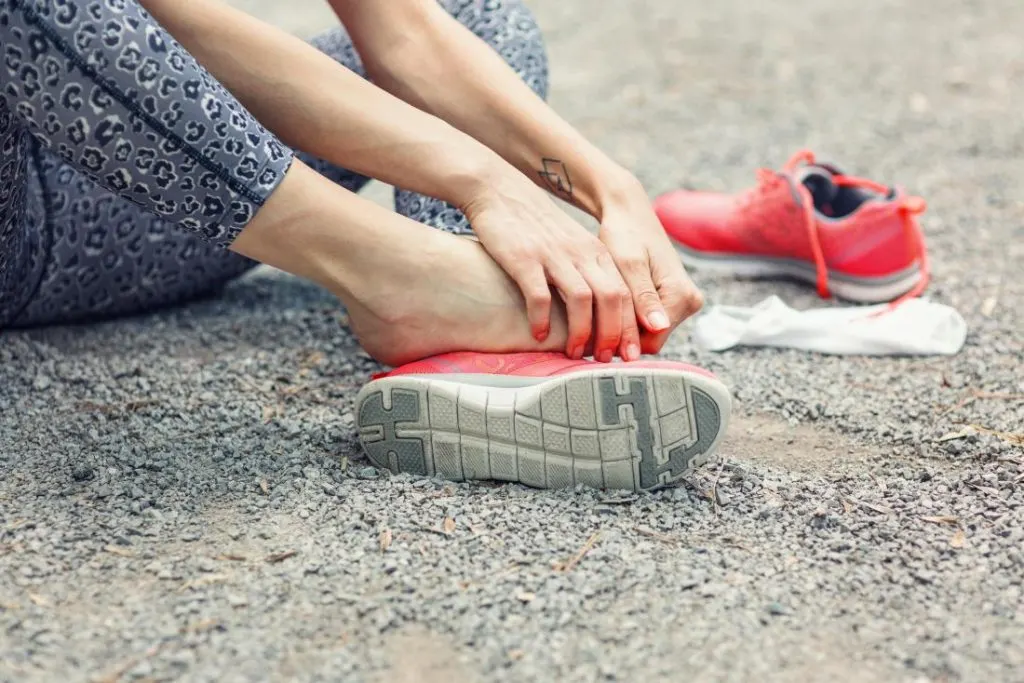 Standing
Standing for a long period causes foot pain. Cushioned arch support helps in relieving pressure and reducing pain. Plush foam insoles are best for reducing pain from long standing.
Morton's Neuroma
Morton's Neuroma is a tingling, burning, or pain in the forefront area that is due to irritation or compression of a nerve in the forefoot. An insole with a metatarsal pad helps in relieving pain.
Hallux Limitus, Hallux Rigidus, and Morton's Toe
Discomfort and pain caused by Hallux Limitus, Hallux Rigidus, and Morton's Toe can be tackled using stiff insoles. These kinds of insoles arrest the flexibility at the toe area which comes naturally while taking steps.
The toe-box of shoes facilitates the flexing. Using stiff insert arrests this flexing movement and hence, reduces the pain.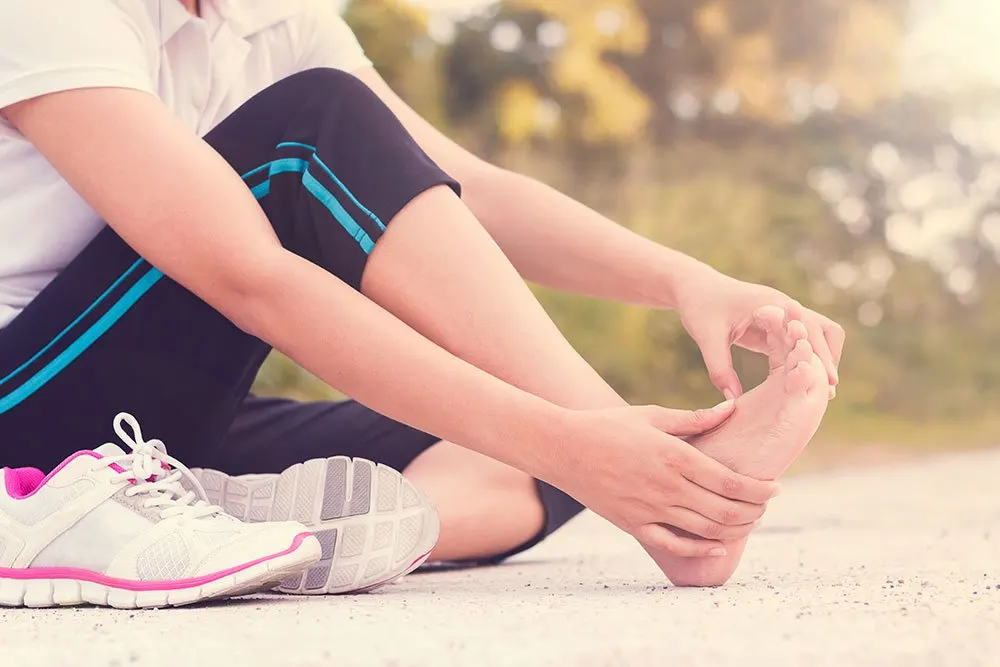 Diabetes and Arthritis
People who have diabetes or arthritis also need insoles to promote circulation and minimize the impact of shocks. Special diabetes and arthritis insoles are used for the purpose.
Why do you need insoles for running?
Running is an activity that is liable to cause injuries to feet. Many runners suffer running injuries like runner's knee, plantar fasciitis, and shin splints. The shock impacts cause or further aggravate the condition.
To prevent pain from these common running injuries, a runner needs running insoles. The insoles feature a good amount of padding which helps in reducing shock by 40 percent. They also provide optimum ankle and back support while running.
Running with proper cushioning and support helps in bringing down wear and tear on legs and feet. Hence, you need good insoles for regular running.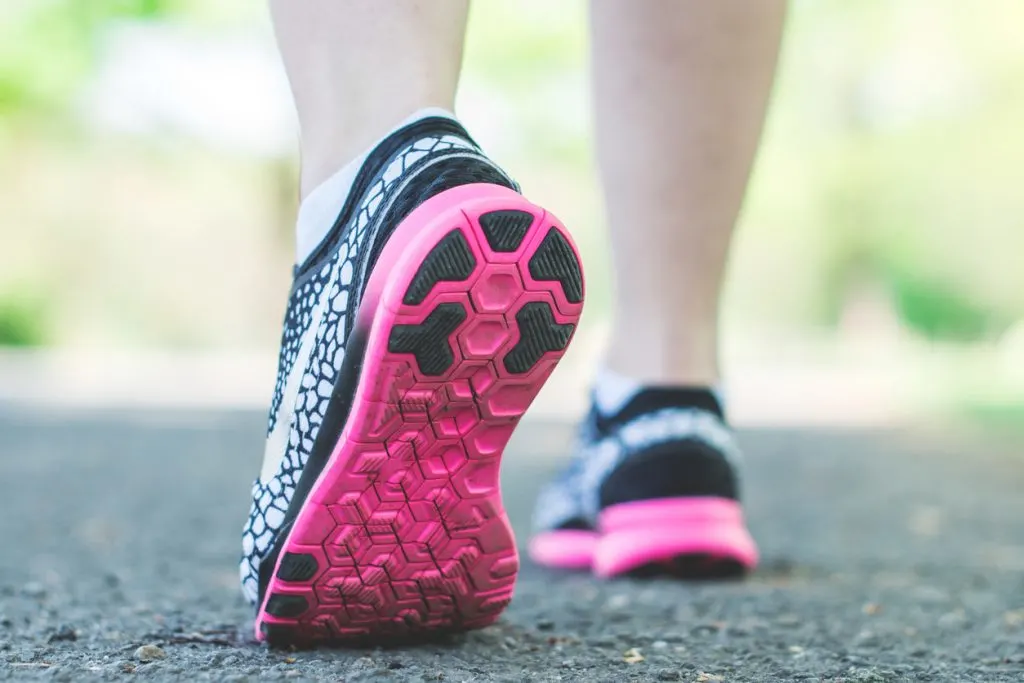 What are the different types of insoles?
As we have discussed already, insoles are meant to counter orthopedic problems and enhance performance in a sports activity. Based on the requirement, there are different kinds of insoles. You must understand your requirement before buying an insole.
Here are the different types of insoles available in the market:
Sport insoles
Sports insoles are made using elastic rubber or other flexible material. They feature double shock absorbers to take the shock. They also come with a perspiration-absorbing system.
If you are not battling any orthopedic condition and want an insole to aid your running performance, you must buy sports insoles.
Dynamic insoles
These insoles are made using dynamic polymers. They are fabricated with the help of a unique layering technique for every action and particular sport.
Carbon insoles
As the name says, these insoles are made using carbon fibers. These insoles help in the treatment of flat feet, arch collapse, and heel spurs.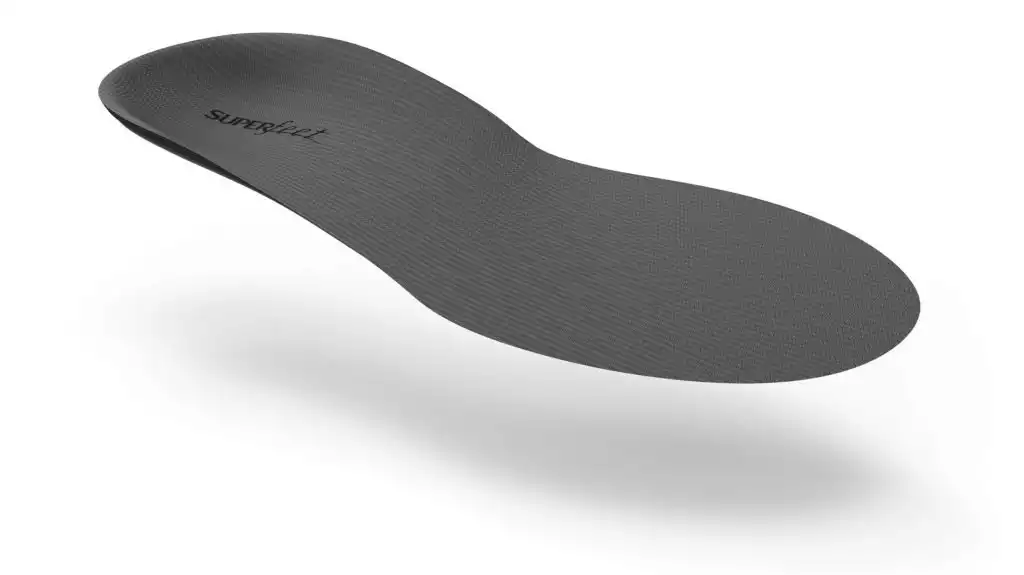 Biomechanical insoles
Biomechanical insoles feature a rigid or semi-rigid base made using aluminum or plastic, graphite, and cork. The upper is covered with a layer of leather.
Silicone insoles
These insoles are made using silicone. They are not made corresponding to the different foot patterns. Instead, they are inserted in the soles as a single unit.
As silicon has amazing shock absorbing capability, they are very effective during running.
Cork insoles
People with diabetes use cork insoles. They help in absorbing perspiration.
Height increasing insoles
Made from rubber, these insoles are also called shoe lifts or height inserts. They not just augment height but also help in relieving pain in back, pelvis, and knee associated with the difference in the length of legs. They also bring the load off from Achilles heel.
What are the things that you should consider while buying insoles?
If you are planning to invest in brand new insoles, you must understand a few things before you click the buy button.
To buy perfect insoles, that could serve your purpose well, you need to consider a few things while purchasing them.
An inconsiderate purchase will only prove to be a waste of time and money. It will do no good to you. Therefore, you must read about the essential things to consider while buying insoles.
The size of insole
No points for guessing, this is perhaps the most important factor to keep in mind while making a purchase. An ill-fitted insole will keep you occupied in constantly trying to adjust to it.
The size of the insoles corresponds to the size of the shoe. The size range is also denoted just like the size range of the shoe. Each manufacturer has its own size chart.
The full-length insoles are trimmed prior to use (trim-to-fit). This makes them feasible to use with any range of shoe sizes. For instance, for ¾ length insoles, you will see a size range mentioned on the product.
The range denotes the shoe sizes that correspond with the insoles, which mean, you can use the insole with all the mentioned shoe sizes. But, if your size is, say 9.5, then you must get the next size up for yourself.
The placement of insole
You cannot place your new insoles over the existing insoles. To obtain a comfortable fit, you need to eliminate your old insoles and replace them with the newer ones. This is particularly important while using full-length insoles.
However, if you are using flat and thin full-length insoles, you might not need to remove your old insoles. Thin insoles like ¾ insoles easily fit over the existing insoles and offer you optimum comfort on wearing them.
Before placing the insoles, you must read the instructions regarding the proper placement of the insoles as some insoles are meant to be placed above, while others should be placed below the existing insoles.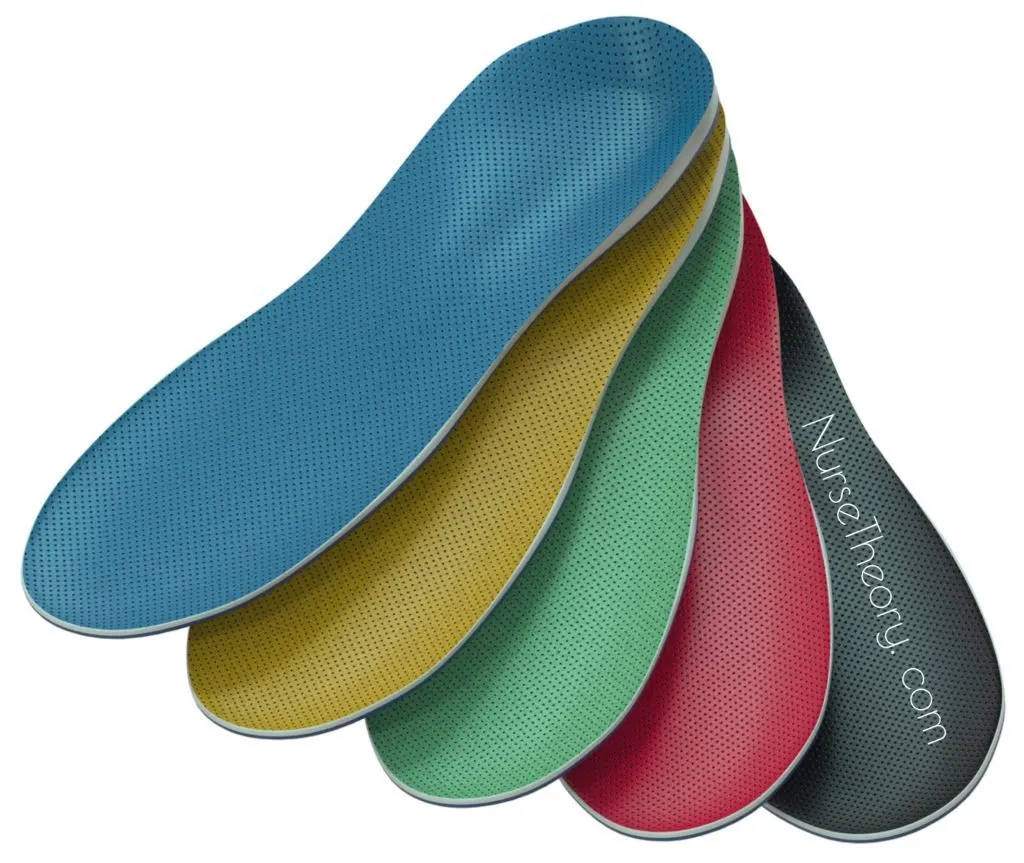 The type of foot arch
This is another significant factor to consider while purchasing the insoles for running shoes. For every kind of arch, there is a specialized insole that counters the issue and makes you feel comfortable.
Your insoles must conform to your arch type. So, before hitting the stores to buy the insoles, you must identify your foot arch. This will facilitate your hunt for the perfect shoe insoles.
If you know your arch type, it will help you to do a filtered search and find the insoles that work well for your arch type sparing you the pain and discomfort.
The material of insoles
The most commonly used materials for making insoles include gel, foam, leather, and cork. Every kind of insole has its own set of pros and cons.
Gel insoles are best shock absorbers. Foam insoles offer excellent support, cushioning, as well as pressure relief. Leather insoles provide an unmatched feel, whereas cork insoles are meant to give support.
You can select the material based on what you want from your insoles.
Type of footbed
In the market, you will find four kinds of footbed constructions including rigid orthotic arch support, semi-rigid orthotic arch support, cushioned arch support, and no arch support/flat cushion.
Buy the kind of footbed based on your personal requirement.
What are the features of efficient running insoles?
Here are the attributes that are present in an efficient running insole:
They eature apt dynamics, as well as movements while running.
Offers optimum shock absorption quality. These insoles make it easier to run even on the hardest surface and also help in abnormally high arches or flat feet by evenly distributing the load.
Help in establishing healthy blood circulation throughout the feet.
Offers foot stability.
Help in reducing sprains and also help in quick recovery from them.
Do not cause blisters, calluses, wounds, and ulcers on the feet.
Best Insoles for Running
We aren't through yet. Now, that you know the different options available to you, what kind of insole serves what purpose, how to find the best insoles for running, and what are the attributes of a good running insole; let us take a look at the best insoles available in the market.
After deep research and study of customer reviews, we have compiled a list of the best insoles for running. The product mentioned in the list below, have an array of unparalleled attributes that help the runner to enhance efficiency and performance.
Here are the best insoles for running.
Powerstep Pinnacle
Product

 

Powerstep Pinnacle

 

Arch Type

 

Low, neutral and high arch

 

Material

 

Soft EVA Foam

 

Price 

 

$23.00 – $40.00 (Check out the latest rates here!)
Ideal for 

 

Distance running

 
Notable Features:
Soft EVA foam base
Use of variable cushioning technology to offer ideal cushioning and comfort
Semi-rigid arch support
Help in preventing pain associated with foot conditions
Optimum high, neutral, and low arch support
Anti-microbial top layer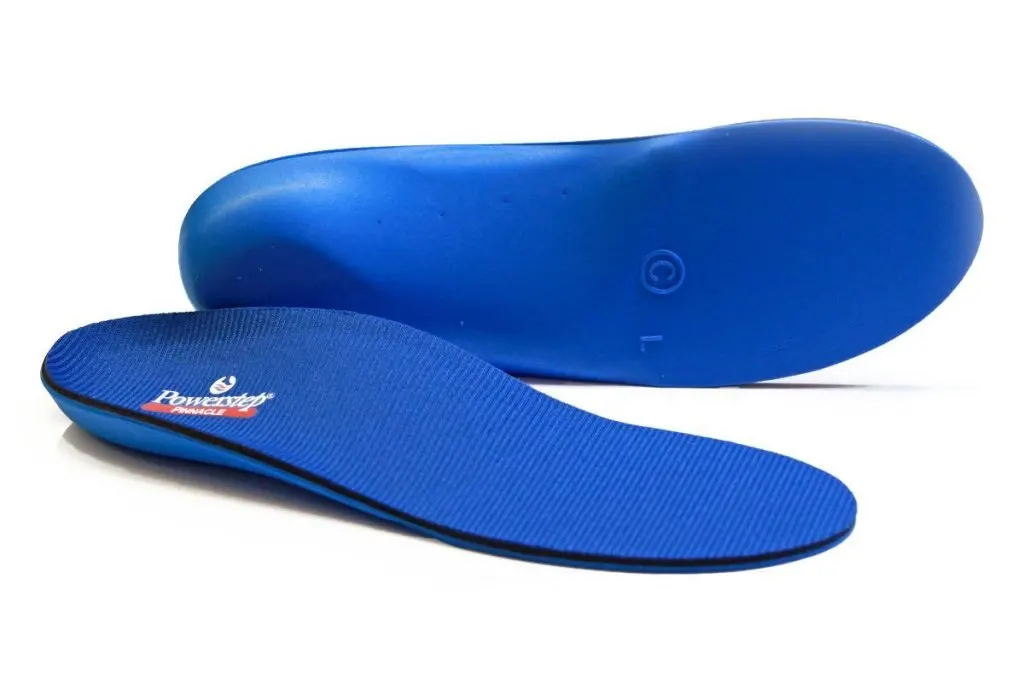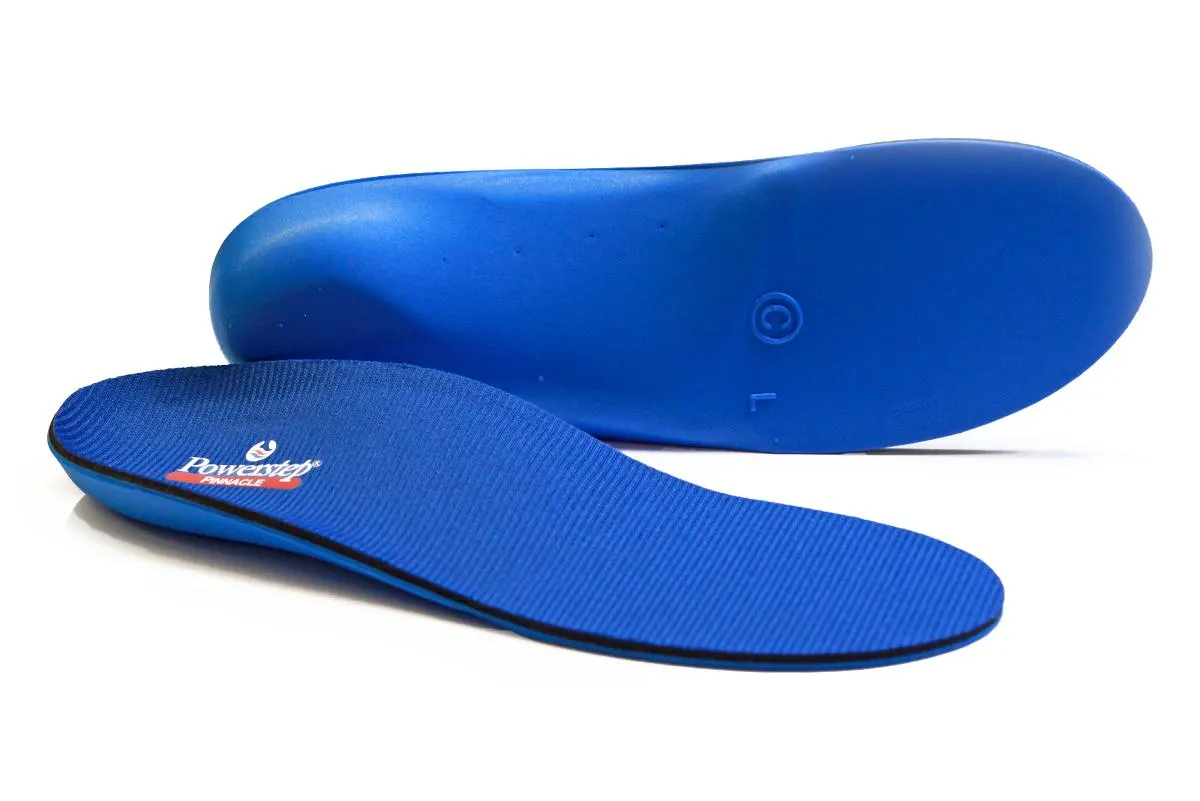 The Powerstep Pinnacle is one of the best running insoles. It is designed to benefit mild to moderate pronators. It offers amazing support and stability while running and also provides amazing control of motion.
The EVA foam ensures cushioning, and the anti-microbial layer sitting on the top prevent bacterial build-up making it a perfect option for runners who sweat more and for distance runners too.
The top-layer also brings down the amount of friction and heat making it easy for the runner to spend a longer duration of time on training.
The insoles also help in effective reduction of pain and discomfort associated with plantar fasciitis, metatarsal pain, mild to moderate pronation, flat feet, heel and arch discomfort, tired and sore feet, etc.
Pros
Variable cushioning 
Excellent arch support
Anti-microbial layer
Better pain relief
Cons
Sof Sole Neutral Arch

 

Notable Features:
Gel and foam hybrid construction
Gel heel pads
Use of hydrologix technology to wick away the moisture
Best for high impact training
The Sof Sole Neutral Arch insoles are apt for you if you indulge in high impact training like running or cross fit.
These insoles are specially designed to provide optimal comfort, support, and stability to the runner while running on tracks.
The gel and foam hybrid construction, gel heel pads, and excellent moisture wicking properties make them one of the best running insoles.
Pros
Gel heel pads
Unparalleled moisture wicking properties
Can be used as athletic, as well as casual soles
Cons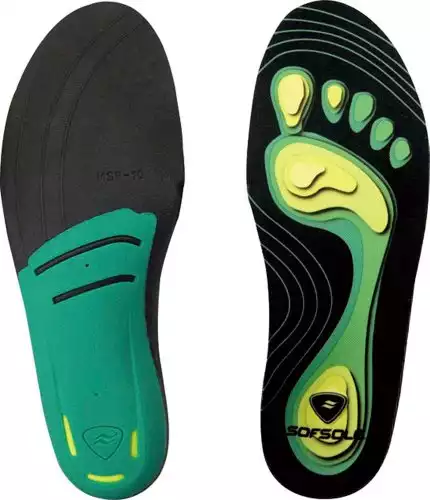 SOLE Softec Ultra-U

 
Notable Features:
AMPA approved
Admirable cushioning and shock-absorption qualities
Made using eco-friendly technology
EVA and PU blend cushioning
The best thing about this insole for running is that it is backed by podiatrists and hence, you need not to worry about the quality of this product.
The blend of EVA and PU offers amazing cushioning. The 3.2 mm plush cushioning ensures that you run without pain. A heel cup stabilizes the heel while running.
Made using eco-friendly technology, the SOLE Softec Ultra-U is excellent for trail running.
Pros
Made using recycled material
Eco-friendly
Heel cup for stabilizing t he heel
Thick cushioning
Cons
Requires size adjustment
Expensive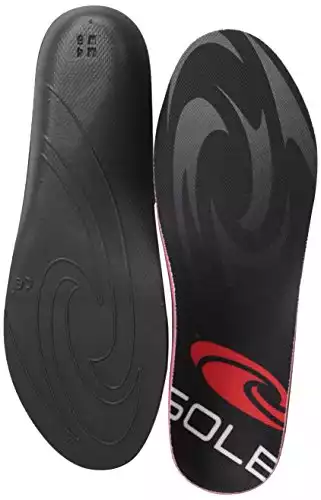 SOLE SOFTEC Ultra-U
Buy Now
We earn a commission if you click this link and make a purchase at no additional cost to you.
02/07/2023 07:20 pm GMT
SuperFeet Blue Premium

 
Product

 

SuperFeet Blue Premium

 

Arch Type 

 

Low to medium foot arch

 

Material

 

Closed cell-foam

 

Price 

 

$31.99 – $58.99 (Check out the latest rates here!)
Ideal for

 

Walking, running, industrial work, hiking, etc

 
Notable Features:
Use of high-density foam
Natural NXT anti-bacterial coating
Medium-arched insole
Best for aches and pains associated with feet
The SuperFeet Blue Premium insoles are a delight for the runners. Laden with coming-of-age technological features, these insoles are apt for heavy-duty running.
They are the best shock-absorbing running insoles and are very light in weight. The high-density foam layers along with heel cup make sure that you enjoy a soft run even on hard surfaces.
These are eco-friendly insoles made using organic and vegan compounds.
Pros
Comfortable
NXT anti-bacterial coating
Made using organic and vegan compounds
Shock-absorbtion heel cup
Cons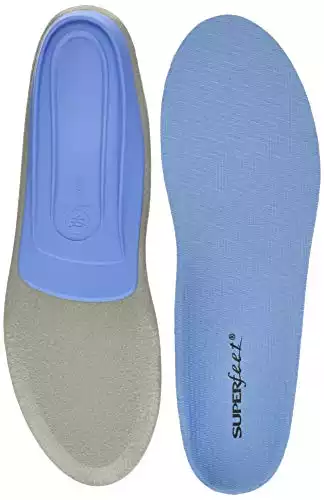 Spenco Total Support

 
Notable Features:
3-pod cushioning system
Low-friction anti-microbial cloth later at the top
Metatarsal arch support
Polysorb stability cradle
The excellent Spenco Total Support insoles are loaded with many superlative features. The 3-pod cushioning system helps in dealing with over-pronation.
The metatarsal arch support helps in preventing forefoot pain by loading off the pressure from the ball of the foot.
The anti-microbial treatment helps in keeping bad odor at bay.
Pros
Deals with over-ronation
3-pod cushioning
Anti-microbial treatment
Cons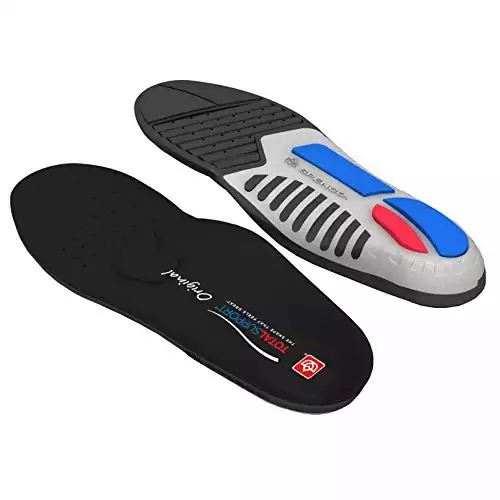 How to take care of running insoles?
We are sure that by now, you would have definitely made your decision. But, your running insoles will only last longer if you take care of them properly.
Generally, insoles last for a year on regular use. But, if you use them occasionally, they might last longer.
We know that you will use your running insoles regularly and so, we are bringing you some easy-care tips that can help you to enhance the shelf-life of your insoles.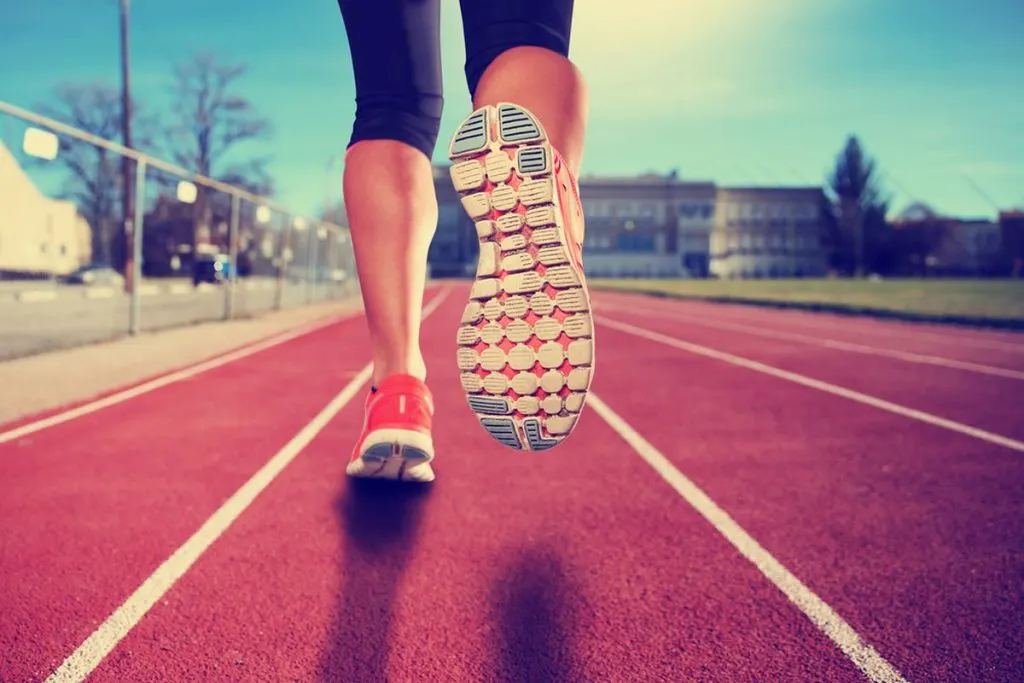 Here is how you can take care of your running insoles:
Insoles need air
Sweaty feet during running are only natural. You must remove the insoles regularly to let the moisture dry.
Wash the insoles
There are many sports detergents available on the market that can be used to wash your insoles. Wash them with your hands and air-dry them before re-using.
Pick the best insoles for running
We hope the detailed guide on how to find the best insoles for running helped you understand everything about choosing the ideal insoles for your feet. If you have any more questions, we'll be more than happy to answer them for you.
Further read: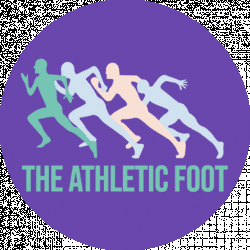 Latest posts by The Athletic Foot Team
(see all)