Obstacle races are fast growing in popularity and trail runners around the world and chances are, there is one near you.  The likes of Savage Race, Spartan Race, Tough Mudder, Rugged Maniacs, Epics series and other challenging marathon races are loved among athletes and competitors who can't get enough fitness adventure.
You know, those kinds of races with obstacles designed for your adrenaline to pumped as you crawl through mud, jump through fire, just about anything crazy.
Now, in this article we will be comparing two of the popular challenging obstacle runs in Spartan Race vs Tough Mudder. If you are wondering which one you should go for then this article is for you!
The History
Before we talk about the details of both Spartan race and Tough Mudder, let's rewind the clock a bit. How did these two powerhouse brands begin?
Spartan Race's History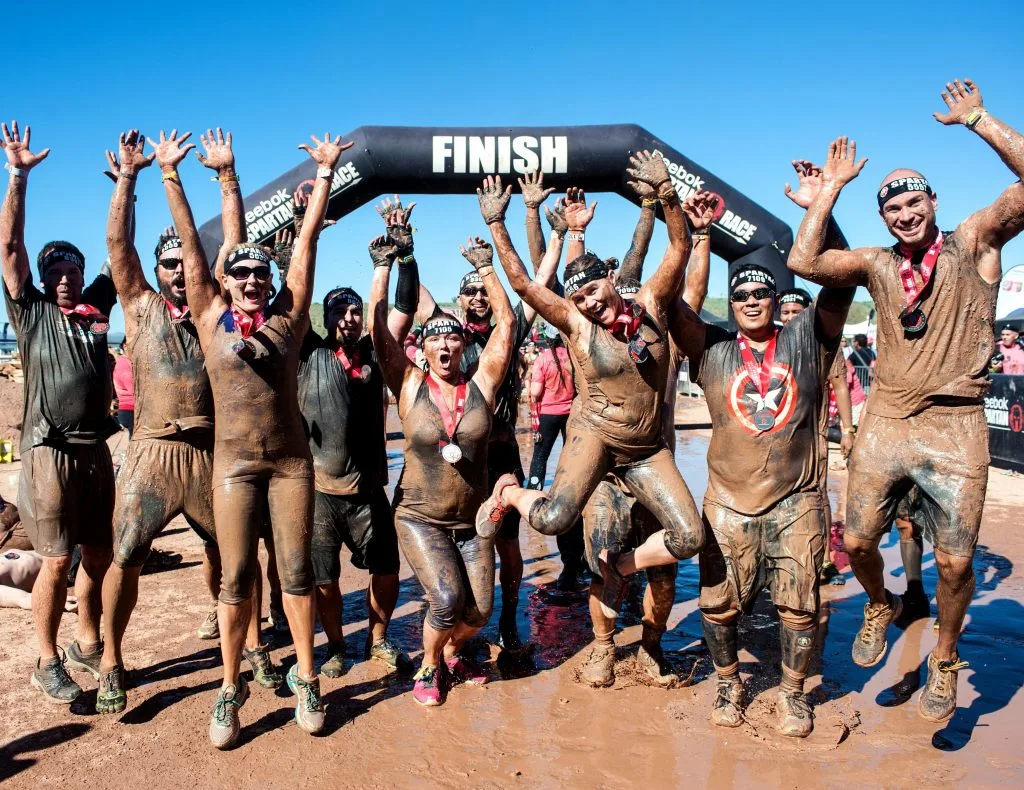 If you are wondering who invented Spartan race, then he goes by the name of Joe De Sena. He is in fact not just a serial entrepreneur but a long-time avid fan of putting the body strength to a test. He turned his passion for innovation and Spartan was born in 2007. It wasn't till 2010 though, that the first-ever Spartan competition event was held at the Catamount Outdoor Center in Vermont.
Since then, the Spartan obstacle racer has grown as a sport and brand around the world, picking up lots of fans, sponsorship deals, and TV spots along the way.
Tough Mudder's History
Tough Mudder challenging competition is another popular endurance event that was founded by Will Dean and Guy Livingstone in 2010. The first event was held in 2010 at the Beer Creek Ski Resort in the US and it also picked up the pace. It has clocked over 30 million participants and competitors around the globe and a lot of sponsorship and TV deals as well.
It is even a global event that is found in the UK, Australia, Canada, Germany, Ireland, New Zealand, China, UAE, Japan, South Korea, Singapore, and many other places.
Spartan Race vs Tough Mudder: Which is Best For You?
Let's now get to the cool stuff, or rather, what Tough Mudder and Spartan Races are all about. What are the similarities and contrasts? Let's break it down for you:
Spartan Race vs Tough Mudder: Event Types
The first difference you will note with Spartan race and Tough Mudder is the type of events and competitive features in both of them.
Spartan Race Events
For the Spartan Race, there are four main race types in the Spartan race coupled with a few race series, a race for kids, and a number of endurance event types:
Spartan Sprint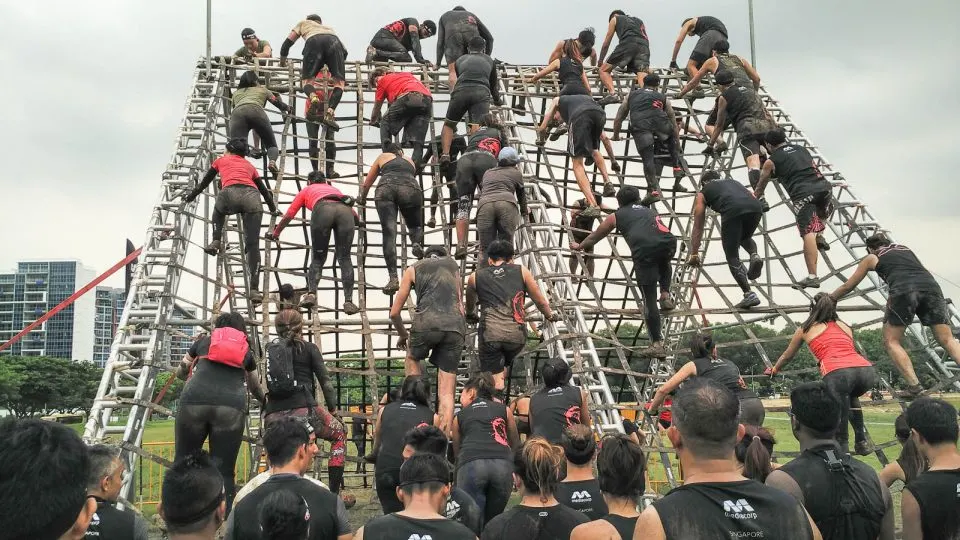 This is the shortest distance of the race featuring 3 miles with up to 23 fitness obstacles along the way. It is usually the best race for those looking to test out the Spartan race and see how far you can push your body strength for a start.
Spartan Super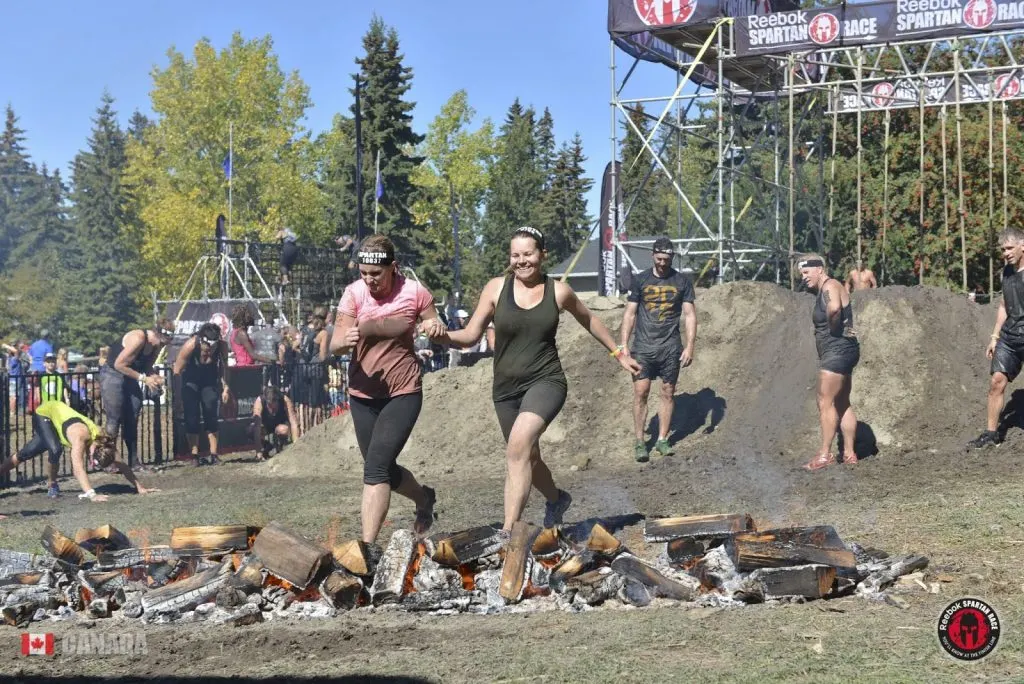 Once you have taken on the Spartan Sprint, the Spartan Super is next. This one stretches the rugged terrain to 8+ miles with over 25 miles to go through along the way.
Spartan Beast
The third race takes the challenge to "beastly" levels. In this category, you will endure over 12 miles of rugged terrain with over 30 obstacles. If you can get past this and the other two races, then you will have earned an achievement known as Spartan Trifecta achievement.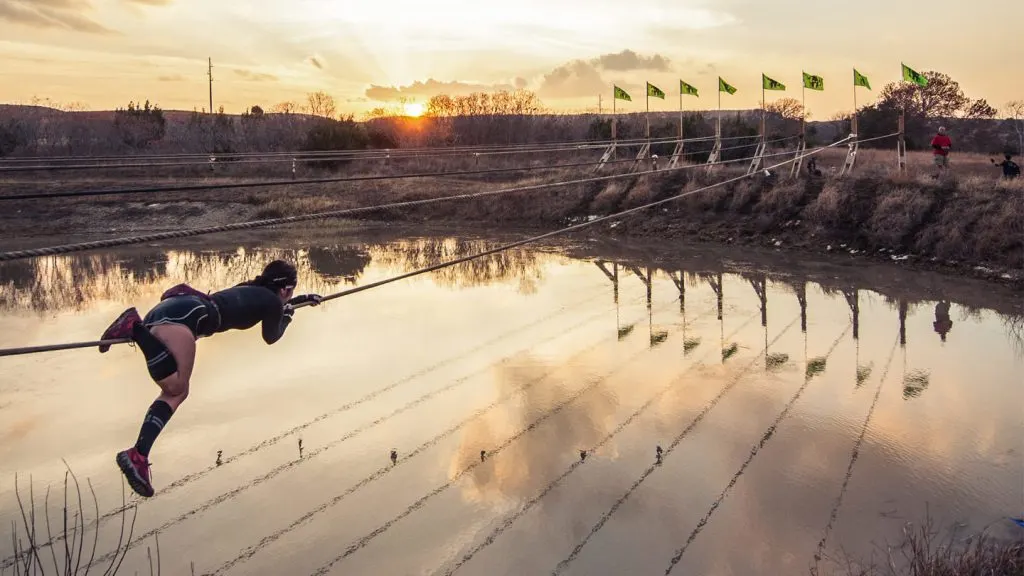 Spartan Ultra
To stretch things even further, Spartan added another race type in 2018 in what is known as Spartan Ultra. This race is meant for those with true endurance keeping in mind that you have to handle over 30 miles of tough terrain with 35+ obstacles between you and the finish line.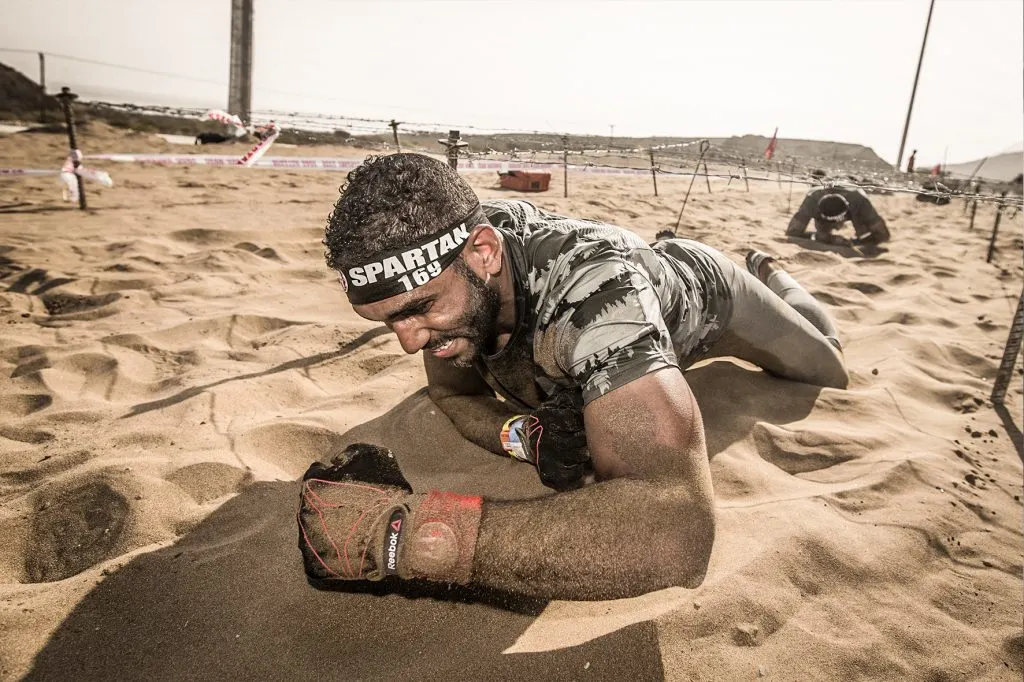 Spartan Endurance Events
If you want more than the race type on the Spartan roster, then there are endurance events you can go for.  These are:
Spartan Ultra
Spartan Hurricane Heat
Spartan Agoge
The distance of which varies depending on the Spartan endurance events: The Spartan Ultra-endurance event covers over 30 miles, while the Hurricane is more of course time (there is a 4-8, 12, and 24 hour course time). The Agoge, on the other hand, is more of a training program to develop mind, spirit, and body. However, it is not for the novice. It is for those who have gone through something like an endurance event or military training.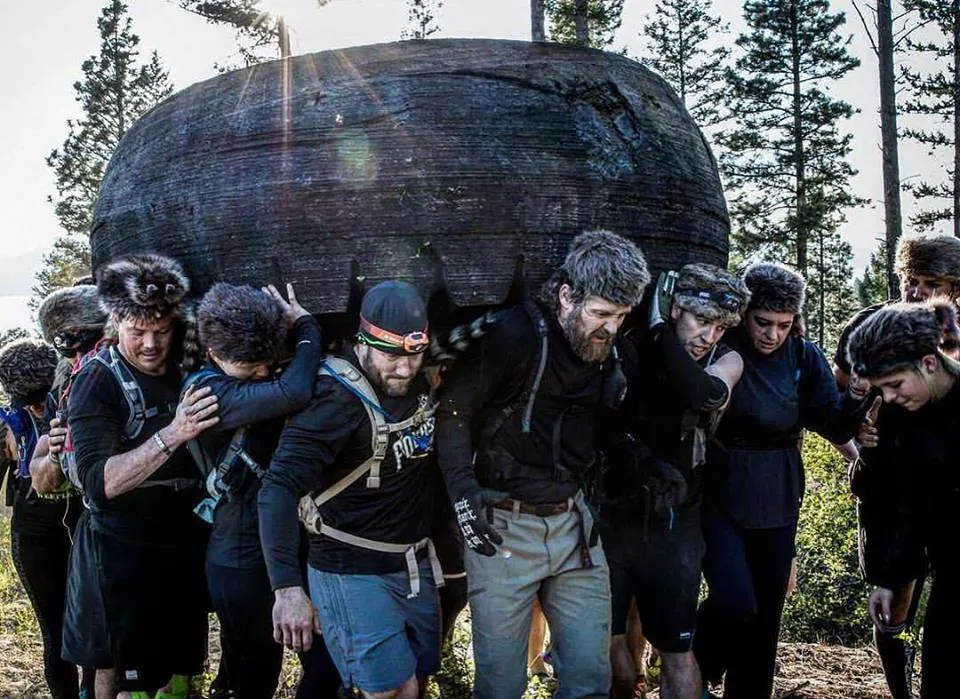 Spartan Honor Series
Talking of military, Spartan has a series just tailored for the military community. This is known as the Spartan Honor Series and it features a course that runs between 4 to 5 miles.
Spartan Stadium Series
Spartan has thrown in some stadium series held at some iconic stadia around the world. This series blends the track with things like stair climbing and tons of obstacles that definitely adds some zest.
Spartan Mountain Series
In love with mountain climbing? Spartan has one mountain series for you. It is like mountain climbing with more than climbing and decent challenges. You will get obstacles and some weights added to the experience.
Spartan Kids Race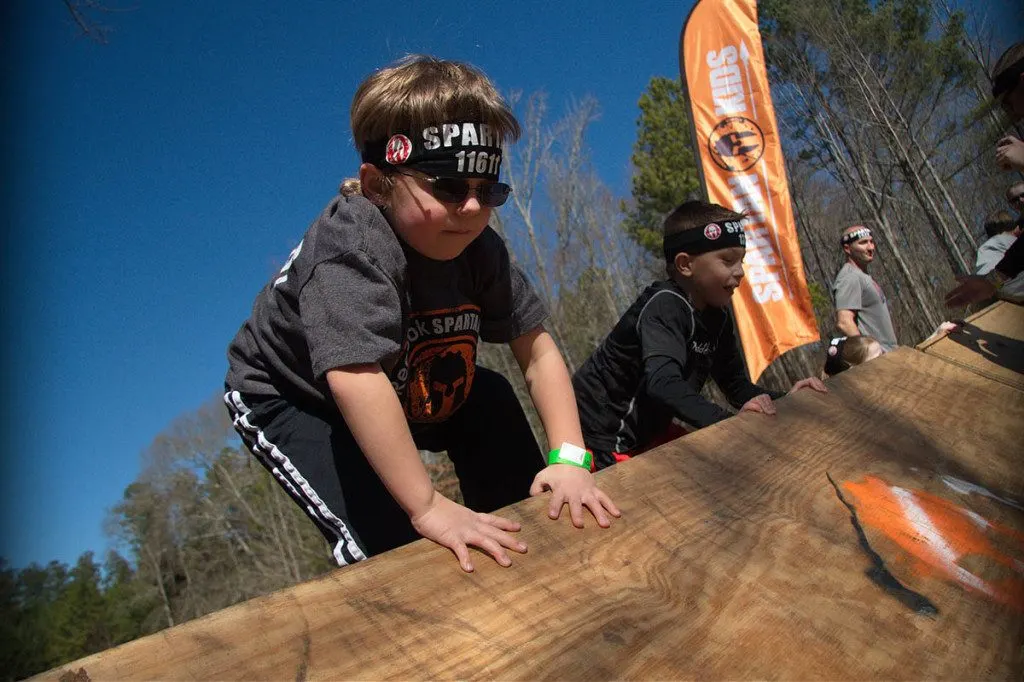 Kids can also be part of the Spartan experience thanks to a race type tailored for them. It is not only one cool way to exercise but also good for spicing up family time. The race comes in three types depending on your kid's age:
Ages 4-6, distance: 1/2 Mile
Ages7-9, distance: 1 Mile
Ages 10-13, distance: 2 Miles
Tough Mudder Events
Tough Mudder has lots of events as well, divided into two broad categories: Race Series and Challenge Series. Here are the events on the Tough Mudder roster:
Tough Mudder Classic
This is the signature event featuring an 8 to 10-mile challenging course with up to 25 obstacles to overcome.
Tough Mudder 5K
Debuting in Nashville in 2017, the Tough Mudder 5K is an event that has spread to 25 cities around the globe. It is an event where teams take on 3.1 miles crammed with 13 obstacles along the way
Mini Mudder
The Mini Mudder is the Spartan Race Kids equivalent for those who for Tough Mudder. It is an event for kids who love taking on adventure and challenges with 1-mile lap and 10+ obstacles to surpass in this.
Tougher Mudder
This is one of the popular events of the Tough Mudder's race series. It is basically similar to the signature Tough Mudder (8-10 mile) event, only that it is timed.
Toughest Mudder
As the name suggests, things get hotter on this race series. It is a teamwork event entailing 12 hours of extreme work with as much as 5 miles coupled with up to 20 obstacles to go past (through the night).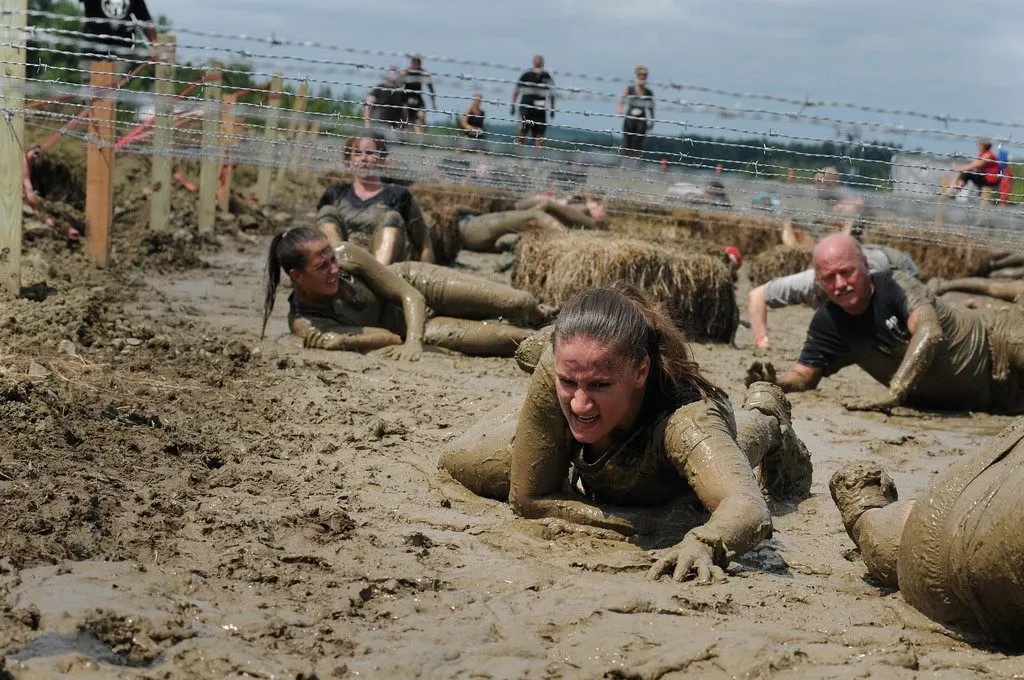 World Toughest Mudder
Things get even harder with the World Toughest Mudder! Unlike the others, it is a race designed to put you through 24 hours of running in 5 mile looped course. If you can complete the most laps then you are declared a winner.
Tough Mudder X
This is one other race series and it is meant to test the world's fittest athletes. The challenge ahead is a one-mile course with tons of obstacles and tough workouts.
Spartan Race vs Tough Mudder: Obstacles
One other factor in picking up an obstacle race is, of course, the kinds of hurdles you will find along the way. Now, the two races have different kinds of standard obstacles that make them unique but then they keep livening up events with some new creative ones.
There is a notable difference between the Spartan Race and the Tough Mudder when it comes to the way the obstacles are designed. Most of the Spartan Race obstacles are often designed to challenge individual strength whereas in Tough Mudder, it is mostly about what you fear and you will mostly need teamwork to go through obstacles.
Spartan Race Obstacles
Some of the standard obstacles you will get in the Spartan race are things like:
Atlas carry
The Atlas carry you will need to pick up a huge stone, carry it to the flag mounted on the opposite side from where you started, do some burpees then go back to the started
Barbed wire crawl
It is a must complete challenge where you are required to crawl through a series of lowly placed barbed wires
Bucket brigade
It is another mandatory challenge and in this, you are given a bucket to fill with rocks. Then you are supposed to carry it on a specified course and back. You fail you repeat!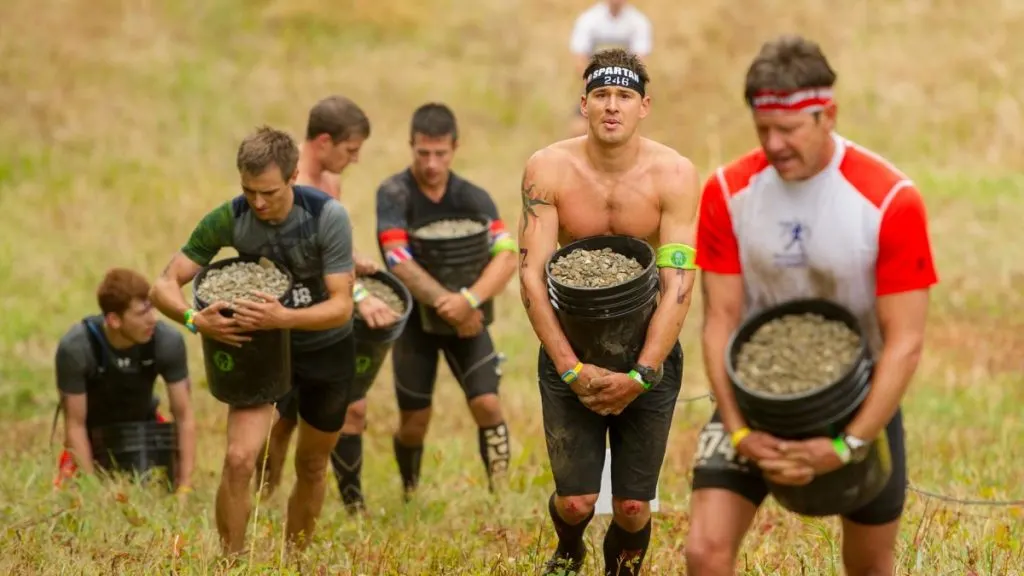 Fire Jump
Yes, it is a jump through a flame!
Hercules hoist
The challenge in this obstacle is to hoist weight up by pulling a rope then let it down slowly without a bang.
Over under through
This obstacle is normally in the early stages of a Spartan race and it is meant to give you a feel of what is coming ahead. In the obstacle, you will need to go over the first wall, under the next and through the third.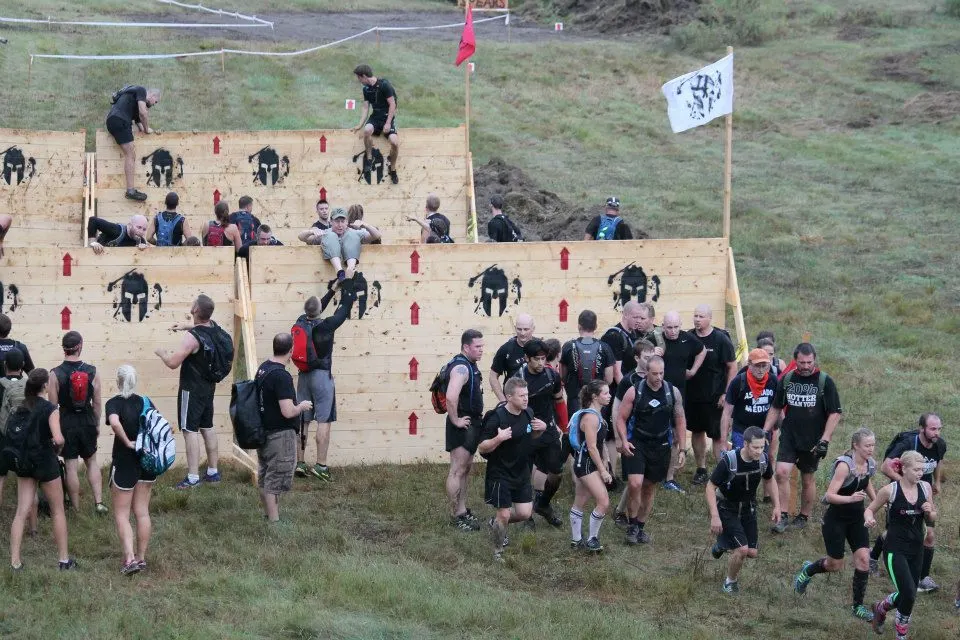 Rope climb
Rope climbing is nothing new but in the Spartan race, the challenge is taken a notch higher. You have to climb a 16 feet rope to ring a bell. It isn't exactly easy with mud, sweat, and water making the climb slippery
Spear throw
In this challenge, you will be given a target and your goal is to hit the target with a spear from a distance
Tire drag
The goal, in this case, is to pull a tire based on a few rules e.g pulling while sitting down.
Traverse wall
Here you will be required to traverse a wall with footholds and handholds then finish it by ringing a bell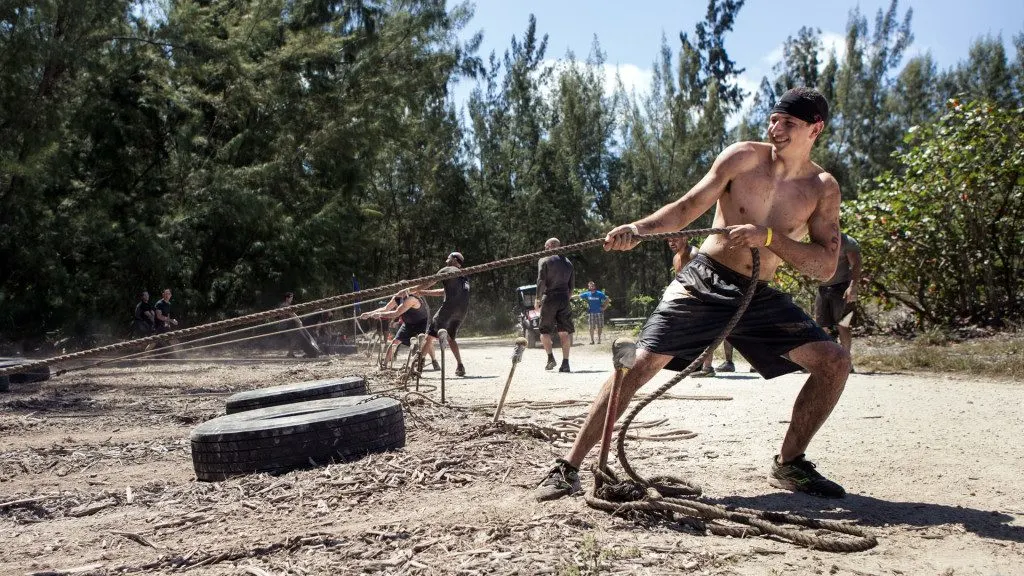 Tyrolean traverse
In this obstacle, you will be asked to crawl through a rope with a pool of water under you. You can't touch the water unless you are at the top of the rope.
Wall jump
It is a climb over an 8-foot wall. It isn't that easy though!
Tough Mudder Obstacles
Tough Mudder obstacles also tend to vary but there are some classic ones that you should be prepared for:
Arctic Enema 2.0
It is a revamped version of the 1.0 where you jump through a wooden bucket filled with ice! The beauty is that at times, you don't know you are jumping into ice
Balls to the Wall
You will have to mount then climb down a 15-foot wooden wall using a slippery rope.
Berlin Wall
In this challenge, you have to conquer a 10-foot wall without help
Birth Canal
In this one, you have to squeeze yourself under a water liner that happens to also push you to the ground.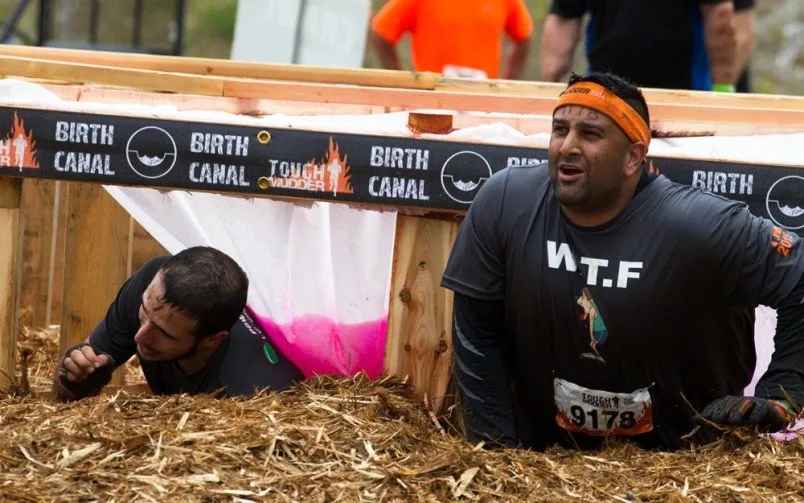 In this challenge, you are supposed to go through a channel as yo
Cage Crawl
In the cage crawl, you will navigate through a ditch filled with muddy cold water. The ditch is also caged by a fence on top in a way that you can swallow the water!
Cry Babyu are tear-gassed!
Dead Ringer
Armed with two rings on your hand, the objective of this obstacle is transverse sideways along a series of pegs. They are slippery-one error and you are down!
Electric Eel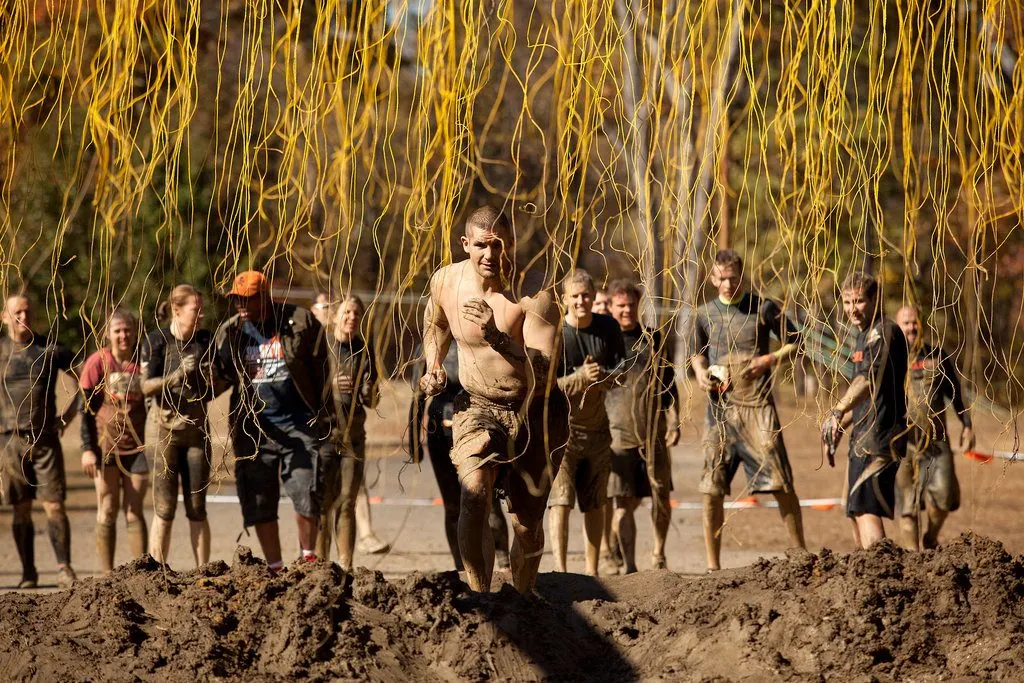 Also known as a shock in the rocks, this is certainly the most feared of the Spartan race obstacles. You will have to crawl through a watered down tarp with electric wires hanging over it and barbed wire just above you. Touch the wire and you feel the shock that is even made worse by the water below you.
Electroshock Therapy
It is similar to the electric eel but in this one, you will run through hanging electric wires.
Everest 2.0
It is one of the obstacles you get when you are tired and this is when you are supposed to sprint up a steep and slippery half pipe.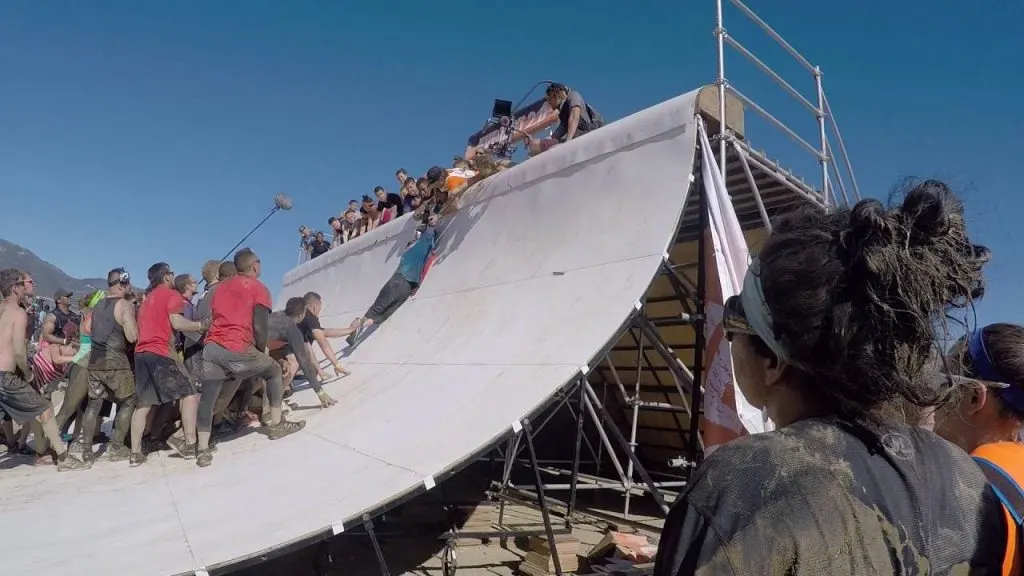 Fire in your Hole
In this challenge, you will be shot through a 30-foot water slide with blazing fire right at the end of the channel.
Fire Walker
In the fire walker, you will run past pits of fire with smoke making it hard for you to breath.
Funky Monkey 2.0
The new version of the Funky Monkey has monkey bars tweaked to make it even more exciting and challenging. It is about grabbing, swinging, going under and much more.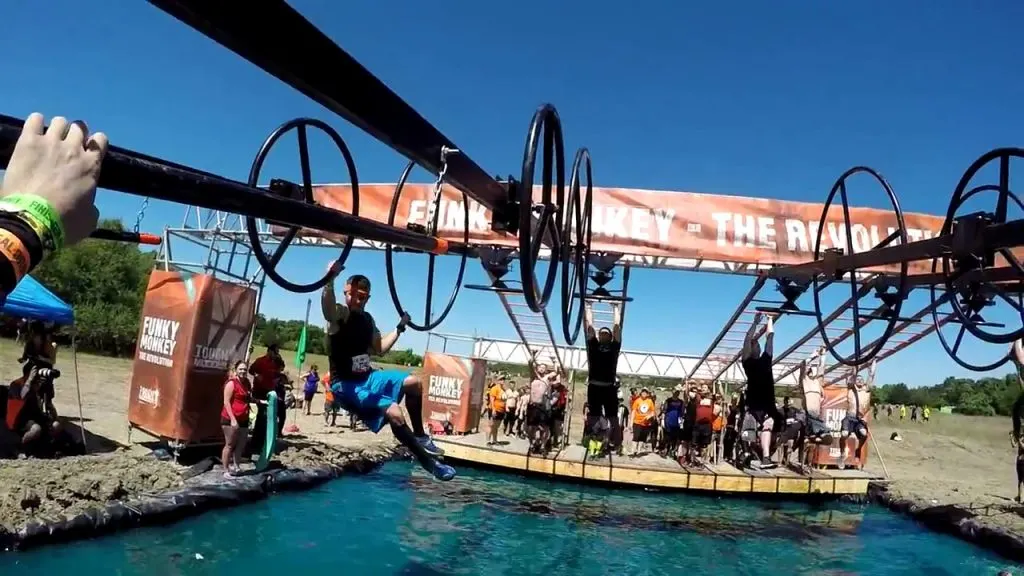 Hanging Tough
The hanging tough is a bit similar to the Funky Monkey challenge. You are to swing from one ring to the other without falling to into the pool of water below you.
Hold Your Wood
This is a challenge that tests your strength. You grab a log and carry it on a selected part of the course
Just The Tip
This one is a challenge for your fingers. You will have to climb along a wooden beam while hanging-mostly by your fingers.
King Of The Swingers
This challenge is a fan favorite among many mudders. The challenge is pretty straightforward. Swing like Tarzan and touch a bell at the end of your trajectory line.
Skidmarked
Again, you have a wall as an obstacle but not a vertical one. It is inclined at a 45-degree angle.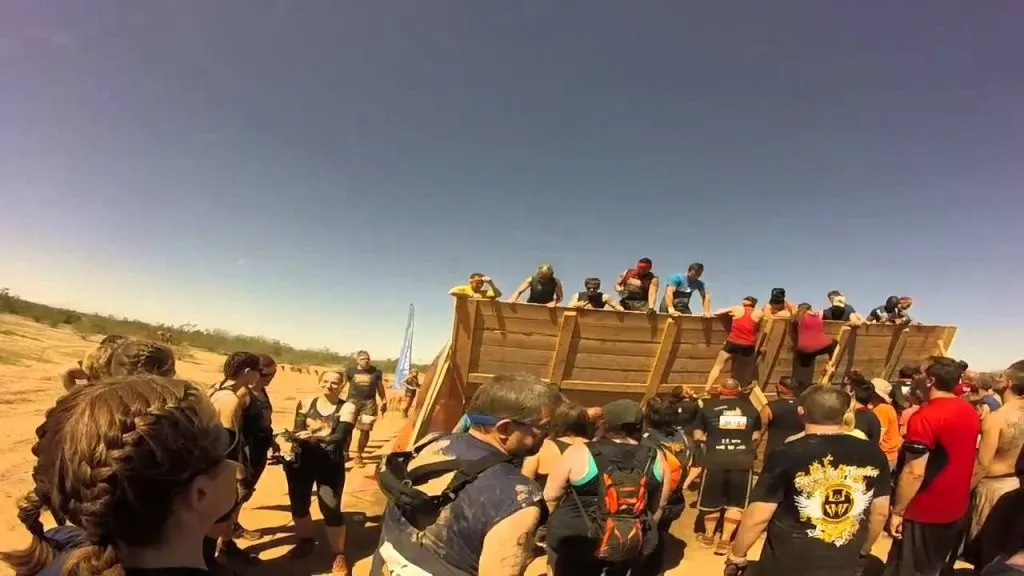 The Liberator
The Liberator challenge entails climbing a pegboard with the help of some wooden sticks that fit into holes on the wall.
Trench Warfare
The challenge here is to crawl through a dark trench dug in the ground. It is not just dark, it also happens to be narrow and curvy.
Twinkle Toes
This one is the classic challenge of navigating on a narrow wood plank standing straight up. It isn't anything new but you will fall into a pool of water if lose your balance.
Walk The Plank
It is another fun obstacle but not if you are scared of heights and water. The challenge is to jump into the water from 12 feet high then swim across the pool.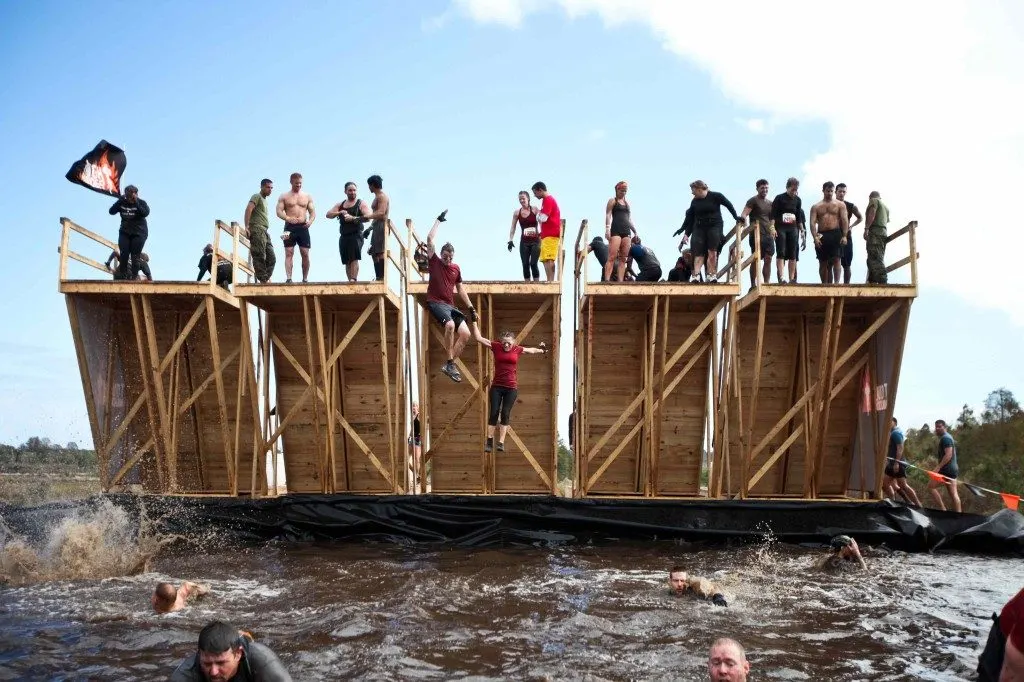 Spartan Race vs Tough Mudder: Location
In terms of location, there isn't much of a difference given that most of the events are set in natural terrains such as farms, motocross tracks, ski slopes etc. That said, Spartan Race has a stadium series where you get to experience what it feels like competing in some of the best stadia around.
Spartan Race vs Tough Mudder: The Cost
Last but not least, how much does it cost to participate in these two events? The costs of the two races vary depending on the event but they are almost identical. In fact, it would cost you an average of $120 to $300 to participate in any of the two. Want to save some bucks on the events?
Spartan Race has season passes that can help you save some bucks. Also, you can always save by buying tickets earlier or joining in as a volunteer in one race and get a free pass to another race in the future. You should also check out for coupons or group ons before you sign up.
Final Remarks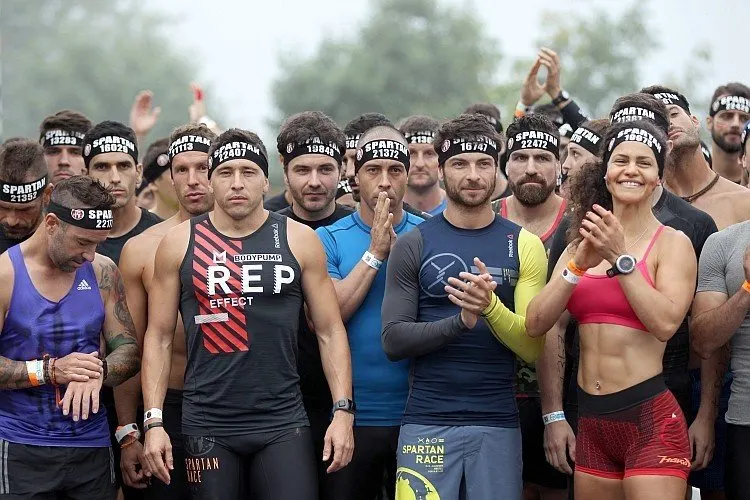 That's pretty much a detailed review and comparison between the Spartan Race and the Tough Mudder. Which race is good for you? You now know a thing or two about both brands. So, you can take your pick and put yourself to the challenge!
Spartan Race and Tough Mudder Gear We Recommend HavingSpartan Race & Tough Mudder Beanies
Keep yourself protected from the elements with a fitted race beanie. Perfect for the most challenging spartan races and tough mudder courses, all of these beanies are designed to be breathable but fitted, and stay on your head securely as you overcome obstacles.
They help keep your head protected from sun, wind, and rain as well as keeping sweat out of your eyes. With a great fit, the advantage of a beanie over a headband is that it shouldn't slip as easily, and it takes less guesswork in terms of placement.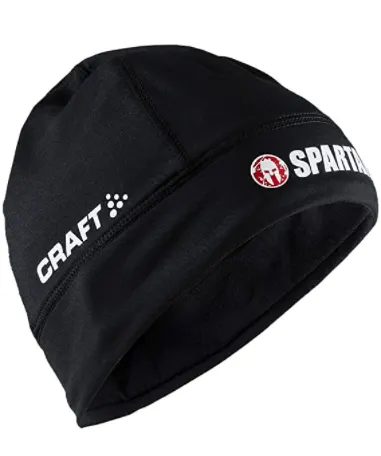 This lightweight beanie is thermal, designed to keep your head comfortable without the bulk. The black unisex design is comfortable, offering a snug but not too tight fit. It won't trap moisture, wicking away sweat as you move. It's made out of 87 percent polyester and 13 percent elastane, with a unisex fit. Buy Here in Blue or Black on Amazon.
Pros
Elastic Comfortable Fit
Polyester Blend for Moisture Wicking
Thermal Design
Cons
Spartan Logo Limits Use (Not Applicable for Tough Mudder)
Only One Color Per Site

This Amazon Choice beanie is comfy and versatile– it can even be worn as a helmet liner. It's OEK TEK certified, meaning it meets the highest standards for testing against harmful materials. The 89 percent polyester and 11 percent lycra blend are breathable, durable, and comfortable.
It's designed to keep you cool and keep you warm, so it's useful to wear around. Color options include black, gray, khaki, navy, red, white, and multipack colors. Buy Here.
Pros
OEKO Tex Certified
Thermal and Cooling
Elastic and Breathable
Cons
Too Small for Larger Heads
Not for Very Cold Weather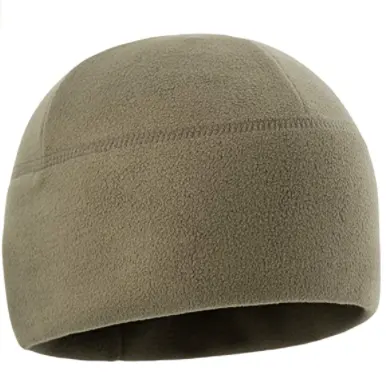 It may not be the most visually exciting beanie, but this is a top pick if your race falls on a cold-weather day. The 100 percent polyester exterior is machine washable, windproof, and made with a microfleece blend. This combines warmth and performance with a soft, moisture-wicking construction. Available in the following colors: army olive, black, coyote brown, dark olive, navy blue, gray, and white (currently sold out). Buy Here.
Pros
Warm Microfleece
Moisture Wicking Polyester
Great Price
Cons
Sizing is Tricky– Read Measurements/ Reviews
Doesn't Always Cover Ears Completely
Spartan Race & Tough Mudder Compression Shirts
Most of the gear for Spartan Races and Tough Mudder competitions favors fitted, but also compression wear. Not everyone will need or be most comfortable with compression wear, but throwing in at least some will make sense for competitions.
Compression shirts increase the blood flow and oxygen, which boosts performance and may even reduce your risk of injury. My picks are all highly rated and designed to wick away moisture. If you don't love a compression shirt, a moisture-wicking slim fitted tee can also work.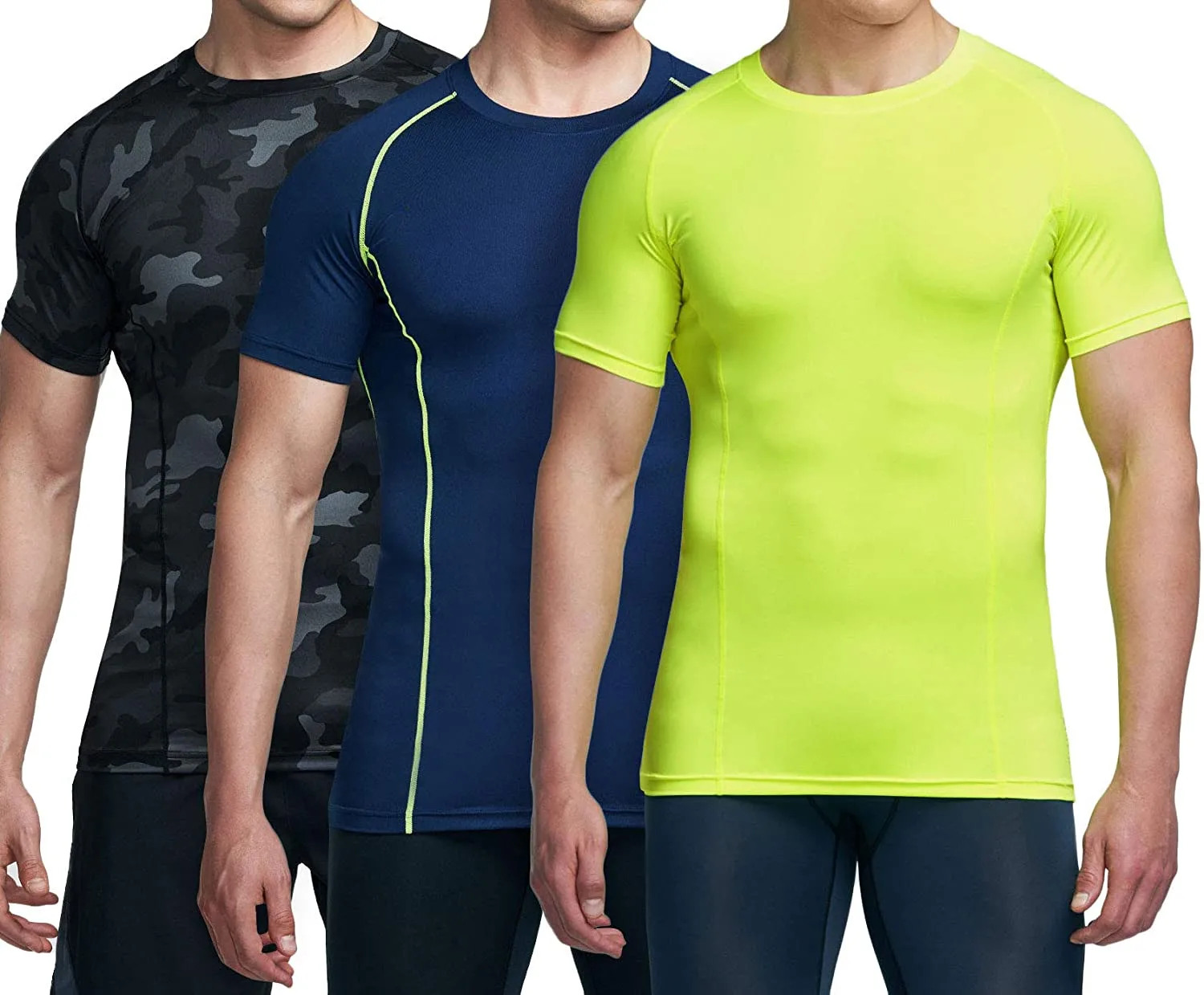 These men's compression shirts are true to size, made out of polyester and spandex. The cooling base layer keeps you comfortable and the fit helps you perform at your best.
The elastic fit is meant to be durable and protect against chafing, all with great air circulation and a 50 UPF for 99 percent protection from sunlight. Available in packs of three in the following color combos: black and neon; camo, white and blue; black, charcoal, navy; black, charcoal, white; navy, blue, sky; white; black, red and purple; black; black, charcoal and red; and camo black, navy and neon. Buy Here.
Pros
UPF 50+
Cooling Base Layer
Great Color Variety
Cons
Can Hold Odors
Runs Large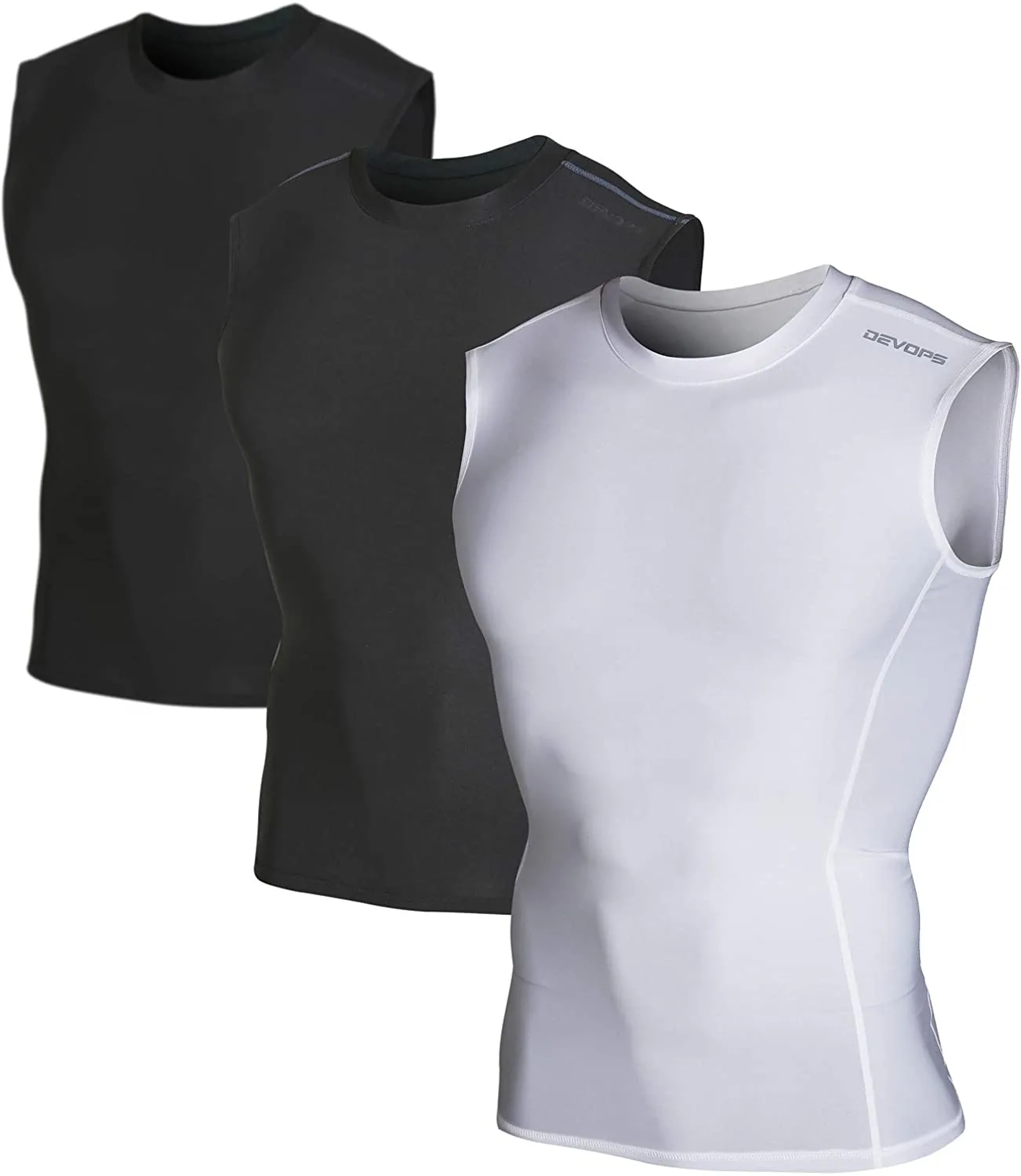 These sleeveless compression shirts keep you dry and comfortable, with a 4-way stretch, moisture-wicking fabric, and two-way air circulation. They also boast UV sun protection (UPF 50+), and a classic construction for versatile use. Great for warm weather Spartan Races and Tough Mudders. Available in two and three packs in different colors, including black, red, white, gray, camo, blue, and olive. Buy Here.
Pros
UV Protection
4 Way Stretch
Great Air Flow
Cons
⦁ Runs Large
⦁ Some Colors are Dull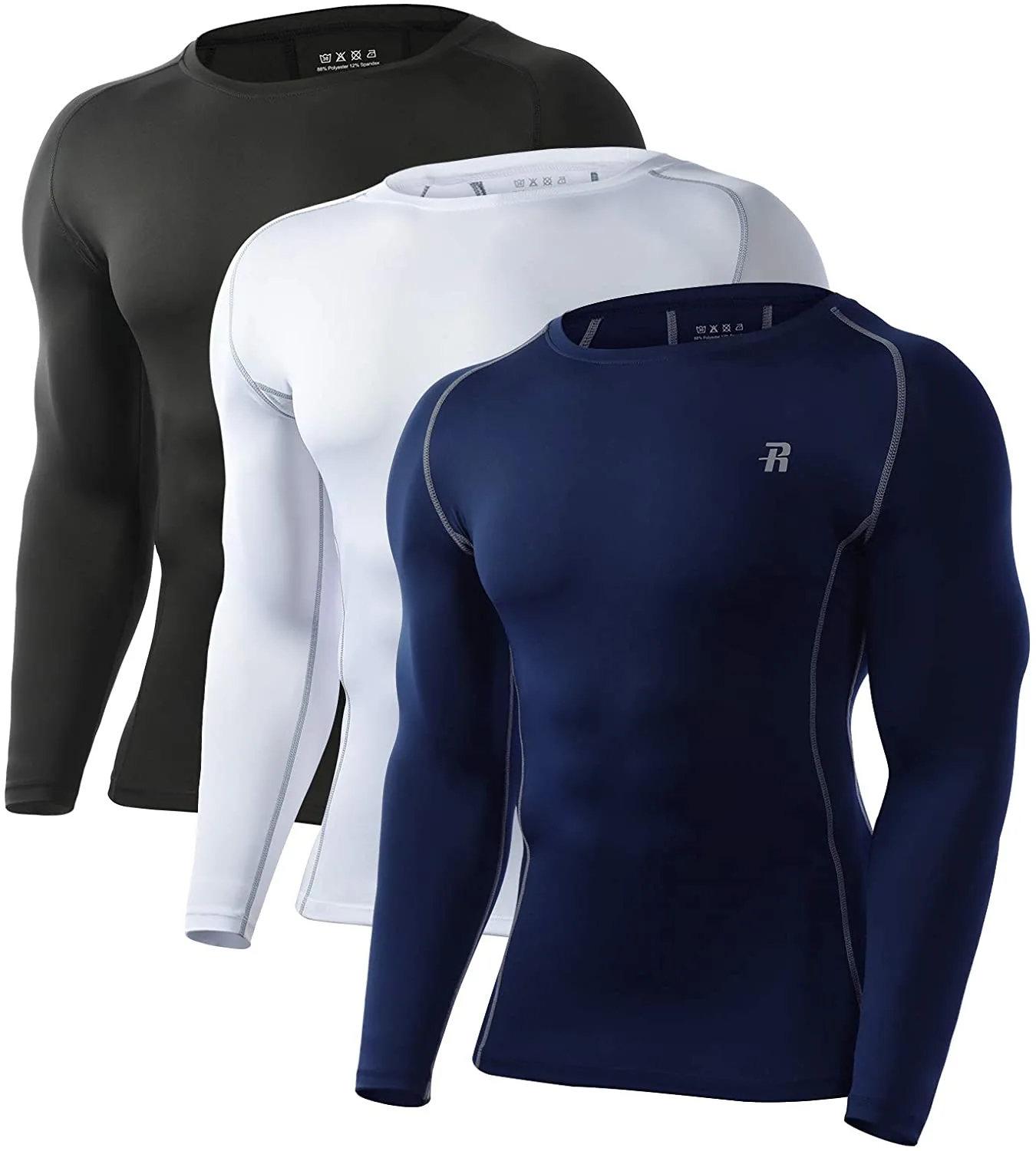 A bestseller on Amazon, these long sleeve compression shirts feature six-line stitching for improved durability– a great feature when you're competing in Spartan Races and Tough Mudders.
A stretch mesh construction helps you stay dry and fresh, with a blend of 88 percent polyester and 12 percent spandex. Like my other picks, it also has UV protection. Available in three packs in colors including: white, black, blue, gray, and red. Buy Here.
Pros
UV Protection
Durable Stitching
Polyester and Spandex with Stretch Construction
Cons
Sleeves Run Large
Stitching Colors Don't Always Match

This sleek women's compression mock neck shirt will keep you comfortable during cool weather for Spartan Races and Tough Mudders alike. The 88 percent polyester and 12 percent spandex blend features a high-low waist hem with side seams. Available in white and black, this long sleeve compression shirt also has a reflective logo if you're training after dusk. Buy Here.
Pros
⦁ Breathable and Keeps You Dry
⦁ Side Seams
⦁ Reflective Logo
Cons
⦁ Only Available in Two Colors
⦁ Not UV Protective

Designed for Tough Mudders, this racerback tank top is just what you need to stay concentrated, comfortable, and performing at your best. A blend of 86 percent polyester and 14 percent spandex, it's breathable and designed to drain mud and sweat. Flat locking stitching allows the material to last longer, even in murky conditions. Buy Here.
Pros
⦁ Flat Locking for Durability
⦁ Drains Sweat and Mud
⦁ Comfortable Stretch
Cons
⦁ Only Available in Black, Gray, and Navy
⦁ Few Reviews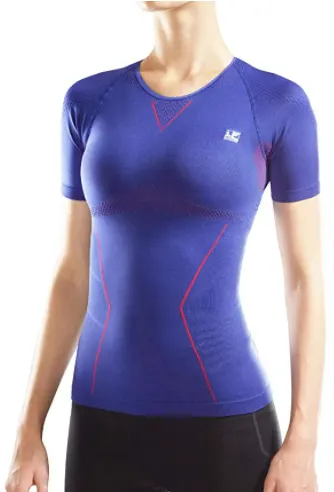 This supportive top will move with you, no matter the course. A unique blend of 78 percent nylon, 16 percent polyester, and 6 percent elastane forms a flattering and supportive top.
A biomechanical design optimizes performance by compressing obliques and promoting muscle contraction– all while providing stability. The x-shaped design optimizes rotator cuff movement and supports body posture and keeps you cool and dry. Available in pink or blue. Buy Here.
Pros
⦁ Oblique and Shoulder Support
⦁ Moisture Wicking
⦁ Unique Design
Cons
⦁ Pricey
⦁ No UV Protection
Spartan Race & Tough Mudder Compression Socks
Regular socks simply won't do for a Spartan Race or Tough Mudder. You're going to get messy, and what you don't want to deal with is slogging out miles in wet, heavy socks. Even if you don't go for a compression sock, look for a sock with similar materials that I'm recommending here.
A good pair of socks goes a long way to keeping your feet healthy and comfortable. Many like using compression socks to reduce any swelling or inflammation that can occur from exertion and the wear and tear of harsh course conditions.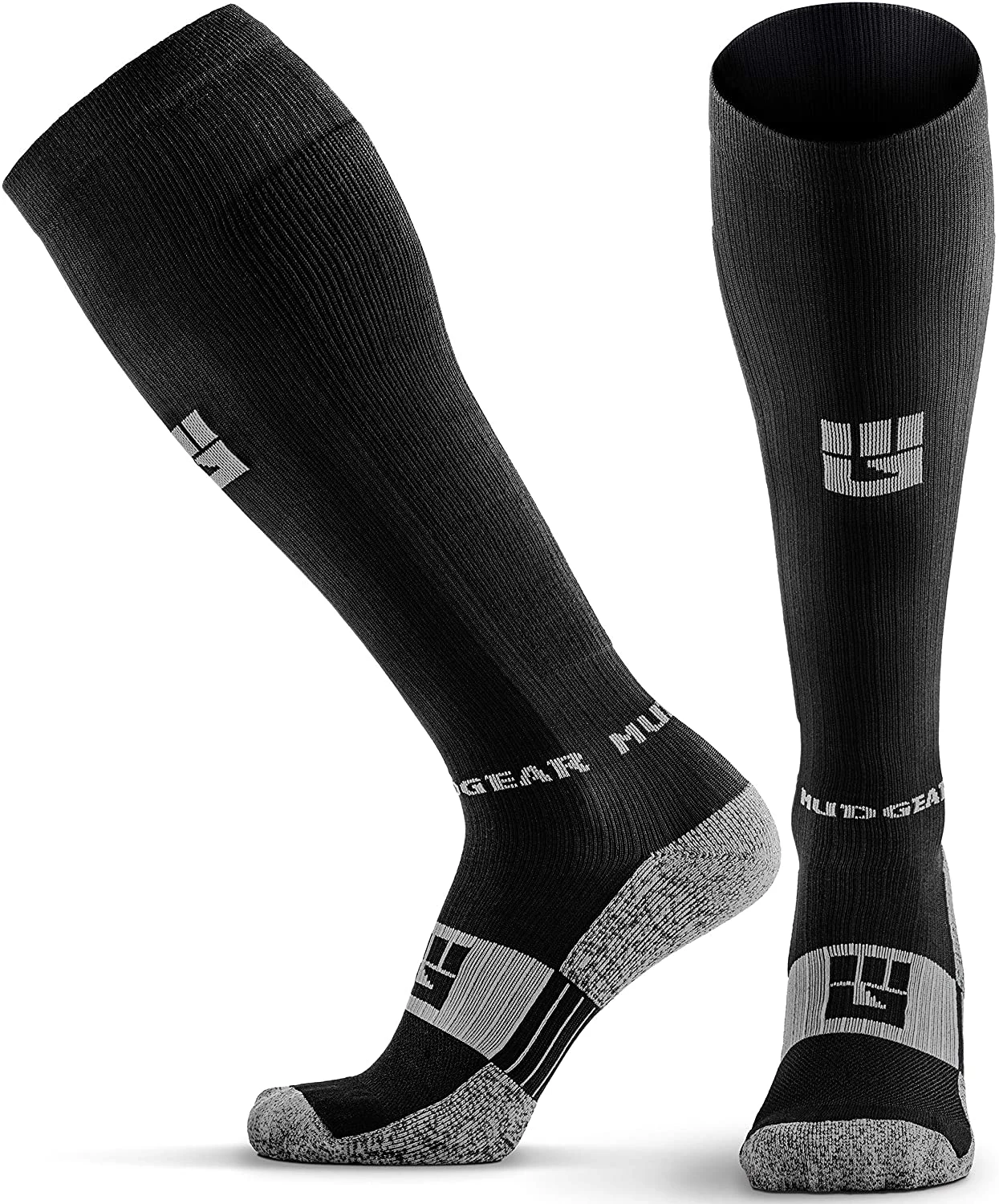 These durable knee-high compression socks allow you to tackle mucky courses. The nylon, polyester, and spandex blend protect against blisters, wicking away moisture.
The thick fabric also protects against cuts, all the while presenting with a soft construction. Graduated compression means the pressure is the greatest at the ankle, where support is most needed, then gradually tapers off. Available in black/ gray, black/green, black/ orange, gray, and pink/ gray. Buy Here.
Pros
Graduated Compression
Protects Against Blisters
Soft and Stretchable Fabric
Cons
A Little Expensive
Knee-High May Not Be For Everyone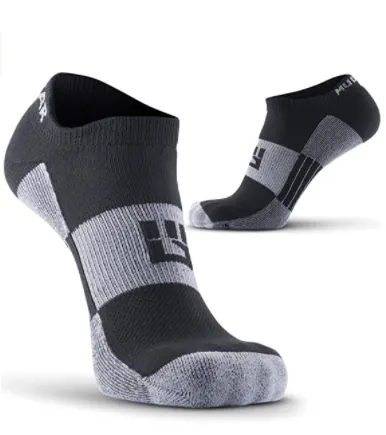 Want some great socks that have been tested on obstacle courses? These no-show socks protect against blisters, with light cushioning and a seam-free toe. Anti-slip construction prevents chafing, while midfoot compression provides stability– especially in the Achilles.
I've personally struggled with Achilles injuries, and think this feature is not one to be discounted, especially considering how high-impact Spartan Races and Tough Mudders are. The 95 percent polyester and 5 percent spandex blend is made in the USA and is both breathable and durable. Buy Here.
Pros
MidFoot Compression for Achilles Support
Blister and Chafing Protection
Lifetime Guarantee
Cons
Only Available in Black and Gray
Slightly Expensive
Spartan Race & Tough Mudder (Hydration) Gear
If you're opting for a short race, like a sprint, you probably won't need to bring anything with you. But long races may require you to hydrate. You may also want a hydration backpack if you're just training. Training for a Spartan Race or Tough Mudder is hard work and hydration is important for peak performance.
For a long race, a sports drink with electrolytes and some carbohydrates is ideal. I've selected a few hydration packs that are lightweight and specifically designed for keeping you healthy as you tackle obstacle courses. These packs move with you and are made out of durable materials.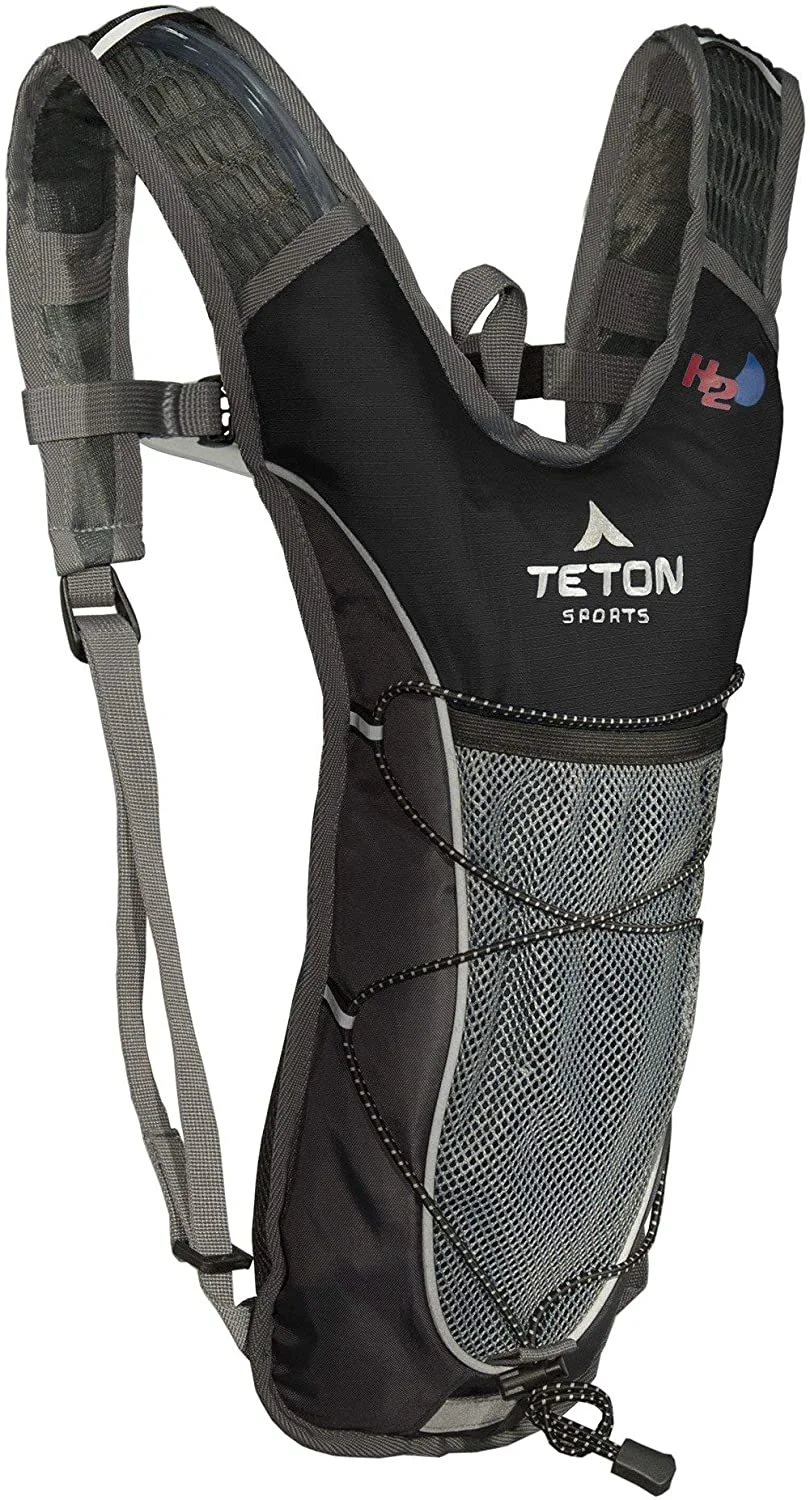 Available in a 2021 and 2022 model, this highly-rated hydration pack keeps you refreshed. The lightweight pack can accommodate up to 2 liters. Mesh shoulders are entirely adjustable for any size and gender. You'll also get a compact pocket for snacks and ID or anything else you need. Available in black, blue, bright green, honeycomb yellow, onyx, and orange. Buy Here.
Pros
Adjustable Shoulders
Lightweight Construction
Excellent Ratings
Cons
Some Incidences of Defective Bladder Reported
Some Claim it Adds Strange Taste to Liquids

Another great option for keeping hydrated is this hydration pack by Rock Rain. At just over ¾ of a pound, this lightweight pack won't weigh you down and includes a 2-liter bladder that's 100 percent BPA-free.
The front pocket is great for storing keys or an extra snack, while the insulating layer can keep drinks to temperature for up to 4 to 6 hours. Both the shoulders and main body are adjustable. Available in navy, gray, blue, dark gray, dark purple, and rose.
Buy Here.
Pros
BPA Free
Insulated Layer
Lightweight Construction
Cons
A Little Small
Heavier than Some Competitors
Spartan Race & Tough Mudder Gloves
Gloves are something that those new to Spartan Races and Tough Mudder competitions may forget, but they're quite important. Not only will gloves keep your hands protected, but they also provide grip for obstacles and harsh conditions. My picks are designed for these competitions, with rubber or a similar grip on the palms and fingers. They also hold up well in the weather and won't make your hands sweaty.

Calluses and blisters: these are realities both when you're training and competing. That's why a great pair of gloves like this may be one of your most important purchases. The gloves are made with a great blend of microfiber, lycra, nylon, and silicone. Silicone injections provide extra grip, all with breathable fabric but compression technology for support. Buy Here.
Pros
Silicone Injections for Grip
Compression Technology
Stretch and Flexibility
Cons
Only in Black
Velcro Can Be Scratchy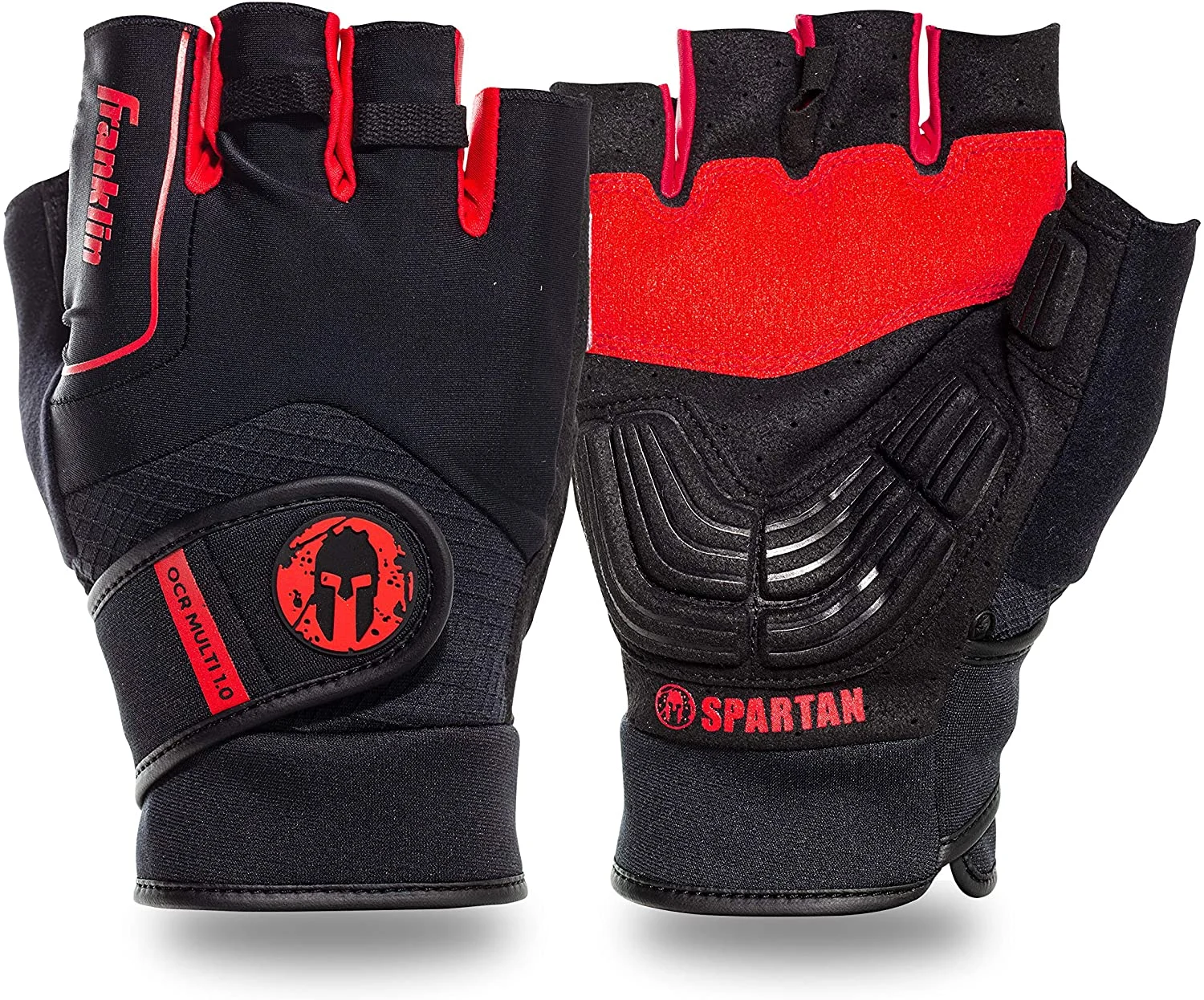 Neoprene fabric is often used for water sports and is known for its durability and comfort in moisture-heavy environments. These neoprene gloves are structured with high-tack PVC to improve grip, while padding on the palms reduces friction and your risk for blisters. They're also designed to contour to the natural hand and resist bunching. Buy Here.
Pros
Neoprene for Moisture-Resistance
Non-Slip Grip
Palm Padding Protects Against Blister
Cons
Expensive
Extra Padding Makes Pulling Motions Slower
Spartan Race & Tough Mudder Pants
Cooler weather calls for more coverage, but you need to be selective about what you gear. Baggy pants won't fare well for Spartan Races or a Tough Mudder. Look for leggings with moisture-wicking, durable material. Some like a compression style to increase blood flow. These leggings are all designed to move with you and endure harsh weather conditions, and they also don't cost a fortune.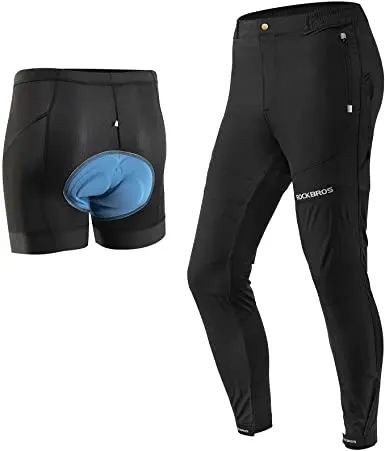 For what you get, these are well-priced pants suited for both Spartan Races and Tough Mudders. At just 0.67 pounds, these pants won't weigh you down, with moisture-resistant, breathable, and quick-drying fabric. Despite that, the pants also provide padding, in the form of 80P high-density foam. Designed to absorb shock as well, a little bit of compression and padding provides the support you need. Another great feature is the reflective strips on both the front and back. Buy Here.
Pros
80P High-Density Foam Padding
Breathable and Supportive
Reflective Stripe Details
Cons
Only Available in Black
Waist Runs Small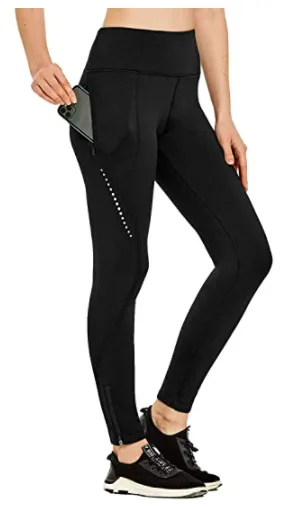 Sometimes you need a little more insulation– but you also don't want to feel weighed down. These active tights may be marketed for running and cycling, but they're also ideal for both Spartan Races and Tough Mudders. Made out of 87 percent polyester and 13 percent spandex, they move with you and are moisture-resistant, with some compressive support. A 4-way stretch design increases movement, while the fleece lining keeps you warm but not too hot. Buy Here.
Pros
Lightweight Fleece Lining
4 Way Stretch
Moisture Resistance
Cons
Only Available in Black or Black with Side Stripe
Hard to See in Dark
Spartan Race & Tough Mudder Shoes
Shoes are likely the most important gear you'll buy for Spartan Races or Tough Mudders. The reason: simple tennis shoes won't do. You need shoes with traction for mucky conditions and a stability shoe that keeps your feet and legs secure but also has enough movement for overcoming obstacles.
My picks are cross trail shoes designed just for those conditions. Keep in mind for a fit that you want it fairly snug, but a little room in the toe, as feet tend to swell a little with physical exertion.

If you're looking for great clothes, consider these women's trail shoes for training and competitions alike. The shoes are waterproof, with great grip, a secure foothold, and dynamic stability. Even in the muckiest conditions, you'll get the support you need- but they aren't so heavy that they'll weigh you down. Buy Here.
Pros
⦁ Waterproof
⦁ Great Grip
⦁ Dynamic Stability with Well-Constructed Foothold
Cons
Only in Wide
Buy Regular Sizes Here.
Regular Sizes Are A Little Pricey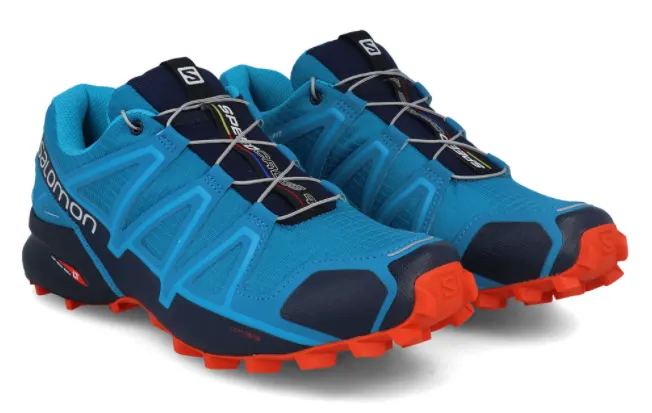 There's also a great model for men as well. These shoes feature a similar intense grip, with a durable rubber sole. The foothold is properly constructed, and the midsole provides a proper level of support, with light cushioning. You get stability, traction, and support, but enough flexibility for difficult obstacle courses. Buy Here.
Pros
Great Grip
Lightweight Midsole Cushioning
Stability in Foothold
Cons
Only in Black on Amazon
Pricey
Spartan Race & Tough Mudder Shorts
Shorts for Spartan Races and Tough Mudders often lean more towards a compression construction, like biking shorts– but some like a little more movement and opt for a running short. The most important criteria I used are looking for shorts that fit securely but comfortably at the waist, have weather and moisture resistant materials, and are designed for intense physical activity. Stay away from fabrics like cotton, which will quickly wear and become weighted during competitions.

If you're looking for a great pair of compression shorts, consider these highly-rated men's from CompressionZ. Constructed with 85 percent nylon and 15 percent spandex, these shorts provide supportive compression for glutes, hamstrings, and quads– all of which are tasked when you run and jump.
They also work as a base layer under running shorts to prevent chafing, all with comfortable 4-way stretch fabric. Available in black, white, navy, and camo, in 9 and 6 inches, depending on the color. Buy Here.
Pros
Supportive Compression
4 Way Stretch
Wear Alone or as Base
Cons
⦁ Lower Rise
⦁ Length Not Ideal for Everyone

If you like a looser fit or want something to wear over compression shorts, I recommend these men's bestselling shorts. A bestseller for 4 years and counting, these shorts have 2 fusion zip pockets that accommodate keys and even a smartphone.
Dry technology wicks away moisture and won't become heavy with mud, rain, and sweat. The fit is comfortable and breathable, with supportive movement. Available in black/white, carmine red, mazarine blue, black stealth, cool gray, asphalt, and the night sky. Buy Here.
Pros
Dry Technology
Highly Rated
Breathable
Cons
⦁ Zippers Aren't Directly Sewn
⦁ Runs Small in Thighs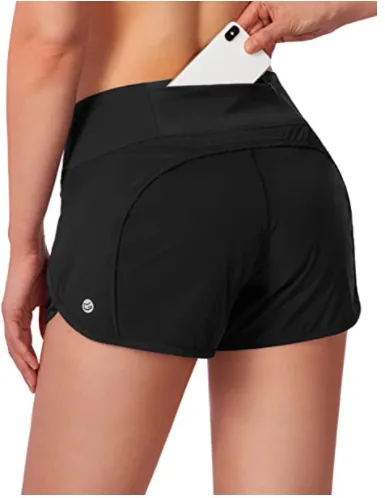 These snug running shorts are 100 percent polyester on the outside, with a polyester and spandex elastic waistband. The mesh liner provides a comfortable fit and is breathable. The fabric is moisture and weather-resistant, and you even get a small zipper pocket– surprising in a shorter pair of shorts.
The slight compression fit adds a bit of support. Available in several colors, including: black, dark red, gray, navy blue, pink, sage green, white, and light gray. Buy Here.
Pros
Great Stretch
Supportive, with Mesh Lining
Suitable for All Weather
Cons
Not A Lot of Coverage
White is See- Through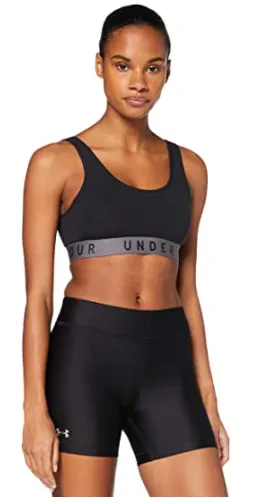 While I've tried to stick to affordable options, there's no denying that Under Armor makes fantastic apparel that can withstand the conditions of both a Spartan Race and Tough Mudder. These women's middy shorts are made with polyester and elastane with an elastic closure. The lightweight design wicks away moisture keeps you dry and adds compression support for glutes, quads, and hamstrings. Available in black, charcoal light, red, midnight navy, and royal. Buy Here.
Pros
Great Compression Technology
Practical Midi Length
Lightweight and Moisture Wicking
Cons
Many Sizes Sell Out
Can be Pricey
Final Buying Recommendations: Workout Gear
Of course, while it's important to be properly prepared for a competition, you also need to prepare for the race in the first place. While that can be tricky, there are a few products that are reasonably priced and sized to have in the comfort of your home. I've selected just a few products that allow you to practice strength and conditioning for climbing different obstacles you'll encounter during competition.
This training set is designed to be comfortable. The ergonomic design features open-hand operation and is meant to be gentler for natural muscle movements. The spheres are designed to build upper body strength, but, just as importantly, also grip and endurance. Used for rock climbing training, this is great for pull-ups, chin-ups, biceps, and other exercises. Buy Here.
Pros
Ergonomic
Can Use Anywhere
Great For Grip and Upper-Body Strength
Cons
Some Spheres are Slightly Uneven
Some Didn't Receive Stainless Steel Hooks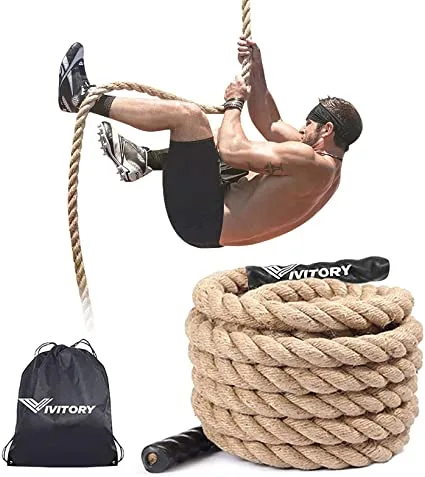 This rope workout set is available in rope lengths of 10, 15, 25, and 30 feet. The climbing rope is installed with a simple loop and anchor. The rope is corrosion and wear-resistant and comes with a sturdy, heat-shrink handle. All purchases come with a 1-year warranty with service provided after your purchase. Buy Here.
Pros
1 Year Warranty
Easy Install
Corrosion Resistant
Cons
⦁ Pircey in Long Lengths
⦁ Few Reviews
Further read: