To perform an exercise that is as intensive as running, you need the right tools, and without them, you risk severe injury. Moreover, performance takes a significant hit without the proper gear.
Running shoes are one of the primary pieces of equipment you need to start a running regimen. Therefore, you need to make out time to find the best running shoe for comfort, top performance levels, and safety.
First up, here's our list of the Top 10 Asics brand running shoes…
Best ASICS Running Shoes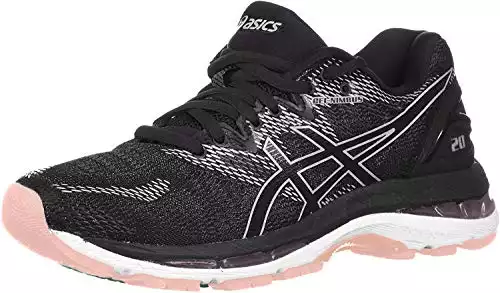 The Gel Nimbus is the Best! | Amazon
Asics has many GOOD contenders, but our aboluste favorite has to be the Gel Nimbus 20 (the 21 is also a good option - but more expensive). It has that perfect plush but firm feel, the ideal neutral running shoe. Comes in Men's and Women's.
Buy for Men
Buy for Women
We earn a commission if you click this link and make a purchase at no additional cost to you.
02/07/2023 11:34 pm GMT
#1 ASICS Gel Nimbus
The Nimbus is a highly structured and highly cushioned top of the line trainer in the ASICS neutral running line of products.  This footwear has been the leading plush trainer of this brand's line for twenty years.
This twentieth upgrade – which is gender specific – lighter than its predecessors at 10.8 ounces for men's size 9 with a typical 10mm drop.
The women's model, on the other hand, weighs just 9.3 ounces for women's size 8 and has a 13mm drop for additional protection of female Achilles tendons.
The Nimbus comes with a breathable gradient mesh – which dries quickly when wet – that makes allowances for extra comfort of the forefoot.
The heel cup, heel collar, and tongue are somewhat plush but has a firmly rigid feel while running.
Therefore, if you are looking for a neutral trainer that is well-cushioned, stable, and works excellently well for heel striking, the ASICS Nimbus is your best choice.
Pros
Changes to this particular update are minimal enough to satisfy devotees
Construction quality is incredibly high throughout the footwear for a durable and long lifespan
The fit is enhanced through a liberal mesh upper section that gives room for an improved forefoot fit
Cons
This ASICS model offers little more than is found on its predecessors, yet comes with a steep price tag.
It is stabilizing and too firm for genuine neutral runners
Appearance is dated and runs very small compared to its counterparts in the same line of products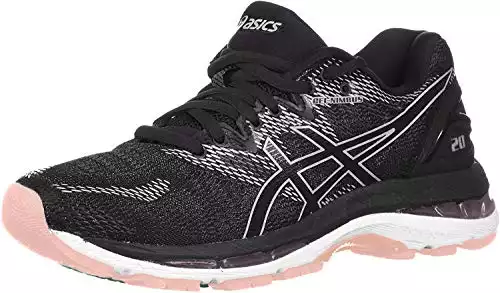 The Gel Nimbus is the Best! | Amazon
Asics has many GOOD contenders, but our aboluste favorite has to be the Gel Nimbus 20 (the 21 is also a good option - but more expensive). It has that perfect plush but firm feel, the ideal neutral running shoe. Comes in Men's and Women's.
Buy for Men
Buy for Women
We earn a commission if you click this link and make a purchase at no additional cost to you.
02/07/2023 11:34 pm GMT
Further Read:
#2 ASICS Gel Cumulus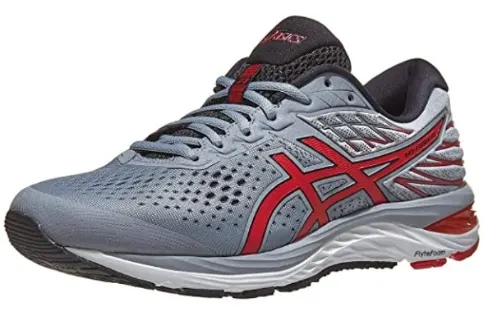 This Cumulus line has been iterated through nineteen distinct designs. It is somewhat lighter at 10.05 ounces as against the weight of its predecessor at 11.03 ounces.
Both the nineteenth and twentieth version of this remarkable running shoe share similar forefoot and heel stacks, thus resulting in the same 10mm drop.
The sole design of the Cumulus has a little more rubber with the forefoot pattern rearranged.
The foam midsole is also redesigned using many Gel placements which include the addition of FlyteFoam and removal of the stability plate in the midfoot.
FlyteFoam is the newest tech in this footwear; it absorbs more shock – thanks to organic super fibers – than the standard EVA foams and also very light.
Pros
The upper is stylishly redesigned
Premium tech at a highly competitive price
Durable upper and rubber outsole
Cons
It can feel too stiff or sturdy for midfoot runners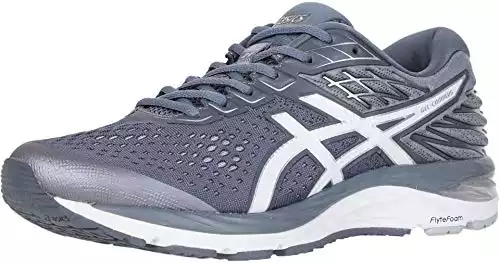 ASICS Gel-Cumulus 21 | Amazon
A blown AHAR rubber compound for enhanced cushioning and durability in the forefoot. ASICS energetic foam formulation that provides supreme bounce thanks to a unique elastomer compound.
Buy at Amazon.com
Buy directly at ASICS
We earn a commission if you click this link and make a purchase at no additional cost to you.
02/07/2023 06:40 pm GMT
#3 ASICS GT 2000 7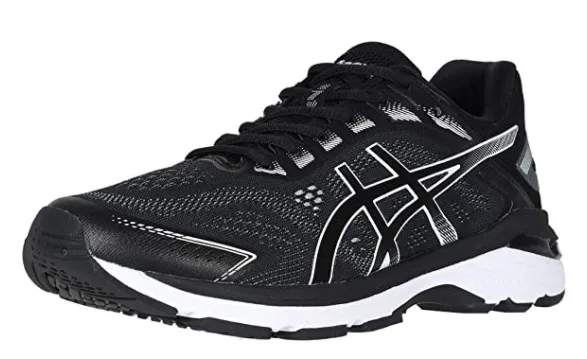 The GT 2000 7 is one of ASICS' unforgettable stability shoe that comes with moderate cushion, support, and price.
The pattern of the GT 2000 7 makes the forefoot appear roomier than its predecessor, but the significant difference is in the toe guard that is around the tip of this classic shoe.
The material lining inside the toe guard measures approximately .7mm higher on the midway side of this shoe and measures .4mm higher at the center of the toe box.
This is why the ASICS GT 2000 7 feels somewhat roomier. The running shoe is also very stable, making it one of the best in the market today.
Pros
Moderately comfortable, stable ride
Responsive and lightweight cushion
Compacted heel counter
Captivating design
Laces secure the upper by pulling support strips
Cons
The upper section of the product is less breathable compared to its predecessors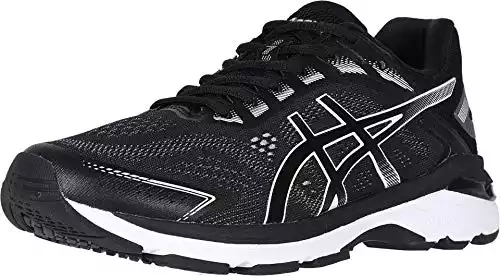 ASICS GT 2000 7
Men
Women
We earn a commission if you click this link and make a purchase at no additional cost to you.
02/07/2023 05:24 pm GMT
#4 ASICS Gel DS Trainer 24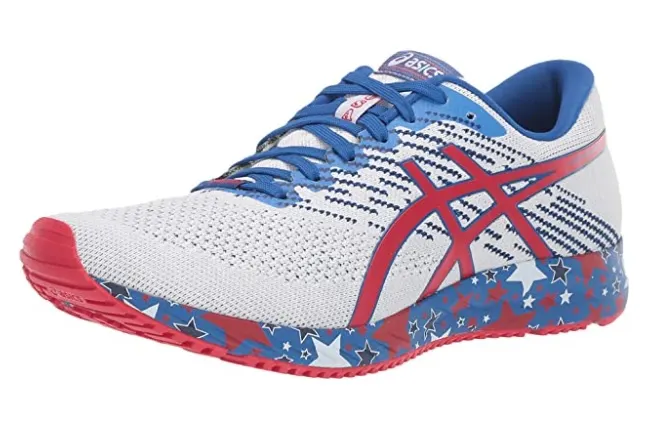 The ASICS Gel DS Trainer is in its twenty-third incarnation and waxing stronger each time. It is one of the longest-standing shoe models from the stable of ASICS.
It is indeed a flagship shoe, though somehow, it does not attract the needed attention like its counterparts like GT-2000 or the Kayano running shoes.
The support of the Gel DS Trainer ranges from minimal to moderate. The running shoe competes favorably well against other light stability shoes from other brands, and its price is somewhat in the middle of the road.
The GEL DS Trainer has a fast and snappy ride, fitted with ASICS new Flytefoam midsole. The Flytefoam is ASICS' proprietary technology that is arguably lighter than its competition up to 55%.
The classic shoe is dense, sturdy, and firm, thus giving the impression that it will last very long indeed.
The ASICS Gel DS Trainer also comes with an incredibly high amount of stability control, thanks to the amazingly firm medial foam – Dynamic Duomax – and the Propulsion Trusstic plastic shank as well as a 10mm drop.
Tiny, elevated but individual lugs are scattered in the rubber outsole, thus offering additional grip and control.
It is a very responsive shoe with a springy ride and optimal support. No doubt, going very fast in the Gel DS Trainer will be an easy feat.
Pros
Springy and lightweight midsole
Reliable trainer with equal parts fast and supportive
The upper layer has been redone with adaptive mesh
Cons
The tongue is too thin
Narrow fit
Color options are severely limited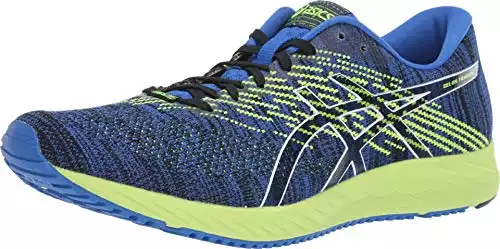 #5 ASICS DynaFlyte
The ASICS DynaFlyte is a new line of running shoes that are designed to combine and bring lightweight as well as cushioning attributes into one shoe, all to the satisfaction of the teeming fans of the brand.
The FlyteFoam, ASICs patented material is at least 76% better at shock absorption and weighs incredibly 55% less than the more regular EVA foam.
Beating EVA foam nowadays is very easy, thanks to the innovative technology from ASICS.
DyneFlyte 2 is not as heavy as its predecessor, and it is also lighter by several degrees and available in more subdued colors than its forerunner.
The outsole utilizes a "Trussic System" which is a plate of plastic that runs beneath the inner side of the footwear, and its main job is to reduce the twisting of the shoe significantly.
DynaFlyte is sized well, and the organic super fibers that the FlyteFoam utilizes make this running shoe a remarkable product indeed.
Pros
Lighter and cheaper than its predecessor
Comfortable heel
The design is pretty casual but with functionality in mind
Cons
Cushioning affects its flexibility
The painted foam close to the forefoot gets marked up easily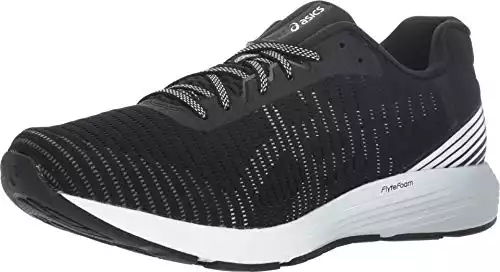 #6 ASICS Roadhawk FF
The ASICS Roadhawk FF is a typical road shoe that does everything and then some.
It doesn't matter whether you are going short or long, slow or fast; this amazing shoe has got you covered.
The Roadhawk FF is comfortable and comes with a medium amount of cushioning, thus providing a smooth sensation while running either on roads or other hard surfaces.
It is one of the newest addition to the ASICS line of running shoe products and is designed to be a versatile and lightweight trainer that can withstand a lot in a variety of situations.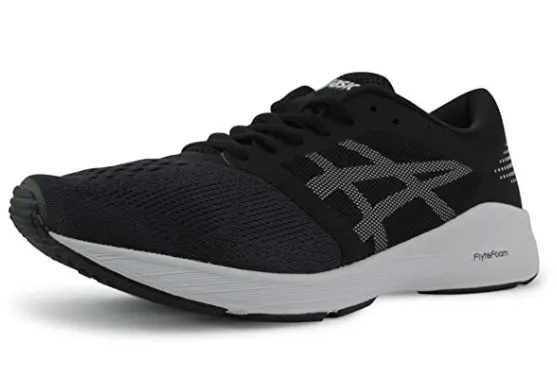 The good news is, the Roadhawk FF does not disappoint its fans in this regard. The bad news is, the Roadhawk FF feels pretty tight around the forefoot/mid-foot area.
Nevertheless, it is incredibly comfortable as the upper section molds itself to the shape of your foot while the sole provides that nice little bounce with every step you take.
The sole of the shoe is of medium thickness and measures 12mm thick at the forefoot and 20mm (for men) while it measures 19mm and 11mm respectively for the women.
Both models – i.e., male and female – come with an 8mm heel-to-toe drop. The midsole of the Roadhawk FF is constructed with a unique blend of SpevaFoam and FlyteFoam which contributes to its lightweight attribute while providing sufficient cushioning with each footstep.
The exclusive combination of these materials produces a comfortable, but firm foot feels when you wear the shoe.
The outsole is reinforced with ASICS High Abrasion Rubber at different points where the shoe is expected to come into contact with the running surface.
The extra durability of the Roadhawk FF is an excellent and delightful touch.
Pros
It is lightweight
It comes with plenty of cushioning
The upper is incredibly comfortable
Cons
The toe box is too narrow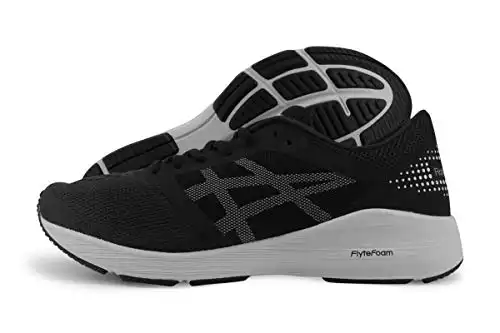 ASICS Roadhawk FF
Men
Women
We earn a commission if you click this link and make a purchase at no additional cost to you.
02/07/2023 09:30 pm GMT
#7 ASICS Gel Kayano 26
The ASICS Kayano 26 is built for covering several miles, thanks to its excellent all-around stability. This trainer comes with a seemingly bulky sole and a price tag that may turn you away.
Nevertheless, the Gel Kayano gives runners responsiveness, control, and a unique blend of cushion.
The sole unit of the Gel Kayano is constructed using a mixture of technology acquired from previous models with new and additional researched-proven technology.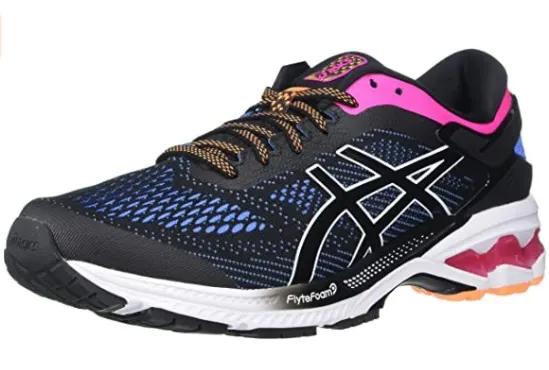 The Dynamic Duomax cushioning facilitates control overpronation in the sole unit as well as shock absorption.
The midsole comprises of Flytefoam, and Flytefoam Lyte propels cushioning which is the first time they are hitting the market.
Flytefoam Lyte can also be found in the heel of the shoes, and this innovative technology is not only lighter than previous cushioning but also offers more bounce back and absorption as you run.
The forefront of the shoes is loaded with the durable and lightweight Flytefoam propel which gives you more bounce when you are running. It also enhances the flexibility and durability of the sole.
The toe box has additional space which means more room for your toes to spread when you run naturally.
The upper section of the Kayano – made of a Jacquard mesh – is not too loose or too tight but fits like a glove.
Pros
It comes with two-part midsole
It provides responsiveness, adequate cushioning, and control throughout your entire run
Additional updates improved the overall look and feel of the product
Cons
Price is too steep
The sole unit may feel bulky during runs
Color options not generally appealing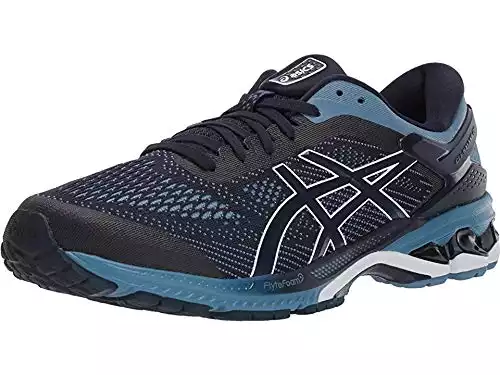 ASICS Gel-Kayano 26 | Amazon
Allows your feet to breathe, this ASICS running shoe is all about going the distance, providing exceptional support and comfort over long periods of time.
Buy for Men
Buy for Women
We earn a commission if you click this link and make a purchase at no additional cost to you.
02/07/2023 05:01 pm GMT
Further Read:
#8 ASICS 33-DFA 
ASICS 33-DFA is one of the greatest running shoes that come highly recommended from the ASICS platform.
The low price is truly encouraging and perfect as a standard level entry running shoe. Beginners should, therefore, have no problem picking up a pair.
But do not let the low price of this remarkable running shoe fool you even if you are a pro; the ASICS 33-DFA comes loaded with stunning technology that makes it an excellent option among other shoes in this category.
The shoe is supportive and breathable, and though it may seem a bit heavier than usual, they are incredibly comfortable.
The flexibility of the shoe is attributed to GEL technology, thereby making it the best option for your daily workouts or runs. ASICS 33-DFA is a stable and durable running shoe, though not without a few drawbacks.
Pros
It comes with GEL cushioning technology which facilitates the absorption of moisture
It is very breathable
It comes with enhanced arch support
Cons
The size can be tricky
It is very porous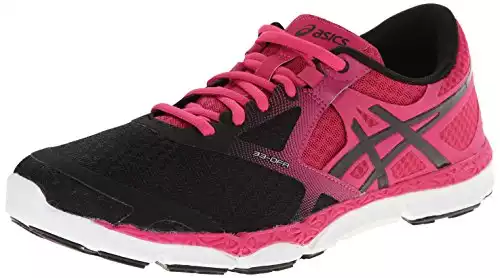 ASICS 33-DFA 
Buy Now
We earn a commission if you click this link and make a purchase at no additional cost to you.
#9 [amazon_textlink asin='B01GT09U9Q' text='ASICS Gel Kayano 23′ template='ProductLink' store='theathleticfoot-20′ marketplace='US' link_id='dc05bb56-883a-4c22-a79b-c74de1fc3b5b']
ASICS Gel Kayano 23 is one of the most colorful running shoes from the stable of ASICS as it comes with a beautiful combination of white, black, a tint of yellow as well as other colors that gives it a modern look. It is built using the latest technology from ASIC, thereby making the shoe one of its high-performance products in its line of products. High arch performers prefer and love using the ASICS Gel Kayano 23.
The ASICS Kayano 23 is an ideal option for continuous use for running as well as for everyday casual wear. The durability is top notch and the build uniquely remarkable. It comes loaded with 22 unique features that enhance comfort such as the FluideRide midsole, FluidFit technology, etc. Runners with pronounced arch issues will choose the ASICS GEL Kayano 23 as their best running shoe.
Pros
It comes with FluideRide cushioning for maximum comfort
FluidFit technology enhances the snugness of the running shoe
It is constructed using highly durable materials
It has the best guidance system ever
Cons
The first usage feels as if the footwear is stiff
Buyers may need to get one size larger than the required size
Further Read:
#10 [amazon_textlink asin='B01GU84U92′ text='ASICS Gel Nimbus 18′ template='ProductLink' store='theathleticfoot-20′ marketplace='US' link_id='5134c3d6-7e38-4730-bc93-01771b278d18′]
The ASICS Gel Nimbus 18 running shoes come with six varieties of styles and color with unique designs that make you look modern. Moreover, the breathability of this remarkable running shoe is excellent, and it is so comfortable that pro runners don't mind the high price tag that comes with it. The price can also be justified because the ASICS Gel Nimbus 18 is not only long-lasting, but it is also astoundingly commendable.
The forefront and cushion of the ASICS GEL-Nimbus 18 are also very soft, thus enhancing comfort while the mesh fits like a second skin, especially at the upper section of the running shoes. Some runners may complain about the mid-soles of the running shoes because of its seeming tightness; it is therefore recommended that you try it on before buying it.
However, one thing that cannot be taken away from the superb engineering of this innovative running shoe is its durability which is also fairly standard. The midsoles are also heavy and very strong. You can be assured that this running shoe will serve you for a long time to come.
Pros
The upper section comes fitted with FluidFit technology
It comes with GE cushioning that helps significantly in absorbing shock when you go for a run.
Cons
Other Asics Models to Consider
Types of Running Shoes
The running shoes in the men's category come in a variety of designs. Men's and women' running shoes differ in support for shoe widths and different weight.
It is essential for you to have a full understanding of these subtle differences to improve your chances of finding a pair that is most appropriate for your feet.
In the long run, comfort plays a significant role in your enjoyment of a particular pair of running shoes, no matter the brand or make. It is important to go for a shoe type that does not only feel good but also supports areas of your foot where you may have had issues in the past.
Important note: You should always wear high-quality socks with running shoes to prevent the development of blisters.
Motion control
Motion control running shoes – which are usually fitted out with flat outsoles – provide adequate support for runners with low or flat arches. The flatter outsoles of this variety of running shoes prevent a condition known as "overpronation" which is the minor inward rolling of the foot when you take a stride. People with flat or low arches have often complained that overpronation causes soreness and other severe problems regularly.
Stability
Stability shoes are the most common type of running shoes in the market today. It is the perfect option for runners with medium arches as these type of running shoes provide necessary cushioning in the midsole as well.
Neutral
Neutral running shoes are designed to provide cushioning for the midsole inside the footwear. This cushioning sufficiently absorbs the shock of your footfalls when you run. This type of running shoes is best suited for runners who roll their foot outward or those with high arches. Neutral running shoes help in the elimination of supination, a problematic condition in which the outer heel of the runner hits the ground first, thereby causing a slight rotation of both the foot and ankle.
Durability test of ASICS Running Shoes
Forward movement
Tennis shoes give proper support to the heel since tennis players move back and forth often with abrupt stops. Runners, on the other hand, move forward consistently without stopping unexpectedly – unless a situation calls for it – so, running shoes require a different type of support.
Repetitive motion
Basketball shoes are designed to give support sudden and random movements which include high jumps. Most of the support is concentrated on the elevated section of the footwear around the ankle. Runners are all about repetitive motion with predictable footfalls and require a different kind of support for the feet.
Weight of footwear
Trail hiking or cross-training shoes provide sufficient support for irregular surfaces and come with thick soles and sides resulting in heavier shoes. Most runners run on well-groomed trails or pavement with even surfaces. Running shoes can afford to skip supports for missteps on irregular surfaces and are usually constructed using lightweight materials that facilitate long-distance runners and long-distance running.
The Most Important Sections of Men's Running Shoes
Every section of a pair of running shoes provides support to different parts of your foot. Therefore, if you are having problems with your foot when you run, you need to check whether or not the running shoe has the proper support at the right places.
The following are the essential parts of men's running shoe:
Toe box
The toe box is the area of your footwear with room for your toes. There should be sufficient space for your toes for lateral movement. Footwear with a tight shoe box will pinch your toes, leading to poor balance or painful running strides. Running shoes that fit correctly should allow room for wiggling your toes inside the toe box. Some people, however, may need wider-than-normal footwear to accommodate the toe box as a result of their foot size.
Length
The first thing that most people think about when purchasing shoes are a length. It is true that the length of a pair of shoes is also significant in the scheme of things as your feet may swell unexpectedly while running. An extra room in the footwear will suffice at this juncture.
Therefore, when purchasing the running shoes, make sure you look for roughly one thumb's width of additional space between your longest toe and the tail end of the footwear.
Heel
The back of your running shoe shouldn't hold your heel tightly in a position such that it never moves. It is normal for your heel to move slightly as you eat up the running miles. If the heel of the shoe fits too tightly, blisters and inflammation or soreness may occur.
Top of foot
Your running shoe must fit snugly to the middle part of your foot which is near the top. If your footwear fits too tightly in this area, it could result in major problems with pressure on crucial blood vessels. Moreover, when you lace and tie your running shoe, you may become aware of rubbing on your foot here. You can try to fix this problem by changing to another lacing technique or tie the footwear a little loosely.
**Pro Tip: Take a few steps in your new pair of running shoes for several days. This is to break them in before you start running in them.
Technologies In Asics Running Shoes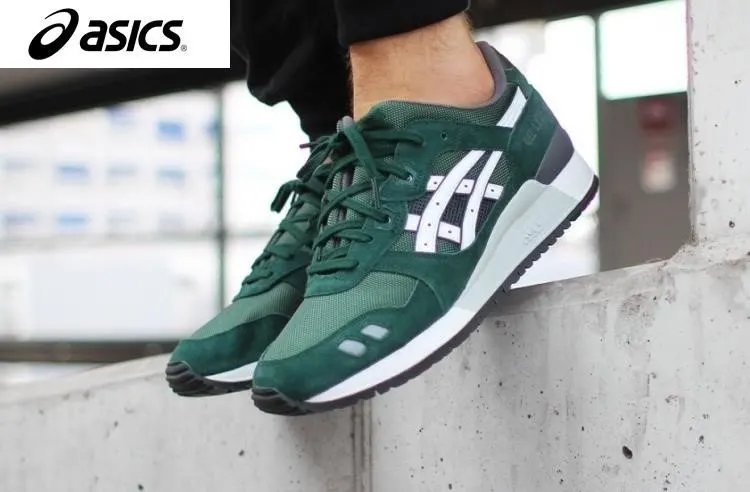 ASICS – like a majority of running shoe manufacturers out there – has developed a range of patented shoe technologies which they make use of continually. They also work every day to improve these shoe technologies and this is evident in the range of running shoes in the market today.
Each running shoe technology from ASICS was created to enhance the user's experience and to make its usage efficient, satisfying, and pleasant.
Here are some of the important shoe technologies that are prevalent in most ASICS running shoes:
Gel Technology
This is touted as the most pronounced or prominent ASICS running shoe technology. Nearly all running shoes from the ASICS line of athletic shoes has Gel technology as part of its numerous features.
This technology involves the use of gel inserted in the midsole of running shoes. Its purpose is to absorb shock from the impact of the ground and also protect the entire foot
The Gel unit is usually inserted in high-wear sections of the midsole i.e. the forefoot and the rearfoot. Each one of these sections also contributes positively to the experience of the user of an ASICS running shoe.
For instance, the forefoot unit works by boosting the level of shock reduction during forward movement. The rearfoot unit, on the other hand, reduces the impact of heel strike, thus resulting in a smooth transition.
As the Gel goes to work, you will experience an increasing amount of comfort, especially during long distances. The pliable and soft qualities of the Gel material facilitate strategic placements for peak performance.
Dynamic DuoMax
Dynamic DuoMax is usually employed in ASICS running shoes that are specifically designed for people with overpronation. This wedge unit works excellently well at reducing over-pronation. In most cases, Dynamic DuoMax is used in conjunction with unique dual-density midsole foam – which is usually FluidRide – which helps in maintaining the stability of the user.
This extraordinary combination results in a unified heel-to-toe transition. In the long run, Dynamic DuoMax lessens the stress on the foot and provides an ample amount of support for a pleasant ride.
FluidFit
FluidFit is utilized with the FluidRide midsole tech known as FluidFit upper, but not in all cases. This exceptional technology powers the upper mesh of ASICS running shoe with enhanced responsiveness to movements of the foot while ensuring that it retains a comfortable fit.
FluidFit technology represents a two-part structure:
An elastic portion that boosts running efficiency, and
A non-elastic, reinforced portion that stabilizes the foot.
FluidRide
The FluidRide was developed after the combined efforts of two prominent midsole materials from ASICS: the SpEVA and the Solyte. When there are sufficient shock absorption and rebound in the midsole, muscle strain is significantly reduced, thus enhancing performance.
To achieve this, SpEVA provides the required bounce that is necessary for toe-off while Solyte readily absorbs the impact when the heel strikes the tarmac during a run.
This is the philosophy that resulted in the development of FluidRide. This technology also gives the ASICS running shoe a middle layer – i.e., dual intensity – that achieves rebounds, lightness, and shock absorption all at the same time.
Impact Guidance System (IGS)
The IGS or Impact Guidance System is a unique design technology that makes ASICS running shoes to exhibit adaptive and dynamic stability. IGS improves your foot's gait cycle – by making use of the structure of the midsole – into a more natural one.
The Impact Guidance System also makes use of other tangible and supplementary components of the ASICS running shoe to accomplish its purpose as a shock-absorbing, injury-preventive, and fatigue-reducing feature.
Trusstic System
The Trusstic System is usually paired with the Guidance Line (more on this later) and is available in the form of a resin shank that is installed in the center of the midsole section of ASICS running shoes. This structure helps in promoting stable foot movements by strengthening the midsole, thus preventing excessive twists and turns.
The Trusstic System permits the channeling of energy which results in forwarding propulsion and comes in a unique, flexible shape. This will enable the feature to move according to the actions of the foot. This distinctive quality also reduces the weight of the sole unit without sufficiently sacrificing its structural reliability.
The Propulsion Trusstic is an improved version of the Trusstic System, and it imitates the functionality of the ligaments to make your foot flexible, thus allowing the ASICS running shoe to absorb more shock. This action brings about a firmer forward propulsion for extra spring with each stride.
Heel Clutching System
ASICS' Heel Clutching System is a procedure that gives running shoes from the brand an improved fit, particularly in the heel area via the restriction of displacement. Heel displacement is a phenomenon that occurs when there is a gap between the heel of the foot and your shoe, bringing about a weak running performance.
The "clutching" mechanism initiated by the technology improves the stability of the foot as well as the performance of the runner.
The Heel Clutching System comes – in most ASICS running shoes – in the form of a resin unit that is inserted in the heel. Every ASICS shoe that features this remarkable technology fits a variety of foot widths and shapes.
Guidance Line
The Guidance Line is noticeable on the outsole of running shoes from the ASICS brand as an individual flex groove. It runs straight up across the length of the running shoe from the forefoot to the heel.
The Guidance Line uses the IGS mechanism to increase the gait of a runner and consequently produces a more comfortable running experience, especially if you are a beginner. This technology permits the center of pressure to be concentrated in itself in such a way that each stride is consistent, balanced, and stable.
Furthermore, the Guidance Line revolves around the importance of the flat-foot propulsion stage during accelerating and braking in which forces are at their peaks. This exceptional ASICS technology prevents injuries when such scenarios occur with its motion and steady load.
Frequently Asked Questions
Q. What are some common mistakes that most people make when buying ASICS running shoes?
A. The biggest mistake most runners make when they buy ASICS running shoes involves purchasing a shoe based on physical appearance or looks alone. To lessen the chance of injury, it is crucial for your footwear to fit correctly, thus giving your foot the proper support it requires.
Furthermore, most individuals tend to purchase running shoes that are too small, especially in width. It is normal for the feet to swell a little bit as you run; therefore, you need to make sure that your running shoe has enough room to accommodate this swelling.
Q. How do traditional ASICS running shoes differ from trail running shoes?
A. A traditional ASICS running shoe performs excellently well when running on indoor surfaces, pavement or well-groomed paths. Most running shoes feature a lightweight design for distance running, thus sacrificing some support.
Trail running shoes come with sturdier materials and thicker soles to provide adequate support for the foot on uneven or rough surfaces. A conventional running shoe or trail running shoe both work on a well-groomed trail, though.
Q. Is there a way I can determine what types of arches my feet have?
A. The most straightforward process that you can follow to determine the type of arches you have in order to help you select the right ASICS running shoe is to place your barefoot in a pan of water. Then, take a few steps on multiple paper towel segments or cement. Your foot will leave a few wet prints here and there on either the paper towel or on the cement.
An average or medium arch yields a traditional foot shape with a slight curve in the middle. Flat arches result in a print with little or no curvature in the middle, thereby leaving flat sides. A high arch, on the other hand, causes the middle of the foot to virtually disappear in the print since very little of the base of the foot strikes the paper towel or cement.
Q. How do men's and women's ASICS running shoes differ?
A. As a rule, ASICS men's running shoes are somewhat wider than women's running shoes. This is because women's running shoes offer lesser impact support than men's running shoes as a result of the average weight differences between the two genders.
Final Word: The Top Asics Running Shoe
In conclusion, it really just depends on your personal preference when it comes to "The best" Asics running shoe. Everyone wants something a little different out of their shoes, so you will have to try out a few pair to really see what works best for you.
The list we have provided contains our favorite Asics running shoes. We believe that any of these shoes will do great things for your running game. Let us know your favorite Asics and why in the comments below!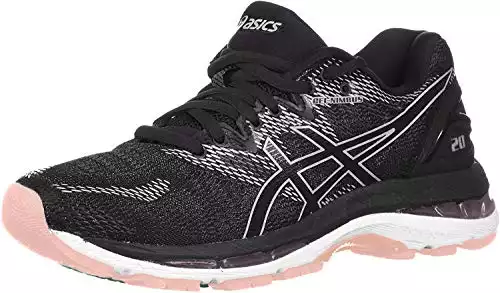 The Gel Nimbus is the Best! | Amazon
Asics has many GOOD contenders, but our aboluste favorite has to be the Gel Nimbus 20 (the 21 is also a good option - but more expensive). It has that perfect plush but firm feel, the ideal neutral running shoe. Comes in Men's and Women's.
Buy for Men
Buy for Women
We earn a commission if you click this link and make a purchase at no additional cost to you.
02/07/2023 11:34 pm GMT
Further Reading on Running Shoes