Topo running shoes are one of the newer brands to explore the market. In fact, the company itself is actually less than ten years old and already rising in the market as a trusted brand for runners and other athletes. The brand was actually created by a runner for other runners.
He basically wanted to address the issues that he faced with other brands of running shoes to create the perfect pair. Once he had what he thought was perfect, he wanted to expand and branch out to offer these amazing shoes to others.
Topo running shoes are sure to be your new favorite. You are going to love so many things about these shoes that you will be sure to choose the Topo brand time and time again. Once I had tried these shoes, I knew that there was likely to be no going back.
Of course, I have a number of pairs of running shoes due to reviewing so many, but I have to say that Topo offers a few of my absolute favorites and would be on my top list of running shoes every single time.
Topo – About the Company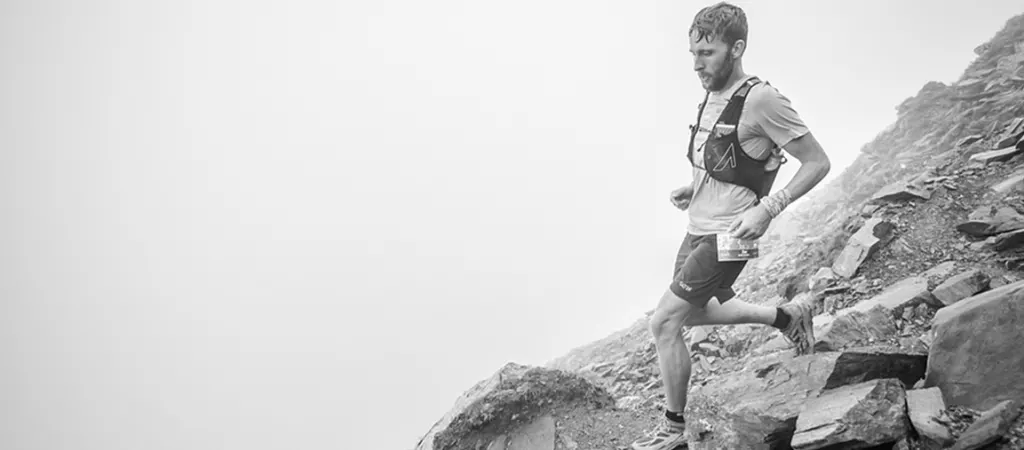 Topo was created by Tony Post. Tony is an experienced runner who wanted more from his running shoes. After trying what he felt like was every single brand on the market, he decided to look into producing his own shoes that he wanted.
He wanted his shoes to have certain technology that he thought would make his runs more comfortable while increasing his overall performance. Tony claims that the vision for the brand started 40 years prior while he was running track in Tulsa, Oklahoma.
Tony went to Oklahoma for college and had been born and raised in Colorado. He had gone to Oklahoma where he fell in love with running. Tony moved to Massachusetts where he started training in Boston. He was disappointed in all of the shoes that he found so he decided to go to work for the shoe industry.
He worked so he could actually learn how to make footwear himself. Tony spent thirty-five years working in the industry. He wanted to create the perfect running shoes that would combine runners' favorite features from traditional running shoes with all of the important benefits that come from natural running.
He used his knowledge and his own personal experience to develop running shoes that offer "the comfort and fit that allow you to move naturally and remain active for a lifetime." Topo designs shoes that are perfect for everyone. They make running shoes that are meant for the road, the trail, and even shoes that are perfect for recovery.
The Topo website says that road shoes offer "multiple levels of cushioning and guidance address the repetitive impact and stress from road running." The trail shoes offer "durable and rugged features are paired with our signature lightweight construction and roomy toe box for the ultimate natural running experience."
Finally, the recovery shoes are "a roomy, comfortable fit paired with a massaging footbed" which "allow you to recover with intention."
So, now we get to spend some time sharing with you our favorite Topo running shoes.
Top Men's Road Running Shoes
Topo ST-3
The ST-3 offers a reliable shoe that is perfect for those who are looking to run on the road. This shoe is light, fast, and reliable.
This versatile shoe is engineered to offer a secure fit that will fit like a sock while being lightweight and comfortable. This shoe is perfect for speed walking, running, and racing.
One of the unique features of the shoes is that they feature a mesh/elastane upper. The upper is soft and packs down flat.
This means that you can easily throw these in a backpack and travel with them so you never have to miss out on running.
The Topo ST-3 shoes come in three colors and are available in whole and half sizes from 8 to 15.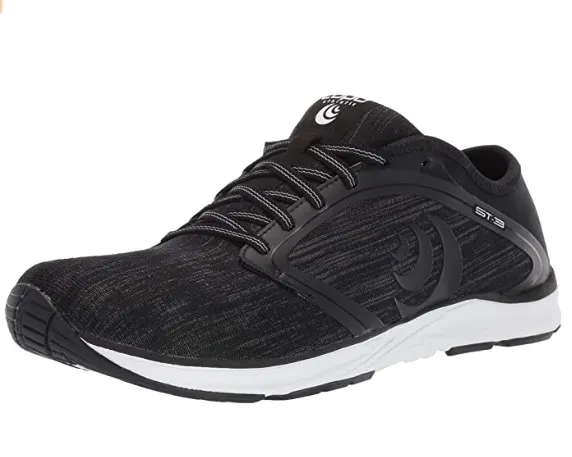 The shoes feature an O-drop and 16 mm platform which offers foot flexibility that is optimal for performance.
One of the things that runners appreciate is that the shoe offers the technology that allows them to feel the ground so that the foot reacts in natural running patterns.
Pros
Great shoes for running and the gym
16 mm stack height
0 mm heel to toe drop for a natural run
6.9 oz weight
The shoe offers minimal support, a lower level of cushion, and a lower level of cushion
Roomy toe box allows the toes to spread naturally and comfortably
Lightweight breathable materials that have a 2nd skin feel and fit
A printed upper that eliminates seams and reducing weight
Many runners say that these are the best shoes that they have ever owned
Cons
Shoes are not available in many colors
Some sizes are sold out and unavailable
Shoes are not available from most retailers so many can only get by ordering online which can make finding a good fit difficult
Shoes only come in a medium width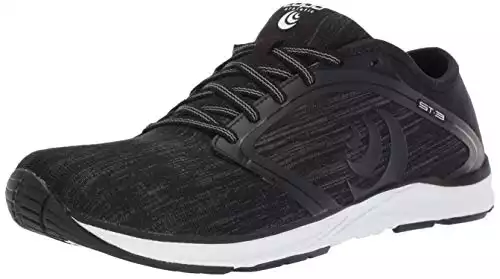 Topo Ultrafly 2
The Ultrafly 2 is Topo's top of the line running shoes. This shoe offers the most cushioning for a road shoe and features a 3-density midsole.
This helps with some guidance in the gait cycle. The stack height in the heel is 28 mm and in the front is 23 mm. This means that the Topo Ultrafly 2 has a 5 mm drop.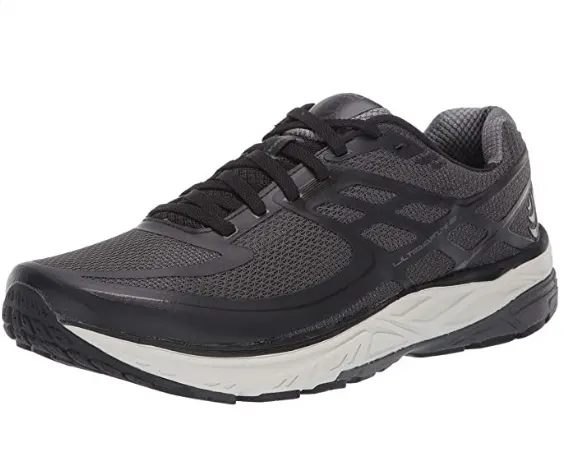 The top of the shoes is mesh and this allows for you to have a strong shoe that is also breathable.
The shoe also offers the new Ortholite footbed that allows for additional comfort.
One of the things that this footbed does is that it naturally resists compression and eliminates bacteria that cause odors.
The shoes are available in two colors with sizes ranging from 7 to 11.
Pros
Offers unique technology perfect for road running
5 mm heel to toe drop to help with different foot issues and help with controlled running
10 oz weight
A high level of cushioning, medium-high stability, and medium-high flexibility
A roomy toe box that allows you to move naturally
Midsole with multilevel density with two layers of cushioning, one layer that is more cushioned to protect the foot and one level that is firmer and closer to the ground
Made with lightweight materials for the second skin fit
More under heel cushioning that allows for more natural running thanks to the highest drop that is offered in the brand's shoe line
Very durable
Well made
Cons
Stiff even after months of wear
Heavier and bulkier than the first version
Only available in two colors
Hard to get the right size with sizes often being sold out
Not readily available in big-box retail stores so they can be harder to get ahold of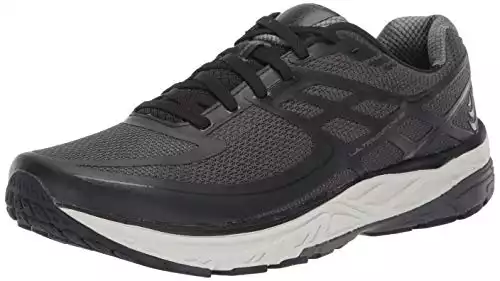 Top Women's Road Running Shoes
Topo Fli-Lyte 3
The Fli-Lyte 3 is one of the best selling shoes on the market today for road running and there are some reasons why you should consider this as your next pair of road runners.
These shoes are soft and flexible.  They are some of the most responsive shoes that you can find on the market today which makes them a great choice for anyone who is looking to take up road running.
You can run all distances at all speeds with this great choice. The Topo Fly-Lyte 3 shoe that offers you so much more.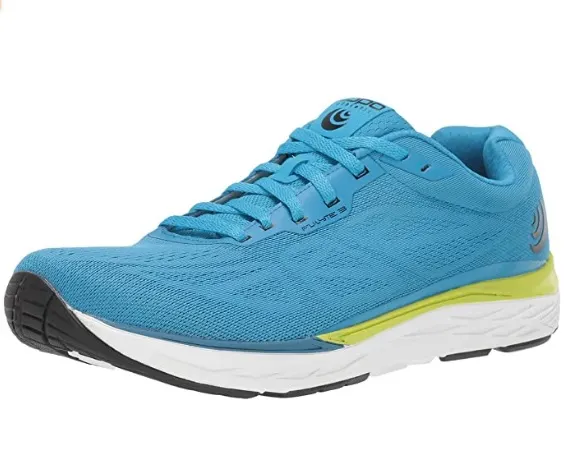 It offers you an updated upper made of mesh that adds durability and structure to the shoe without sacrificing the breathability and the weight.
The platform is actually more flexible, softer, and offers a more natural feel.
These shoes are made for running on the road. They offer a 23 mm heel and 20 mm forefoot with a 3 mm drop.
They weigh just 6.9 ounces. They have a middle-level cushion, middle-level support, and middle-level flexibility.
Pros
Roomy anatomical toe bed that allows for toes to spread comfortably and naturally
2nd skin feel made from lightweight breathable material
Eliminate seams with a printed pattern on the upper to help reduce the weight of the shoe
Mid-level 3 mm drop that provides a near neutral platform for a running experience that is natural
High-quality materials
Lightweight
3 mm drop from heel to forefoot
6.9 oz weight
Cons
No wide width available, but this shoe offers a wider fit which might not be preferred if you have a normal or narrow width foot
Not many color choices
Many sizes are sold out
Hard to find locally which might require you to order online without being fitted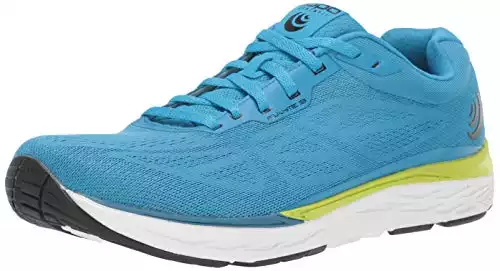 Topo Magnify 3
The Magnify 2 is the exact road running shoes that you have been looking for. It is the shoe that dreams are made out of.
You will find that these shoes keep you running comfortably for longer and will ensure that you always have a nice and comfortable ride.
There are so many features with the Topo Magnify 3 too that are simply not on other shoes that have helped Topo to knock it out of the park.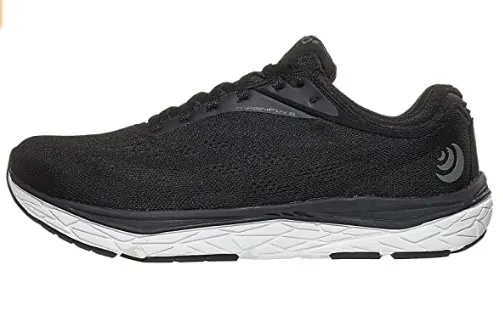 The Topo Magnify 2 offers superior cushion without the added weight or bulk. These shoes feature a 0 drop for the perfect road running conditions.
The EVA midsole features a 2-density injection. This means that the midsole is going to offer superior cushion without the extras that you do not need.
Not only does the cushioning offer the level of support that runners desire, but it also improves the overall comfort of the shoes.
The bottom layer of this special cushioning is actually firmer. It allows you to have better response and propulsion.
The gait cycle is a sweeping toe rocker and allows for you to transition easier through the different conditions.
Pros
Perfect road running choice
25 mm stack height
0 drop
Weigh just 8.3 ounces
More cushion, a lower level of support, and a higher level of flexibility
A roomy toe box that is anatomical for the most toe spread
Two levels of cushioning: 1) soft against the foot, and 2) firmer and more responsive against the ground
2nd skin fit with breathable mesh that is lightweight
Completely neutral drop allows for runners to have a more natural run
Cons
Only three color choices
Whole and half sizes are often sold out
Not a lot of local retailers and no big box stores readily have this brand available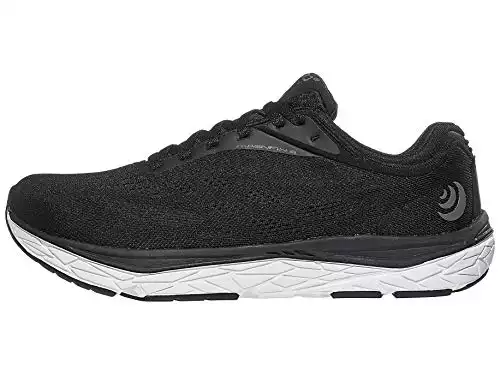 Top Men's Trail Running Shoes
Topo MT-3
The MT-3 is a trail running shoe that is high in quality and precise to the details. This shoe is going to allow for you to take off running down any trail and path without the fear of injuring themselves.
It is one of the best trail running shoes that I have personally tried and one that I am sure that I will continue to wear for a long time in the future.
Runner's World even recently named this shoe as a "best buy" for being able to offer a high quality running shoe for being on the trail.
The Topo Athletic MT-3 is a shoe that offers top performance standards and high quality. It is a lightweight shoe that is comfortable and versatile while offering the highest performance standards.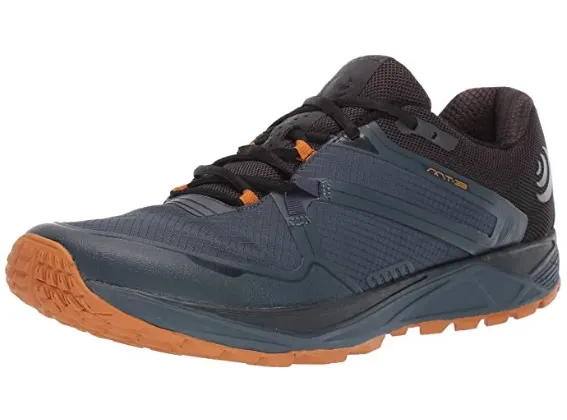 These shoes are versatile and they are available for a reasonable price which also makes them a great choice to consider.
The mesh upper has a fully gusseted tongue which allows for the shoe to stay clean and keeps you from having to shake debris out.
The upper is made from a durable mesh that is not going to tear up easily.
Pros
HIgh-quality shoes that work for road or trail running
Breathable durable mesh upper
23 mm heel and 20 mm toe, 3 mm drop
Full cushioning and support
Full-length lug rubber outsole
Multidirectional traction
Mud and snow release feature in the traction
9 oz weight
Less cushion
Mid-level support
Mid-level flexibility
An anatomical roomy toe box that helps your toes spread naturally and comfortably
2nd skin fit made from lightweight and breathable materials
Upper pattern is printed to keep the shoes lightweight with fewer seems
High traction outsole
Cons
Not always the best for trails with the super lightweight
Shoes come in a full range of sizes but are not always available in all sizes which makes it hard to find them if you are not one of the lucky sizes
Sizes are often sold out
Only the medium width is available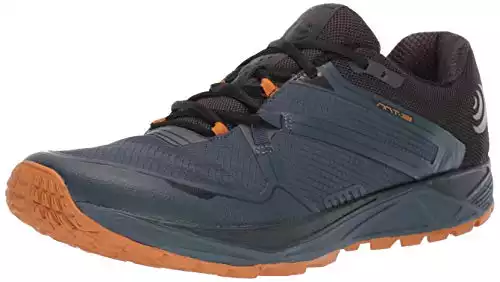 Topo Terraventure 2
The Terraventure 2 is one of the shoes that offer you a lot of great features that you are looking for when it comes to hitting the trails for a run.
These shoes are one of the favorites among those who love to trail run and were a solid choice for us when we were hitting the trails.
We found them to be fully functional and comfortable while still allowing us to be able to enjoy the run.
The Topo Terraventure 2 has been made in a wide range of color combinations which have been extremely popular.
So popular in fact that you might not be able to find a pair in your size.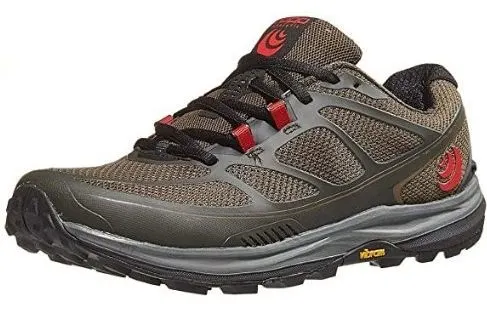 The website is regularly sold out of some sizes.
They offer the light weight of a good running shoe and the durability of a trail shoe in one package.
These shoes have some features that others do not like the popular Vibram outsole and the 2-density EVA midsole.
They are a great choice for those who want to be able to run through all types of trails and one the road.
Pros
Perfect for running on the road and on trails, which means that they are a great choice for those runners who frequent both on the same run
Features the popular and rugged Vibram outsole
Lugs that are deeper and more generously spaced
Lugs made to improve the traction in both mud and snow which makes these shoes great for all seasons of running
Flexible forefoot plate which helps to protect the foot while you are running off road
Fully gusseted tongue
Durable mesh and PU upper with drainage ports for water release and quick drying times
5 mm Ortholite footbed which is anti-microbial
Fitter gaiter attachment which makes it compatible with the stretch nylon Topo gaiter
Cons
Shoes are not very flexible which can mess up your running
Some reviewers claimed that these shoes were shorter than other shoes from the brand
Another shoe that does not seem to be well stocked as many sizes are sold out
Hard to find in a big box or local retail stores which takes away from trying on and being fitted properly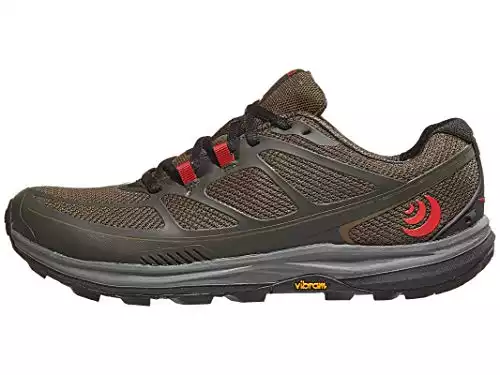 Top Women's Trail Running Shoes
Topo Hydroventure
The Hydroventure is one of those shoes that you will wish that you had all along once you have it.
This shoe boasts that it is the lightest shoe that you can find on the market today that is waterproof. This is one of those shoes that is going to be comfortable for running on the trails in all situations.
This helps you to ensure that you have the shoes that you have been dreaming of and that you are able to get to where you need to be regardless of where you are running.
The Topo Hydroventure features a single layer e-Vent waterproof membrane that allows for your shoe to stay waterproof without adding weight or causing you to have comfort issues.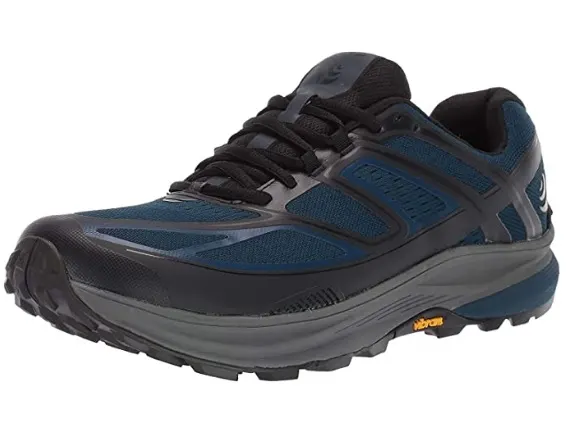 The upper mesh and lining make this shoe still breathable which is nice if you are wanting a shoe that will keep your foot dry while still allowing for your foot to breathe and not become sweaty.
In addition, the shoe features an EVA midsole. Plus there is a full-length rock plate that will keep you from getting bruises on the bottom of your feet in all of the rough terrain that you tackle.
You never have to worry about the pain from stepping on a rock again.
Plus, you are going to have a smooth and comfortable run every single time.
Pros
Full-length outsole with multidirectional traction
Easy cleaning traction for snow or mud
Top quality shoe for trail running
23 mm heel and 20 mm forefoot stack height, 3 mm drop
Weighs just 8.1 ounces
Less cushion, mid-level support, and extra flexibility
An anatomical toe box that is roomy and comfortable for spreading your toes out while running
The printed upper pattern that eliminates seams and reduces the weight of the shoe
e-Vent DVdryLT technology that allows for the foot to breathe while keeping the shoe waterproof
High-quality rock protection plate that is flexible
Cons
Shoes are rarely in stock
Most colors and sizes are sold out
Shoes are not easy to find locally and are not carried by big-box retailers
Online shoe purchases prevent you from assessing proper fit and getting fitted by someone who has been trained to do so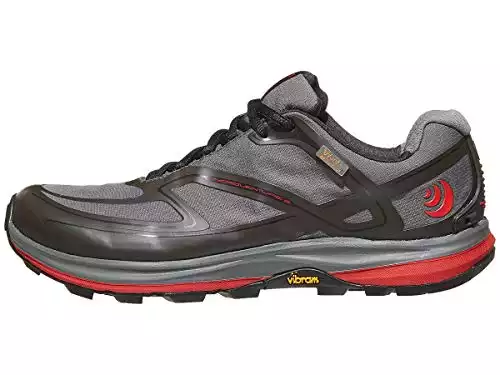 Topo Ultraventure 
The Ultraventure is the shoe that you want to take on your adventures with you. This shoe has quickly become a favorite among trail runners and those who want a nice solid shoe for exploring nature.
The shoes are more than just trail runners but instead are the perfect shoe for your off-road exploration.
So, even if you are not a runner, you can enjoy the Topo Ultraventure and all that they have to offer you.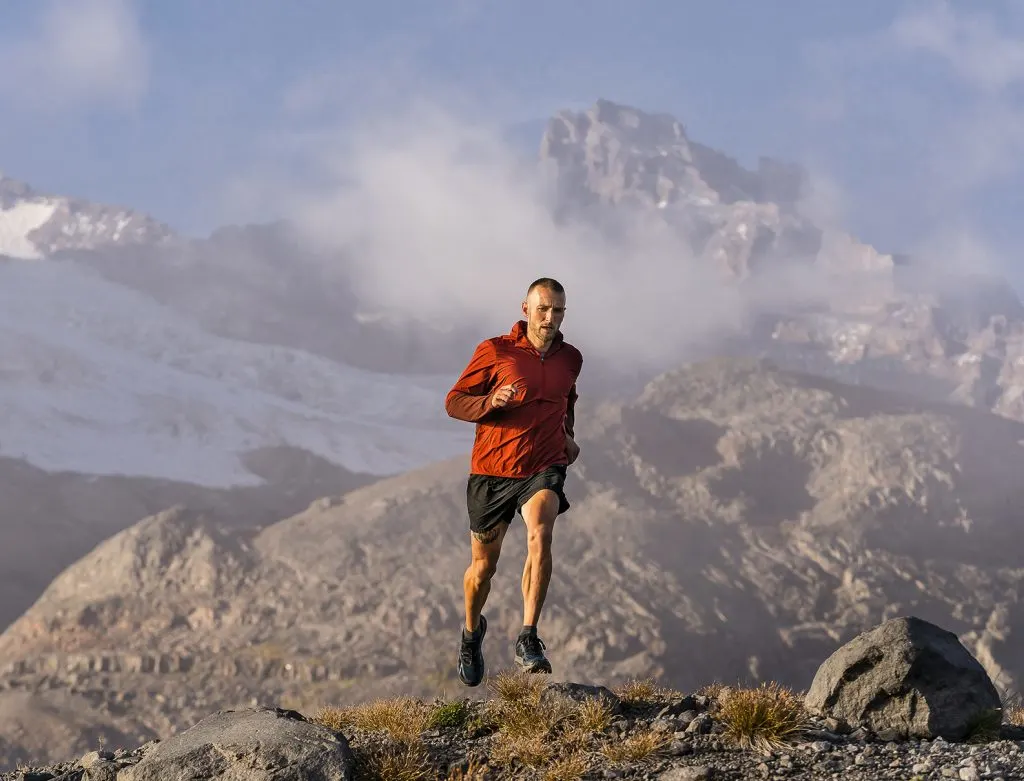 The Ultraventure is a shoe that is not like other trail running shoes. This shoe was designed with elite trail runners and their needs in mind. So, there is really nothing that this shoe is not going to offer you.
The outsole of these shoes is made by Vibram with their high quality and attention to details in mind.
These outsoles provide traction that keeps you from falling on even the slickest terrain. The shoes are very durable and even feature a midsole that is 3 pieces which offer stability while you are running.
The stack height is 30 mm at the heel and 25 mm at the forefoot which means that it has a 5 mm drop.
Pros
Abrasion-resistant engineering in the upper
Upper that offers both strength and breathability
The fully gusseted tongue that offers protection from the elements
Drainage gills are featured in the shoe to help them quickly release water and offer quicker dry times
A great trail running shoe
The shoes are just 8 ounces
High-level stability, high-level cushion, mid-level stability
Vibram outsole which features unparalleled grip, superior traction, and high-level durability from one of the trusted leaders in outsoles
Technologically advanced Ortholite footbed that is not only comfortable but also anti-microbial and anti-compression
2nd skin fit and feel with the lightweight breathable materials that are used
A toe box that is anatomical and has been made so that you can really spread out your toes
Cons
The shoe is hard to find
Many sizes and colors sell out quickly
Not available locally or at most big box stores
Shopping for shoes online can be hard as you cannot expect fit based on that alone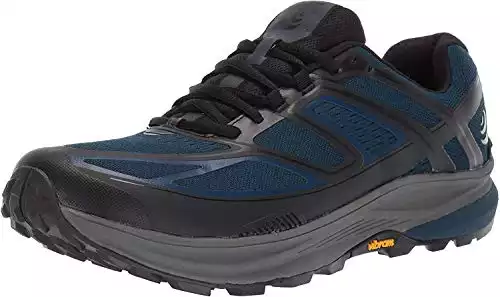 Technologies Used in Topo Running Shoes
There is a wide range of technologies that are used in Topo running shoes that make them industry leaders.
These different types of technology help to ensure that you are going to be getting the best possible shoes for your money and that you will always be comfortable on your runs. You
will no longer be coming home to ice your sore feet!
Roomy Toe Box
While it might not seem like the biggest technological advancement in the shoes, the roomy toe box is extremely important. This is actually one of the things that set Topo apart from other brands.
You can actually easily spread your toes when you are wearing these shoes. Many people do not realize that traditional athletic shoes have that narrow toe box to be stylish not for any other reason.
The wider toe box allows for runners to spread their toes naturally and improves performance as they are able to run more like natural runners.
Heel and Midfoot Fit
Another thing that is unique in the technology that is used by Topo is that they ensure that you are going to have a secure fit to your midfoot and your heel with these shoes.
They allow for your shoe to fit securely to your midfoot and your heel.
Your toes can be comfortably spread while you are wearing these shoes. You will not have a disconnected feeling while you are running with confidence.
Low Drop
Topo has engineered shoes with a low drop. Some of their shoes have a 0 mm drop and others have up to a 5 mm drop, but all of them feature a lower drop than most shoes.
This means that you can run more naturally like you would if you were barefoot.
Lightweight Features
One of the biggest technological advances with the Topo brand has been that they have created specialized materials that make the shoes more lightweight.
These features help you to run more efficiently and comfortably which makes you have a more enjoyable run.
In addition, they use the lightest weight materials and special material construction that avoids seems where you would typically pick up weight with traditional running shoes.
Plus, they can create these shoes that are waterproof while keeping them the lightest in the world.
Mud Release Technology
The outsoles in the trail running shoes feature a technology that helps the shoes to not be caked full of mud.
This special mud release technology is one that is made with multi-directional traction. This traction helps to ensure that the mud simply slides off of the shoes.
2nd Skin Fit
The technology that allows for the 2nd skin fit in these shoes is one that utilizes materials that are going to allow for the shoe to fit securely to your foot.
This is through versatile and lightweight materials that feature stretch and special closures and gussets on some of the tongues (depending on what the shoe is going to be used for).
Vibram Outsole Technology
The Vibram outsole technology is an industry leader and something that you find in a wide variety of brands.
This technology allows you to have a solidly structured outsole that is going to last for years to come. It also allows you to have outsoles that have the structure and needs that you do.
Ortholite Footbed
The Ortholite footbed allows for you to have all of the structure and support that you desire with a footbed that remains comfortable and is never too heavy.
That's right, this is pretty much the footbed that every runner ever has dreamed of and someone finally created it.
Special Drainage Features
One of the things that are completely unique to Topo is the fact that their trail shoes offer you the chance to drain them.
There are a couple of different drainage designs that are featured with the shoes. These allow for the water that gets into your shoes to drain quickly and allows for your shoes to dry quickly as well.
Anti-microbial
The anti-microbial materials allow for you to have shoes that are not going to stink or have other issues. This is important if you are an avid runner and especially so if you run in all seasons outdoors.
Criteria Considered When Choosing the Best Topo Running Shoes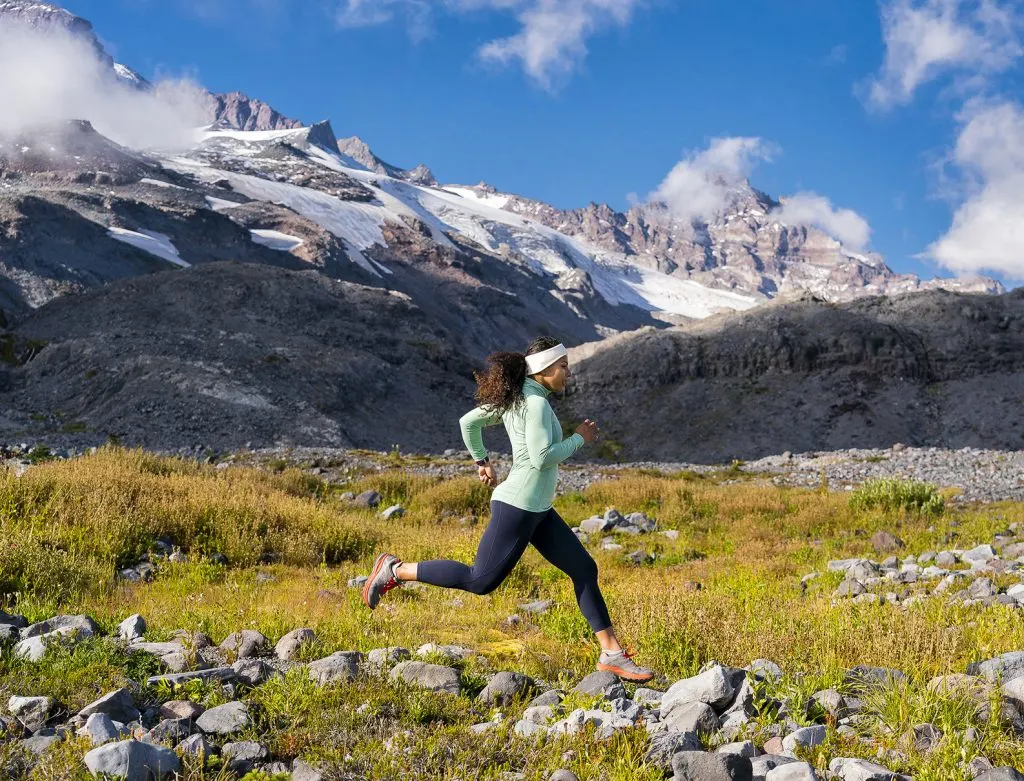 There are many things that we looked at to determine which of these shoes was the best. Each of the different shoes was carefully considered and looked at.
Comfort
The overall level of comfort for those wearing the shoes includes a few different considerations. One of these is that the shoes are made with attention to details to ensure that there is no pinching or sores on the foot.
This includes that you do not have blisters or rub marks from the shoes moving while you are running.
In addition, the shoes offer the right level of support, the outsoles protect from uneven surfaces, and the shoes have enough cushion to feel good while running.
Drop
Doctors everywhere are saying that the best running is natural running. Naturally running features a drop 0 because that is how your feet are naturally shaped. By choosing a shoe with a 0 drop you are allowing your feet to run naturally.
Of course, a 0 drop isn't always possible but all of the drops on Topo running shoes are very low and the highest that they have is 5 mm which is still minimal when you compare these running shoes to other brands.
Weight
It is also important to consider how much a running shoe weighs. You want shoes that are as light as possible and Topo offers that.
They really pack a lot of different features in their shoes that create the perfect running shoes.
They are comfortable and offer a high level of support and technology so that you are happy with the shoes you are wearing.
Style
While not as important as the other categories, you always want to at least consider the style and options that shoes have.
One of the things that we love about Topo running shoes is that they feature a high level of simplistic style.
There is nothing crazy or off the wall but each style has its own distinctive and attractive styling. They also have color patterns that are popular and on trend.
Final Thoughts — Our Bottom Line
Of course, if you are not 100% sure which of the Topo running shoes are right for you, you can simply try them out and see which ones are the best.
These shoes offer superior quality and tons of options for shoes that weight much less than the average running shoe.
In fact, their trail running shoes are the lightest in the category that is available on the market today. In fact, both the men and women's styles of shoes offer a ton of different styles, options, support and all of them are tied up into a neat little lightweight package.
Some of the features are there for your comfort while others help to enhance your performance. I found that I was able to cut the time that I had been stuck at when I switched to a pair of Topo running shoes.
This was something that I had struggled with for a while and it allowed me to be able to continue my runs and even to get my best competition time ever at the next race. I think that this was due to the fact that the shoes are so lightweight and comfortable for all types of runs.
I personally loved wearing them and was so excited to get out and get running when I had them on.
Personally, I would choose one of the styles that work for both trail and road running if you are a runner, like myself, who likes to experience multiple different types of runs.
Some people prefer to have separate shoes for road running and trail running, but this is because the standard trail running shoes are considerably heavier than the traditional running shoes.
Thankfully with Topo's technology, their trail running shoes are light enough to take the place of your road running shoes with ease.
Do you run in Topo shoes? If so, what kind do you use? We would love to hear from you!