Father's day is coming up soon, and what will you get for Dad? Another tie? A gift card for his favorite restaurant chain? A sizeable thermal drink mug to keep his beverages cold or hot all day long?
After nearly two years of a pandemic, many people are tired of being sedentary and are ready to get out into the world and start moving about again. The gift of shoes is going to be hot this year as some of the pandemic restrictions lift, and we can move about more freely. Come on! Be the hip kid and get Dad a great pair of comfortable shoes.
Forget about the patent leather dress shoes. BORING! Dad does not want to think of dressing up on his special day. Dad wants to be comfortable, practical, and stylish. It's 2022; he will probably not appreciate shoes that look like they belong to a nurse. Those shoes are comfortable, but they have not been updated much since 1970. Yikes!
Best New Balance Dad Shoes: the Criteria
Now, for some Dads, "cool and fashionable" comes naturally. For others, well, they may need a little help from you to stay with current trends. Today I will review some great options for Dad from Joe's New Balance Outlet.
New Balance shoes are manufactured for nearly every sport, making them an ideal one-stop-shop. However, this Dad shoe guide will only focus on "lifestyle and walking" shoes for simplicity. Shoes in these two categories are more multi-use and offer more forgiveness regarding fit.
On the other hand, running shoes require more precision regarding width and size and knowing the terrain on which they will be used. We have several articles on The Athletic Foot that will help you with running shoes.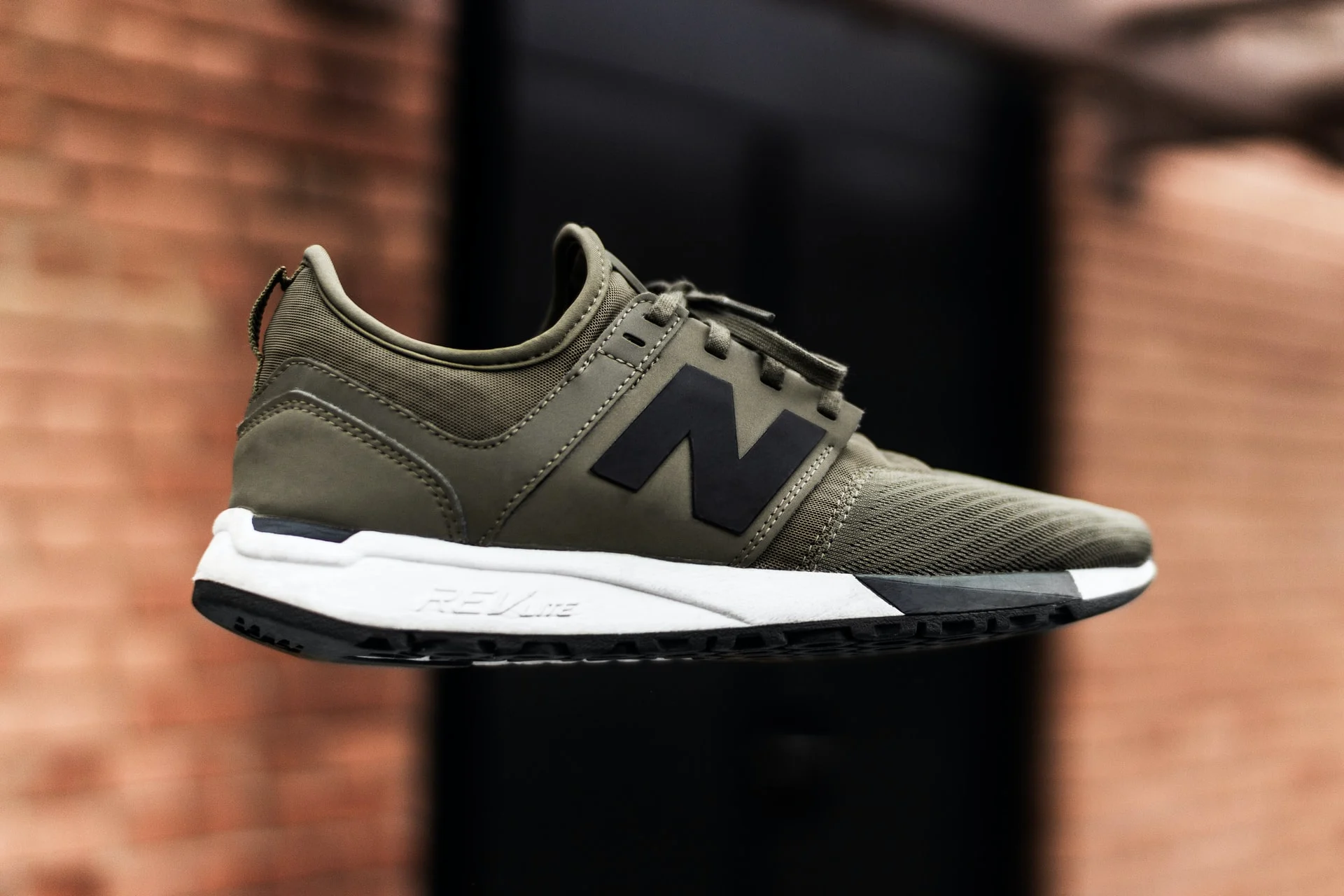 Bottom Line Upfront
Only you know your Dad, so the bottom line is ultimately yours. However, as a "hip Dad" myself, I am only selecting two shoes from the "walking" line. To me, they are right at the edge of "outdated," but I included them because they toe the line between casual and business casual. They are acceptable in many workplaces that otherwise restrict shoes that resemble sneakers of any form.
The other five shoes will come from the "lifestyle" line that is more multi-use in function and, in my opinion, much more in line with current fashion trends.
Top Two Walking Shoes
The walking line of New Balance is shrinking but is still available for those seeking the comfort of a sneaker but looks more business casual in style. If Dad frequently complains of foot fatigue after a day at the office, this is a good option.
Before New Balance was in the shoe business, they were an insole company. When they evolved into manufacturing shoes, they combined their insole technology and quality materials to make a shoe that improves comfort for all-day use.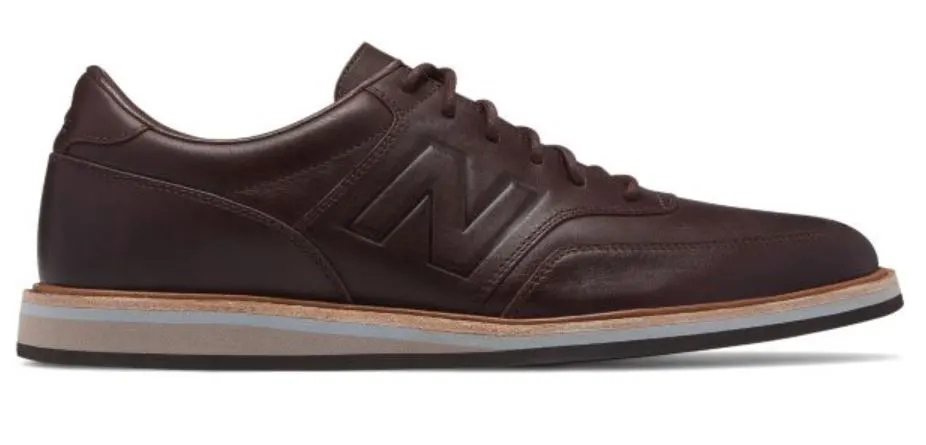 The Men's 1100 walking shoe is the closest "business casual" shoe offered at Joe's New Balance Outlet. It comes in a dark brown full-grain leather with classic oxford style construction. The insole is made with closed-cell polyurethane for comfort and impact protection. The rubber outsole also cushions the walk and reduces the slipping that can happen with older traditional leather outsoles. It also keeps one's steps whisper quiet.
The lighter outsole adds some modern contrast to an otherwise traditional shoe. It will pair nicely with slacks and an oxford button-down shirt, or jeans and a polo. Subtly it suggests relaxed but still in charge.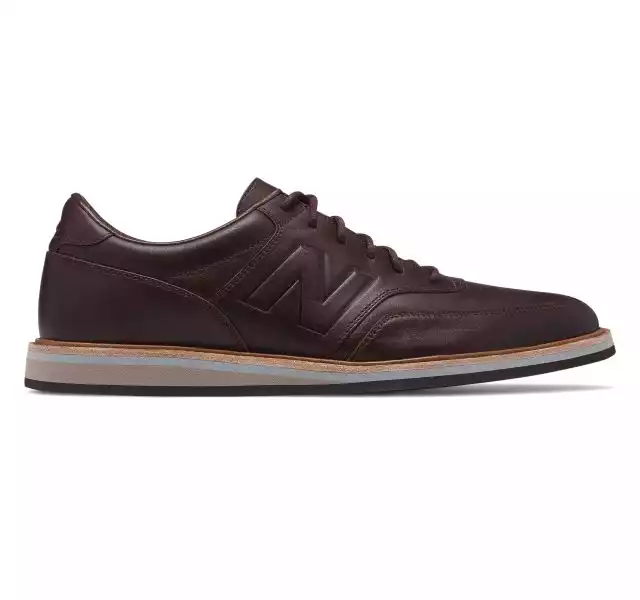 Pros
Casual feel, Business Casual look

Full-grain leather upper
Cons
Phasing out the shiny leather for suede

Tri-colored sole makes this shoe lean more toward casual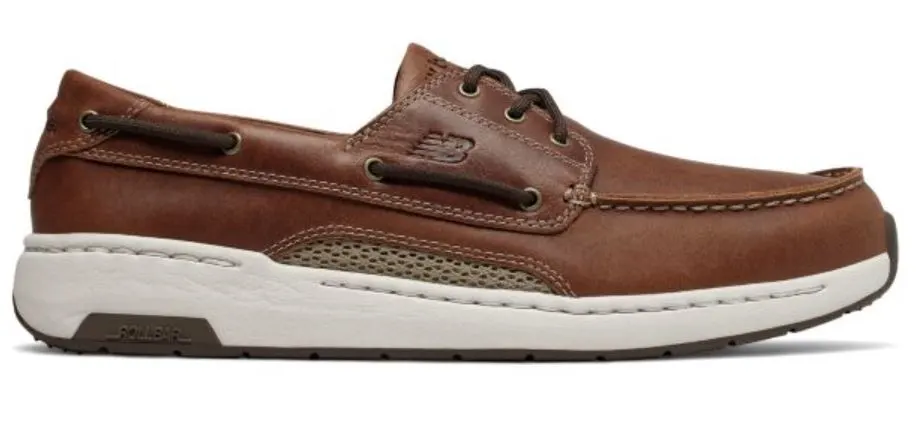 The 1200 Walking Shoe fits somewhere between dock shoes and penny loafers. Do they still make penny loafers? Anyway, back to the Men's 1200 walking shoe, It could be considered too casual for the "business casual" look, but likely you can still pull it off, especially if you go with the Brown color. This shoe is also available in a tan color.
This is a slip-on shoe with a traditional boat shoe three-eyelet lacing system. The short laces help keep the shoe snug, and the New Balance "ROLLBAR" insert for more foot stability. A leather upper looks nice and lends to its durability as a proper boat shoe.
The men's 1200 walking shoe goes from shore to deck with no problem. The non-marking, multidirectional rubber outsole keeps you on deck without harming the deck. Two mesh inserts allow water to drain out, keeping your feet a little drier. This is truly a multifunctional shoe that Dad can appreciate.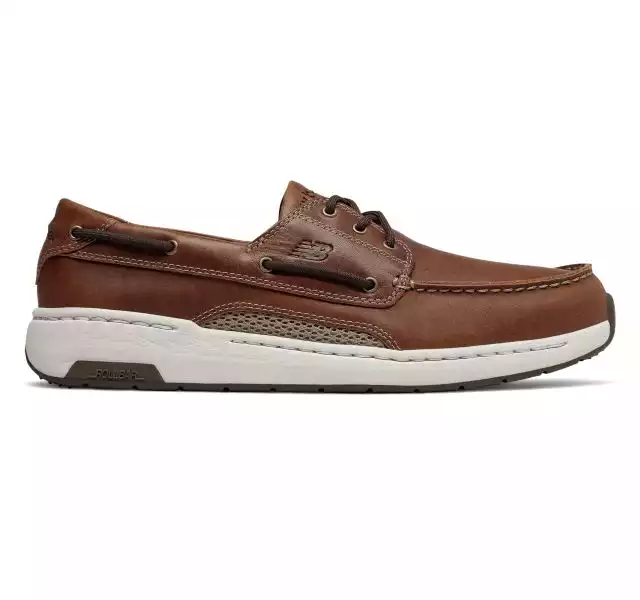 Pros
Very comfortable walking shoes

Perfectly functional deck shoe (nonmarking)
Cons
Higher price than other walking shoes

White outer sole sometimes rules out the use for "business casual" days
Top Five Lifestyle Shoes
The lifestyle line from New Balance is extensive. There are pages and pages of choices from the lifestyle line. Joe's New Balance Outlet carries over 60 styles from 10 to 60 percent off the original price, and some of their final markdowns are even more discounted.
Lifestyle shoes are casual, comfortable, and most closely resemble the "sneaker" family. Some are functional as non-official cross-trainers, and others are probably best suited just for walking and flashing your fashion sense.
Dad probably can't wear any of these with his suit or even on business Casual days, but Dad needs shoes for play too. All work and no play makes Dad a dull Man. Anything goes in this category.
A little personal advice: A few shoes from New Balance are labeled as Unisex. Ummm. Have you heard of Pat, the androgynous character from Saturday Night Live? She/He is the only person who should consider these shoes. Sorry New Balance, these clearly lack both Estrogen and Testosterone. There is one exception, however. I will reveal it at the end of my top 5 lifestyle lineup.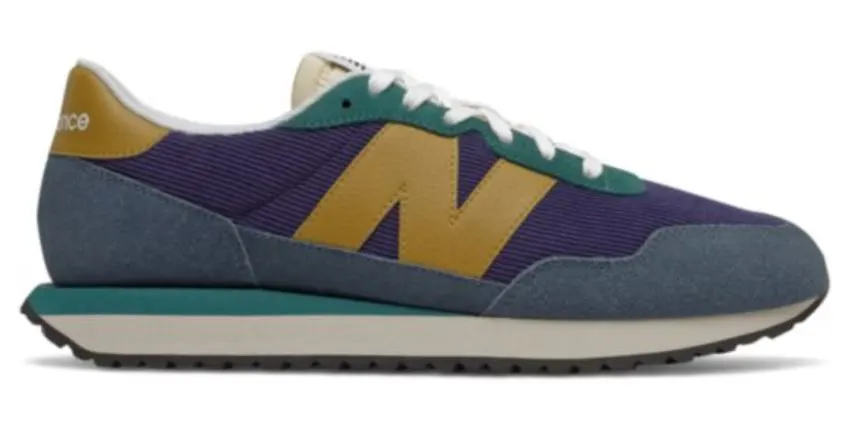 I love this shoe. It is my current favorite. I may be a mature Daddy, but I am not walking out of this life in Hush Puppies (sorry Hush Puppies). Few people guess my actual age, and superficially I wonder, could it be my shoes? Listen, my virtual Sons and Daughters, if you have a modern Dad who likes comfort and fashion, this shoe should put a smile on his face.
The 237 is based on some of the simple designs of running shoes from the 70s. While it has some retro fashion, the materials are all modern with current-day support and comfort. They resemble some of my favorite shoes from Puma but are a little more practical. They feature a suede and corduroy upper in three colors, blue, golden yellow, and Navy. Comfortable and practical.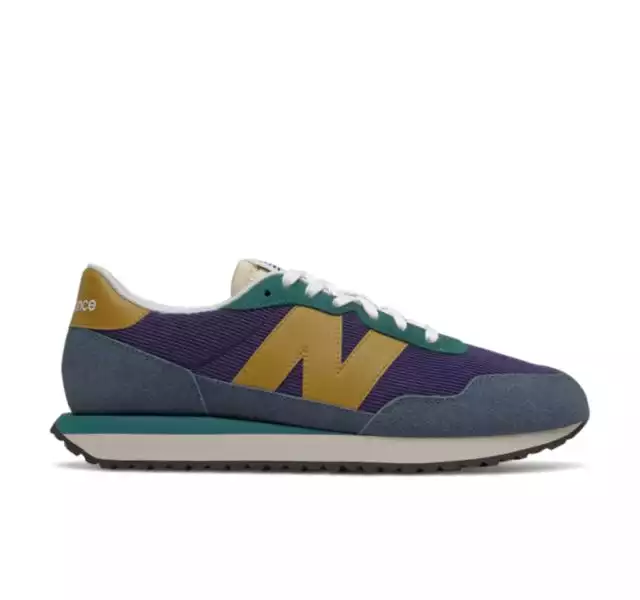 New Balance Men's 237 | Joe's New Balance Outlet
The 237 is a contemporary reinterpretation of the '70s running heritage that melds a range of heritage design inspirations into one deceptively simple, exceptionally versatile, contemporary silhouette.
Check Price
We earn a commission if you click this link and make a purchase at no additional cost to you.
Pros
Unique and fun color designs

All-day comfort walking or jogging
Cons
The rear sole extends slightly beyond the upper looking accidental

Designed from a retro running design but not built for modern runners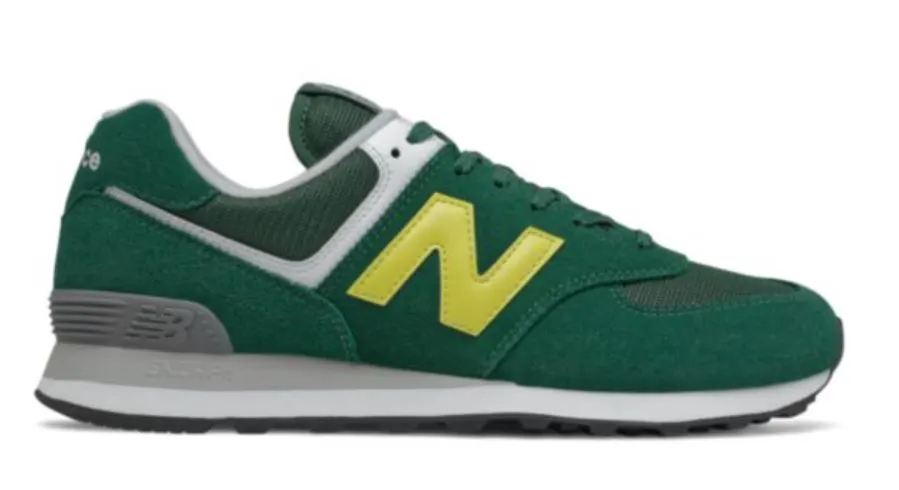 These may look familiar to some of you. They first hit the scene in 1988, but they never went out of fashion, and with the new colors added in version 2, they remain trendy with sneakerheads across the globe.
The New Balance 574 shoes were created to be more multifunctional rather than specialized for any specific sport. This would require a different level of durability since the use of the 574 would need to meet the demands of various forces and ground types. The result was a rugged shoe that could handle the trail or the road. The tread on the sole of this line looks a little more like a trail shoe than a sneaker.
Casual, comfortable, and durable are the main features of the 574. They also come in so many colors you can match nearly any wardrobe desire. You will may be tempted to purchase several pairs. I love this line.
Perhaps the only downside to the 574 is that this move to make a "one style suits all" sneaker resulted in an insole that is a little more generic. Fans of new balance will notice the insoles are a little flat and lacking that classic higher arch. That said, it's actually still quite comfortable for all-day wear.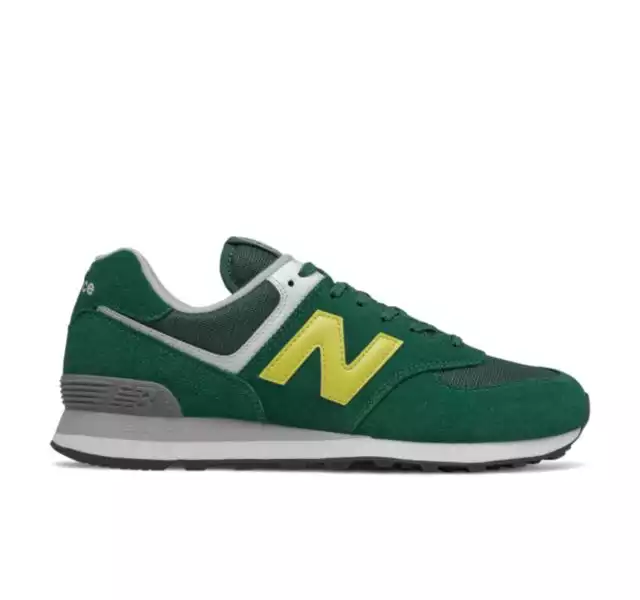 New Balance Men's 574 | Joe's New Balance Outlet
The 574 was built to be a reliable shoe that could do a lot of different things well rather than as a platform for revolutionary technology, or as a premium materials showcase.
Check Price
We earn a commission if you click this link and make a purchase at no additional cost to you.
Pros
Casual all-purpose shoe

The color palette will please most sneakerheads
Cons
Heel tab is reportedly too stiff for some people irritating the Achilles tendon

The tongue is thinner now than in the original shoe reducing padding from laces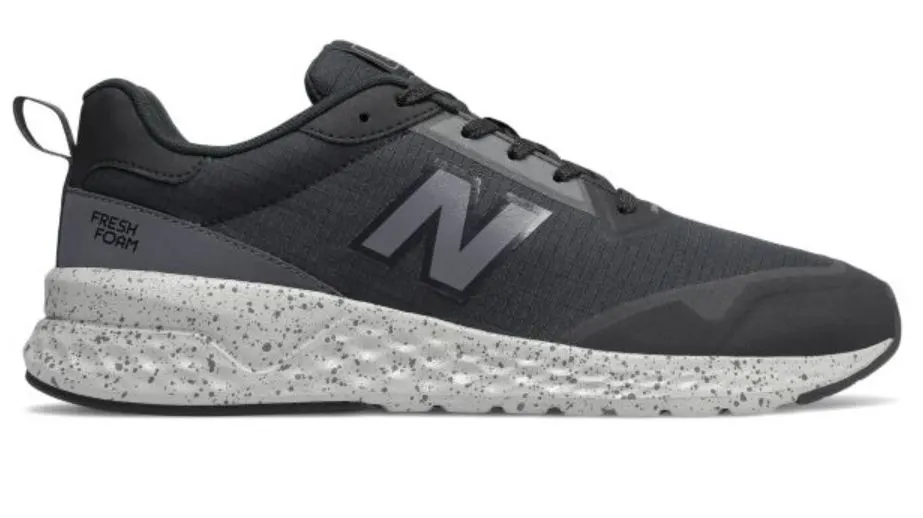 Fresh Foam is a lightweight foam that is shaped to support and cushion your walk. A really comfy all around shoe that is fine in the gym, walking around town, or lounging at home. They have a great modern design with a no-sew upper. These are probably the most light weight shoe in todays Dad Shoes Guide. A really decent price of $56.24 on Joe's New Balance Outlet website.
The Fresh Foam line is such a hit that New Balance now uses it in their men's 1080v10 running shoes as well as the men's More Trail, trail running shoes. Both of these hold a 4.5-star rating on Amazon. However, if you want the best price, aim your browser to Joe's New Balance Outlet. They are well below Amazon's listed price. Plus, shipping is free on orders over $99.00 in the United States.
For day-to-day comfort, stick with The Fresh Foam 515 Sport. If Dad is a runner, The Fresh Foam 1080v10 is a treat for the feet he will love. For trail runners, go for The Fresh Foam More Trail. These can be "too cushioned" for the hard-core trailblazer who likes to feel the stones on the path. However, the cushion is devine for those looking for a more casual jog in the woods.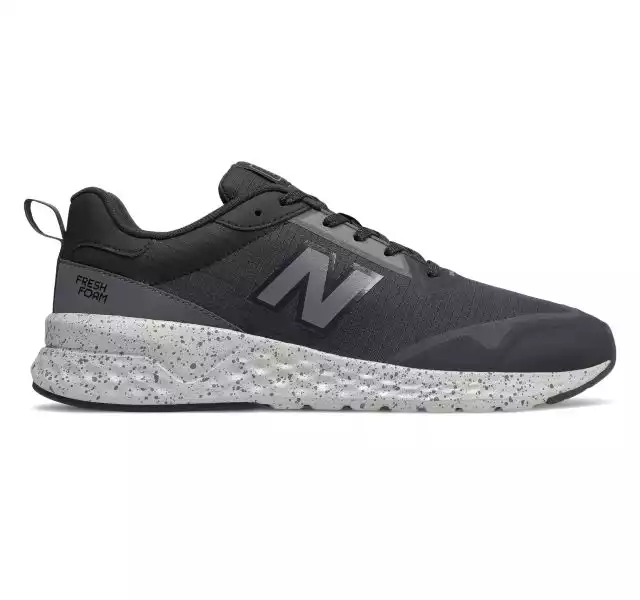 Men's Fresh Foam 515 Sport v2 | Joe's New Balance Outlet
Made with breathable mesh and sleek film overlays for lightweight support, the Fresh Foam 515 Sport for men modernizes an archival silhouette with a midsole packed with our famously plush Fresh Foam cushioning.
Check Price
We earn a commission if you click this link and make a purchase at no additional cost to you.
Pros
Fresh Foam is lightweight and well-cushioned

A lightweight cross-trainer style. Provides lateral support
Cons
Some customers complained that the white sole shows the dirt to much.

Functional tread, but some customers complained that the pattern is dull with less grip than other shoes.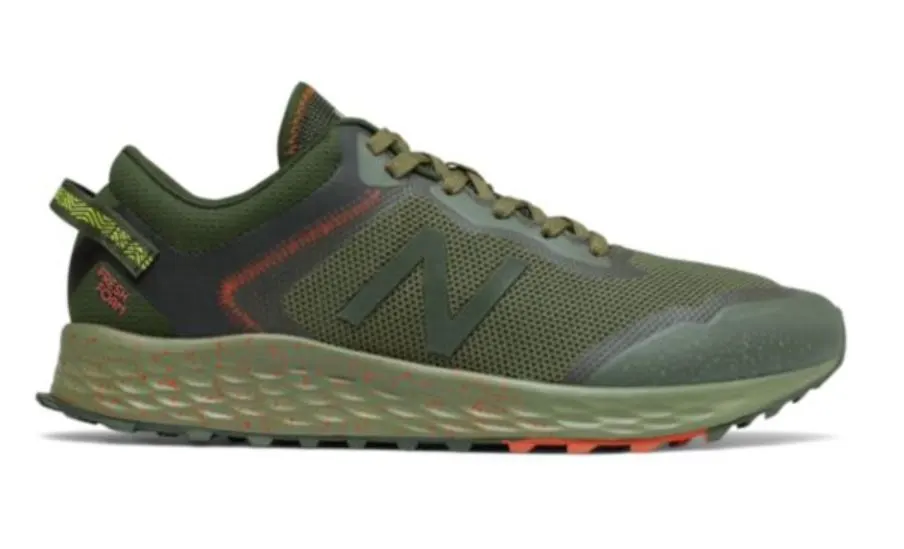 We continue down the Dad shoes lineup with more from the Fresh Foam line. Dad can wear these around the house and perhaps to work if this casual look is OK at his place of employment but make no mistake; these Fresh Foam Arishi Trail Runners are designed to perform in the wild.
This fully synthetic upper is melded together without a stitch. No thread or strings to weigh it down or unravel. Only your shoelaces and a pull-up tab in the back. The reinforced rubber toe tip provides some additional protection for your shoes and your toes from the pebbles, sticks, and other debris you may pass through.
The Fresh Foam technology provides stability and cushioning but not so much that you lose perception of the terrain beneath your feet. This is what many New Balance customers love about this company – The balance.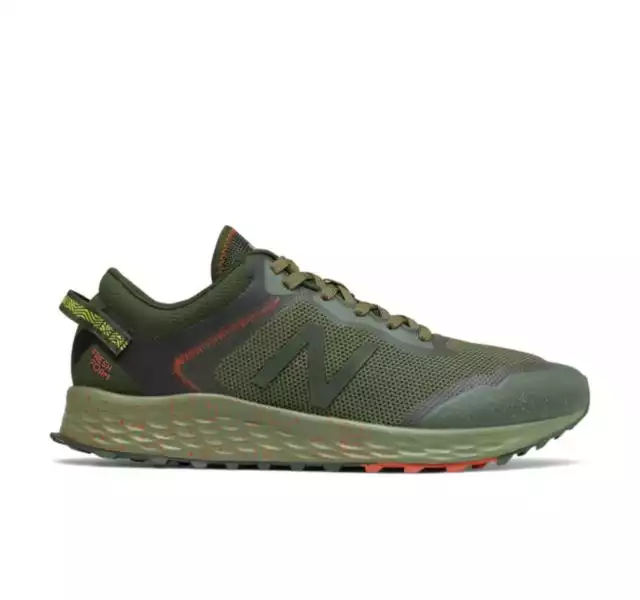 Pros
Stylish for all a casual night out or a run on the trail

Straddles a sneaker and trail runner, nice middle of the road
Cons
Thinner heel cushioning means more trail sensation, including pebbles, deal-breaker for some.

Upper is too high for some customers who either return the shoe or add an insole to raise their ankles.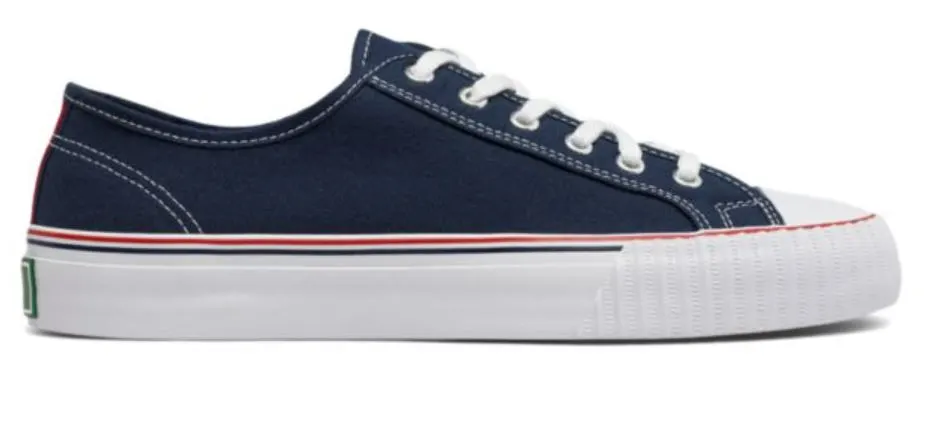 The Reveal! YES, this is the one "unisex shoe" that does fair well on both genders and gender non-specifics, just so no one is left out. If you are blessed with one or two feet, you can consider this an all-around trendy forever shoe. It's incredible to me that this shoe design continues to endure through every fashion season.
Even where it would seem unfashionable, The Unisex Center Lo has appeared on the feet of men in high-end suits and women in skirts and dresses. It makes no sense to me, but you have to admit that some fashion shows are like scenes from one of the alien bars on Star Trek and Star Wars. Well, live and let live is generally the best rule.
So with that said, These shoes go with absolutely everything! The low-tech PF flyers insert still seems to keep people comfortable and happy. Why change it if it works, right?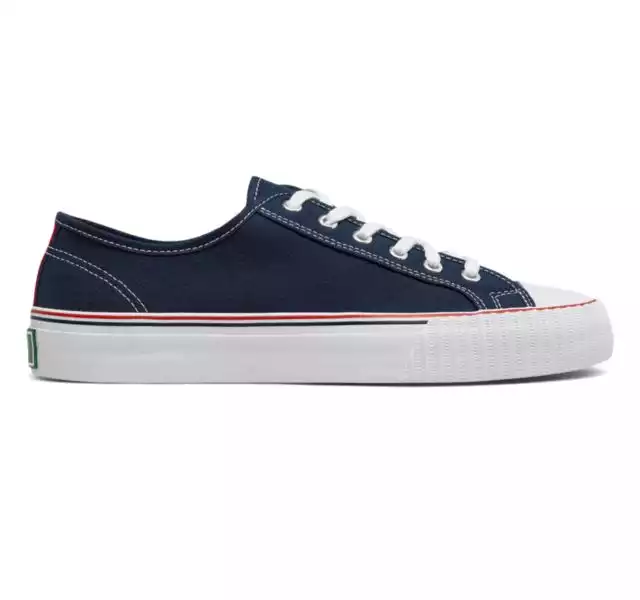 Unisex Center Lo | Joe's New Balance Outlet
The Center Lo is a streamlined version of one of the world's most iconic basketball sneakers. An archival reissue pulled from the PF vaults, the Center Lo features our signature vertically-ribbed toe guard, distinctive treaded outsole, and the Posture Foundation insert that revolutionized sneaker comfort and made PF Flyers a household name. On or off the court, the Center Lo is an American classic.
Check Price
We earn a commission if you click this link and make a purchase at no additional cost to you.
Pros
Simple design can be work with many different styles

Tend to be more comfortable than the competition (Vans)
Cons
Comfortable insole but lacks and kind of arch support

Not everyone likes the vertical ribs at the toes
FAQs
Question: Why shop for New Balance at JNBO?
Answer: Joe's New Balance Outlet specializes only in New Balance products. They know their brand and are available to help you 7 days a week. JNBO is an outlet store offering tremendous discounts on New Balance products that, in many cases, are simply "last year's models." These are not defective products. Brick and Mortar stores are available in 13 states. Online sales are available for everyone in the lower 48 (sorry Alaska and Hawaii). General shipping is free if your order exceeds 99 dollars.
Question: How do I pick the right shoe for dad?
Answer: OK, you have it made if he already has some New Balance shoes in this closet. Check the size and width and you're done! If there are no New Balance shoes, search through all of his sneakers and walking shos and note the sizes. This should give you a good reference. You can also check the Shoe Fit Guide. This will provide you with additional advice. Call directly if you have a doubt (866) 590 4965. Some shoe models they may recommend you go up half a size. Finally, look at the colors in the closet. If all of his clothes are Earth tones, red shoes may not be the ideal choice. On the other hand, i there is a nice variety of colors, be bold and forgo the basic black and brown shoes. I know you can do this! If it is needed, you can send them back for a different size or color. Click here to review the Hassle-Free Shopping for return instructions. You will need to pay return shipping, but it's not that bad.
Question: Does Joe's New Balance Outlet sell only shoes?
Answer: No, they sell all kinds of products. The New Balance brand has an extensive line of sports clothing and accessries for men, women and children. While shopping for Dad, you might find something for you too. There is something for nearly everyone, and the prices nearly always beat Amazon.
Best New Balance Dad Shoes: Conclusion
If you are not familiar with this brand, I believe you will be impressed by the attention to detail and quality that New Balance provides.
And, if you are familiar with this brand, you will be pleasantly surprised at some of the prices from Joe's New Balance Outlet. They are selling overstock at really affordable prices. It's an ideal gift option for any family member, but we are celebrating Dad today. I hope he likes his new shoes, and I hope today you discovered a great new choice online, New Balance sporting gear shopping.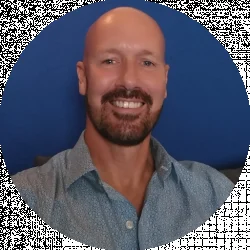 Latest posts by Jason McLay
(see all)