The technology of insoles has advanced considerably over the years and the Superfeet creators are among the masters of making insoles that help improve performance and alleviate pain.
These high-end insoles have been designed with the careful consultation of numerous podiatrists on the success of orthotics in a multitude of uses from walking and running to more extreme sports such as skiing and mountaineering.
Superfeet started with their first insole over 40 years ago primarily targeting skiers who were seeking greater performance and comfort. The success of the company lead to more research into creating insoles that could be used for a greater variety of purposes.
Today there are over 25 insoles in the Superfeet line and as the science of podiatry evolves, Superfeet is committed to evolving its product to stay current with the latest science.
Bottom Line Up Front
These are two very different insoles which will be explained in depth below. However, the bottom line is this; I would only recommend the Green for people who need higher arch support and a thicker insole. The Green is best suited for hiking boots, work boots, ski boots, or shoes that have a little extra room to accommodate a thicker insole.
I would only recommend the Blue for people who don't need as much arch support, it is a thinner insole with greater flexibility making it ideal for tighter shoes such as running shoes, biking shoes, rock climbing shoes, or in shoes where you want just a little support but remain flexible.
Why Green vs Blue?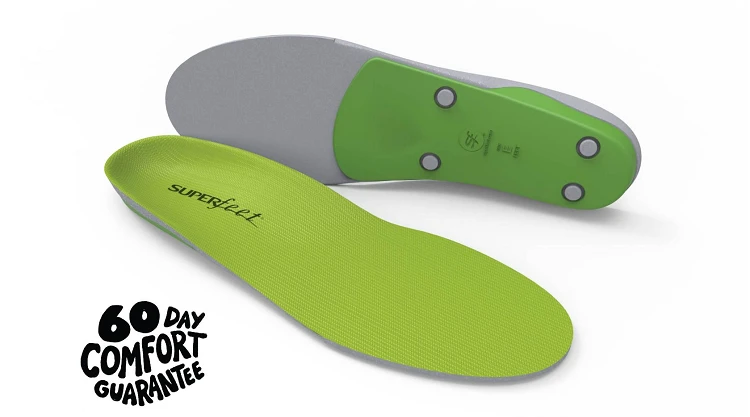 The "Green" and "Blue" are the top sellers from the line of insoles sold by Superfeet. They are both excellent choices when it comes to foot care and performance. The right choice for you will depend on a few things. What are you needing them for? What kind of shoes do you want to use them in? Do you have a wider or more narrow foot than what is considered "standard" size?
In this article, I will help clarify the differences and similarities between the Blue and the Green so you can make an informed decision on choosing the best Superfeet insoles for your feet.
Main Differences Between Superfeet Green vs Blue
The main differences between Superfeet Green vs Blue are:
The Green is a noticeably thicker model with much higher arch support, whereas the Blue is medium-thick with medium arch support.
The Green has a deep heel cup and a thicker more rigid base cap which may be slightly better in hiking boots, ski boots, work boots, or loose-fitting shoes, whereas the Blue has a shallower heel cup and a flatter base cap allowing a bit more flexibility which may be more optimal in tennis shoes, running shoes, or trail runners.
Main Similarities
Both have an outstanding 1-year warranty or 500-mile warranty, whichever comes first. I am not sure how they would check your "actual" mileage, but I do know they want satisfied customers so, the mileage may vary. Cheers to cleaver marketing.
The Blue and Green both have a long-lasting odor-reducing coating that is all-natural and organic. They are both made with moisture-wicking top fabric to reduce perspiration in your shoe. Closed-cell foam is used in all the models which improve their durably and stability. They will not flatten out like many of the low-end supermarket models that use open-cell foam.
A stabilizer cap is used in the base of both of these insoles which is a big part of Superfeet's success. This added feature provides a stable base for the insole enhancing its overall stability and structure.
Superfeet Green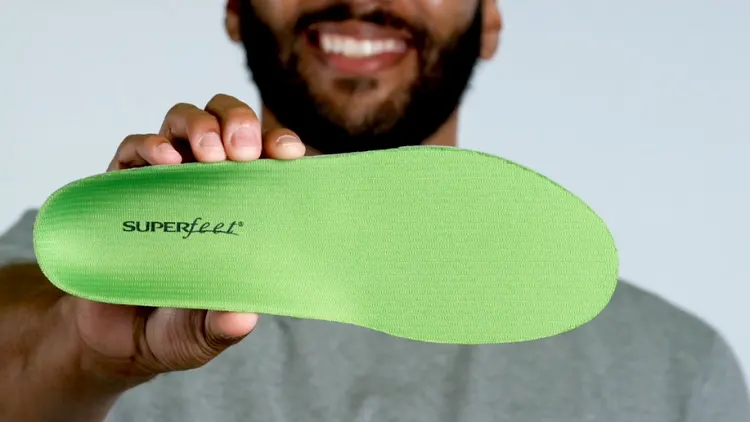 This is the original design of the Superfeet line. Of course, it has evolved with time, but it is based on the first insole the company created and it remains one of the best sellers today.
Nearly all of the models are based on the 6 original standards.
A deep molded heel cup for shock absorption
An Orthotic arch support for stability
Quality construction that holds up well over time
An all-natural organic coating that reduces bacteria and odor
A stabilizing base cap for the structure and stability of the insole
High-Density closed-cell foam for long-lasting comfort
The Superfeet Green comes in the greatest variety of widths and sizes to accommodate Men, Women, and Children's feet. The Green model offers the deepest heel cup, the highest arch support, and is a thicker, slightly more rigged insert. It is the only model that accommodates extra wide feet (size 3E to 6E).
Superfeet Blue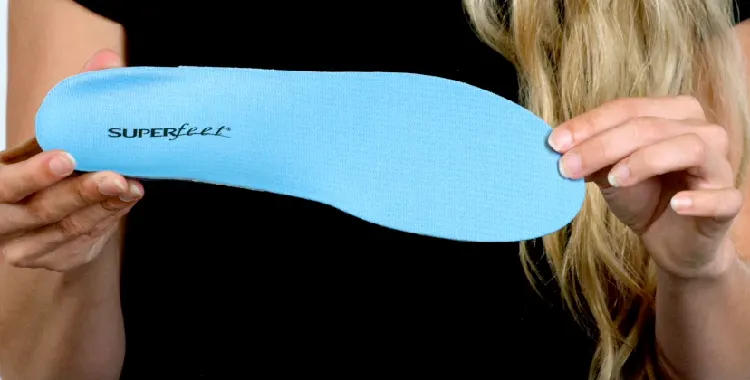 The Blue model comes in at a close, second-best seller. It is basically a thinner version of the Green model. The blue will more easily replace most shoe inserts without reducing the foot space in your shoe. The arch is more moderate and may be easier for some people to adjust to. The Green arch can be a little high for some people's comfort.
If your current shoes fit perfectly, the Blue is likely your optimal replacement. If your shoe is a bit roomy the Green will help your shoe to fit more snugly but some people will need a break-in period for the higher arch support.
Where to Find Superfeet
Due to the overwhelming success of this insole company, you are likely to find these at any high-end shoe store, sporting goods store, and of course online. Try their online store locator to see if there is a store near you. For your first pair, I would recommend you try them in person. The stores have been trained to understand that customers need to try them out of the box and under a socked foot for a correct fitting.
If you are going to order online try Amazon or Superfeet. Both offer easy free returns. I would recommend you add 2 sets to your cart. One set that "should" fit and one set larger than your size. Occasionally, customers may find that the larger size puts the arch of the insole in a better place. You can easily trim off the extra material at the toe. I will explain more in "finding the right fit."
Finding the Right Fit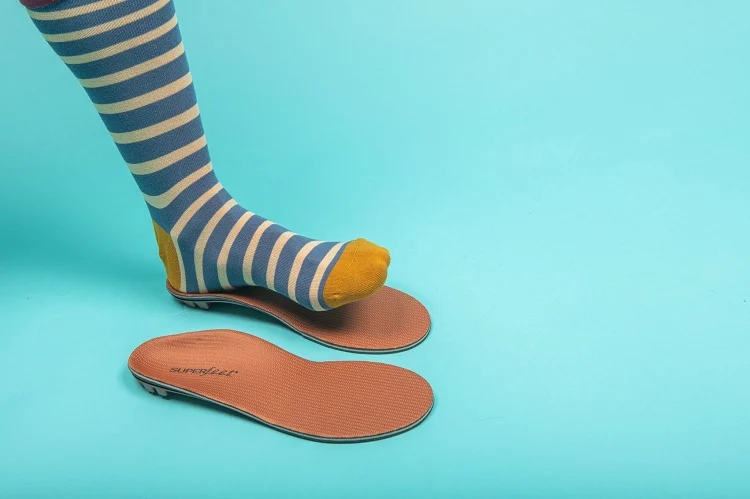 A reputable sporting goods store will help you find your right fit and may even trim them for you. The top two I recommend are REI or L.L.Bean. Both companies have outstanding customer support, and they can personalize your insole fit right in the store.
If you are in a store with "less-than-optimal" staff assistance or ordering online, you may have to do your own fitting. Don't worry, it is fairly straightforward.
Whether you are trying the Green or the Blue or comparing the two, the procedure is the same. Find your shoe size on the box which will correspond with a letter. For example, men's shoe size 9.5-11 is a size "E" in Superfeet, and men's shoe size 11.5-13 is a size "F". There are charts online and in the store.  So, if you are a size 10 men's you will get a box labeled size "E" and also open a box of size "F".
Place all 4 on the floor and in socked feet, place your heels in the heel cup and line the balls of your feet with the inner edges of the insole. If the cup is too loose go down a size and if it is overlapping the cup, go up one size. The heel cup is the most important determiner.
Next, if you find you are a comfortable fit in either size E or F you will want to see how the arch feels against the arch of your feet. The larger size will have an arch more forward and the smaller size will have an arch closer to your heal. Where does your foot kind of say "awwwwwwww" Pick that one!
If you are not sure, it is best to have the arch a bit closer to your heal than the ball of your foot. Don't worry if there is a little gap between your arch and the arch of the insole. The flexibility of your foot and the flexibility of the insole will accommodate this space once in your shoe.
Finally, your toes should not overlap the insole. If they do, it is another sign you need to go larger. The insole should line up just ahead of your toes or further. The excess will be trimmed so it will fit in your shoe. For trimming, you may also use the liner already in your shoe to make a template for trimming your new insole.
The Cost
This is where you may clutch your wallet. At the time of this article, the price is $54.99. Indeed, this may be more than you paid for your shoes. You may be wondering how you can justify such an expense. These insoles may well outlast your shoes. So do not throw them out with your shoes. They can be used in your new shoes.
These are of "orthotic" quality, and they are meant to endure. No, they will not last forever but have a look at these ratings on Amazon. There are 7,272 global ratings and they are holding at a 4.5 out of 5 with some people reporting insole longevity of 7 to 9 years. L.L.Bean has them at 4.5 stars as well.
Finally, REI also shows an overall rating of 4.5. Once you get a pair yourself you may understand why so many people praise this insole maker.
I bought my first pair in Denver Colorado at an REI for $25.00 in 1997. I had mine for 6 years in my 300-dollar hiking boots. I hiked 4 of Colorado's "fourteeners" and 3 "thirteeners".
This is a well-known term in Colorado for mountain climbs that exceed 13 or 14,000 ft.  I have hiked multiple segments of the Continental Divide Trail and The Colorado Trail. I can attest to the durability of the Green models' comfort and durability. They are excellent insoles. I have not personally tried the Blue model but I do believe in the quality of the company.
Beyond the Green and Blue
The Green and Blue models are the most popular and a great place to start but there are now around 25 models. So, if you really want to get the "Goldilocks" fit, Superfeet probably has it.
The Black model is worth a mention here is it the closest match to the Green and Blue. From thick to thin and from high arch to low arch, you would list them this way: Green, Blue, Black.
Black is the lowest profile. It is most ideal in tight-fitting shoes like inline skates, rock climbing shoes, bicycling shoes, and in shoes where the original insole cannot be removed. But don't underestimate its performance by its thin profile. It carries the same features and warranty of both the Blue and the Green.
Still on the fence? Or perhaps you want to take a look at all the Superfeet store has to offer. Here is a handy feature from the Superfeet store called, Insole Finder. The questionnaire will guide you through a series of questions to narrow you down to the most ideal models for you.
You can then click on your chosen insoles for a full description of their features, and prices. Then you can put it in your cart to buy it right away or head to your local store armed with all you need, from the model name, SKU#, and letter size.
Superfeet Health and Wellness
The Superfeet website also has an informative Blog filled with informative articles on injury prevention, running, hiking and outdoor sports, foot health, tips and tricks, and more. It is worth checking out and it's free.
The Value of Upgrading Your Insoles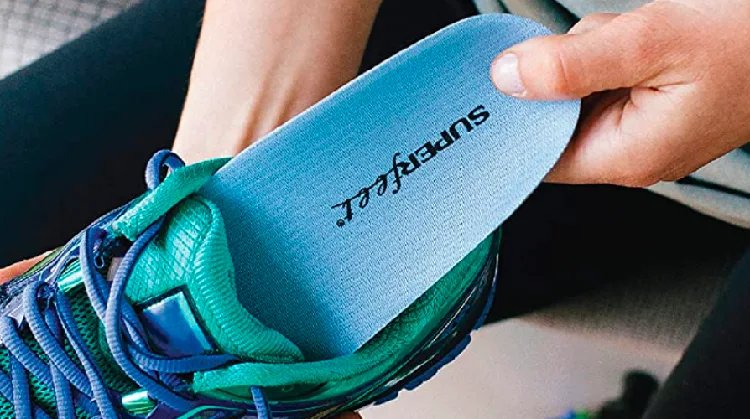 If your feet are tired or sore at the end of the day you may simply need to change your insoles. Shoe manufacturers invest most of their time and money on how the shoe looks from the outside. The inside of the shoe is often made as a "one size fits most" insole at a minimal cost. This in turn also saves the consumer money.
In general, it is not a bad place to shave costs. However, depending on your feet and what you do while on your feet, upgrading to a premium insole may be key to keeping you and your feet feeling comfortable.
FAQs
Question: Is there a break-in period for these insoles?
Answer: Yes, for some people it might take a little time to get used to them. Superfeet recommends wearing them for 1-2 hours a day in your first week, then 2-3 hours the next week, keep increasing the time until you are used to them. This is most common with the green because of the higher arch. The Blue and the Black take a little less time.
Question: How do I know the best model for my needs?
Answer: Superfeet has an online app (Superfeet Insole Finder) to help you narrow down your choices and it does a surprisingly good job.
Question: Does Superfeet offer a guarantee on their insoles?
Answer: Yes, there is a 60-day satisfaction guarantee. If you are not satisfied in 60 days, they can be fully refunded. They also have a 1 year or 500-mile warranty. After 60 days but less than 365, you can replace your insoles if they are damaged from normal wear and tear.
Question: Do I need to trim these inserts myself?
Answer: Superfeet insoles are sold in size ranges. In most cases, you will need to trim them unless you happen to have the size shoes at the upper range of your insole. They are easily trimmed to your size with scissors.
Question: Are Superfeet sold in my area?
Answer: Please use the store locator to see if there is a retailer near you. If not, you can order from the Superfeet store directly.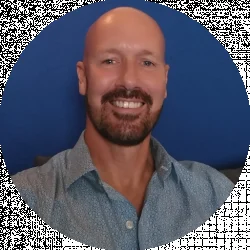 Latest posts by Jason McLay
(see all)