If you're feeling a sudden pain in the area above your heels and below your calf muscles, you may be suffering from Achilles Tendonitis. This condition is relatively common in the case of long-distance runners, as well as people who stand for long periods of time. While the latter can be fixed by standing less, the former is inevitable if you are a long-distance runner.
Being a long-distance runner, I can completely relate and understand how difficult it is to deal with Achilles Tendonitis. Nevertheless, the good news is that you don't need to limit your running time anymore. All you need are running shoes for Achilles Tendonitis. And, that's what we'll be tackling here.
In this detailed guide, we'll tell talk about how to find the best running shoes for Achilles Tendonitis. Read on to know more.
What is Achilles Tendonitis?
Achilles Tendonitis is an extremely painful and uncomfortable inflammation at the back of the lower ankle where the tendon is attached to the heel. The burning and piercing sensation often interfere with daily activities such as walking and running. The pain increases when you point your toes upwards while sitting or rise on your toes while standing. As Achilles tendon is avascular, it might take a lot of time to heal.
The Achilles tendon is the strongest tendon in the human body and works as an anti-pronator which means that it prevents your feet from rolling inward. This is the main reason why overpronation causes pain in the Achilles Tendon. Certain factors such as tight heel cords, a sudden change in activities, change of shoes,or poor foot alignment can make you susceptible to Achilles Tendonitis.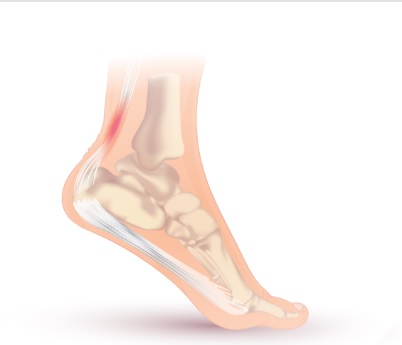 What are the common causes of Achilles Tendonitis?
The common causes of Achilles Tendonitis include:
Overpronation
Stress on the tendon
An injury to the tendon
Improper stretching before any athletic activity
Genetic deformity in tendon or heel bone.
How can you deal with Achilles Tendonitis?
If you are going through intense pain, there are some easy ways to get symptomatic relief. To deal with Achilles Tendonitis, you can:
Avoid walking barefoot
Stretch sufficiently before any athletic activity
Get your foot examined periodically
Achilles Tendonitis and your footwear
If you are looking for the best way to deal with the painful Achilles Tendonitis condition, you should consider changing your footwear. Buy shoes that slightly elevate your heel. This will reduce the pressure on the tendon and hence, the pain will subside. You can also use shoe inserts to provide your heel with proper elevation.
Always buy footwear that controls the inward rolling of your foot. The markets have many footwears that are designed to control overpronation and offer optimum arch support. You can also use inserts to prevent pain and discomfort.
On the markets, you will find several running shoes for Achilles Tendonitis. All you need to know is how to find the best running shoes for Achilles Tendonitis. Don't worry; we'll be covering this topic in detail in the upcoming sections.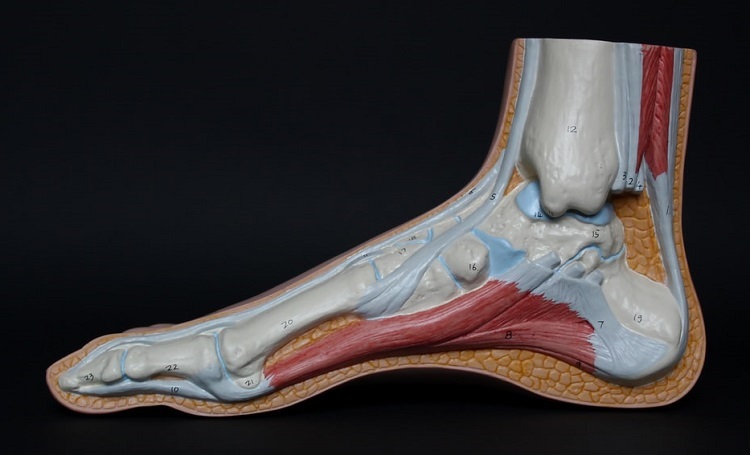 Significant features of the best running shoes for Achilles Tendonitis
Running shoes for Achilles Tendonitis provide good cushioning, as well as strength that helps in reducing the impact on legs. The supportive structures prevent shifting movements of the feet and ankles that can put pressure on Achilles tendon.
Mentioned below are some more features that can be found in the ideal running shoes for Achilles Tendonitis:
Achilles tendon protector
On the market, you will find many shoes that will offer great protection to Achilles tendon. These shoes tend to lock your heel and hence, reduce stress on the tendon.
Heel collar
Running shoes with elaborated heel collar offer optimum cushioning to the ankle and provide excellent fit.
Insole
Good insoles provide proper support and cushioning to your feet and arch.
Foam, Gel or Air Midsole
The latest shoes use many leading midsole technologies, but to ensure that your tendon doesn't hurt you, stick to foam, gel or air midsoles. These midsole materials provide good cushioning and also prevent your feet from the impact caused when feet strike the ground.
Outsole
Shoes that feature treads and grooves on the outsole offer admirable traction.
Upper
Shoes with mesh upper are the best as mesh material is light in weight and provides excellent ventilation.
Toe Box
Round and wide toe box allow free movement of toes.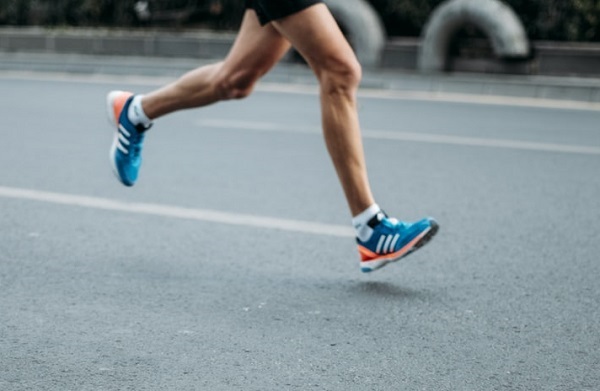 How to find the best running shoes for Achilles Tendonitis
Important factors to consider
It's highly recommended you consider the following important factors mentioned below before buying running shoes for Achilles Tendonitis. These include:
The shape of your feet
When we buy shoes, we only consider the size, not the shape. So, the next time you plan to buy running shoes for Achilles Tendonitis, make sure they conform not just to the size but also to the shape of your feet, to keep foot problems at bay.
Length and width of the shoes
It goes without saying that you shouldn't buy shoes that are too wide or too narrow. Also, pay attention to the toe box. It should be roomy enough to accommodate your toes and allow you to move them without any restriction.
Buying an improper fit can contribute to problems like calluses, blisters, hammertoes, and bunions.
Arch type
This is something that many people overlook. But, being a runner, you should keep your prime focus on your arch type and buy running shoes that could support you while running.
You will get many shoes for every arch type on the market. Buy the one that goes with your arch type.
Best Running Shoes for Achilles Tendonitis
Now that you've gathered enough information about the problem, its causes and how you can make a well-informed choice, it's time to learn more about the best running shoes for Achilles Tendonitis.
The individual product reviews are based on first-hand experiences, feedback of experts, and reviews and ratings of existing customers. The shoes have been tried and tested on several parameters. By the end of this guide, you'll be able to make an informed decision and pick the best running shoes for Achilles Tendonitis.
Here are the 4 best running shoes for Achilles Tendonitis.
ASICS Gel Nimbus 18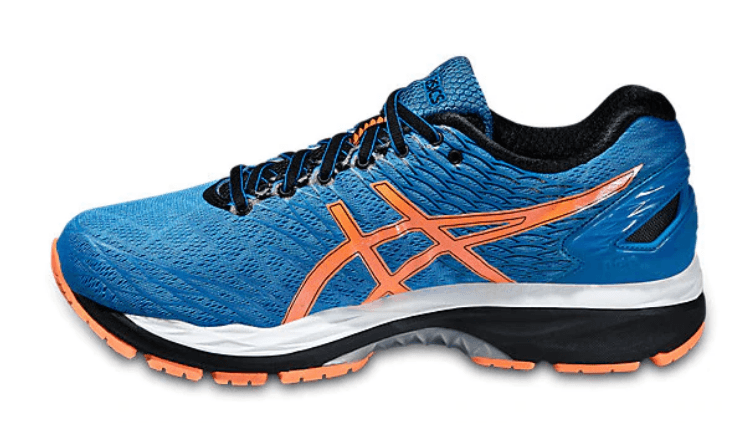 Notable Features:
Use of AHAR rubber in the outsole
ASICS Rearfoot and Forefoot Gel cushioning for better shock absorption
Use of FluidRide technology in the midsole for a responsive cushioning
Guidance Trusstic System providing optimum support and torsional rigidity
Breathable mesh upper
Sole Technology
The outsole of ASIC Gel Nimbus 18 features the patented ASICS High Abrasion Rubber (AHAR) outsole which ensures durability. The use of DuraSponge technology in the forefoot area provides flexibility and cushioning. The blown AHAR element in the forefoot offers durability.
The midsole of these shoes brings in use ASICS Rearfoot and Forefoot Gel cushioning that provides unparalleled shock absorbing capability. To enhance the responsiveness and durability, the manufacturers have used FluidRide technology. The of Guidance Trusstic System provides support and torsional rigidity.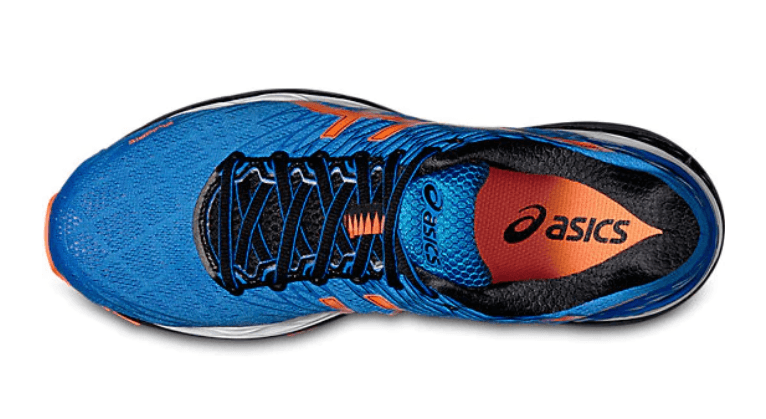 Upper
The engineered mesh used in the upper is extremely breathable and light in weight. The seamless upper construction keeps irritation away, and the FluidFit technology offers admirable fit.
To enhance the fit, the shoes feature a heel clutching system. Upgraded laces and discrete eyelets make these shoes better than their previous version.
Pros
Excellent impact absorption guaranteed by Gel Cushioning system
Responsive and durable
Better mid-foot support
Comfortable
Well-ventilated upper
Excellent fit
Cons
Narrow toe box
Midsole feels stiffer
On the expensive side
Mizuno Wave Rider 21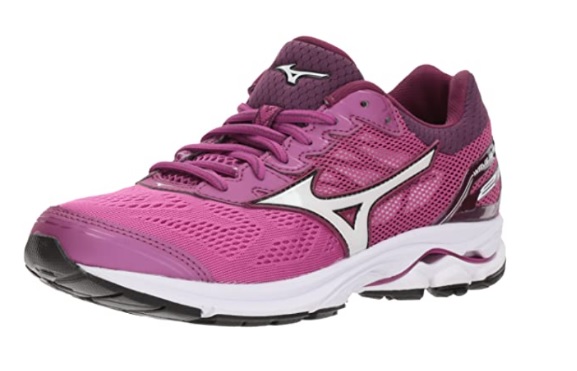 Notable Features:
The robust x10 carbon rubber helps in absorbing the landing impact and providing durability
Blown rubber at the forefoot offers cushioning
Flex controllers offer flexibility to the bottom
U4ic midsole enhancing overall performance
U4ixC Heel Wedge offering a responsive ride
Cloudwave design in the midsole
Anatomical sock liner
Upper featuring Dynamotion Fit design
Lace-up closure system
Sole Technology
Mizuno's X10 carbon rubber covers the heel area and aids in absorbing the landing impact. This feature enhances the durability.
The forefoot features air-injected blown rubber that makes it more flexible and lighter in weight. Furthermore, it helps in equal distribution of force, offering responsiveness, energy return, and apt cushioning.
Flex Controllers at the bottom enhance flexibility.
The midsole of Mizuno Wave Rider features U4ic, which is a very lightweight material. 30 percent of the shoe's midsole is made of this rubber. It helps in offering responsiveness and shock absorption capability.
The use of U4ixC Heel Wedge further enhances responsiveness and cushioned feel. The CloudWave design that runs from heel to midfoot offers a soft and smooth ride.
Runners will have a highly responsive ride with the U4ixC Heel Wedge. It's very similar to the U4ic technology, only that it delivers a softer, pillow-like experience underfoot. This wedge enhances the cushioned feel on the heel and assists in distributing the impact felt by runners upon landing.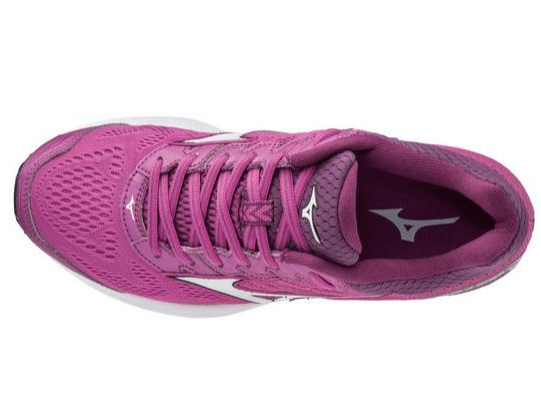 SmoothRide helps in gaining good control over acceleration and deceleration and hence, promoting natural movement.
The anatomical sock liner provides better cushioning and adds responsiveness.
Upper
The mesh upper features Dynamotion Fit design which helps in easing foot movements during the gait cycle. The material is flexible and well-ventilated. The logo made of synthetic material offers structural support.
The lace-up closure keeps your foot in place and prevents shoe removal. Heel padding enhances comfort and shock and prevents irritation.
Pros
Unparalleled cushioning and support
Use of high-quality materials
Comfortable
Light in weight
Well-ventilated upper
Better traction
Cons
Limited color options
Narrow toe box
Brooks Ghost 10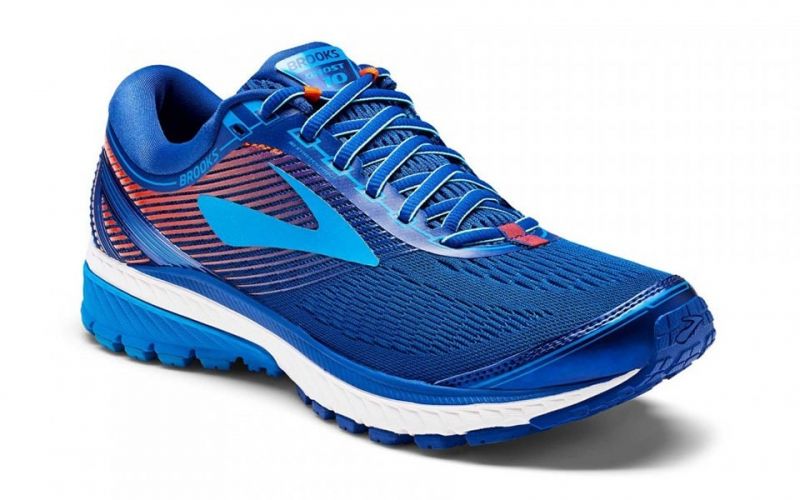 Notable Features:
Use of two types of rubber offering durability and flexibility
Brook's Cush Pod Configuration establishing balanced movements
Omega Flex Grooves offering flexibility
Profile Sock liner offering a more cushioned feel
Breathable upper
Adjustable saddle construction in the upper
Sole Technology
The outsole of these shoes features two types of rubber- HPR Plus, as well as blown rubber. The forefoot area is covered with blown rubber, whereas the heel area is covered with HPR Plus. Blown rubber offers flexibility and durability and HPR Plus offers traction and added durability.
Brooks' Cush Pod Configuration is one of the most sought-after features of these running shoes. The feature offers optimum cushioning and set your foot is a poised position from heel strike to toe-off. This enhances the efficiency of forward propulsion.
The midsole of these shoes uses BioMoGo DNA which is a combination of BioMoGo and DNA foam. This technology ensures proper adaptability, flexibility, energy return, and a very responsive ride.
Another technology used in these shoes is S-257 Cushshole that delivers added cushioning in the form of an insole. The insole offers an amazing in-shoe feel and great comfort.
To enhance the flexibility of these shoes, the manufacturers have used Omega Flex Grooves that feature a ridge-like pattern on the sides of the shoes. The grooves provide a cushioned feel.
To further improve the cushioning, the manufacturers have used the Profile Sock Liner. This layer offers extra padding that improves the overall feel of the shoes.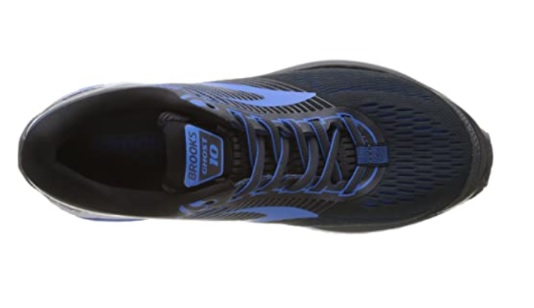 Upper
The upper of Brooks Ghost 10 is made of engineered mesh. The material is extremely comfortable, lightweight, and breathable. It allows the air to pass through itself and hence, the inner environment stays dry and cool during the running sessions.
The fabric adapts to the shape of your foot and offers superlative coverage.
To maintain the structural integrity of the shoes, the makers have used synthetic overlays. These overlays are placed on the toe tip, midfoot and the heel area to maintain the shape of the shoes. The best thing about these overlays is that they don't add extra weight to the shoes.
The adjustable saddle construction helps in offering a great fit to the shoes. The midfoot area offers a very snug fit.
Pros
High-performance construction
Excellent shock absorbing quality
Comfortable
Robust and less bulky
It does not cause foot pain
Cons
An underfoot platform is quite low
Lacks proper arch support
Quality of cushioning is sacrificed
No grip on wet surfaces
Durability is an issue
Saucony Triumph ISO 4
Notable Features:
Robust XT-900 rubber in combination with IBR+ rubber offers a responsive and flexible outsole
Tri-Flex design feature to improve flexibility
EVERUN foam midsole offering excellent shock absorption quality
High Elasticity Sockliner offering cushioning, as well as flexibility
Upper incorporating technologies like ISOFIT and RUNDRY Collar Lining
| | |
| --- | --- |
| Type | Running shoes for Achilles Tendonitis |
| Price | $93.04 – $160.00 (Check out the latest rates here!) |
| Heel-to-Toe Drop | 8 mm (0.31 inches) |
| Heel Height | 28 mm (1.10 inches) |
| Forefoot Height | 20 mm (0.78 inches) |
| Upper | Engineered Mesh |
| Outsole Technology | XT-900 carbon rubber and IBR+ |
| Midsole Technology | EVERUN Foam |
| Width | Narrow, Wide |
| Arch Support | Neutral |
| Terrain | Road |
| Weight | 306 g (10.79 oz) |
Sole Technology
The outsole of these running shoes is made of XT-900 carbon rubber which guarantees amazing traction. The robust compound prevents the shoes from wear and tear.
The forefoot section of these shoes features IBR+ Rubber, also known as Injection Blown Rubber. The lightweight rubber offers responsiveness, springiness, and flexibility.
To add more flexibility to the outsole, the manufacturers have also added a Tri-Flex design involving grooves and patterns on the outsole.
It also possesses unmatched
The midsole of these shoes features EVERUN foam running the entire length of the shoes. The foam provides drool-worthy cushioning and also possesses unmatched shock absorption quality. The foam distributes the energy and enhances comfort.
The EVERUN Topsole provides needed thickness, cushioning, and support. The High Elasticity Sockliner provides needed flexibility and cushioning.
A noteworthy feature of the midsole is the presence of small pored to facilitate air circulation inside the foot chamber.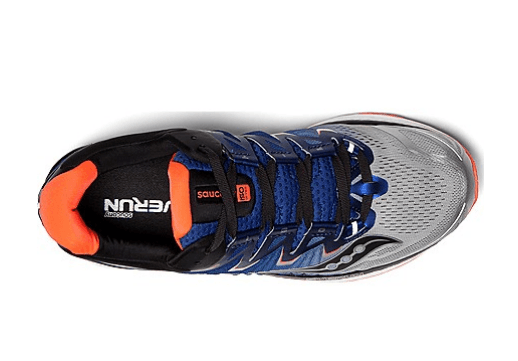 Upper
The upper of these shoes is made of engineered mesh. It offers adaptable coverage and a snug fit. The ventilation apertures make sure that the foot chamber stays cool and dry making it very comfortable for the runner.
ISOFIT system used in the upper incorporates stretchable mesh. The synthetic overlays offer a snug fit.
The heel and ankles are surrounded by the RUNDRY Collar Lining that keeps moisture and odor away.
The padded tongue, as well as the collar, keep the foot in place and prevent accidental shoe removals.
Pros
Excellent cushioning
Soft and supportive upper
Flexible
Cons
Expensive
ISOFIT system causes blistering
Midsole is less reactive
Narrow fit
Stiff
Final thoughts on the best running shoes for Achilles Tendonitis
If you are experiencing pain in your Achilles tendon, it is high time you change your shoes and consider picking a running shoe that's best for dealing with Achilles Tendonitis, like all the ones mentioned above.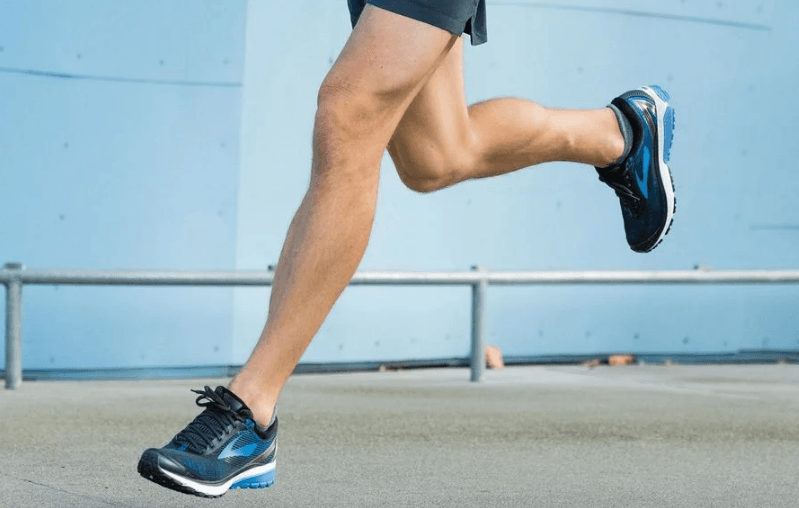 The shoes reviewed in this guide are some of the best on the market, however, if you're looking for a straight out winner I would personally recommend you consider buying the Asics Gel Nimbus 18 running shoes.
The use of DuraSponge technology in the forefoot area provides flexibility and cushioning, while the robust heel clutching system keeps your heels in place putting minimum pressure on your Achilles Tendon. With unmatched features and design, the Asics Gel Nimbus 18 running shoes really stand out for runners who are suffering from Achilles Tendonitis.
If you have any questions on how to find the best running shoes for Achilles Tendonitis, please comment below. Also, if there are any more products that you would like us to review, please drop us a note. We'd be would be more than happy to assist you.
Further read: