Nike sports shoes are very popular among running enthusiasts and even professional marathoners. The company has launched a large array of different models that can suit a lot of sizes, motions, trails, and budgets.
One thing that the brand commits to is always coming with new innovative shoe technologies which maintain their products' performance in line with the highest standards.
The models presented below are versatile, resistant, comfortable, and stylish, not to mention they are good for all runner categories, from beginners to professionals.
Top 10 Best Nike Running Shoes
1. Nike Zoom Pegasus 36
The Pegasus product line was always a very popular one among Nike fans. This particular model is updated and upgraded one.
The shoes are great for running; they are lightweight and budget friendly.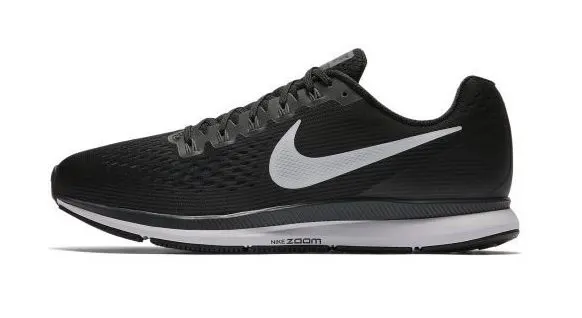 Nike Zoom's main characteristic that makes them so suitable for running is a great mix of responsiveness and cushioning.
The foot motion is very smooth so you will benefit from a natural ride. A pair of Pegasus 36 works wonders, no matter what your running pace is.
Pros
These running shoes have a very nice design;
They are lightweight so your feet will feel very comfortable;
The front part is wider which leaves plenty of room for your toes, regardless of your foot shape;
You will experience a well-cushioned yet quick feeling with these sports shoes.
Cons
After a while, especially during long running sessions, the shoes' mid-sole might start to show a certain level of compression;
It comes with cushion foam that struggles with heat.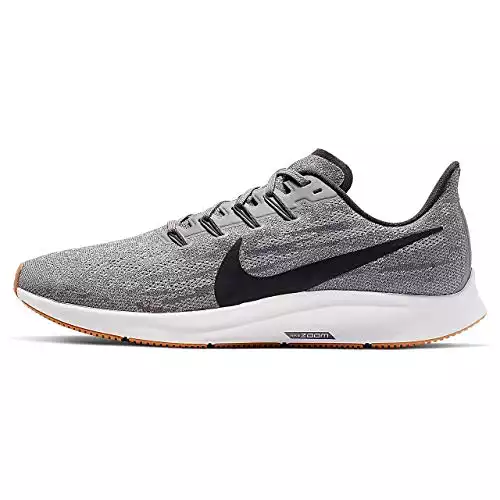 Nike Air Zoom Pegasus 36 | Amazon
The iconic Nike Air Zoom Pegasus 36 is updated with multiple perforated inserts and engineered mesh on the upper for strategic breathability in the warmer spots. The slimmer tongue and collar portion at the heel reduce clutter without compromising comfort, while exposed Flywire cables ensure a comfortable fit when the speed rises.
Buy for Men
Buy for Women
We earn a commission if you click this link and make a purchase at no additional cost to you.
02/08/2023 12:00 am GMT
Price
You can purchase the Nike Zoom Pegasus 36 shoes on Amazon. Their price varies between $88 and $266, based on factors such as color and size. (Check out the latest rates here!)
2. Nike Winflo 5
Nike Winflo 5 is a product that's very lightweight and is marketed at a lower price compared to other Nike sports shoes.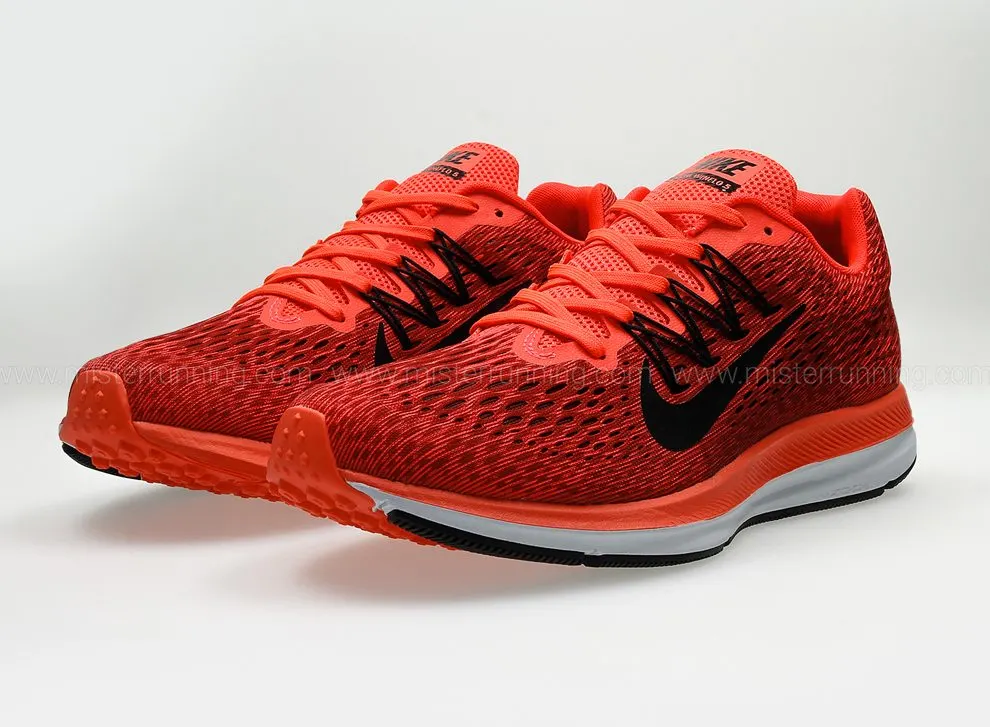 In other words, these might be your ideal option if you're searching for decent daily trainers without breaking the bank.
Although their responsiveness isn't as good as the one provided by Nike's Pegasus line, Winflo has a reliable grip and a nice cushioned ride.
Pros
They offer great value for their price;
These shoes have a sturdy grip yet they are nicely and comfortably cushioned;
Nike Winflo 5 is suitable for a large array of running workouts, from regular roads all the way to moderate trails;
The heel part is padded. This particular feature makes the shoes very good for long runs.
Cons
While this model is more affordable than other Nike running shoes, it's true that it doesn't provide the same support that higher-priced options have;
The product might not be the best choice if you like to run at faster paces because the lockdown is slightly lacking.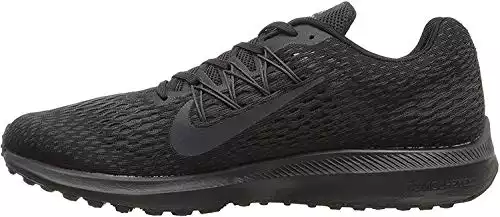 Nike Zoom Winflo 5 Running Shoe
This Nike sneaker is designed for the comfort and durability required by an athletic lifestyle Resilient rubber soles and long-lasting synthetic ensure that this training shoe will weather your most extreme workouts The Zoom Winflo 2 by Nike is sure to be a backbone of your athletic attire.
Buy for Men
Buy for Women
We earn a commission if you click this link and make a purchase at no additional cost to you.
Price
The price of a pair of Nike Winflo 5 running shoes ranges between $68 and $180 (Check out the latest rates here!), depending on your chosen size and color.
3. Nike Epic React Flyknit
These lightweight shoes are good for all-around daily training. From speed exercises to long runs, there's nothing Epic React shoes cannot endure.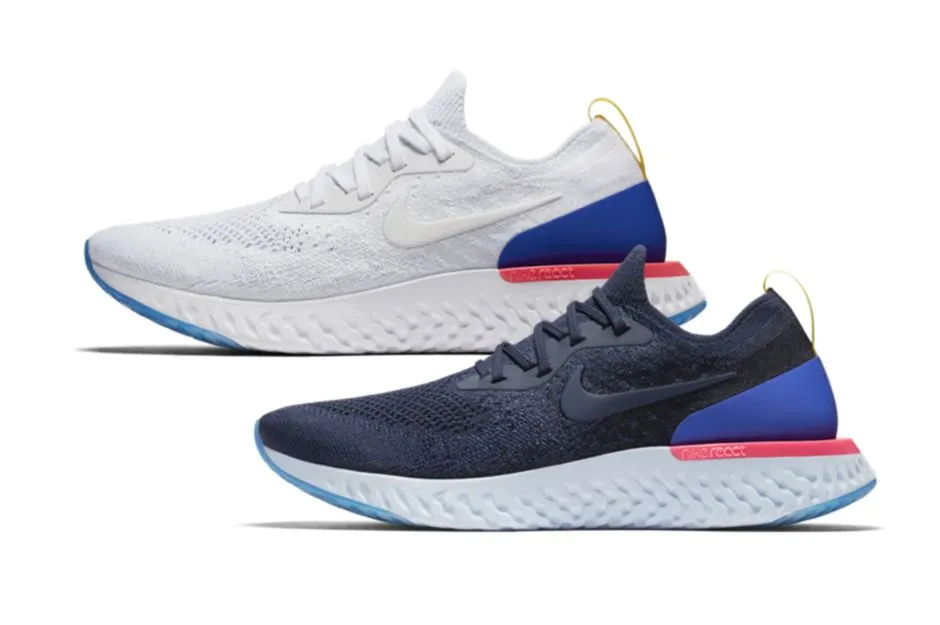 The upper part is form-fitting which makes the shoes adjust to your feet's shape after a while. Nike has designed this model with durability in mind.
The majority of clients simply fall in love with the shoes' design from the very first moment they unbox their order.
Pros
The foam of these shoes is incredibly durable which makes them the real deal when it comes to long and fast-paced runs;
According to users, the structure never feels sloppy;
This Nike model stands out due to its form-fitting design that makes you feel comfy and secure even during sharp turns;
The ride features the perfect combination of softness and responsiveness.
Cons
Their heel counter can be slightly rigid which some runners notice at first but once they start working out, the sensation goes away;
If you have wider feet, you might consider these shoes a tad constricting.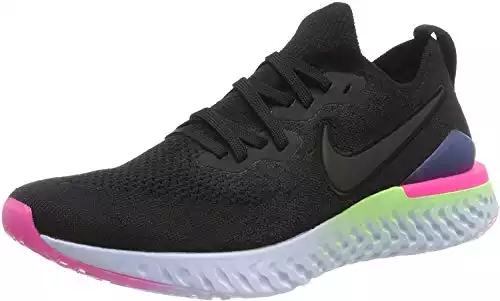 Price
If you decide to buy the 'Nike Epic React Flyknit shoes, you will have to take between $132 and $240 (Check out the latest rates here!) out of your pocket but they are totally worth it.
4. Nike Legend React
Nike's manufacturers have outgrown themselves when they launched the Legend React model.
This shoe has a smooth upper fitting, has a design oriented towards a gentle ride, and it isn't very expensive.
It is marketed with mid-foot overlays which offer a more secure feeling. Nike has relied on a new polymer type which creates a better kind of foam.
According to them, Legend React provides improved performance as well as a long-lasting comfort, all at lower temperatures.
Pros
The React technology delivers an excellent soft sensation which further leads to smooth rides;
You will always feel secure by wearing these shoes due to their mid-foot overlays;
They come with partial bootie wraps which enable a snug fit;
The material is breathable and lightweight so you will have plenty of ventilation.
Cons
The tongue element is made from a material that's not very breathable;
Some people seem to think that the upper part of the shoe has questionable durability;
Forefoot strike runners might find these shoes a bit odd, especially when it comes to the feeling they experience around the heel structure.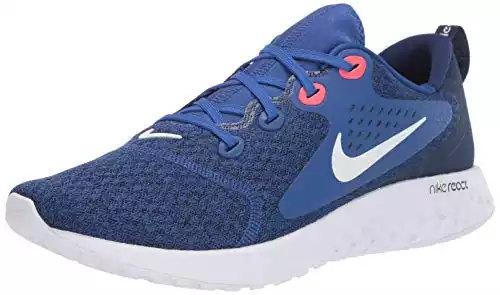 Price
On Amazon, you can find the Nike Legend React shoes for a price that varies between $100 and $160 (Check out the latest rates here!).
5. Nike Odyssey React
This is the second model that Nike has created which features the popular React foam technology. It's both durable and budget-friendly.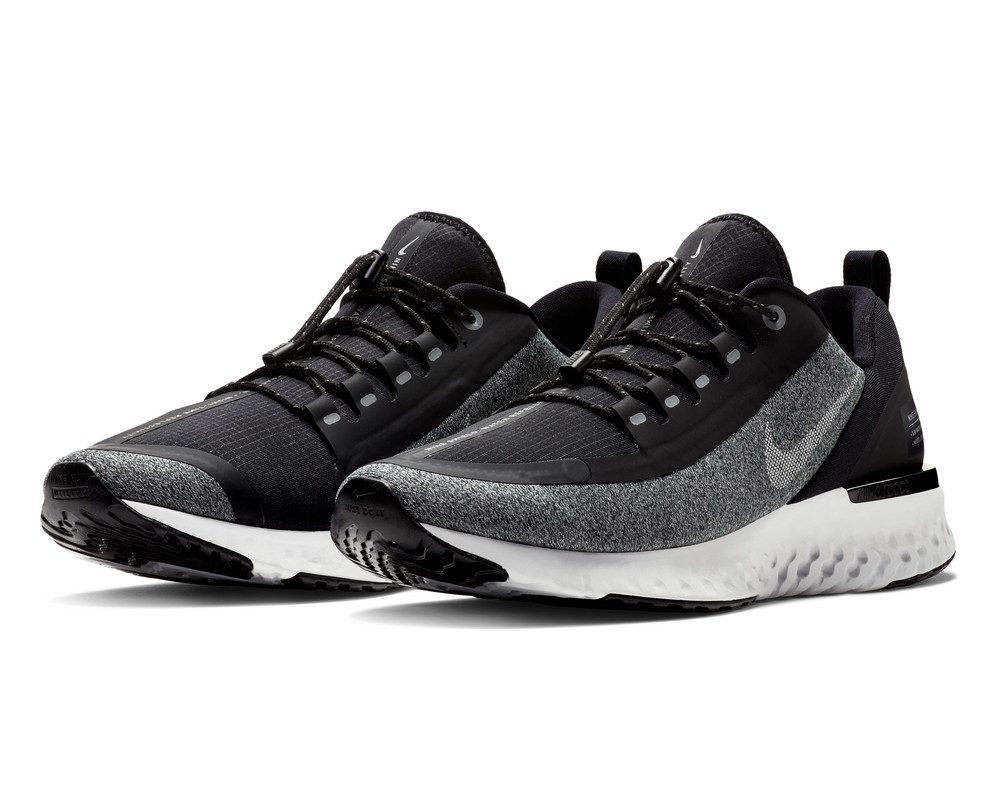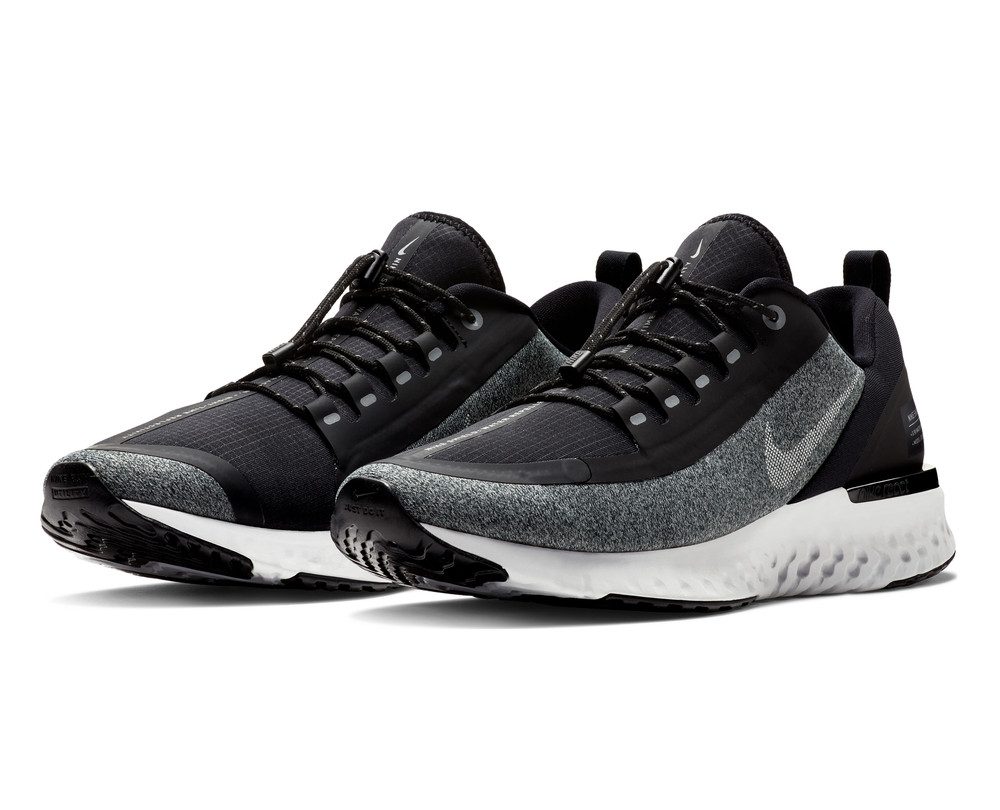 Unlike Flyknit, Nike Odyssey React comes with a more structured upper part. These sports shoes serve multiple purposes and they are well-suited for those of you who run on smooth surfaces.
Moreover, you can easily wear them as casual shoes due to their attractive design.
The area of the shoe that covers the heel is quite soft and comfortable. Compared to Flyknit, Odyssey React are more flexible and very stretchy shoes.
Pros
The shoes are lightweight;
They feature a durable midsole structure that will maintain its form even after long runs;
The cushion element has a balanced soft response to your feet's movements;
Nike Odyssey React shoes have a very appealing design. The majority of clients consider these very good-looking.
Cons
The main drawback is the fact that these shoes work best only on smooth surfaces. If you want to use them on less-than-perfect terrains, you might be disappointed by their sole which doesn't provide a solid grip or a high protection level;
The forefoot part is pretty narrow.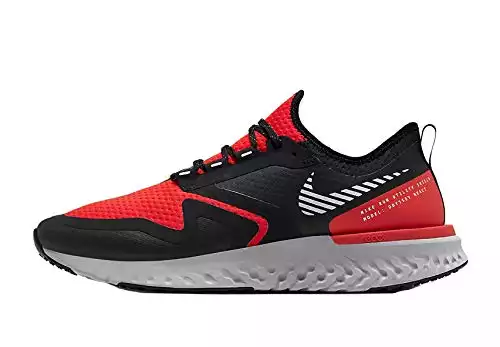 Price
The price of one pair of Nike Odyssey React sports shoes ranges between $66 and $250 (Check out the latest rates here!), based on several factors like model, seller, and size.
6. Nike Zoom Structure 22
This is the only shoe model that remained in the brand's product lineup that has a traditional look.
Apparently, Zoom 22 offers the stability you need and they work just fine even for people who have flat feet.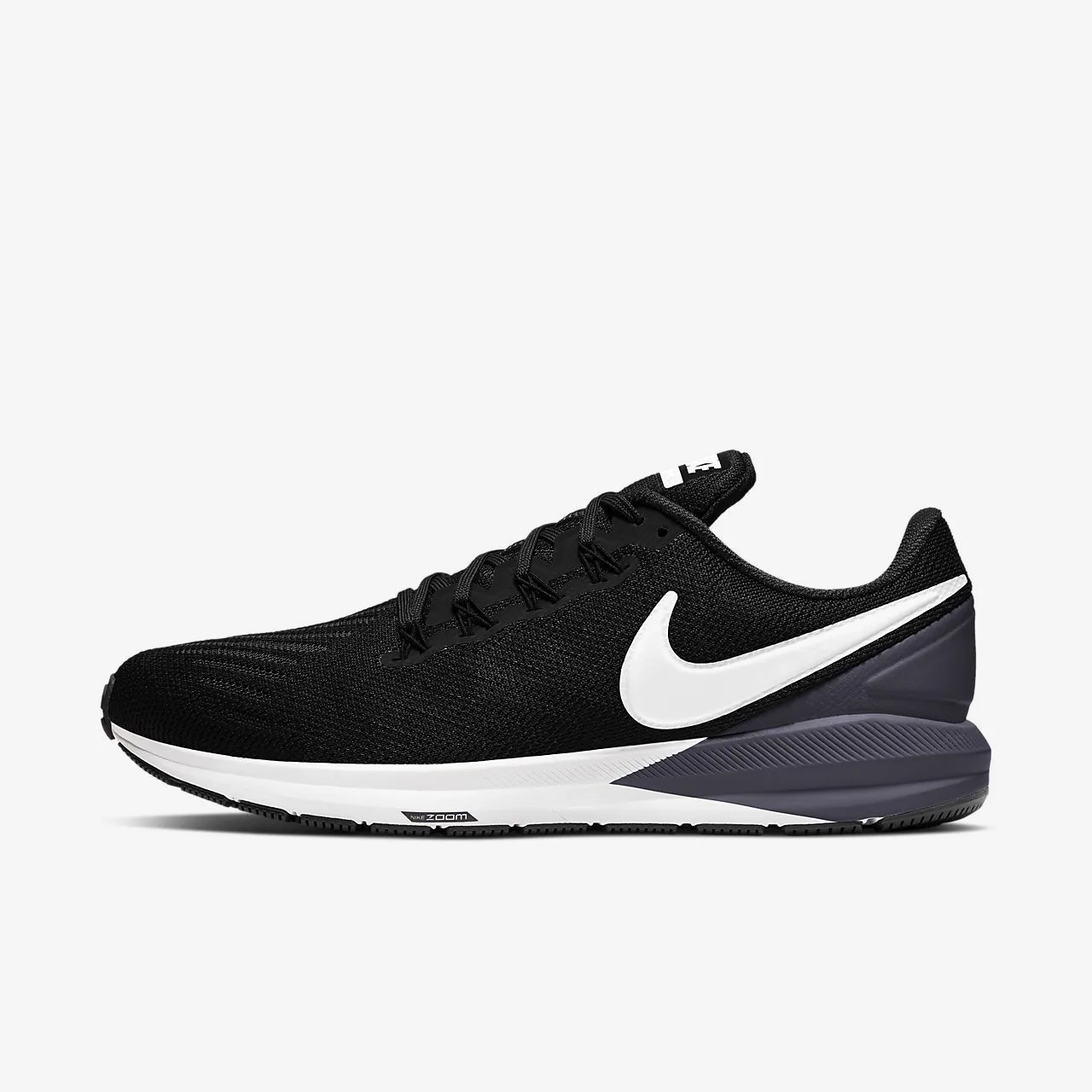 On the other hand, they have both advantages and downsides: some clients have claimed that the hill part feels a little too wide and large.
All in all, it seems that the shoes' sole unit is kind of uninspired.
Pros
There are plenty of color options you can choose from;
The upper elements were updated and improved;
The model features Flywire cables in the middle part that are supposed to provide a higher level of support and lockdown;
You will benefit from reflective heel colors;
The cushion is made from a premium material: ST foam.
Cons
The heel elements can feel a tad loose instead of offering a better grip;
You need to take them for a spin before actually feeling truly comfortable in these shoes;
According to some users, the sole of the shoes, which is made from rubber, is unresponsive.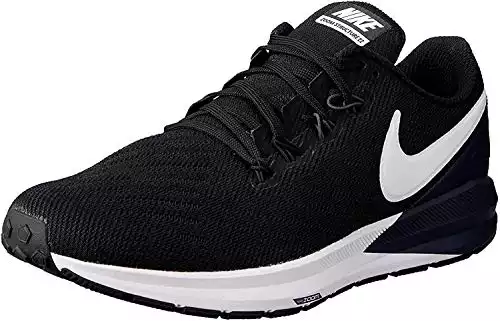 Price
The Nike Air Zoom Structure 22 are sold online, starting at $86 but their price tag can go all the way up to more than $250 (Check out the latest rates here!).
7. Nike Zoom Vaporfly 4%
If you want to purchase a very good pair of sports shoes to use in marathons, then this Nike model should be your first pick.
Before creating this particular model, Nike representatives have engaged in several research sessions to come up with great quality and design.
Still, if you want to wear the best marathon shoes, you must be willing to cover a price tag that's quite high.
Pros
These shoes were created to meet and even exceed the expectations, needs, and preferences of world-class marathoners;
According to the manufacturer, the product has great features that help you reach record-breaking running speeds;
They offer a good level of support and the fabric is a breathable one;
This shoe running model has a responsive foam;
It represents a wise investment as long as you're a serious and committed runner.
Cons
The only downside I was able to find is the one related to price. These shoes aren't cheap but they provide great value for the money.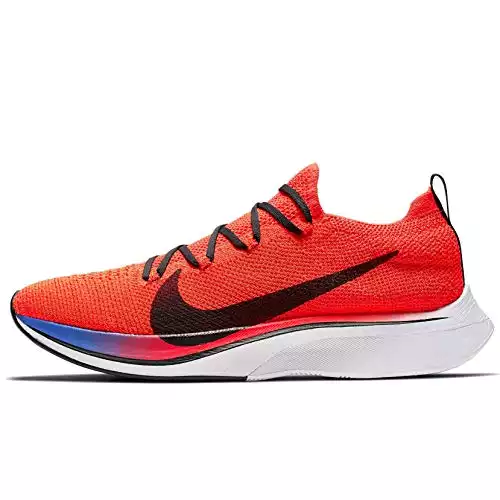 Price
Those interested in buying this product can find it on the brand's official website. Nike Zoom Vaporfly 4% shoes cost $250 on nike.com and you can choose from two available colors: blue (deep royal) and red.
8. Nike Speed Rival 6
These medium-priced Nike Rival 6 running shoes are durable and well-cushioned with plenty of other amazing features.

These flats are suitable for running and were created for people who seek more space in their sports shoes, especially around the toe box as well as the midfoot.
It's true, however, that most runners have a love/hate type of relationship with most racing flats.
If you're an avid runner, you're probably looking for a product that offers a decent cushioning effect and a tad of stability that comes in handy for longer distances.
Pros
Their design is sleek yet simple;
Nike has created flats that provide a better structured compared to many other similar products;
You will enjoy enough room which comes in handy for people with wider feet;
The cushioning is responsive and the shoes will work even during long runs or marathons;
The midsole feature a hexagonal shank which is supposed to help you during faster-paced running sessions;
Nike Speed Rival 6 are lightweight and have a good grip.
Cons
If you have narrow feet, you might not like the structure of these shoes because the grip won't feel the same;
At first, you might consider that the mid foot part of the shoes feels a tad sloppy. However, this small issue won't negatively impact your running;
A few users claimed they felt a small sensation of soreness after marathons which appears under the foot's arch but this might represent an issue for individuals who deal with flat feet.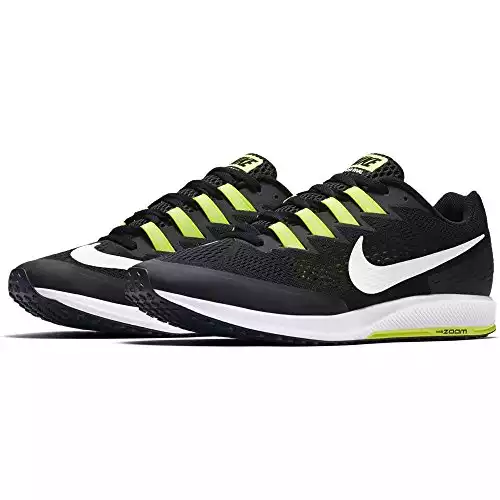 Price
Nike Speed Rival 6 costs $146 (Check out the latest rates here!). 
9. Nike Air Zoom Wildhorse 5
Nike has launched the fourth upgraded version of their Air Zoom Wildhorse model.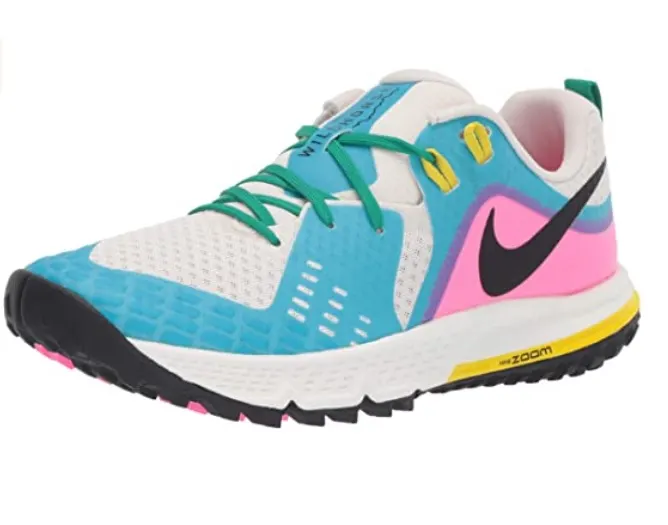 These updated shoes have a brand new mid-foot fitting system which works amazingly for most people but it will also feel a bit unnatural for runners with wider feet.
As long as these shoes fit you well, you will be more than satisfied with their level of protection, comfort, responsiveness, and support.
Wildhorse 5 is a product that's worth trying and it represents a solid trail alternative.
Pros
Wildhorse 5 provides plenty of protection;
They are very durable and offer support during long running sessions;
The product comes with a new mid-foot fit system;
The rubber parts are high-abrasion and the outsole is created to last on multi-surface trails;
Nike Air Zoom Wildhorse 5 are durable shoes and their mesh material won't disappoint you.
Cons
In terms of flexibility and breathability, these sports shoes might not the ideal choice;
Their new fit system works great as long as your feet aren't very wide. Otherwise, you might experience an annoying sensation of narrowness.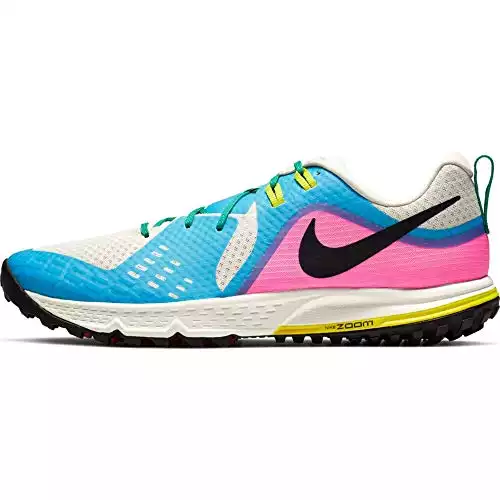 Price
On Amazon, the price of Nike Air Zoom Wildhorse 5 shoes is situated between $109 and $229 (Check out the latest rates here!), depending on the seller, size, and model.
10. Nike Terra Kiger 5
This quick trail runner comes with great cushioning and the price point is very appealing, too.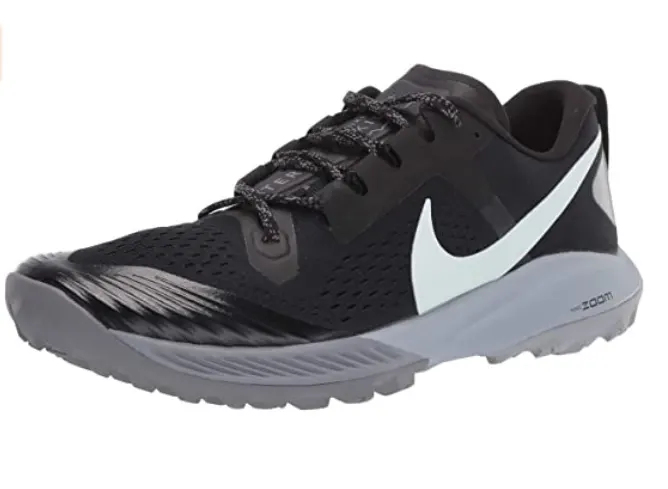 These shoes have a Flymesh upper feature which enables better and more breathable support.
Moreover, you will benefit from a rugged outsole that makes this product one of the best options for multi-surface traction.
Pros
Terra Kiger shoes have an amazing grip;
They come with a quick turnover;
These shoes have a low profile yet their cushioning is ample and it suits most types of runs;
The manufacturer included a Flywire technology which locks the feet in;
Nike Terra Kiger shoes are made with breathable fabrics that drain quickly.
Cons
One client complained about the fact that his shoes' upper part ripped after he reached 75 miles and used this product in all his running sessions;
The collar of the shoes is wide enough and sometimes rocks can easily enter inside.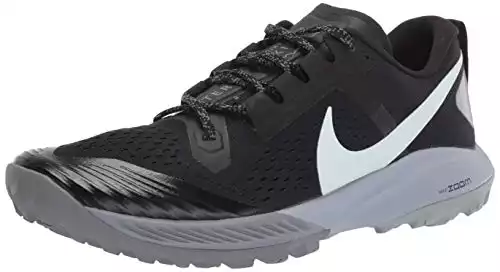 Price
The Nike Terra Kiger running shoes are sold for the price of $125 (Check out the latest rates here!), on the brand's official website.
Other Nike Models to Consider
How to Choose the Best Nike Running Shoes that Suit Your Needs
The Main Categories of Running Shoes
Stability shoes – People with overpronating should choose stability sports shoes. Become aware of the way your feet roll during running. If they tend to go slightly inward, then stability is what you should look for;
Motion control – these shoes are some of the most rigid options out there and they are also pretty heavy. On the other hand, motion control sports shoes provide better cushioning and more support. If you're a heavy runner or your feet are flat, you should purchase this model;
Barefoot shoes – these have a more minimalistic aspect and they have less cushioning and support. Simply put, these products tend to mimic barefoot running without sacrificing the protection runners need;
Neutral shoes – they are designed with only a small amount of cushion for individuals with a neutral gait.
Things to Consider When Looking for the Best Nike Running Shoes
Know Your Personal Running Style and Mechanism
You must first determine your personal running style before deciding the right type of shoe that suits it. Are you an overpronator, underpronator, or just a neutral runner? The first two types refer to the side-to-side movement that a human's feet make naturally while they walk or run. Usually, most people's feet tend to roll a tad inward with every step but that's considered normal pronation. You can easily figure out your running mechanism through wet foot tests or wear tests:
Neutral – these runners have normal feet arches so they can use a large variety of sports shoes. During their running sessions, these people land with their heels first and they roll their feet towards the toes. Some of the best choices for neutral joggers are Nike Zoom Vaporfly, Air Zoom Pegasus, and Nike Flyknit;
Underpronators – these individuals are also known as supinators. Supination happens when your foot rolls outwards during the side-to-side motion while you run which means your feet have a lower flexibility level so your landing is quite hard and dangerous. If this is your case, you should purchase very flexible and highly cushioned running shoes;
Overpronators – if your feet roll inward a lot while you run, then you're probably an overpronator. In other words, you need running shoes that offer a lot of stability and motion control. This way, the risk of joint pain or knee injury will decrease. For overpronators, the best Nike choice is the Air Zoom Structure 22.
Determine the Running Surface
Nike has created a lot of running shoe models and many of them are specialized in specific types of trails and surfaces. This can be achieved by equipping the shoes with different features and develop different designs. What I mean is that specialists don't recommend runners to wear road shoes when they work out on rough and uneven trails. Here are the main groups of running surfaces that you should be aware of:
Road running sports shoes – the majority of shoes that Nike creates are made for road running. Some of the models are suitable for day-to-day training while other alternatives work great for marathons and running competitions. Nike road running shoes feature very good characteristics such as responsiveness, lightweight, and flexibility. The Nike Air Zoom Pegasus product line represents this type of shoes. Moreover, they are also water-repellant;
Trail running shoes – these types of products provide a lot more protection and they are created with plenty of traction features. Hence, they are both bulkier and heavier than road shoes. You can safely wear them when you run on varied trail surfaces. Furthermore, when it comes to durability, trail shoes will last longer than your average road sports shoe.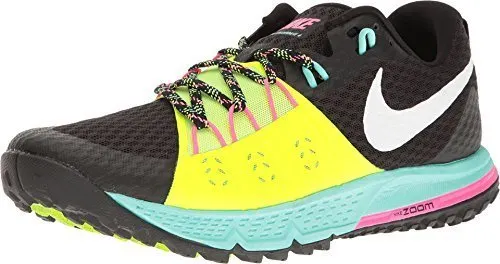 Know Your Size
Determine your size in order to make sure you buy the proper shoe fit. Nike sells sneakers, shoes, and trainers that are available in sizes that range between 6 and 15, all of which can be bought in medium width. A few models are marketed in narrow and wide sizes. You must follow several steps to find out your feet size. Here's what you should do:
Gather the following items: a blank piece of paper, a ruler, tape, pencil or pen, and, if possible, another person to draw the markings;
Get these measurements sometimes in the evening or afternoon because feet usually swell throughout the day;
When measuring your feet make sure to wear the same type of socks that you want to have on when you run with your future Nike sports shoes;
Place the paper on the floor but make sure it is a hard and even surface;
Stand straight and keep your heels against a wall while placing both feet on the blank piece of paper;
Ask a friend or your partner to mark your feet's longest toe on the paper. Then, mark the point where your heels end of you can use the wall as the starting point;
With the ruler, measure the distance from the point where your heel ends/the wall and the marked area where your long toes were.
Set a Budget
Nike sells both expensive and affordable running shoes. So, the final choice, once you establish your needs and preferences, is based on your budget as well. Some of the most expensive options are Nike Vaporfly and Flyknit. On average, those interested in buying Nike running shoes, can get them for the price of $80-$100 and still receive a reliable product. Don't worry if your budget is not a huge one and you must settle for a more affordable pair of shoes. According to research, very expensive running shoes aren't necessarily significantly better than less expensive models. Just find ones that fit, at a cost that you can afford.
The Best Nike Running Shoes Guide – the Final Verdict
All Nike running shoes are good and have plenty of useful features. Now, your final purchasing decision should be based on several factors such as what your needs and preferences are. Think about what your purpose is.
For instance, if you're looking for all-round racing shoes, you should probably opt for the Pegasus line. Marathoners should give the Zoom Vaporfly model a try while the Air Zoom Structure 22 offers the highest level of stability.