Training shoes belong to a category of gym shoes which are mostly used by individuals during their gym or sports training. Gym goers prefer training shoes because they allow multi-directional movement, particularly lateral/side-to-side movements, making it very comfortable for them to perform all the exercises that involve lateral or twisting movements of the feet.
These shoes feature a flat sole, enhancing their flexibility and permitting an extended range of movement. This attribute makes them the best pick for rigorous gym training.
If you are planning to buy Nike training shoes for your gym regime, you'll be able to workout stress-free without having to worry about the wellness of your feet.
In this article, we'll tell you why Nike training shoes for the gym can be an ideal choice for your intensive workout sessions.
Keep reading to uncover which Nike shoes are considered (our opinion) the best for training in the gym.
Why do you need training shoes?
Training shoes usually support a variety of movements such as stopping, cutting, breaking, changing direction quickly, jumping, etc. The ease of the movements allowed by these shoes makes them apt for different kinds of workouts.
Training shoes come with a very comfortable upper along with a flexible midsole which facilitates multi-directional movements. A lower heel drop featured by these shoes keeps your feet closer to the ground making it very easy for you to push off and pivot. Furthermore, training shoes are light in weight. All these attributes make them a must-have for gym training sessions.
If you are a workout junkie, you can consider training shoes as your all-in-one gym shoes and use them for different training programs at the gym.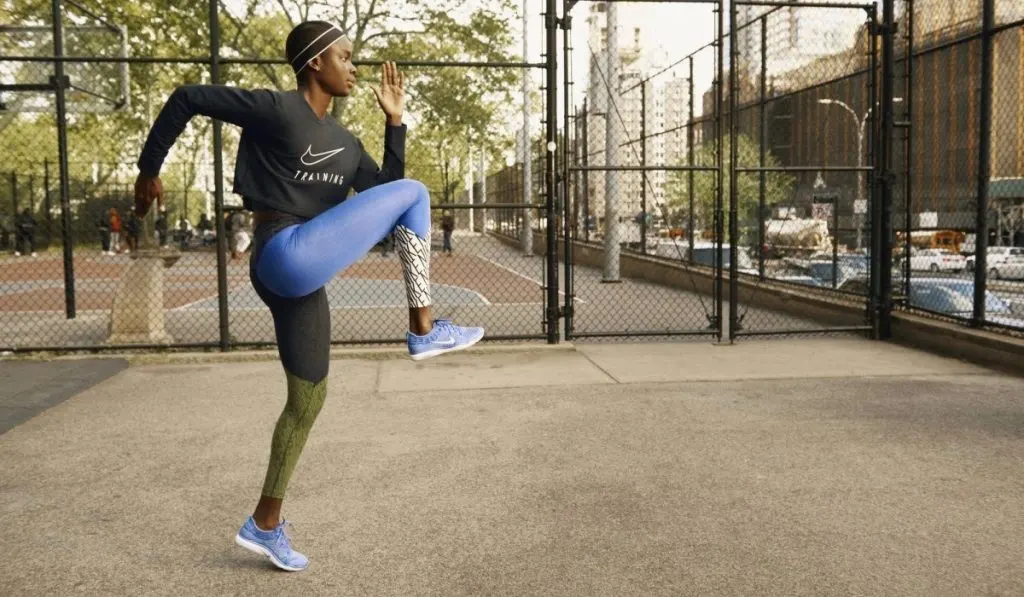 What are training shoes good for?
Training shoes are considered the best option for a variety of purposes. Let's look at them one by one.
Training shoes can be used for high-intensity gym sessions as well as outdoor boot camps as they provide a good cushioning required for run training, as well as high impact activities.
Training shoes can be used during weight lifting programs as they provide good heel support.
You can wear training shoes during strength training and agility training sessions. In the former training, these shoes offer extra space in the forefoot while in the latter; these shoes help to groove and outsole the patterns for traction during all kinds of plyometric as well as multi-directional movements.
You can use training shoes while running on a treadmill because of their amazing shock absorption capabilities.
What are the risks involved in using the wrong shoes during workout sessions?
Workout sessions always demand a good choice of shoes. Wearing the wrong shoes may lead you to a number of problems such as constant discomfort and pain which, in turn, can lower your performance at the gym. Wearing the wrong shoes can also cause mild to severe injuries.
Here are the risks involved in using the wrong shoes during workout sessions:
Discomfort
You cannot focus on your workout if you are not wearing comfortable shoes. Wrong shoes always make you underperform at the gym. Also, you might experience aches, blisters, pains, and even soreness.
Lowered performance
Wearing the wrong shoes at the gym can keep you off from giving your best performance at the gym. When you are all set to give your best shot at the gym, the last thing that you would want is a pair of wrong shoes which can hold you back.
Wrong shoes make a huge difference in your entire workout session. For instance, if you are wearing shoes that do not offer you proper cushioning, it would become very hard for you to reach up to the mileage during your workout sessions.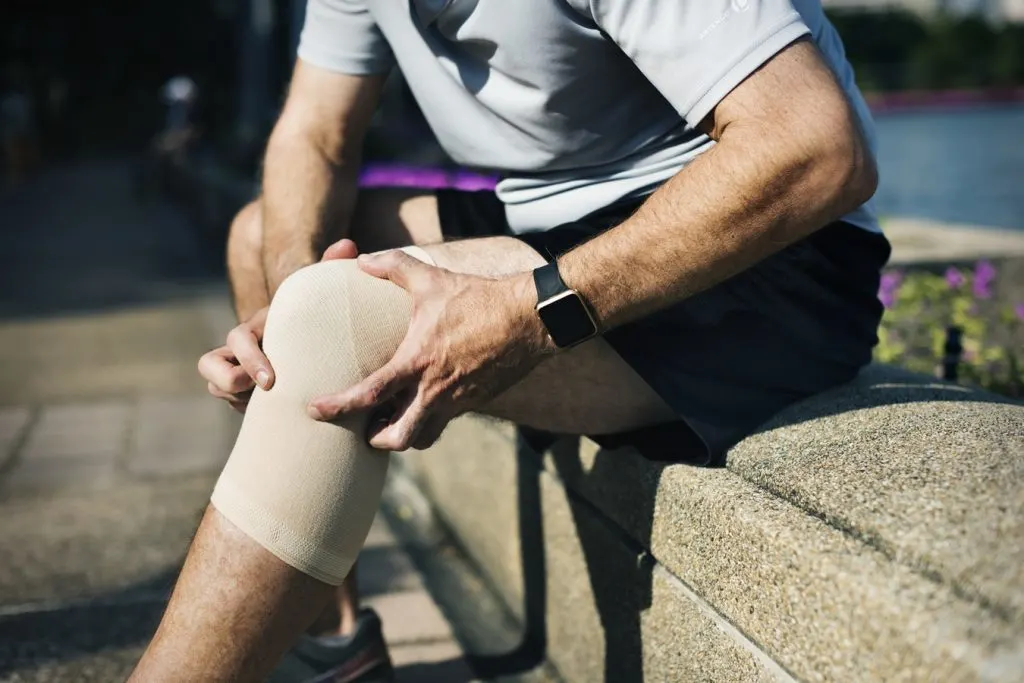 Injuries
Wrong shoes pave the way for a number of injuries, ranging from mild to severe. Shoes having a higher heel drop can cause ankle sprains during lateral movements.
Shoes that offer an extra amount of cushioning and support can interfere with proper landing during any movement, thereby increasing chances of a knee or ankle injury.
Running without training shoes can also lead to plantar fasciitis. Lastly, wrong shoes do not provide enough support during activities like running and drilling. This increases the susceptibility of slipping leading to injuries.
How to take care of training shoes?
Taking proper care of training shoes enhances their shelf-life. Here are some useful tips on how you can take care of your training shoes:
Air your shoes out after use
The interior of training shoes becomes damp because of excessive sweating. This makes them a breeding ground for various microorganisms.
Also, the shoes might become sweaty and hot during the workout sessions and stink. Thus, it is always suggested to air dry your shoes after use. However, you must stay away from using a blow-dryer to serve the purpose.
Clean your shoes regularly
Cleaning your training shoes regularly is important to maintain their durability.
You can clean your shoes using a damp cloth and if the stain or dirt is too stubborn in nature, you can use a shoe-cleaner to clean it.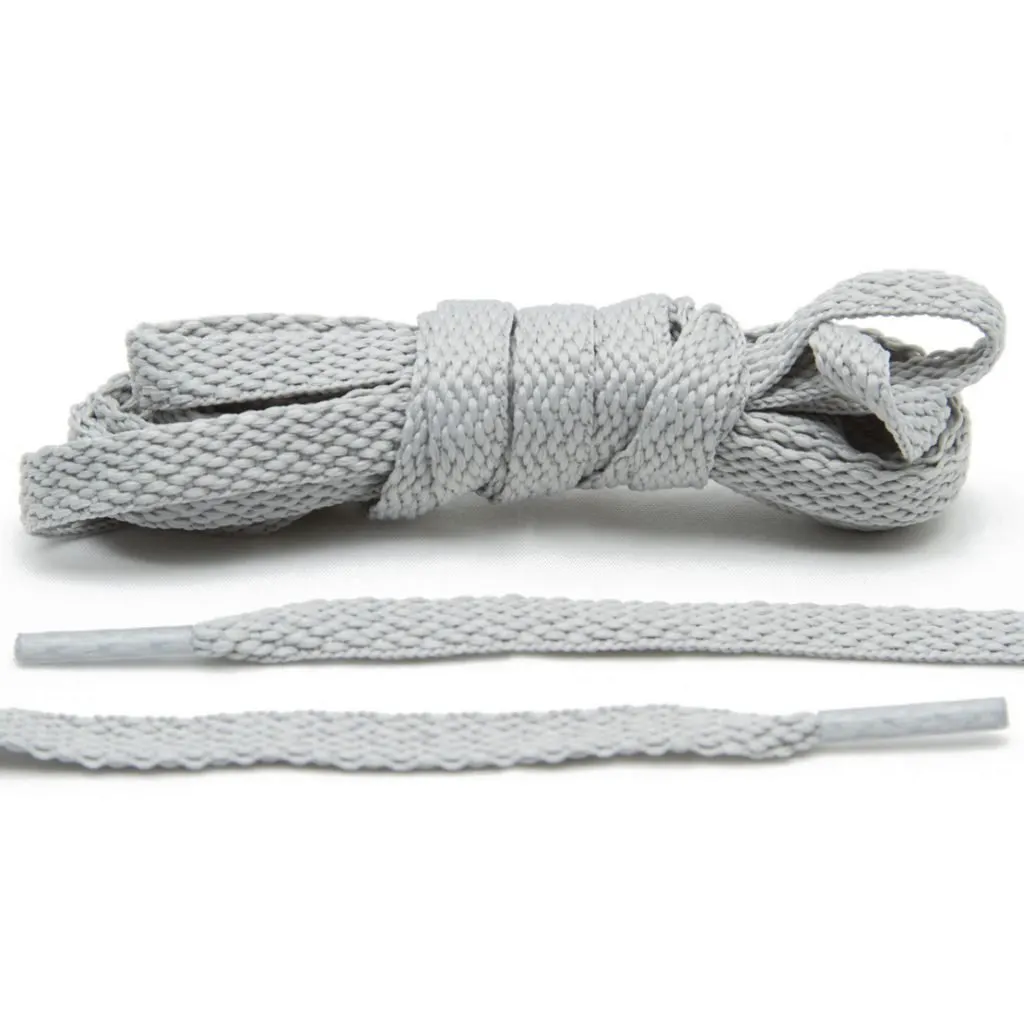 Wash the shoelaces
Many people do not pay due attention to the shoelaces. But, it is important to keep the shoelaces clean. You must wash them along with the shoes. Put them in your laundry bag and wash them carefully in a washing machine.
Store your shoes with baking soda
Many people complain of a very foul smell coming from their shoes. Generally, airing them solves the problem but if you could not get rid of the stink this way, here is a quick hack.
Store your shoes in a box along with some baking soda. Leave them overnight and the unbearable stink will vanish the next day.
Store your shoes in a clean place
Lastly, you must store your pair of training shoes in a place that is clean and ventilated. It is important to make your shoes breathe to keep all kinds of bad odor away.
Best Nike training shoes for the gym
Nike has always catered to the needs of athletes and gym freaks. When it comes to training or indulging in any sports activity, the brand never disappoints.
It has always been one of the best names when it comes to sports and training shoes. Following are the best Nike training shoes for the gym. You can choose the product that best suits your requirement.
Nike Air Zoom Fearless Flyknit Gym Training Shoes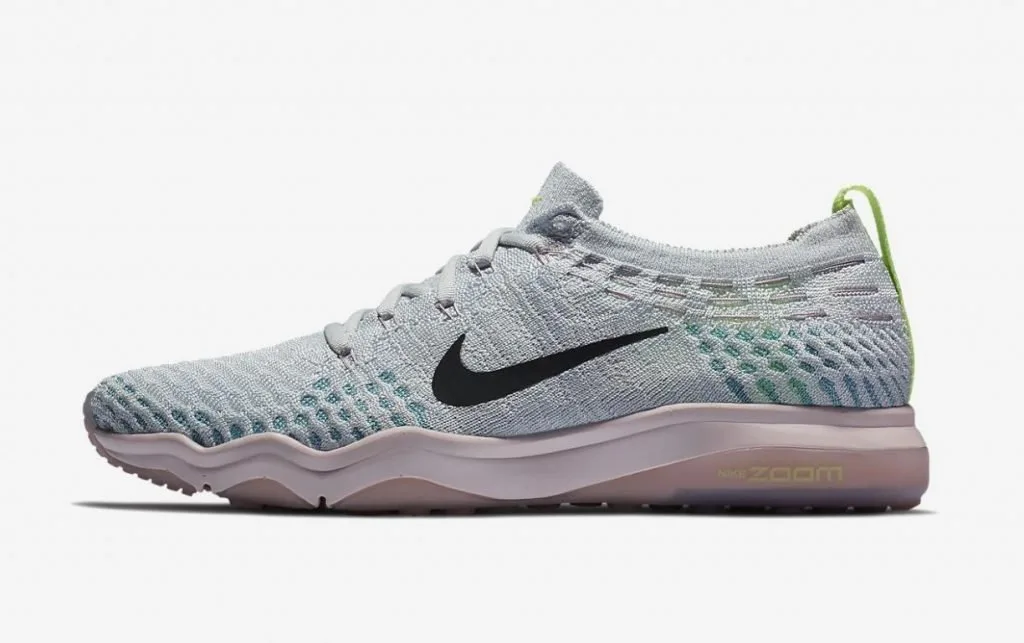 Notable features:
Breathable mesh upper
Robust rubber sole
Dual-density Phylon foam
Flex grooves at the midsole and outsole
Inner sleeve for a soft and comfortable fit
Waffle lugs
Type of Shoe

 

Training shoes for gym

 

Weight 

 

2 lbs.

 

Price 

 

$73.99 – $429.28 (Check out the latest rates here!)
Outsole technology 

 

Carbon rubber

 

Midsole technology 

 

Compression-molded midsole

 

Upper 

 

Mesh with overlays

 

Heel drop 

 

–

 
Sole technology
Outsole technology of this pair of shoes comprises BRS 1000 that has been made using a durable carbon rubber. This ensures the proper protection of the shoe from all kinds of wear and tear.
The outsole also features Waffle construction which provides additional support and cushioning to the runner.
The midsole comprises of lightweight and responsive foam which provides excellent cushioning to the foot. The plush foam offers optimum comfort to the feet.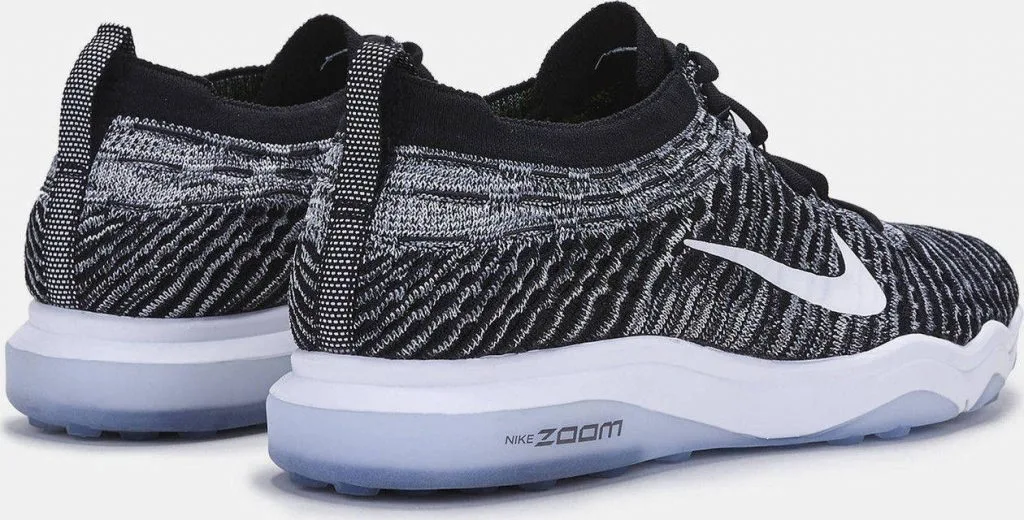 Upper
The upper of Nike Air Zoom Fearless Flyknit is made up of a comfortable fabric that resembles woven cloth.
The overlay-free material gives an irritation-free sock-like fit to the shoes which makes them very strong and secure.
The upper also features a Dynamic Flywire System which works with the lacing system as well as the upper unit, thereby giving a secure and customizable fit.
Pros
The material is comfortable and does not irritate
Reliable cushioning
Durable protection
Sure traction over roads
Lightweight
Cons
Heels do not give a good padding
Mid-foot and rear areas are slightly uncomfortable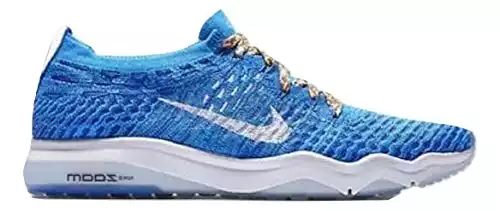 Why buy Nike Air Zoom Fearless Flyknit Gym?
If you are looking for highly durable gym training shoes by Nike brand, the Air Zoom Fearless Flykit can be a good buy.
The material is extremely comfortable and does not cause any kind of skin irritation. The cushioning is reliable and the Dynamic Flywire System ensure a customized fit for your tired feet.
The shoes are lightweight and highly recommended for intensive workout sessions.
Nike Free X Metcon Gym Training Shoes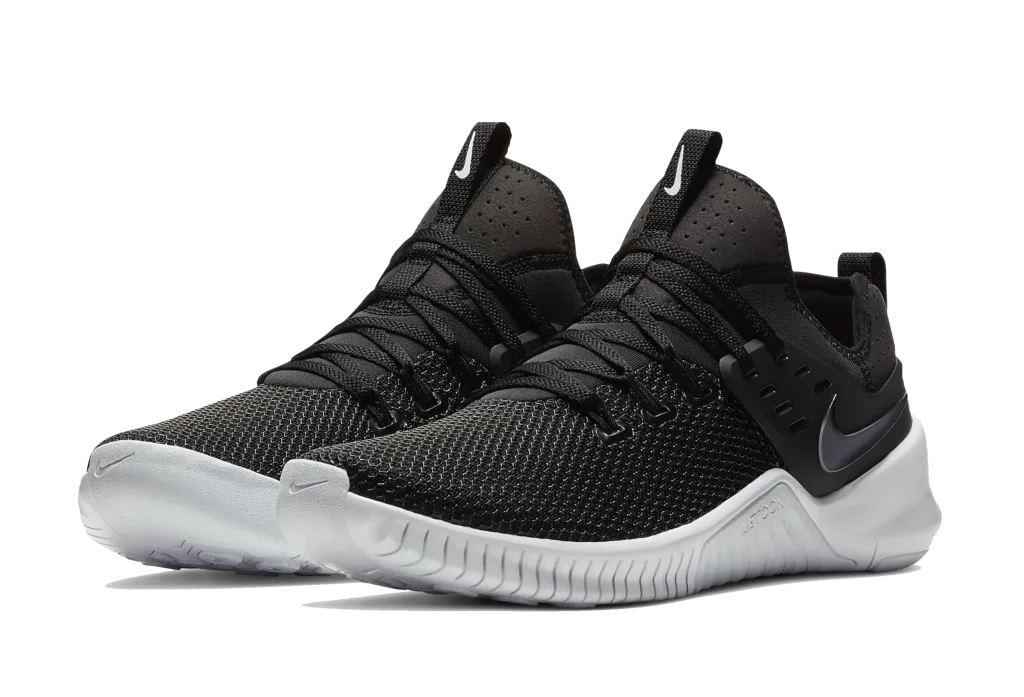 Notable features:
TPU-faced mesh providing flexibility as well as durability
Dual-density midsole with a cold-fusion technology
Flywire technology integrates into laces in order to add support
Comfort-fit bootie for a good flexibility
Lightweight
Type of Shoe 

 

Training Shoe for Gym

 

Weight 

 

2.1 lbs. 

 

Price 

 

$139.10 – $234.33 (Check out the latest rates here!)
Outsole technology 

 

Carbon rubber and blown rubber 

 

Midsole technology 

 

Dual-density midsole

 

Upper 

 

Mesh covered in TPU

 

Heel drop 

 

5mm

 
Sole technology
The outsole of these training shoes brings into use the Nike free technology comprising of laser-siped flex which gives a good movement and flexibility.
The bottom is made up of two kinds of rubbers which make sure to provide a good cushioning to the shoe. The shoe features a low-profile and smooth heel.
The midsole of Nike Free X Metcon training shoes features dual-density technology at the midsole wherein a soft compound is housed in a stronger.
Furthermore, the use of cold fusion technology provides balance and stability.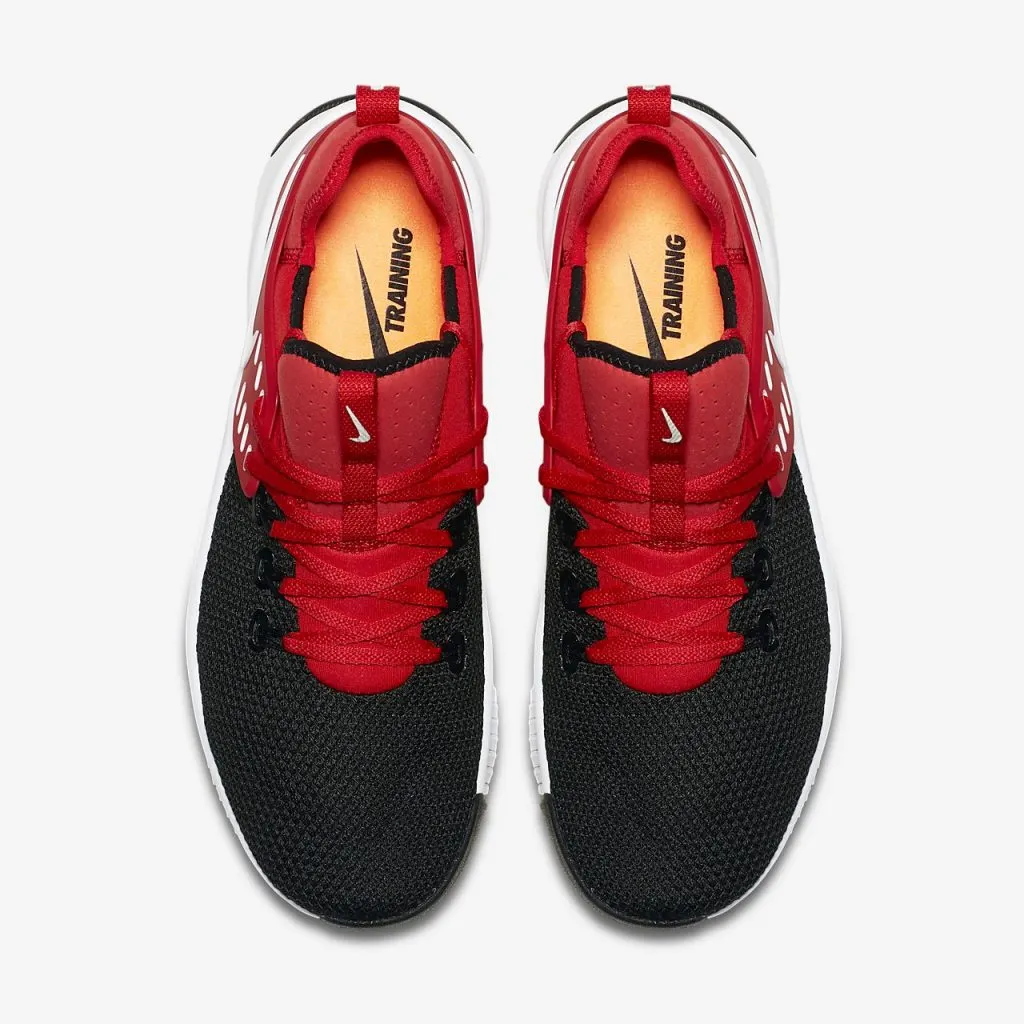 Upper
The upper of these training shoes are made up of mesh which is further covered in TPU so as to provide support, durability, as well as breathability.
The midfoot features a wrap of TPU sidewalls for lateral support.
This pair of shoes includes the traditional lacing system for a secure foot lockdown, as well as good support and fit.
Pros
Comfortable Fit
Stylish enough for casual use
Versatile nature
Budget-friendly
Cons
Not enough support
Shoelaces untie themselves easily
Quality issues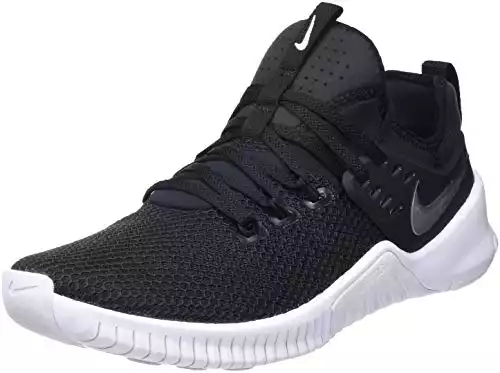 Nike Free Metcon
Buy Now
We earn a commission if you click this link and make a purchase at no additional cost to you.
02/07/2023 09:24 pm GMT
Why buy Nike Free X Metcon?
If you're looking for gym training shoes by Nike that offers flexibility during strenuous workout sessions, the Nike Free X Metcon is a good option.
The shoes can also be used as daily wear casual shoes. The versatility of these shoes makes them a hit among the young generation.
Moreover, they come at a pocket-friendly price. The traditional lacing system and dual-density technology are unbeatable.
Nike Varsity Complete Trainer Gym Training Shoes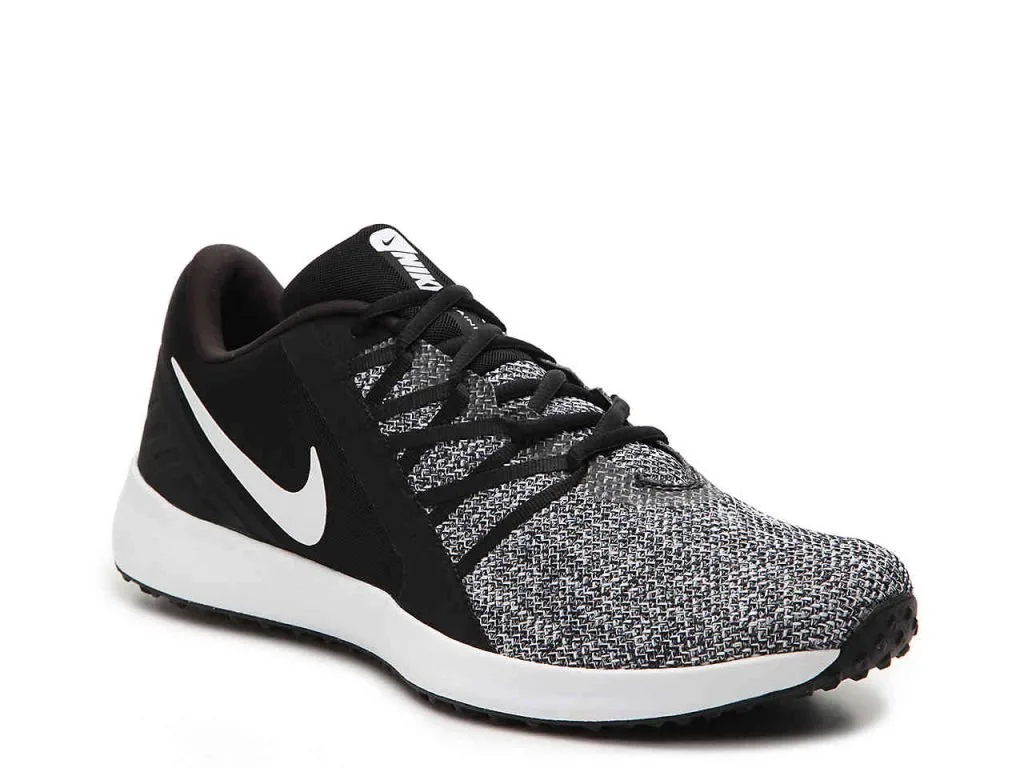 Notable features
Advanced technology
Synthetic textile
Exceptional Traction
Comfort-fit bootie to provide flexibility
Type of Shoe 

 

Training shoes for gym

 

Weight 

 

2.12 lbs.

 

Price 

 

$97.98 – $139.95 (Check out the latest rates here!)
Outsole technology 

 

Solid Rubber

 

Midsole technology 

 

EVA

 

Upper 

 

Mesh with synthetic overlays

 

Heel drop 

 

4mm

 
Sole technology
The outsole of Nike Varsity Complete Trainer is made of solid rubber which tends to provide sturdiness and protecting the foot from all kinds of harsh substances.
The outsole wraps itself up to the lateral and medial sides to save the upper.
The midsole of these training shoes is made from EVA to cradle the foot. This material is considered to be cushiony, shock-absorbent, as well as supportive.
The midsole has a low-profile design which gives a feeling of being close to the ground.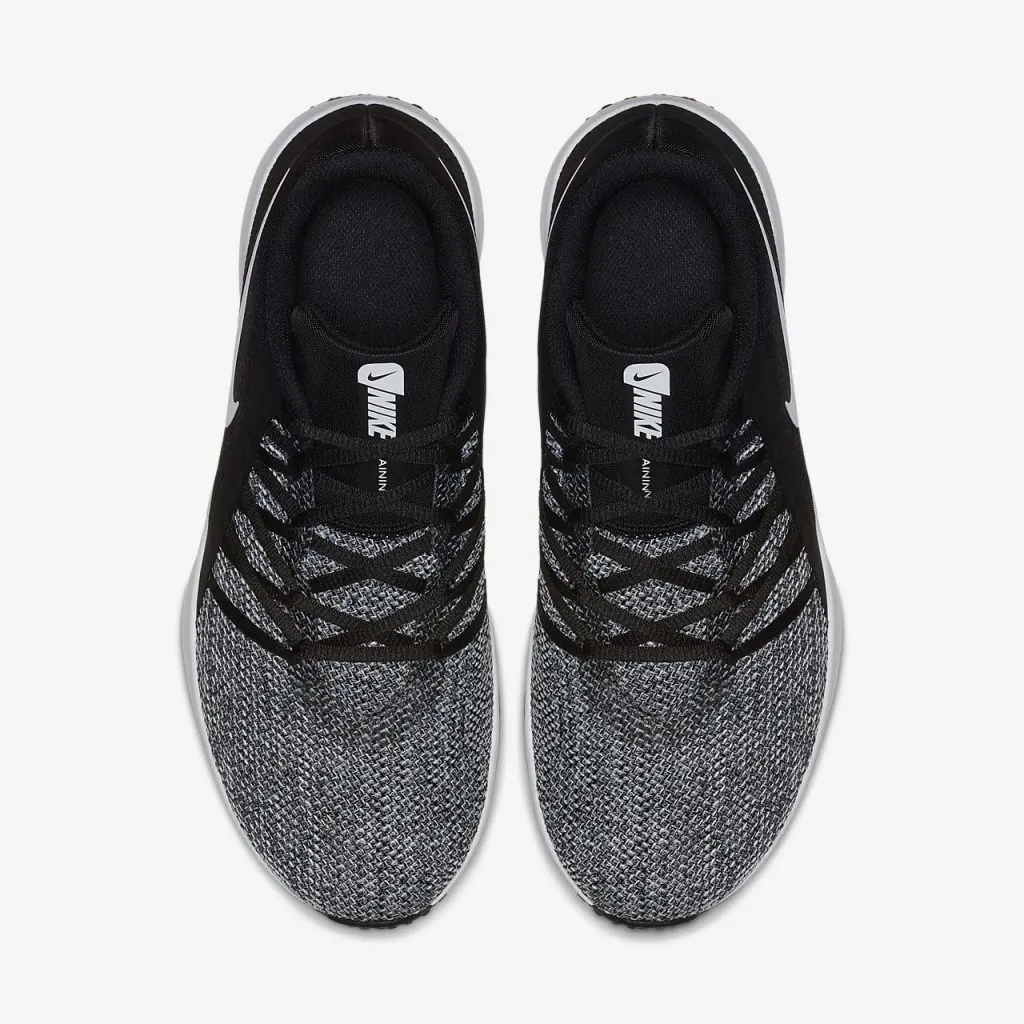 Upper
This upper of the shoes feature a low-cut style which helps to foster complete ankle mobility which lets you move freely and unhindered.
The upper also features a meticulous placement of synthetic overlay on the high-wear areas which serve as a reinforcement, thereby protecting the fabric from rips.
Pros
Exceptional traction because of the rubber nubs
Durable and breathable mesh
A good level of lateral support because of webbing through the midfoot
Cons
A bit expensive as compared to other shoes listed here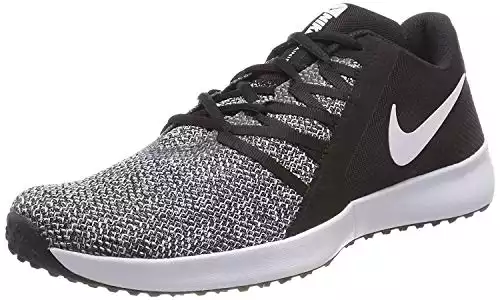 Why buy Nike Varsity Complete Trainer?
If the traction of the gym training shoes is something you are concerned about, Nike Varsity Complete Trainer shoes can be a good pick for you.
The sturdy outsole made of high-quality rubber and the EVA midsole protect the feet from sudden shock and makes the shoes suitable for all kinds of terrains.
Highly recommended for exhaustive gym training sessions.
Nike Zoom Train Command Gym Training Shoes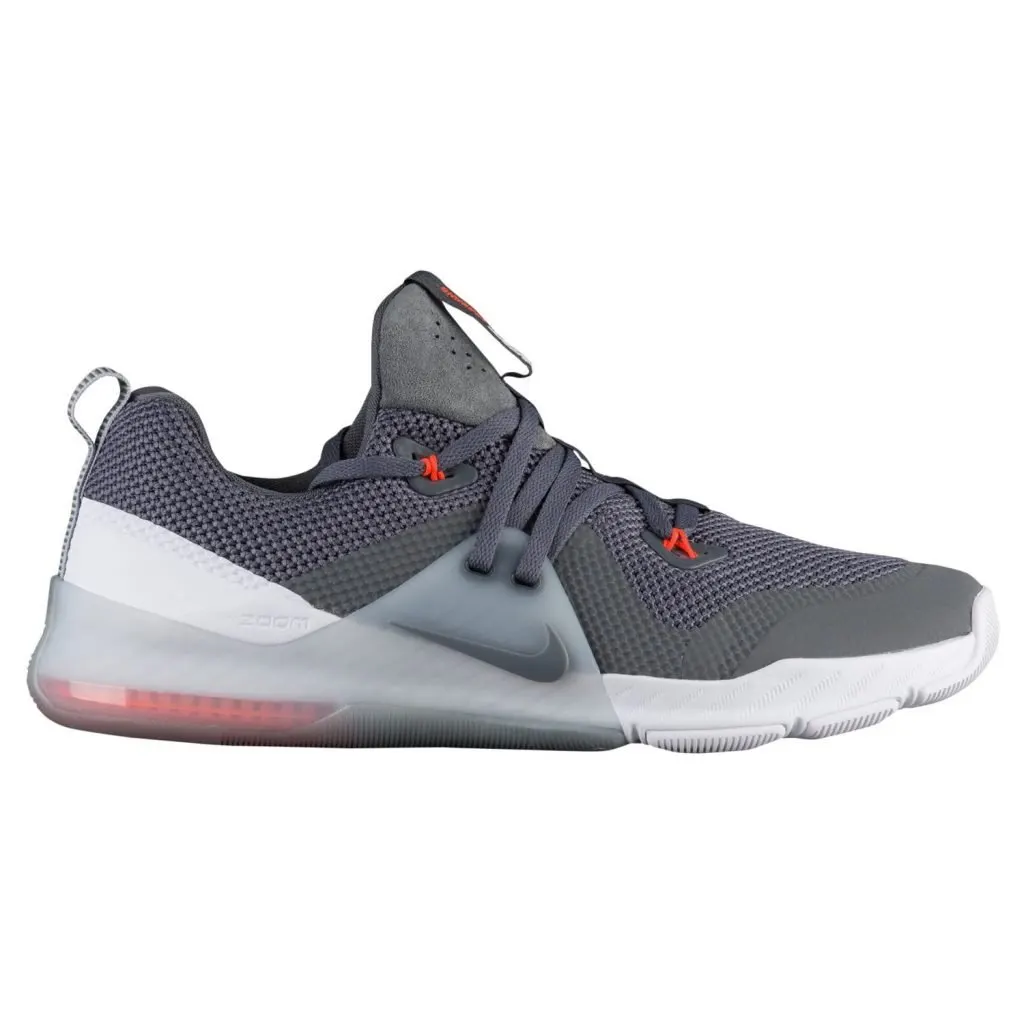 Notable features
Abrasion-resistant textile along with synthetic uppers
The construction of the inner sleeve delivering a sock-like comfort
Padded collar and tongue
Nike Zoom Air as well as foam cushioning footbed
Rubber sole
Type of Shoe 

 

Training shoes for gym

 

Weight 

 

2.23 lbs.

 

Price 

 

$70.12 – $216.45 (Check out the latest rates here!)
Outsole technology 

 

Rubber outsole

 

Midsole technology 

 

Nike Zoom Air Technology

 

Upper 

 

Abrasion resistant textile

 

Heel drop 

 

5mm

 
Sole technology
The outsole of the Nike Zoom Train Command training shoes is made from rubber which guarantees durability and does not get worn out easily.
There is a tread pattern that enhances the traction on all kinds of surfaces, particularly in indoor gyms.
The midsole of the shoes features Nike Zoom Air technology which makes the use of pressurized air, as well as thin stretch fibers, in order to deliver a safe cushioning.
The design also helps to enhance stability without sacrificing comfort and shock absorption.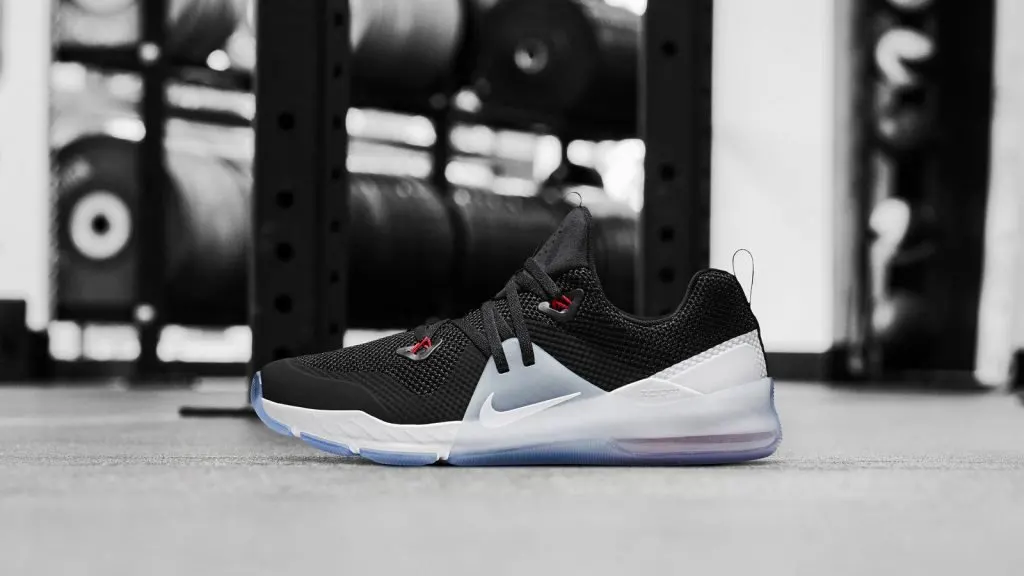 Upper
The upper of the training shoes have been made up using an abrasion-resistant textile.
This fabric doesn't get frayed even when it is subjected to a lot of friction. This material also makes the shoe durable and breathable.
The lace-up closure integrates with Flywire cables which ensure enhanced lateral support during rigorous workout sessions.
The inner sleeve of the shoe delivers a sock-like experience and a snuggly fit.
Pros
Comfortable
Light and flexible characteristics
A great snug fit of the internal sleeve
Excellent bootie construction
Cons
The inner sleeve is too tight
Bootie construction doesn't allow to tighten the fit completely
The toe box is too wide
Insufficient cushioning at the footbed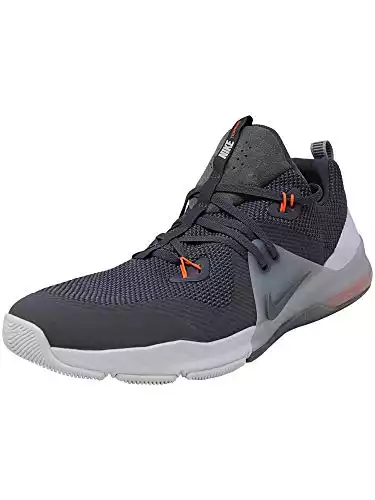 Why buy Nike Zoom Train Command shoes?
Comfort, flexibility, durability, and versatility – a short summary of Nike Zoom Train Command shoes. The upper material of these shoes is made from an abrasion-resistant textile and is breathable.
The tread pattern of the outsole makes the shoes suitable for indoor gymming. The shoes come with an incredible snug fit and exceptional bootie construction which makes them very comfortable for long hours.
Conclusion
The Nike shoes listed in the article are surely going to give you a great experience during all your training sessions.
Make sure to choose the shoes that best suit your requirement and keep in mind the important tips mentioned in the beginning of the article.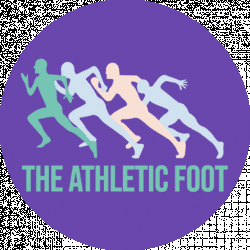 Latest posts by The Athletic Foot Team
(see all)