Running is one of the most primitive sports for human beings. Since the dawn of time, humans were running in their own means, whether it meant hunting for game or running in the wild. If you can imagine, at that time, these humans were running barefoot with no support on rough terrains.
As time progressed and with the innovation of running shoes, many people became accustomed to running with their heels striking the ground first.
However, in 1960 when Abebe Bikila won a gold medal running barefoot, the industry gradually began to change.
Today, more and more runners are learning about the benefits and opportunities of running with minimalist or barefoot running shoes.
In this article, we are going to present our guide on finding the best minimalist running shoes, which will detail your options, features to look out for, answers to common questions, and a few helpful tips along the way.
Are you ready for this race?
On your mark, get set, go!
Types of Running Shoes
If you are to walk into a regular shoe store, you will be inundated with options of running shoes. There are a wide variety of running shoes, all offering different unique benefits for runners.
While each running shoe is designed to help a runner achieve the same goal, enhanced performance, and comfortability, there are different shoes based on different activities and categories.
In the running shoe industry, there are three main categories of products:
Cross-Training: Cross training running shoes are more commonly known as the traditional "gym" running shoe. These types of running shoes are designed to empower the runner with direct contact with the ground. These shoes are not traction focus but rather stability and performance.
Road-Running: Road-running shoes are designed with both traction and stabilization in mind. These are lightweight running shoes that are designed to handle any type of road surface. Given how hard concrete or pavement can be, these shoes have some degree of cushioning to keep a running moving.
Trail-Running: The last category of running shoes is trail-running shoes. These shoes are naturally lightweight and designed to handle any type of traction, including rocks or even roots. Given the nature of the environment these shoes are for, they must have a strong and durable outsole to protect the underfoot of the runner.
In these different categories of running shoes, there are six different variations that a manufacturer can build the shoe.
Neutral Shoes
Super Cushion Shoes
Stability Shoes
Motion Control Shoes
Barefoot Shoes
Minimalist Shoes
For the sake of this article, we are only going to be focusing on finding the best minimalist running shoe.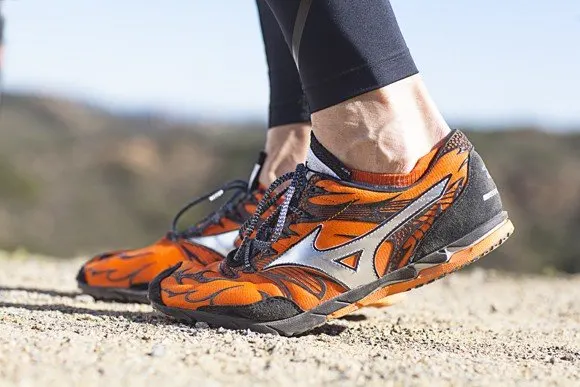 What are Minimalist Running Shoes?
Minimalist running shoes are gravely different than any other running shoe on the market today.
In other running shoes, runners are provided the comfort and padding so the heel strikes the ground first.
This is quite standard in the industry; however, with a minimalist running shoe, the product is designed to force the mid-or-forefoot to touch the ground first.
This very simple distinction makes a world of a difference in the running industry.
Minimalist running shoes are typically incredibly lightweight. In fact, out of many running shoes, a minimalist shoe is normally the lightest.
On top of the ground-striking differences, these shoes offer almost no support for the arch of a foot.
With less than an 8mm heel drop, a runner will essentially feel as if they are running on the ground itself without shoes.
Types of Minimalist Running Shoes
The minimalist running shoe industry offers runners two different levels or degrees of running shoes.
Depending on one's experience with minimalist running will determine the type of running shoe that is best for them.
Barefoot Running Shoes: As the name implies, these running shoes will create a feeling as if the runner is barefoot. A typical shoe is designed with no cushioning or padding with less than 4mm between a runner's foot and the ground. Many people have often referred to barefoot running shoes as "zero-drop running shoes". Due to the drastic difference between barefoot running shoes and traditional running shoes, it's advised to start with a minimalist running shoe first.
Minimalist Running Shoes: Minimalist running shoes are another type of running shoe in this category. These are considered the in-between shoe of a traditional running shoe and a barefoot running shoe. Here, you will find a shoe that is lightweight with minimal padding and arch support. On average, a minimalist running shoe has a heel drop between 4-8mm. Different than a barefoot running shoe, these will provide a runner with just enough support and stability to flex feet and move toes in the box.
Important Features to Find the Best Minimalist Running Shoe
With a deeper understanding of the minimalist running shoe industry, it is easier to begin the research process to find the best running shoe.
Like many other running shoes, there is an assortment of features to look out for in a great running shoe.
Our goal is to make that process much easier for you. Here are six different vital features to look out for in finding the best minimalist running shoe:
Before you begin doing any formal research, it's important to establish what your budget is. There are many different minimalists and barefoot running shoes.
Without having a proper financial plan in mind, you could find yourself spending a hundred dollars overboard.
In this, once you can figure out how much you are willing to spend, evaluate what value that price range can bring you. This will help in finding the best minimalist running shoe.
Given the nature of minimalist running shoes, it's important that they move and bend in accordance with the runner.
In fact, it should be easy for a runner to maneuver their body and feet, without feeling the struggle of their lower body. Many manufacturers in the minimalist industry have created different ways of providing runners with stability and flexibility.
It's important to look at how a company brings this factor into the design of the shoe.
Durability is of primary concern when picking out any running shoe. These products are an investment and you need to make sure you are getting your money's worth.
To measure the quality and durability of the shoe, read not only the manufacturer's description and guidelines, see what previous runners have said about the product.
If you are noticing a trend of runners complaining about wear and tear, skip the running shoe and move on to another.
To find the best minimalist running shoe, stay keen on how much a shoe weighs. These running shoes are supposed to be incredibly lightweight for optimal performance.
So, we highly advise looking at weight first and seeing how they compare to other running shoes.
Evidently, the lighter the shoe, the better. Sometimes, manufacturers sacrifice the weight of the shoe for nicer exterior design and features.
A true performance running shoe is lightweight with minimal obstructions.
When looking at different minimalist running shoes, you should look specifically at the heel-to-drop.
The rule of thumb is to try to find a running shoe with a heel-to-toe drop around or under 1mm. Reason being, the purpose of these running shoes is for the entire foot to touch the ground, not just the heel.
As with any running shoe, breathability is an important factor to look for. A common misperception is that, since these are minimalist running shoes, the breathability does not matter.
However, this couldn't be farther from the truth. It's pertinent to pick a minimalist running shoe with a dedicated upper mesh to help reduce any build-up of moisture or foul odors.
If a running shoe cannot release heat, it can be an extremely uncomfortable experience.

Frequently Ask Questions
Who can use minimalist running shoes?
One of the most common questions that people have is who can use a minimalist running shoe. In truth, anyone can purchase a minimalist or barefoot running shoe and start to use it. Whether that's a smart choice is a different question. These running shoes require a completely different style of running and walking, which is often unknown to regular runners. With that being said, a minimalist running shoe is optimal for a runner that is seeking to get more from their running experience. What we mean is these shoes a best for people who are seeking to strengthen their lower body and core.
How long do minimalist running shoes last?
Evidently, the life expectancy of a minimalist running shoe is dependent upon the manufacturer and the materials used to build the shoe. With that in mind, a standard minimalist running shoe should be able to last between 300-400 miles of consistent exercise, whether rigorous or not. We suggest doing proper research on the outsole and upper material. This will be a clear indication of how long a shoe will last.
What are the most popular brands of minimalist running shoes on the market today?
At the time of writing this article, some of the most notable brands in the minimalist industry are Vibram, Merrell, Inov-8, Saucony, Brooks, Nike, and VivoBareFoot. Each of these companies has established a reputation for manufacturing high-quality minimalist running shoes that are built to last. Be sure to thoroughly inspect the materials used to measure the quality of the shoe and how long they will last.
Do minimalist running shoes reduce the risk of injury?
One of the biggest misperceptions in the shoe industry today is that minimalist running shoes can help reduce the risk of injuries. Since minimalist and barefoot running shoes force a runner to go from heel-striking to midfoot striking, many people believe that it can reduce the amount of foot, ankle, knee, or shin problems a runner experiences. In truth, there is not enough conclusive evidence supporting this claim. This science is still relatively new, so it may take a few years for any major breakthrough.
Can you add an orthotic to a minimalist running shoe?
The sole purpose of a minimalist or barefoot running shoe is to remove any padding or foam padding that traditional running shoe manufacturers include. The inclusion of an orthotic would be relatively counterproductive to the purpose of the shoe itself. In other words, while runners could fit an orthotic into a minimalist running shoe, it is highly disregarded. If sole padding is important to you, you may want to look for a different type of shoe.
Five Minimalist Shoe Tips
Maintenance: It's essential that owners of minimalist running shoes perform daily maintenance on their shoes. Typically, these shoes can be washed in a regular washer under easy-care settings. However, before you do, be sure to read the manufacturers label for cleaning and caring. Reason being, these shoes can build an odor quickly if not taken care of properly. Additionally, if there is any build up of dirt, bacteria, or rocks, it could eat away at the durability of the shoe.
Comfort: Trying on traditional and minimalist running shoes are different. For traditional shoes, a runner should be able to fit one finger between the heel and the back of the shoe. With a minimalist running shoe, for maximum comfort, the rule of thumb is tight and snug. In fact, with these running shoes, any added space could hinder a runner's performance.
No-Sock Running: Given the unique nature of a minimalist running shoe, runners have the option to wear socks. For many, socks are a distraction and get in the way while running. However, we would like to mention that, given the tight-fit of these running shoes, not wearing socks could risk blisters and a build-up of moisture and odor.
Closures and Laces: Minimalist running shoes are designed with either laces or closures. Strap closures are much more structured and do not offer any flexibility for the runner. In fact, with strap closures, you may find it difficult to move your toes in the box. With laces, not only does it make it easier to move in the toe box, they are better for people that have higher arches that want a minimalist shoe.
Gradual Acclimation: There is a reason why people have said that you need to learn to walk before you can run. This could not be truer for minimalist running shoes. In truth, if you have never run in minimalist running shoes before, it's suggested to undergo a process called gradual acclimation. What this means is taking the time to get your feet acclimated to what it feels like to wear barefoot or minimalist running shoes. If you are not careful, running immediately can do more damage than you might imagine. This is why experienced runners suggest consulting with a professional before joining the minimalist movement. Remember, slow and steady will win the race.
Top-Rated Minimalist Running Shoes
Finding the best minimalist running shoe can take hours of research and trial and error.
In efforts to make the process easier and hassle-free, we are going to share with you some of our insight during our research of the top-rated minimalist running shoes on the market today worth your consideration.
Do keep in mind, these are only three examples; however, they match the criteria we discussed above of what a great running shoe should entail.
Merrell Trail Glove 3
If you recall from earlier in the article, one of the most popular brands at the time of writing this article is Merrell.
This manufacturer has been known to produce high-quality minimalist and barefoot running shoes for quite some time.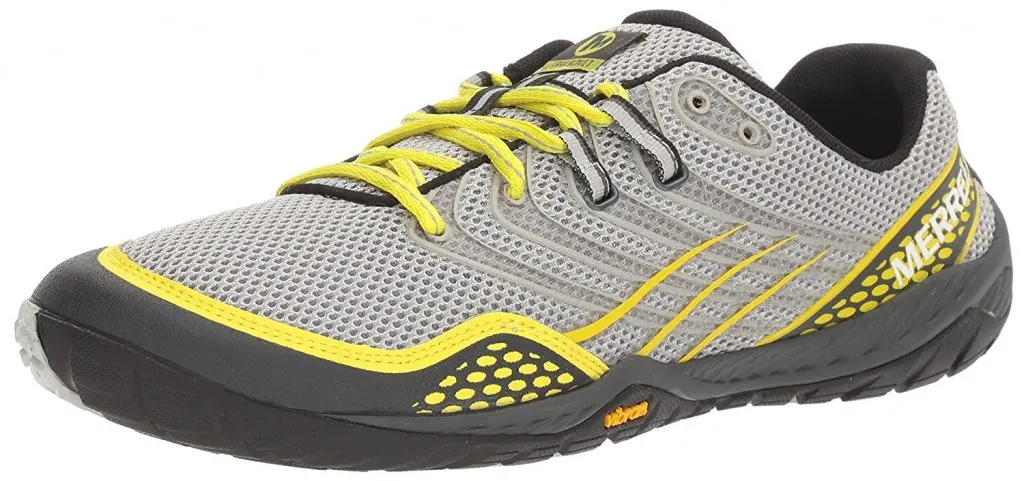 The Merrell Trail Glove 3 is great for runners who are seeking the adventure and thrill of feeling the wind in their hair.
These running shoes are built with a Vibram outsole and a ventilated upper, helping to minimize moisture build-up and odors.
A great addition to these minimalist running shoes is the different color variations a consumer can pick from.
Pros
Runners have the option to pick from a wide variety of colors.
Great upper mesh that allows for maximum ventilation and minimal moisture.
Built from lightweight materials.
True-to-fit.
Decent cushioning, given its low heel-to-toe drop.
Cons
These minimalist running shoes are not good for runners that are seeking some form of padding or stability.
If used over the period of several hours, you may find your feet hurting.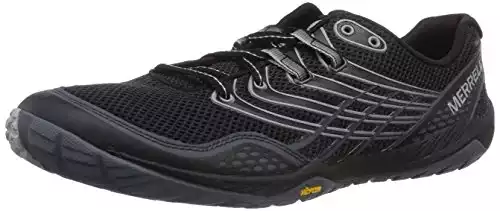 Vibram FiveFingers KSO EVO
The Vibram brand is one of the most notable minimalist running shoe brands at the time of writing this article.
This company has been known to offer runners a combination of comfortability and protection while also amplifying performance.

What sets the Vibram FiveFingers KSO EVO shoe aside from many others on the market is the high-quality outsole and traction.
These shoes are great for runners who are active and enjoy the adventure.
On top of this, these shoes are incredibly lightweight, weighing in under 5 ounces.
Pros
These shoes are extremely lightweight.
The materials used to build the shoe increase the overall breathability.
Low maintenance and easy to clean.
Great responsiveness to the surface of the ground.
Cons
These running shoes may present a challenge in more rigid terrains.
It's advised to avoid these shoes during the winter or thunderstorms.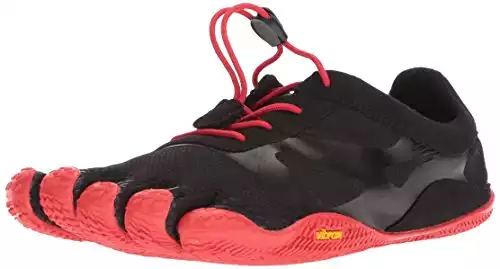 Vivobarefoot EVO Pure
The Vivobarefoot EVO Pure is a unique minimalist running shoe that takes on the shape and design of a traditional running shoe.
For beginners, this shoe comes with the standard lacing system that traditional running shoes have.

However, the performance of the shoe may be considered second to none.
The outsole of the shoe is intended to minimize any friction or resistance that typical running shoes are faced with. Partner this with an open toe box and you have a considerable minimalist running shoe.
Pros
Running shoe is built from high-quality materials.
The Vivobarefoot EVO Pure can fool runners into thinking this is a traditional running shoe.
No heel lift, which helps increase responsiveness with the ground.
Wide toe box, making it more comfortable.
Cons
The shoe compromises the midfoot region to provide a more spacious toe box.
Comparatively speaking, these minimalist running shoes are priced higher than the competition.
Final Thoughts
The minimalist running shoe industry is catching on as more and more runners are contemplating switching from traditional running shoes.
However, as this article has highlighted, there is a lot to take into consideration before simply purchasing a minimal shoe.
These running shoes can be incredibly beneficial, only if a runner purchases the right type of running shoe.
Be sure to do your due diligence and you will be greatly rewarded with the best running experienced in a minimalist running shoe.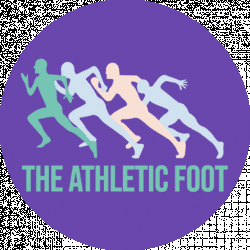 Latest posts by The Athletic Foot Team
(see all)