Mizuno is a relatively new brand of running shoes on the American market. These shoes offer runners everything that they are looking for. The brand is known for offering apparel, shoes, and equipment for a wide range of sports.
Some of the sports where Mizuno is gaining attention is football, skiing, badminton, baseball, tennis, and golf. Both beginners and seasoned runners will love the choices that Mizuno offers in their running shoes.
They offer so many features that make performance better, style, and comfort. This might be why so many professional runners are getting their start with Mizuno running shoes.
So by now, if you are a runner, you have probably started googling Mizuno running shoes. There are so many that you might even feel a little overwhelmed with what there are and which ones you should consider for your needs.
Thanks to this guide, you are never going to have to wonder again. You are going to be able to determine exactly which running shoes are going to be the best choices for you and your needs.
Mizuno – About the Company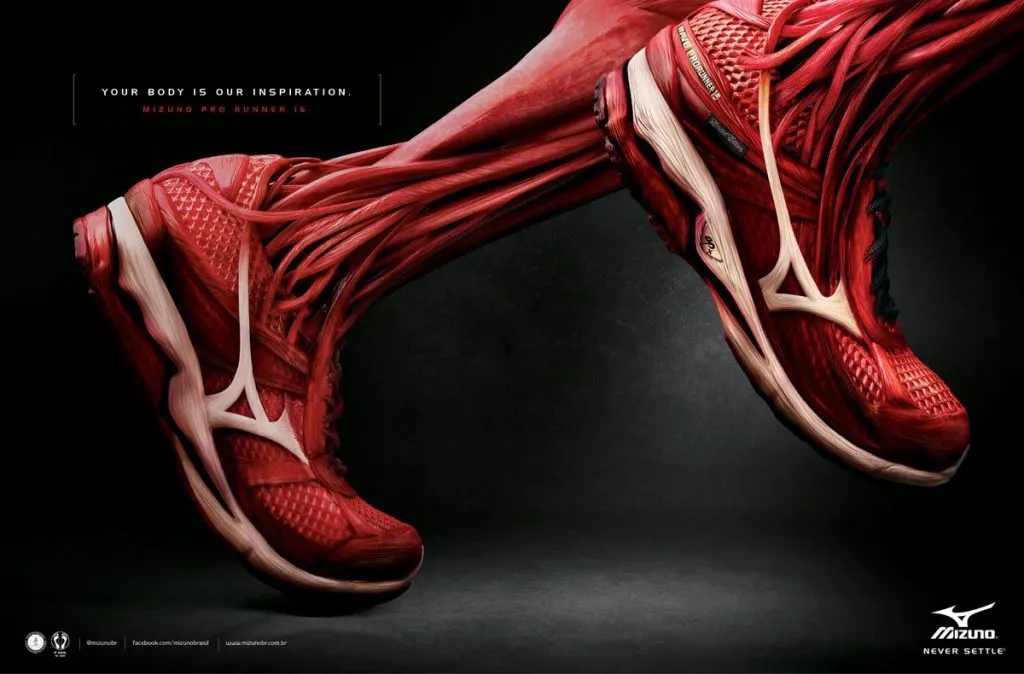 Mizuno was started in 1906 when two brothers, Rihachi Mizuno and Rizo Mizuno, founded MIZUNO Brothers Ltd. The store featured items from the west.
One of the first western items that were sold was baseball. The brothers really liked the American sport of baseball and wanted to see more of an interest in baseball in Japan.
So, they decided that by opening a store that carried these types of items that they would be able to see the popularity grow in their country.
Within a few years, the brothers were no longer purchasing baseballs to sell in their store but were instead producing and manufacturing their own baseballs. From there the company began to expand.
After the success of their baseballs, the brothers decided to make their own baseball gloves and golf clubs.
These were actually the very first golf clubs that were manufactured in the country of Japan. This is when the brothers decided that some changes were needed and they changed their name to Mizuno Co., Ltd. which it remains today.
It actually took Mizuno some time to jump on board the running trend to start producing running shoes. They experienced a number of different developments and innovations which have helped them to become the company and brand that they are today.
It was during the 1980s that Mizuno took some major turns that lead towards the brand that they are today. One of these is that they started doing research on different performance products.
Another is that they experimented with different styles and with new types of innovation.
This helped them to be able to develop better performance products. The great thing is that they have maintained true to their Japanese heritage with the brand as well. Thankfully the Mizuno Wave was developed during this time.
This innovative shoe technology is something that is equipped in most of the modern shoes that you can purchase today. However, they are a great high-quality type of running shoe that you are going to love.
Here are our top six favorite Mizuno running shoes (in no particular order).
Top Men's Mizuno Shoes
Men's Wave Prophecy 8 Running Shoes
The Men's Wave Prophecy 8 running shoes is one of the best pairs of running shoes that you can find on today's market.
These shoes are engineered to be the best performing shoes that you can find.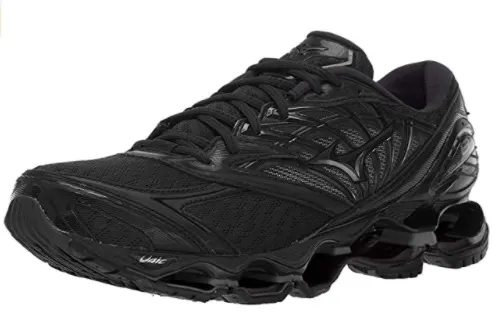 They feature superior quality materials which help to provide superior cushioning and durability.
The Wave Prophecy 8 shoes offer superior quality through unique features that help with shock absorption which guarantees that your shoes are comfortable when running on paved surfaces or trails.
They are a great choice for long distance running. They will help you to travel further, more powerful, and stronger.
Pros
Superior materials
Built to last longer than traditional runnings shoes
Perfect for long distance runners who generally wear through shoes faster
Great for marathons
Trusted engineering
Dynamotion fit technology (relieves stress on the foot)
AIRmesh upper for superior breathability and comfort
U4icX Stroble lasting board (keeps the underfoot comfortable)
Infinity wave plate (the latest in innovation and technology)
Cons
Expensive, costing $240
Not a lot of color choices available
Only available in half sizes between sizes 7.5 and 12.5
Men's Peachtree Waveknit R1
These unique and functional kicks offer a special design that has been influenced by the American flag.
The colorway is the predicted red, white, and blue but the design is unique to the company.z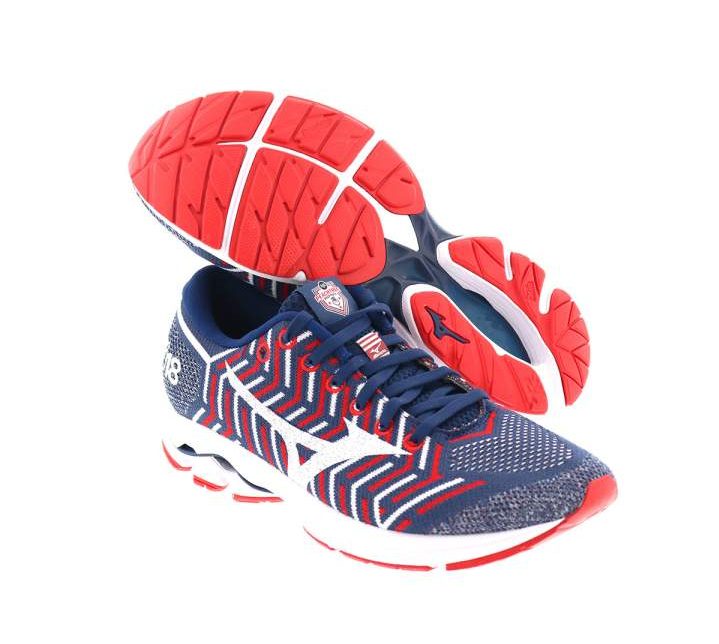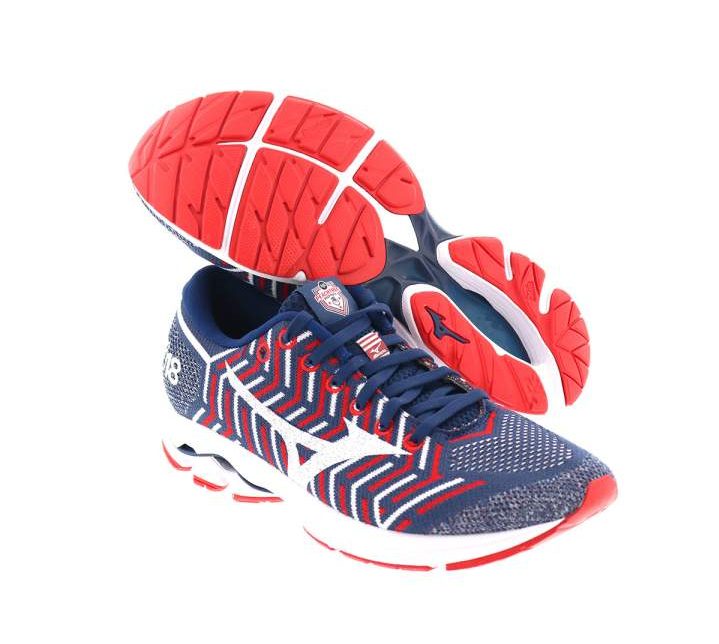 The shoes feature a special wave construction at the base which helps to provide a fitted and comfortable fit while offering stretch and comfort.
This roadrunner is unique and limited, so there is a good chance that they will be gone quick.
They are a great starter pair of running shoes with a design that features more comfort than what you would see with traditional running shoes thanks to their superior fit and technology.
Pros
Special limited edition color and design
Unique wave footbed that leads to a more comfortable run
Large size range with whole sizes from size 7 to 17
Unique Waveknit
Cloudwave technology
U4icX heel wedge
U4ic midsole
Unique upper that offers more stretch when running to guarantee a perfect fit.
Cons
Half sizes only available in 7.5 to 12.5
Only available in one color combination
Limited edition so you must purchase now or possibly miss this design
Men's Wave Inspire 15 Running Shoe
The men's Wave Inspire 15 running shoe was designed with specific runners in mind. It was created more than fifteen years ago and has been a popular selling design ever since.
This shoe is made with the overpronator (keep reading and you will learn more about this common running problem) in mind, seeking to help them run properly with specific designs.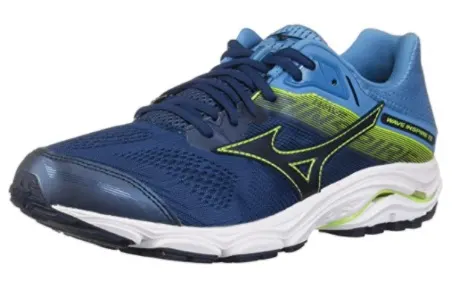 While the original design is more than fifteen years old, there is additional technology offered in the upper that allows for a softer fit and a design that you can wear anywhere.
The shoes come in four color schemes. These shoes feature the innovative wave technology that keeps runners feeling light on their feet as they run through any condition.
However, while being comfortable they still remain stable. There are a number of innovations including an engineered design that actually allows for the upper part of the shoe to be breathable and comfortable while offering full protection from the conditions around.
Pros
High-quality running shoes for a reasonable price, under $150
Offers a wide range of whole sizes running from 7 to 16
Engineered upper that features unique materials designed to allow you to breathe while being solid
Durable to offer high performance
U4ic midsole offers shock absorption, superior running stability, and durability
Lightweight, responsive, well cushioned, resilient
U4icX strobel lasting board to ensure that the underfoot is comfortable
Really responsive for the additional padding
Cons
Not available in a full range of half sizes, 7.5 to 12.5
Shoes can feel a bit clunky compared to other styles offered from Mizuno
No school colors or unique colors that can match schools for younger runners
Top Women's Mizuno Running Shoes
Women's Waveknit R2 Breast Cancer Research Foundation
The Women's Waveknit R2 Breast Cancer Research Foundation running shoe really has some unique technology, like the wave construction that is featured at the base.
In addition, the Waveknit technology is featured to offer superior fitting and natural dynamics that allow for the shoe to stretch and move with your foot.
In addition to getting this great shoe, you are able to support breast cancer research when you choose this particular color and design.
A portion of the proceeds from each of these shoes goes to the Breast Cancer Research Foundation towards their #projectzero campaign.
The Waveknit is a specific line of shoes that have been inspired by wave technology. These shoes feature the innovative wave technology at the base with the Waveknit technology upper.
This allows for there to be a superior and dynamic fit and allows for the shoes to stretch to the foot and hold the foot in place.
You never have to worry about your foot or your heel slipping in these amazing high-quality shoes. Plus you get the ability to support a great charity and make  difference with your purchase.
Pros
High-quality shoes that offer a portion of the proceeds to charity
Bring breast cancer awareness into your runs
Innovative Mizuno cloud wave technology
Cushioning, guidance, and additional support provided
Wave technology that raises the bar for other running shoes
U4ic midsole offers a superior ride while providing shock absorption and durability
U4icX Strobel lasting board allows for a comfortable feeling underfoot when running
U4icX midsole
High-quality premium sockliner
Cons
Only available in one color for charity donation
Available in other colors, but no charity donation
Some users claim that these are not the most comfortable running shoe that Mizuno offers
Women's Wave Prophecy 7 Running Shoe
The women's Wave Prophecy 7 running shoe is known for being one of the most luxurious shoes that money can buy.
In fact, almost every runner who has switched to this style of shoe swears that they will never go back to other running shoes because of the superior quality and comfort.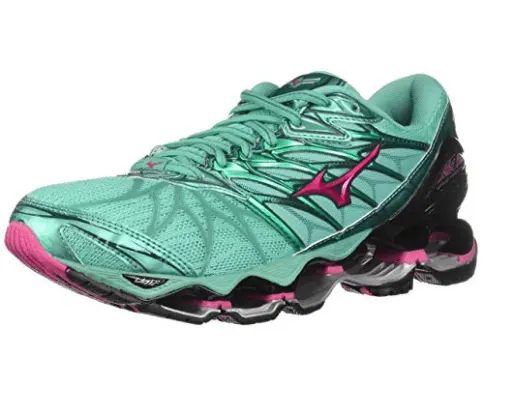 These shoes offer the most evolved and revolutionary cushioning. They have a lighter weight upper which leads to runners having the ability to move and keep up with their unique style and design.
These shoes offer luxury that is simply not seen in other shoes. They are going to last for a considerable number of miles regardless of how hard you hit the pavement when you run. You can even enjoy these shoes while running on trails or offroad.
One of the most unique features of this shoe is that it features a soft step in. This means that the user is comfortable as they step into the shoe and find that it is one of the best fits available today.
Plus, it has features and technology that you are not going to be able to find anywhere.
Pros
Unique and innovative design make these shoes one of a kind
Trendy and popular color combinations that are sure to offer something for everyone
AIRmesh upper that offers breathability and flexible stretch for the perfect comfortable fit
Dynamotion fit which allows for your foot to move freely in a fashion that almost fools you into thinking that you are not wearing shoes at all
An intercooler ventilation system that keeps your feet warm and dry in cold conditions and cool and dry in hot conditions
Features Mizuno wave technology
SmoothRide offers the wearer a seamless transition into all physical activity
X10 Outsole that allows a wearer to wear these shoe longer
Cons
A very high price tag
A lot of technology in one pair of shoes can be overwhelming
Only available in women's sizes 6 to 11 (with half sizes in between)
Women's Wave Sonic Race Running Shoe, $100
This unique running and training shoe is simple in design and technology. It is perfect for those who prefer training shoes that are separate their race day shoes.
It offers a nice solid choice of running shoe without all of the perks, bells, and whistles at a lower price point than most other Mizuno shoes.
The Women's Wave Sonic Race Running Shoe might be the exact shoe that you are looking for if you need more while you train.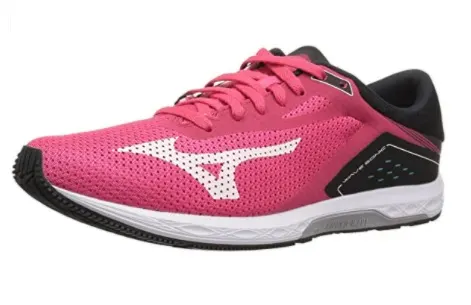 The Wave Sonic is a woman's low profile racing shoe that is going to get you into shape for your race day adventures. This shoe is low profile and features a special glove-like fit that Mizuno has become so famous for.
The shoes have the favored U4icX technology that offers foam inners that allow for you to have more control and more bounce in your step.
They are perfect for running in areas where you would want to feel your surroundings and for jumping through all kinds of conditions.
Pros
Very affordable
Lightweight and versatile shoe
Allows for you to get into shape while you are training
Unique fit allows your shoe to stay in place even when running
U4icX technology gives spring and bounces to your step
The very affordable price tag at $100 per pair
Unique features geared towards training
Cons
Fewer features and technology than other Mizuno shoes
No school colors for those who want to race in style with their teammates
Not a lot of neutral colors either, colors are bright and specifically targeted at what one would assume women wanted
Other Mizuno Models to Consider
A Look at the Mizuno Running Shoe Technology
There is a wide range of technologies that Mizuno running shoes offer the wearer superior comfort and stability in their runs. With so many different technologies, you are sure to find that Mizuno shoes are some of the best.
Wave Technology
The Mizuno Wave technology is one of the ones that are unique This technology is in the midsoles for running shoes that are made for the trail or road.
The Mizuno Wave is a special plate that is in the midsole of the shoe and offers you both stability and cushioning. There are actually four different types of waves that Mizuno makes, each offers you what you need for a different set of needs.
Parallel Wave — The Parallel Wave is the least supportive of all of the waves and is found on neutral shoes. This shoe helps to keep the foot in place while offering some additional cushioning.
It allows for the midsole to be able to distribute the impact with even weight distribution.
Fan Wave — The Fan Wave offers support and is designed just with that in mind. The Fan Wave is specifically for stability. The wave that is in the shoes helps to have energy dispersion and cushioning while offering support where overpronators need it the most.
This means that it helps to correct running problems without the runner struggling to correct them on their own.
Infinity Wave — You can actually see the Infinity Wave on the shoes when you look at them as it is the most visible of the wave technology. The wave actually looks like two plates with cushioning between them. This special design delivers durability and cushioning.
It helps you to be able to have a comfortable and smooth run regardless of the path that you are running on.
Double Fan Wave — The Double Fan Wave is unique and offers you a great amount of support. The Double Fan Wave is like two of the Fan Wave plates put together by being stacked together. It offers supportive properties to be able to have stability within Mizuno running shoes.
This technology offers more for overpronators who are able to provide more support.
Dynamotion Fit
Another unique technology that Mizuno offers is the Dynamotion Fit. This technology utilized some unique research which included a biomechanics technology and advanced motion capture to be able to show how the foot moves.
This allowed for a blueprint to be created that would allow for shoes to be made with the ability to adapt to the runner's movement. The shoes actually allow for the shoe to work through each movement of the gait cycle.
This technology can be featured in different parts of the shoe which allows for shoes that move with the runner and are specific to the type of running that will be done.
U4ic
The U4ic is a special technology that is made for the insole by Mizuno. This technology features a material that is meant to provide cushioning in the sole of the shoe while still allowing for the shoe to have a smooth ride.
You can still be aware of the terrain that you are running on without having to worry about the responsiveness of the shoe. One of the best things that this technology offers is that it is lightweight.
In fact, it is about 30% lighter than the traditional technology that is used to cushion the midsole.
U4icX
U4icX is another unique technology that was introduced by the innovative Mizuno brand. U4icX might sound a lot like U4ic, but it is actually more lightweight and softer for better and more comfortable use.
The most common place to see this technology is in the heel area of the shoe where you want to have some cushion when you land without feeling like you have been weighed down by your shoes.
Smooth Ride
The value of the Smooth Ride technology is hard to measure. This is the technology that allows for runners to comfortably push their boundaries and run farther and harder.
Smooth Ride is from innovative engineering that helps ensure that you can easily cycle through the way that the foot and body move as you run.
Why Should I Invest in Good Running Shoes?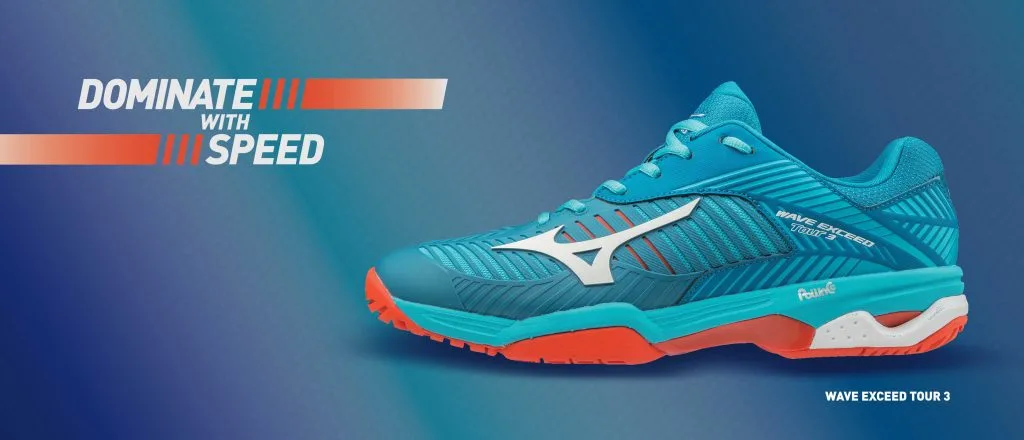 Many people do not see the importance of buying good running shoes. In fact, you might even see runners who are running in their old tennis shoes or random tennis shoes that are meant for style or even another sport.
Of course, you probably do not think twice about this and you might even be wondering why you should purchase good running shoes yourself.
You want to find a good pair of running shoes that are going to be good for your feet. You want shoes that are not only comfortable, but that is going to be good to your feet.
One of the biggest benefits that you are going to find is that your feet are going to feel good after your runs and workouts.
This is really something that you will appreciate, especially if you have been wearing the wrong shoes for long. Don't feel bad, you are not alone if you did not realize the importance of good running shoes.
In fact, you are not alone and so many people do not realize how important they are. One thing is for certain, if you feel pain or tiredness in your feet after a good run, you can be sure that you are not wearing the right running shoes.
Keep Foot Pain Away
One way to be sure that you have sore feet is to wear shoes that are for any purpose other than running while you run. Another way to ensure that you have foot pain is to choose the wrong types of socks.
Of course, most people own cotton socks. However, when you are running you should never wear cotton socks because they cause friction which can lead to sores and blisters.
This is why so many people end up with painful feet or even sores that cause health problems, all from the simple act of wearing the wrong socks and shoes for a run.
Keep in mind that you can have blistered and sore feet even if you are just going for a short run, so invest in a good pair of running shoes and some running socks before you start running.
Pick Shoes That Fit Your Foot
There are so many things that you can do with a good pair of running shoes and one of these is that you can ensure that you have shoes that are fitted to your foot.
When you are choosing shoes you want running shoes that are shaped similar to your foot and have a snug fit that is comfortable and not pinching. You will love how light your feet feel in a good pair of running shoes.
One of the things that makes running shoes so comfortable is that they fit your foot completely. Make sure that your running shoes do not slip on your heel as this is one of the things that will lead to blisters and other pain.
One of the best things about modern technology is that many athletic shoe stores offer machine tests that show the type of foot that you have, how you run, and which type of running shoe is going to work best for you.
Find the Best Shoes
Thankfully you are able to use the running shoes to work for you. You can find running shoes by making sure that you look at the degree that your foot turns too.
This is because some runners have too much rotation in their foot when they run, which is called too much pronation. Other runners have feet that do not rotate inward enough when running, which is called insufficient pronation.
By knowing which of these problems you have, you will learn exactly what the right type of shoe is for you and your needs. This will help you when you go to purchase a good pair of running shoes.
Just have some insight and share with the store salesperson exactly what you want from these shoes.
Questions and Answers
Question: Where did Mizuno get their logo?
Answer: Mizuno offers you a unique logo that is a runbird. Mizuno had an original logo that was a simple letter "M." After some time they decided to update the logo.
It was in 1980 that Noboru Kono (he was the leader of the Mizuno product research and design division) was told that he needed to make the Mizuno logo better. They wanted their new logo to represent the views and values that the company has.
This was something that was tough but just required some basic brainstorming. However, while that might sound simple, Kono actually worked with a team and was brainstorming for over a year before they could settle on two words to describe the brand, run, and bird.
After many revisions and lots of time spent on the logo design itself the unique runbird that you see today is what the team came up with.
Today this simple logo makes the Mizuno brand one of the most recognized brands throughout the entire world.
Why are the running shoes from Mizuno so popular?
One of the things that keep Mizuno shoe owners coming back is that the brand has a goal to enhance the athlete's performance. Every pair of Mizuno shoes is made with unique construction and special technology that offers the wearer a truly special pair of shoes.
These shoes help to increase the potential that a runner has while improving their performance while ensuring that the runner is completely comfortable. Mizuno shoes are perfect for running in any environment.
Plus, they are well reviewed and you can read about them on all of the top shoe blogs. This is because they have superior quality and technology that give you everything that you want.
In addition to offering shoes for men, Mizuno offers amazing high-quality running shoes for women and youth. This means that all runners can find the shoes that they are going to love for their feet.
Their shoes are minimal and offer the stability that others do not.
What Criteria Was Used in This Review?
The following is a list of the different criteria and an explanation about how it was used in the review.
Comfort
You want to ensure that you are going to be comfortable when you run. We looked for shoes that were comfortable from the moment that you tried them on to the end of a multi mile run.
We wanted shoes that were going to offer you the ability to run alnl day without feeling like you ran all day. We looked at how the shock and impact were absorbed and how the padding and materials were put together. We also looked at the weight of the shoes.
Flexibility
We then looked at how your foot could move in the shoes. We wanted good high-quality running shoes that allowed your foot to move and bend as though it were barefoot.
Of course, if you have an issue with your running and needed additional support, there are options that were considered from Mizuno but those recommendations would be different than if you were just looking for a standard running shoe.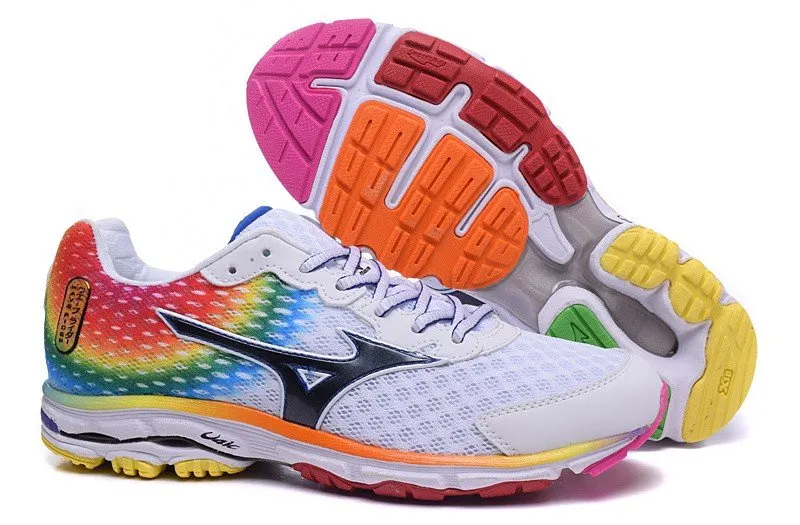 Breathability
There is nothing more frustrating and annoying than knowing that your feet are dripping with sweat and ruining your shoes. Let's face it, once a shoe has been sweat in so much you might find that they are uncomfortable and cause you to have sores on your feet.
If that is not the case, you might find that your shoes pick up an unpleasant odor. It does not matter what you want from your shoes, you will thank yourself if you pick a pair that is breathable.
This will allow for your feet to stay cool on the hottest days. Mizuno shoes offer the ability to breathe comfortably regardless of the activities that you are involved in.
Value
Depending on which pair of Mizuno shoes you are looking at will offer you a different perspective on value. One thing to keep in mind with this brand, they are built to last.
You are getting high-quality shoes that are available for a fraction of the price that you would have with other shoes. You will appreciate that the shoes are comfortable and that they offer something in most price points.
You can find shoes for around $100 if you do not have a lot to spend and these shoes still feature some of the great technology that Mizuno has created as well as the overall standards that you have come to expect for the brand.
Now, there are also shoes that are $240 per pair and these shoes have all of the technology that you can imagine and offer you a chance to enjoy the shoes for a considerable amount of time.
Final Thoughts
Avid runners and beginning runners alike will find that the Mizuno running shoes are a perfect choice for their own running goals. These shoes are built with the highest quality standards, utilize new and unique technologies, and offer you the support that you need while you are running.
They offer you choices with a number of different running shoes that will meet your personal needs. One unique thing is that they offer a special youth line of sports shoes and they even feature youth running shoes.
This makes them great for people who want to outfit their whole family in running shoes that will allow for them to run together.
Overall, each pair of Mizuno running shoes offers the runner everything they need for support and to be able to enjoy their runs. These are a great high quality running shoe that are going to offer you a number of different types of features within.
I would highly recommend making a list of the features that you want in your shoes and what you feel comfortable spending between $100 and $240.
Then compare the features that you want with the shoes that Mizuno offers in your specified budget. This will help to ensure that you have a great pair of shoes that you love running in for years to come.