When it comes running or walking, a high-quality shoe can make the difference between a comfortable experience or an unbearable one. Now, it's not the physical shoe that holds such value – it's thought-felt innovations infused into the very threads and seams of the shoe.
Whether it's unique, patented technology in the midsole or outsole or perhaps the enhanced breathability in the upper – all of this contributes to the larger goal: your successful running or walking exercise.
In the past couple of years, there has been an influx of new innovations and patented shoe technology from numerous manufacturers.
It's evident that their passion and goal is to create the absolute best running and walking shoe, based on comfortability, durability, and individual performance.
Today, one company that has always impressed consumers and experts is Mizuno.
In their lineup of shoes, the one that has captured consumer's attention, and ours, is the  Wave Rider 21.
In this guide, we are going to breakdown this road running shoe and offer some insight to make purchasing a road running shoe easier than before.
Product Specifications and Breakdown
 

 

Mizuno Wave Rider 21

 

Type of Shoe

 

Road Running

 

Weight

 

10.2 Ounces – Men

 

8.7 Ounces – Women 

Price

 

$120

 

Heel Drop

 

12 mm

 

Midsole Technology

 

U4ic technology 

 

Outsole Technology

 

Mizuno X10 Carbon Rubber with Flex Controllers

 

Upper Design

 

Dynamotion Fit design and stretch mesh.

 

Flexibility

 

Very

 
Most Notable Features
The u4iCx technology in the midsole of the shoe makes walking or running more seamless.
Shoe is made from lightweight materials.
Engineered Mesh Upper enhances breathability.
Sock liner helps with support.
High-quality and durable carbon rubber outsole.
Sole Technology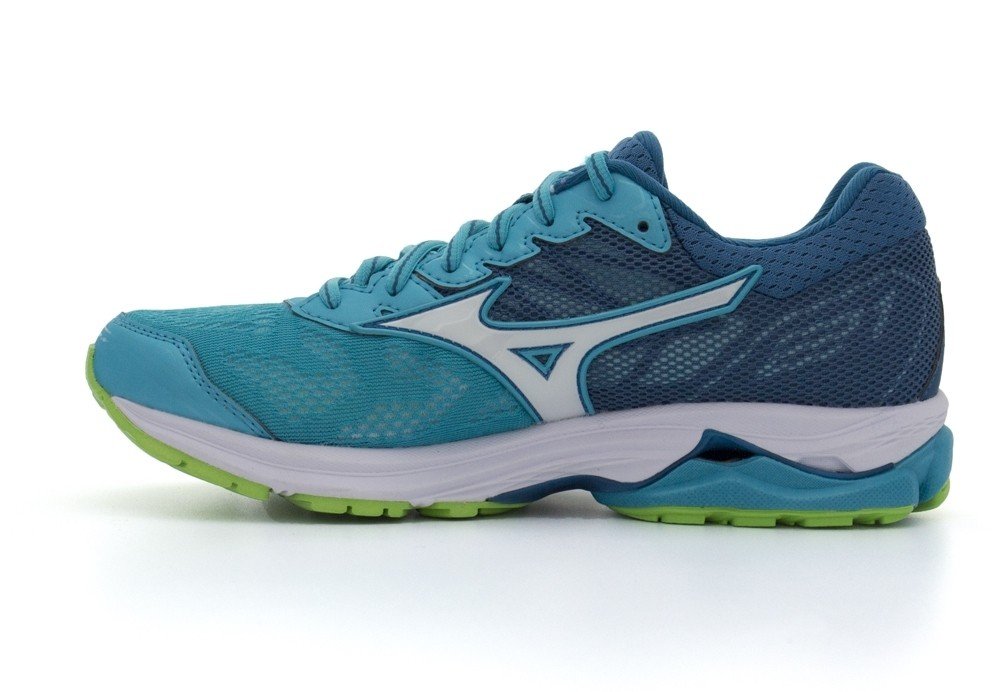 When it comes to purchasing a road running shoe, one of the most important aspects to take into consideration is the type of sole technology infused into the core of the shoe.
For beginners, there are three different parts to the shoe's sole: the outsole, midsole, and the insole. These three components comprise the comfortability, durability, and stability of any shoe.
The Mizuno brand has built their reputation based off their innovative and patented sole technology.
Outsole
For the Wave Runner 21, Mizuno utilized the patented Mizuno's X10 Carbon Rubber for the entire bottom part of the shoe.
What makes this outsole material such an impressive choice is that not only is it durable, it does a great job at minimizing the impact while running or walking on the road.
In efforts to provide a more lightweight shoe while also promoting flexibility – Mizuno included blown rubber materials for the forefront of the shoe.
Now, frequent customers might notice the unique Flex Controllers on the bottom of the shoe. These contribute and add to the flexibility and traction.
Midsole
In our opinion, one of the most impressive parts about these shoes is the midsole technology. Mizuno included a unique material known as U4ic, which is known for its lightweight and supportive properties.
Frequent consumers with the Mizuno brand might be used to their standard midsole technology; however, this newer technology is not only lighter, it's more responsive, allowing for increased performance.
Additionally, the midsole is infused with a sock liner, which is known to add more support and cushion for the consumer.
Upper
In the upper of the Wave Runner 21, Mizuno included the Dynamotion Fit design. The reason behind this innovation was because it helps in boosting flexibility, maneuverability, and stability.
Additionally, the materials are made from a unique mesh material, which helps in enhancing breathability and ventilation.
With Mizuno, every aspect is taken into consideration. Even the logos on the upper are made from a lighter material.
Durability
By observing the materials and innovations used in the Wave Runner 21 shoes, it's clear that Mizuno wanted to create a durable shoe to last for many miles.
While it's unclear how many running or walking miles an individual may get out of these shoes, as long as the shoes are used on roads alone – they could last for years, thanks to the Mizuno X10 Carbon Rubber with Flex Controllers.
Comfortability
This particular shoe from Mizuno is known to offer consumers a great balance between stability and comfortability.
In the midsole, the powerful U4ic technology infuses comfortability into the core part of the shoe.
Additionally, the materials used in the upper, including the unique and innovative sock liner, all add a layer of comfort with extra padding and cushioning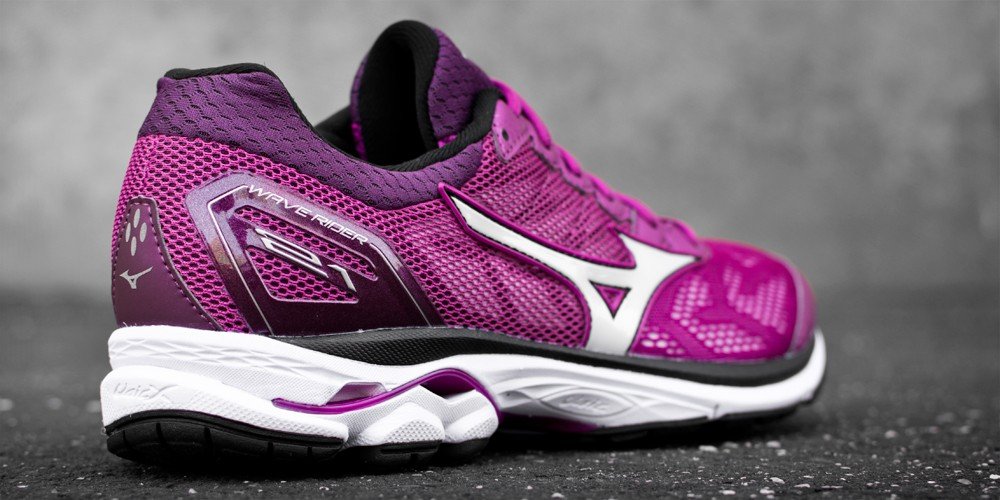 Flexibility
If there is one area where the Mizuno Wave Rider 21 shoe shines, it's in the flexibility department. In fact, it's evident that this brand wanted to create one of their most flexible road running shoes with this product.
The entire shoe is made from all lightweight, stretchy, and mesh materials to make it easier for an individual to maneuver, run, and walk.
Traction
When looking at the outsole of the Wave Rider 21, it's evident that Mizuno took traction into consideration when making this shoe.
Veterans of this brand and shoe series can attest that traction is often something you do not need to worry about.
However, it's important to note that these shoes are only designed for smooth surfaces, this includes the outsole and traction.
If you are to take these shoes on rough or rigorous surfaces – it can wear the outsole and minimize their ability to keep traction on smooth surfaces.
Design
If there is one area where this shoe struggles, in it's the design of the shoe. The Wave Rider 21 does not come in a wealth of different colors or designs, which is quite unlike the competition.
Men
Eclipse
Green Slime
Quite Shade and Silver
Black
Women
High Rise and Gray Stone
Baja Blue and Dazzling Blue
Clover and White
Patriot Blue and White
Peacock Blue and White
High-Rise and Graystone
Safety Measures
When it comes to road running shoes, you might anticipate that a manufacturer includes some degree of safety features.
Surprisingly, Mizuno did not include many safety features, specifically for night time walking or running.
Fortunately, Mizuno did include some other safety measures, like a supportive outsole and a stability-focused upper and midsole.
So, consumers can be assured the shoe will not slip or fall off. In our opinion, this is the biggest downfall of this shoe.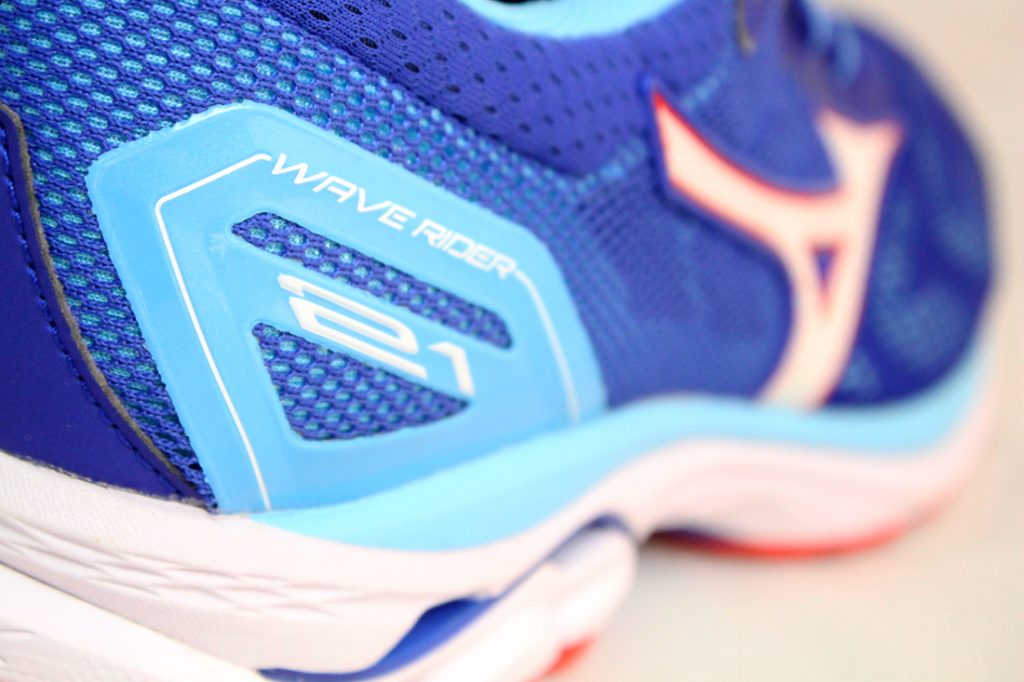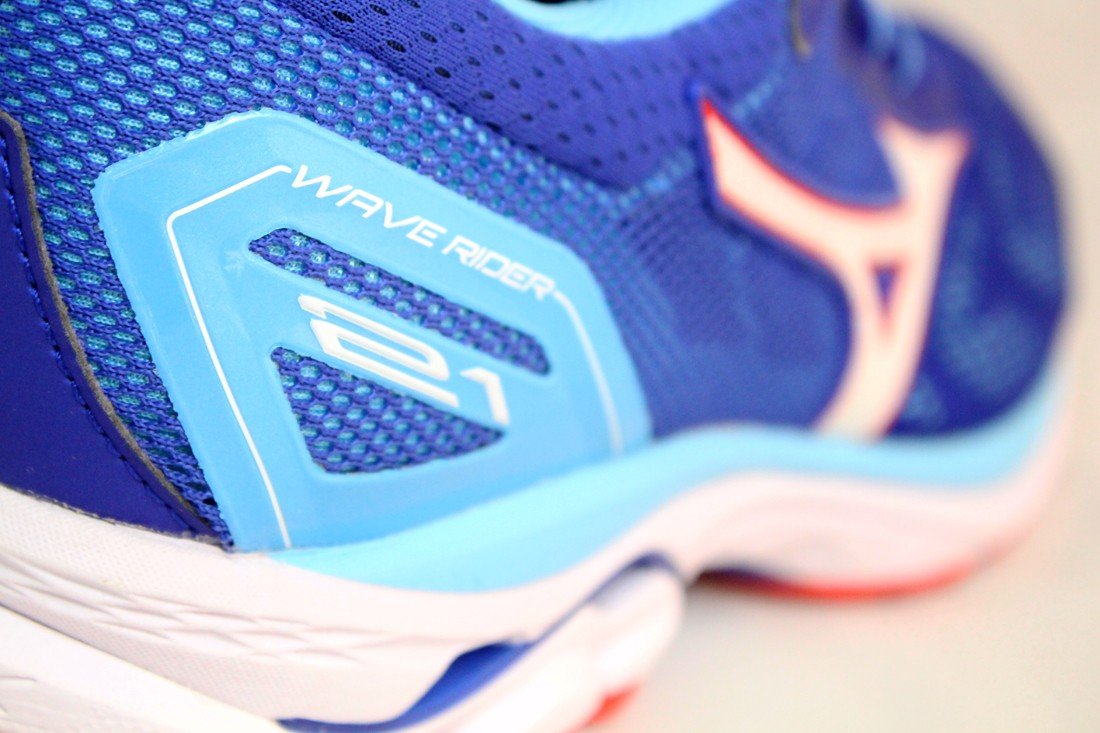 Sizing
When it comes to the sizing of the Wave Rider 21, it's important to know that many consumers believe that these shoes are not designed for individuals with wide feet.
This can be noticed by looking at the sizing for both men and women. Moreover, the heel height for men and women is 30mm and the forefoot for both men and women is 18mm.
At the time of writing this article, the following sizes are available:
Men: 7 D(M) – 16 D(M)
Women: 6 2A – 12D
A word of caution, when ordering a pair of Mizuno Wave Rider 21 shoes, take note of the size chart. Typically, these shoes run smaller than what is marketed.
If you do not carefully measure accordingly, you might notice the shoe being too narrow, causing an uncomfortable experience.
Pros and Cons
Pros
Comes with a wealth of cushioning for running or walking
Made from lightweight materials
Offers great breathability and ventilation
The outsole is made from high-quality and durable materials
Cons
Wave Rider 21 shoes offer less vibrant or appealing colors than previous shoes
Made only prove effective for individuals with narrow feet
The shoe is not true to size
Runners may need to break into the shoe until getting optimal fit
Our Recommendations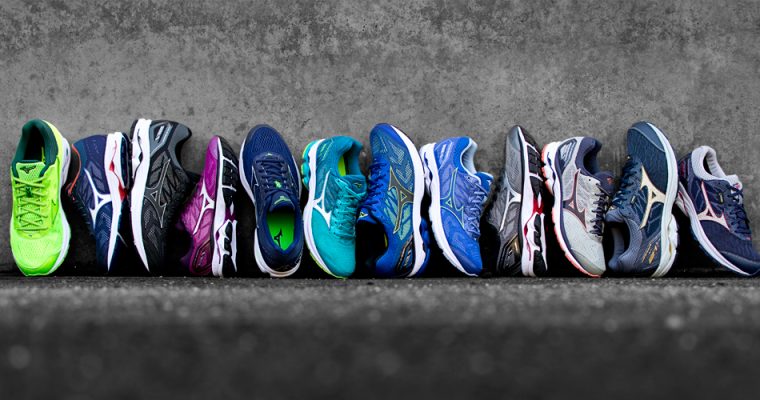 Who is the shoe best for?
The Mizuno Wave Rider 21 road shoe is an optimal choice for individuals that are seeking a highly durable, flexible, and lightweight everyday shoe.
These shoes can handle regular activity on clean, sturdy, and flat surfaces. Whether a consumer is seeking a shoe for working out, outdoor running on the road, or track running, the Wave Rider shoes are a great choice.
However, if you are looking for a road shoe that is supportive of wide-feet, this is not the choice for you.
Is the Mizuno Wave Rider 21 worth it?
Today, the Mizuno brand is known in the industry for creating great, high-quality shoes. In fact, any shoe that this brand manufactures typically receives positive reviews and attention from both consumers and the experts.
With that being said, the Wave Rider 21 shoes are one of the latest installments from this brand, and one of their flagship shoes.
So, you might be asking, are these shoes worth it?
Through simply looking at the design and the innovations infused into the seams and threads of the shoe, the Wave Rider 21 shoe is most certainly worth any who is seeking a high-quality everyday road shoe.
It is highly advised to do some fair research before purchasing a pair of Mizuno shoes as some websites are charging a much higher price.
While you might not be able to run on waves with this Mizuno shoe – you might be able to run on clouds, thanks to this lightweight shoe.