If you happen to be a little overweight and are having doubts about whether to start running or not, just don't!
Running is for everyone. Don't let anyone tell you otherwise.
I myself started off as a heavy runner and there's no shame in that. It's more than common for people to venture into running as a way to lose a couple of pounds and end up loving it. To the extent, that it becomes more than a simple activity, a way of life.
Just remember that everybody has to start somewhere. The important thing is that you do start, and wear the right shoes that can truly help you prevent any injury that could occur due to that extra weight.
Now, the first thing you're probably wondering is…
Am I a heavy runner?
If you have a body mass index (BMI) of over 27 or weigh in excess of 200 pounds, you probably fall into this category.
If this is the case, I'm sorry to say that those extra pounds could, under the wrong circumstances, take their toll on your body while running.
And here is exactly how…
How does my extra weight affect my running?
Extra weight and joint shock
When you run, your joints have to withstand one and a half to three times your entire body weight of shock with each step. Carrying extra mass means additional shock is placed on your joints.
Now, when you take into consideration the long distances of constant shock the average runner has to regularly endure, carrying that extra weight can be a real issue, even leading to a possible injury.
Extra weight and overpronation
Excessive weight is currently the number one cause of flat feet.
What happens is that extra weight can sometimes put too much pressure on the ligaments and muscles that hold the shape of the arch together, forcing it to flatten and ultimately collapse.
Flat feet can cause overpronation which puts more stress on knees and ankles, making matters even worse for heavier runners.
It can eventually lead to plantar fasciitis (heel and arch pain), ankle sprains, shin splints (pain in the front or sides of the lower leg), knee, hip or lower back pain.
Even if having a low arch or flat feet is not your problem, there is another reason why overweight runners tend to overpronate.
You see, more than often men tend to carry all their excess in their lower abdomen.
This accumulated and undistributed weight in the frontal region forces your body to make adjustments in the way you stand and move in order to maintain balance and prevent itself from tipping over forward. These adjustments can come in the form of overpronation.
Fortunately, all these issues can be addressed by using the right footwear. Which leads to our next question…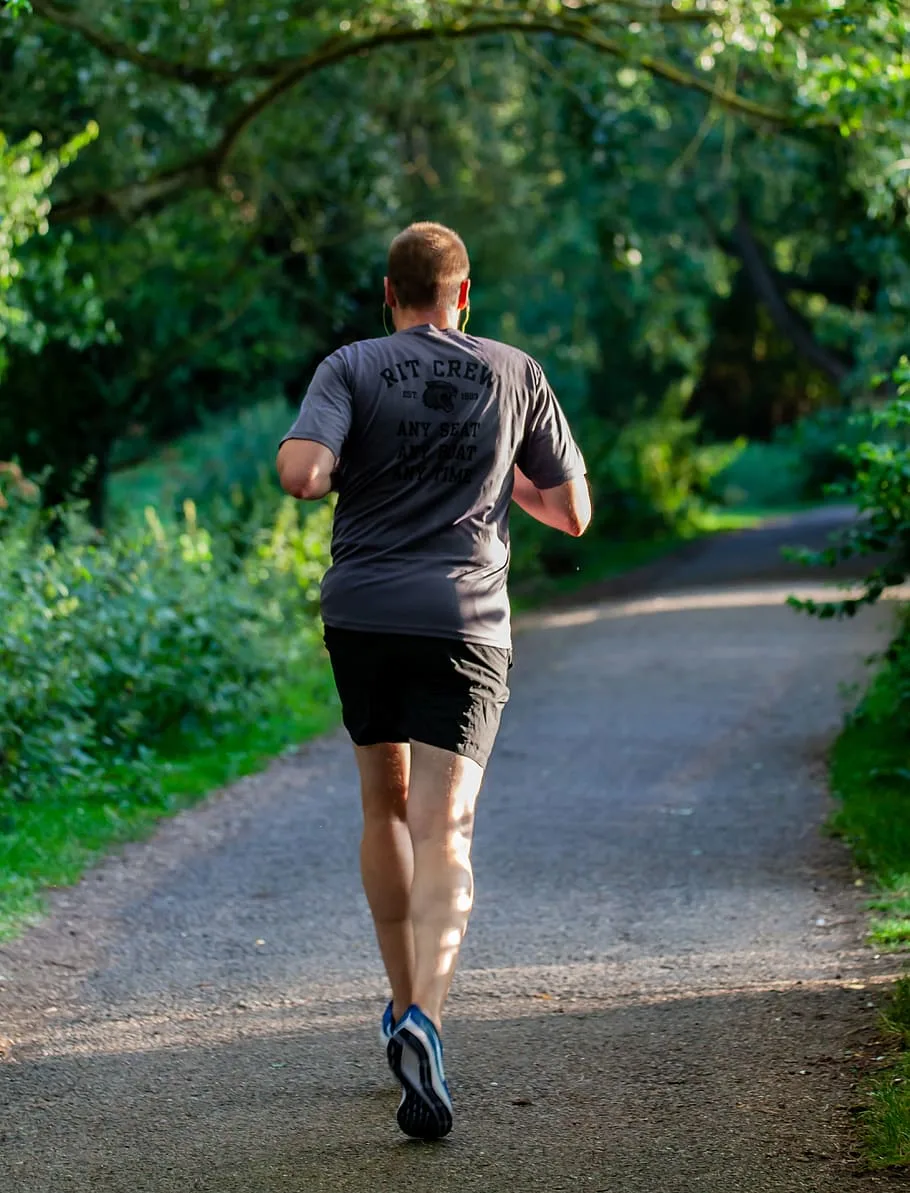 What should I be looking for in a running shoe as a heavy runner?
Stability and support
Top of your list as a heavy runner is stability and support.
As a heavy runner, your first priority should be achieving a proper running form and efficiency. Therefore your shoe must be capable of helping you achieve it.
In other words, you must look for footwear with features that improve your running form by distributing shock more evenly and locking your feet down in a neutral position to correct any pronation problems you might be facing.
It is well proven that stable running with the use of motion control shoes can really make a difference for heavy runners, as they can minimize damage to the joints and thus, the risk of an injury.
Shock absorption
Shock absorption is commonly associated with the amount of cushioning, and whether increased cushioning is beneficial or counterproductive in reducing joint stress is still a controversial subject.
Those who favor minimalist running claim that increased cushioning does not only not reduce impact, but it may even increase it, while most traditional experts still recommend high amounts of cushioning for heavy runners.
What's safe to say is that proper shock resistance according to your size is crucial for injury prevention, as a study performed last year at the University of South Australia found that heavy runners are up to four times more prone to injury if their shoe doesn't have enough cushioning or shock absorption.
Therefore, when it comes to cushioning, aim for quality shock absorption instead of quantity.
Avoid those increased cushy and weak cushioning and look for sturdy cushioning that can dissipate the impact and is able to withstand your extra pounds without collapsing and causing your whole weight to crash down on your feet upon landing.
Durability
Let's face it. Most running shoes were not designed with the heavy runner in mind and simply can not handle the additional pressure that's put on them.
Since running shoes aren't getting any cheaper, it's your task to look for a pair that's able to take the extra shock and has extra protection from wear and tear. This is the only way you can really get the most out of them.
Lightweight and breathability
Unfortunately, the aforementioned features that make for a more stable and supportive shoe and should rank pretty high in your priorities as a heavy runner, can compromise its weight and breathability.
Poor moisture control and heavy shoes can really be a source of discomfort, and no runner deserves that.
So, try your best to find a shoe with the right balance of these two groups of opposing features to ensure a safe, but comfortable ride.
To help narrow your search, I've put together a list of top running shoes suited for heavy men. This list is far from exhaustive, but it will give you a good idea of what to look for.
Top running shoes for the heavy runner
Let's start with neutral and stability shoes that have enough features to withstand and give heavy runners a comfortable ride, and gradually work up to more heavy duty shoes to address severe overpronation problems and the heaviest of runners.
Mizuno Wave Rider 
Type: Neutral / Supinator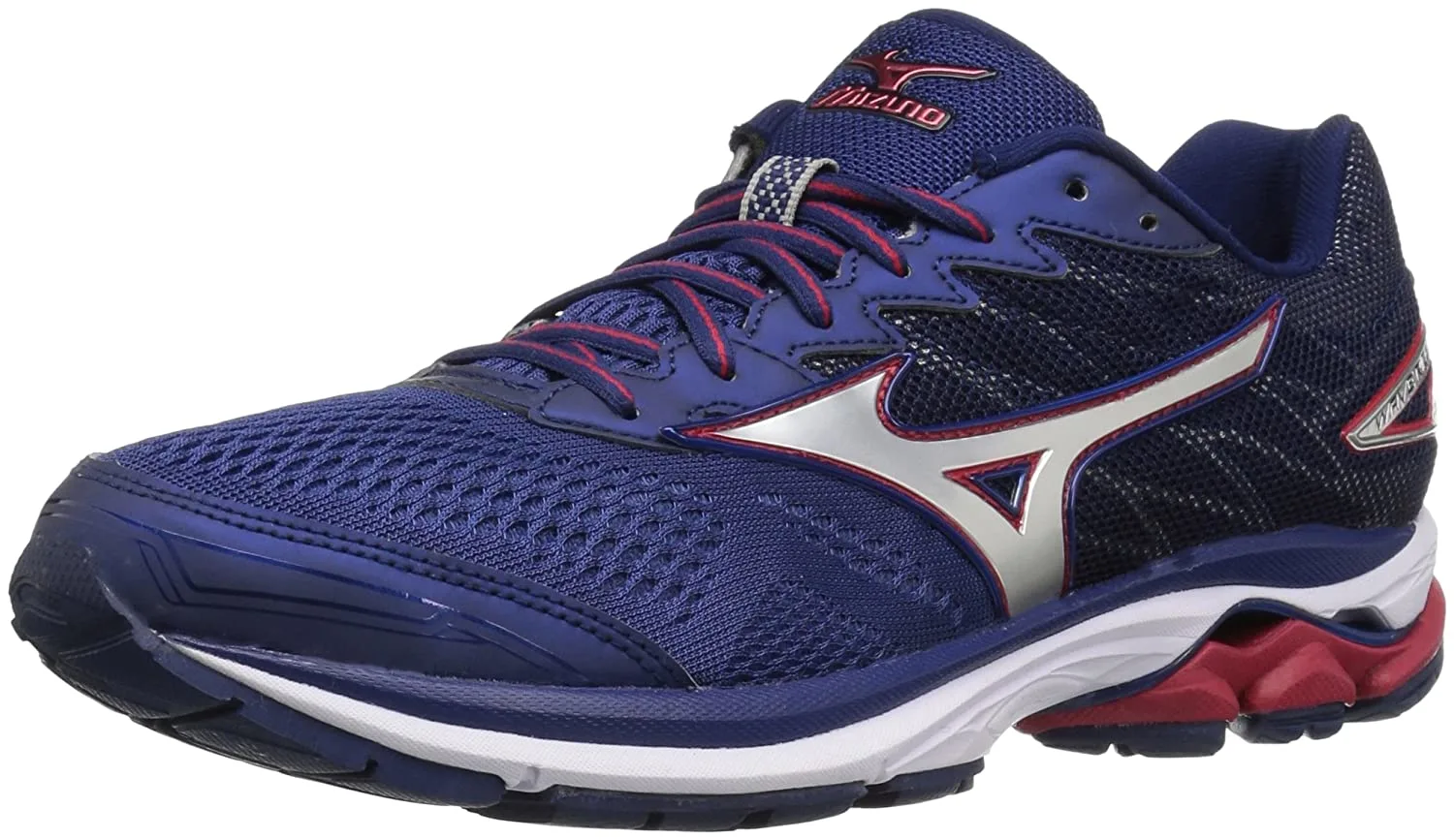 Big runners tend to overpronate, but that isn't always the case.
So if you happen to be a heavy but neutral runner or an uncommon heavy supinator that wants a shoe that's comfortable and able to support your extra weight, but without having to sacrifice breathability, weight or performance, then the Mizuno Wave Rider might just be the one for you.
Outsole
These shoes by Mizuno made with a combination of hard (carbon-based) and soft rubber. These materials are carefully distributed to give shoe support and stability while being comfortable and flexible.
It combines 2 types of compression molded foam to make it durable, responsive and flexible.
This shoe manages to add more bounce without extra padding, with a special plate that adds. This gives it extra shock absorbency while keeping it lightweight.
The overall design of the midsole allows the runner a better transition from heel-to-toe and a smooth and comfortable ride.
Upper
Its combination of mesh, urethane, and synthetic leather make it adequately breathable and comfortable while keeping it lightweight and adding support.
It also comes with an antimicrobial sock liner. This feature not only keeps the shoe dryer and cleaner but also adds extra cushioning.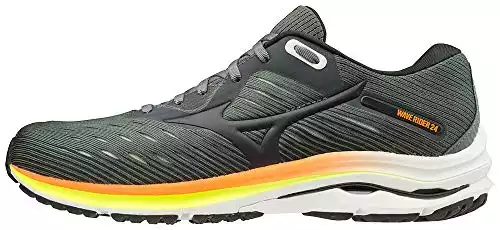 Mizuno Mens Wave Rider 24 | Amazon
Wave rider 24 features a dual compound midsole using U4ic and energy foam technologies for a smooth and springy ride. Mizuno Wave cushioning technology provides ultra-soft comfort in a super secure fit, coupled with a lightweight and breathable mesh upper to offer controlled temperatures AND top unwavering performance.
Buy for Men
Buy for Women
We earn a commission if you click this link and make a purchase at no additional cost to you.
02/07/2023 07:54 pm GMT
Weight
Drop
Price
You can find them between $100 and $120 For the latest prices and discounts, check here.
Pros
The fact that the Mizuno Wave Rider line has reached it's 20th iteration, shows just how good this shoe is.
This shoe manages to be very flexible, responsive and lightweight while having enough cushioning to meet the needs of heavy runners and supinators.
It's versatile enough to work for long runs, as well as for sprinting.
The Wave Rider 20 has its fair share of praise on the visual side, mostly due to its large variety of colors.
On the personal side, the Mizuno Wave Rider was my first pair of running shoes and when I started I was quite overweight. I highly recommend it for heavy runners.
Cons
Even though the Wave Rider 20 is not as expensive as other Mizuno shoes, it can be a bit pricey.
The shoe's durability may be compromised if used on harsh terrain.
Some people may have concerns with its fit, performance or might just not acclimate well to it. Remember, no one shoe fits all.
Brooks Transcend
Second on this list, is Brook's Transcend.
Type: Stability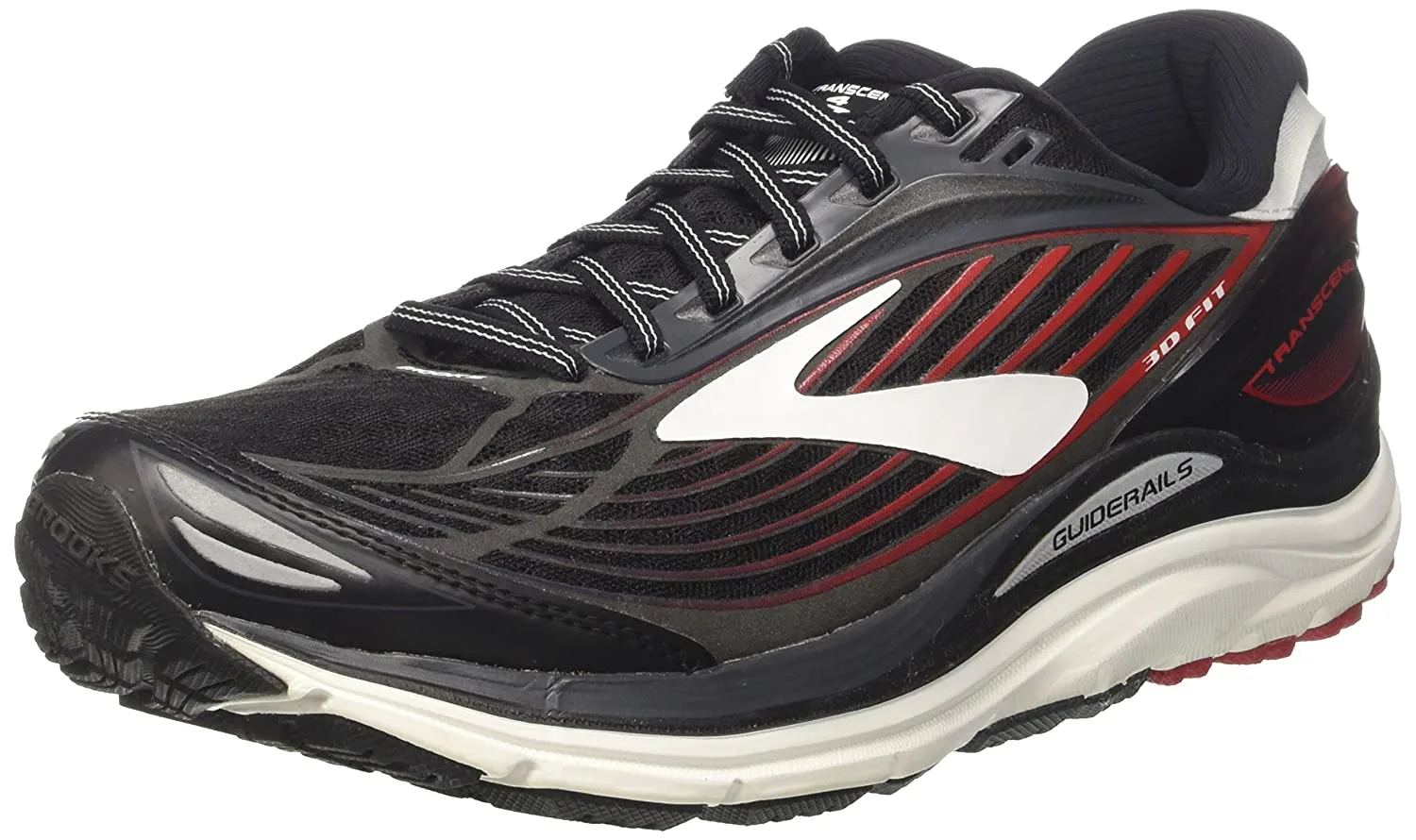 These shoes by Brooks offers its fair share of quality adaptive cushioning, stability features, breathable upper mesh.
Pretty much everything a heavy runner needs for a comfortable ride.
Stability
Outsole
The Transcend's outsole comes with durable blown rubber placed beneath the midsole to serve as protect it from wear and tear while providing extra cushioning.
It also features a flexible rubber compound to provide responsiveness and good traction.
Plus, its "Ideal Pressure Zone" design allows pressure produced upon impact, to be distributed evenly along the foot.
Its main midsole foam offers 20% more cushioning than other shoes of the same brand. It's also designed to adapt and mold itself continuously to the shape of the runner's feet as he uses it.
Its flex grooves give the shoe more flexibility, without compromising the midsole's cushioning quality.
For stability, the midsole comes with a guided rails on the sides to add support and correct the foot from pronating.
Upper
The Brooks Transcend's upper is made with a combination of mesh and textiles that allow air to flow, making it highly breathable.
Its internal support saddle and added overlays give the shoe more structure and help the upper fabrics hug the midfoot to securely lock the foot down and prevent any unnecessary movements.
The fabric underneath the upper is made of a material that controls moisture to keep the foot nice and dry. Plus, it sock liner gives it extra cushioning, support and better fit.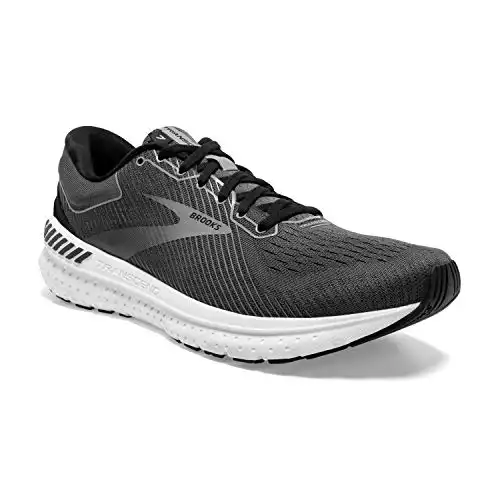 Weight
Drop
Price
You can find them between $90 and $170 (For the latest prices and discounts, check here) 
Pros
The Brooks Transcend really stands out for its overall comfort.
It offers good and responsive cushioning.
Its style and color schemes make this shoe appealing, yet nondistracting.
Its toe box wide enough to allow a natural toe splay.
This shoe was able to relieve the pain of plantar fasciitis and prevent it from getting worse.
It really makes the cut for long runs.
This shoe's midsole makes it really supportive and stable.
It offers enough traction for wet surfaces.
Its upper is known provides a fit that holds throughout your run.
This shoe was actually $10 cheaper than its previous model upon release.
Cons
Despite being cheaper than its the earlier model, it's still quite an expensive shoe.
It runs a bit small in size.
Hoka One One Gaviota
Type – Maximalist / Stability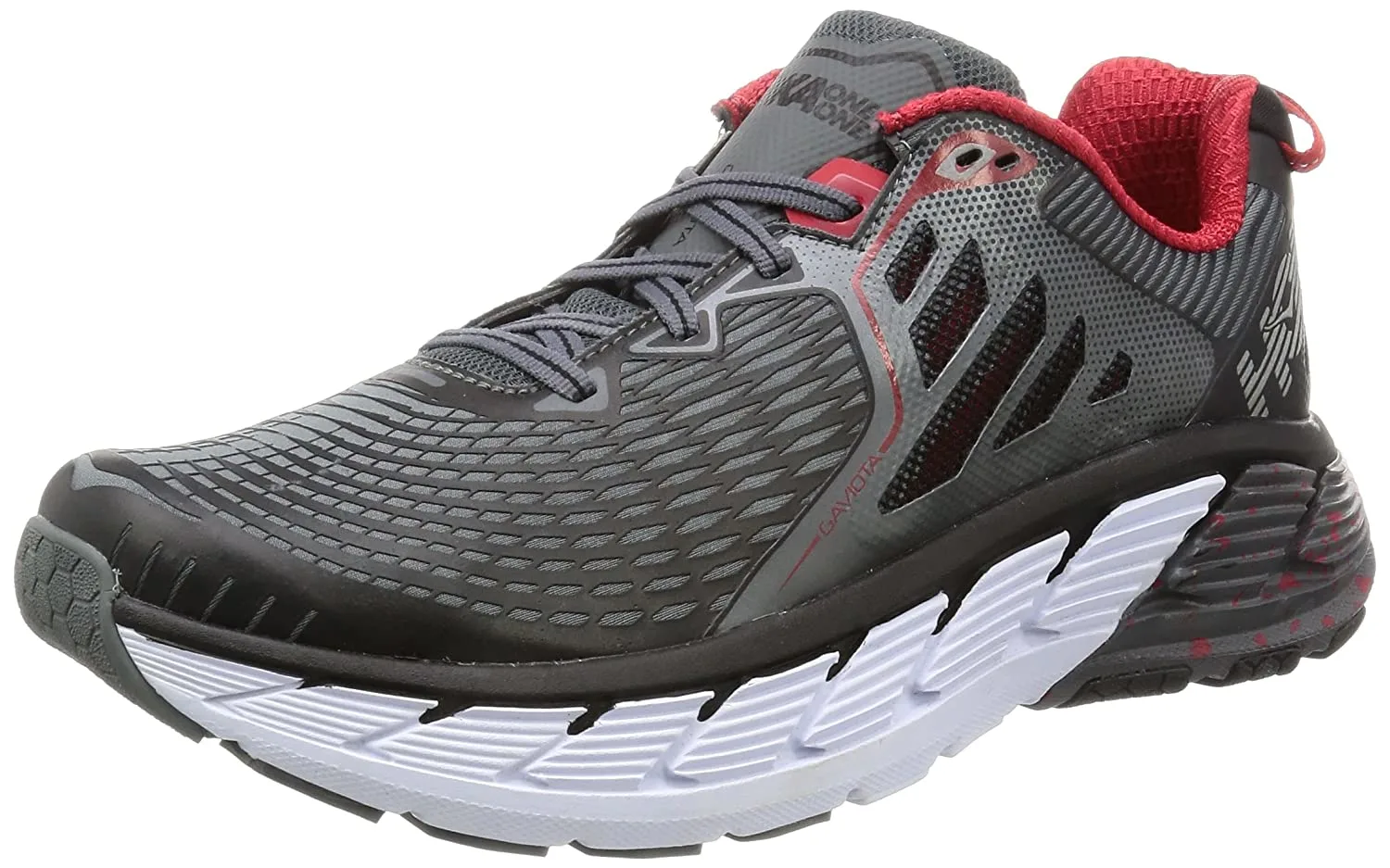 Yes, Hoka One One shoes are the stereotypical fairly cushioned shoe most conventional experts would recommend.
However, the Gaviota is a shoe that must not be overlooked as it features a RMAT medial post for extra stability and a Hi-Abrasion lightweight rubber protective outsole for increased durability.
Outsole
The Hoka One One Gaviota's outsole is manufactured with a durable Hi-Abrasion lightweight rubber, with serves as a protective shield to the foam midsole, from the wear and tear the shoe is bound to receive.
This material is also responsible Gaviota's traction, which is known to provide enough grip to be reliable even on rainy days.
It also features flex grooves on its surface that makes it flexible and durable, as well as allowing the natural movement of the foot.
The Hoka One One brand is known for its thick cushioned midsoles and the Gaviota is no exception.
Its cushion is plushy and lightweight, but firm enough to keep the shoe responsive.
It also features a J-shaped add-on made of a blend of EVA and rubber to control the foot's movement and keep it stable in a neutral, preventing overpronation.
It also makes the platform mores durable, especially on the exterior.
It comes with a shape that resembles a rocker, which allows a more graceful heel to toe transition.
Finally, its antimicrobial and anti-moisture foam insole help keep the shoe dry and clean, while adding extra cushioning.
Upper
The Gaviota's upper portion is composed mostly of a lightweight and breathable fabric, which has a seamless design on the inside, for a soft and comfortable feel.
Its padded tongue and collar provide extra protection to the foot while preventing the shoe from accidentally removing itself.
Extra layers placed on the midfoot area are connected to the shoelaces for an adaptive fit. They add support and stability as needed by locking the foot in its place.
Also, a small strip was conveniently placed on the upper's heel section for runners to pull and easily put and remove the shoe.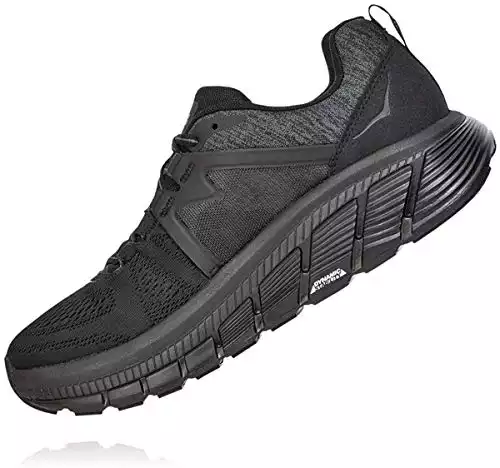 Weight
Drop
Price
You can find them between $105 and $170 (For the latest prices and discounts, check here) 
Pros
Hoka One One Gaviota stability features really make the cut for those in need of extra support.
It's a very comfortable shoe.
It's considerably light for a stability shoe with increased cushioning.
All its cushioning features make this shoe more than able to handle the impact.
Its upper is supportive while being light and highly breathable.
Its toe box is wide enough to allow a natural toe splay.
It runs true to size.
The Gaviota successfully combines comfort, cushioning and stability.
Cons
Some claim Hoka One One shoes add more pressure on their joints instead of alleviating it.
Some consider Hoka One One shoes don't accommodate the natural shape of the foot, resulting in an uncomfortable fit.
It can be a bit expensive.
Asics Fortitude 7
Type – Motion Control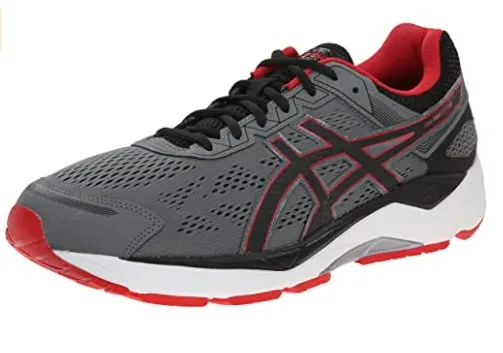 If you happen to be a heavy runner with severe overpronation problems, you're going to need a bit more help than what a stability shoe can offer.
The Asics Fortitude 7 offers enough motion control and shock absorption for a stable ride, while not being as enormous, inflexible and unresponsive as other shoes of its kind.
Outsole
As with most Asics shoes, its outsole combines high abrasion rubber with blown rubber. Both materials are meticulously distributed to offer durability, protection, and stability while being comfortable and flexible.
The midsole combines lightweight foam and cushioning gel. The former makes it durable, while the later adds cushioning in strategic areas for extra comfort and impact protection.
It also comes with a resin-based guidance line to give the runner additional support and enhanced stability.
Upper
The upper mesh is made with a seamless, yet quality mesh, that allows great breathability.
It also features a sock liner that's designed to provide extra cushioning and moisture control.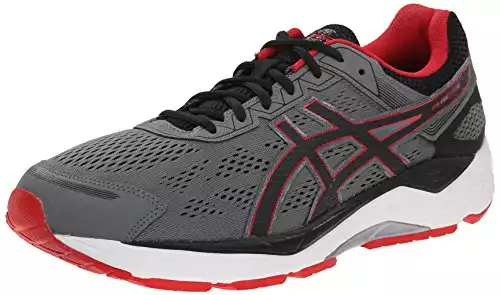 Weight
Drop
Price
You can find them between $60 and $120 (For the latest prices and discounts, check here)
Pros
As a motion control shoe, the Fortitude 7 is specially designed for moderate to severe overpronators.
Its wide forefoot platform makes it an excellent option for people with flat feet or who may need to use orthotics.
Opposed to other motion control shoes, the Fortitude 7 offers a low stack height. This is a big plus, as it gives the option to all those overpronators who dislike enormous shoes.
Its price is quite reasonable, considering motion control shoes are expensive.
This shoe is surprisingly flexible and responsive, despite its amount of cushioning.
It's also known to provide good traction.
Cons
Being a motion control shoe, the Fortitude 7 is still quite heavy.
Its upper mesh makes it unsuitable for cold weather.
This shoe might not be as durable as intended if used on harsh terrain.
You may need to consider a second pair of shoes or go for a more expensive option in the long run, as it's not ideal for long distances.
Brooks Beast / Brooks Ariel
Last but not least, we have the Brooks Beast / Ariel.
Type – Motion Control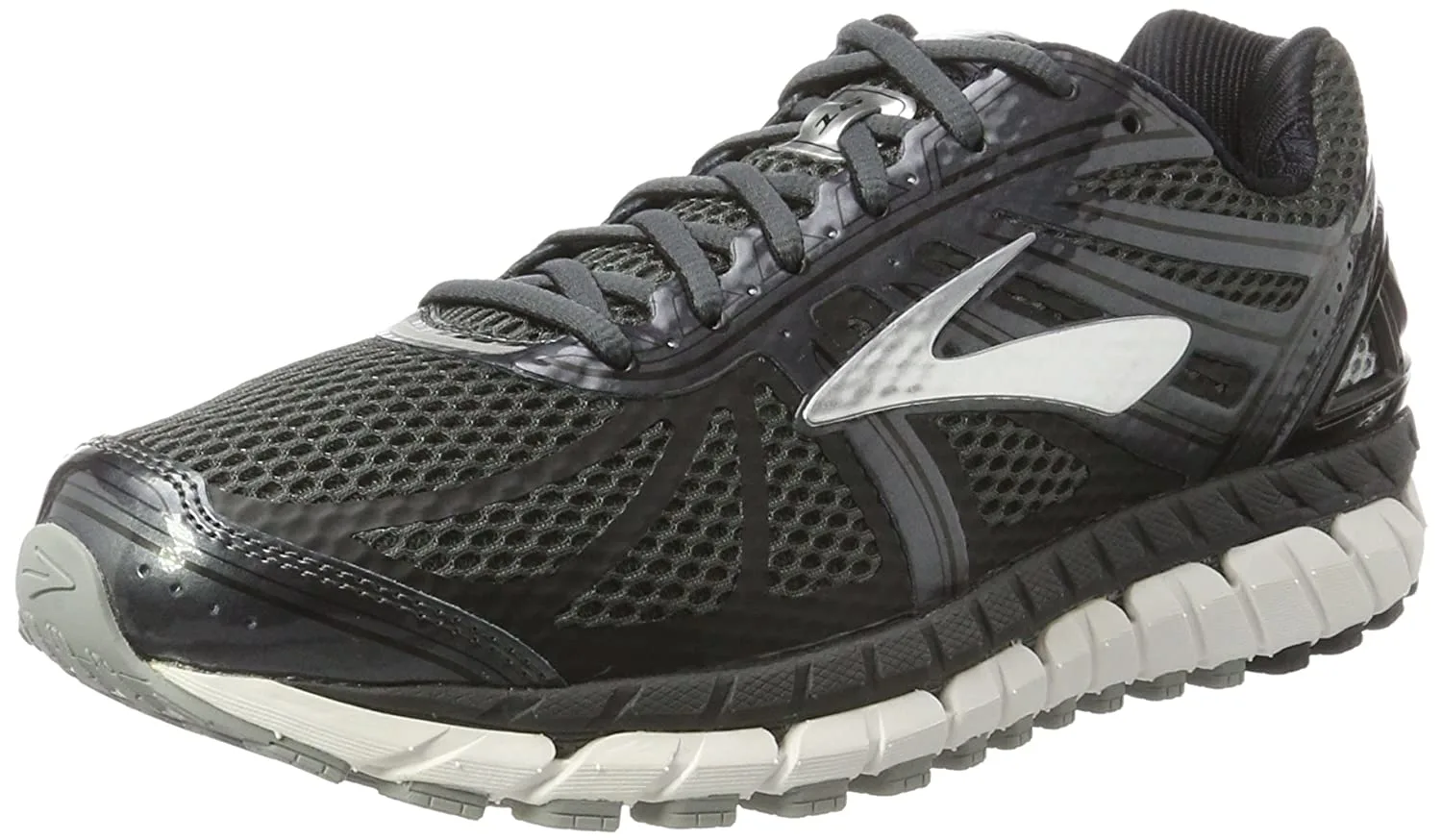 This shoe really lives up to its name because it can withstand even the heaviest of runners. So if you're 50 or more pounds overweight, you might want to consider the extra comfort and structural support the Beast can deliver.
Outsole
The Beast's outsole comes with an abrasion-resistant rubber on its rear section. It not only makes the outsole durable, but it gives the shoe a good traction.
On the forefoot, it features a flexible rubber compound.
As a motion control shoe, it's structured to provide a supportive, stable, yet comfortable platform to improve the runner's heel-to-toe transition.
As with the Transcend, this shoe's midsole foam was designed to offer 20% more cushioning than other Brooks shoes.
It can also adapt and mold itself continuously to the shape of the runner's feet as he uses it.
It comes with a triple density foam roll bar to achieve a more stable ride and correct overpronation.
This shoe's midsole is segmented much like the body of a caterpillar, placing cushioning the areas of the foot where most needed.
Its flex grooves give the midsole more flexibility, without compromising its cushioning quality.
Upper
The Brooks Beast is made with breathable mesh, which allows airflow to keep it nice and dry.
Its internal support saddle gives the shoe more structure and helps the upper fabrics hug the midfoot to securely lock the foot down and prevent any unnecessary movements.
It features synthetic overlays that connect directly to the shoelaces for better fit and flexibility.
Finally, a fairly cushioned sock liner and internal fabric not only give this shoe extra shock absorption but control moisture. Plus, the fact that the insole is removable allows the use orthotics.
Weight
Drop
Price
You can find them between $95 and $200  (For the latest prices and discounts, check here)
Pros
This shoe is lauded for its comfort, support, and stability.
Considered as one of the best options for overweight runners.
Great for runners with flat feet or severe overpronation.
Able to relieve the pain for runners suffering from plantar fasciitis, back and knee problems.
It's available in multiple widths.
Offers good traction.
Cons
It may not be as durable as expected, as it's known to show signs of wear and tear only a few months of use.
They make take some time to break in.
Not true to size, as it may run half-a-size smaller.
Not a very stylish shoe and doesn't offer many color options.
Too heavy and bulky.
It's very expensive.
Final thoughts…
I've gone into detail through every important aspect of the risks of running with overweight, but most importantly, how to prevent them with the use of the right footwear.
I've also shown you exactly what you be should looking for in a running shoe as a big fella and narrowed down your search by recommending a variety shoes that suit heavy runners depending on their tastes and needs.
But remember it's just a recommendation and just a small taste of what's out there.
Now it's your job and yours alone, to find a shoe that matches your running style and specific needs while being durable, supportive, adequately cushioned and comfortable enough to handle your extra pounds.
Good luck and happy running!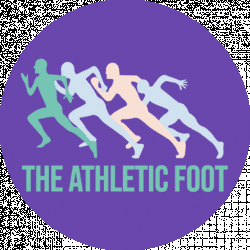 Latest posts by The Athletic Foot Team
(see all)