If you're looking for high-performance running shoes, you don't need to look beyond Altra trail running shoes. They are based on their "Zero Drop" function that places your foot in a way that your heel and forefoot are at an equal distance from the surface on which you're running or walking.
This leads to better alignment and form, provides great resistance, and encourages natural and healthier running over time.
Altra trail athletic shoes are also famous for their unique, wider toe-box that provides runners with more stability, grip, and control. Altra trail running shoes are lightweight and constructed with superior-quality materials, making it better for hiking.
In fact, the brand is so confident about the performance and quality of their shoes that each pair of shoes comes with a 30-day guarantee.
In this guide, we'll discuss Altra trail shoes in detail. We'll also list the 4 best Altra trail shoes on the market and list their features, pros, and cons.
Benefits of Altra Trail Running Shoes
Here's why you should pick Altra running shoes for your trail running adventures:
Altra trail shoes are more technical than other running shoes on the market. To deal with rugged surface issues such mixture of dry and wet surface and sharp debris, these trail-running shoes come with several excellent features such as water resistance, better grip, protection from debris, traction, and comfort.
Altra trail shoes come with sturdy lugs to tackle different types of terrains while hiking you may encounter during your trail running adventure. Enhanced lug patterns in Altra trail shoes can tackle surfaces such as rocky terrains, natural trails, sand, mud, etc.
Unlike other trail shoes that are heavier, and bulkier, Altra trail shoes are more streamlined in terms of design and weight. They look stylish even when they get dirty on the walking trail.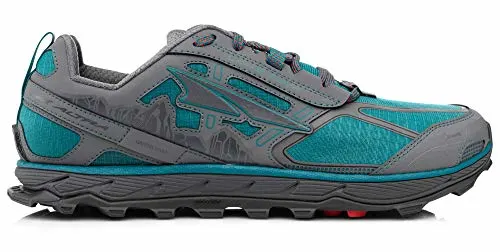 Things You Should Consider While Picking best Altra Trail Shoes
Here are some key factors you should consider while choosing the best Altra trail shoes for your feet:
Water resistance
When running on rugged terrains, don't be surprised to encounter muddy puddles and shallow streams that may fall on your trail route.
A pair of Altra trail shoes with water resistance would serve you best. Some unique water resistance features of Altra trail shoes are Quick Dry Trail Mesh and Polartec Neoshell.
Build of the outsole
Altra trail shoes have sturdy outsole build to provide traction, durability, and protection against impact forces and debris, almost like waterproof shoes.
The lug patterns are focused on difficult trails and soft grounds. So, if you're looking for great traction on your walking shoes, pick Altra trail shoes with Trail Claw and Trail Sticky Rubber outsole.
Weight
If you're a beginner, you should buy Altra trail shoes weighing 250 g or less. However, if you're considering Altra trail shoes for regular trail running or cross-country running, any weight would work.
Best Altra trail shoes – Top 4 picks 
It took our experts 2 weeks, over 500 reviews and ratings, and lots of product testing to compile this guide to the best Altra trail shoes on the market.
Let's now look at the 4 best Altra trail shoes. By the end of the article, you'll be able to pick one pair of running shoes that best suits your feet requirement for the most comfortable experience.
Read More: The Altra Provision 3.0 Review – Is it Right for You?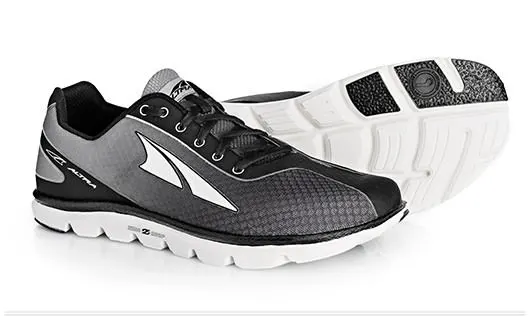 General specifications:
| | |
| --- | --- |
| Type | Trail Running Shoes |
| Weight | 6.3 oz. |
| Model no. | One 2.5-M, One 2.5-W |
| Material | Synthetic and 100% textile |
| Midsole | Dual-layer EVA with A-Bound top layer |
| Outsole | Rubber |
| Heel type | Zero-drop |
| Price | Around $58.99-$119.95 (Check out the latest rates here!) |
If you're looking for simple trail-running shoes with great performance, Altra One 2.5 can be an ideal footwear pick.
They're flexible and suitable for runners who demand speed and need road shoes to help them with the task.
Their design is simple, and they also work well as cross-country shoes.
The outsole of these Altra trail shoes is designed for maximum absorption of impact. This footwear allows your foot to properly stayed connected to the running ground.
Altra's FootPod Technology is responsible for excellent impact absorption and great fit.
The outsole is shaped in a way that it aligns with the contours of the foot. This implies that your tendons and bones will be able to flex comfortably without any restrictions.
Also, A-Bound technology does a great job for boosting efficiency and minimizing ground impact.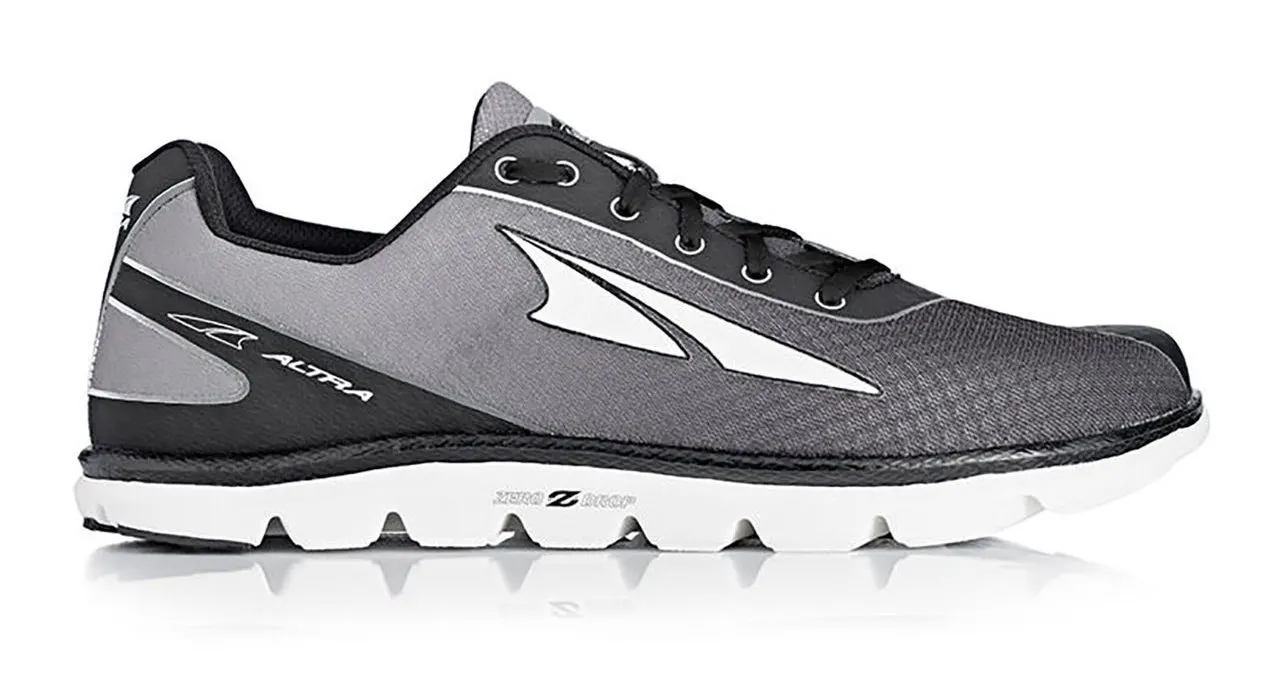 If there's some really special about Altra One 2.5, it has to be the midsole. The dual-layer EVA cushioning supports the midfoot area.
The InnexFlex technology provides a set of flex grooves in a grid-type pattern for better flexibility of the foot resulting in a greater speed, added comfort, and enhanced performance.
The upper material of the shoes comprises fast-dry air mesh material to make sure your feet remain cool.
Even though the brand has reduced padding around the collar and tongue, the overall reduction in weight is good to go.
The shoes absorb sweat and moisture instantly. Moreover, the lightweight and soft material allow the right amount of air to flow into and outside the shoes.
The weight of Altra One 2.5 shoes is one thing that many trail runners prefer, especially those who're just starting their racing journey.
The shoes are available in a variety of colors and sizes for men and women. However, the designs are simpler than other Altra shoes on the market. You can even wear them for casual outings.
Durability is a bit of an issue with Altra One 2.5 trail shoes. Since they're lightweight, they're a little less durable as compared to other trail shoes by Altra.
The midsole and outsole regions are prone to issues with durability.
The Zero-Drop function in Altra One 2.5 shoes provides a minimal heel drop and allows you to connect well with the running surface.
So, if you're used to high heel drops, Altra One 2.5trail shoes may not be the best shoes for you.
Pros
Extremely lightweight
Wide toe box
Quick dry-mesh upper
Great flexibility and responsiveness
Better traction and comfort
Cons
Potential durability issues in the midsole and outsole areas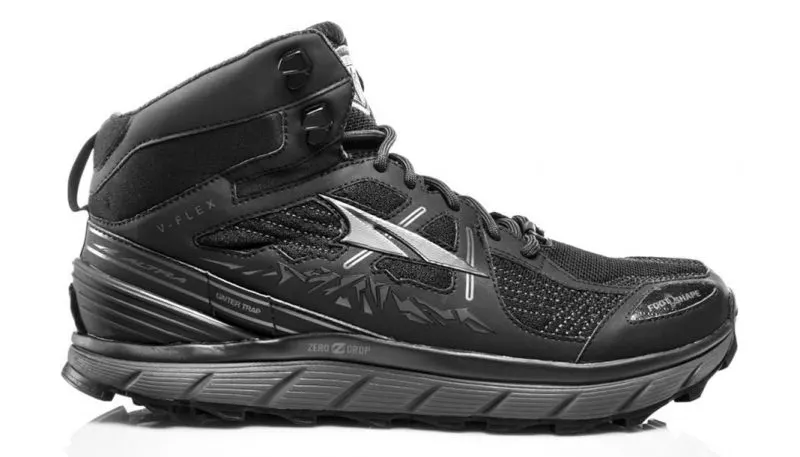 General specifications:
| | |
| --- | --- |
| Type | Trail Running Shoes |
| Weight | 10.2 oz. |
| Model no. | Lone Peak 3.5-M, Lone Peak 3.5-W |
| Material | Mesh |
| Midsole | Dual-layer EVA with A-Bound top layer |
| Outsole | Dura-Tread Rubber with TrailClaw |
| Heel type | Zero-drop |
| Price | Around $82-$130 (Check out the latest rates here!) |
Most trail runners like the revamped version of Altra Lone Peak Trail Shoes. The outsole is almost the same as the older version.
The sole comprises TrailClaw and MaxTrac technologies to offer enhanced traction on uneven terrain.
You'll also notice a StoneGuard plate at the bottom of the shoes to protect the feed from sharp debris.
However, during research, we came across reviews of existing customers mentioning that the StoneGuard barrier is thin and not too dense.
Drainage holes are an added feature in the shoes. They allow excess water to drain out of the shoes.
So, if you're planning to participate in a race that involves water, you can buy Altra Lone Peak 3.5 trail shoes. Overall, the outsole provides great traction.
The midsole comprises dual-layer EVA foam and A-Bound feature for more cushioning. Basically, the cushioning hasn't changed much.
Trail runners who used the product regularly have mentioned that Lone Peak 3.5 is much more comfortable than the earlier versions.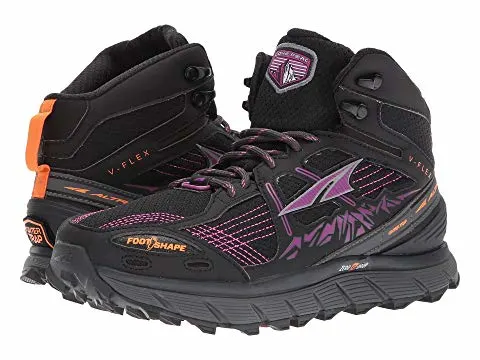 The most critical changes have been made to the upper of the shoes. The latest version comes with a 4-point gaiter system in the upper which runners can use to add protective gaiters to the shoes.
The new mesh design is more stretchable and durable. Also, it drier faster than the previous models. The toe box is wide enough. The upper is perfect for winters and trails covered with mud.
Altra Lone Peak 3.5 trail shoes are heavier than many other Altra trail shoes on the market. Runners feel that there's a lot more cushioning in the midsole of these shoes than the previous model and other trail shoes by Altar.
We noticed mixed reviews here. Some runners found this inconvenient. They feel that more cushioning has increased the weight of the shoes.
If you talk about style, the shoes come with a rough and sturdy look. They're mostly available in dark shades that ideal for hiding dirt and mud.
In terms of durability, the shoes are excellent. You can use the shoes for running or hiking. They're pretty versatile.
The Zero Drop function remains unaltered and adds stability to the design.
Pros
A comfortable and wider toe box
Great traction
4-gaiter system for adding protection
Better cushioning, especially in the midsole region
True to size
Highly responsive
Durable and versatile
Cons
The upper mesh is not very breathable
They're bulkier than other Altra trail shoes
Less stable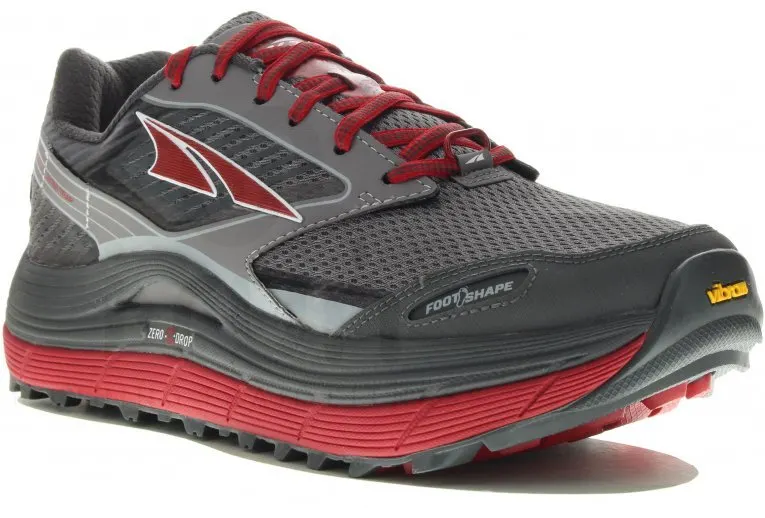 General specifications:
| | |
| --- | --- |
| Type | Trail Running Shoes |
| Weight | 9.5 oz. (Women). 11.05 oz. (Men) |
| Model no. | AFM1759F |
| Material | Textile/Synthetic |
| Midsole | Dual-layer EVA with A-Bound top layer, InnexFlex |
| Outsole | Vibram |
| Heel type | Zero-drop |
| Price | Around $64.99-$150.00 (Check out the latest rates here!) |
If you're looking for a neutral trail shoe by Altra, look nowhere else and order Altra Olympus 2.5 trail shoes. The shoes are perfect for road running and trail running on well-maintained trails.
The outsole comprises Vibram material that provides a better grip. It is extremely durable and offers great traction. It's the same as the previous version.
The midsole also remains unaltered. It comprises dual-layer molded EVA and A-Bound top-layer. The combination provides more bounce and cushioning for trail runners.
It's bulkier than all the other shoes listed in this guide. The height of the midsole alone is 32 mm. However, many runners have mentioned that even with the thick insole they are able to feel the running surface.
The midsole runs along the length of the shoes. So, it provided enhanced comfort for midfoot, forefoot, and heel strikers.
The upper body of Altra Olympus 2.5 has witnessed the maximum modifications. The new upper is comparatively more durable and resistant.
Therefore, it improves the overall fit. The Gaiter Trap System protects the gaiters more than before. The Trail Mesh upper dries quickly and allows improved airflow.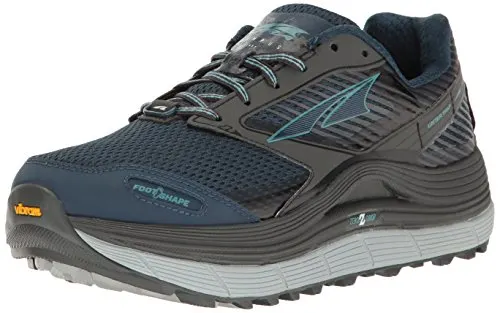 The shoes are lightweight and neither feel to light nor too heavy. Different types of runners prefer Altra Olympus 2.5 trail shoes for running.
We could hardly find any reviews that mentioned the lightweight as an issue. In fact, most trail runners went on to mention that they felt they were running smoothly and faster in these shoes.
The toe box is wider to accommodate wider toes and allow the feet to flex naturally. However, if you have a narrow fit, you may find the fit a bit untidy.
While many runners loved the breathability offered by the upper mesh, some felt that the upper allows too much air flow into the shoes during the winter which can lead to frosting issues if you're not wearing thick socks.
The midsole cushioning comes with a plush feeling underfoot and offers a smooth ride. In terms of style and design, the shoes look trendy and fresh. The colors are ideal for muddy trails.
For men, the shoes are available in 3 designs: Blue, red, and grey; for women, the shoes are available in 4 designs: Grey/blue, purple, blue, lime.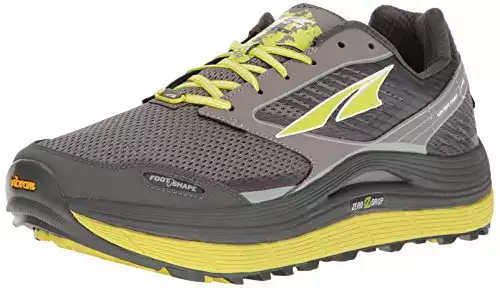 Overall, Altra Olympus 2.5 trail shoes are sturdy and durable. Since they're built for off-road running, their sole is designed in a way that provides maximum traction and responsiveness.
The outsole does not only come with a great grip but is increasingly durable too. It can work for both – trail running and road running. However, avoid using the shoes on rocky terrain. E
Even though the price is on the higher end, the shoes are worth the price. Like all the other Altar trail shoes, Olympus 2.5 also comes with Zero Drop function.
Pros
Wider toe box
Neither too lightweight nor too heavy
Breathable upper
Very responsive
Solid traction
Great connectivity with the ground
Very durable
Cons
Some runners mentioned that the breathability of the upper can be a problem during the winter season
The wider toe box could be an issue for runners with a narrow foot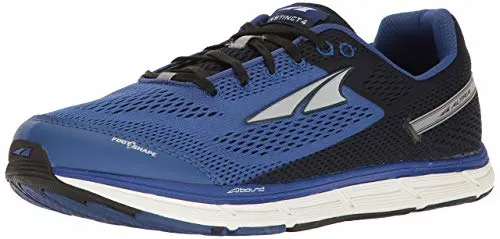 General specifications:
| | |
| --- | --- |
| Type | Trail Running Shoes |
| Weight | 10 oz. |
| Model no. | Instinct 4-M |
| Material | 100% Synthetic |
| Midsole | Dual-layer EVA with A-Bound top layer, InnexFlex |
| Outsole | Full Rubber |
| Heel type | Zero-drop |
| Price | Around $62.99-$149.99 (Check out the latest rates here!) |
Altra Instinct 4.0 is the fourth member of the Instinct series. These shoes are available in men's version only and the women's version is known as Altra Intuition. They're best for high-mile runs, and are very durable.
The outsole is made of a thick layer that you can clearly see if you look at the shoe from either side. It's like a flatbed divided into 5 sections.
The platform offers enough grip for added traction in different parts of the shoes. Additional rubber in the outsole protect the feet and provides great comfort.
The midsole is the bulkiest section of the shoe and pretty firm. It comprises A-Bound top layer and molded EVA.
Thanks to the bulky midsole, the shoe comes with increased responsiveness and cushioning.
The upper comprises a large volume of holes to maintain breathability and allow better airflow. The upper material is soft and sweat-resistant.
However, some runners have mentioned that it doesn't fit properly and is sloppy. The upper body of the shoe is the lightest part and take away most of the weight from the shoe.
Therefore, the overall weight of the shoes is balanced. While the midsole is bulkier, the upper is lighter.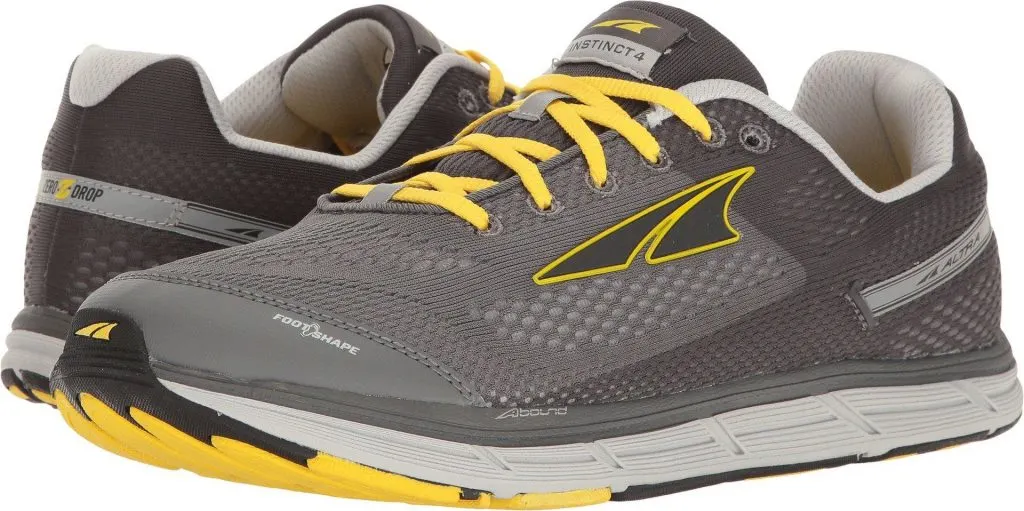 Altra Instinct 4.0 trail shoes are much heavier than other trail running shoes. In fact, the increased weight can be a minus point for committed runners. If you're a casual runner, the weight won't bother you much. The best feature of the shoe is the ride. In most of the reviews, we found that runners are really happy with the comfort and performance of the shoes.
And, when we tested them, we found all the praise worthwhile. As opposed to the stiff bumper in many trail running shoes, Altra Instinct 4.0 trail shoes come with a softer bumper that makes more space and allows you to stretch your toes comfortably.
The shoes are available in different color combinations such as red/grey/white, black/white, blue/black/white, and grey/yellow/white. So, if you're fond of dark shoes, Altra Instinct 4.0 can be a great pick. When it comes to durability, the rubber outsole is the most durable part.
One of our trail running experts ran 90 miles with these shoes and they were delighted to see how quickly the shoes dried after getting soaked in a narrow stream. There's also padding on the ankle that prevents blisters if you wear low ankle socks.
Overall, the shoes are more durable than both the Altra trail shoes listed above and are designed for the road. They are not built for complex trails. You can wear them to the gym or outside on the running tracks. Some people have also tried the shoes on light snow and achieved moderate success.
However, since Altra Instinct 4.0 shoes are bulkier, they can be a great pick for hiking. As compared to other trail shoes by Altra, they're a bit costlier. Similar to all other Altra shoes, Instinct 4.0 also comes with Zero Drop function which makes it perfect for midfoot strikers.
Pros
Durable rubber oustole
Added cushioning in the midsole
Breathable upper
Great build quality
Solid traction
Good flexibility
Suitable for extended trail runs
Cons
Upper is a bit sloppy and does not provide a perfect fit
The wider toe box can be an issue for runners with a narrow foot
The increased weight can be a hindrance for committed trail runners
Final thoughts On Best Altra Trail Shoes
After reading through the detailed reviews of the best Altra trail shoes on the market, what do you think? Have you been able to pick one that best suits your requirement?
Based on our expert's choice and overall popularity among trail runners, we've picked Altra Olympus 4 trail shoes as the best Altra trail shoes on the market currently.
Everything about this shoe is great, especially the optimum weight, enhanced Vibram grip, and bouncy midsole. Whether you're a beginner trail runner or an expert, you can buy these shoes for maximum comfort, traction, and responsiveness.
Even if they're a bit more expensive than the other trail shoes listed in the guide, you should buy these shoes if you're really looking for performance and build quality. We hope you found our guide helpful. If there are any other products on your mind that you would like us to review or compare, please drop us a note, and we'll get working.
Our Choice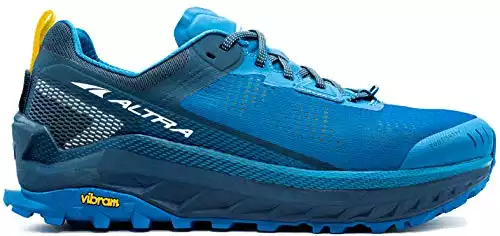 ALTRA Olympus 4 Shoes | Amazon
The engineered mesh upper is breathable and durable for those long, hot trail days and the InnerFlex midsole offers increased flexibility and performance.
Buy for Men
Buy for Women
We earn a commission if you click this link and make a purchase at no additional cost to you.
02/07/2023 11:09 pm GMT
Further read: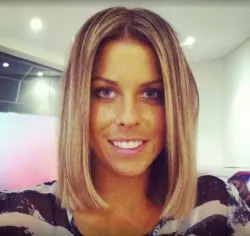 Latest posts by Jodie Chiffey
(see all)