Last Updated on
Many athletes use the same pair of shoes for running and training purposes. Even though both the shoes look alike, training shoes and running shoes are very different. Both types of shoes come with special features to aid the activities they are meant for.
Training and running are two altogether different activities that involve different types of movements. To facilitate the diverse movements, you need specific shoes designed for the activity you're indulging in.
Now that you understand that both, training and running shoes are different from one another, let us discuss the features of both types of shoes in detail. Read on to know more.
Training Shoes
Training shoes are considered the most versatile athletic type of shoe on the market. They are also called cross-training shoes. These shoes allow lateral movements, and hence, they are a great pick for certain sports and physical activities such as weightlifting, kickboxing, and aerobics that need multi-directional movements.
They allow a range of movements, from simple to complex. In your training shoes, you can easily pull-off movements like cutting, breaking, stopping, jumping, quickly changing directions, and many more. This makes them a perfect buy for various kinds of workouts.
The flat sole in this footwear allows flexibility while walking or running. The lateral sides of these shoes feature added support.
You can expect a great amount of stability, comfort, and durability from these cushioning running shoes. They come with lighter treads to make it easy for you to take part in cardio running while wearing them. However, they cannot be used for regular running as they are heavier in weight.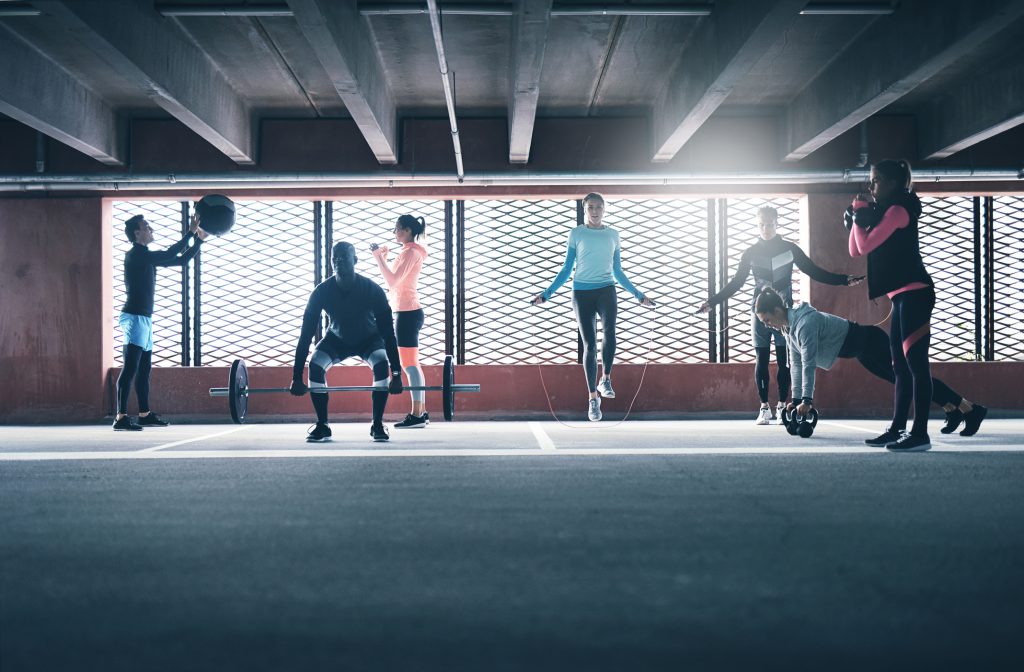 Uses of training shoes
Training shoes are basically all-in-one gym shoes. You can use these shoes for:
Training shoes provide excellent heel support which allows you to go deep into squats and stand up without losing stability.
Training shoes come with decent cushioning to aid high-impact exercises and run training.
Training shoes come with extra space in the forefoot region making them great shoes for strength training.
Agility training involves a lot of agile multi-directional movements. The outsole of training shoes is designed to facilitate those movements. The grooves present on the outsole offers traction to get a good grip on the ground during agility training.
You cannot run an extended distance in training shoes, but you can indulge in a short distance run on a treadmill. Warm-up cardio runs can also be done in training shoes.
Important things to keep in mind while choosing training shoes
If you are looking for a durable and versatile pair of training shoes for your workout session, here are some important things that you must keep in mind while choosing training shoes:
Your arch type is the most important factor to keep in mind while buying training shoes. If you do not wear training shoe in accordance with the shape of your feet, they will hurt after training sessions. To avoid the pain and discomfort, you must examine the arch of your feet before you buy shoes. There are specific shoes for every kind of foot arch.
If you have normal to high arch, you must buy shoes with plush cushioning. If you have flat feet, you must invest in neutral or stability shoes.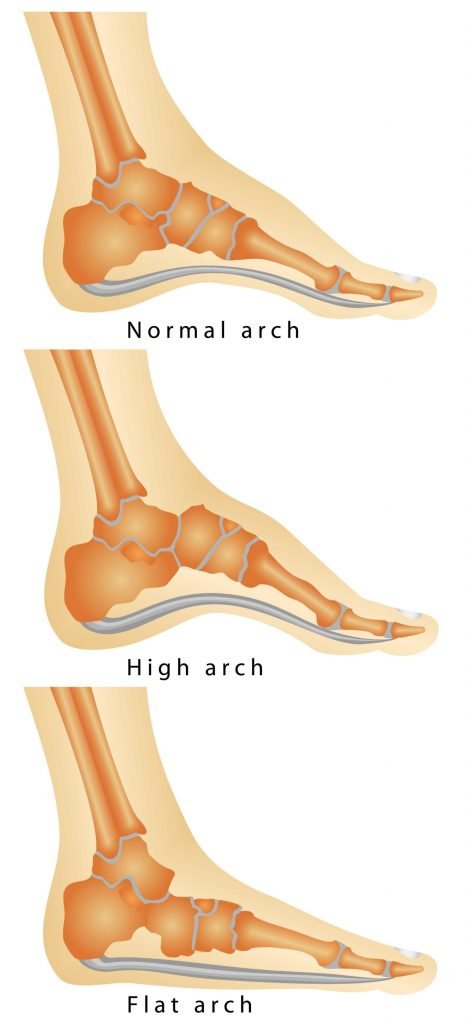 Small shoes lead to pain in toes and feet, and large shoes can cause blisters. It is better to ensure that your shoes fit you perfectly. You should feel comfortable in them during exhaustive workout sessions.
Buying training shoes with a decent grip is essential to avoid falling during the workout. Many training sessions involve agility and quick leg movements.
If you wear shoes with poor traction during training sessions, there are chances that you might fall and hurt yourself. To keep this from happening, select shoes with a sturdy grip, try them on, and move your legs from side to side. If the shoes feel slippery, consider other options.
A breathable, supportive, and stable upper is a prerequisite in a good training shoe. You must pay a great attention to the upper of the shoes you want to buy.
Buy training shoes with soft and breathable material that could maintain structural integrity and support your ankles and toes.
Many leading brands offer training shoes full of amazing characteristics. You must make it a point to check at least three leading brands. Weigh their features and try them on to check the fit before making your final decision.
Running Shoes
Coming to running shoes, they are designed for heel-to-toe movements. You cannot expect your running shoes to allow feasible multi-directional movements. The flexible sole and intricate treads make it easy to run a long distance without feeling tired.
Running shoes come with features that make running a fruitful and of course, a delightful experience.
The most celebrated feature of running shoes is their weight. They are very light in weight as compared to training shoes making it very comfortable for a runner to run a longer distance.
Running shoes incorporate many coming-of-age outsole and midsole technologies to enhance the overall running experience. Plush cushioning is one of the major features of running shoes that acts as a shock-absorbent. Their midsole use cushioning and shock-absorbing materials to absorb the impact while running on harder surfaces.
They allow better heel-to-toe movement. They have thick heels that gradually thin down while approaching the toe region. Their heel drop is high to allow better cushioning and support. The arched sole offers an upward curve to the tip of the shoe.
The thin treads allow easy running movements.
Uses of running shoes
Running shoes are exclusively meant for activities related to running. Their design features facilitate running movements. They protect the feet while running by offering cushioning and support.
You can use running shoes for the road, track, as well as trail running.
Different types of running shoes
To cater to the needs of different kinds of runners, brands design different types of shoes. Here they are:
Cushioning shoes ensure proper shock absorption and offer optimum comfort. They can be a great pick for you if you are looking for running shoes that could offer you heel-to-toe comfort. They also offer better motion control, as well as support.
Though they can be used on any terrain, they are considered best for trail running.
Stability shoes are best for the runners who have flat feet with overpronation. However, they can be used by neutral runners too.
These shoes help in controlling the too much inward movement of feet and also provide extra support at the midsole area to neutral runners.
Other fantastic features offered by stability shoes are solid posts sitting in the middle and extra support at the ankle region.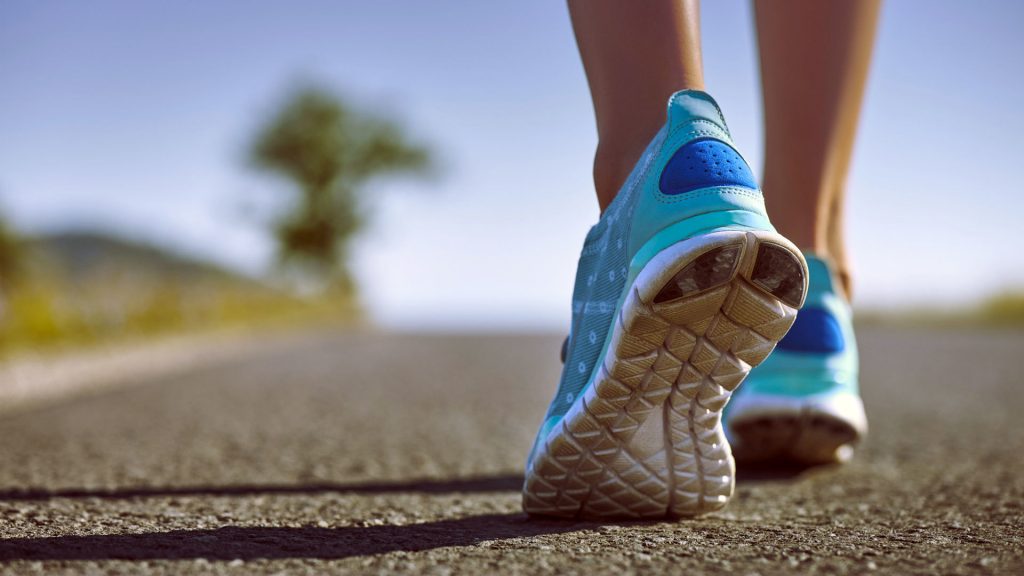 Motion control shoes are specially designed for the runners who overpronate. These shoes provide added support to protect the knees and shins from stress. They feature dual density midsoles, roll bars, and footbridges to keep the feet in place while running.
Minimalist running shoes are very light in weight. They are a cross between the regular running shoes and barefoot shoes. They offer light cushioning and support. With minimalist running shoes, you can enjoy a very natural running motion.
These modern shoes offer a barefoot running experience. They provide bare protection between the feet and ground. They come with very little cushioning, no support and fortify natural stride.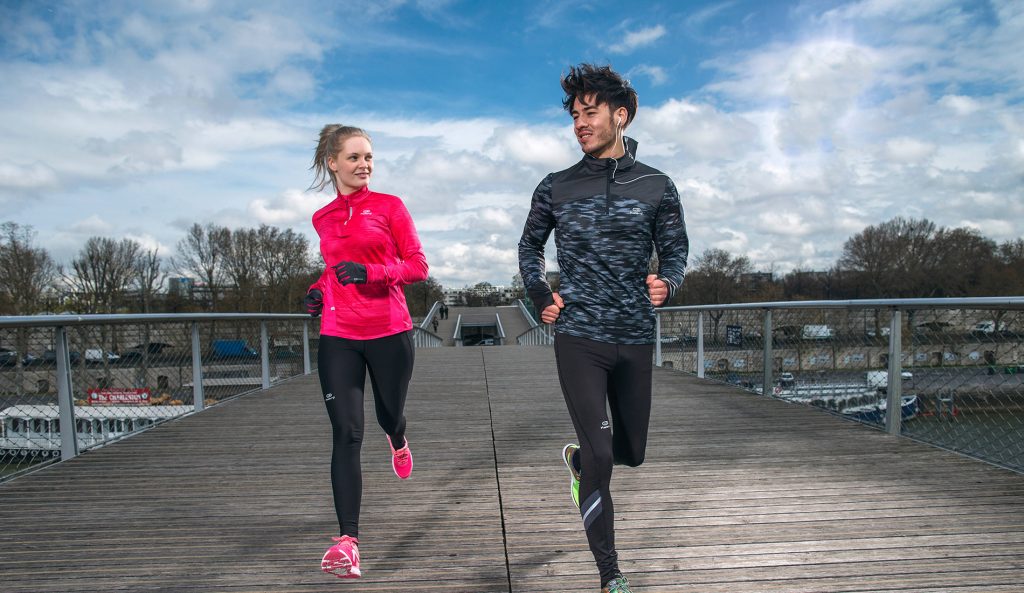 Important things to keep in mind while choosing running shoes
While buying running shoes, you must keep the below-mentioned important things in mind.
Running shoes are meant for running, and hence, they must harmonize with your innate stride. You must buy the running shoes that match your stride.
Running mechanics can be categorized into pronation, overpronation, and supination.
If you are a neutral runner or a pronator, your feet tend to roll a little inward while you take a step. If you overpronate, you tend to roll your feet too far downwards and inward. Supination is the rolling motion of your feet to the outside edge of your foot on taking a step.
There are different shoes for each category of runner. You must buy running shoes according to your particular running mechanics.
If you have flat feet, you will naturally have no or a very low arch. You would need a lot of support at your midsole area to keep your feet aligned.
If you have a normal or high arch, you do not need plush cushioning, and so, you can buy a running shoe with general cushioning.
Running in too lose or too tight shoes is the worst thing you could do to yourself. You must buy running shoes that fit your size.
The climate you run in also has a part to play in your shoe selection. The shoes you run in must match the climate.
If you live in an area that entertains dry heat, you must buy well-ventilated shoes. If you live in a wet area, you must buy waterproof running shoes.
Best Training Shoes
Nike Free Train Virtue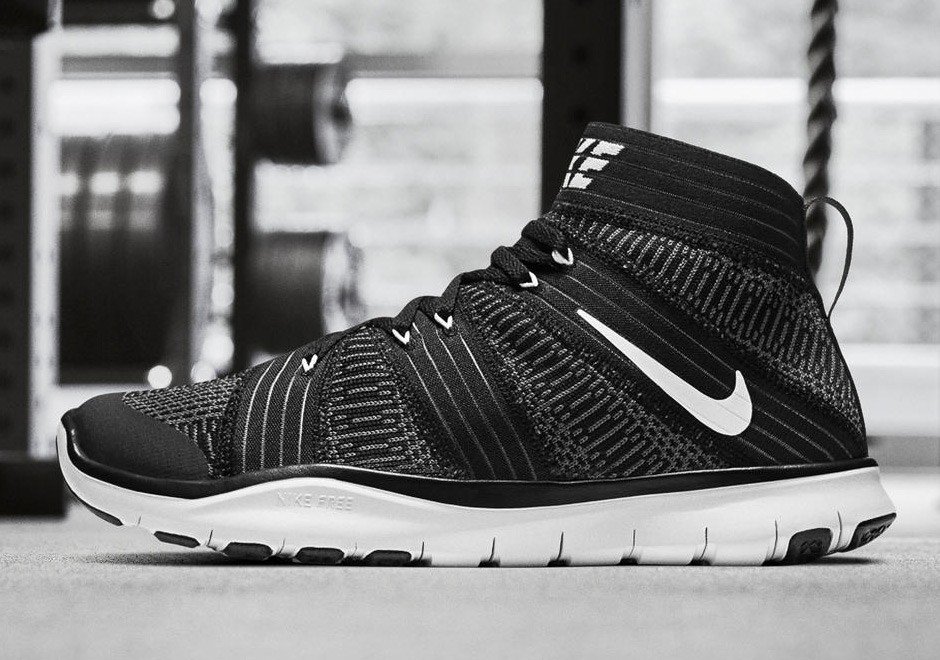 | | |
| --- | --- |
| Product | Nike Free Train Virtue |
| Use | Workout |
| Price | $63.00 – $149.95 (Check out the latest price here!) |
| Arch Support | Neutral |
| Weight | 268g |
| Heel-to-Toe Drop | 5 mm |
| Width | Normal |
| Outsole Technology | Tri-Star outsole and Rubber Units |
| Midsole Technology | Dual-density Midsole |
| Upper | Engineered Knit |
Notable Features:
Tri-star outsole
Lightweight
Wide forefoot section
Flexible and breathable upper
Sole Technology
The outsole of
these shoes features Tri-Star i.e. triangular grooved patterns to allow natural feet motion. The rubber units in heel and forefoot provide better traction and durability.
The outsole technology offers amazing responsiveness and support during quick movements and change of direction.
The dual-density foam in the midsole gives a plush and dynamic cushioning. The cushioning allows for swift transitions and enhances shop-absorbing capabilities.
The forefoot section is very spacious and hence, toe movement become easy which helps in attaining steadiness while lifting weights.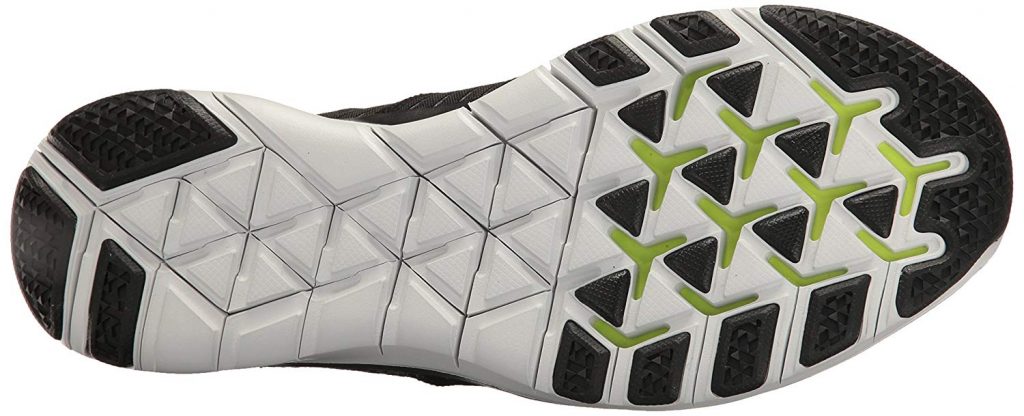 The upper of
these shoes is engineered knit ensuring breathability and flexibility. The presence of dynamic stretch bands offer proper coverage and encourage natural foot movement.
Flywire nylon threads enhance support and keep the feet in place. The bootie-style fabrication incorporates the use of a stretchable collar that gives an amazing fit.
The seamless interior covered with soft fabric offers comfort and prevents irritation.
Pros and Cons
| | |
| --- | --- |
| Pros | Cons |
| Comfortable and sock-like fit | Stretch collar fails to offer ankle support |
| Lightweight | |
Reebok Legacy Lifter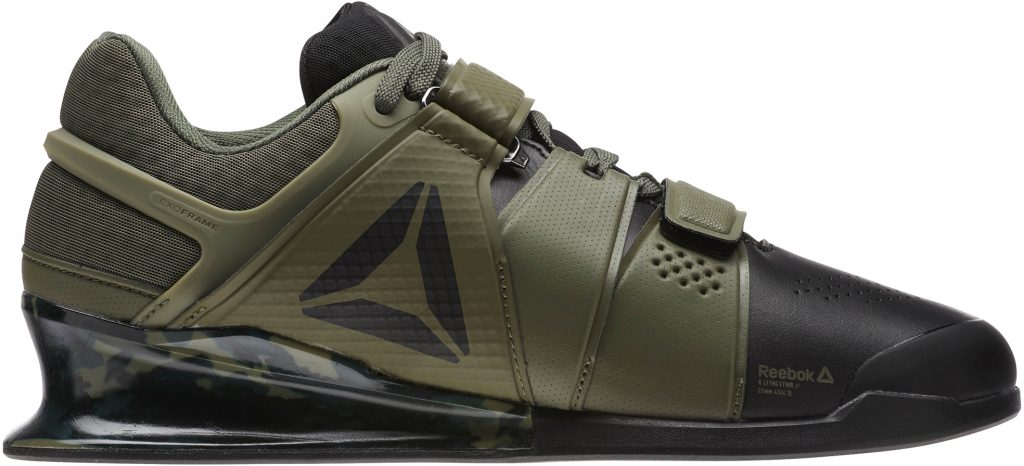 Notable Features:
Durable outsole
Leather upper for a snug feel
Flexcage technology in upper
Removable insole
Sole Technology
The outsole is made using high-abrasion rubber to ensure durability and a better grip. The flat footprint offers stability while landing at the bottom of squats.
The heel of the midsole is covered with hard TPU which prevents from abrasion. It is also very light in weight and durable.
The removable insole offers better arch support and a secure fit. The Ortholite Antimicrobial Sockliner prevents bacterial build-up.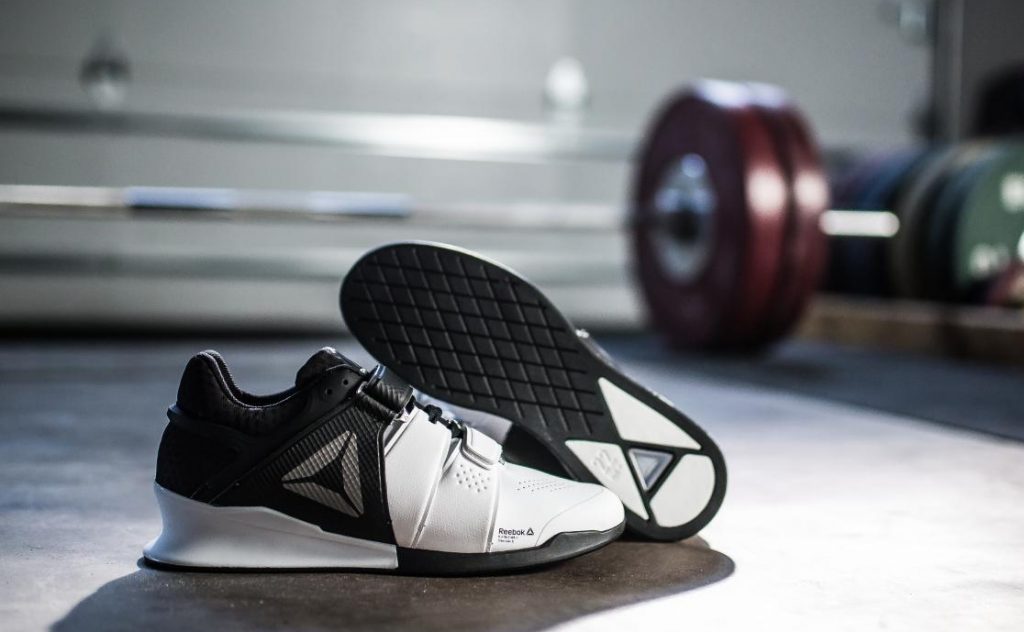 The upper of
these shoes is made from leather which comprises 75 percent. The perforated toe box lets the air flow inside the foot. The mesh covering the ankle offers added breathability and comfort.
The heel area is covered with Exoframe TPU strap to offer rearfoot support, as well as steadiness during lifting weights.
The Flexcage technology offers lateral support and security.
Pros and Cons
| | |
| --- | --- |
| Pros | Cons |
| A robust base | Heavy |
| Double-strap locking system to keep the foot in place | Narrow |
Asics Lift Master Lite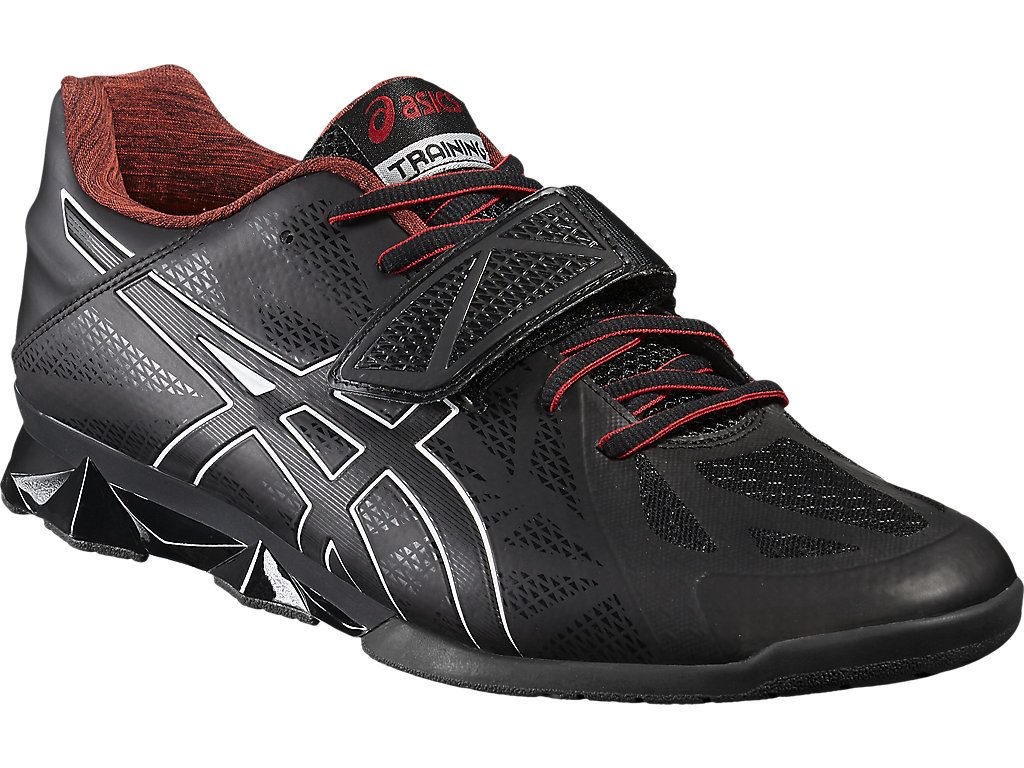 Notable Features:
Can also be used as a cross-training footwear
Asics High Abrasion Rubber Plus on the outsole
Well-ventilated upper
MONO-SOCK fit system
Sole Technology
The use of AHARPLUS rubber in outsole ensures durability and protection from wear and tear. The deep X grooves on the outsole offer stability during lifting and squatting.
Horizontal and vertical tread pattern enhances surface traction.
The use of TPU in the midsole provides durability and stability during weight lifting. The molded foam insole ensures comfort.
The upper is made using mesh. It is breathable and offers structural support. The MONO-SOCK fit system offers a great fit.
The traditional lacing system keeps the feet in place. A notch at the back guards Achilles during plantar flexion.
Pros and Cons
| | |
| --- | --- |
| Pros | Cons |
| Durable outsole and midsole | Narrow |
| Comfortable | |
Further read, The Best Nike Training Shoes for the Gym
Best Running Shoes
Nike Air Zoom Winflo 4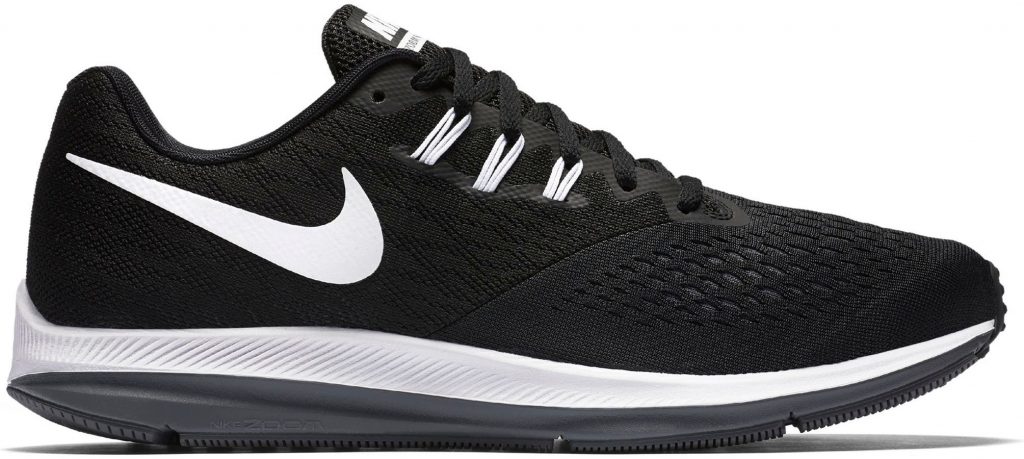 Notable Features:
Comfortable
Waffle-tread rubber outsole
Breathable upper
Sole Technology
The outsole of
Nike Air Zoom Winflo 4 is made with waffle-tread rubber which offers durability, springiness.
The flex grooves covering the forefoot region offer better flexibility and give a very natural stride.
The midsole of
these shoes features Nike Zoom cushioning which is very lightweight, comfortable and responsive.
Added security is ensured by cushion crash rail which protects the feet from impacts and allows a smooth transition.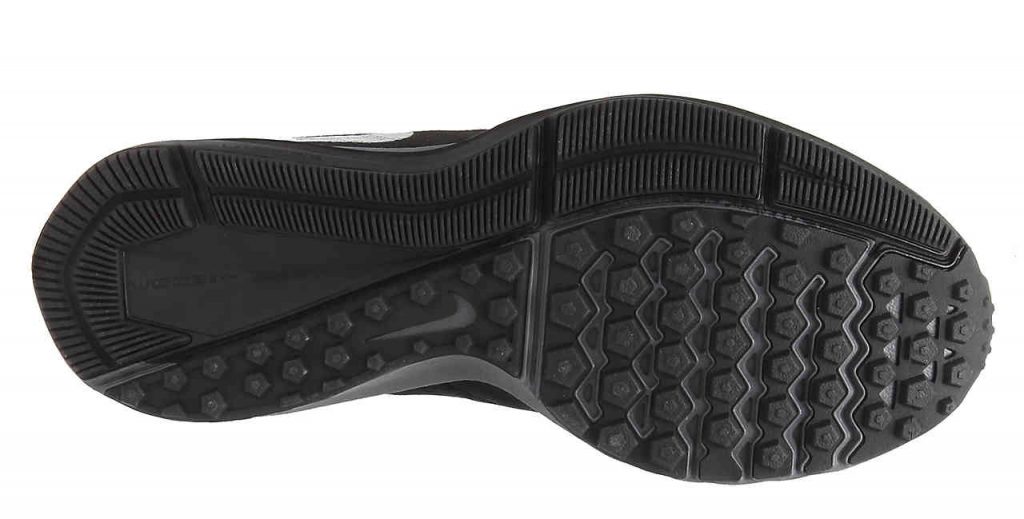 The upper of
these running shoes is made from a breathable fabric. The smooth upper does not irritate the skin. Comfort is obtained by padded tongue and collar.
The lace-up closure offers a snugly fit. The Flywire cables keep the feet secure in a place.
Pros and Cons
| | |
| --- | --- |
| Pros | Cons |
| Sleek and stylish | Narrow |
| Comfortable | |
Brooks Ghost 11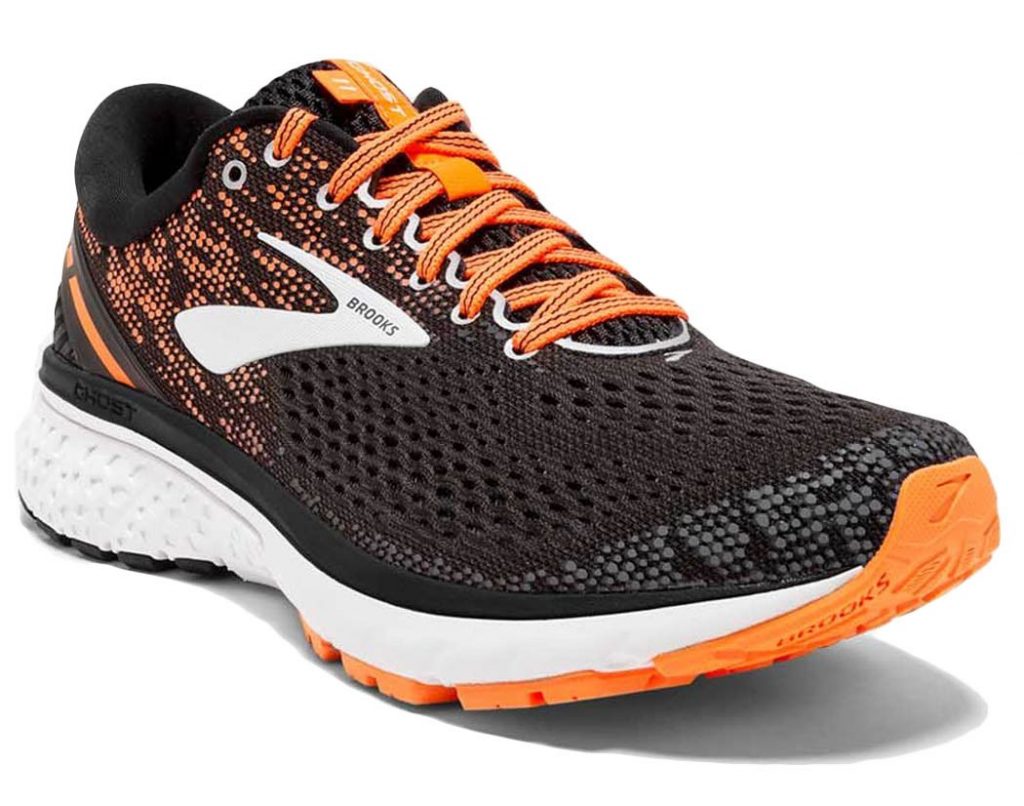 | | |
| --- | --- |
| Product | Brooks Ghost 11 |
| Use | Road |
| Price | $119.80 – $227.53 (Check out the latest price here!) |
| Arch Support | Neutral |
| Terrain | Road |
| Weight | 309g |
| Heel-to-Toe Drop | 12mm |
| Width | Narrow, Normal, Wide |
| Outsole Technology | Rubber |
| Midsole Technology | BioMoGo DNA |
| Upper | Mesh |
Notable Features:
Lightweight construction
Excellent transition
Comfortable
Sole Technology
The outsole of
these shoes is made with two types of rubber. The blown rubber at the forefoot offers flexibility, durability, and responsiveness. The carbon rubber in the heel area offers resilience and strength.
The midsole is made from BioMoGo DNA which offers better responsiveness. The gel-based DNA cushioning aids running.
The two separate crash pad units; DNA Loft and segmented crash pad.
The mesh upper is smooth and stretchable. It offers optimum comfort. The heel area is made from synthetic material to keep the foot in place.
Pros and Cons
| | |
| --- | --- |
| Pros | Cons |
| Soft and flexible | Durability issues |
| Lightweight | |
Skechers GOrun 600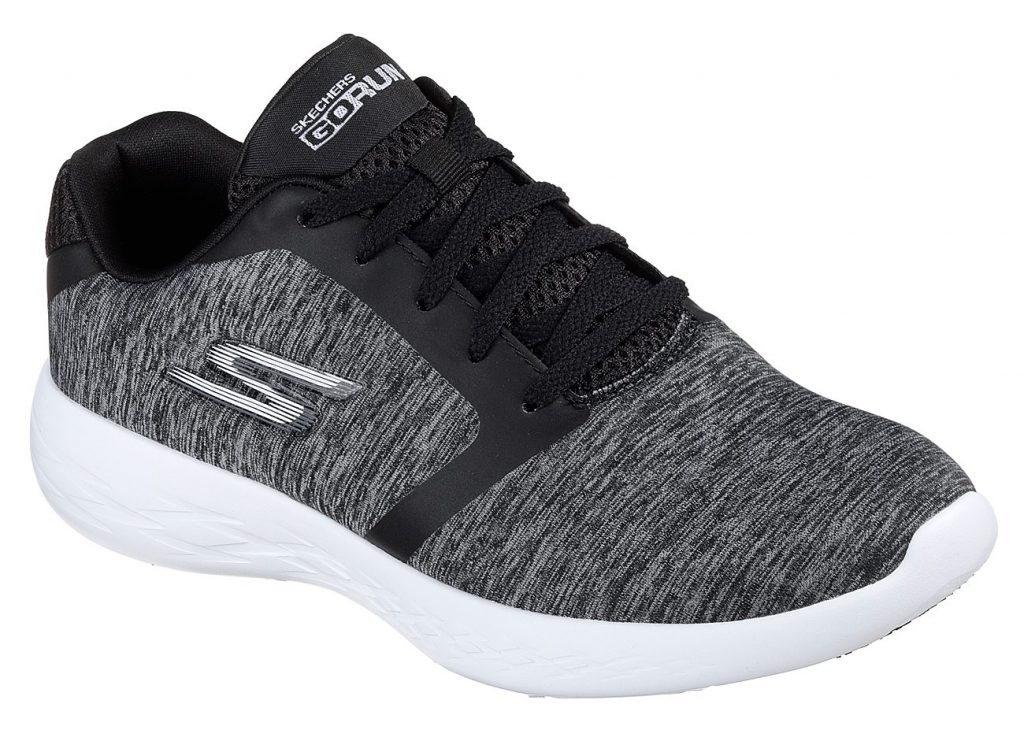 Notable Features:
Stylish design
Can be used for casual walks
5GEN foam unit
Better traction
Sole technology
The outsole of
these running shoes is made with rubber placed in heel and forefoot section. The wavelike grooves on the flat surface ensure excellent traction and flexibility.
The midsole unit comprises 5GEN full-length foam which is very springy and comfortable. The parametric design of these shoes enhances stability, support, and flexibility.
The Goga Run insole assures added underfoot cushioning that have amazing shock absorbing quality.
The mesh upper is very comfortable, durable, and breathable. The 3D printed overlays keep the feet in place.
Pros and Cons
| | |
| --- | --- |
| Pros | Cons |
| Responsive cushioning | Small |
| Durable | |
The major difference between training shoes and running shoes
Training shoes completely different from running shoes:
The major difference lies in the way both these shoes allow the movement of feet. Where athletic shoes allow multi-directional movements, running shoes are only meant for forwarding movements.
Training shoes are heavier in weight as compared to running shoes.
Training shoes have a flatter sole that offers flexibility while running shoes feature a well-appreciated heel-to-toe drop.
Training shoes have lighter treads, but they cannot be used to run a distance longer than 5k. On the other hand, intricate trades of running shoes allow comfortable long-running experience.
Training shoes can be used in weightlifting, kickboxing, aerobics, etc. Running shoes can only be used for running.
So, we hope that now you can clearly differentiate between training and running shoes. If you have more questions, you can let us know, and we'll get back to you with the answers soon!
Further read, The Ultimate Guide to Buying Your First Pair of Running Shoes