How to Choose Running Shoes
Running shoes usually feel comfortable when tested in a shoe store, but in reality, the real test comfort is after covering several miles. That is when you will realize that getting the ideal running shoe has more to do with the shape of your foot as well as your running style.
Choosing the pair of running shoes that will be suitable for you is not rocket science. Here are some quick tips:
Determine your running style as well as the type of running you engage in
Select the category of both shoe and features that match your requirements
Try them on to determine the pair that fits best
As a general rule of thumb, a pair of running shoes should last for three to four months for regular runners. It is assumed by this time that you must have covered between 400 to 500 miles of running. You may need to replace them with a new pair if you observe that both the midsoles and outsoles are worn or compressed.
Categories of Running Shoes
The following are the different categories of running shoes out there:
Cross-training shoes
Cross-training shoes are explicitly designed for Crossfit workouts or gym. It can also be used in any outdoor balance activity that involves having more contact with the ground.
Road-running shoes
Road-running shoes are designed exclusively for pavement and occasional ventures onto well-groomed paths with uneven surfaces. They are usually flexible and lightweight; designed to stabilize or cushion the feet during repetitive footfalls on hard, even surfaces.
Trail-running shoes
Trail-running shoes are made for people who love running in mud, rocks as well as other off-road routes and obstacles. They usually come with aggressive treads for better traction and extra-fortified for support, stability as well as underfoot protection.
Do You Know How You Run?
It is essential for you to know how you run. You can quickly determine this by taking a look at any of your well-worn pair of running shoes.
The most common running mechanics are as followed:
Pronation
Pronation reveals a centralized wear pattern which is concentrated on the ball of the foot and a tiny portion of the heel. It is the natural inward movement or roll of the foot as the heel strikes the ground.
Neutral or basic pronation helps to absorb impact, thereby relieving pressure on joints and knees. This is the usual trait of biomechanically efficient, neutral runners.
Under-pronation or Supination
Underpronation or supination can be recognized by wear along the outer edge of your old running shoe. This is caused by the outward rolling of your foot
Overpronation
Overpronation can be readily be pinpointed by wear patterns that are discerned along the inside edge of your well-used running shoe. It is an exaggerated or amplified mode of the foot's natural inward roll.
Overpronation is a common attribute that affects a large percentage of runners and leaves them at severe risk of knee injury and pain. If you are an overpronator, you need motion control or stability shoes (more on this later).
Minimalist/Barefoot Running
In conventional running shoes, the foot tends to strike the ground, heel first. This is because most running shoes have an elevated cushion at the heel portion.
But with minimalists or barefoot runners, it is the forefoot or mid-foot that hits the ground first.
The Different Types of Running Shoes
There are different types of running shoes out there: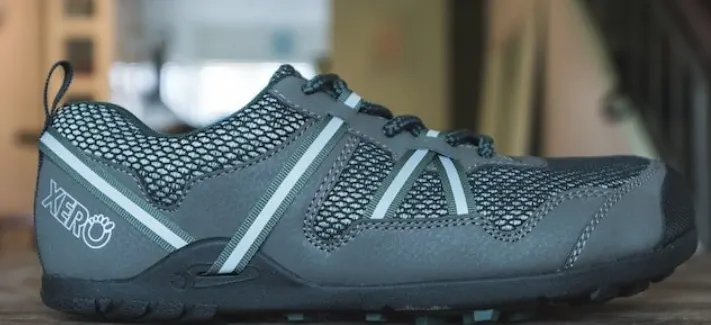 Stability shoes
Stability shoes are ideal for runners with mild or moderate overpronation. They usually come with a firm post which fortifies the arch area of each midsole. These are the areas that are profoundly impacted by overpronation.
Neutral Shoes
Neutral shoes may work for people with mild overpronation, but they are the best option for people who supinate or neutral runners. This running shoe provides some arch-side (medial) as well as some shock absorption support.
Some super-cushioned running shoes provide up to 50% more cushioning than conventional running shoes for greater shock absorption.
Motion Control Shoes
Motion control running shoes are ideal for people who display moderate to severe overpronation. They come with features such as stiff heels to counter overpronation.
Minimalist Shoes
Minimalist running shoes come with little or no arch support, lightweight construction along with a heel drop of roughly 4-8mm to facilitate a midfoot strike and natural running motion without sacrificing flex and cushioning.
Some minimalist styles of running shoes provide stability posting to help overpronating runners to transition to barefoot running motion.
Minimalist running shoes should last users no less than 300 to 400 miles.
Barefoot Shoes
Barefoot running shoes come with soles that provide the barest minimum protection from potential perils on the ground. A majority of running shoes in this category do not have any cushion in the heel pad and come with a 3-4mm-thin layer of the shoe between the runner's foot and the ground.
All barefoot running shoes feature what is usually referred to as "zero drop" from heel to toe. The term "Drop" refers to the difference between the height of the heel and the height of the toe. The "zero drop" feature of minimalist running shoes facilitates a forefoot or mid-foot strike.
Conventional running shoes, by contrast, feature at least 10-12mm drop from the heel to the toe and also provide more heel cushioning than minimalist running shoes.
Features of Running Shoes
The following are the essential features of running shoes. These features cut across every type of running shoes in the market today:
Running Shoe Uppers
Breathable/waterproof uppers – These materials are used in conjunction with membranes that are bonded to the interior of the shoe linings. The layer is responsible for blocking moisture from entering while it is porous enough for the foot to breathe. Running shoes that feature these membranes keep your feet dry in wet environments with minor reciprocity in breathability.
Nylon Mesh and Nylon – Both nylon and nylon mesh materials are resilient, sturdy materials that are commonly utilized for the reduction of weight while boosting breathability.
Thermoplastic polyurethane (TPU) overlays – These materials are usually set over breathable shoe panels such as in the heel and the arch. They are small, abrasion-resisting additions that contribute to the enhancement of durability and stability.
Synthetic Leather – Synthetic leather is a durable, supple, abrasion-resistant material that is derived from polyester and nylon. It is more breathable, quicker drying, and lighter than real leather. It also requires little to no break-in time.
Running Shoe Midsoles
Posts – Posts are sections of firmer ethylene vinyl acetate which are added to make hard-to-compress areas in the midsole. They are more common instability running shoes and used for boosting durability or slow up pronation.  Medial posts strengthen the arch section of each midsole which is an area that is highly compressed as a result of overpronation.
Ethylene Vinyl Acetate (EVA) – EVA is a type of foam that is commonly utilized for midsoles in running shoes. Well-cushioned running shoes only use one layer of EVA, though a few may have multiple densities of ethylene vinyl acetate to force a specific flex pattern.
TPU (thermoplastic polyurethane) – This flexible plastic is employed in some midsoles as a stabilization mechanism.
Plates – Plates are fabricated with a thin and flexible material – which may be TPU or nylon – that stiffens the forefoot of the running shoe. Plates are usually utilized more often in trail running shoes and are designed to protect the bottom of your foot when the shoe strikes the roots and rocks.
Shanks – Shanks work by protecting the arch and heel in addition to stiffening the midsole. They boost up the firmness of running shoes when traveling on rock-strewn terrain. Ultralight backpackers, in most cases, wear lightweight trail running shoes with plates for additional protection and shanks for extra support and protection as well.
Running Shoe Outsoles
The majority of the road running shoes out there come with resilient carbon rubber in the heel. The forefoot is usually made of blown rubber which provides additional cushioning. Trail runners, on the other hand, come with rugged carbon rubber outsoles for withstanding wear and tear while road-racing runners are all blown rubber with the single aim of reducing weight.
Heel Counter
Heel Counter refers to the rigid structure that is found around the heel. It is responsible for motion control and is supplemented – at times – with a heel wedge which also enhances cushioning and support to the heel. This feature can help people with Achilles tendonitis.
Torsion Bar or Medial Post
These are usually located on the sides of running shoes and are responsible for controlling excessive inward or outward motion. They are designed specifically for the supinator or overpronator.
Heel-to-Toe Drop
The "drop" of a shoe signifies the difference between the height of the heel and the height of the toe as mentioned earlier in this guide. It is crucial because it affects how your foot hits the ground when you land. A medium or low heel-to-toe drop, i.e., 0-8mm promotes a mid-foot or forefoot strike while a high-drop shoe, i.e., 10-12mm promotes heel strike.
You should also take note that cushioning and heel drop are not dependent on each other. It is, therefore, possible to come across an ultra-cushioned running shoe with zero or low heel-to-drop score.
Running Shoe: Fit Tips
Try on your new running shoes at the end of the day: The feet naturally swell slightly during the day as you go about your daily activities. Since your feet will be at its largest then – barring any physical or health condition – you should try on the shoes.
By doing this, you will avoid buying running shoes that are too small for you or will make you extremely uncomfortable when you start running, and your feet swell en route.
Foot size: Shoe sizes vary from one manufacturer to another and even from one model to another. You may end up in need of a full size larger or smaller than you think or even a half-size. If you are not sure of the accurate size you need to go for, you need to go and get your feet measured.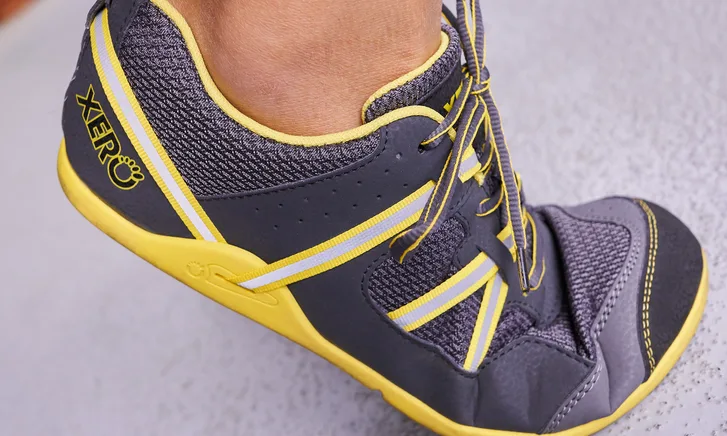 Set your sights on extra space in the toebox: The width of the toe box should be close-fitting but roomy enough to allow your foot or toes to move around without excessive rubbing. Laces should be neat but not too tight. Barefoot running shoes are an exception. Both the toes and heel should fit like a second skin without any additional space in the toes.
Orthotics also impact how shoes fit, so take them along with you.
Consider footbeds or aftermarket soles: Insoles come in a variety of models that can enhance support, fit, and comfort or a combination of all three features.
Best XERO Running Shoes
Xero Shoes Prio
Xero Shoes Prio is the first performance running shoe and one of the dedicated high-performance, running and fitness shoes from the footwear manufacturing company, Xero.
Prio has proven to be a crowd-pleaser and can be worn with either socks or barefoot. It is a closed design that is great for active people and runners who need a minimalist shoe that will run with a natural foot motion.
The Xero Shoes Prio comes with minimal cushioning and made to improve the good form of a runner or user as well as their foot strength naturally.
However, despite the minimal cushioning, the underfoot of runners are adequately protected.
Let us dive into the meat of the review, shall we?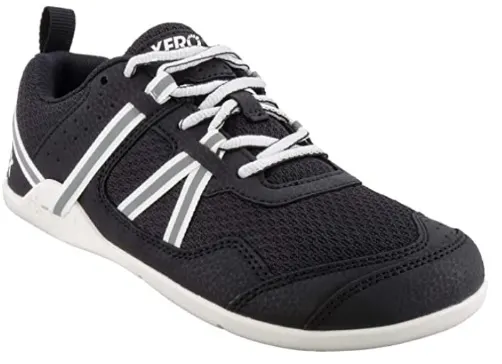 Xero Shoes Prio is rugged and versatile footwear that looks somewhat clunky and bulky but performs extraordinarily well and even better than some of the more recognized minimalist designs in the market today.
The Xero Shoes Prio comes with an optionally detachable insole which drops this footwear from a two-millimeter cushion to almost nothing.
You can adjust the wrapped straps on the upper to form-fit your foot, and it even surprisingly wraps around the entire footwear.
Build
The outsole of the Xero Shoes Prio comes with an excellent combination of grip and durability for the trail and the road respectively.
The wave tread design which is created from Xero's FeelTrue rubber has some gaps in-between to facilitate traction as you run.
Two major flex grooves in the outsole help it to move with the foot while adapting favorably with the terrain.
Shoes Prio does not have any lugs whatsoever, and this enhances its comfort and durability. Even without lugs, the Prio has an excellent grip on the road and trail, thus making the running shoe a great dual purpose one.
The midsole material in the Prio is minimal at best and barely enough to provide some impact protection while cradling the foot.
Although the cushioning is virtually non-existent, the Prio has a pleasant feeling to it and great for people who are only interested in enjoying the minimal feeling while having just enough cushion to protect them as they run.
Arch support is virtually non-existent which is great as it allows the foot to move naturally and flex throughout the stride.
The midsole and outsole work conjointly to deliver an excellent ground response, thanks to the responsive feel of the running shoe.
The upper is made of thick mesh material along with negligible synthetic leather overlay. This flexible upper mesh helps to give the Prio a nice roomy feel, particularly in the toe box section which is quite broad.
The synthetic overlays encircle the base of the running shoe and come up around the toe box region for additional durability and protection. T
he Prio has an incredibly small shape to it to augment natural foot movement. The lacing system – which is very effective – as well as the reflective nylon strips are responsible for locking your foot in place while giving the running shoe a semblance of structure.
Another loving feature that has made the Prio a household name is its flexibility as well as the way the heel cup wraps tightly around the foot for additional fit.
The flexibility – from heel to toe – is as a result of the Flex grooves that come with the Prio. When you flex your foot throughout the stride, the minimal running shoe does the same.
The Flex grooves also do an excellent job of providing traction while facilitating natural foot movement and also improve the overall fit of this innovative running shoe.
Use
The flexibility, as well as the outside design, makes the Prio an excellent shoe for other activities besides running.
For instance, the high abrasion rubber can withstand regular road use while the traction and flexibility are ideal for flat trails.
The lightweight flexibility of the Prio also makes this footwear ideal for Cross-training, too. You can engage in activities such as slacklining, calisthenics or a stroll.
Wearing the minimal running shoe can help you build foot strength that will fend off injuries.
Style
The Prio has nothing more than 5.5mm of material between the base of your foot and the ground, making it one of the running shoes with a minimal-looking profile.
Due to its relative newness in the market, there are presently only two color variations for men and two for women in the market today. Each one strikes an excellent balance between conservative and flashy.
Thanks to the synthetic leather, the Prio has an expensive look about it without giving up the vegan-friendliness of the running shoe.
Reflective strips adorn the midfoot lockdown system and are functional, especially when you run at night or in poor light conditions.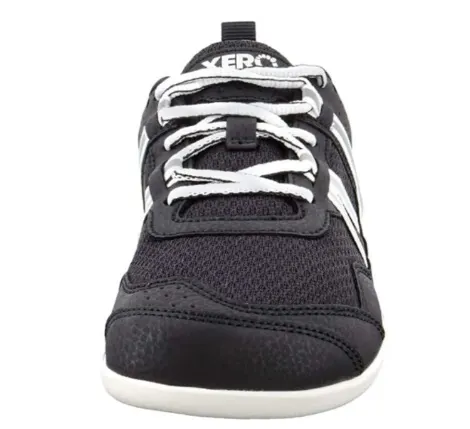 Feel
The Prio is so lightweight that you can't ordinarily notice the shoe underfoot except maybe for the protective outsole and the exceptional traction.
This minimal running shoe locks in your foot securely and moves with you anywhere you go. This is an excellent choice for you as a runner as you will bask in the comfort and free movement of your foot in the footwear.
The Prio is perfect for runners with great foot strength and ideal for active individuals who are looking to boost their foot strength.
Support
The Xero brand's objective is to make a remarkable performance shoe that will allow your foot to move naturally and without too much hindrance from support features.
The Prio, however, supports neutral foot movement by being roomy and wide. Your toes will splay thanks to the wide toe box. The shoe also promotes a natural stride that allows you to get the most out of your toe off.
Pros
Wide toe box for natural toe display
5.5mm rubber soles are perfect for use on pavement and well-groomed paths
Ankle straps – huarache-style – secure the running shoe in place as desired by the user
Cons
The footwear runs a bit small; order up a size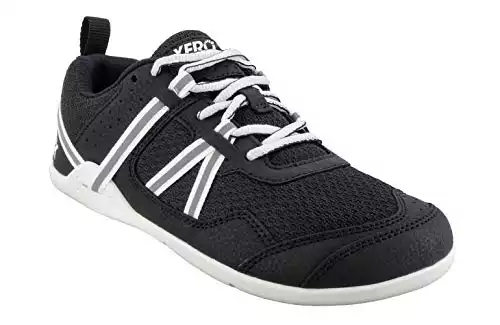 Xero Shoes Prio -
Men
Women
We earn a commission if you click this link and make a purchase at no additional cost to you.
02/07/2023 07:44 pm GMT
Bottom Line
The Prio is a great minimal running shoe for any runner who needs versatility and protection in a shoe while appreciating natural running movement and making use of natural foot strength for thrusting as they go on their favorite outdoor activity.
Xero Terraflex
The Xero Terraflex – 'barefoot style' trail running shoe – can add lots of benefit to your running technique in a variety of ways.
It's a minimal, lightweight, and flexible running shoe that should help will help your body develop an efficient and natural running technique.
Design and Fit
The Xero Terraflex is a very minimal running shoe with the goal of helping runners to run as naturally as possible.
The human body has gone through several generations of evolution for thousands of years. Most of this evolution occurred during a time when wearing shoes was not a common thing.
So, it makes a great deal of sense that wearing a minimal running shoe with a zero drop should naturally feel more comfortable for us.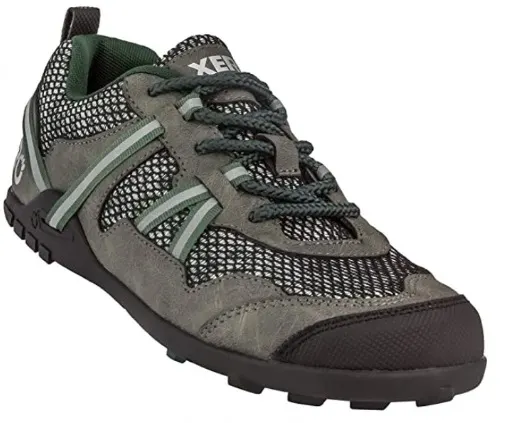 Inner & Outer Meshes
The outer mesh on the Xero Terraflex is breathable but not waterproof. It comes with a larger weave than the inner mesh, with a tiny stretch feature in it.
It also has a netted fabric overlayed which appears to give the mesh additional strength.
It's very rare for runners to have a breathable material that is also waterproof; it simply doesn't work that way. A waterproof running shoe can be great if you're running in wet and cold conditions.
But this kind of protection will come with a few drawbacks in other scenarios. For instance, if you run in a waterproof shoe in hot weather conditions, your feet will start struggling to breathe and will most likely overheat.
Then they will begin to swelling which could lead to other serious ailments that will hinder you completely.
For most running situations, it is good to run in breathable (i.e., non-waterproof) running shoes.
If your feet get wet, then a breathable shoe will let the excess water to pass through it, and any amount of water left will dry off quickly.
Heel & Ankle Support
There's not much ankle or heel support in the Xero Terraflex since it is a minimal running shoe, so don't expect much from this athletic footwear.
If you practice minimal running or barefoot running with the protection of a shoe like the Xero Terraflex, you won't have to rely on additional support since your feet should be stabilized the right way.
If you have extra support – whether it be in the heel, ankle or arch – it merely implies that you are not working those muscles as you ought to.
Consistent running with extra support will end up weakening these areas, and you may never be able to find the root of any leg or foot injuries you may incur. Prevention, as they say, is always better than a cure.
Drop
The Xero Terraflex minimal running has a "zero drop" from heel to toe.
This is a common theme across all Xero shoes and a crucial aspect for minimal running. But the human feet don't have an elevated heel, so why would we put on shoes that are meant to only act as an extension to our feet come with a heel like this, you ask?
The truth is, it has to do with trying to soften the pain that is caused by running when the heel strikes the ground repeatedly.
A lot of runners suffer from severe heel and ankle pain or injury as a result of running in shoes with elevated heels.
When you run with a zero drop running shoe for the first time, you will notice how your feet appear to slap the ground as you move.
This is because, throughout your life, your brain has been conditioned and trained to account for that elevated heel which is built into so many shoes out there on the market these days.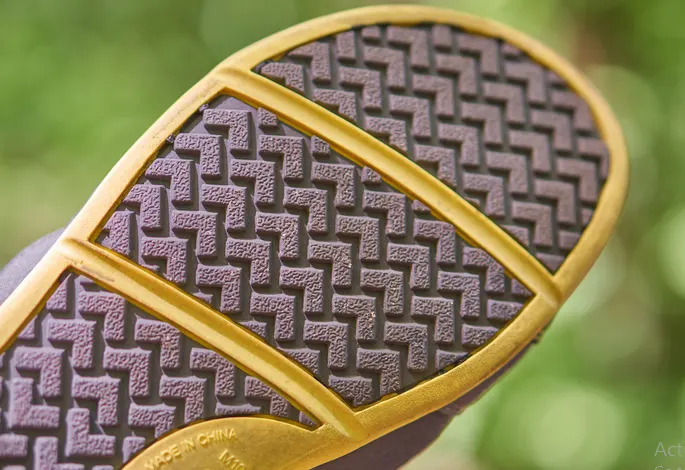 After you run barefoot for a while, your brain and body will sync up again. Then you will start to run in a light-footed manner instinctively without wasting too much force as your heel impacts the ground.
Instead of pounding your heels on the pavement or well-groomed path, you will be gliding as if you're running on hot coals.
Your pace or rhythm would also increase significantly to somewhere around 180 steps per minute.
In addition to this, you will discover that you are making more use of your calf muscles as you run, thereby getting the most out of your daily run or workout.
Pros
Extremely flexible running shoe
Allows a full range of foot movement
Highly rugged and durable outsole with grip lugs, perfect for trail terrain (5,000-mile sole warranty)
Exceptionally breathable
TrueFeel rubber sole provide lots of excellent feedback from the trail
Exceptional Customer Service
3mm insole for little comfort without being too much cushion
#1 pick for barefoot/minimal runners
Price is relatively affordable
Extraordinarily lightweight (i.e., 272g)
Cons
Laces are somewhat bulky
Available in only two colors or variations
It is not waterproof
Minimal cushioning
It runs small, may have to order one size up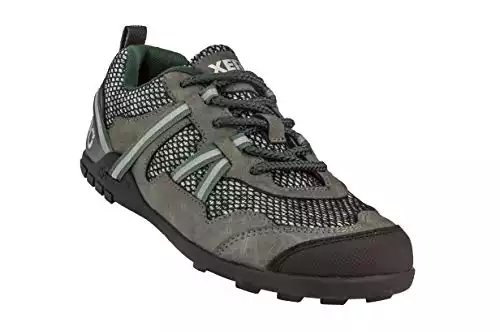 Frequently Asked Questions
Question: Are these shoes just for running?
Answer: Yes, these are for running. However, people around the world were Xero shoes for just about anything: strolling to the beach, walking in the woods, running ultramarathons, Crossfit workouts, etc.
Question: How long does Xero Shoes last?
Answer: To be honest, it will last for a very long time. But then, just like any running shoes, how long they last depend significantly on your running style. If you follow the good and more natural light-and-easy technique, you will enjoy your running shoes for a long while. Moreover, considering how reasonable the price is compared to other big and padded running shoes, you will end up saving a lot of money when you buy and use Xero running shoes.
Question: How do I find my correct size?
A: All Xero running shoes are roomier than the average or conventional running shoes out there. So, no matter the size of your feet, you will find a likely pair that will be suitable for you.
Question: Do you offer replacements for insoles?
Answer: If the insoles of your Xero running shoes have worn out, please get in touch with our customer service for a fresh pair.
Question: How do I wash my Xero running shoes?
Answer: it is highly recommended that you wash your Xero running shoes with mild soap, warm water, and a soft brush. Then you can place it somewhere to air dry. Do not leave these products in direct sunlight, especially the Cloud or Z-Trail sandals. This is because the foam may be deformed by the harsh rays of the sun. This is not covered in Xero's warranty.
Question: What Xero running shoes can I run in?
Answer: Every Xero shoe and sandals are incredibly flexible with zero-drop. Customers have run in almost every Xero footwear out there.
Question: When is it time to buy a new pair of Xero running shoes?
Answer: If you keep track of the miles you cover when you run, it will go a long way in helping you determine when you should replace your Xero running shoes. The consensus for replacing your running shoes is after 300 to 500 miles. Minimal running shoes may fall a bit lower than that threshold while those with more cushioning may go a bit longer.
In Conclusion
In Conclusion, there are plenty of Xero shoes out there for you to try.
I personally like minimalist shoes that offer a barefoot feel when you run.
We recommend checking out a pair of Xero shoes for your next big run and we hope this article has helped you decide on the perfect pair for you!