Today, we will be reviewing The Altra Impulse Flash. A follow up to Altra's Impulse, which comes with more cushioning and a fair share of flair thanks to its new and innovative upper material.
This shoe was manufactured for fans zero drop ramp angle who want a stable, lightweight, and comfortable shoe that will let them breeze through the roads, with a uniquely iridescent upper, that's not only designed to impress but is also very useful for those night runs and early morning runs.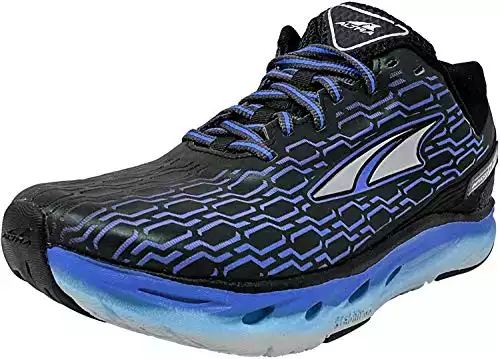 Let's take a closer look…
Altra Impulse Flash
Type
Stability
With its arch support built to correct fallen and low arches, and its StabiliPod technology, the Altra Impulse Flash has all the necessary attributes to provide overpronators a stable and guided ride.
Outsole
The Altra Impulse Flash outsole was manufactured with durable lightweight rubber, capable of withstanding wear and tear and give enough traction to endure rough terrain.
It uses InnerFlex technology, which allows the sole to adapt itself to the foot's shape, giving the shoe flexibility, but with enough support for overpronators.
It also features StabiliPod technology, which is none other than three pods of carefully distributed along the sole to add stability, in order to prevent the foot from rolling inwards excessively.
Finally, It comes equipped with built-in drainage holes that allow air to flow into the shoe as a way to keep the foot dry.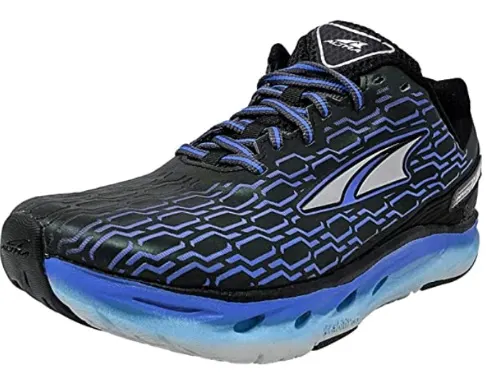 Midsole
The Altra Impulse Flash comes with a soft, flexible and ultralight EVA (ethylene vinyl acetate) foam, covered by a protective A-Bound layer made completely out of recycled materials.
The blend of these materials make for a durable and moderately cushioned midsole, that's more than capable of effectively absorbing shock from foot strike impact.
It also features a fairly padded 5mm insole, which adds extra shock absorption and added comfort.
Upper
The upper of the Altra Impulse Flash is made with a lightweight and all-around fully reflective material that sets it apart from the rest.
Not only is its innovative design truly eye-catching as it reflects light in a rainbow of colors, but it can be quite useful for running during dark and low visibility environments, as it easily lights up with the slightest touch of light.
It's available in a variety of color schemes. For men, it comes in lime, gray, or black/blue, while women's model are available in green, coral/blue, and black/coral.
Despite being advertised as a "quick-dry air mesh", this unique upper offers little breathability, making the runner's feet warm up with little to no activity.
It's also a bit stiff and fairly narrow and snug, considering this brand is traditionally known to offer wide shoes.
To keep the heel in place but not add any extra weight, an overlay was carefully placed along the sides of the upper section, running all the way back to the heel.
This simple feature manages to successfully add support by enhancing the shoe's structure and still keep it lightweight.
Finally, the shoelaces were asymmetrically aligned to allow the runner to customize the fit. This design adds to the runner's comfort while preventing any risk of accidental slippage.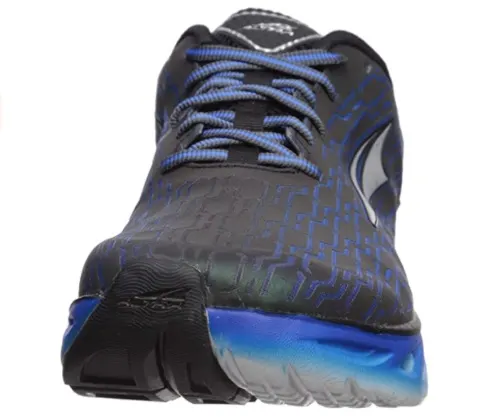 Weight
Men: 244 g / 8.6 oz Women: 198 g / 7 oz
At only 8.6 ounces the Altra Impulse Flash is a really light shoe.
Despite its stability features, this shoe proves to be light, flexible and responsive enough for high tempo runs and races.
Drop
0mm
The Altra Impulse offers a flat 0mm heel to toe drop, also known as zero drop.
This is as flat as it gets and is made to favor runners with mid and forefoot strike only.
It's important to note that runners who aren't accustomed to this offset need to let their bodies adapt to it. It's recommended to start off with a shoe with a higher ramp angle and gradually transition to zero drop.
Failing to ignore this might result in an injury or muscle inflammation.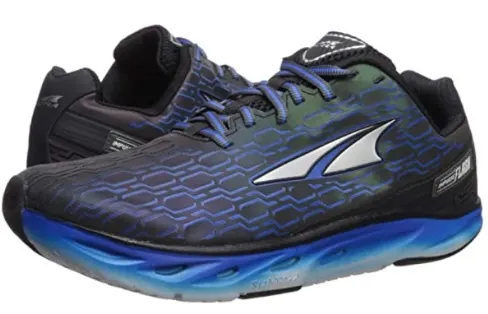 Price
You can find them between $60 and $125 (For the latest prices and discounts, check here)
At the current price of 60$, the Altra Impulse Flash is a real bargain considering it's a flashy and lightweight stability shoe.
However, the fact that you might need a second pair of shoes for long runs, or just to transition to zero drop, can be quite a put-off.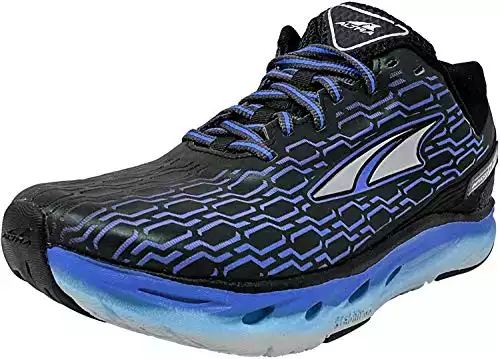 Pros
Made to impress, the flashy design of the Altra Impulse Flash makes it a pretty stylish and quite appealing pair of shoes.
Even though it's designed for the road, the Impulse Flash has enough traction to perform on rough surfaces.
It's really supportive and stable for a lightweight shoe.
The Altra Impulse Flash is light enough to race with.
Its zero drop offset favors runners with mid and forefoot strike.
Its accommodating fit makes the Impulse Flash a very comfortable shoe.
It offers a fair amount of cushioning with its stack height of 23mm running all across the shoe.
Despite being narrower than other Altra shoes, some users found it to be wide enough for a natural toe splay.
It's fairly priced considering it's flashy and lightweight stability shoe.
Cons
The main issue with the Altra Impulse Flash is its reduced breathability, that not even its many moisture control features or loosening the tongue and shoelaces are able to fix
Due to its ventilation problems, it's recommended for running in cool weather.
Runners who are not used to zero drop have the risk of getting an injury or muscle inflammation while using the Impulse Flash.
It's not suited for the runner who strike the ground with their heel.
This shoe runs half a size small.
It's design and materials make this shoe's durability quite questionable.
The Verdict
In most parts, Altra's Impulse Flash really lives up to its promise. It's a unique stability shoe that manages to be very light, supportive, stable, and really comfortable.
It's also affordable and a really good option for those who want to look good while running.
However, this shoe is not for everyone.
That same upper innovative mesh that gives this shoe its "wow" factor also reduces considerably its breathability, and its zero drop offset limits this shoe to those who have already adjusted to this ramp angle.
Bottom line, if you're a zero drop runner looking for a lightweight, flashy, and really comfortable stability shoe, then this shoe is a keeper.
Otherwise, if this is not the case, I recommend you look elsewhere.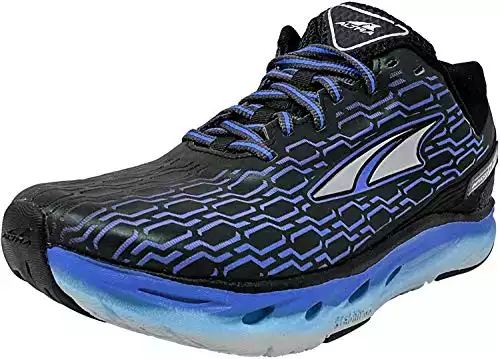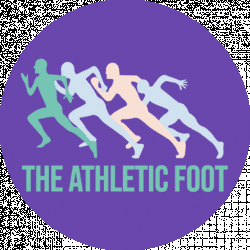 Latest posts by The Athletic Foot Team
(see all)