The Ghost 10 is a neutral running shoe produced from one of the top running shoe manufacturers: Brooks Sports, Inc. Headquartered in Seattle, Washington, Brooks has more than made a name for themselves in the running community.
With over 100 years in business, they know how to engineer functional, durable shoes that runners enjoy wearing.
The Ghost series, specifically, has been a crowd-pleaser. Its adaptability to each runner makes it an easy fit and feel that works for new and seasoned runners.
When combined with top-of-the-line Brooks technology, this shoe continues the stellar performance of its former models.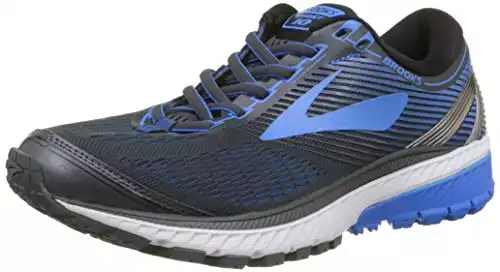 Brooks Ghost 10
Buy Now
We earn a commission if you click this link and make a purchase at no additional cost to you.
Overall Assessment
If you don't need to know the nitty-gritty to enjoy a good pair of shoes, here are the highlights:
Comfort – Whether you are lacing up for a 20-mile training run or a long day on your feet, these shoes can keep your feet happy. There is enough cushioning to keep your feet and your legs comfortable over a long period of time.
Style – They look good. Whether you favor flashy and fun or functional and discreet, there is a look for you to enjoy.
Durability –100+ years in business speaks for itself in the durability of Brooks shoes. Brooks has developed loyalists in all groups of runners, recreational and elite alike. Their shoes are proven, and when treated properly, you will get the full 300 to 500-mile life out of them.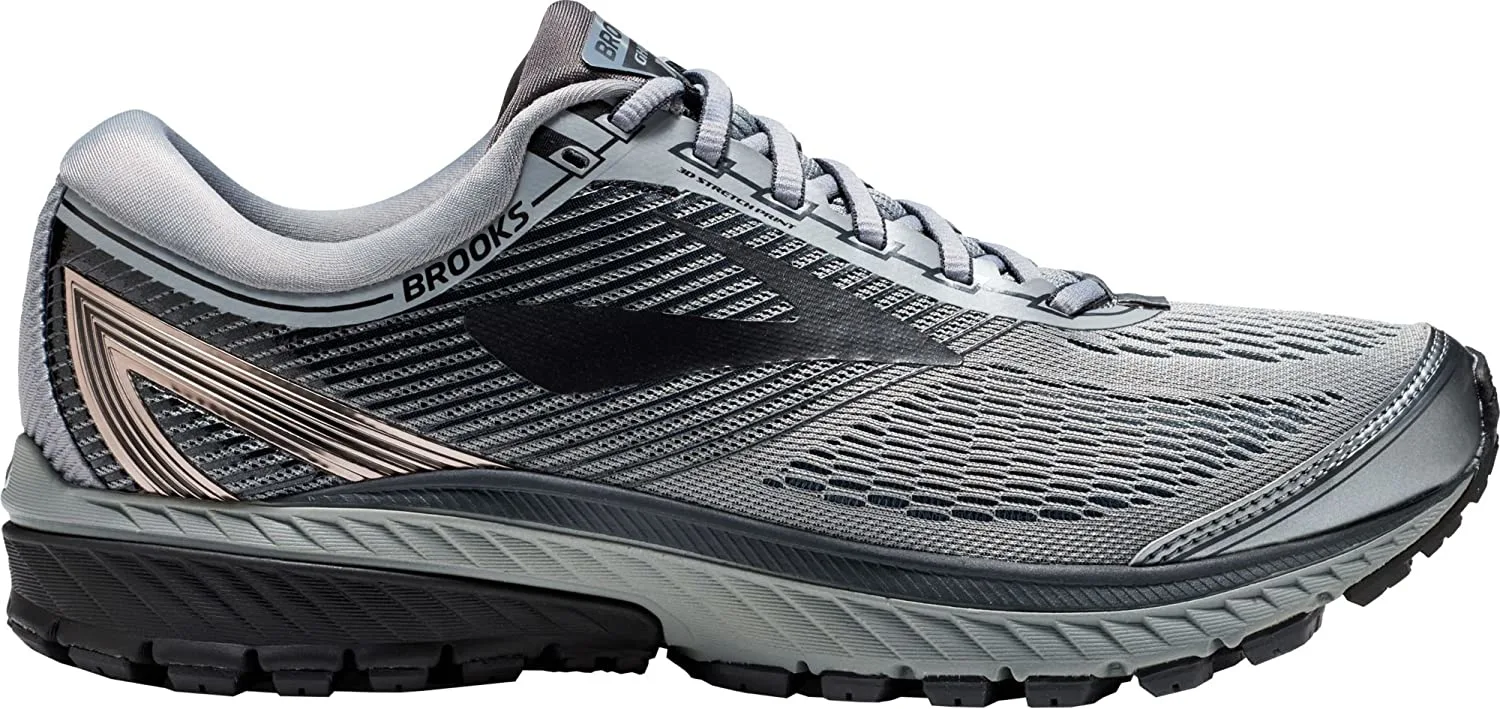 Who should wear it?
Any runner with a neutral gait. There is no reason not to try it. If you are new to running, new to Brooks, or you have regularly committed to the Ghost series; you likely will not be disappointed by the Brooks Ghost 10.
If you don't know what your gait is, or what might be best for you, Brooks features a shoe finder tool on their website.
Praises for the Ghost 10
Cushioning
The first thing to notice about the Brooks Ghost 10 is the incredible comfort; specifically, around the ankle.
The tongue of the shoe wrapping all the way around the ankle, known as the collar, is plush with cushioning.
While such ample softness may typically cause a heat trap, that is not the case in the Ghost 10s.
The engulfing collar cushioning and the seamless upper mesh is breathable and succeeds at keeping feet cool and dry.
Underfoot, the shoe continues the comfort found in the upper. You will notice remarkable cushioning.
The Ghost has a removable foam insole, an enjoyable feature for a couple of reasons.
Removable insoles are a great feature for cleaning the shoe. Brooks recommends removing the insole and handwashing with warm, soapy water, then using newspaper to dry them out, and reinserting the insole.
This feature is also great if you typically replace standard inserts with a special orthotic, though the insole of the Brooks Ghost 10 is hardly "standard.
The BioMoGo DNA of the Brooks Ghost 10 may be a more than sufficient replacement for your typical orthotic insert.

Launched in 2010, the BioMoGo DNA is the Brooks cushioning system that adapts to your individual weight, pace, gait and running surface.
For a small physics lesson on how this is possible, visit the technology page of Brooks website.
The Brooks President and CEO Jim Weber sums it up in the press release regarding BioMoGo DNAs debut: "Brooks DNA is a game-changing technology in the world of running.
Traditional cushioning systems attempt to work for runners of all shapes and sizes, even though each person's weight and gait are vastly different from the next.
DNA offers a real solution to this challenge; it continuously tailors the levels of cushioning and resiliency to each runner's specific, changing needs throughout their run."
Toe Box
The snug feel that envelopes your ankle at first try-on is continued all the way down through the midfoot, and then a magical thing happens – your toes don't feel snug.
Ghost 10's roomy toe box, leaves ample space without making you feel clown-footed.
The shoes look as sleek as ever, and from the outside, you would never know there is ample space in all the right places.
The importance of a roomy toe box is to allow your toes to expand, as they naturally do when you transition through your stride and push off.
If your toes are cramped and squished together, you can end up with pain, discomfort, and even some not-so-pleasant foot ailments like bunions or hammertoes.

Laces
Laces should be unnoticeable. After you tie them, you want to forget about them. When lacing up the Brooks Ghost 10, you will notice sufficient length in the laces, allowing you to tighten and tie to your heart's content.
No one wants to stop for a retie mid run, and you shouldn't have to with proper laces and a common double knot. The laces on the Ghost 10 do what you tell them to and what you expect of your laces: stay put.
Color and Style
When you visit Brooksrunning.com, you will find six color choices for the Ghost 10s. You can choose plain white or a snazzy and fresh blue with a patterned collar.
Color options are great, not only for style purposes but also for ordering second pairs if a new model has yet to be released. You can buy the same shoe again without feeling like you are buying the same shoe again.
A common rave among reviewers, the color and style of the Brooks Ghost 10 defies the previously common nerdy running shoe. No bulk or heavy feet anymore, just a streamlined look made to compete with the best.
Performance and Traction
Ghost 10 performs whether you are logging treadmill miles or rainy outdoor miles. Even in less predictable outdoor environments, the responsive cushioning, midsole design, and flexible upper allow for top performance.
Its grip on the road during a dark and rainy morning run, will allow you to run with growing confidence on slick streets without missing a beat.
Rounded Heel
The rounded heel makes for a smooth heel landing and easy transition from heel to midfoot. It is noticeable both walking and running, and it provides a great segue into the double foam midsole.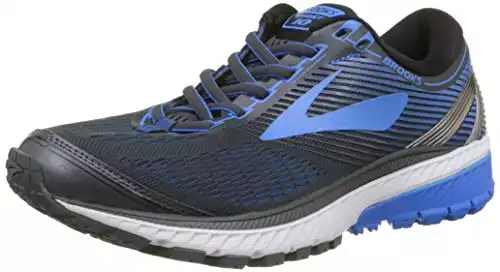 Brooks Ghost 10
Buy Now
We earn a commission if you click this link and make a purchase at no additional cost to you.
Critiques
It is important to note that critiques were few and far between, but when they did appear there were two common complaints: durability and sizing.
Durability
Some reviewers claimed their Ghost 10's were deteriorating in as little as two to six weeks. Consequently, the shoe could have been returned in the Brook's True Blue Guarantee 90-day window.
Or they could've submitted the defective product form if ordered through the Brooks website.
According to a Brooks team representative, each defective product claim is reviewed on a case by case basis and should be supported by photos of the failing product.
Sizing
The other notable critique was the group that found the shoe to run small. I did not find that to be the case and wear my normal size in the Ghosts.
That said, if you can get to a store to try them on, you will take the guesswork out of what size to order.
You should always review the return policy on whatever shoes you buy, and when possible, order directly from the manufacture and keep the original packaging.
This can avoid a headache if it turns out the shoe doesn't work for you.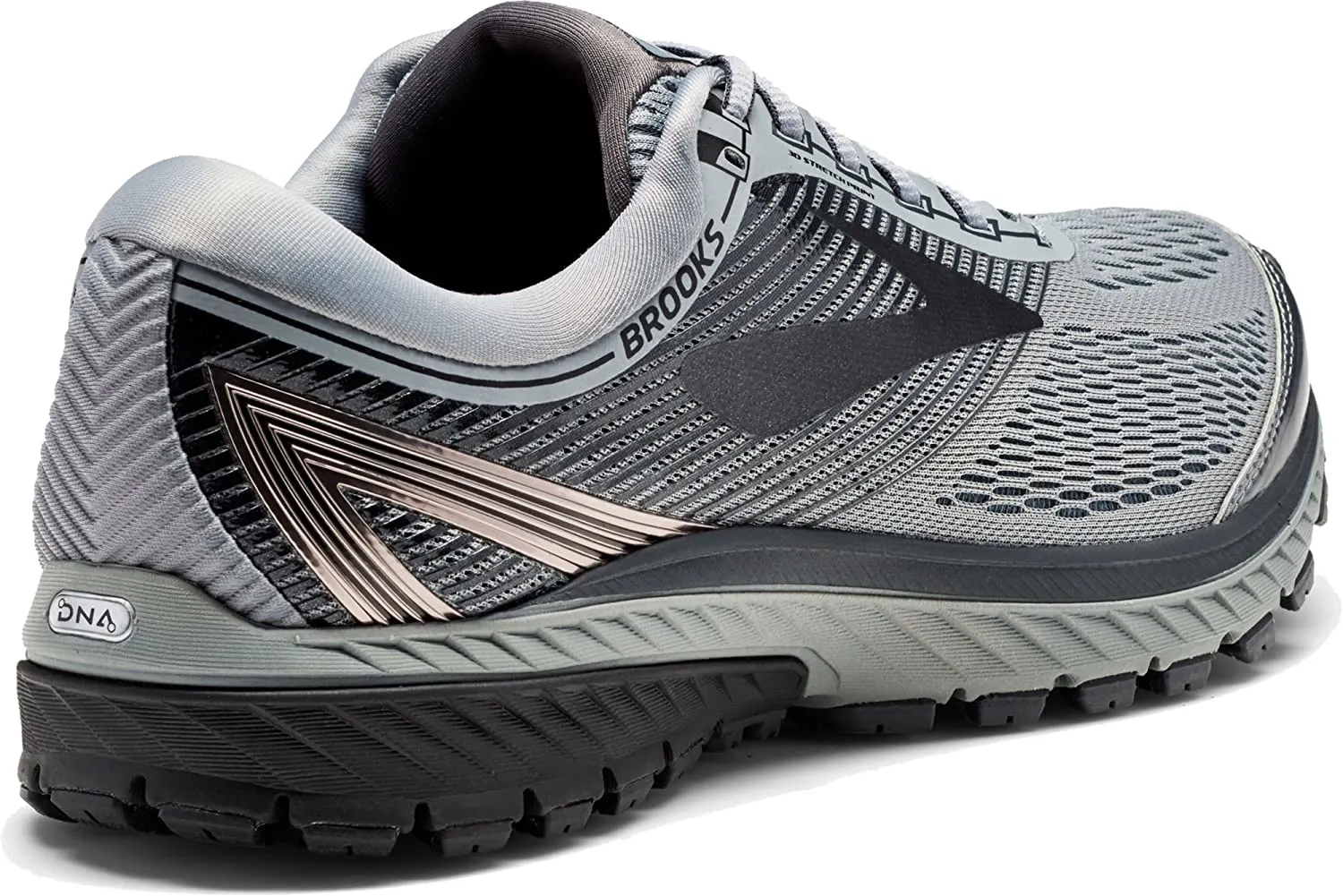 A common competitor for the Brooks Ghost 10 is the Mizuno Wave Rider, another excellent neutral shoe.
One critique of the Wave Rider is the large tear drop hole in the heel. If you step on any gravel surface, you are likely to acquire an unwanted rock in your heel.
The Ghosts have no such hole. However, you may find yourself clicking along as the high-performing traction attracts tiny pebbles in the outer part of the midfoot.
Other than a small inconvenience, it should not affect you in any way except if you choose to stop to remove it. A small, infrequent pebble is a low price to pay for great traction and flexible sole.
Fun Fact
If you have ever wondered how shoe models get their name, you are probably often left to wonder – not so with the Ghost 10s.
The Brooks Blog offered the history behind the Ghost name after the release of the Brooks Ghost 5.
The blog revealed that an anonymous top executive of Brooks Running mystified his coworkers with his physique as none of them ever saw him training.
After some investigating, they uncovered his secret: he was logging hundreds of miles a month after dark.
The Ghost was named after his effortless movement through the night.
Conclusions
The Brooks Ghost 10 is more than a solid performer in the neutral running category.
It is a top of the line, affordable running shoe that will suit the majority of runners looking for a neutral shoe.
It features high-end technology backed by a company that guarantees the performance of its products.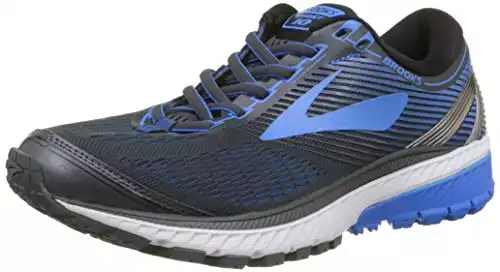 Brooks Ghost 10
Buy Now
We earn a commission if you click this link and make a purchase at no additional cost to you.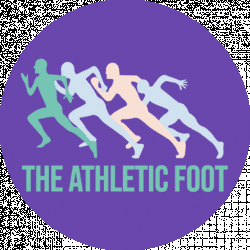 Latest posts by The Athletic Foot Team
(see all)