Whether you like strolling on the beach during sunset or jogging on a chilly winter morning, your feet deserve proper care. No matter what kind of terrain they encounter, they should be ready to bear the load.
So, what's the best way to protect your feet and make sure they're comfortable? That's exactly what we'll be discussing in this article. We'll help you identify the best way to prevent your feet from injuries or any wear and tear.
Superfeet insoles are all you need if you want to customize every single pair of shoes that you own.
If you shoes that are a little loose or too big for your baby feet, you can use a Superfeet insole and make them the perfect fit for your feet.
What are insoles?
Insoles are basically materials that are placed inside the shoes to add comfort and warmth. They make sure your shoes fit you perfectly; not too tight, not to loose. They are also called inner soles or footbeds.
Materials used to make insoles
Insoles are crafted from different materials like:
Majority of insoles are made of foam. Given the shock-absorbing qualities of foam, it has always been an ideal choice to place inside the shoes. But, the only flipside is its durability. It is not a durable material.
Insoles made of memory foam are more comfortable as they adapt to the shape of the feet.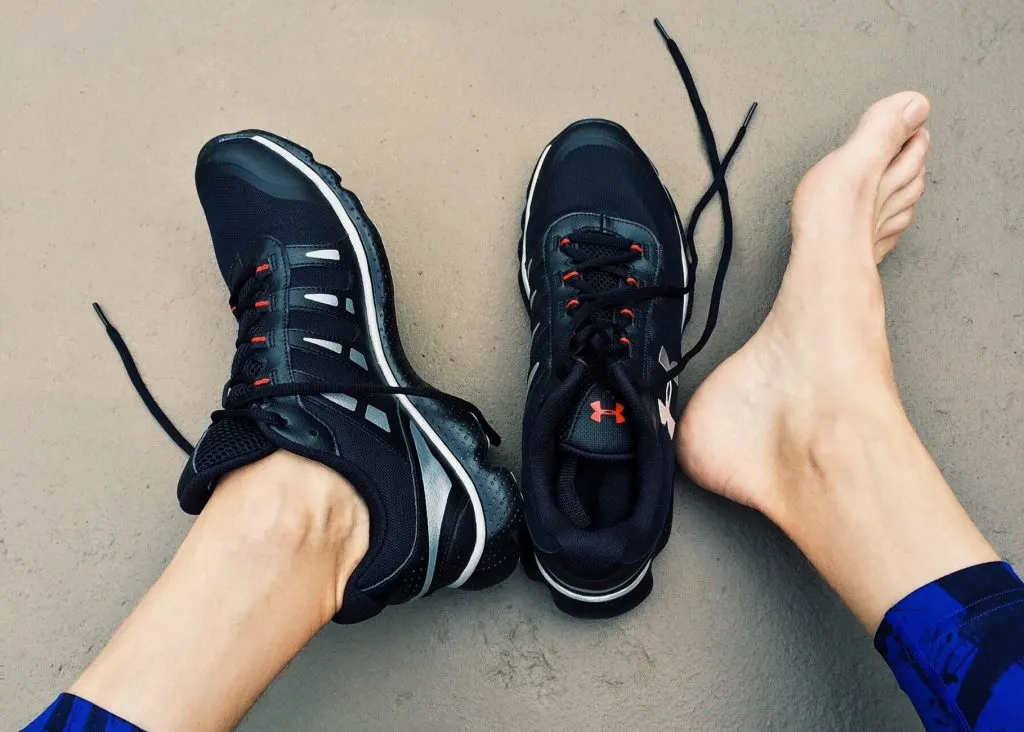 Many makers use air to offer extra comfort, as well as cushioning. The foam soles house pressurized air bubbles to make them cushiony. This also extends the shelf-life of soles, as well as shoes.
Leather is another material of choice for making insoles. Cowhide leather is the most preferred leather that offers a robust arch support. Also, leather leaves no room for issues like wear and tear.
Gel insoles are quite popular these days. Gel is encapsulated in small bubbles and placed inside the foam. These insoles are soft and flexible, making them amazingly comfortable and supportive.
They are the most expensive insoles available in the market.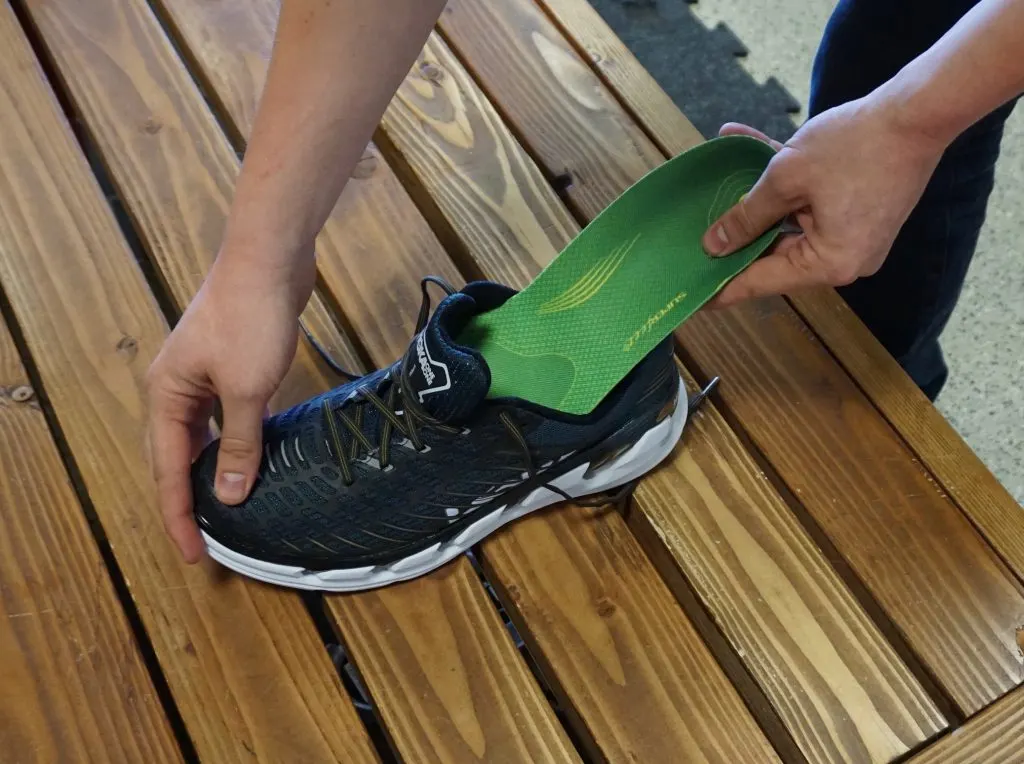 What are Superfeet insoles made of?
Superfeet insoles are synonymous with fine quality and reliability. For ages, Superfeet has catered to the needs of people, and till today, the brand makes sure to push the boundaries and satisfy the consumers.
Superfeet brings in use the concepts of podiatric medicine to make a product that could imitate the natural anatomy of feet to serve every purpose that is expected of it.
Superfeet insoles are designed to offer utmost comfort and support by adapting the two-dimensional midsoles of the shoe to the three-dimensional feet.
.The design of the insoles is based on principles of biomechanics, i.e., how bones, muscles, ligaments, and tendons work together to generate movement of the feet.
What are the best-selling features of Superfeet insoles?
Superfeet boasts about the quality of insoles. The key features of Superfeet insoles include:
A structured heel cup that stabilizes the soft tissues beneath the feet enhancing their natural shock absorbing quality.
Foam layer along with the stabilizer cap that makes a supportive shape.
Rearfoot support at the back of the arch and front of the heel.

Why should you use Superfeet insole?
There are many reasons why Superfeet insoles are a hit among customers of all age groups. These insoles are designed to cater to the different needs of different users.
Let's look at some of the most important reasons why people prefer Superfeet insoles over other insoles available in the market:
Superfeet insoles improve the fit of your shoes
A standard shoe size does not necessarily fit everyone. If you are unable to find a proper shoe fit, you can use Superfeet insoles make sure the shoes fit you perfectly.
Buy shoes that are a little larger in size and then use the insoles to get a perfect and comfortable fit.
Superfeet insoles make you feel very comfortable
Superfeet insoles are designed to adapt to the shape of your feet and make your feet comfortable while walking or running on the most uncomfortable and uneven terrains.
Superfeet insoles help you feel warm
Superfeet insoles make your feet warm in cold weather by insulating the feet. And, when your feet are warm, your entire body feels warm too.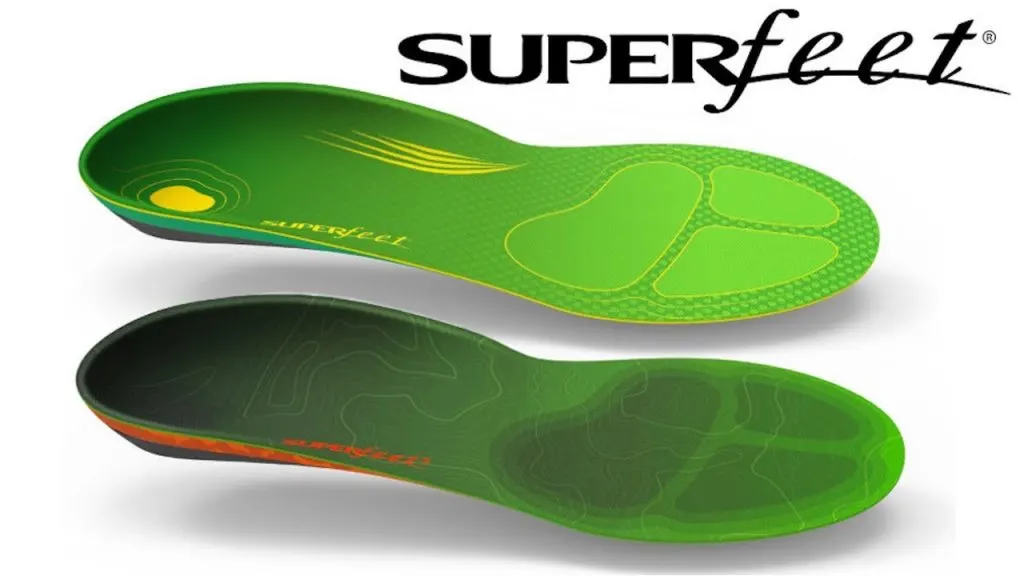 Superfeet insoles help in the prevention of blisters
When you wear Superfeet insoles, you give your feet a very comfortable environment. The added layer reduces the friction between the skin and the shoes preventing the chances of painful blisters.
Superfeet insoles help in improving the posture
As already mentioned, Superfeet insoles are designed keeping in mind the biomechanics of the feet and hence, they make sure that your feet work in the most efficient manner, improving a faulty posture.
The insoles act as an ideal treatment for the issues that cause posture problems while standing, running, or walking.
Your feet are subjected to an immense amount of pressure every day. They bear your entire body weight which makes them very vulnerable to arch pain, pain in the ball of the foot, and heel pain.
Superfeet insoles offer extra arch support preventing the occurrence of these problems and other problems associated with feet such as Achilles tendonitis and plantar fasciitis.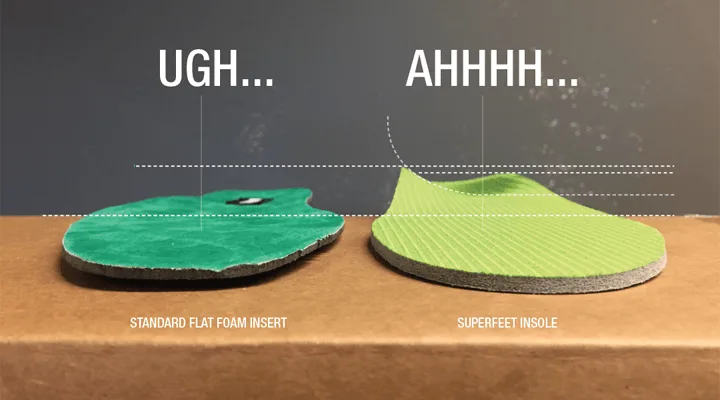 How to choose a Superfeet insole?
As Superfeet offers a wide range of insoles for different types and sizes of feet, it might get confusing for you to select the one that could serve your purpose.
The four most important factors that you must consider while buying Superfeet insoles are:
The type of shoes you wear is an important factor to consider. Generally, Superfeet insoles can be worn with almost all types of shoes.
There are specially designed insoles for every arch type, be it high arch, medium arch, or low arch.
Superfeet has a different insole for each type of foot ailment. You must buy the insole specifically designed for the ailment that is giving you sleepless nights and excruciating foot pain.
Before you buy the best Superfeet insole for yourself, you must also consider the physical activity that you will be indulging in.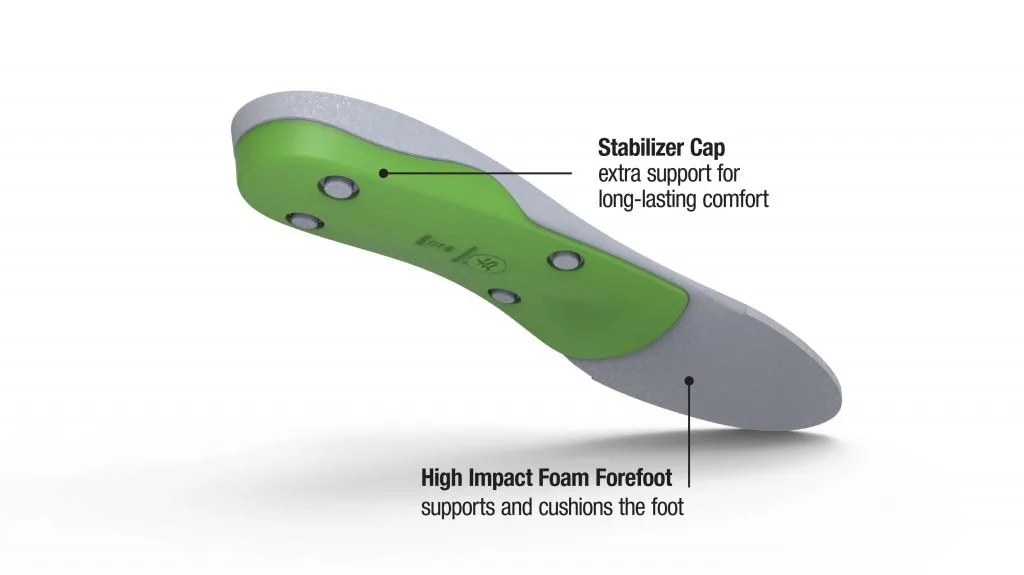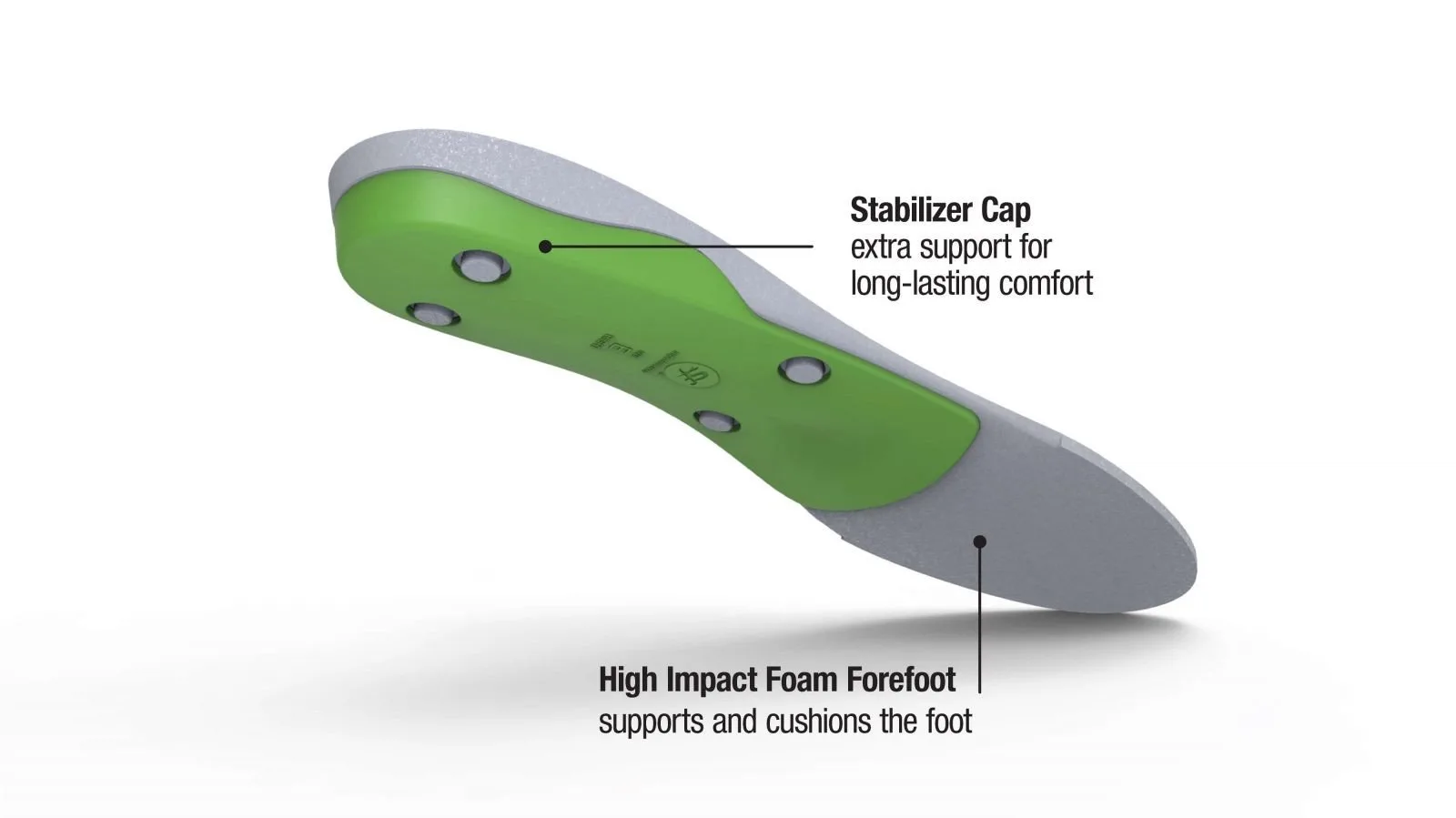 How long do Superfeet Insoles last?
Superfeet insoles are very durable. But, that does not mean that you can use one pair of insoles for the rest of your life. It is advisable to replace the insoles every 10-12 months.
The Superfeet insoles demonstrate various signs that hint towards the fact that it is time to change them.
They can flatten out, fall apart, and stop providing the comfort they are known for. If you observe craters or holes on the insole or wear on the arch, you must replace your insoles immediately.
Ideally, you should replace the insoles after every 12 months or after you've used them for almost 500 miles.
How to take care of Superfeet Insoles?
You cannot wear a single pair of your Superfeet insoles for a lifetime. However, you can definitely enhance their shelf-life by taking good care of them.
Here is are some useful tips to take care of your Superfeet Insoles and increase their durability:
Regular use of insoles can make them dirty. It is important to wash them with a sports detergent or mild detergent at least twice a week. Let them dry completely before placing them back in your shoes.
If you use insoles with your daily shoes, they can easily get sweaty and the moisture can get trapped inside. To prevent this, take them out every once in a while and let them breathe and dry out.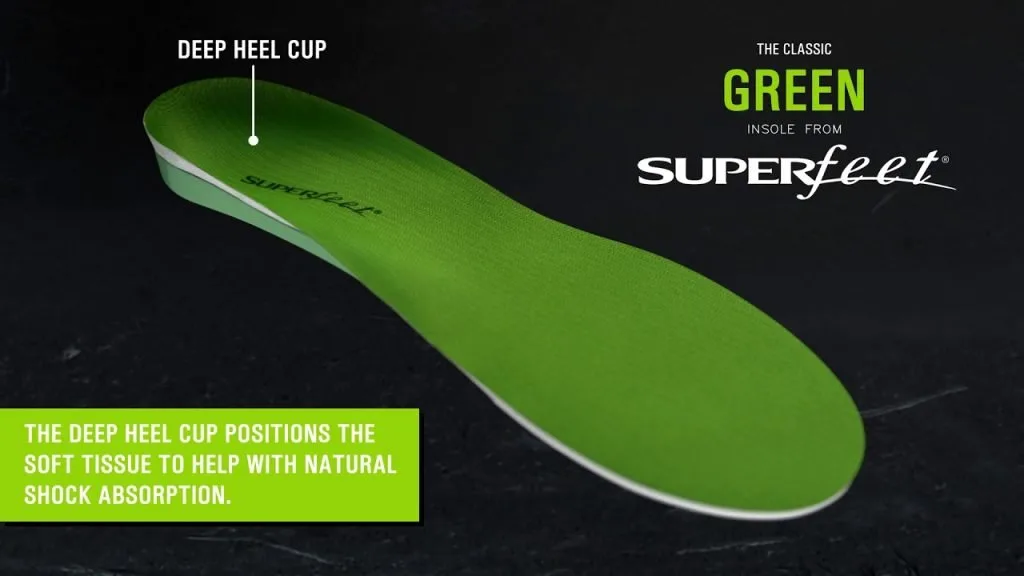 Best Superfeet Insoles 2020
Superfeet has an extensive range of insoles that are meant for discrete purposes. Let's look at the detailed specifications of the best Superfeet insoles available for purchase online.
Superfeet Green Heritage Insoles
Arch Type

 

Medium to high arch

 

Material 

 

Leather, Rubber sole 

 

Height

 

2" high 

 

Price 

 

$35.00 – $58.99 (Check out the latest rates here!)
Ideal for 

 

Walking, running, hiking, skiing, health, wellness, 

 

Notable Feature
Deepest, as well as widest heel support
Use of odor neutralizing technology
High volume insole
Apt for flat feet
Antibacterial properties
Available for both, men and women
These are the most popular and efficient athletic insoles having amazing shock absorbing capabilities. These insoles offer the widest and the deepest heel support.
The thick foam offers a great amount of support to the arch and the heel. The deep heel ensures better support at the high arch and amazing stability.
The Superfeet Premium Green Insoles do not flatten easily even after long hours of standing in one place. The antibacterial property prevents any kind of infections.
It's difficult to find a lot of things that are wrong with Superfeet Green Heritage Insoles.
Pros
Lends perfect shape
Amazing for flat feet
High arch support
Helps to manage overpronation
Cons
It has to be cut to match the size
Superfeet Blue Premium Insoles
Arch Type

 

Low to medium foot arch

 

Material

 

Closed cell-foam

 

Height

 

 

Price 

 

$31.99 – $58.99 (Check out the latest rates here!)
Ideal For

 

Walking, running, industrial work, hiking, etc

 

Notable Features
All-purpose insoles
Made from closed-cell foam that offers apt cushioning to the foot ensuring support
NXT antimicrobial treatment
Helps in common foot pain, heel pain, arch pain, as well as plantar fasciitis
Fits all type of footwear
Available for men, women, as well as children
The Blue Superfeet Insoles are thin and more natural. They are the best option if you are looking for intermediate support for medium-arch.
The medium design shape adds support where your feet need it the maximum. The heel cup is well-crafted and stabilizes the foot.
These insoles qualify as an everyday insole as they allow amazing arch and heel support. They are also great for several kinds of aches and pain related to feet.
Another notable feature of the Superfeet Blue Premium is that they are latex-free and vegan.
The natural NXT anti-bacterial coating does not allow microbial growth and the 100% natural coating makes sure there's no bad odor.
Overall, highly recommended insoles that provide long-lasting comfort and support to fit an extensive range of footwear.
The cost is almost similar to the other Superfeet model. However, they are really effective pain relievers.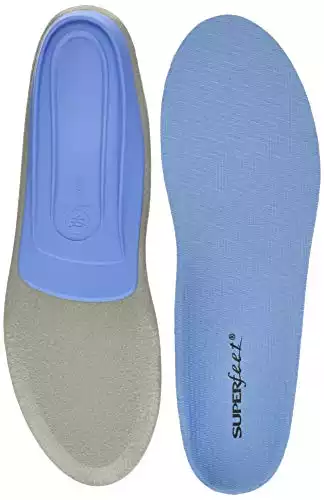 Pros
Best for medium and intermediate support
Helps in relieving aches and pains including plantar fasciitis
Offers immediate relief
Veru durable
Cons
Superfeet Orange Premium Insoles

 
Arch Type

 

Medium to high arches

 

Material

 

Rebound high-density EVA

 

Height

 

2" high 

 

Price 

 

$54.95 (Check out the latest rates here!)
Ideal For

 

Walking, running, snowboarding, hiking, skiing, industrial work, and health-wellness

 

Notable Features
High-density foam for extra cushioning
Extra support and comfort
Offers firm grip
Agion antimicrobial treatment
Designed for men
The Superfeet Orange Premium insoles are apt for you if you want high-arch support and are suffering from knee pain, plantar fasciitis or other problem associated with feet and want immediate relief.
These insoles feature the deepest and widest cut of inserts. They are excellent shock-absorbent and offer great comfort.
They wonderfully support the feet during high-impact sessions and long-distance walking.
Wearing these insoles, you can perform high-intensity activities like playing soccer, track running, etc. without any trace of knee or foot pain.
The closely-packed foam cells cushions and supports the feet for everlasting comfort. The firm part of the sole provides great support and cups the heel to prevent it from wear and tear.
It is designed specifically for men with high to medium foot arches.
Superfeet orange insoles provide maximum support and incredible thickness.
If your work hours are long and involve standing, these insoles are all that you need to give your feet the relief they are waiting for.
Pros
Thick heel
Unmatched support
High arch support
Deep heel
High-profile thickness
Cons
Make shoes feel tight
Not for casual use
Superfeet Merino Grey Premium Insoles 

 
Arch Type

 

Neutral to high arch

 

Material

 

AEROSPRING Dual Comfort Foam

 

Height

 

2" high

 

Price

 

$54.95 (Check out the latest rates here!)
Ideal For

 

High impact activities like hunting, hiking, fishing, military, industry, as well as rain boots for regular wear

 

Notable Features
Features fabric sole
Offer maximum support to high-arched insoles
AEROSPRING dual comfort foam guarantees comfort
Apt for common conditions like foot pain, arch pain, plantar fasciitis, as well as heel pain
Merino wool helps in regulating temperature and wicking moisture
Best for roomy footwear
Best for cold, as well as hot climate
Available for men and women
The most noteworthy attribute of Superfeet merinoGrey Premium insoles is the use of merino wool which makes them super comfortable, regulates temperature, and keep away all the moisture.
Furthermore, to enhance the comfort, the makers have used AEROSPRING dual comfort foam. The foam that is 2" high gives optimum comfort and support to high-arch insoles.
The insoles help in relieving common foot, arch, and heel pain. The insoles are apt for the shoes that are a little loose.
While these insoles are a bit costlier than the green insoles, there are absolutely worth the extra bucks.
They are an upgraded version and prove that they are best out of the lot.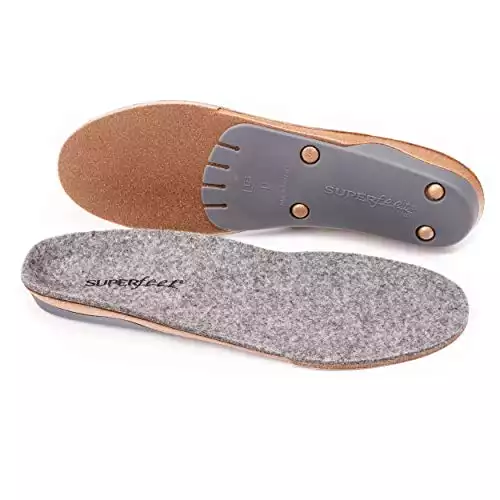 Pros
Extra comfort
Better support to high-arches
Temperature regulation
Moisture control 
Upgraded version
Available for men and women
Cons
A little hard in heel area
Superfeet EasyFit

 

Notable Features
Surface covered with plush microsuede, featuring fabric sole
Medium-arched three-fourth length insole
Intermediate support
Heals foot pain, heel pain, arch pain, as well as plantar fasciitis
Enhances fit of footwear
Anti-bacterial coating
Available for men and women
Superfeet EasyFit is ¾ length insoles that provide excellent support. These insoles fit well in a low heel, flat, and slip-on shoes.
They also work amazingly with non-removable factory insole. These soles help in relieving foot pain, pressure, fatigue, and blisters.
The anti-bacterial coating prevents the growth of fungus, bacteria or mold. They are latex-free.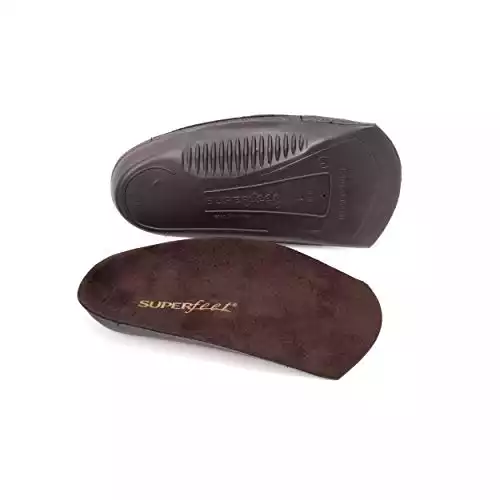 Superfeet EasyFit 
Men
Women
We earn a commission if you click this link and make a purchase at no additional cost to you.
02/07/2023 07:44 pm GMT
So, what do you think?
Now that you have a clear idea of the different Superfeet insole models, you can pick the one that best defines your feet type.
While they all are extremely useful and durable, each of the models comes with a set of special features.
If you have more questions that you want us to answer, feel free to send your queries or comment below and we'll promise to get back to you with the best answers as soon as we can!
You Might Also Enjoy: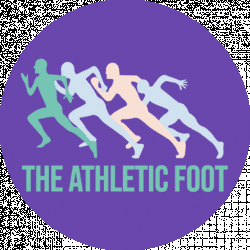 Latest posts by The Athletic Foot Team
(see all)