Hiking and hiking based shoes like trail running shoes continue to dominate the athletic footwear industry.
As more and more people are enjoying the benefits of being outdoors or relishing the challenge of running on trails over the monotonous repetition of roadways, more and more companies are continuing to offer and maintain trail-specific footwear for the growing audience.
As a result, consumers are enjoying a multitude of options in a variety of different styles from minimal or maximal cushioned support to varying degrees of upper flexibility.Understanding this trend and demand, Nike continues to offer trail-running sneakers ranging from those for hardcore enthusiasts to those entering the sport for the first time.
Specific to the entry-level trail runner or the occasional weekend hiker looking for a flexible lightweight trail runner, Nike introduced the Nike Wild Trail as a budget-friendly entry model.
However, despite its entry-level status, there were a lot of similarities between the Nike Wild Trail and Nike's higher-end trail runners such as the Terra Kiger and Wildhorse.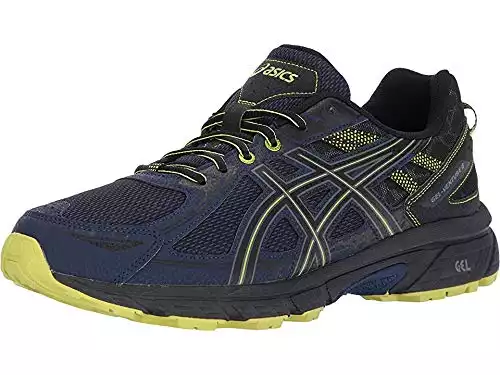 Pros and Cons
Pros
A versatile shoe that does not "look" like an overly technical trail-running shoe.
Breathable mesh upper that dries quickly.
Lightweight.
Responsive cushioning promotes trail feel.
Cons
Not waterproof and breathable mesh upper can soak socks making for an uncomfortable run or hike.
Lack of a rock plate or underfoot protection limits its use in challenging technical terrain.
Aesthetics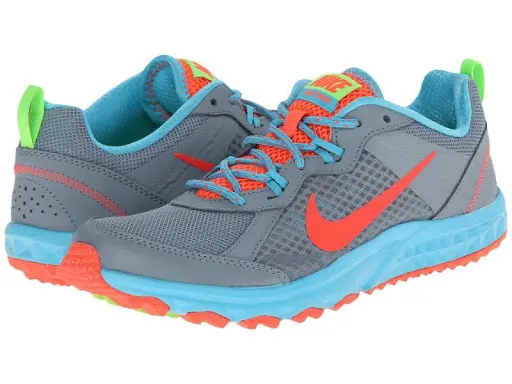 Unlike other trail running shoes or hiking boots, the Nike Wild Trail features an athletically-inspired mold. In fact, at first glance, without inspecting the sole, many could easily mistake the Nike Wild Trail for a normal pair of running shoes.
The Nike Wild Trail features a sleek, low profile upper comprised mainly of a synthetic mesh with technical specific elements such as a pull tab and Ghillie lacing system.
The laces were substantial for the purposes of trail-running and even featured a nice speckled appearance we found enjoyable. Lastly, Nike branded the shoe with their trademark "swoosh" along the sides.
The Nike Wild Trail also features a "continuous, wraparound outsole" that forms the base of the heel in a waffled, ridged pattern. As far as we can tell, we felt that this was purely cosmetic and actually hindered the performance of the shoe in certain environments as mud and dirt got trapped or caked on easily on the heel.
However, given the ease of cleaning the shoe, it was not a major hindrance but occasionally took some effort cleaning in some places of the heel.
Additionally, Nike offers the Nike Wild Trail in a variety of colorways. However, we found that many users preferred darker hues as it helped maintain aesthetic longevity after long runs on dusty trails or after "mud run" type events.
We also found that many users enjoyed the overall aesthetic versatility of the Nike Wild Trail. This was most notably prominent amongst users who were turned off by the aggressive look of some trail running shoes or boots, which looked overly technical.
We also found that the Nike Wild Trail could serve as the only pair of shoes an individual may want to take on a short hiking or trail-running trip with evening commitments in the city or town.
Additionally, the lack of aggressive lugs or a rock plate on the sole will not bother the wearer during casual use. As a result, we found that many users commented on how they used the Nike Wild Trail for other activities such as home improvement projects and even marching.
Upper
The Nike Wild Trail features a synthetic mesh upper with strategic structural overlays made of synthetic leather. The combination of synthetic mesh and structural overlay provides the Nike Wild Trail with supreme breathability and stability. To accomplish this, Nike utilized their Hyperfuse construction process.
Hyperfuse is a complex process Nike employs by "fusing" a mesh layer between layers of synthetic material. This allows the shoe to maintain breathability and lightweight while also providing stability and durability. Nike normally employs this process for their basketball lineup.
For the Nike Wild Trail, we found that the fuse provided decent coverage against the elements considering its lightweight, minimal exterior as it weighed in just above 8 ounces. While it will not replace traditional hiking boots, for trail running, we found that random debris during hiking and running bounced off the upper rather easily.

The downside to Hyperfuse is that it can be prone to peeling because of the melting process. We found that some users complained about premature peeling in the Nike Wild Trail as well. However, we find this to be a cosmetic issue and did not affect the overall performance of the shoe.
The Nike Wild Trail's breathability makes this an ideal shoe for hiking or running in warmer climates. While we would typically advise against synthetic mesh running shoes in winter climates, the fuse and synthetic upper also provides reasonable enough warmth, particularly while running, to be able to survive as a four-season trail runner.
The synthetic leather overlays provide additional stability on the sides and provides a modest heel counter to keep the wearer from unstable lateral movement. We found that the heel counter was particularly comfortable and naturally hugged the shape of our heel.
This made runs and hikes not only comfortable but prevented the wearer from "coming out of their shoes" during downhill runs. We found that this contributed to the overall flexibility of the shoe.
Nike also reinforced the toe area of the Nike Wild Trail to assist in durability. We found this to be a pleasant addition as we encountered many instances where the toe would get caught in between mountain crevices during hiking or come in contact with various branches during running.
We found many users shared this sentiment and praised the Nike Wild Trail for its sturdy toe reinforcements.
The Nike Wild Trail also features a heel pull tab designed to help the wearer more easily pull the shoe on. We frankly felt that this was an unwarranted luxury. Additionally, the heel tab would occasionally catch debris, branches, or tall grass during hiking and trail running which would also tend to creep into the shoe during wear.
If the Nike Wild Trail was meant to be a daily wearer, we would appreciate the heel tab, but since we imagine this to be an occasional and specific wear, we felt that the heel tab was unnecessary.
The Nike Wild Trail also features a unique hybrid between a traditional and Ghillie lacing system. The Nike Wild Trail alternates between traditional lace-punched holes and Ghillie lacing, which utilizes material as lace loops.
While untraditional, we did not have any problem with lockdown or fit and did not experience any noticeable difference between the Nike Wild Trail versus traditional trail running shoes. We did find that the Ghillie lacing system offered some protection from random debris from entering into the shoe at times.
It also offered dirt and dust protection better in places with the Ghillie lacing system than not. Therefore, we would have preferred a complete Ghillie system from the top to bottom as we found that the more we used the Nike Wild Trail, the Ghillie lacing became one of our favorite features.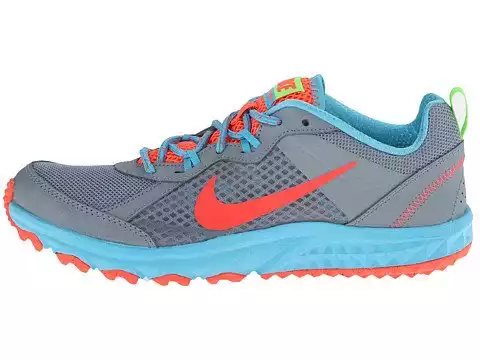 Nike Wild Trail
Buy Now
We earn a commission if you click this link and make a purchase at no additional cost to you.
Another feature we enjoyed in Nike Wild Trail was the gusseted padded tongue that provided additional protection on top of the foot.
We found that the tongue was not overly padded, which help maintain the shoe's flexibility and ease of wear. We also found that the connected tongue helped stabilize the ride and kept the tongue from moving too much from side to side during runs.
We found that the synthetic materials benefited the Nike Wild Trail in a few specific ways. Being a trail running shoe, we anticipated the shoe to get extremely dirty. However, the synthetic materials Nike employed with the Wild Trail made cleaning extremely simple.
This was particularly helpful for those involved in "tough mudder" type runs or when the Nike Wild Trail needs to quickly double as a casual shoe after a trail-run or hike.
However, one glaring negative of the Nike Wild Trail's materials is that the base model did not offer much water resistance. We found that, due to the breathability of the shoe, water and moisture permeated the shoe rather easily. However, the breathability of the Nike Wild Trail also allowed it to dry rather quickly.
The lack of water resistance will limit its utility in damp or wet environments where the user must continue to wear the Nike Wild Trail (for example, traversing a creek early in the run may make the remainder of the run uncomfortable).
Nike does offer a water-resistant version of the Wild Trail for those who will frequently encounter wet conditions.
Traction
Being marketed as a trail running shoe, there were certain requirements we expect from the Nike Wild Trail running shoe. Among those, we consider the quality of the sole of the shoe to be one of the most important features as trail-running can be extremely demanding on a shoe's traction.
The Nike Wild Trail features a uniquely flexible rubber outsole featuring a waffle pattern with spaced lugs designed to shed dirt, mud, and other debris as well as dig into uneven surfaces. We found that users enjoyed not having a problem with mud, debris, or rocks getting trapped in the evenly spaced lugs.
The waffle patterned sole is a staple for Nike's trail running shoes, which features prominent lugs in strategic locations to offer versatility in a variety of different conditions.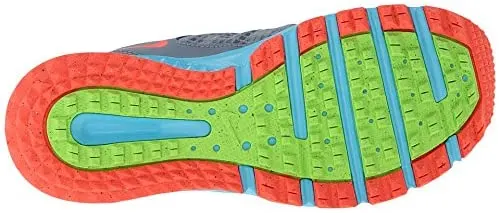 While the higher-end models feature more prominent lugs and additional traction support, the waffle pattern is almost exactly similar to the pattern used in higher-end models such as the Terra Kiger and the Nike Wildhorse.
We do prefer the more prominent lugs for more heavy-duty trail running, but for the price and intended audience, we found that the Nike Wild Trail performed just fine.
The Nike Wild Trail performed well on mountainous Honduran terrain, casual hiking in rocky surfaces, and dusty forest paths.
We had no slippage or instability problems on uphill or downhill treks. Additionally, during walks over creeks and riverbeds with moist or slippery rock, we found no less stability compared to other hiking shoes.
Speaking to its adaptability, we also found the Nike Wild Trail to be versatile enough to provide suitable traction and stability on uneven farming surfaces and debris-filled construction sites.
We also found that the Nike Wild Trail performed acceptably during rain and early morning hikes where moisture is most prevalent. While we attribute this more to the responsiveness and flexibility of the shoe over the outsole, we still found minimal slippage.
Another aspect of the sole unit we found to be favorable was the flexibility of the sole. Keeping with the trend Nike popularized with their Nike Free line, the Nike Wild Trail moves more like a natural foot making hiking or trail running a more fluid experience.
Much of this is due to the absence of a rock plate designed to protect the wearer from piercing rocks and debris. The tradeoff is that we would not recommend this for highly-demanding hikes where the wearer may be required to scale mountains or run through paths that are not well-worn and littered with roots.
We find that technical terrain may be a tad bit too demanding of the Nike Wild Trail. We would also not recommend the Nike Wild Trail for runners who frequent hidden trails where debris on the ground surface is not immediately visible due to the lack of maximum protective elements such as a rock plate.
We were equally impressed with the rubber compound Nike employed in this budget model. Budget trail-running shoes can often suffer from either being too "squishy" or too "firm," but we found the Nike Wild Trail's sole to be decently responsive and comfortable.
Additionally, we continue to be pleased with the Nike Wild Trail's high-abrasion rubber making it quite durable in the right conditions.
However, the lug design of the waffle pattern also has considerable durability tradeoffs. While the sole is still functional and highly durable, we would caution that heavy use on asphalt or road surfaces would wear down the life of the Nike Wild Trail considerably.
Cushioning
The Nike Wild Trail features a dual density Phylon cushioning system. Nike essentially utilizes a foam shell encased around a softer foam core to provide a moderately cushioned responsive ride. As a result, the Nike Wild Trail provides ample trail feel while running along with more natural foot flexibility during tricky hikes.
We found that users enjoyed this responsiveness and flexibility for quick trail runs or easy mountainous hikes. Many users commented on how the Nike Wild Trail does not promote a sinking feeling when running or walking allowing users to nimbly navigate a variety of surfaces.
It is important to note that the dual-density foam does sacrifice some of the sole flexibility, but not dramatically. Much of the flexibility is due to the missing rock plate or comparable underfoot protection.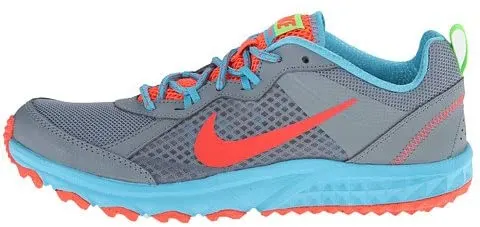 As result, we found that the Nike Wild Trail may not be appropriate for technical or overly rocky terrain as the phylon sole will not provide enough protection. However, we found that many users preferred the cushioning system utilized in the Nike Wild Trail for long distance and easy trail runs.
We also found that the phylon cushioning does take time to break into mold to the wearer's foot. However, we found this not to be a huge inconvenience as the break-in period also allowed for making the upper equally personalized.
Being a phylon cushioning system, the Nike Wild Trail will experience some depression overtime as the softer foam core flattens out. However, we found this feeling to be moderate and unnoticeable even after years of wear.
The Nike Wild Trail also features a removable EVA insole for those looking to replace it with something with more orthopedic support. This may be particularly important for pronators as the Nike Wild Trail is categorized as a neutral runner.
While the cushioning system is not as aggressive as Brooks Caldera or as minimal as the New Balance Minimus, we found that the Nike Wild Trail, at its price point, offers new trail runners a chance to try a nice hybrid model with an adequate and versatile cushioning system for entry-level trail runs.
Pricing
The Nike Wild trail retails for roughly 70 dollars, but being that the Nike Wild Trail is the budget offering from Nike, we typically found incredible deals for the Nike Wild Trail for as low as 35 dollars. At retail, we feel that other offerings from Merrell or the Asics Gel-Venture 6 may offer more in terms of cushioning and versatility.
However, at 35 to 40 dollars, for the weekend trail runner, we feel that the Nike Wild Trail is an excellent shoe to experiment with or generally mistreat on harsh runs or hikes. The price point also makes it incredibly attractive for those looking for a low-end model as an introduction into trail running without making a substantial investment.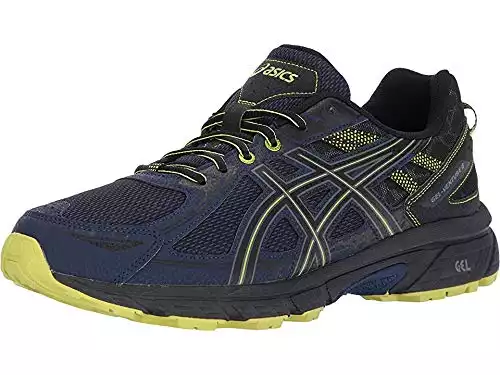 Target Audience
The Nike Wild Trail running shoe is ideal for someone interested in trying out trail running for the first time and would like an activity-specific pair of shoes for it. They are also ideal for someone looking for a casual hiking shoe for the occasional trek.
We found that the Nike Wild Trail was particularly popular for urban dwellers living near an outdoor park or trail as well as the twice-a-year hiker who does not want to spend on expensive shoes.
The Nike Wild Trail is also ideal for those looking to replace their hiking boots on hikes with low to moderate difficulty. The flexible outsole combined with moderate cushioning is also ideal for those looking to transition into either max-cushioned or minimalist trail running shoes.
The Nike Wild Trail is also ideal for someone looking for a pair of disposable activity shoes that do not require careful attention. We found many weekend obstacle runners preferred the Nike Wild Trail over more expensive offerings because it was a shoe that could be treated harshly without fear of damaging an overly expensive item.
The Nike Wild Trail is not for hardcore trail runners either well-versed in the sport or those looking to replace higher-end trail running shoes for more challenging terrains. The Nike Wild Trial lacks a rock plate for treacherous terrain and most high-mileage trail runners may find the upper constricting compared to higher-end models.
The Nike Wild trail is also not for those looking for a shoe that can double as a commuter shoe for everyday wear. While not as aggressive as other trail runners, the lugs will wear down due to continued exposure to asphalt and concrete reducing its traction capabilities.
Should you buy it?
For those looking for a cheap shoe to handle trail running or the occasional hiking trip, we found the Nike Wild Trail to be a perfect offering. It offers technical trail-specific luxuries such as a Ghillie lacing system along with a flexible, cushioned outsole.
The shoe is extremely breathable without being limited by colder environments. It is also extremely affordable making it worth at least consideration for those looking to enter into trail-running. It is, however, not ideal for advanced trail runners looking for a shoe to handle challenging technical terrain.
Bottom Line: I love this shoe for light to moderate trail running, specifically for casual runners. Be sure to check out this listing for the latest pricing.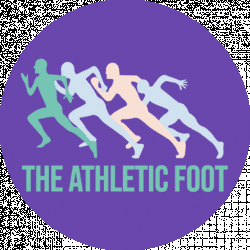 Latest posts by The Athletic Foot Team
(see all)