A high-quality pair of running shoes could make all the difference when you are running and exercising. It's imperative that when purchasing a pair of running shoes to research the technology behind the shoes, the insole and midsole, and what the upper is like.
Chances are if your feet are hurting after exercising, it's time for a new pair of running shoes. When looking for comfortable running shoes, there are ample shoes that can provide a great sense of relief.
One of these running shoes is the Saucony Omni 13, which is a running-series shoe that is known for its innovation, support, and durability.
In this article, we are going to discuss the Saucony Omni 13 and what to consider before purchasing any pair of running shoes.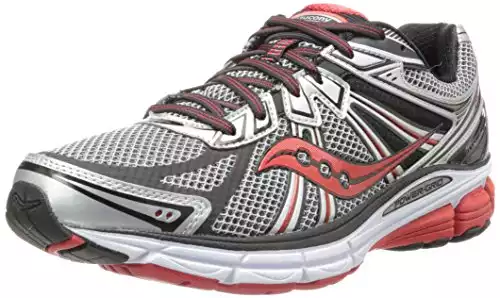 Saucony Men's Omni 13
Buy Now
We earn a commission if you click this link and make a purchase at no additional cost to you.
02/07/2023 01:30 pm GMT
Product Specifications and Breakdown
| | |
| --- | --- |
| | Saucony Omni 13 |
| Type of Shoe | Running and Stability-Based |
| Weight | 10.8 ounces |
| Price | $130 (check here for the latest price) |
| Heel Drop | 8mm |
| Midsole Technology | Dual Density EVA foam and GRID technology |
| Outsole Technology | IBR+ |
| Upper Design | Thick mesh with RUNDRY technology for no sweating. |
| Flexibility | Moderate |

Most Notable Features
POWERGRID heel-to-toe cushioning
HydraMAX collar lining
Light reflection
Moisture control
EVA foam technology
SRC Crashpad
Sole Technology
Whenever you are purchasing a running shoe, it's essential to always consider both the midsole and outsole of the shoe. Reason being, these two aspects are known as the major driving force behind comfort and pain.
A running shoe with poor outsole or midsole technology could leave you in grave pain and potentially worse-off situations. Fortunately, the Saucony Omni 13
The outsole refers to the bottom part of a running shoe, which many people often discount as important when buying a shoe. The Omni 13 outsole is made from IBR+, which is simply a form of rubber intently designed for comfortability.
Given the nature of IBR+, anyone who runs with these shoes will notice the bounce reflex from the outsole.
If you are noticing pain or soreness when walking or running, the midsole of your shoes is missing the features you need. The Omni 13 shoes are built with dual-density EVA foam, which is why these shoes are not only comfortable but will make you feel as if you are in control.
Saucony also included GRID technology in the midsole of the Omni 13 running shoes, which will help with shock absorption and pressure distribution. The goal of this innovation is to keep your feet centered while running, avoiding any pain or soreness that other shoes may cause.
Upper
Saucony purposefully designed the Omni 13 running shoes with a comfortable mesh that feels as if your shoes are hugging your feet. Now, in efforts to avoid the irritation that many shoes cause, Saucony designed these shoes with less stitching, offering an extra degree of comfort.
Another notable aspect of the upper in the Omni 13 is the RUNDRY moisture technology. Have you ever purchased running shoes that do not absorb sweat, leaving your feet wet and smelly? This shoe is known to be sweat proof, ensuring a clean and dry experience.
Durability
Saucony touts their unique durability innovation to help keep you running longer with the same shoe, effectively saving you money.
This could be attributed to the XT-900 outsole compound. On top of this, the shoe is designed with synthetic and nylon materials, making it even harder for parts of the shoe to break or rip.
Flexibility
If you are looking for a shoe that doesn't need a "breaking-in" period the Saucony Omni 13 shoes may be perfect for you. These shoes are known to be comfortable and incredibly flexible right-out of the box.
Now, while the company does promote the durability of these shoes, it's important to consider that, due to the flexibility of the shoe, the Omni 13s may break down quicker than anticipated.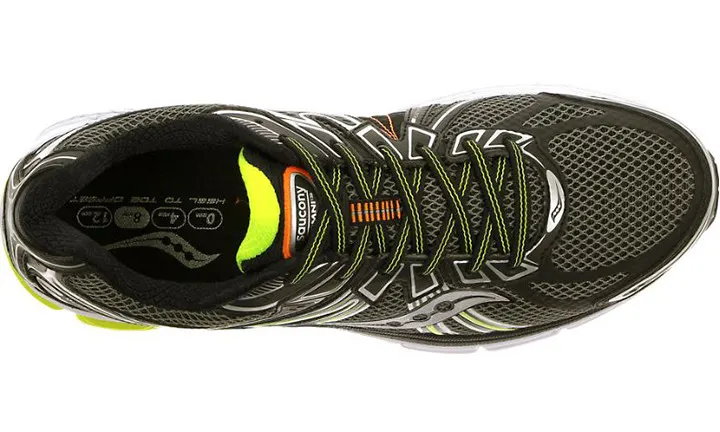 Traction
It's important to always consider the terrains that shoes were designed for before purchasing them. The Omni 13 running shoes do come with decent traction properties; however, they are not designed for rugged terrains.
These shoes are optimal for smooth road-running or treadmill running. If you happen to take these shoes to run on a bumpy trail or road, you may wear the shoes down quicker.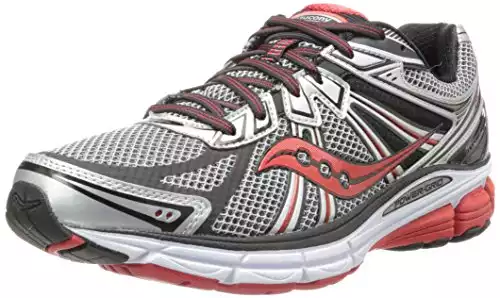 Saucony Men's Omni 13
Buy Now
We earn a commission if you click this link and make a purchase at no additional cost to you.
02/07/2023 01:30 pm GMT
Design
Purchasing shoes are like purchasing any other fashion item – you must take into consideration the design. In the running industry, there are some shoes that are ugly and unappealing.
This is NOT the case for the Omni 13 running shoes. These shoes are notably more appealing and come in a variety of colors ranging in:
Blue and Citron
Black, Citron, and Orange
Silver, Red, and Black
Silver, Blue, and Purple
Black, Pink, and Blue
Purple and Coral
The only concern with the design of the shoe is that, in rare cases, the design and materials may cause the interior of the shoe to frequently poke the sides of your feet when running. If this is the case, this may be a defect and worth returning.
Safety Measures
In our opinion, one of the most unique features with the Saucony Omni 13 running shoes are their reflective properties. The goal of this feature is to help keep you safe when running with the Omni 13 shoes at night, making you visible to drivers.
On top of this feature, the moisture-control features help keep the shoes from slipping off, preventing any running accidents.
Support
The Saucony brand has always been known for its support innovations and technology. The Omni 13 running shoe comes with a durable rubber that, to some may be too stiff; however, it offers what feels like optimal comfort.
On top of the sole technology, the Omni 13 shoes have Support Frame and Arch-Lock technologies, ensuring maximum support during exercising.
Sizing
What's quite appealing about the Saucony Omni 13 is that you can choose the width of the shoe from narrow or medium, allowing you to maximize the comfortability. As far as sizing, Saucony offers the following sizes for both men and women.
Men Sizing – 7 through 14
Women – 5 through 11
However, when considering what size to buy, and due to the shoes spacious design, make sure to purchase a ½ size bigger than your regular shoe size.

Pros and Cons
| | |
| --- | --- |
| PROS | CONS |
| Comes with numerous features that promote great breathability, avoiding moisture build-up and promoting comfortability. | The lacing may be cumbersome for some runners. |
| Offers great cushioning with shock-absorbing technology. | Not ideal for rugged cross-country terrain. |
| Considerably lighter than other shoes on the market. | The heel-cup may lack the cushioning that some runners may need. |
| The motion control and treads on these shoes are great for running on smooth surfaces. | |
| The EVA foam is removable so that if you wish to change the midsole, you may insert the best-fitting one. | |
Our Recommendations
Who is the shoe best for?
The Saucony Omni series running shoes are optimal for anyone seeking comfortable running shoes that can last a couple hundred miles of running.
In fact, if you are looking for running shoes for daily running on treadmills or on local smooth roads, the Saucony Omni 13 shoes are worthy of your consideration.
However, if you are seeking running shoes that can handle more rigorous terrains, these shoes should be avoided.
What about Flatfeet?
The Saucony Omni 13 shoes do come with Support Frame and Arch-Lock technology, which is crucial for people that have flat feet. However, it's important to state that these shoes are not intentionally designed for individuals with flat feet for running.
It's unclear whether or not these shoes will provide any additional comfort or protection for individuals with flat feet.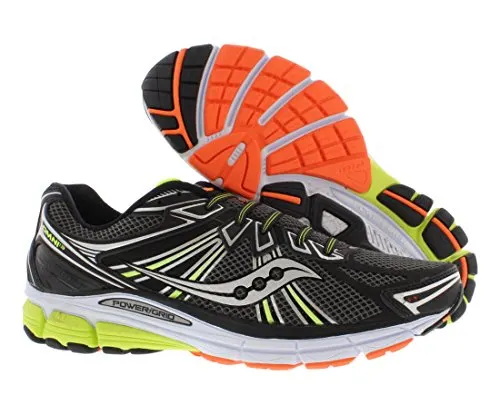 Is the Saucony Omni 13 Worth it?
As you might be able to tell, the Saucony Omni 13is an impressive running shoe that offers a wealth of features, all of which are included to maximize your comfort and happiness when running.
Aside from the Saucony innovation, to help give the Saucony Omni 13 shoe an edge over other competing running shoes, the design of the shoe is unique and considerably fashionable, in comparing to other running shoes.
Now, is the Saucony Omni 13 running shoe worth purchasing?
Well, truth be told, the Omni 13 is actually one of the older editions of the Omni series. So, it would be beneficial to learn about the recent Omni series running shoes to compare pricing and features before purchasing.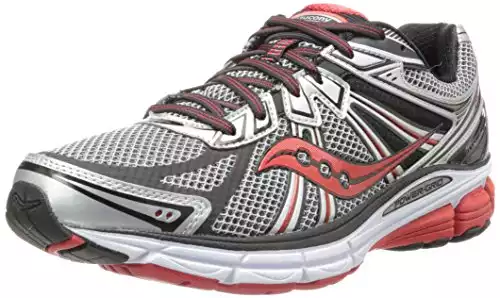 Saucony Men's Omni 13
Buy Now
We earn a commission if you click this link and make a purchase at no additional cost to you.
02/07/2023 01:30 pm GMT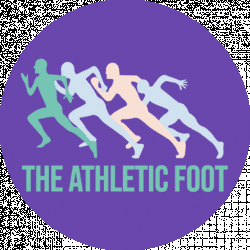 Latest posts by The Athletic Foot Team
(see all)