Are you a diabetic often struggling with painful diabetic feet and toes issues? Have you given up running just because of your health condition or pain? Well, if you are, then you're in the right place, and we have some good news for you.
Many leading brands have launched an exclusive range of shoes dedicated to diabetic runners to protect your feet and offer you a comfortable fit. These shoes have been designed keeping in mind the tailored needs of diabetics.
The diabetic footwear specifications and features keep diabetic runners at ease during running sessions, long walks, or other physical activities.
In this article, we'll guide you on how to find the best diabetic footwear. Keep reading to know more.
But, before we move on to that, let us first understand why diabetics need special shoes for running, walking, and other outdoor activities.
Diabetes and foot issues
Diabetes can damage any part of the body, especially if it is left untreated. It affects healthy blood circulation and can lead to severe damage to the vessels and nerves that supply blood to the feet, developing neuropathy. This makes a diabetic more susceptible to feet problems.
Diabetic neuropathy, a condition where the nerves are extensively damaged due to high blood sugar, can lead to the loss of sensation in feet. This makes it even difficult for a diabetic to realize the pain of cuts or injuries to their feet.
An untreated cut or injury can further cause infection. Lack of proper circulation on your feet and toes leads to difficulty in healing, aggravating the problem furthermore.
The common foot problems associated with diabetes include:
Fungal infections
Corns
Neuropathy (nerve damage)
Bunions
Calluses
Open sores
Gangrene
Hammertoe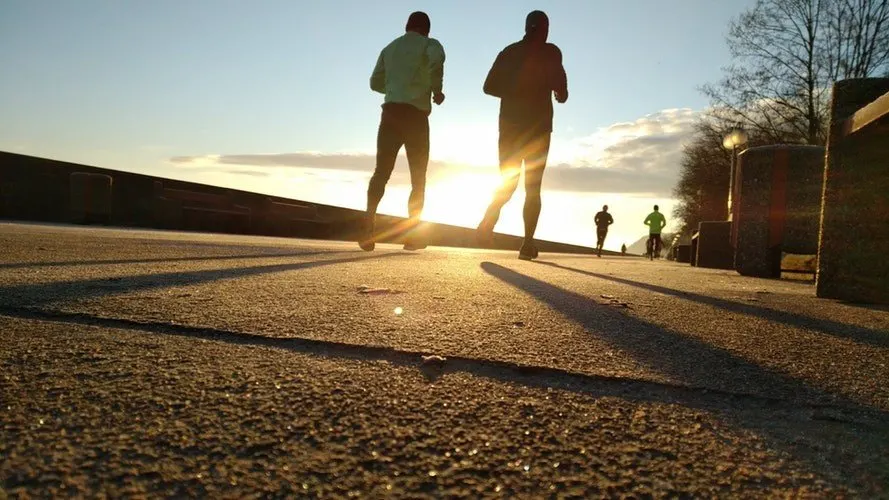 Diabetes and running
All the foot ailments mentioned above make it very difficult for a diabetic to even imagine about running. Since running is a high-impact activity, it can cause any type of foot injury and pain.
Issues of the feet such as athlete's foot or blisters are quite common in runners and can lead to some serious consequences if you are a diabetic runner. This is a significant reason why diabetics often give up running.
But, not anymore!
If you are a diabetic and love running, you don't need to give up on your favorite outdoor activity. With proper running shoes or footwear for diabetics that are designed in a way that focuses on diabetic foot-related problems, you can continue your running regime no matter what.
The best running shoes for diabetics can help you run efficiently without developing or worsening your existing foot condition.
However, the only thing you need to know is how to find the best running shoes for diabetics. Don't worry; we'll be covering this topic in the next section. Keep reading.
What kind of shoes do diabetics need?
Running helps in keeping diabetes in check. So, giving up running is not at all a great idea. But, the changes in the shape of the foot can make it extremely uncomfortable to run in regular running shoes or footwear and can exacerbate the existing problem such as neuropathy.
If certain foot problems are making it difficult for you to run, you can buy special running shoes for diabetics and minimize the risk of injuries and pain.
Pro tip: For diabetes, you should either buy healing shoes or in-depth shoes.
In-depth shoes, as their name says, are about ¼ to ½ inch deeper as compared to normal shoes. The extra space offered by these shoes allows you to place inserts or accommodate the changes in your foot like hammer toes. These shoes can make your running experience a very comfortable and effective one.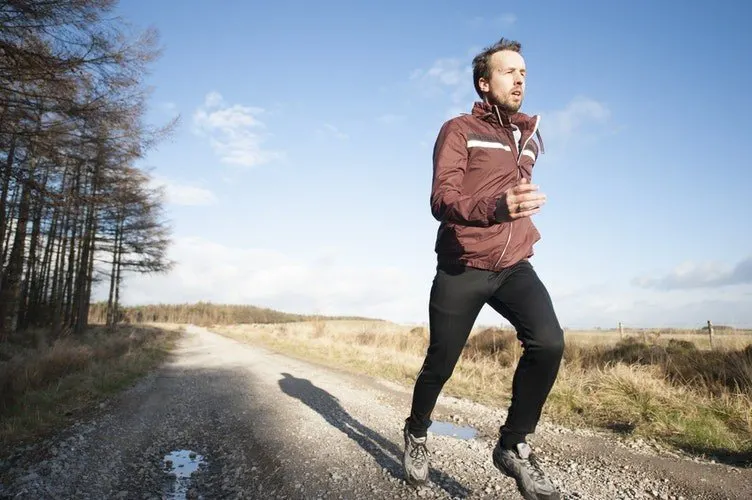 What are the features to look for in a running shoe for diabetics?
Finding the best running shoes for diabetics can be a daunting task. Nevertheless, if you consider the below-mentioned features while buying running shoes for diabetics, you'll definitely end up making an informed purchase finding a comfortable fit.
Weight
While buying running shoes for yourself, you should pay attention to the weight of the shoes. You don't want shoes that are too heavy to move in. Look for lightweight shoes that allow you to freely move your feet.
Material
Go for shoes with flexible materials. You should buy suede, leather or canvas shoes. As far as running is concerned, go for extremely flexible and breathable upper material.
Sole
The sole of your running shoes should have an exemplary shock-absorbing capacity. A sole that efficiently absorbs the impact will eliminate all the pressure from your feet's bottom.
Support
Select the shoes that come with a robust back to offer you extra support, balance, and stability to protect your feet and knee.
Lacing System
Generally, while buying diabetic dress shoes or running shoes, we do not pay a lot of attention to the lacing system. But, if you are a diabetic, you should consider the lacing system too.
Buy running shoes with a good lacing system which allows you to easily loosen or tighten them as your feet change over time with your diabetes condition.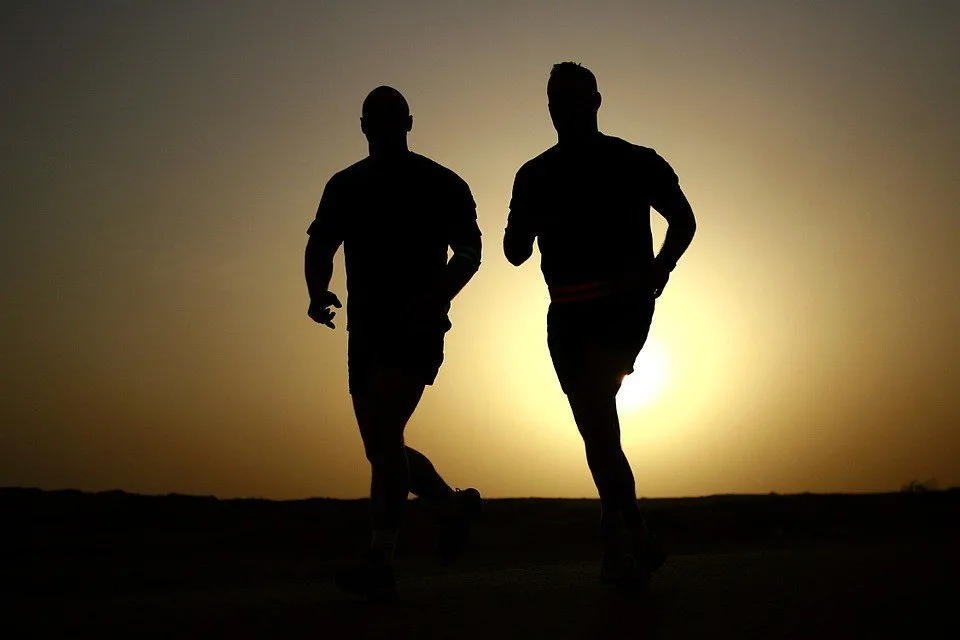 Toe Room
Your running shoes should have an extra toe room to allow you to move your toes freely. A narrow toe box makes way for friction leading to painful sores and blisters. Hence, you should buy a shoe with a wide toe box to avoid pain.
Space for Orthotics
Your diabetic running shoes should have ample space for your orthotics. Your doctor might prescribe you an orthotic to prevent feet problems. So, you should always buy shoes, even if its dress shoes, with enough room to place your orthotics.
Comfort
This is perhaps the most important factor to consider while buying running shoes for diabetics. You should feel comfortable in what you are wearing. Your feet should feel at ease while walking or running, and should not feel cramped.
While purchasing well-fitted shoes in important, make sure you don't end up buying shoes that are very tight and in the best case scenario, with good arch support.
Durability
Durability is also a factor to consider. Your shoes should last for at least two years. Look for the shoes that are made using durable materials. Before buying the running shoes, check the customer reviews.
Best Running Сhoes for Diabetics – Top 4 picks
Now that you pretty much understand how to find the best running shoes for diabetics, let's look at the best running shoes and footwear for diabetics on the market.
The reviews are based on feedback from our shoe experts and existing customer ratings. Let's look at them one by one.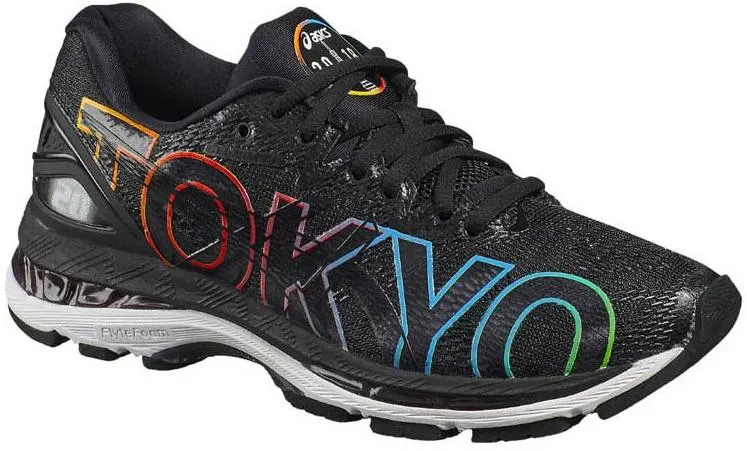 Use of ASICS High Abrasion Rubber in the outsole
DuraSponge in the forefoot section to add durability
Use of Forefoot and Rearfoot Gel cushioning system
FlyteFoam midsole
FluidRide technology to provide cushioning and durability
Guidance Line and Guidance Trusstic System
ComforDry X-40 Sockliner
FluidFit technology in the upper
Use of Heel Clutching System
Different color options for women's shoe or men's shoes
| | |
| --- | --- |
| Type | Running shoes for diabetic |
| Price | Around $93.79 – $169.95 (Check out the latest rates here!) |
| Heel-to-Toe Drop | 10 mm (0.39 inches) |
| Heel Height | 23 mm (0.90 inches) |
| Forefoot Height | 13 mm (0.50 inches) |
| Upper | Jacquard Mesh |
| Outsole Technology | AHAR and Blown Rubber |
| Midsole Technology | FlyteFoam Midsole |
| Width | Normal, Wide |
| Arch Support | Neutral |
| Terrain | Road |
| Weight | 303g (10.6 oz) |
Sole Technology
The outsole of ASICS Gel Nimbus 20 brings in use ASICS High Abrasion Rubber or AHAR. This material lends excellent durability on different surfaces.
DuraSponge in the forefoot section provides durability and responsive cushioning.
The midsole of these running shoes utilizes Forefoot and Rearfoot Gel cushioning system that provides excellent shock-absorbing quality and balance. This makes every step very comfortable.
The use of FlyteFoam insole provides a very springy ride. Being about 55% lighter than the standard EVA foam, this material cuts off the extra weight from the shoes.
Durability and cushioning are enhanced with the use of FluidRide Technology. A vertical flex groove, known as the Guidance Line, guides the foot during the gait cycle.
The Guidance Trusstic System improves gait efficiency. The presence of ComforDry X-40 Sockliner helps in wicking the moisture away and prevents bacterial growth. It keeps the foot fresh, dry, and free from odor while offering added cushioning and stability.
To prevent odor-causing microbes from growing, the ComforDry X-40 Sockliner is utilized. It is composed of antibacterial elements that reduce moisture. It also ensures that your feet are dry all the time. Its goal is to provide additional cushioning as well.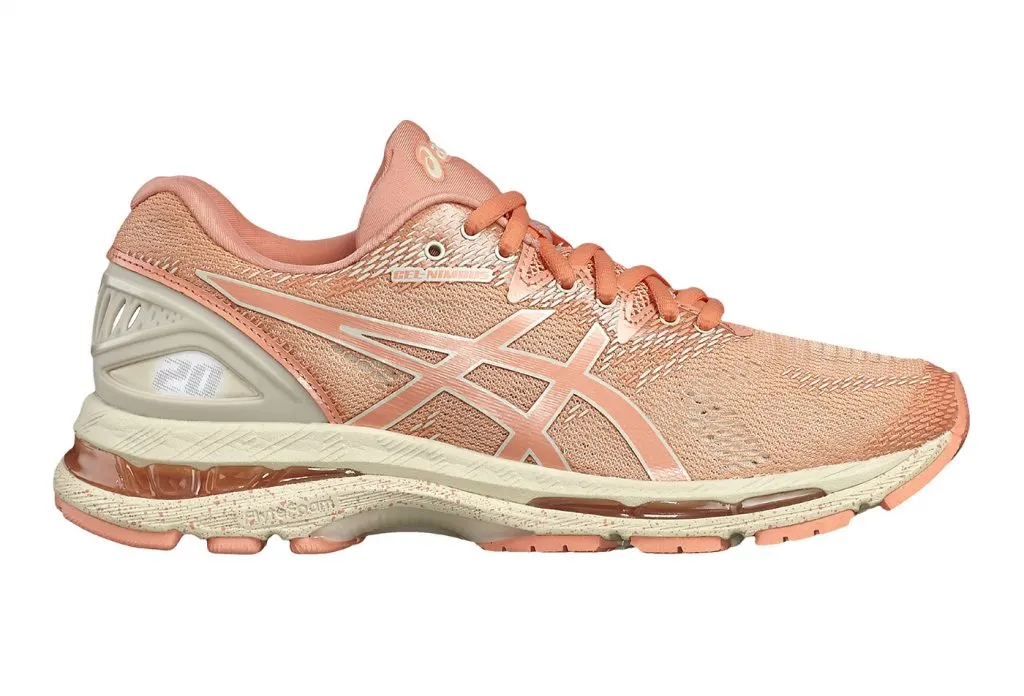 Upper
The upper of these running shoes are made using a jacquard mesh which is very breathable and offers excellent coverage. The seamless construction keeps irritation at bay.
The use of FluidFit technology ensures that you move your foot freely. 3D printed overlays help in maintaining the seamless outer structure.
The Heel Clutching System involves the use of external plastic that keeps the heel balance in place while running. The discrete eyelets enhance comfort by dissipating lace tension.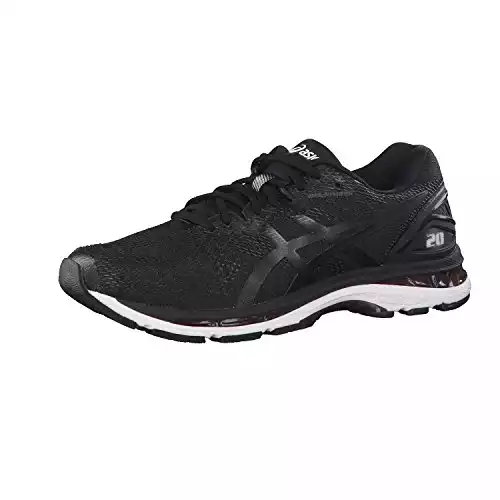 ASICS GEL-Nimbus 20 Running Shoe | Amazon
Features FlyteFoam technology provides exceptional bounce back and responsiveness no matter the distance, utilizing organic super fibers to help reduce packing out that traditionally happens with softer, low-density foams.
Buy for Men
Buy for Women
We earn a commission if you click this link and make a purchase at no additional cost to you.
02/07/2023 05:54 pm GMT
Pros
True to size
Comfortable
Excellent support
Lightweight
Amazing upper construction
Perfect fit and cushioning
Cons
Arch support is not optimum
Narrow toe box
Stiff footbed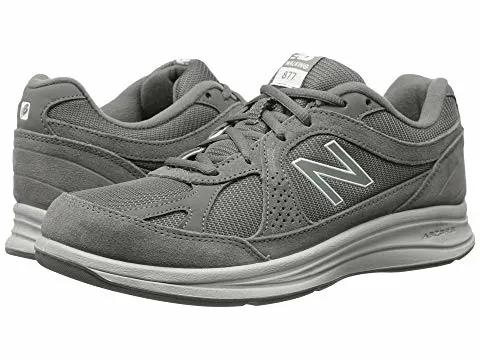 Notable Features:
Robust rubber outsole
Use of Walking Strike Path technology
ABZORB foam in the outsole
Removable inserts
Comfortable mesh and suede upper
A minimalistic style that works as dress shoes
| | |
| --- | --- |
| Type | Walking shoes for diabetic |
| Price | Around $69.19 – $89.95 (Check out the latest rates here!) |
| Heel-to-toe Drop | 11 mm (0.43 inches) |
| Heel Height | – |
| Forefoot Height | – |
| Upper | Mesh and Suede |
| Outsole Technology | Rubber Outsole |
| Midsole Technology | ABZORB foam |
| Width | Normal, Wide |
| Arch Support | Neutral |
| Terrain | Road |
| Weight | 347g (12.24 oz) |
Sole Technology
The outsole of the excellent New Balance 877 V1 shoes is made using rubber which is extremely durable and flexible. The outsole offers excellent traction on the majority of surfaces.
The tread pattern of the outsole prevents slipping and looks good for diabetic women in light colors.
The use of Walking Strike Path technology runs across the entire length of the unit and provides proper guidance to the foot during heel-to-toe transition.
Flexibility is further enhanced with the help of flex grooves.
The midsole of these running shoes is made using ABZORB foam that is an excellent shock absorber to protect your knee. It helps is keeping foot steady.
The removable insert offers an additional layer to enhance comfort and balance. If you use custom-made orthotic dress shoes, you can replace the insert with it.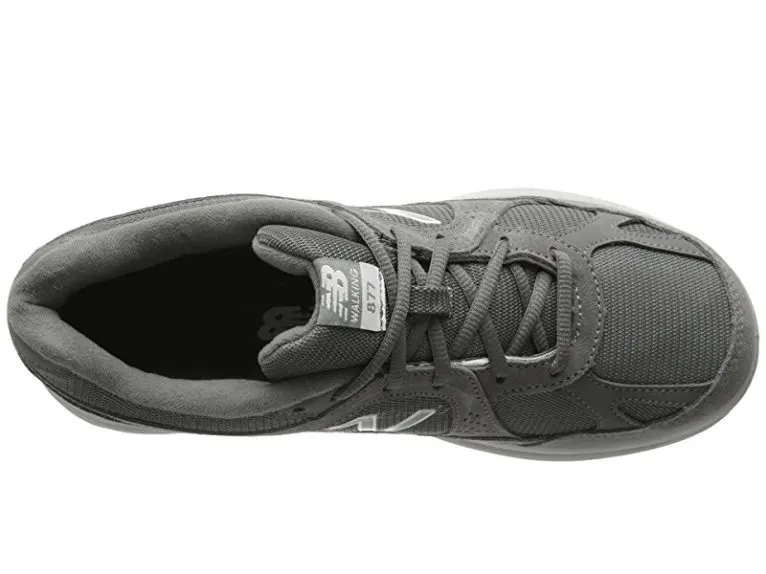 Upper
The upper of the New Balance MW877 is made using mesh and suede. Where mesh keeps the inner environment well-ventilated, suede overlays placed on the top enhance the support and structure.
At the back of these shoes, suede helps in holding the foot in a place. The lacing system further enhances the foot stability and offers a secure fit to the foot.
Padded collar and tongue help in amplifying comfort, especially at the ankle area. The collar locks the foot down and prevents accidental slippage.
Pros
Excellent cushioning providing comfort
Can easily accommodate custom orthotics, braces, as well as prosthetics
True to size
Don't cause leg and foot fatigue
Good arch support and ankle support
Helps in relieving issues like plantar fasciitis, corns, and bunions
Lightweight
Fine Quality
Affordable
Stylish footwear
Cons
Absence o color options
Short tongue
Laces are a bit long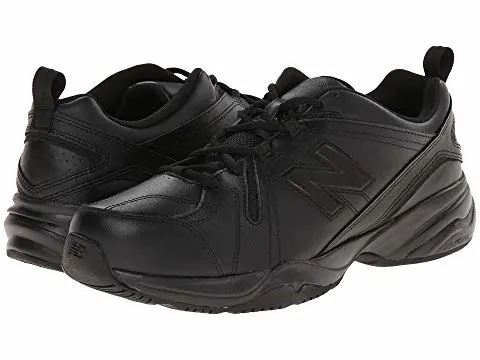 Notable Features:
Flexible and durable rubber outsole
Flex grooves on the forefront area to ensure stability
Tread pattern on the outsole offering better traction
EVA foam footbed
Use of IMEVA and the ABZORB midsole technologies
Leather upper to offer support
Phantom Liner covering the inside of the upper to prevent chafing
Nice style for diabetic men
| | |
| --- | --- |
| Type | Athletic shoes for diabetic |
| Price | Around $42.48 – $150.00 (Check out the latest rates here!) |
| Heel-to-Toe Drop | 10mm (0.39 inches) |
| Heel Height | – |
| Forefoot Height | – |
| Upper | Leather |
| Outsole Technology | Rubber Compound |
| Midsole Technology | IMEVA and the ABZORB |
| Width | Normal, Wide |
| Good Arch Support | Neutral |
| Terrain | – |
| Weight | 402.5g (14.19 oz) |
Sole Technology
The outsole of these athletic shoes for diabetes uses a rubber compound which is highly flexible and durable.
The outsole conforms to the natural curvature of the foot and hence, provides optimum comfort.
The rubber compound also covers the front of the shoe to protect your toe area from wear and tear.
The forefoot area is covered with flex grooves that provide excellent flexibility to the sole.
The tread pattern on the outsole enhances the surface area to provide better traction.
The New Balance 608 v4 uses two latest technologies in the midsole unit. IMEVA and ABZORB midsole offer optimum cushioning and comfort.
IMEVA offers firmness but is still flexible enough to conform to the shape of the metatarsals.
On the other hand, ABZORB, a foam-based polymer, helps in equal distribution of impact. It minimizes the impact of shock and hence, protects the foot.
Both these technologies come together to provide a very comfortable and supportive base.
The footbed is made from EVA foam which offers cushioning and absorbs the impact.
An internal shank sits between the midsole and footbed. It facilitates natural bending in the forefoot area.
This helps in preventing pain and injuries in the middle of your foot.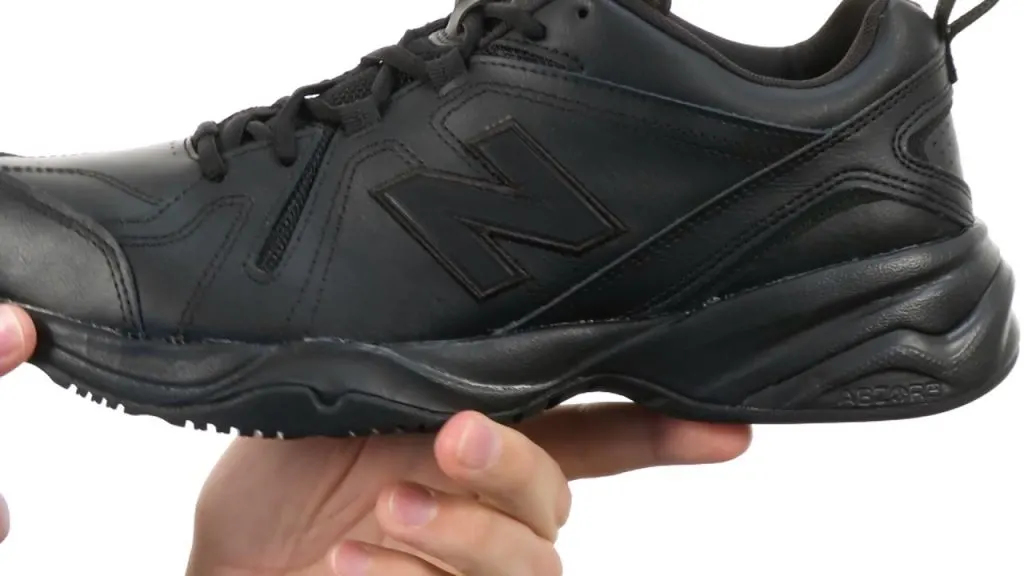 Upper
The upper of these shoes for diabetics is made using leather which ensures optimum support
. Though the leather upper is not breathable or stretchable like the mesh upper, it does not let your foot to heat up.
The perforations on the back allow the heat to escape from the inside keeping the inner environment dry and cool.
Two foam structures adorning the collar perform different functions.
The foam that is close to the ankle is soft in order to keep irritation away, whereas the foam on the outer side is firm. It offers optimum support to your ankle.
The inside of the upper is covered with Phantom Liner which is very light in weight. This smooth fabric prevents chafing by covering the seams.
The lace-up closure ensures that your feet remain in their place.
Pros
Comfortable
Many width variations available
Excellent fit
Supportive
Lightweight
Stylish footwear
Relieves foot pain
Cons
Lacks proper cushioning
Not durable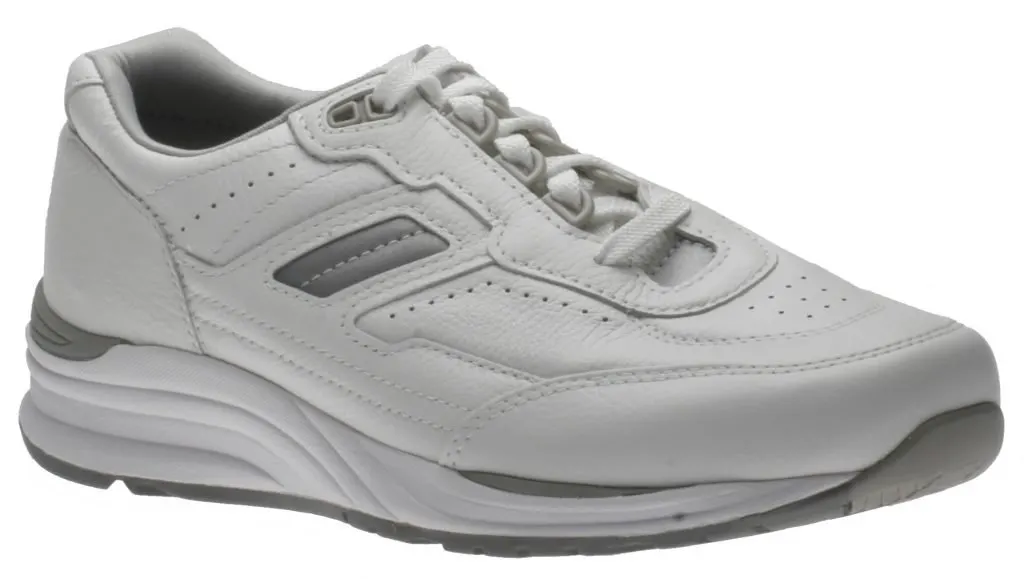 Notable Features:
Breathable mesh upper
EZ Lace system
Removable CoolStep cushioned footbed
TriPad System Cushions for extra comfort
Arcfit Heel Stabilizer
Cradlefit heel stabilizer
SteadyTrac midsole
Extra wide fitting and depth
Nice style for diabetic women or diabetic men
| | |
| --- | --- |
| Type | Walking shoes for diabetic |
| Price | Around $161.99 – $210.00 (Check out the latest rates here!) |
| Heel-to-Toe Drop | |
| Heel Height | 25 mm (0.98 inches) |
| Forefoot Height | – |
| Upper | Leather and Mesh |
| Outsole Technology | Rubber |
| Midsole Technology | SteadyTrac midsole |
| Width | – |
| Arch Support | – |
| Terrain | Road |
| Weight | – |
Sole Technology
Considered as one of the best shoes for diabetics, SAS Journey Walking Sneaker has a plethora of excellent features.
Approved by Medicare for diabetics, these shoes are a great companion for walking and low-intensity activities.
The outsole of these walking shoes is made from a robust rubber compound.
The rubber unit is amazingly flexible. It offers excellent traction on different surfaces and prevents the sole unit from wear and tear.
The midsole of SAS Journey Walking shoes showcases the use of many coming of age technologies that help the diabetics to enjoy a comfortable and safe walk.
The shoes come with SteadyTrac midsole, which is very light in weight and immensely flexible. It possesses great shock absorption quality.
The heel area features Cradle fit heel stabilizer which not just offers support but also keeps the heel in place.
The Arcfit Heel Stabilizer conforms to the natural shape of the foot and enhances comfort during the activity.
Another notable feature of these sneakers is the removable CoolStep cushioned footbed. Along with, TriPad System Cushions, this footbed ensures that you get utmost comfort in these sneakers.
The antimicrobial treatment makes sure that your feet stay dry and free from microbial invasion.
If you wear custom-made orthotics, you can remove the footbed and place it inside the shoes. The extra-wide fitting and deep depth make it easy to accommodate orthotics.
The wide toe-box allows you to freely move your toes.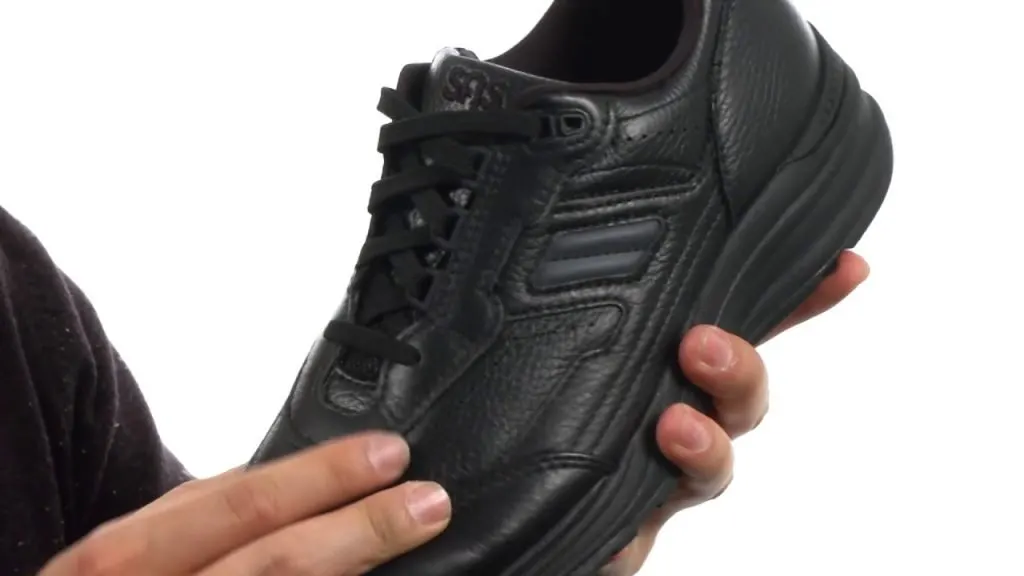 Upper
The upper of these shoes are fabricated from mesh and leather. The use of mesh material in the upper keeps the inner environment dry by wicking away the moisture.
The soft fabric prevents friction and hence, you should not worry about blistering or injuries.
The EZ lace system offers a very secure fit while walking.
Pros
Stylish
Comfortable
Wide toe box
Lace-up closure for a cushioned fit
Removable footbed
Extra depth making it easy to accomodate orthotics
Excellent grip
Breathable upper
Cons
Limited color options
Not ideal for really narrow feet
As you've seen above, all 4 running shoes for diabetics listed in the article has something special to offer, and it's not easy to pick a winner.
Nevertheless, New Balance MW877 running shoes (for men and women) has emerged as the winner here.
From the up-to-date lace-closure system and the latest outsole technology to a robust leather material that can protect diabetic feet, almost everything about the New Balance MW877 shoe is perfect.
Do you agree?
We hope you got a lot out of reading our article.
If you feel that we've missed out on any other products that you would want us to review, you can get in touch with us. We will be glad to assist you.
Our Choice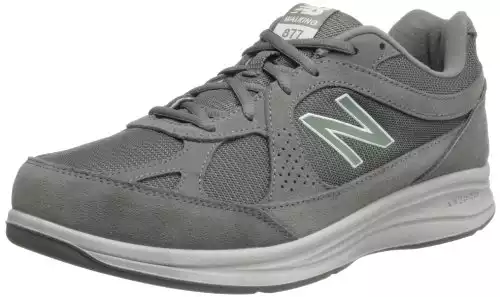 New Balance 877 V1 | Amazon
Walk with soul in the New Balance 877. Combining a vintage suede/mesh upper with modern technology, this shoe has heritage and heart.
Buy for Men
Buy for Women
We earn a commission if you click this link and make a purchase at no additional cost to you.
02/07/2023 09:14 pm GMT
Further read: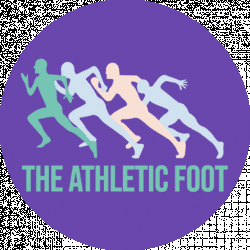 Latest posts by The Athletic Foot Team
(see all)