Superfeet is one of the most compelling brands for supportive insoles. Here are why, and the best Superfeet insoles to buy.
From aching feet to overpronation or general pain, you probably know that warming up and stretching are important to keep you on your feet. But are insoles like Superfeet the best solution for correcting foot problems? In 2022, knowing what insoles to get may help–or hamper– your efforts to stay active. 
For most of my cross country distance running career,  I was lucky. While I did take preventive measures to warm up, stretch and ice, I never had a sustained injury. But when I had to take time off for health reasons, I made a mistake often amateur runners make: I upped my mileage too quickly.
Able to breathe comfortably and excited to be back running after being cooped in with lockdowns, I wasn't careful. While I didn't notice anything on the first or second run, by the third run, I felt a twinge in my heel.
That twinge turned into a sharp pain. I had to hobble back home, and I knew I was in store for a long recovery. As I cross-train and am building my strength to come back from my Achilles tendon injury, I've been looking into getting insoles– and it looks like I'm not alone. 
Even in the casual shoe category, a Bustle report shows that comfortable shoes with insoles are "skyrocketing in popularity now." While insoles have long been offered for athletic wear, more and more are thinking about foot care no matter what they're doing.
Even the best insoles can't fully heal an injury. But take it from me: preventive care before or as you feel that first twinge is important. The question is: do you need insoles? And are Superfeet worth it?
Consider this your guide to Superfeet Insoles. I'll explain who they're best for, review the pros and cons, and show you how to find your perfect fit. 
Bottom Line Up Front Summary: If I had to select just one type of insoles from Superfeet, it would be the Green Everyday Insoles. These provide support for heel and foot pain throughout your day. You can use them in athletic or dress shoes. If you're not sure where to start, these provide cushioning to help you feel your best.

My Top Picks
What Do Insoles Do?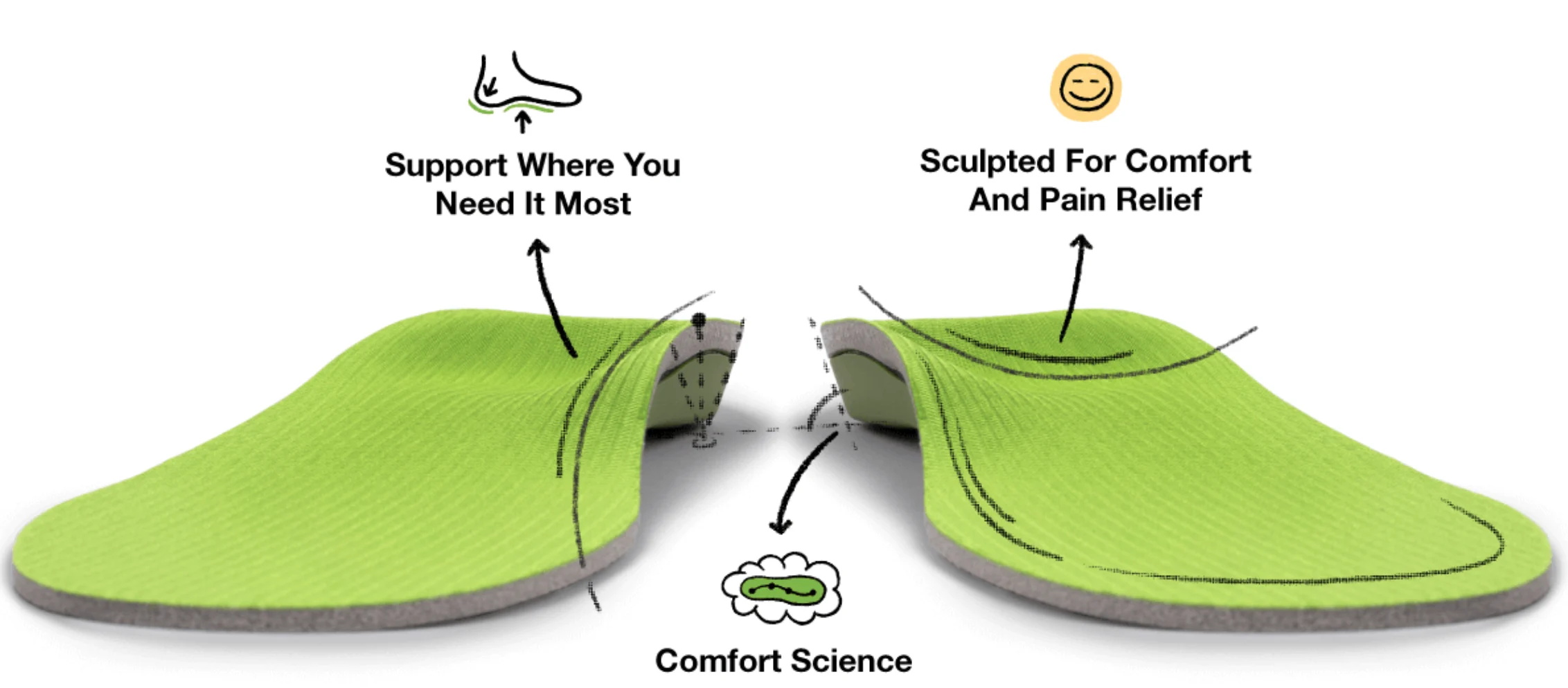 There are many different types of insoles. Some are designed for specific foot conditions. The general purpose of insoles is to provide comfort, support, and stability. Insoles are added to athletic and casual shoes alike. They're sometimes referred to as footbeds and are worn inside the sole. 
What are the benefits of insoles?
If worn correctly, insoles can support tired feet and reduce your risk of injury or overuse. Most buy insoles while experiencing foot pain or discomfort. Some buy insoles after they've had repeated pain or injuries in the past. Wearing insoles:
Reduces blisters and callouses

Provides support for overpronation or supination 

Stabilizes your arch, ankle, and/or heel 

Reduces pressure on the bottom of your feet 

Makes standing, walking, and athletic activities more comfortable

Reduces muscle strain
Of course, while the benefits of insoles sound great, it's not nearly that simple. You can't simply buy any pair of insoles and recover from pain and injuries. In addition, different insoles have different purposes. Most of them give you arch support– useful for flat feet- but some are focused on a common condition, such as plantar fasciitis. 
What food conditions are insoles good for?
Insoles help support flat feet, over-pronation, and supination (rolling your foot outward or inward too much). Those with arthritis may find extra support helpful, but I recommend custom orthotics for arthritis because it's a chronic condition. Depending on the severity, insoles may reduce pain associated with plantar fasciitis and shorter, moderated cases of Achilles tendon and other heel and ankle pain. 
How do I know if I need insoles?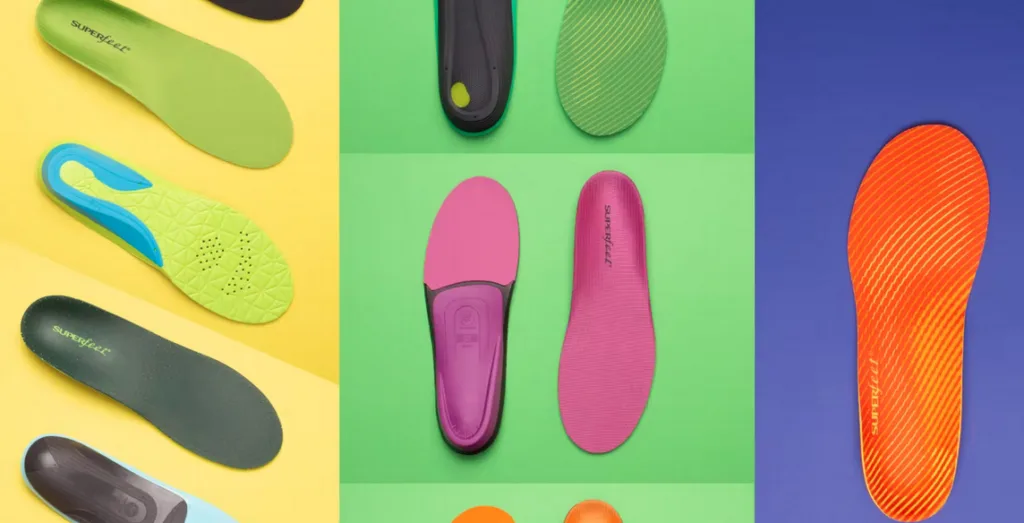 Before you buy insoles like Superfeet, it's best to figure out if insoles are right for you. While they're a good option for many people, I see them used incorrectly. The more I research about insoles vs orthotics, for example, the more I think it's important to show that even the best insoles can harm you. 
Is it bad to wear insoles?
The truth is insoles are used as a crutch sometimes. Insoles are meant to remove discomfort or for certain shoes and activities. What insoles cannot do is fully heal or prevent injuries. For instance, even with a great pair of insoles, I need to perform stretches and strengthening exercises for my Achilles tendon. 
Relying on insoles to solve your problem is a big mistake. Insoles can provide comfort, but they're meant to support other positive changes. Injuries and pain are generally our body's way of telling us that we need to make changes. If you buy insoles and ignore the underlying problem, it's like slapping a band-aid on a wound that needs stitches. Likewise, wearing the wrong insoles is problematic. Ill-fitting insoles can increase pain or pressure. 
Are insoles the same as orthotics?
The other mistake I see made is that people buy insoles when they need orthotics. Insoles can be worn temporarily instead of orthotics. For those who are only experiencing mild discomfort or taking other steps to recover from an injury, a great pair of insoles makes sense as a first step. But they aren't the same. 
| | |
| --- | --- |
| Insoles | Orthotics |
| Inexpensive- Under $50 | Expensive– $100+ |
| Support, Eases Discomfort | Support For Specific Chronic Conditions |
| Trim to Fit  | Custom Fit  |
In other words, insoles are a good first step and are meant to be cost-effective solutions. You have to replace them more often and trim them to fit. A single one-time injury may be supported with insoles as it heals. However, reoccurring problems may eventually benefit from orthotics. 
Take my Achilles tendonitis for instance. Insoles can help me stabilize my heel and ankles. The best ones will also support my foot movement, as I tend to over-pronate (roll my ankle outward). However, if strengthening and stretching exercises are not enough, orthotics may eventually be needed to prevent my foot from rolling outward. The insoles provide immediate support and can be worn for certain periods, but orthotics may ultimately be needed if I continue to experience issues with over-pronation. 
In short: try insoles first, but know that some problems may need orthotics. Insoles are meant to help minor problems or to be used for short periods. 
How Should Shoe Insoles Fit?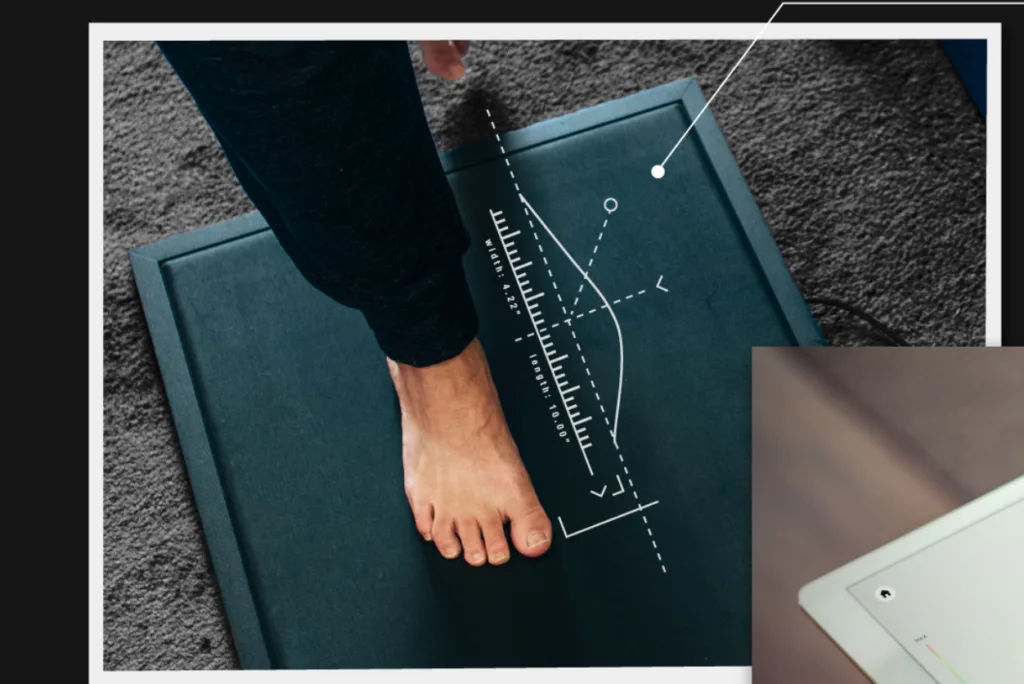 Next, I want to discuss both insole fit and how to know what insoles to select. This criterion is what I kept in mind when reviewing Superfeet insoles. Insoles of any kind should add comfort– that's what you need to keep in mind, It sounds simple, but too many ignore this. 
Do insoles make shoes tighter?
Insoles take up space, so they naturally can result in a tighter fit. That said, if you're buying them for athletics and/or exercise, you still need a bit of room in the front, as feet swell. If your shoes were originally too loose, a more snug fit would be beneficial. However, the fit should be snug, not tight. Most people remove the insoles that came with their shoes if they're adding comfort insoles. If you can't comfortably fit your new insoles over your existing ones, this may be necessary. 
Which way up to do insoles go?
Most insoles provide easy instructions and labels that show you how to place your insoles. A good rule of thumb is that the smooth surface of insoles should be facing upward. Your insoles should be completely flat in your shoe. Anything that scrunches up indicates it may not have been trimmed enough. 
Should insoles hurt at first?
Insoles should never cause discomfort. There's a misconception between stiffness and pain. Sometimes it can take a while to get used to insoles, and insoles may become more flexible with time. However, insoles should never cause any pain, and you should adapt quickly. 
How Do I Know What Type of Insoles I Need?
Finally, knowing what type of insoles you need can help you find your best fit and avoid something that will cause pain. In addition to looking for a relaxed, rigid, or semi-rigid arch, pay attention to the type and material of insoles. 
What material is best for insoles?
Insole materials include gel, cork, leather, cellulose, and foam. Contoured foam and gel tend to be most effective for reducing pressure. Viscoelastic polymeric is an example of an elastic material that does a great job of shock absorption. For athletes, opt for breathable foam or gel with elasticity and shock absorption. 
What are the types of insoles?
You'll have a choice between molded insoles, comfort insoles, or blended insoles. Comfort insoles are the most popular and used for general discomfort. Molded insoles add stability to the heel, ankle, and footbed. A blended insole consists of two pieces and could provide different levels of support for the front vs back of the foot.
Is Superfeet Worth the Money?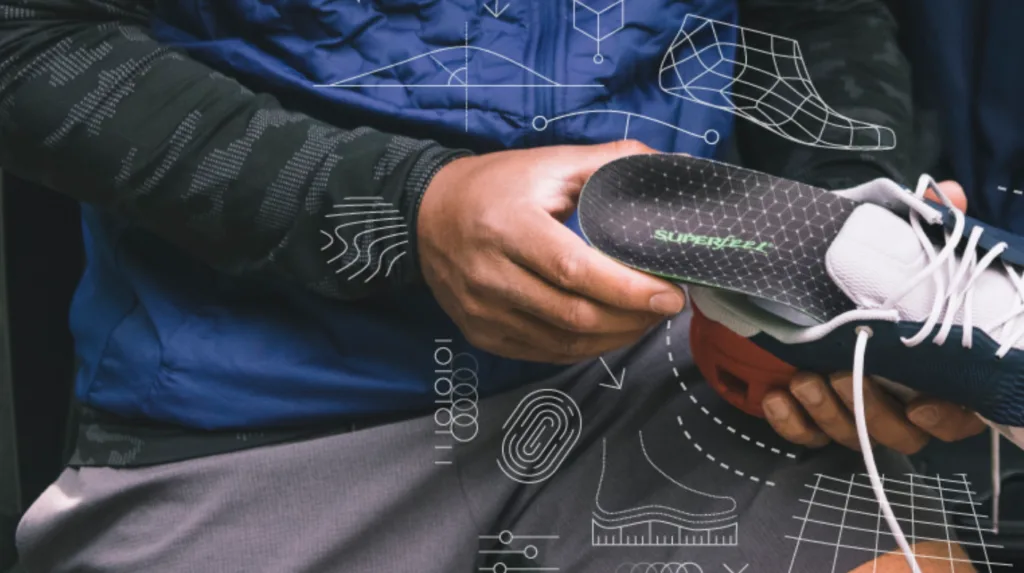 Superfeet insoles are worth the money if insoles are right for you. The company enjoys an excellent reputation both from customers and the industry. Superfeedr insoles may not be perfect, but they have quality materials with designs catered for specific conditions. Superfeet insoles are superior to many off-the-shelf insoles you'd find at your local grocery store. There's a lot I love about Superfeet insoles, but I want to be fully transparent and tell you about the company's policies. 
Who owns Superfeet?
Once owned by a small company, Superfeet was purchased by Westward Partners in 2021. Westward Partners is a privately held equity group in Seattle. It's unclear how this may impact products in the future, but it's something to be aware of. 
Where are Superfeet insoles made? 
All Superfeeet insoles are manufactured within the United States at their Ferndale plant. This does not mean that all materials are sourced from there. 
Can you return Superfeet?
Any insoles directly purchased from Superfeet are potentially eligible for a refund or exchange. You must contact 1-800-634-6618 to begin the process. Exchanges and refunds are extended for 60 days. You are responsible for a shipping fee, but not a restocking fee. 
How do Superfeet insoles ship?
Superfeet insoles ship via US Priority Mail or FedEx Ground. If you want your insoles delivered to a PO Box, you must choose Priority Mail at checkout. 
Should I Use Superfeet?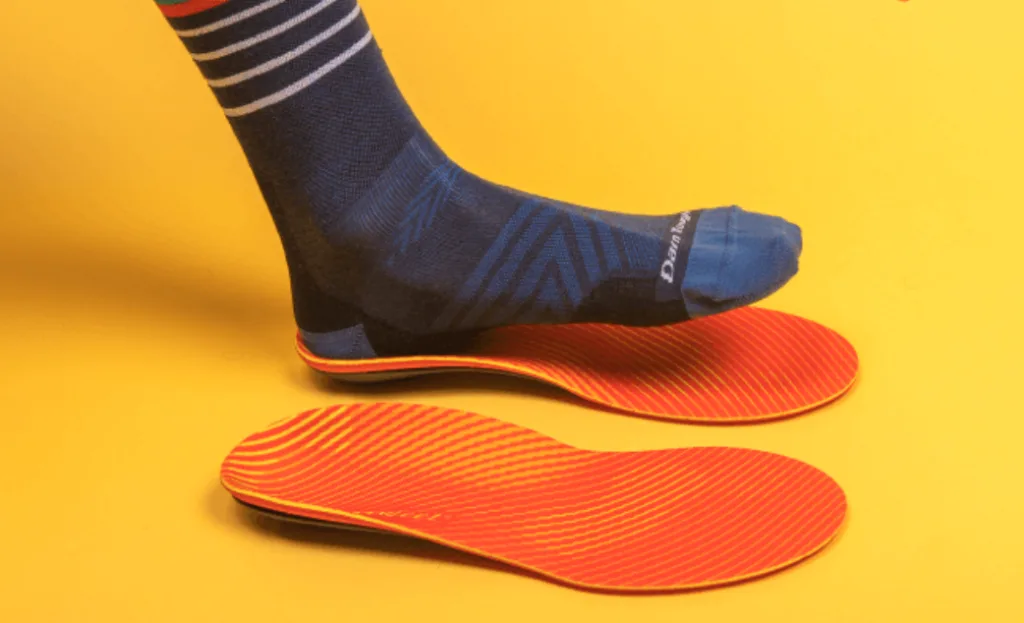 Despite Superfeet being a reputable company, it's not a simple case of whether or not you should use these insoles. If you need orthotics, they're not going to be enough. Here's a brief look at what Superfeet insoles can help with. 
Does Superfeet help pronation?
Every insole is designed to correct pronation. Their design is meant to stabilize your heel so that it doesn't roll too much outward or inward. In addition, the insoles are designed to support healthy walking and running patterns by promoting even weight distribution and healthy alignment. 
Does Superfeet have arch support?
Another feature of Superfeet insoles is arch support. Many insoles focus on comfort on cushioning but are flimsy. This is a mistake because cushioning helps shop absorption, but doesn't prevent why so much pain occurs. Instability in the arches and heel are two of the most common causes behind countless foot conditions. While not to the level of support of an orthotic, Superfeet insoles are designed to stabilize your arch. They do so with a structured feel cup, along with comfort foam. 
Can Superfeet cause foot pain?
It's important to note that most Superfeet insoles focus on the back of the arch, while others have more support in the front. If you have front foot pain, you may still experience pain. However, Superfeet insoles themselves should never cause pain. 
There are only three instances in which Superfeet insoles might cause pain– none of which are to blame on the insoles themselves.
Reason #1: You Went on a Run Immediately
Insoles, just like shoes, take some time to break in. Superfeet insoles take up to two weeks to break, but they should be good to go and pain-free within 5 to 7 days. Walk around in them for everyday activities and make sure they're broken in before any strenuous or moderately strenuous activities. 
Reason #2: You're Not Wearing Superfeet Insoles Correctly 
This is the most common reason people experience pain with Superfeet insoles. Insoles should always be completely flat inside your show. The heel and inside edges much align nearly exactly. They must also be trimmed to the proper size. Read an Insole User's Guide Here to ensure the best fit possible. You should also remove any insoles from your shoes before inserting Superfeet insoles. 
Reason #3: You're Not Replacing Worn-Out Superfeet Insoles
If you've comfortably worn Superfeet insoles and started noticing discomfort, chances are they should already have been replaced. Just like wearing worn-out shoes (another factor in my Achilles injury), worn-out insoles do more harm than good. Superfeet insoles need to be replaced every 500 miles. 
How Do You Choose Superfeet Insoles?
There are differences between the different Superfeet insoles. These differences concern thickness and where support is targeted. While there's no one best Superfeet insole, there is a best Superfeet insole depending on your needs. 
Superfeet insoles include a wide variety of colors, including orange, blue, green, berry, black, yellow, and copper. The difference between blue and green Superfeet, for instance, isn't just the color, but the type of cushioning you get. You should choose Superfeet insoles based upon what their form and materials are designed to address. If you're still not sure, you can also take their Insole Finder Quiz. 
Best Superfeet Insoles For Everyday Pain Relief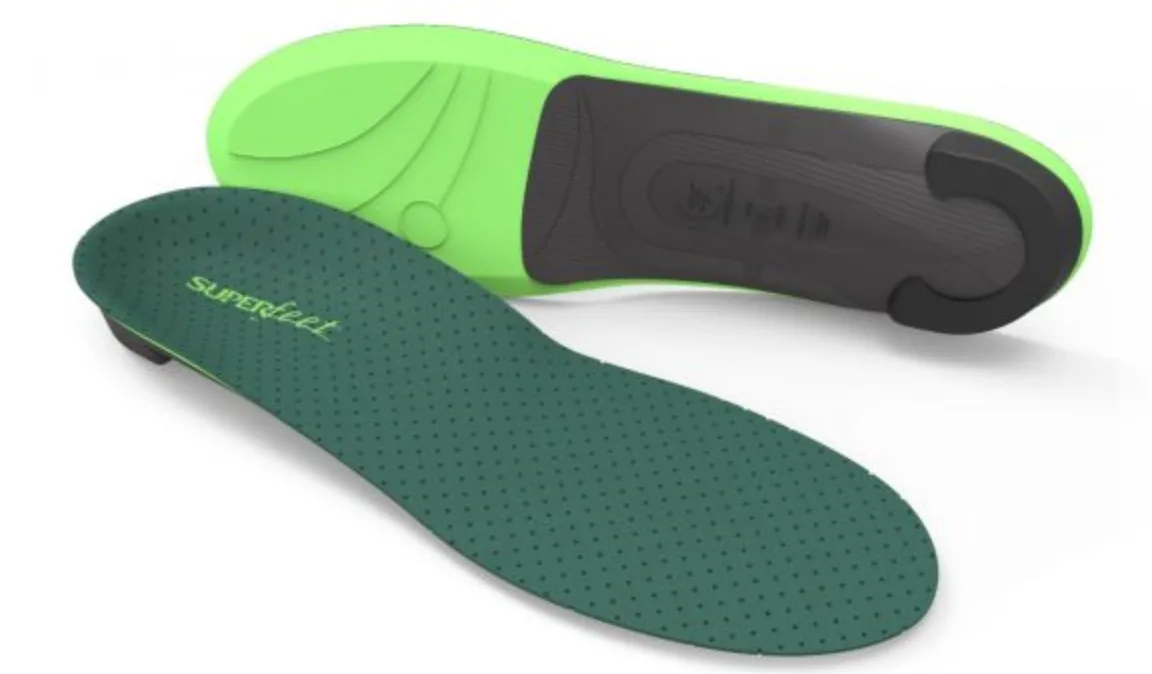 These green insoles are your best option for everyday pain relief. Choose these insoles if you're experiencing moderate heel or arch pain. These are helpful for mild cases of plantar fasciitis. The insoles feature a heel stabilizer that can be removed. They work for casual and dress shoes, but are not designed for athletic activities. Buy Here. 
Pros
Helpful For Everyday Pain Relief

Fits Casual and Dress Shoes

Bestseller
Cons
Best Superfeet Insoles For Running Pain Relief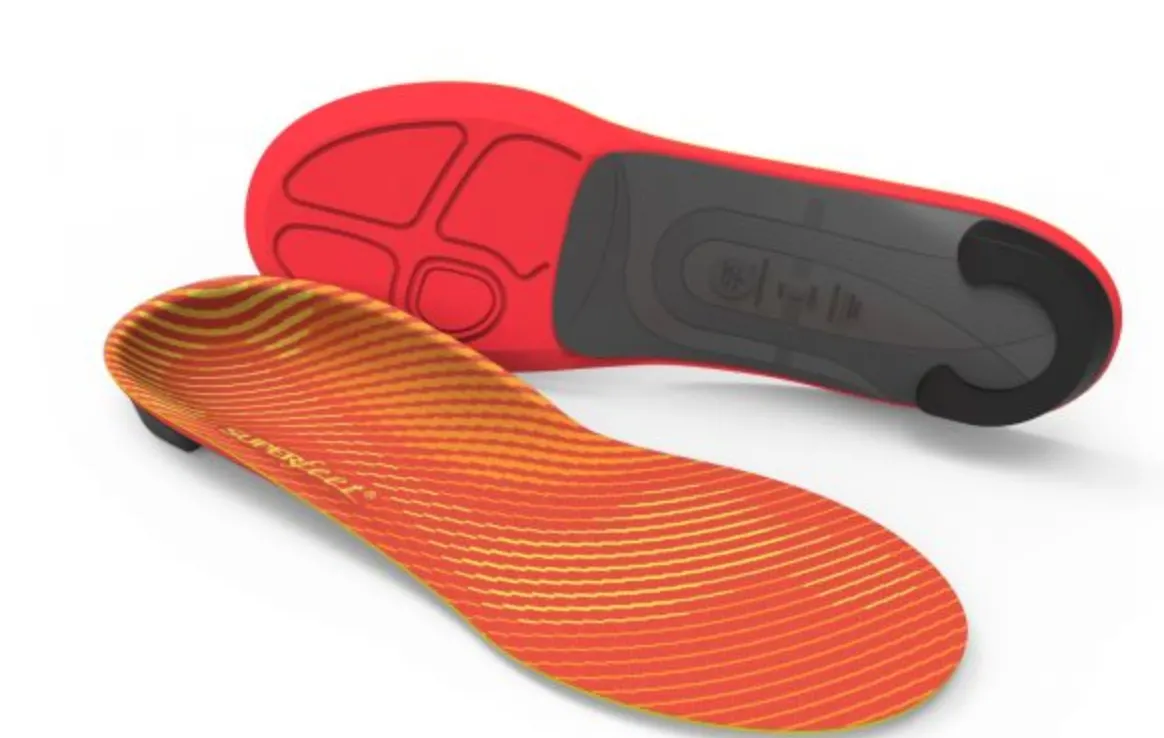 General heel or arch discomfort is a common problem for runners. While this won't address Achilles tendon or peroneal tendonitis issues, this insole is helpful for plantar fasciitis. Like their general pain insoles, you still have that heel stabilizer that you can remove. The difference is that these insoles are a bit more flexible and designed for running or higher impact activities. It has medium to high arch support, a light carbon fiber heel, and moisture-wicking to prevent blisters and odor. Buy Here. 
Pros
Targeted Pain Relief 

Heel Stabilizer

Carbon Heel with Arch Support
Cons
Doesn't Directly Support Achilles or Peroneal Tendons
Best For Superfeet Insoles For Athletic/ Running Support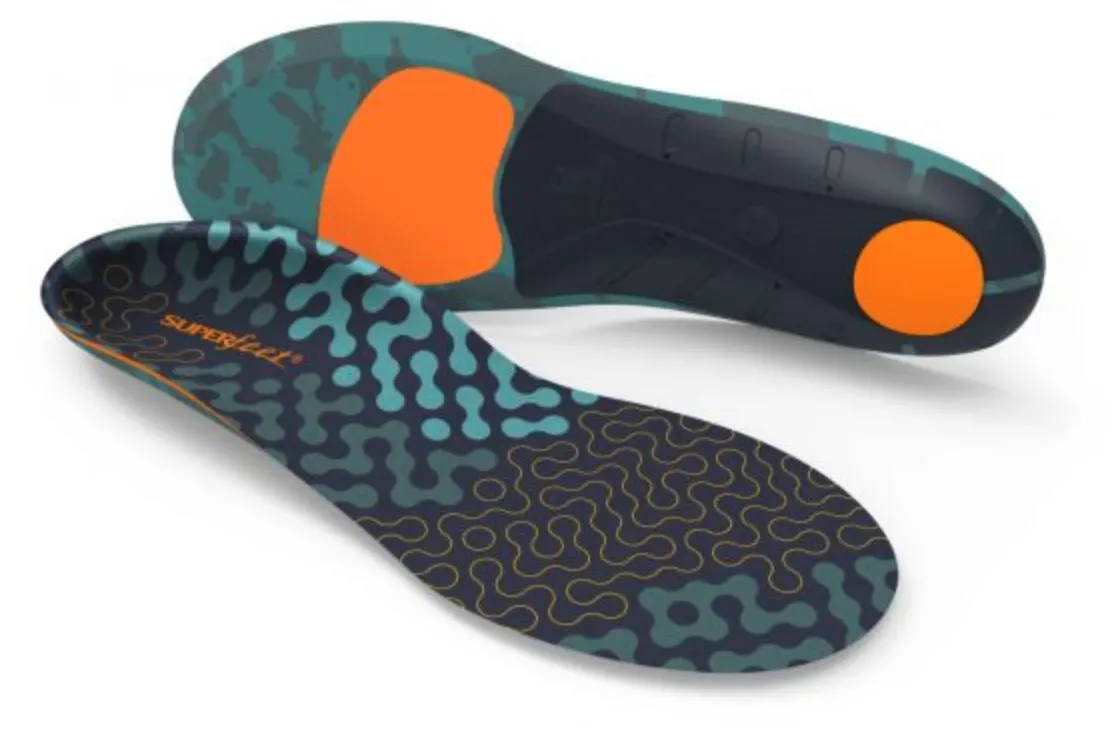 Whether you're a runner, hiker, or even a soccer player, these are my favorite general insoles for comfort and support. The ADAPT RUN MAX Superfeet insoles are worth the upgrade. The medium to high arch support comes equipped with adaptive support.
Adaptive support means the insoles flex and cushion impact as you move. They feature a deep heel cup and minimize strain across the footbed. They're excellent for the quick turnover time while providing a dual comfort and responsive footbed. They also feature moisture-wicking materials to keep you blister-free. Buy Here. 
Pros
Adaptive Support

Deep Heel Cup

Quick Turnover
Cons
Takes Up Extra Space in Shoes
Best For Superfeet Insoles For Trails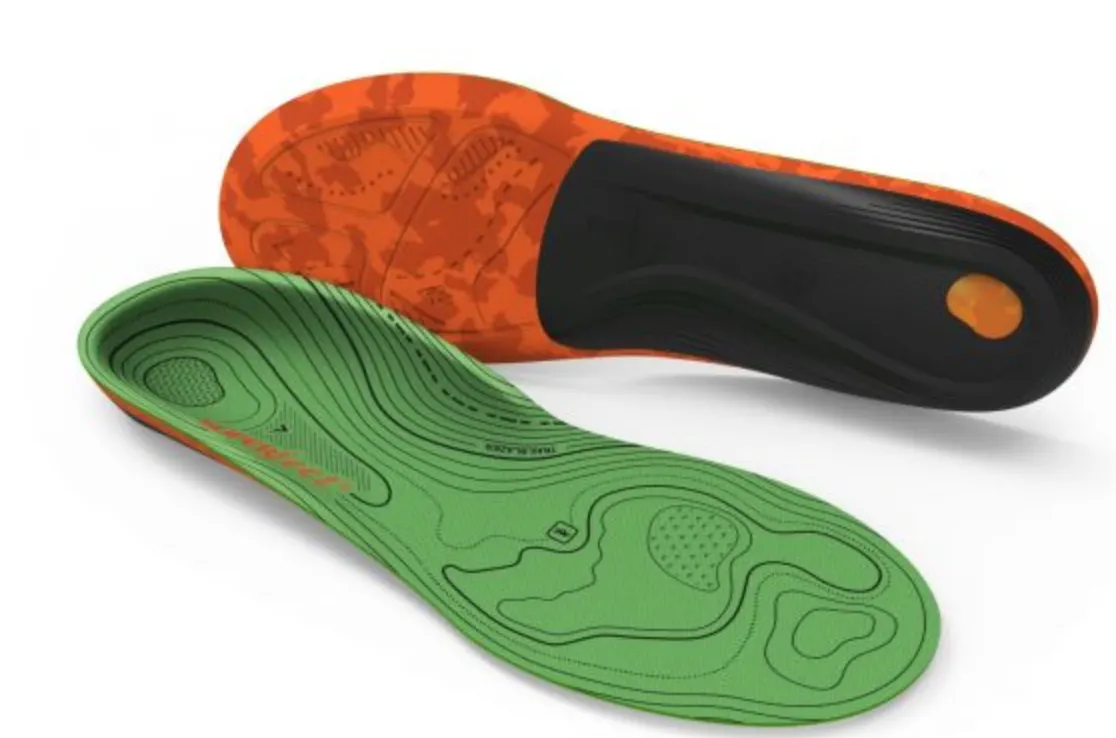 I love trail riding and hiking. I also know that when you're on trails, there's a risk of injury. While pavement gets a bad rap for the pounding source, trails can be unpredictable and uneven. If you roll your ankle easily, you may need more support for trail activities.
These are best for hiking, with stabilization for uneven terrain. The TRAILBLAZER comfort insoles feature a deep heel cup and moisture-wicking material. Two layers of comfort foam reduce fatigue, while the medium to high arch support stabilizes to prevent ankle rolls. Buy Here. 
Pros
Stabilizes for Uneven Terrain

Dual-Layer Foam

Moisture-Wicking
Cons
Best Superfeet Insoles For Wide Feet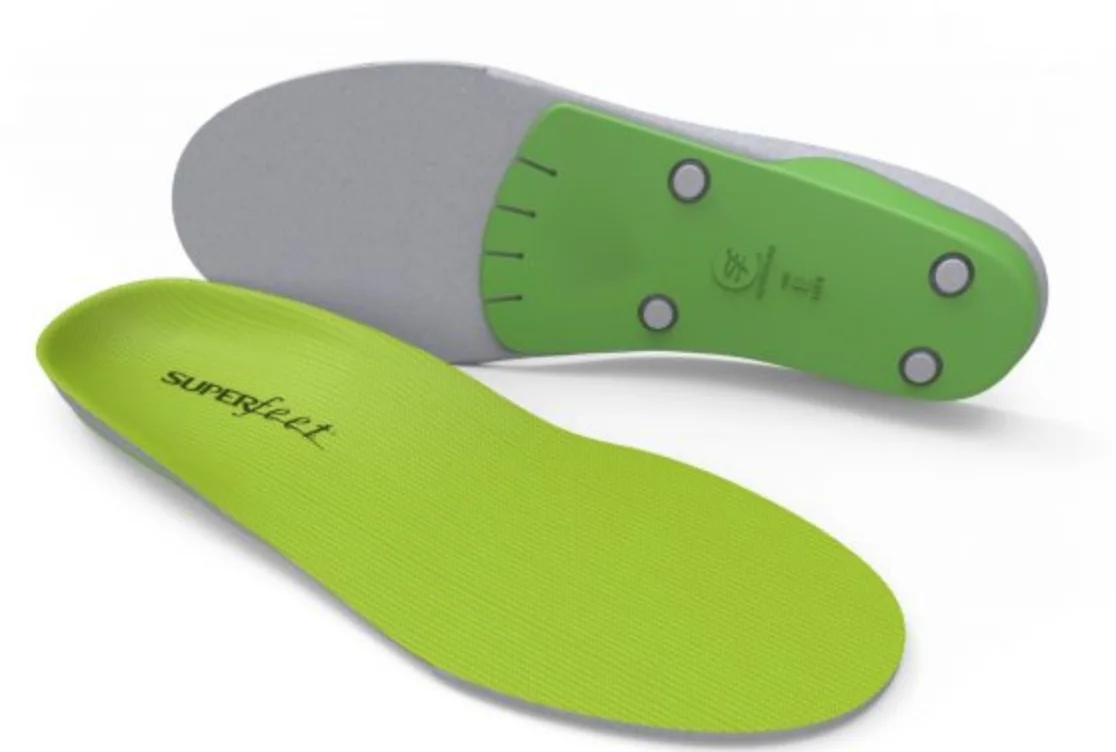 If your wide feet, these insoles are helpful for everyday comfort. widescreen insoles are made with the classic support and comfort you'd expect from Superfeet. The high arch support reduces strain on your knees, ankles, and even back. The stabilizer cap keeps heels supported, along with a layer of comfort foam. The closed-cell foam is useful for long hours and comes with organic odor control. Buy Here. 
Pros
Wider Fit

General Comfort Along with Footbed

Reduces Everyday Strain
Cons
FAQs
Question: How thick are Superfeet?
Answer: The thickness of Superfeet varies by model. They are an average of 3 to 4 mm feet at the forefront, and 5 mm thick at the heel cup.
Question: What is the difference between blue and green Superfeet?
Answer: Blue Superfeet insoles are for general purpose comfort and support. Green insoles are more specialized for athletics and moderate to vigorous exercise.
Question: How do you fit Superfeet?
Answer: All of the full-length Superfeet insoles must be cut to size. It's important that your insoles lay flat and that the heel cup aligns with the heel of your shoe. Those with wide feet will need to purchase a wide insole model.
Final Thoughts
Superfeet insoles are more expensive than most insoles. However, the support in the heel cup is especially important– and a notable difference. If you're unsure about full custom orthotics and cheap insoles aren't doing it for you, I recommend giving Superfeet insoles a try. 
Final Buying Alternative

The Fleet Feet store carries some excellent insoles, and this is one of them. While I recommend you consider Fleet Feet's Insole Collection, Currex is one brand I'd consider. These insoles in question feature support for walkers, runners, and athletes with high or rigid arches. That's important because a vast majority of insoles tend to target low arches and flat feet. These ergonomic insoles move with you. Still, they provide the support you need, all meant to reduce overall foot strain and pressure. Buy Here. 
Pros
High Profile, Structured Arch
Ergonomic
Highly Rated Brand
Cons
Not Intended For Flat Feet/ Low Arches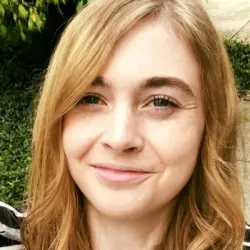 Latest posts by Erin Jamieson
(see all)