Are your shoes uncomfortable to the extent that you have finally decided to throw them out?
Is the pain in your heel not allowing you to run properly in your regular running shoes or footwear?
Are you sick of the regular soreness in your feet?
Well, if the answer to all the above questions or even one of them is "YES," then this article is likely a perfect read for you.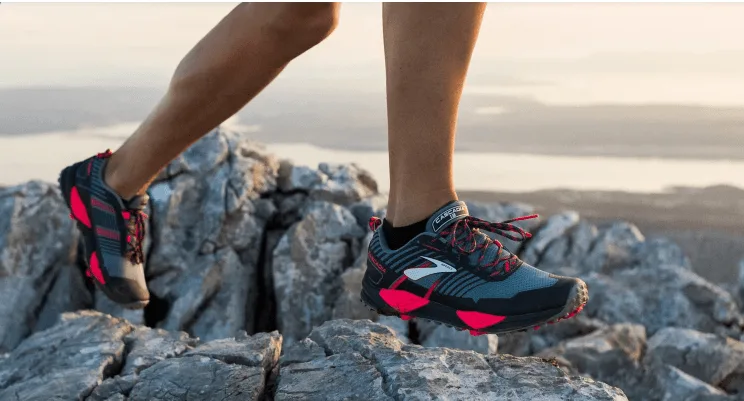 Wondering why?
Because you don't need to trash your shoes, boots, and running shoes or blame them for your misery anymore.
All you need to do is get an insole with a proper fit, to be ready to wear an tear those shoes, and most likely your feet-related problems will vanish.
An insole is the best way to achieve optimum comfort, shock absorption, and support that your shoes or any footwear fail to provide.
Their cushioning, padding, support structures, and stability features make them ideal for various feet-related problems such as plantar fasciitis, bunions, knee pain, etc.
To help you pick the best insoles on the market for extra padding, we've put together a detailed comparison between two trending insoles on the market – Tread Labs and Superfeet balance insoles.
Read on to deep dive into the Tread Labs vs Superfeet Insoles comparison.
TL:DR: Both insole brands are great options, we do have ONE favorite here. I think most people will have the best experience with Tread Labs here. They require less time to break in and the unique Tread Labs insole matcher here means that you will likely have fewer sizing issues (and fewer returns).
Important update
Ramble, Pace and Dash has replaced Tread Labs Stride. These insoles are perfect for people who are looking for pain relief, performance, or comfort. You can find these insoles in thin, short, and regular versions to fit all sorts of footwear. However, these soles still come with the Tread Labs million mile guarantee.
First things first – Why do you need insoles?
Before you begin the search for the best insole for your shoe, you should know the importance of insoles. If you are still apprehensive about investing in an insole, here are a few reasons why you should buy one.
Insoles help in preventing foot disorders
This is indeed the most significant advantage of insoles. They protect your feet from different types of foot disorders and pain relief. Insoles are constructed with the finest quality material.
They are designed in a way that they absorb all the pressure that your feet or knee are subjected to while standing, running or walking.
They also provide optimum comfort and padding to your feet and shield them from pain. Many insoles also feature an additional layer that works for shock absorption and bring down the pressure on your feet and knee.
Furthermore, they arrest tissue and muscle damage. They can work as pressure relief insoles or plantar fasciitis insoles if indicated.
With insoles, you can enjoy an active lifestyle without having to go through bouts of intense pain in the feet.
Insoles help in correcting any existing foot problem
Insoles not just prevent but also contribute to correct any existing disorder of the feet.
There are several conditions such as plantar fasciitis, pain in the knee, pain in the toe, corns, Achilles heel pain, neuroma, metatarsalgia, and bunions that can be easily dealt with the help of specific insoles and shock absorption.
The markets have many specialized insoles that are made for dealing with particular issues of the feet. However, we recommend you have a conversation with your doctor before you purchase insoles for your feet.
Your doctor will help you to select an insole that could target your problem and effectively treat it If it's plantar fasciitis insoles, a good arch support insole, balance insoles or even a custom orthotics insole with more or less padding for pain relief.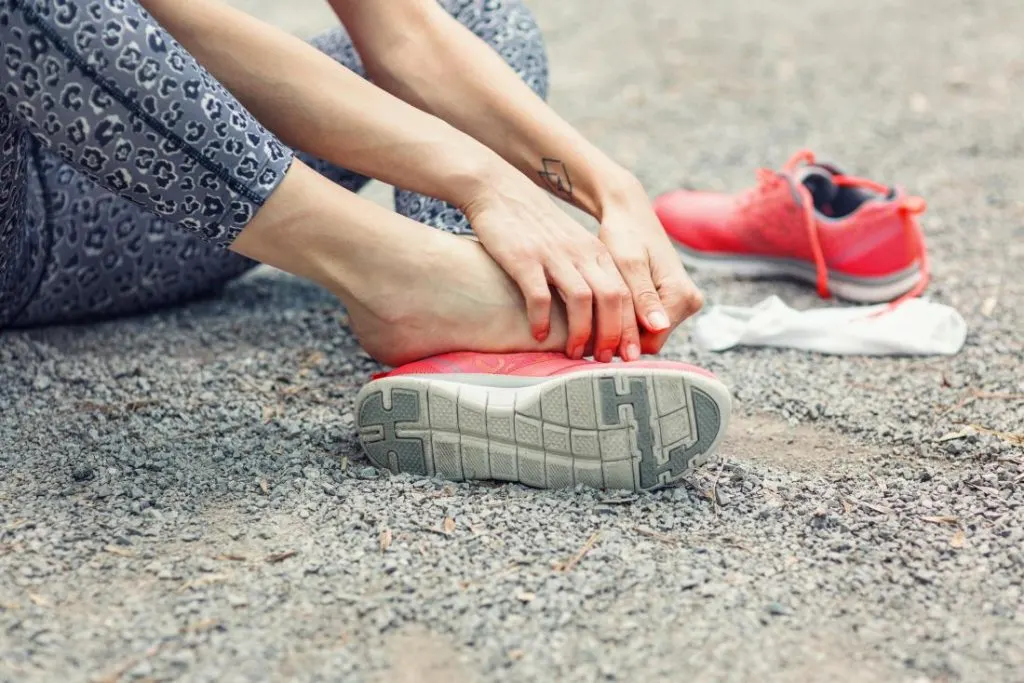 Insoles keep your feet comfortable
No rocket science here. The good quality material and design features come together to work towards providing your feet and knee with optimum comfort. The insoles offer support and cushioning. They help in minimizing the shock that could hinder the feet during physical activities.
Insoles make your feet flexible
A hectic lifestyle keeps all of us on our toes, right? The thin tissues present in the feet are unable to withstand the pressure and shock that they are subjected to while standing, running, or walking on a day to day basis.
This causes tissue inflammation and loss of natural flexibility which in turn, causes immense pain in the feet or knee. But, you can stop all of this from happening by using the right insoles and footwear.
Insoles are designed in a way that they minimize any impact on your feet and help in restoring the natural flexibility.
Insoles extend the shelf life of your shoes
The materials used in insoles are very durable. Also, the shock absorbing quality of the insoles and the padding prevents intense ground impact.
This helps in enhancing the lifespan of your shoes. Also, the insoles keep the feet in a good shape and this helps in maintaining the design of the shoes and footwear. All these things extend the shelf life of your shoes.
Tread Labs vs Superfeet Insoles – A detailed comparison
Now that you know why insoles are needed, let us now move on to the most important part of the article and compare two of the most popular and renowned brands of insoles.
Yes, we are talking about Tread Labs and Superfeet.
Both the brands have earned a good reputation and name among their customers. With the use of supreme technology and fine materials, both Tread Labs and Superfeet, have emerged as good insole brands.
It is surely not easy to pick the best brand of the two. However, to arrive at a conclusion, we have put together a detailed comparison between the insoles, one from each brand.
This Tread Labs vs. Superfeet Insoles review will definitely help you make an informed purchase.
But before we move on to the detailed comparison, we would like to give you a brief insight into the background and technologies used by both the brands.
Overview
The name behind this insole brand is Mark Paigen. Mark launched the brand with the motive of creating the most comfortable athletic shoes.
The concept of insoles, as recalled by Mark, was invented keeping in mind the comfort that most of the running shoes on the market fail to provide.
He developed them in a variety of arch heights and sizes to make sure that the users get a comfortable fit.

Technology
Tread Labs premium insoles promise to offer medical grade support to the athletes or those suffering from various feet-related problems.
With the use of features similar to that of custom orthotics, Tread Labs provides true orthotic-like support to the feet and knee while doing physical activities.
The different elements used in Tread Lab's insoles are:
The biggest selling point of Tread Labs premium insoles is its semi-custom fit. There are four arch heights provided by the brand that offers a near custom fit.
The insoles try to match the natural arch contours of the feet and pull it off quite well for good arch support. You are sure to find an insole that will provide you a custom fit for your feet and shoe sizes.
The insoles provide medical-grade support to your feet. The molded arch support flex in accordance with the feet while performing movements. The support contributes to enhancing alignment and dealing with pronation.
The deep heel cups of Tread Labs insole boost the natural shock-absorbing capability of your feet while also help in stabilizing every step you take.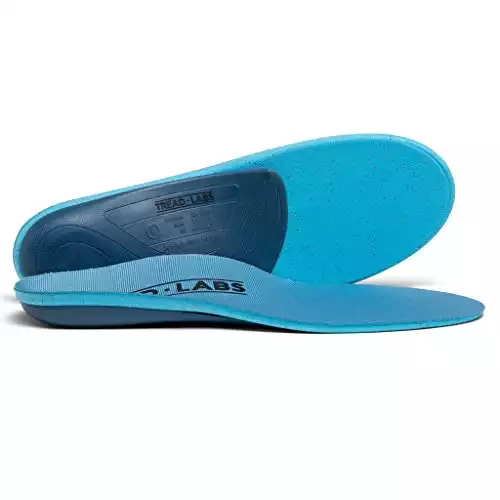 Construction
Tread Labs insoles comprise of two parts: a molded arch support and a top cover.
The molded arch support provides dynamic support to the feet while standing, walking, running, or doing any activity.
The top cover is removable and provides a low-friction surface to keep your feet safe from irritation and blister formation. It keeps the feet cool. It is made up of open-cell polyurethane foam which is five times more durable than the traditional EVA foam.
The durable cover also features Bluesign approved PURE antimicrobial technology which manages to kill 99.9% of bacteria. You shouldn't worry about wearing-off of the layer while washing your insoles as the layer will not come off.
The upper layer is attached to the arch support with the help of a Velcro. It can be easily removed and replaced.
Size and Fit
Tread Labs insoles offer the perfect fit. They are available in many sizes and provide a custom-like fit.
The insoles are available in four arch sizes namely, low, medium, high, and X-high.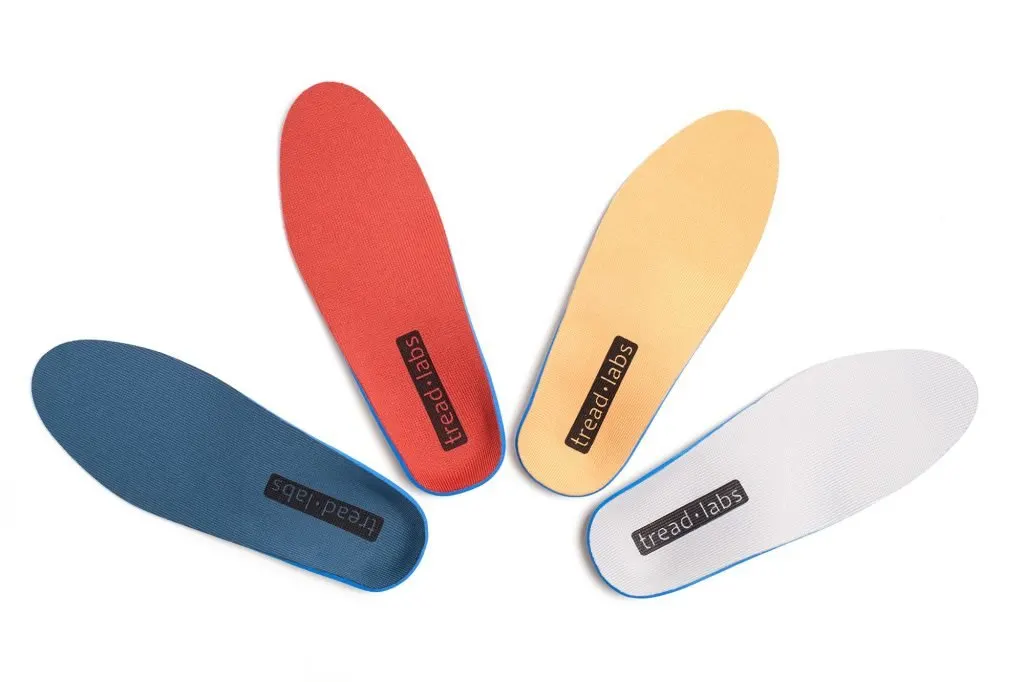 Guarantee/Warranty
The brand offers a 30-day fit guarantee. It boasts the fine workmanship, as well as the use of materials, and offers a lifetime guarantee against any defect.
Superfeet Insoles
Overview
Superfeet is one of the most popular insole brands. It has around 40 U.S., as well as international patents, to its credit.
The basic idea of the brand is to provide comfort to the wearers. Every insole designed and manufactured by Superfeet revolves around the concept of podiatric science.
Technology
Superfeet insoles are loaded with many coming of age technological features. All the features are backed by the principles of podiatric science.
The prime focus of Superfeet insoles is to provide proper support to your feet while you are standing, running, walking or doing any other physical activity.
The insoles are designed according to the biomechanics of your feet, i.e. the activities of your bones, muscles, ligaments, and tendons that go in harmony to create movement.
With Superfeet insoles, you can revive your 2-dimensional shoes into a 3-dimensional, comfortable, and supportive shoe. All the insoles come with a good rearfoot support.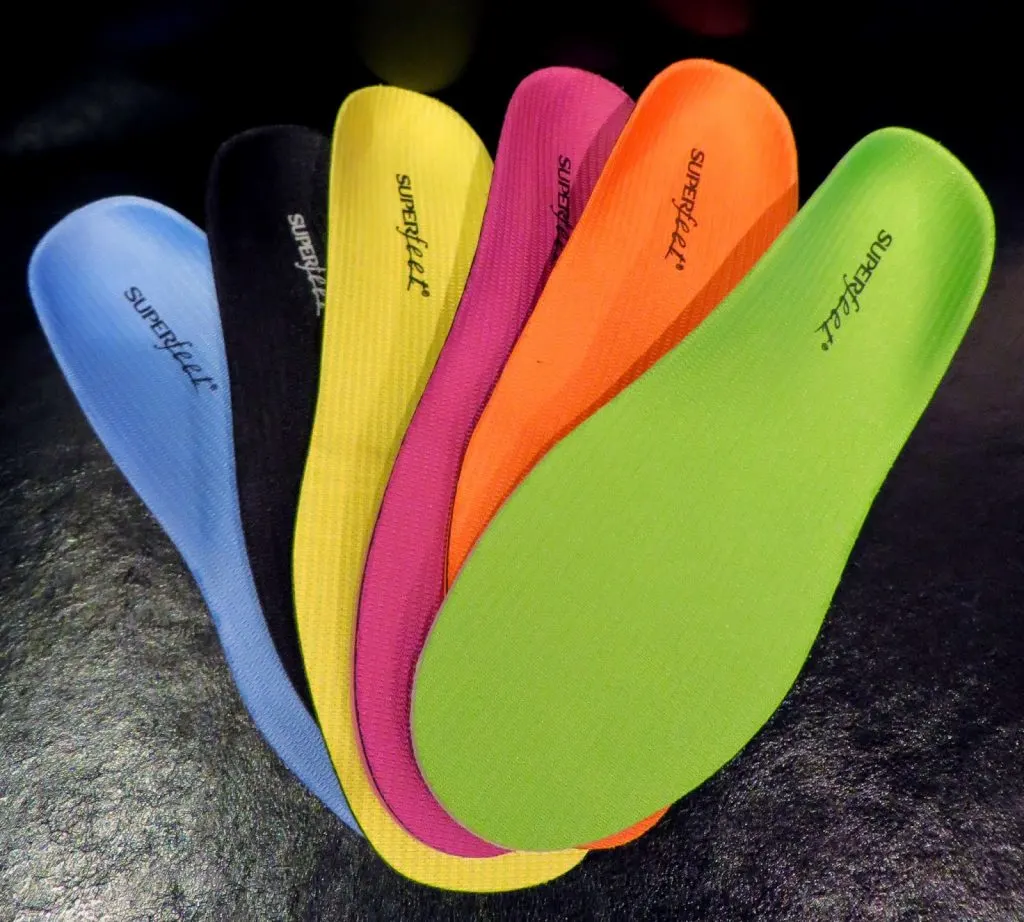 The elements that put together Superfeet Insoles
The elements that come together to make Superfeet include:
The silhouette of Superfeet Insoles features natural curves and contours to give you a natural feel while also, offering optimum comfort and pain control. It conforms to the shape of your heels and arches to give you relief.
A supportive foundation makes your feet feel at comfort and fresh. The insoles offer a mattress like support beneath your feet.
To make you feel as natural as possible, the Superfeet insoles are designed in such a way that they support an even dissipation of impact and forces. As you move, the insoles tend to disperse the impact minimizing the strain and stress on your body.
The structured heel cup hugs the heel and enhances the natural shock absorption quality. The cup lies beneath the soft tissues of your heel.
Construction
The Superfeet insoles are made up of a fine quality closed-cell foam material which ensures proper support and cushioning. The layer is comfortable and feels easy against the skin.
The stabilizer cap provides a robust base and supports the rearfoot area of your feet while at the same time provides structure and stability to the EVA foam layer.
The upper layer, which is 4 mm in length, features a natural coating to prevent bacterial growth and resultant bad odor.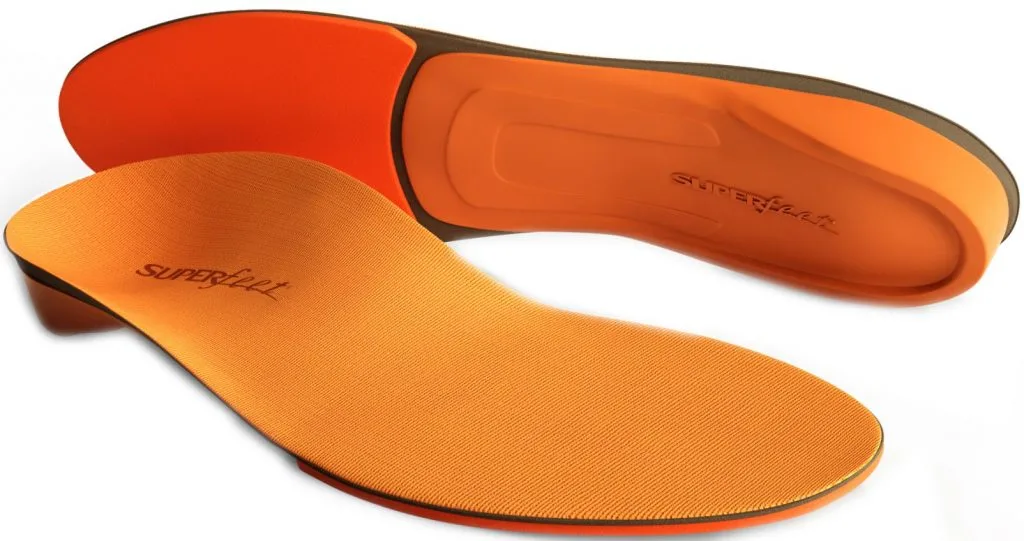 Size and Fit
Superfeet Insoles are available in many size options for men, as well as women. In terms of length, they are available in full length and ¾ length.
They are available in thin, mid, and max thickness.
Guarantee/Warranty
The manufacturers offer a limited 60 days warranty on all the Superfeet insoles.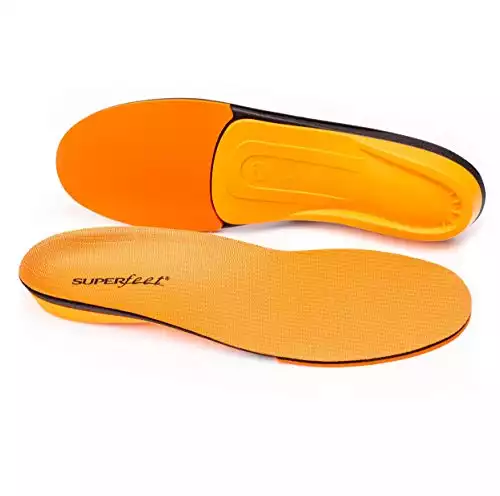 Superfeet Premium Orange Insoles | Amazon
Superfeet Orange orthotic insoles for women and men were created for the people who want a little more spring under their feet when they go the extra mile. Superfeet re-engineered their shock-absorbing insoles to add a resilient, high-impact foam forefoot while maintaining the unmistakable Superfeet shape and legendary arch support.
Buy on Amazon.com
We earn a commission if you click this link and make a purchase at no additional cost to you.
02/07/2023 09:05 pm GMT
Tread Labs Stride vs Superfeet Green Heritage Insoles
Here is the detailed Tread Labs vs. Superfeet Insoles comparison.
In this section of our review, we have compared two of the most popular insoles; Tread Labs Stride and Superfeet Green Heritage Insoles.
The table contains the detailed specification breakdown of both the insoles:
| | | |
| --- | --- | --- |
| Insole | | |
| Arch Type | Low, Medium, High, and Extra High | Medium to high arch |
| Material | EVA foam and fabric | Leather, Rubber sole |
| MSRP | $75.00 (Check out the latest rates here) | |
| Ideal For | Hiking, running, skiing, cycling,  golfing, tennis | Walking, hiking, running, skiing, health, wellness |
| Best Fit | Running shoes, hiking boots,  trail shoes, work boots, as well as other footwear that come with removable insoles | Work shoes, wide shoes, basketball shoes, as well as cushioned trainers |
Things we Liked:
Semi-custom fit
Trim-to-fit
Offers medical grade support
Helps in relieving pain caused by Plantar Fasciitis
Helps in correcting overpronation
Use of low friction fabric prevents blisters
Good molded arch support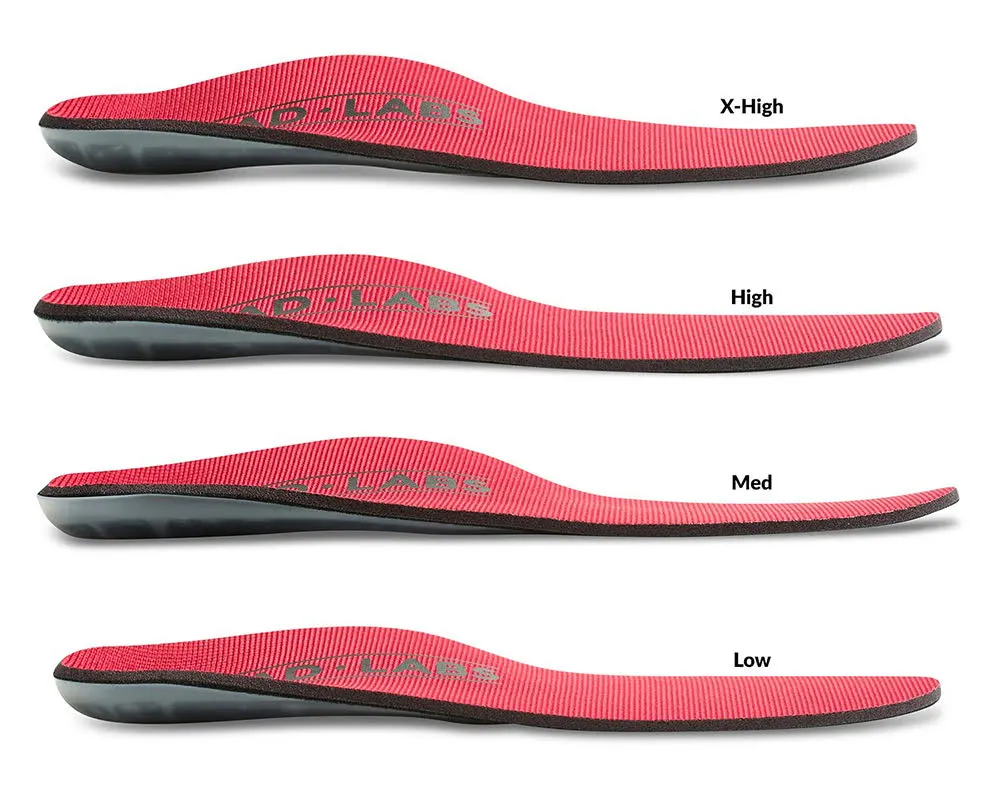 The Tread Labs Stride is a good insole that provides good support and stability while walking, running, hiking, etc.
The insoles offer biomechanical support that keeps you going throughout the day without any pain or discomfort. They help in improving your walk, as well as run. The medical grade support offered by these insoles help in dealing with sore feet and pain caused by plantar fasciitis.
The best thing about these insoles is the availability of a perfect fit. Whether you have a very high arch or flat feet, a perfect custom-like fit is guaranteed. You are sure to find an arch hugging insole. The deep heel cup enhances the natural cushioning ability of your feet.
The insoles are made of durable foam material. The open cell polyurethane foam along with polyester fabric provides plush cushioning. The upper layer doesn't cause friction which keeps blisters away.  Furthermore, the PURE antimicrobial treatment destroys 99.9 percent of bacteria.
Another noted feature of these insoles is that they help in boosting athletic performance. If you are an overpronator, the use of these insoles will keep your arches from collapsing.
The insoles are very durable. The polyurethane foam material is resilient.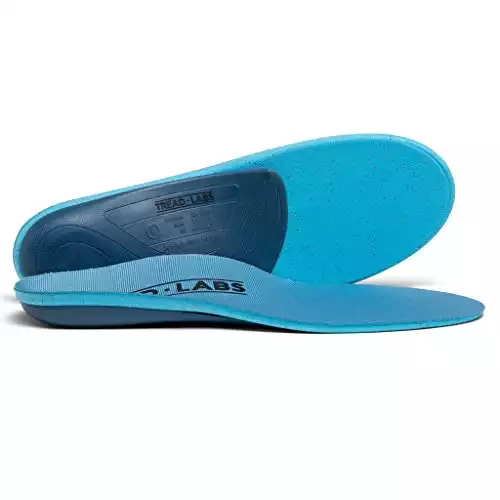 Pros and Cons
| | |
| --- | --- |
| Pros | Cons |
| Offers a great fit; Good fit available for every arch height | A little squeaky |
| Come with anti-microbial treatment | |
| Provides good cushioning, stability, and support | |
| Durable | |
| Provides 30-day fit guarantee | |
Things we Liked:
Contoured silhouette conforming to the natural curves of your feet
Biomechanical shape
A deep and wide heel cup offering good support
Natural shock absorption capacity
Stabilizer cap offers support to the rear foot
Man-made sole
Use of high-density foam providing durability
Odor-control coating the arrests bacterial growth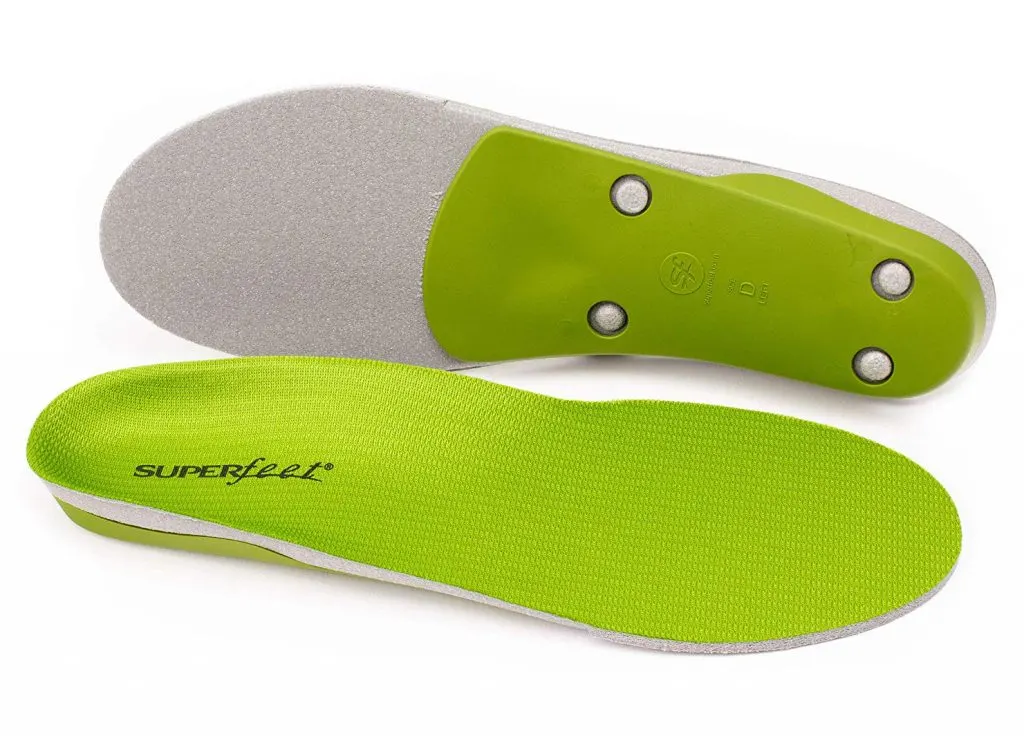 Superfeet Green Heritage insoles follow the concepts of podiatric science and hence, you can expect them to do more good to your feet.
The USP of these insoles is the biomechanical construction that encourages a harmonious function between the bones, muscles, ligaments, and tendons of your feet.
The Superfeet Shape provides support and stability to the feet. The wide and deep heel cup helps in better impact absorption and dispersion. The stabilizer cap at the base provides support to your rear feet and maintains the structure of the foam layer.
The upper layer of the insoles carries odor-control coating which does not let the odor-causing bacteria to grow.
The insoles are very durable. They last for 500 miles or a year. These insoles are good for you if you are dealing with arch pain, foot pain, heel pain or plantar fasciitis.
Pros and Cons
| | |
| --- | --- |
| Pros | Cons |
| Provides high arch support | Size is a problem sometimes |
| Good for users who have flat feet | You need to cut it to fit the size |
| Good In controlling overpronation | Tough to break in |
| Provides a good amount of cushioning | |
| Provides good support and stability | |
| Durable | |
| Provides 60-day warranty | |
So, who's the winner? Superfeet or Tread Labs?
After reviewing both the brands and the best insoles provided by them in detail, we feel that both the brands are good and true to their name and reputation.
Bottom Line: While both are great options, we do have ONE favorite here. I think most people will have the best experience with Tread Labs here. They require less time to break in and the unique Tread Labs insole matcher here means that you will likely have fewer sizing issues (and fewer returns).
We hope you agree. If you have any more products that you want us to compare, please let us know. Our experts will be more than happy to help you!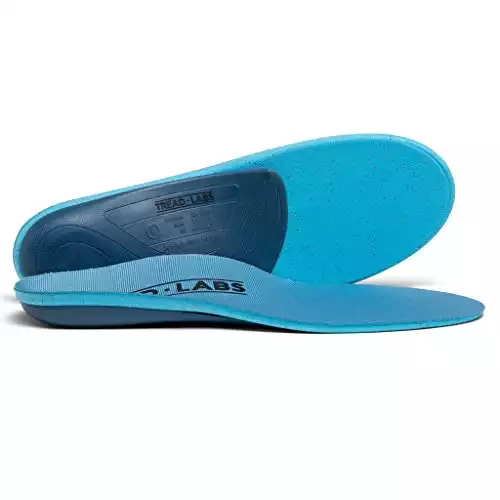 Further Reading on Insoles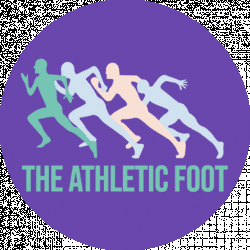 Latest posts by The Athletic Foot Team
(see all)