Are you looking for a proper foot support that can improve the efficiency of your feet and protect them against potential injuries? If yes, then this post will be a perfect read for you.
In this article, we'll tell you the difference between a good insole versus a great insole.
Bottom Line Up Front: Put simply, I highly recommend using the Powerstep insoles due to their increased durability and better responsiveness to shock.
Read on to check the detailed comparison between Powerstep vs Superfeet insoles.
The Importance of Insoles for Your Feet
The inner part of the shoe that runs underneath and supports the bottom of the foot is called Insole. Insoles are usually removable. They are very important to provide full protection to the feet. When you wear a shoe and perform your daily activity or workout at the gym, your feet could be subjected to a lot of pressure and shock.
Undue pressure on the feet may lead to foot disorders in the long run and may cause hip, ankle and knee pain.

Shoe insoles are essential for the feet and are designed to provide your feet with enhanced comfort and quality protection. By wearing shoe insoles, you can keep your feet guarded and healthy. And, if you happen to be an athlete, insoles can do wonders for your efficiency and output.
Insoles are an excellent choice for people suffering from plantar fasciitis or any other problem in their feet. Insoles are also best for runners who need more cushioning, stability, and support for their feet. Additionally, they are an outstanding and cheap alternative when compared to customized orthotics.
Powerstep vs Superfeet Comparison
The market is packed with a wide variety of superior quality, affordable insoles. While buying an insole, it is essential to keep in mind your foot type and gait type. You never know, if you make an informed purchase decision, you may end up purchasing the most suitable insoles for your feet and permanently eliminating your foot issues, leg pain, and back pain.
Let's now look at the detailed reviews of the best-selling insoles on the market – Powerstep, and SuperFeet. Based on their stability, the comfort they provide, and the support you can get from them, we'll help you select the best one for your delicate feet.
Types of Powerstep insoles and their features
Powerstep insoles are made of a plastic shell that contours the arch and the entire heel area with a thin foam layer.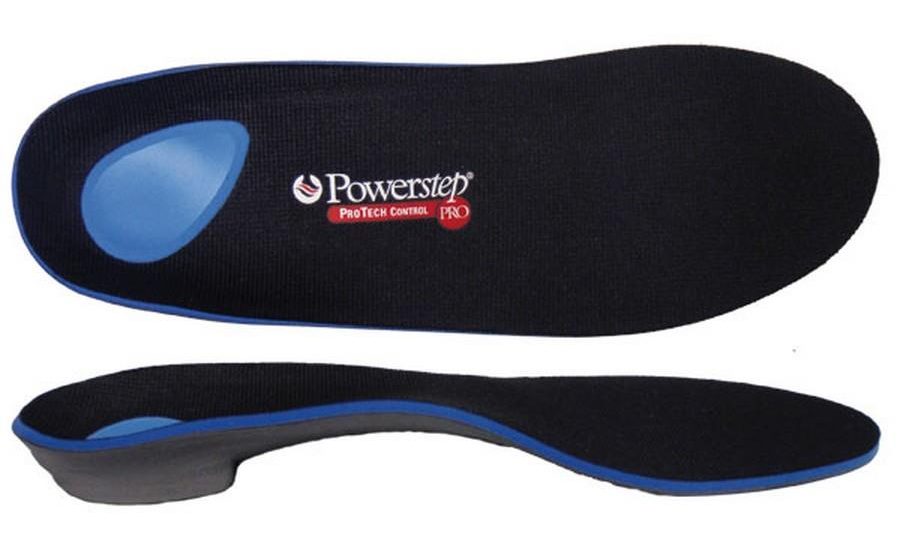 The Powerstep ProTech, a full-length insole is ideal for both, men and women. The features of Powerstep ProTech include full length and double layered orthotics. One can experience enough comfort and support to last throughout the day because of its Poron heel comfort cushion. The Powerstep ProTech insoles offer semi-rigid support to the arch and are suitable for people and runners with medium to high arches.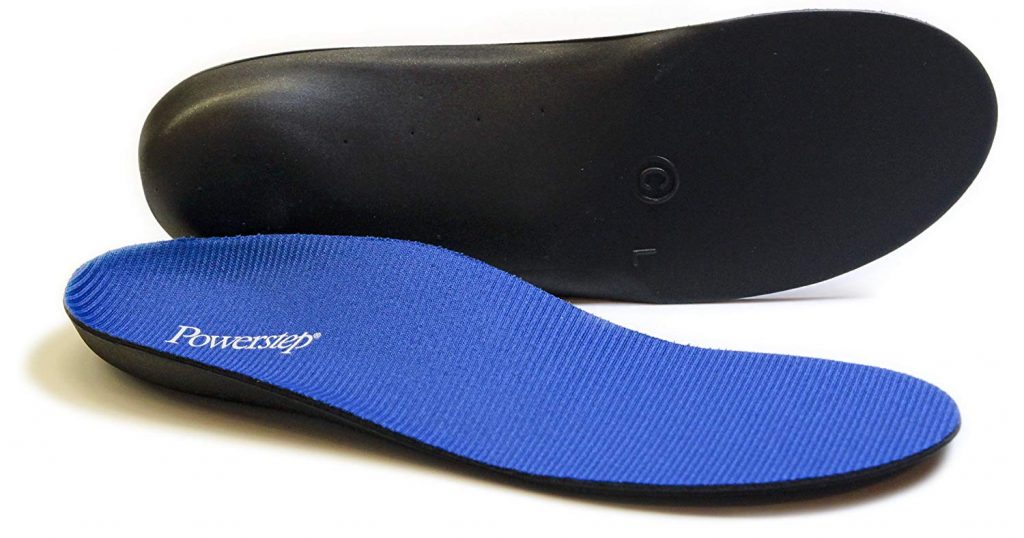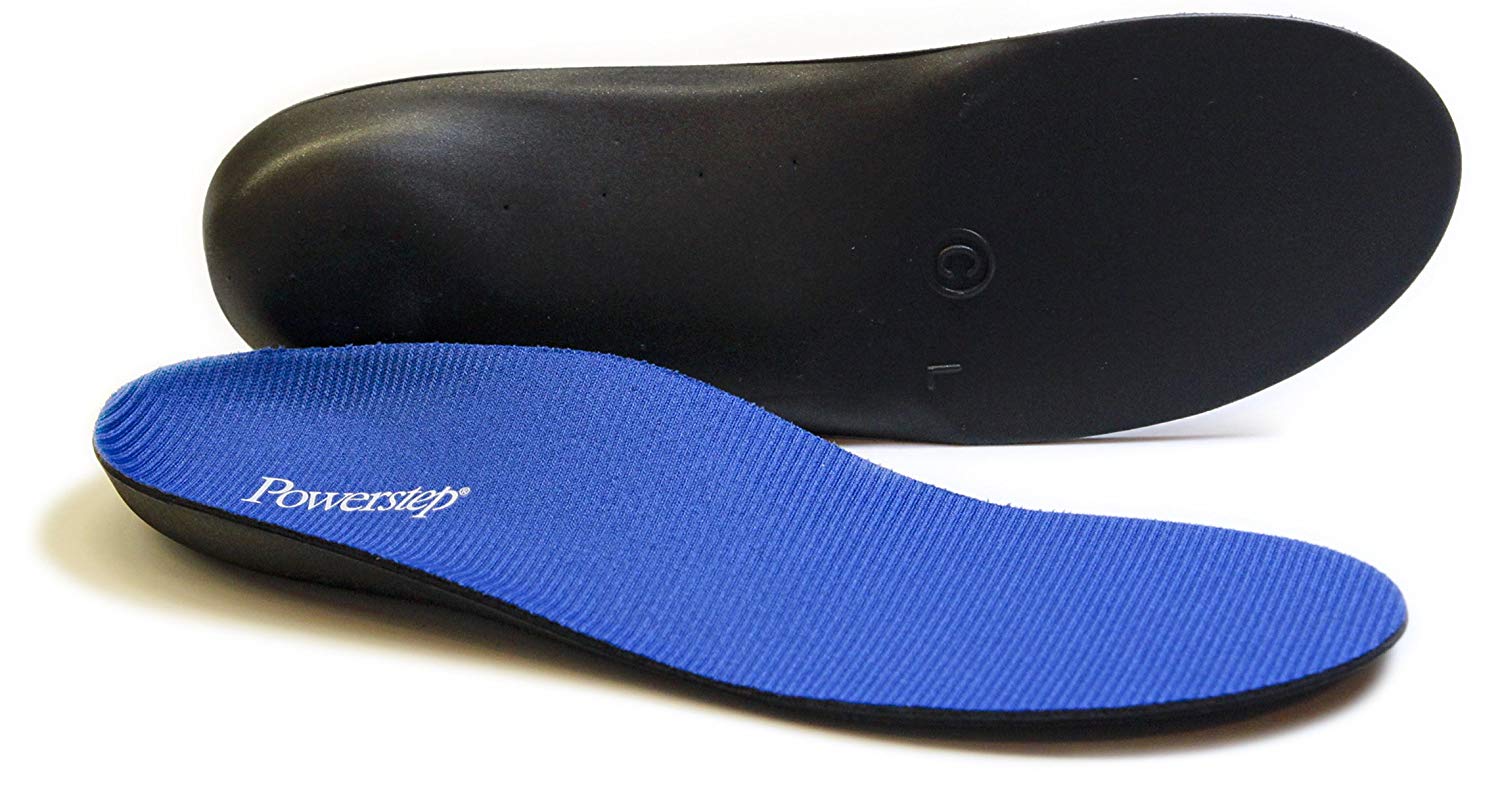 Powerstep Original insoles are specifically crafted to help with flat-footedness or collapsed arches, both of which can result in shin splints and other issues. This version of Powerstep insole was the original design, as it can be seen in the name.
It further spurred the design and manufacture of all other Powerstep insoles. With a low-profile design like this, it is convenient to fit them in any shoes, even those that do not have a detachable insole. You can easily remove them from one pair of shoes and place them in another. It is uniquely characterized by a firm yet flexible support shell with a heel cradle and arch support.
The Powerstep Originals insoles are very comfortable. You'd be left mesmerized by how improved your legs and feet may feel the very first day of use. Powerstep Original are thinner and aren't recommended for extensive activities such as running. It is only suitable for causal roaming, daily commute, and for daily use.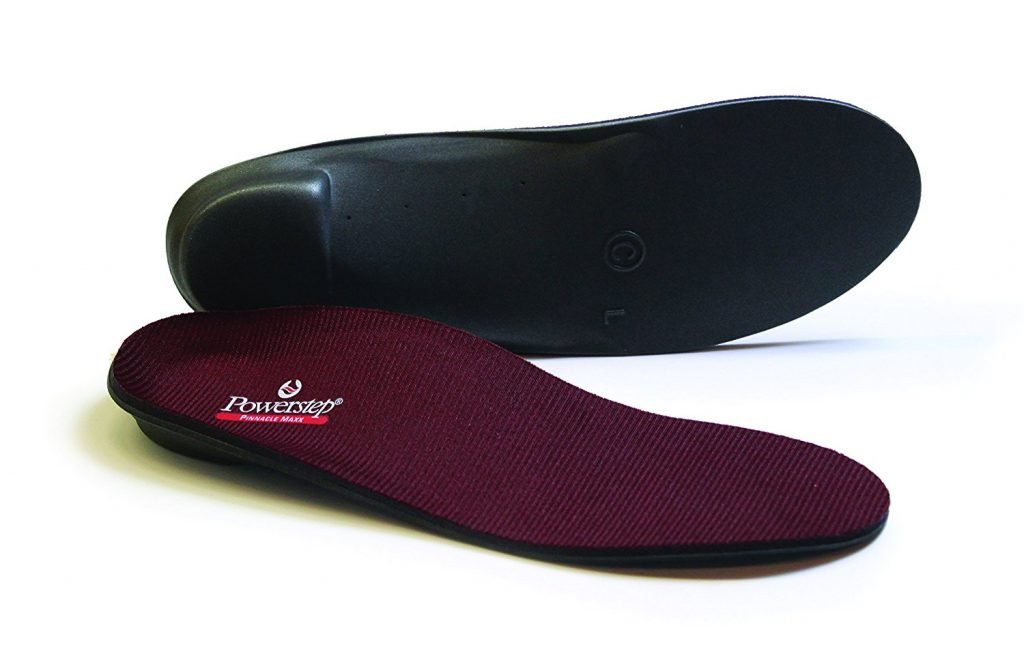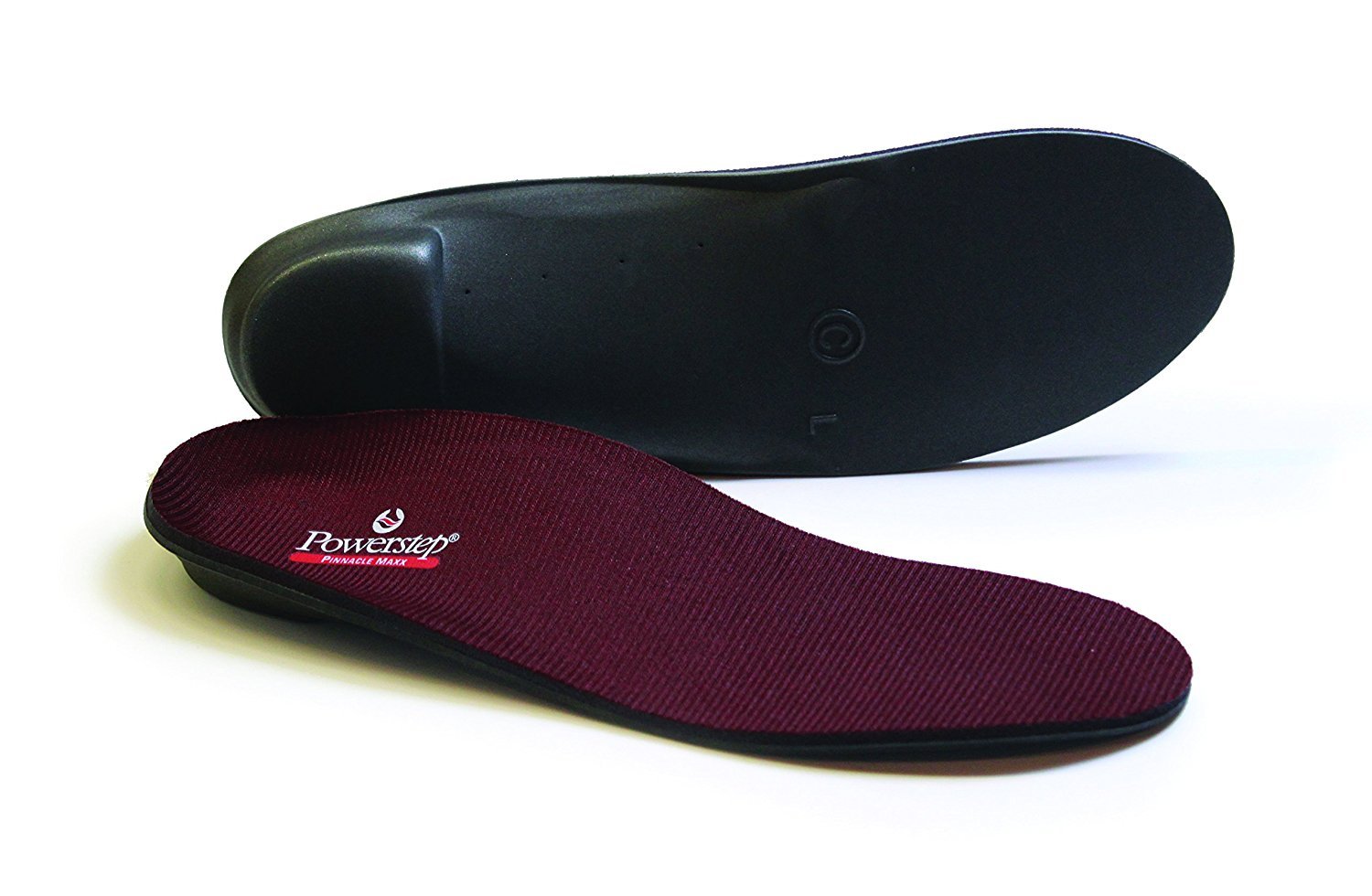 The Pinnacle Maxx are manufactured in a unisex style, and different variations of the product are available for both, men and women. The insoles are made of a synthetic material that gives a firm foot arch support, hence, giving greater stability for the wearer.
Also, one can experience greater control of movement due to the slightly angled exterior heel platform these insoles have to offer. Due to the variable cushioning technology, there is utmost comfort in the foam base. The material is made of antimicrobial upper fabric that allows the feet to feel comfortable and dry, preventing friction and heat while worn.
Again, these insoles are easily moveable from one pair of shoes to another. All in all, reducing the investment needed to have comfortable, supportive shoes at all times.
Powerstep's Pinnacle is a favorite among runners. It offers maximum support and consists of medium or high arches. There is additional cushioning to help customers alleviate their foot pain. Pinnacle also emphasizes on friction reduction as compared to that of Original.
Its target audience is active individuals who are always indulging in sports or other outdoor activities.
Types of Superfeet insoles and their features
Superfeet's wide variety of colorful insoles are not just for appeal, but also come with a plethora of uses.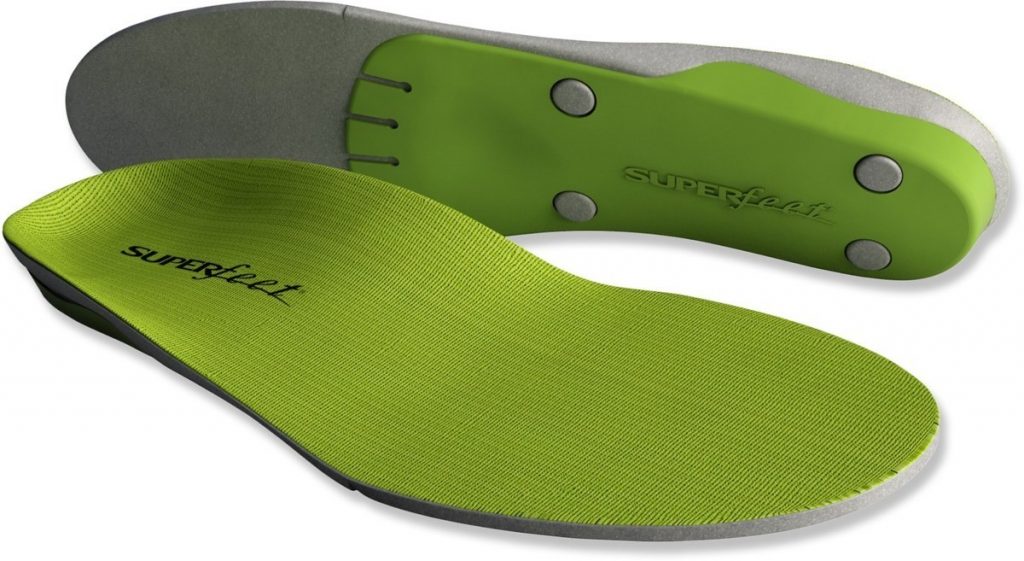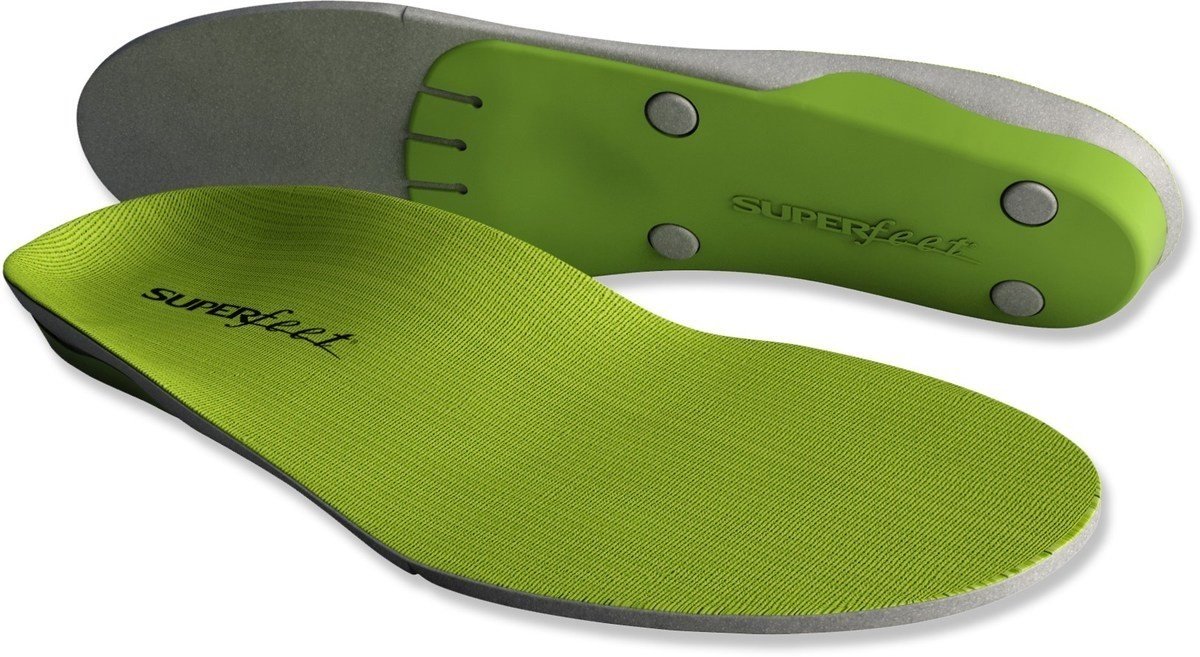 The green version is the best-selling Superfeet insole on the market. It comes with amazing features such as excellent orthotic support, adequate cushioning, and a broader, unfathomable heel cup design. This one is almost similar to the orange, except for the color and the latter ones are softer towards the front. The green is perfect for daily use.
Superfeet Green insoles have a natural NXT antibacterial coating, are latex-free, and are made of all vegan materials. The durable construction of these insoles contains four well-placed shock absorbers, strategically made to help in foot pain, plantar fasciitis, arch pain, and heel pain.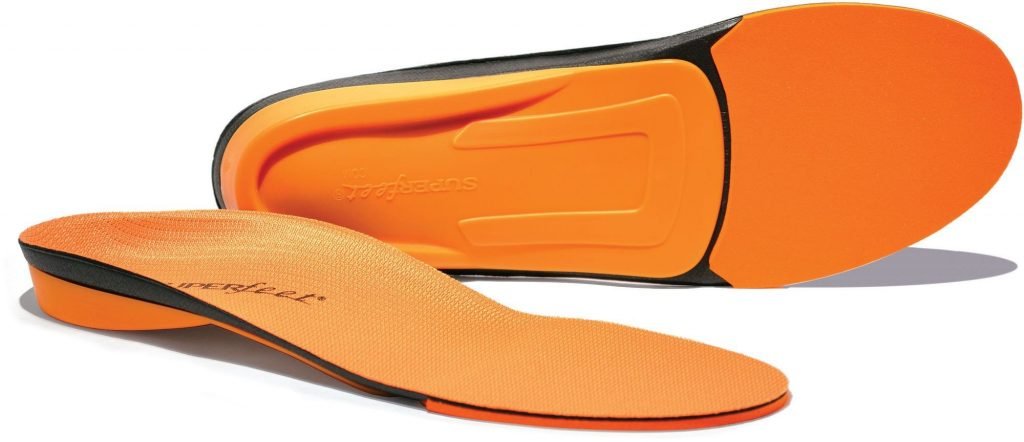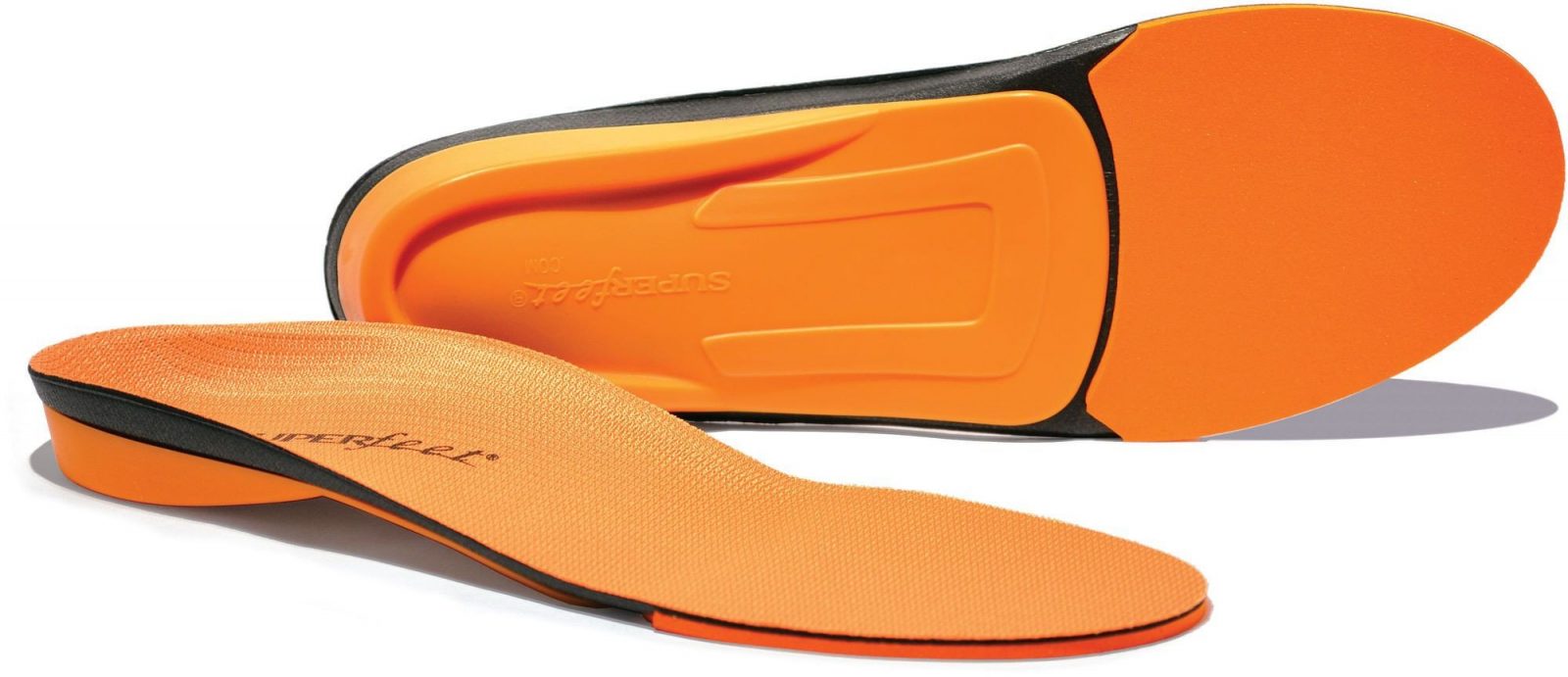 Orange is a great buy for extensive running. It comes with fantastic features such as a deep and narrow heel cup along with an added shock-absorbing capacity. The extra foam for added cushioning makes it the first choice for high-impact outdoor activities.
Superfeet Premium Orange Insoles are ideal for those who indulge in extensive activity. The Orange insoles from Superfeet are designed to enhance your foot experience by providing premium support to the heel and arch areas.
It is excellent for an active wearer through a long day at work, for sports, or other high-impact activity. They can easily fit into spacious shoes with removable insoles such as work boots, sneakers, or hiking boots. They measure up to 2 inches high and 4 inches wide.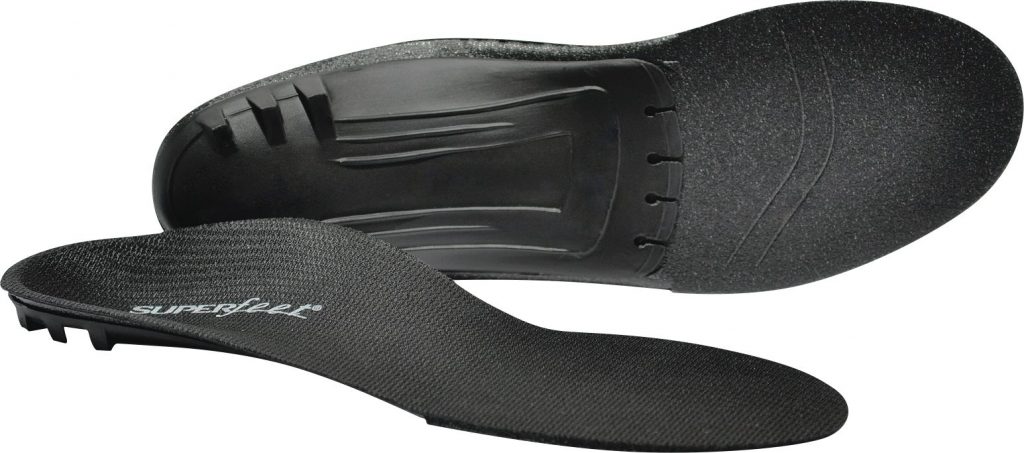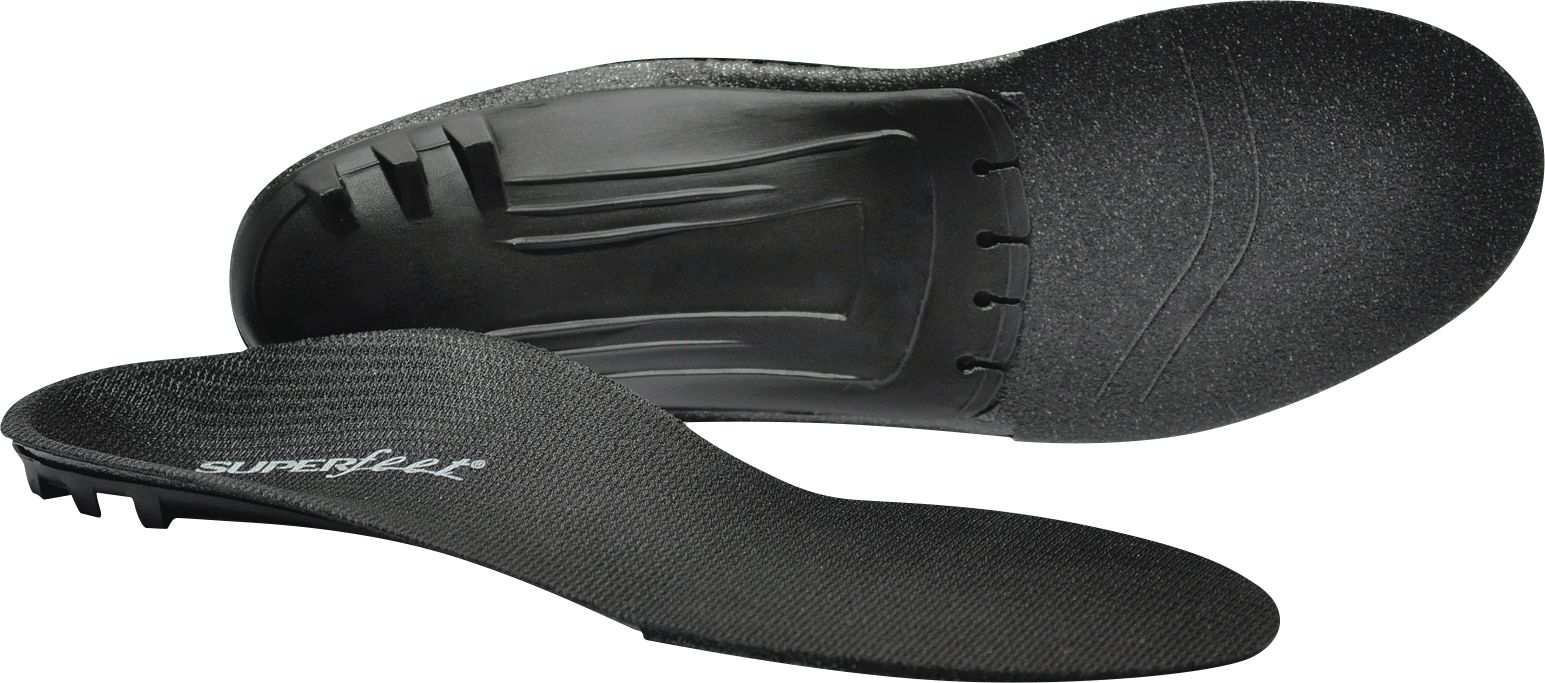 Black is the finest Superfeet insole on the market. These insoles are low-arched, lightweight, and diverse. Their shape is unique to house a wide range of shoes and they always stay cozy. Superfeet Black insoles' do not have as much cushioning as Orange, but still, enough if you're looking for casual, everyday insoles.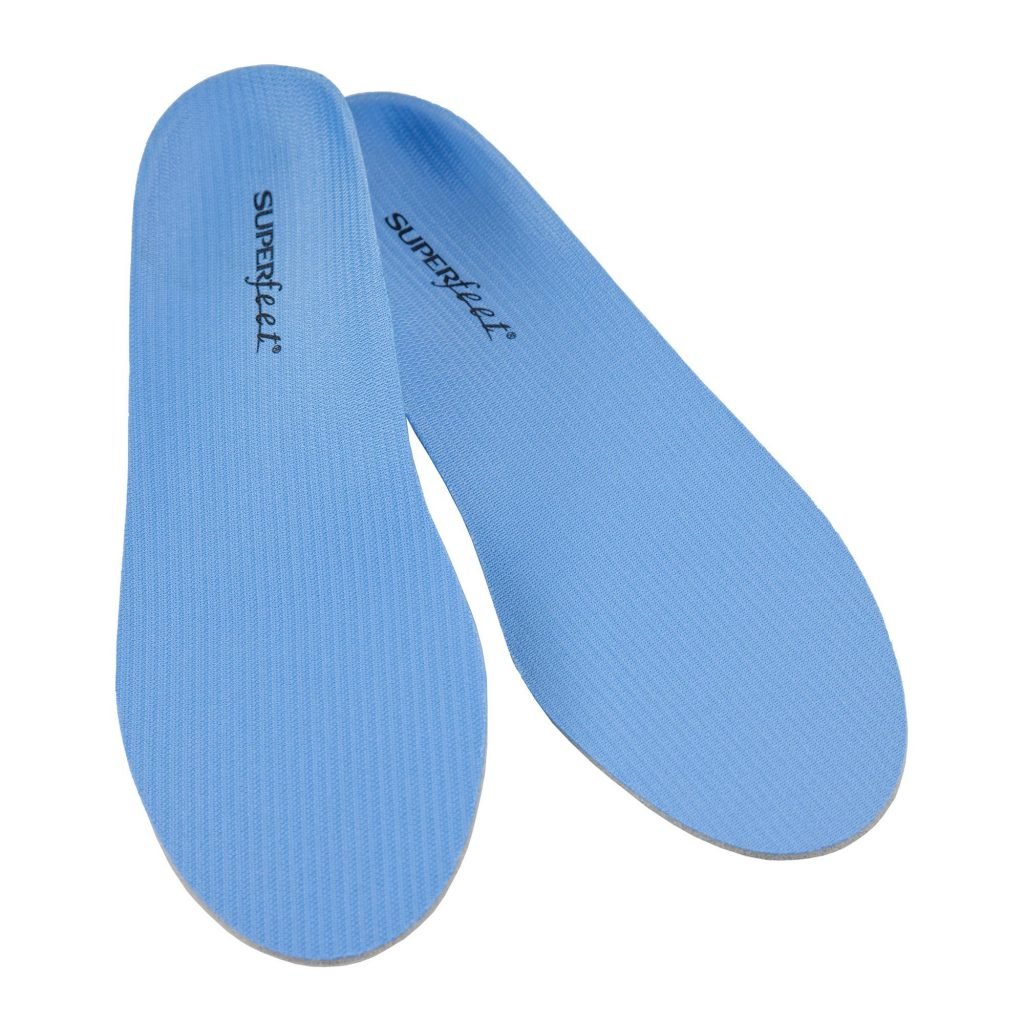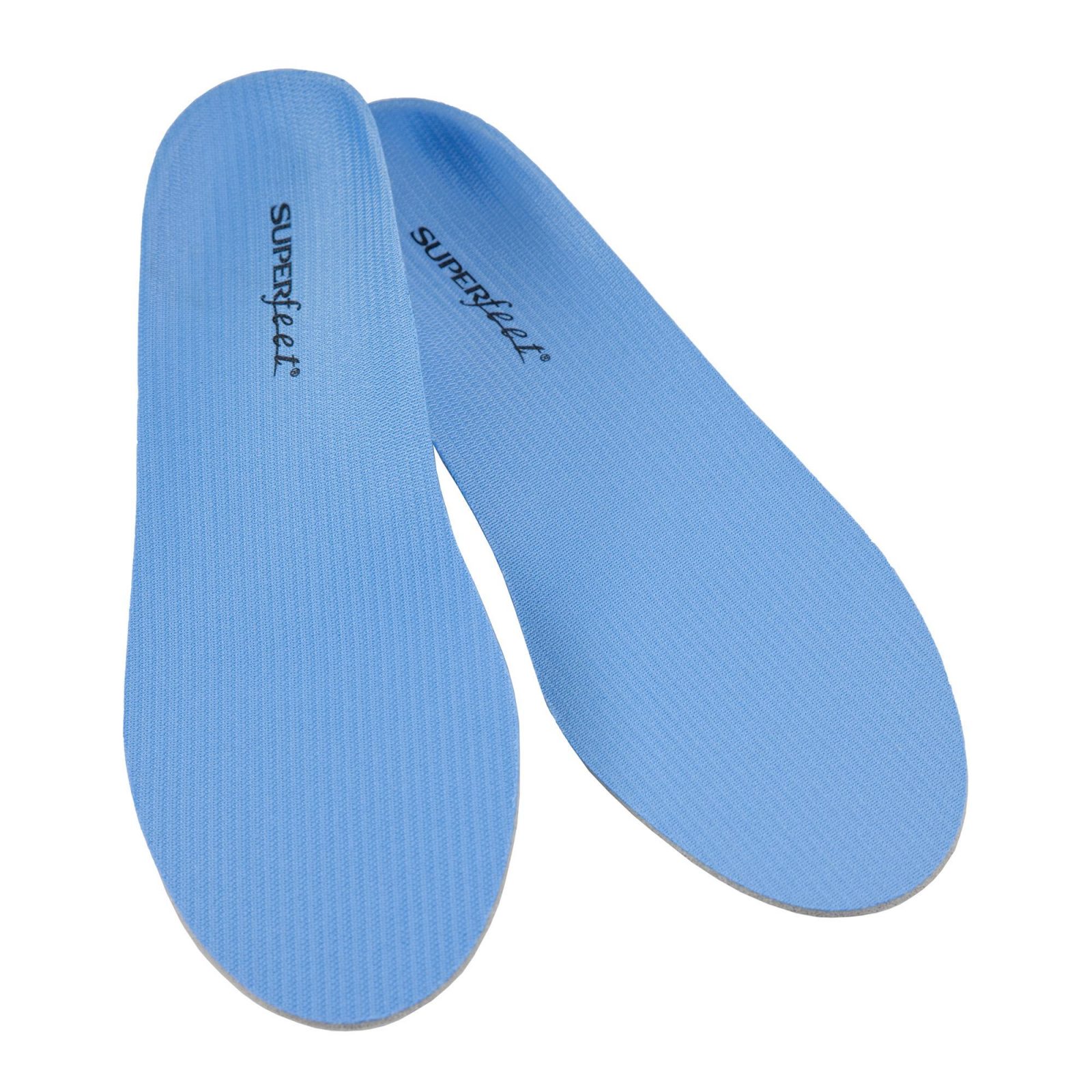 Superfeet Blue insoles are designed in a way that makes them thinner than the Orange and Green insoles. They are ideal for the medium-arched and provide you with middle arch support. They provide adequate cushioning to last throughout the day. If your aim is to eliminate foot pain, then it is best to switch to the Orange insoles.
Nevertheless, if you prefer comfort and lightweight insoles, then the Blue insoles are the best option for you. Superfeet BLUE Premium Insoles are available in three different sizes – men's, women's, and junior's sizes. They come in a refreshing blue color and are made of synthetic, latex-free, and vegan materials with a natural NXT antibacterial coating.
There is medium-level arch support in these insoles. They can be conveniently placed in almost any shoe; even those shoes that do not allow for much extra space. This feature is extremely useful for people suffering from plantar fasciitis, foot pain, heel pain, and arch pain.
The durable construction adds comfort and structure to any shoe.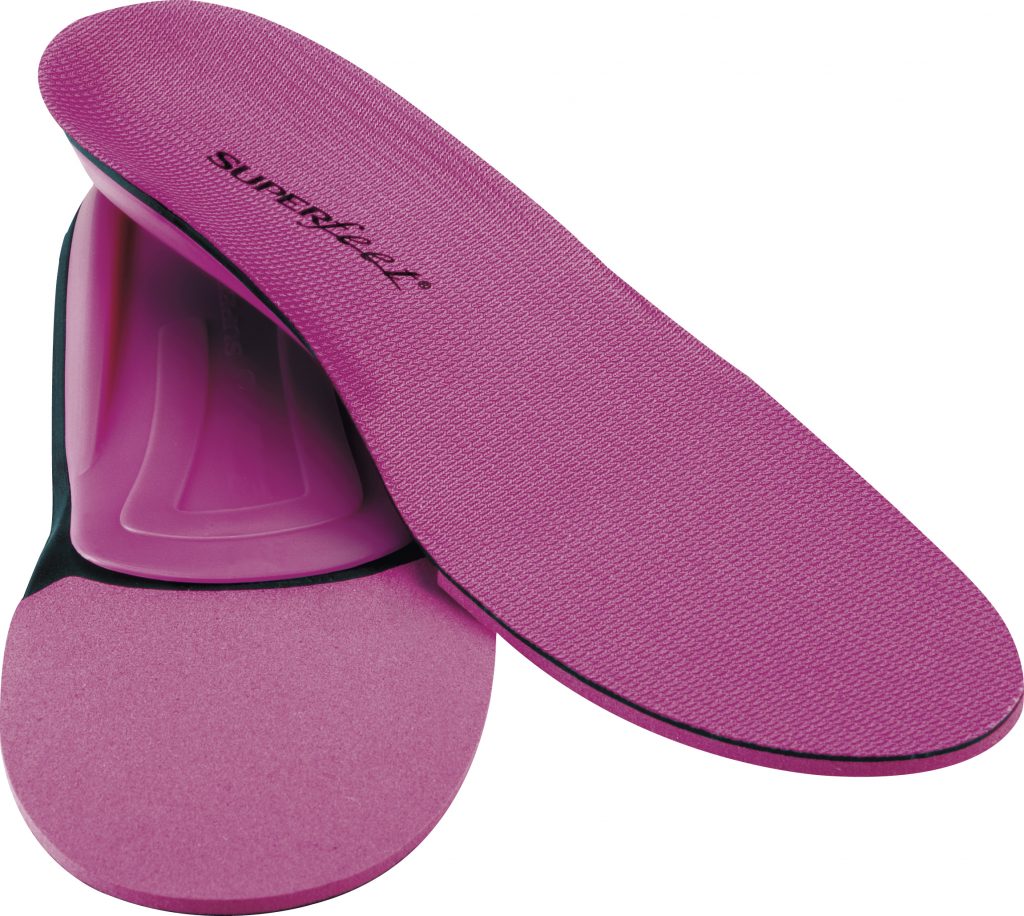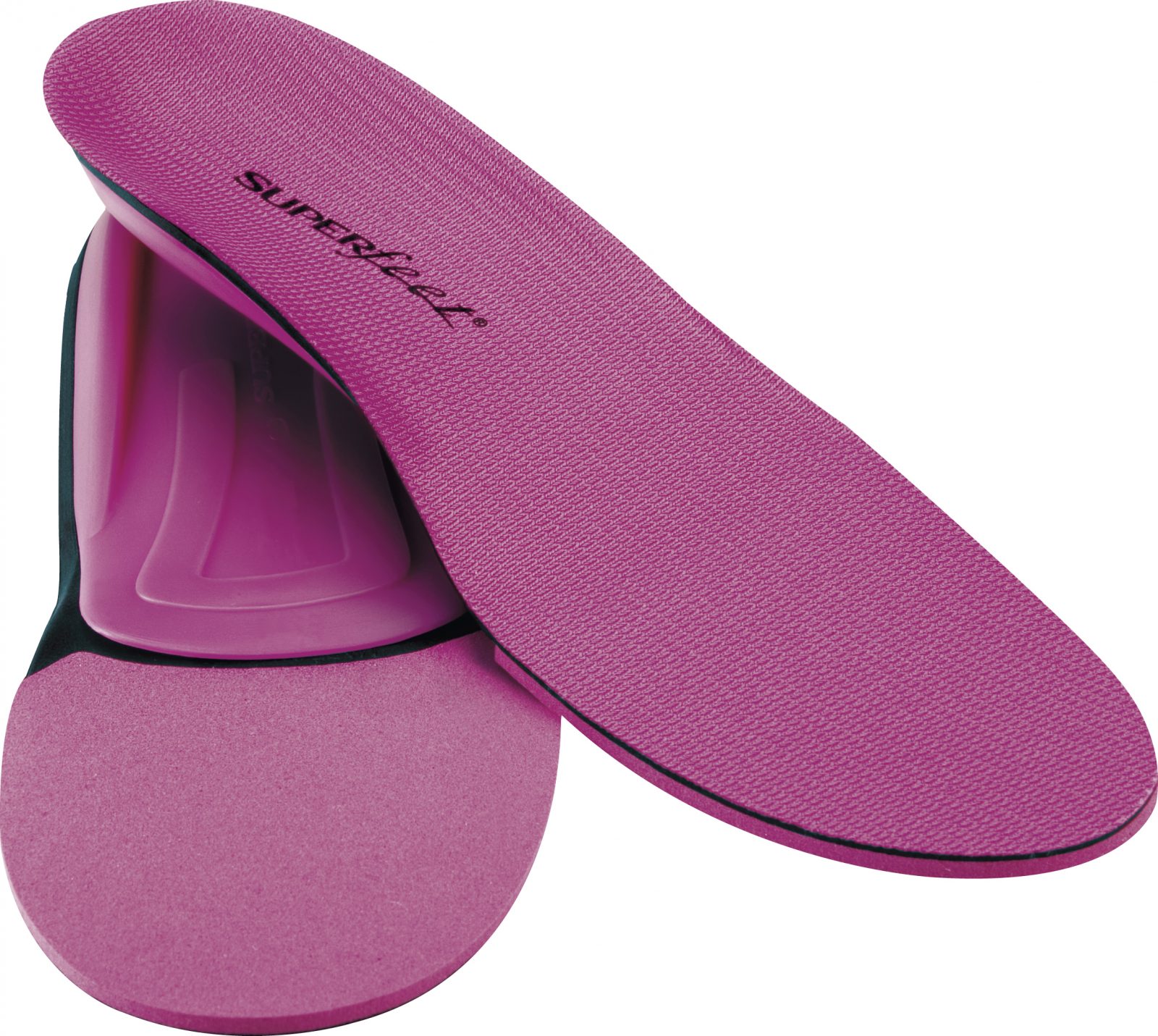 The vibrant Berry version is specifically tailored for women. It is similar to the Orange insoles. Factors like dense, shock-resistant insole are designed to help you with pain relief. In addition, it can give you lots of cushioning and softness to accommodate the feet.
Quality
Powerstep and Superfeet, both are made of high-quality materials. Their main aim is to provide you with long-lasting relief from a variety of foot and leg ailments. Both the shoe insoles offer quite a few options to choose from. Podiatrists have listed Powerstep as the best-selling and safest insoles on the market.
For starters, the Originals are highly recommended. However, if you wish to choose any other Powerstep option based on your requirements, the results would be equally promising. Powerstep insoles are made with great quality synthetic materials and feature a soft, odor-eliminating cover.
Comfort
The Original Powerstep design has a hard bottom and arch support. It may be good for your instep, but it may often take a while to break in the insole before it is comfortable.
The narrow heel of the Superfeet Black can give a hard time to the people with a wider heel. One may struggle a bit to find the perfect fit.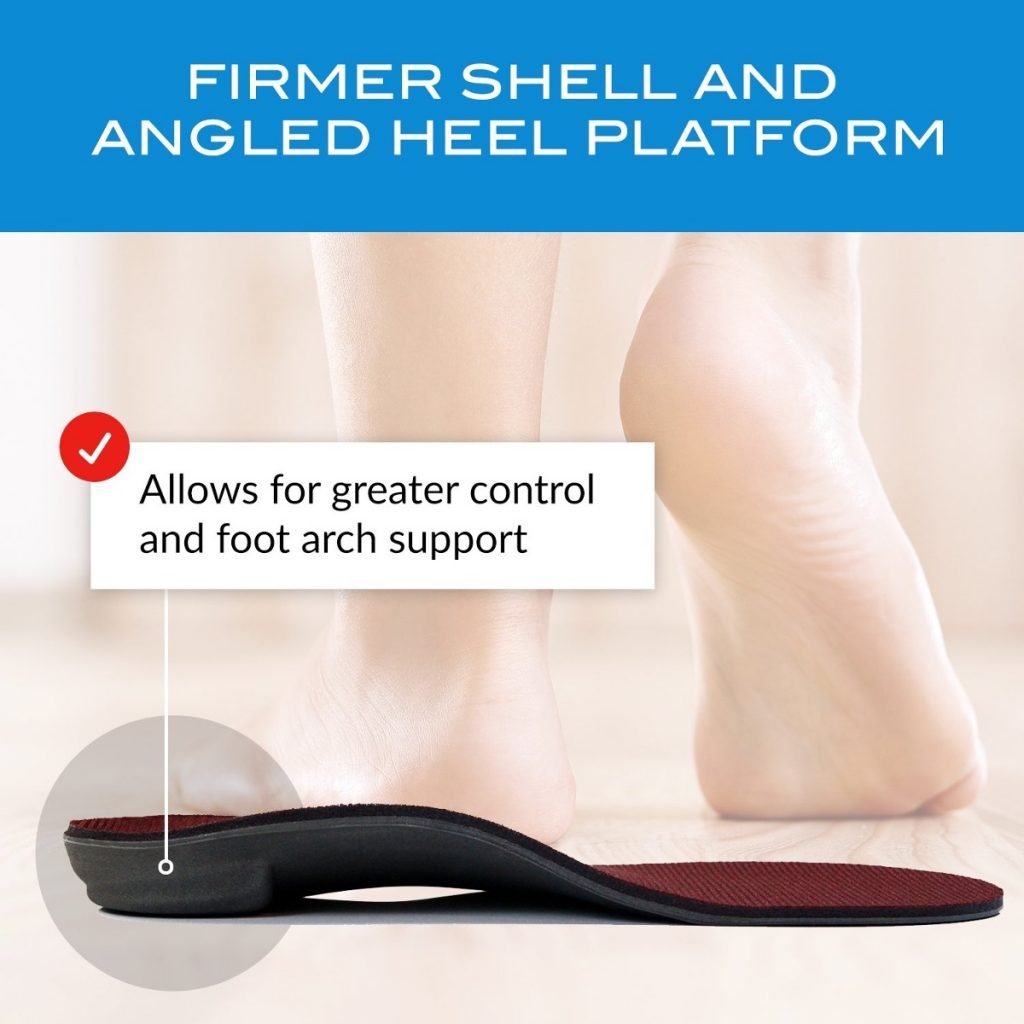 Technology
Powerstep comes with an innovative design.  The insoles absorb shock and defray friction. All the insoles are made of synthetic material and are covered with an anti-bacterial covering. Superfeet insoles also feature a high-tech design. The insoles constitute newly developed foam that conforms to the shape of the foot.
Thus, providing a comfortable fit and support. The shape of the insole implements biomechanical support where it is required. Overall, the Superfeet insoles take up less space in the shoe than insoles belonging to other brands.
Durability
To be honest, both brands are very durable. They are made up of similar materials. The durability will mostly depend on the user and certain other factors such as how much or how little the insoles are used, whether the insoles purchased are appropriate for the shoes, whether the shoes come with support or the insoles are the main support for the feet.
If one must really choose between the two brands, we would suggest you pick Powerstep insoles. It is appreciated to hold its shape a bit better and longer than the Superfeet insoles.
Protection
Powerstep and Superfeet are both good quality insoles that can offer protection from a variety of common foot health issues. Have you ever considered the fact that a good insole can protect you from shin splints, calf pain, and even lower back pain?
Foot Odor
As we have already discussed above, Powerstep insoles are made with an antimicrobial top layer. This layer prevents the foot and shoe odor from developing in the feet even after wearing for long hours. Superfeet insoles are also covered with a natural NXT antibacterial varnish.
They are latex-free, allowing the feet to breathe and prevent an odor-causing bacterium from building up.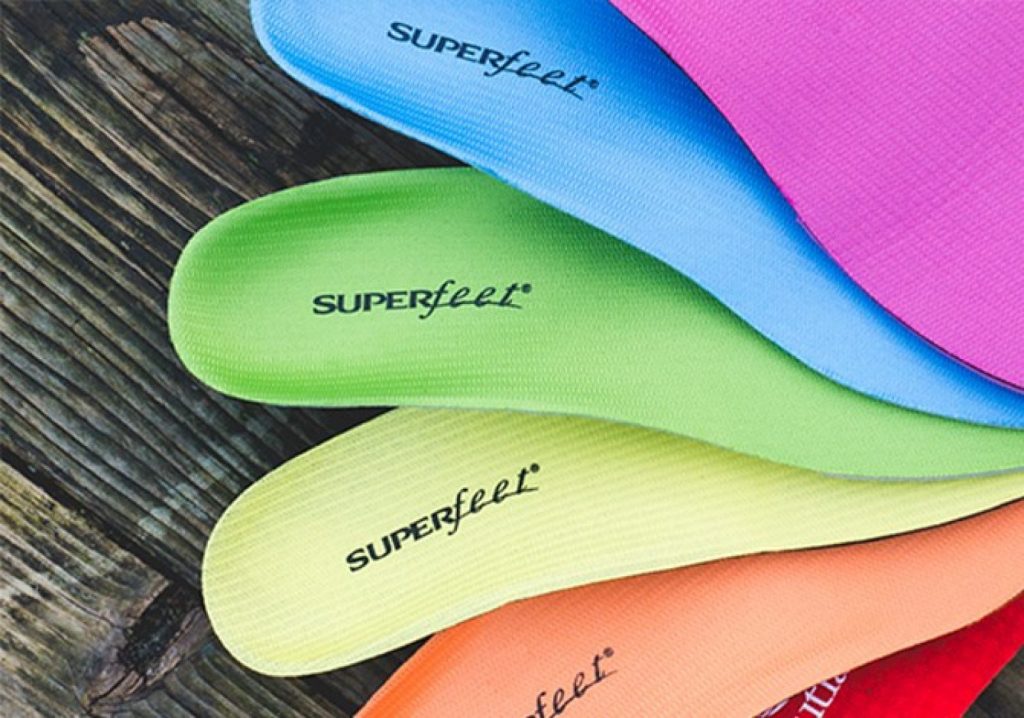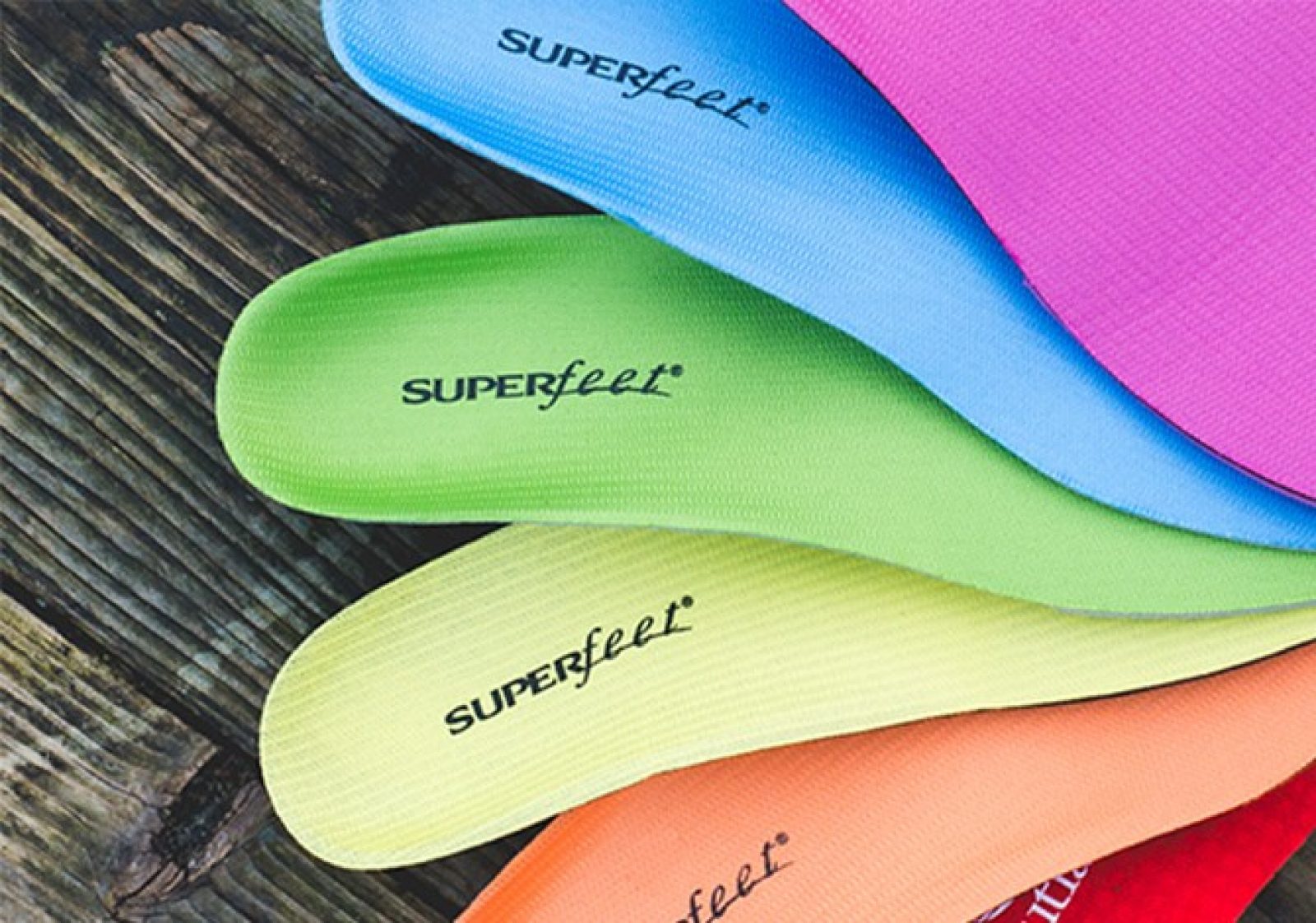 Size
Both Powerstep and Superfeet come in a variety of sizes to fit most shoes. One must pay close attention when buying the best size for their shoes. Some of the insoles may not fit in a smaller shoe, such as a ballet flat. A remarkable feature of the Superfeet insoles is that they're color-coded to aid in selecting the proper fit.
Our Recommendation
There is no doubt that Powerstep insoles and Superfeet insoles are great products that can help you overcome common foot ailments. However, we will recommend going with the Powerstep insoles. These insoles are highly durable, versatile, provide adequate foot support, aid in alleviating pain caused by various foot ailments.
Out of all the Powerstep insoles, the Powerstep Original insoles are the best buy, and we are saying that after testing and experiencing the product. It is the best out of the best and is compatible with a wide array of shoe styles, including dress shoes, due to its ultra-thin design.
Some Important Things You Must Know
What is Plantar Fasciitis?
Plantar fasciitis is the swelling and tenderness of the plantar fascia. The common causes behind the condition may include weight increase, prolonged and other problems such as overpronation.
Due to one of these causes or all the causes mentioned here, the plantar fascia is continuously under stress that leads to inflammation and pain.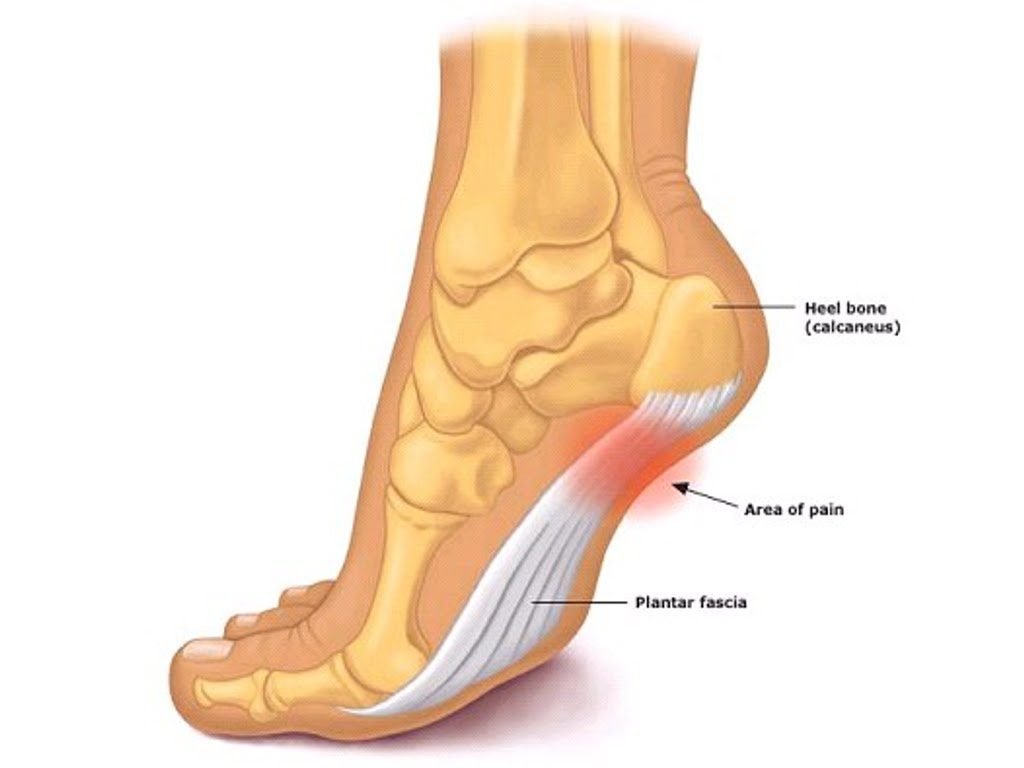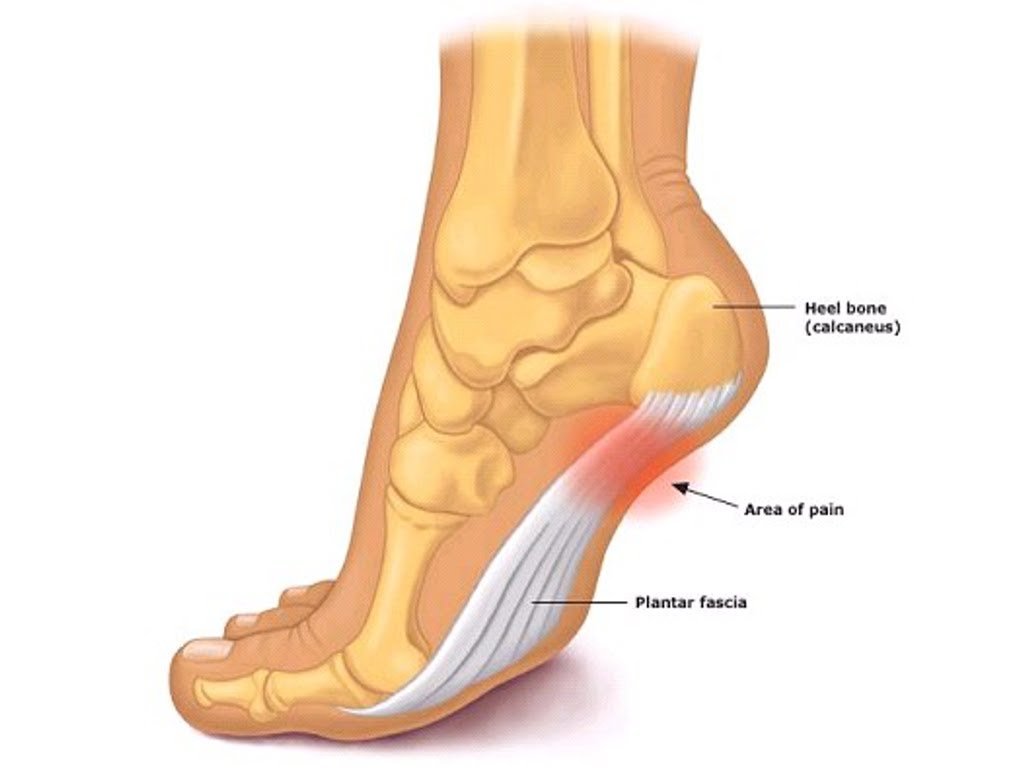 Both, Superfeet and Powerstep insoles provide the necessary care and support required to help alleviate and treat this painful condition.
Tips to consider before choosing the right insoles
If you are looking for effective insoles that can help you get rid of your foot related issues such as heel pain, here are 3 useful tips that can help you pick the best product:
First things first, thoroughly research the market. Look out for all the different options available and narrow down your choice to the most suitable insoles that suit your existing foot condition.
Don't jump on to the low-priced option. Choose wisely between your feet and your pocket. Focus on searching for an insole that correctly protects your feet, supports them, and fully caters to the purpose that you need it for.
Before you start searching for options, to get a better idea about what you need, it is a great idea to get a comprehensive diagnosis of your foot from an orthopedic. This would eliminate any confusion, thus, giving you a clear picture of the type of insoles that would work best with your feet.
Why Are Insoles Better Than Orthotic Inserts?
So, you know that insoles are better than orthotic inserts, but do you know why? Don't worry if you don't know; we'll talk about the drawbacks of orthotic inserts and the advantages of insoles in this section.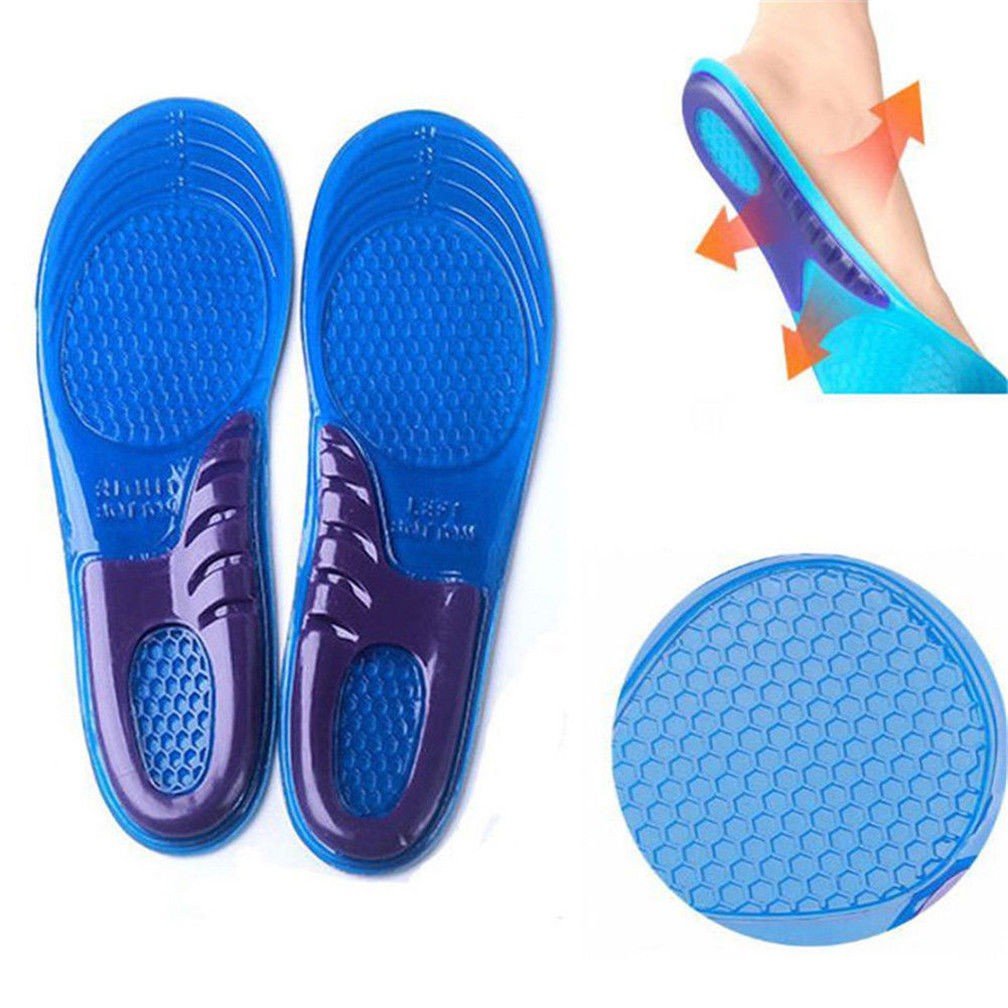 The drawbacks of orthotic inserts
Some orthotic inserts have a more extended breaking-in period. Strong arch supports require a bit more time for the person wearing the insert to become comfortable with walking or running in them.
Some of the custom-made inserts can be a bit expensive.
The durability of orthotic inserts is a matter of concern. Orthotic inserts tend to wear down faster since they are in direct contact with your feet all day, every day. This requires replacing them every now and them which is a costly affair.
Advantages of wearing insoles
Insoles can provide great benefits to people suffering from heel pain, Achilles tendinitis, or other foot related issues that may disturb their daily activities.
Insoles can be with different types of shoes – boots, casual footwear, running shoes as well as a broad range of slippers with arch support.
A good orthotic insole offers comfort, a deep heel cup, and added shock absorption. For every step you take, there is a reduction in the overall stress on your foot, knees, and ankles. It is excellent for people who've tried multiple tactics to improve their foot condition and failed.
Prefabricated orthotics can relieve your pain over time and sometimes very quickly. It all depends on the wearer's foot condition.
Insoles that are already included in your footwear, probably do very little to help. They may exacerbate your foot condition. Aftermarket insoles such as Superfeet insoles are more beneficial.
Instead of buying a new pair of shoes every now and then. You can just replace the insole of the show with plantar fasciitis inserts. This trick can help you save money, especially, if you tend to buy costly shoes.
The Takeaway: Powerstep or Superfeet?
In this detailed comparison article, we have not just described the difference between Powerstep and Superfeet insoles.
We've also discussed other related topics such as the advantages of insoles, why insoles are important for your feet, and important things you should keep in mind while buying insoles.
Bottom Line: As already mentioned above, we highly recommend using the Powerstep insoles due to their increased durability and better responsiveness to shock. If you have any more questions that you want us to cover, do let us know. We'll be glad to help you.
Further Reading on Footwear Support