If you are new to the world of running shoes then some terms will certainly be confusing. Use of jargon like motion control shoes, stability shoes, trail-running shoes, cushioning shoes, pronation, and the likes that keep popping up particularly when you are shopping online. If you are one of those in this kind of dilemma, then this article is for you.
We will be doing a super detailed review of two popular types of running shoes in Stability and Motion Shoes. It is going to be a bit long..so, buckle up and let's delve in. You are bound to learn a thing or two!
Before we get our hands dirty, there is one particular term that keeps cropping up when it comes to running shoes. You must have seen pronation appear often when searching for running shoes.
Now, it turns out that the key difference between Motion and Stability shoes revolve around it. So, what the heck is it all about?
Main Differences Between Stability vs Motion Control Shoes
What's the difference between stability and motion control shoes?
Here is a quick side by side comparison table to help you spot the differences:
Stability Shoes

Motion Control Shoes

Pros

Good for those with mild pronation

Can help prevent injuries thanks to good cushioning

Good for beginner runners

Good for those with excessive pronation

reduces the chances of getting injured

Reduces muscle fatigue of the shank muscles

Good for Patellofemoral pain

Cons

Not fit for excessive pronation

Not good if you have higher arches

They are relatively heavier

Elevated heel to toe drops can cause certain injuries

Heel-to-Toe Drop

Varying lengths

Varying lengths but slightly higher

Upper Design

Semi-rigid design, made of leather or synthetic material

Rigid design, made of leather or synthetic material

Outsole Technology

Rubber outsole

Rubber outsole

Midsole Technology

dual-density ethyl-vinyl-acetate (EVA), DNA midsole cushioning

dual density EVA, carbon fiber, thermoplastic urethane etc

Sizing

US: 7 to 15

US: 7 to 12.5

Width

Wide

Narrow to Wide

Ideal for

Running & Walking

Running & Walking
What is Pronation & Why is It Important When Picking Running Shoes?
Basically, pronation refers to how your foot rolls inwardly in reference to that joint below your ankle.
This is part of the natural anatomy of the foot but then there are three pronation patterns that you ought to know before picking your running show.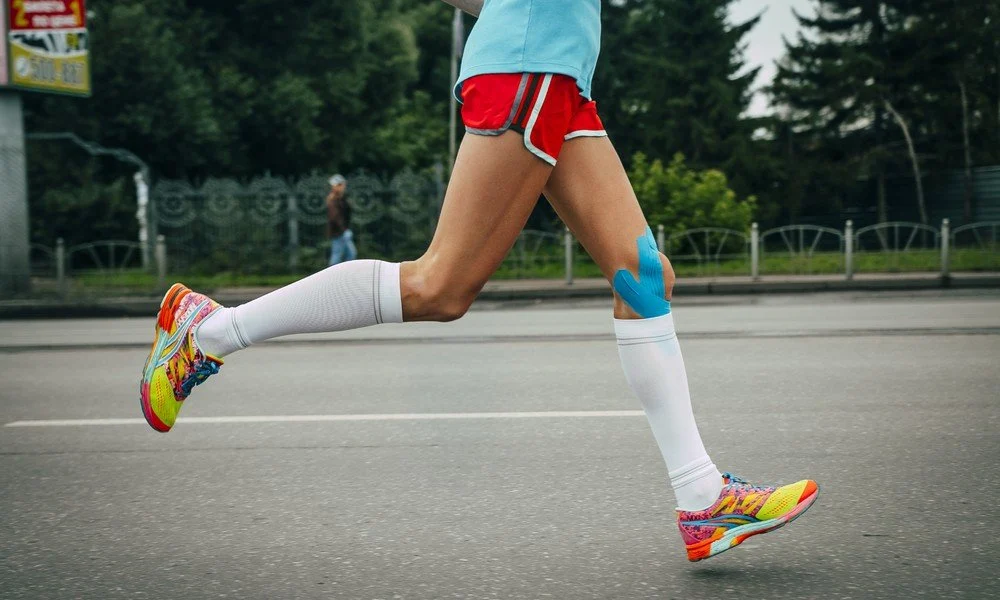 These come in the form of patterns known as overpronation, neutral, and supination.
In the case of overpronation, that joint tends to bend more inwards when you land while supination is more or less the opposite, so both cases might need a different kind of shock absorption system.
The foot doesn't pronate much meaning that the outer or lateral side of the lands to the ground at an increased angle.
Either way, these two patterns might have impacts on biomechanical and worse even cause not very comfortable injuries.
This is why you need to find the right running shoe for your foot type and this is where tailored designs work best.
Now that you have an idea on the role of pronation in the design of running shoes, let's now look at the cool stuff.
Motion Control Shoes: A Detailed Review
Just as the name suggests, motion control shoes are meant to keep the feet motion in check. These shoes are generally rigid thus perfectly suited for those who overpronate but with flat feet.
Since they are made of heavier material, they also tend to last long. Let's break down this shoe for you!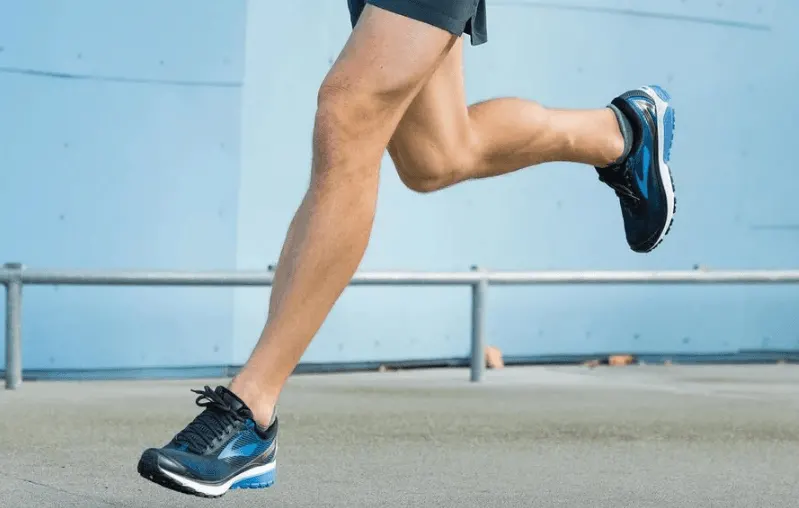 The Upper Side
Motion control shoes have a rigid upper fit to offer a maximum amount of support to people with overpronating feet.
One simple way to check if a shoe is a motion control type is to just twist it around the upper section. If it can just twist slightly then it is likely a motion control type.
The upper side of motion control shoes can either be made of leather or synthetic material while it may have a breathable mesh depending on if they are meant for running, walking, comfort, trail-running shoes etc.
The heel collar or heel cuff of this type of shoe is also rigid.
Midsole
The midsole of motion control is also crafted to be rigid and stable. In fact, if you grab a motion control shoe down the middle and try to bend it then you are bound to note that rigidity.
This is one part that controls feet overpronation thus it is made of a harder material such as dual-density ethyl-vinyl-acetate (EVA) which offers more control and stability.
Outer Sole
This is the part that meets the road and just like most other footwear, motion control outer soles are usually made of rubber.
Stiffer rubber such as carbon rubber is often used in parts that tend to wear faster and vice versa.
You can also identify a motion control shoe by trying to flex the outer sole pivoted in the middle.
Again, it will be rigid but it should be able to flex slightly on the forefoot.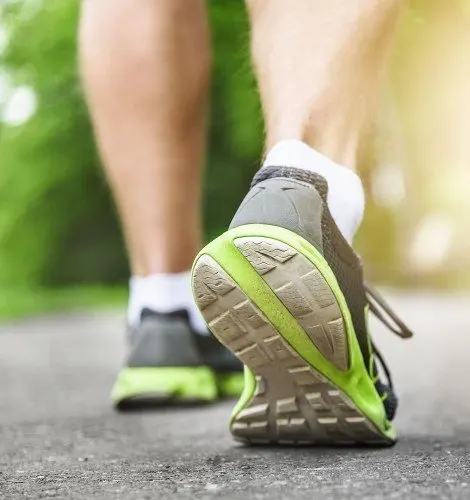 Lasting
Lasting, otherwise known as The Last, refers to the 3D shape of the shoe. Running shoes come in three lasting fashions i.e curved, straight, and sem-curved.
Motion control shoes are made for overpronators thus they have a straighter shape or you can simply say, they are symmetrical.
Heel To Toe Drop
Technically, this is not part of the shoe anatomy but it refers to the thickness of the sole. Most motion control shoes have higher heel drops of 10 mm or over to help cushion the feet as they land.
However, there are other options with a lower drop.
The Advantages Of Motion Control Shoes
So, are there any benefits of using motion control shoes? Let's take a peek at a few:
Motion control shoes can reduce the chances of getting foot injuries with a better balance when running and there are some studies that affirm this.
It was found that the former does indeed offer the support that reduces tibial rotation which in turn reduces injuries.
These type of comfortable athletic shoes are also good in reducing Patellofemoral pain (pain in the knee around the patella) which happens to be one of the most common types of pain among runners-particularly female runners.
They also reduce muscle fatigue of the shank muscles among runners with overpronating feet. These are basically those muscles at the lower part of the leg and the foot i.e the tibialis anterior and the peroneus longus.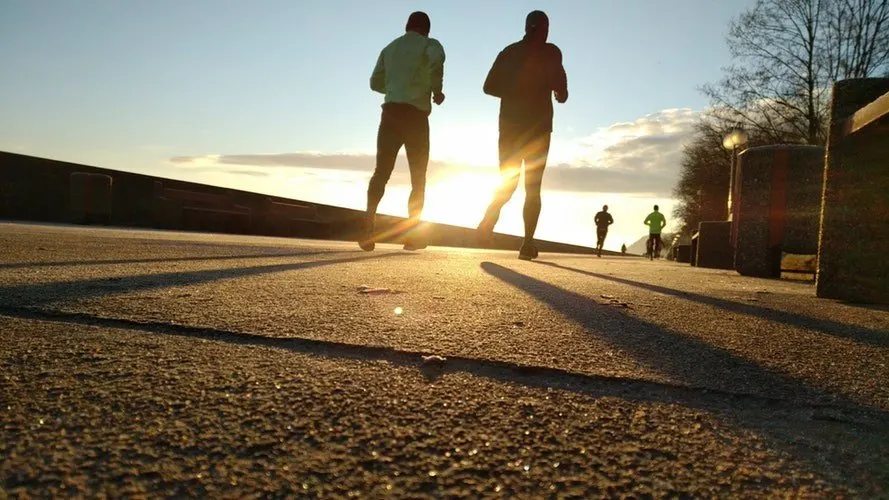 The Disadvantages Of Motion Control Shoes
Of course, there are some cons if you choose to go for motion control shoes.
For instance, most of them are heavier keeping in mind that some pair of them are crafted with material made for rigidity.
There is also the argument that motion control shoes with an elevated heel drop can cause injuries and disrupt the natural movement.
There isn't enough research to prove and disprove this though.
Stability Shoes: A Detailed Review
These ones are similar motion control shoes in that that they offer some motion control only this time they focus on three key aspects: support, flexibility and cushioning.
For novice runners, a stability running shoe is pretty awesome as they offer the right stability to support muscle and joints offering great balance.
Experienced runners, on the other hand, can also benefit as they can get the right stability to scale their performances a notch higher. Let's expound more on the design aspects of stability shoes.
The Upper Side
One feature that distinguishes stability shoes from motion control shoes is the rigidity. Stability shoes aren't exactly super flexible but there aren't as rigid either.
A simple twist on the upper side of a stability shoe and you will notice that it doesn't have a lot of torsional flex.
You should also be able to flex the heel cuff slightly in a stability shoe plus you will also notice that they tend to be wider on the heel and forefoot area. This is yet another design feature aimed at boosting stability as narrow shoe bodies have a negative impact on stability.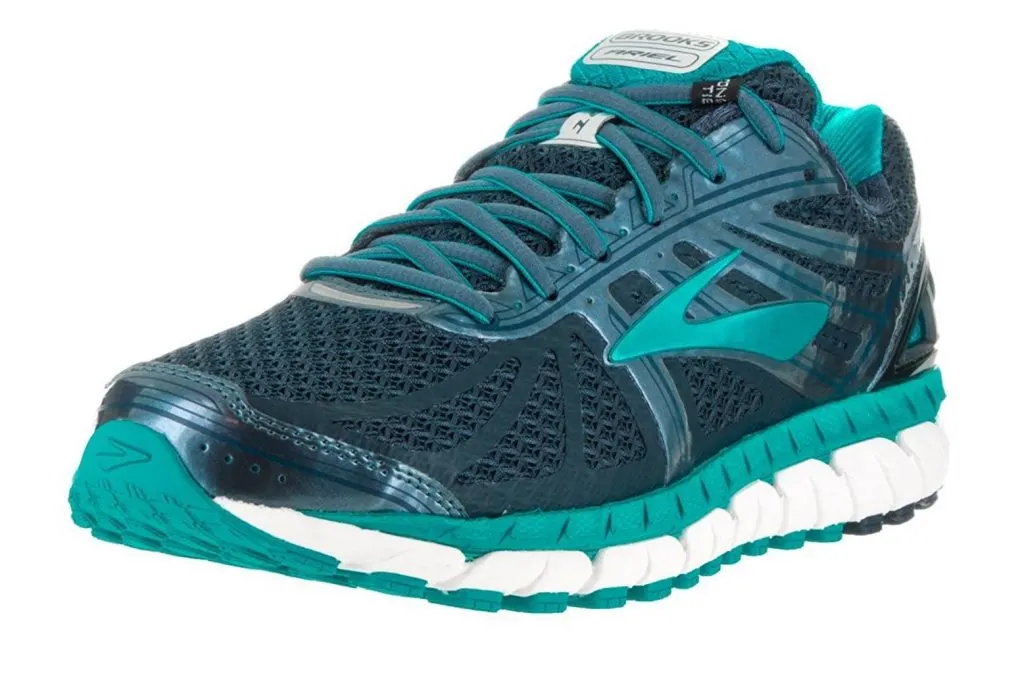 Midsole
The midsole of this footwear will have light support and cushioning features. This part will often have a medial post, which is essentially a device that strengthens a portion of the midsole, making it firmer and stable.
The material used to make the post on these athletic shoes may vary but the common ones are things like dual-density EVA, carbon fiber, thermoplastic urethane, etc.
Outersole
The outer sole of a stability shoe is also made in a way that limits torsion and flexion especially from the midfoot to the rear feet.
Shoes with wider soles are normally more stable but be warned. It is not always the case. One of the easiest ways to tell a stability shoe is to squeeze that sole from the sides. If you can press it then it is not a stable shoe.
You can also flex the sole upwards (on the forefoot) and if it can bend just slightly upwards then it might be a stability or a motion control shoe.
The difference is that stability shoes bend more than motion control shoes which are more rigid. Both of them won't bend on the midfoot as they have a shank (a rigid plastic) on the underside of the sole.
Lasting
In terms of shape, stability shoes will often come in straight lastings. In simple words, they are shaped in a way that gives the arch of the foot a maximum support. Remember, the wider the shoe the more stable it will be, right?
Heel to Toe Drop
The heel to toe drop of many stability shoes will usually vary but it is usually at between 4mm to 10mm.
Benefits Of Stability Shoes
Stability shoes are good for runners who have arches that slightly over-pronate. However, they offer mild support to those this people when compared to motion control shoes.
They also offer excellent cushioning perfect for everyone from the mild jogger to the pro runner.
A Research done at Spaulding National Running Center at Harvard Medical School back in 2016 found that using shoes that aren't properly cushioned might cause injury.
Stability shoes can thus help you avoid injuries by not only giving you proper stability when landing but also good cushioning as well.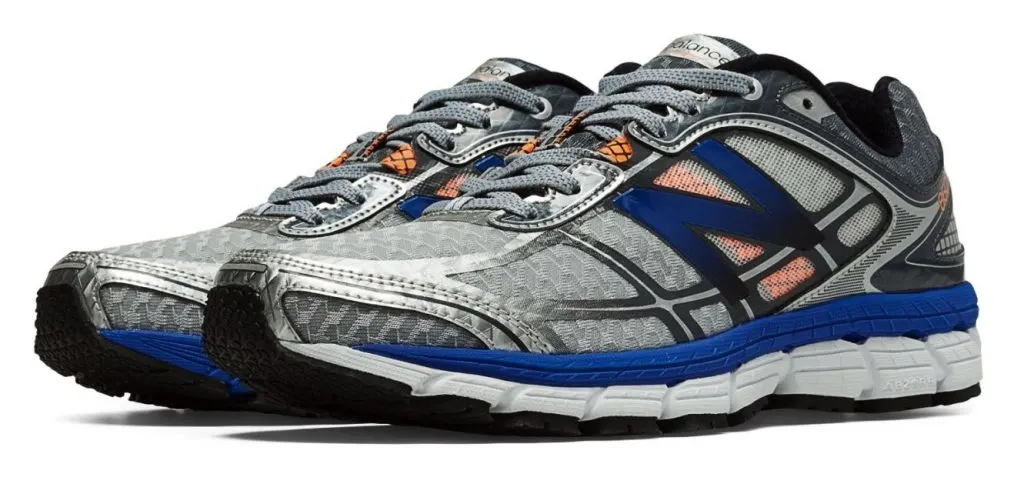 The Disadvantages Of Stability Shoes
On the negative side:
Stability shoes aren't good for those with feet that over-pronate extensively
They are also not an excellent choice for those with high arches but those with lower arches. That said, most people will usually be comfortable with stability shoes.
You now have a clue on what stability and motion control shoes are all about, but which one should you buy? There are tons of brands in the market and picking the right one can be hectic.
In this regards, we will review a few of the best motion control and stability shoes you can go for if you are out shopping.
3 Best Motion Control Shoes You Can Buy
Which motion control shoe is best for you among the many in the market? There isn't a definite answer to this of course. What works for someone else may not a good fit for you!
The key is to find comfort in the shoe plus there are motion control shoes meant for different purposes. Here are some suggestions for you.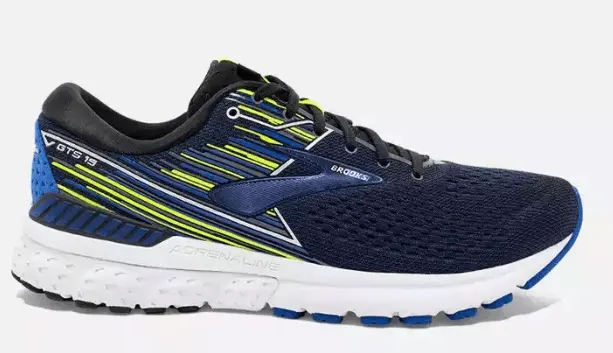 The Brooks Adrenaline GTS 19 is the revamped version of the GTS 18 featuring improved cushioning and a few tweaks in the design. It is crafted not just for good looks but for stability and comfort as well.
What You Will Like With Adrenaline GTS 19
You will get a flexible mid-foot saddle that secures the feet
There is a softer cushioning underfoot
It has GuideRails support system that reduces movement on the knees
It is quite breathable and flexible
It is relatively affordable
You will love the fancy looking design particularly the streamlined upper side
What You May NOT Like With Adrenaline GTS 19
It may be smaller depending on your taste and preferences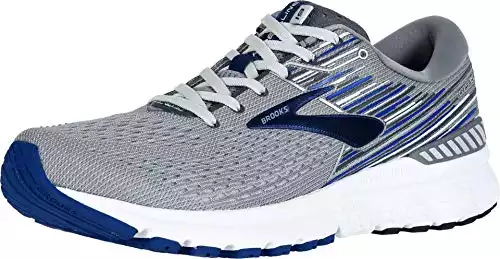 The Brooks Adrenaline GTS 19 FITS | Amazon
Ideal for runners with all arches looking for support. Our new Guiderail Support System focuses beyond the feet to the most injury-prone part of a runner's body: the knees. GuideRails keep you moving comfortably by keeping excess movement in check.
Buy for Men
Buy for Women
We earn a commission if you click this link and make a purchase at no additional cost to you.
02/07/2023 05:55 pm GMT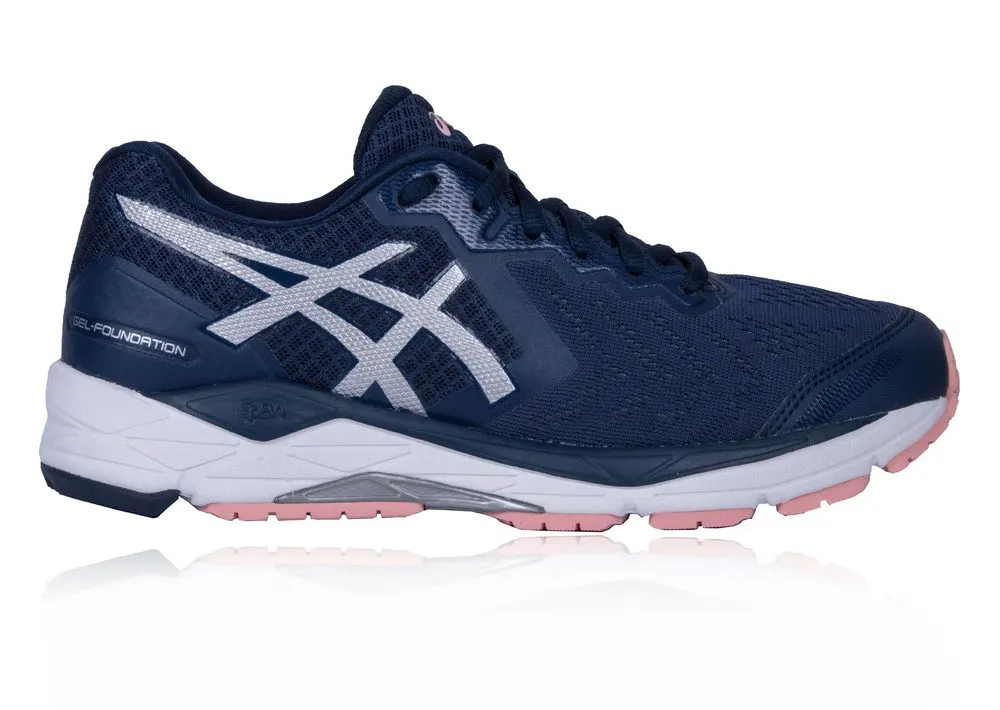 The ASICS Gel Foundation 13 was engineered for overpronators looking for stability particularly those with wider feet.
More attention has been channeled to giving the right cushioning thanks to designing features like Rearfoot and Forefoot gel cushioning.
What You Will Like With ASIC GEL Foundation 13
It is a nice looking shoe
It has the cushion that offers utmost comfort plus it can reduce tendon and muscular pain on the feet and legs
It allows one to insert custom orthotics
What You May NOT Like With ASIC GEL Foundation 13
The forefront part may be a bit tight for some users
It isn't meant for tougher terrains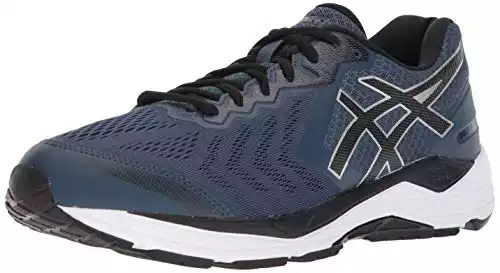 ASICS Gel-Foundation 13 | Amazon
Our latest GEL-Foundation 13 shoe provides ample room in the forefoot to accommodate orthotics. Our lightweight SpEVA midsole material is combined with our Dynamic DuoMax support system to enhance upper stability and deliver a responsive ride.
Buy for Men
Buy for Women
We earn a commission if you click this link and make a purchase at no additional cost to you.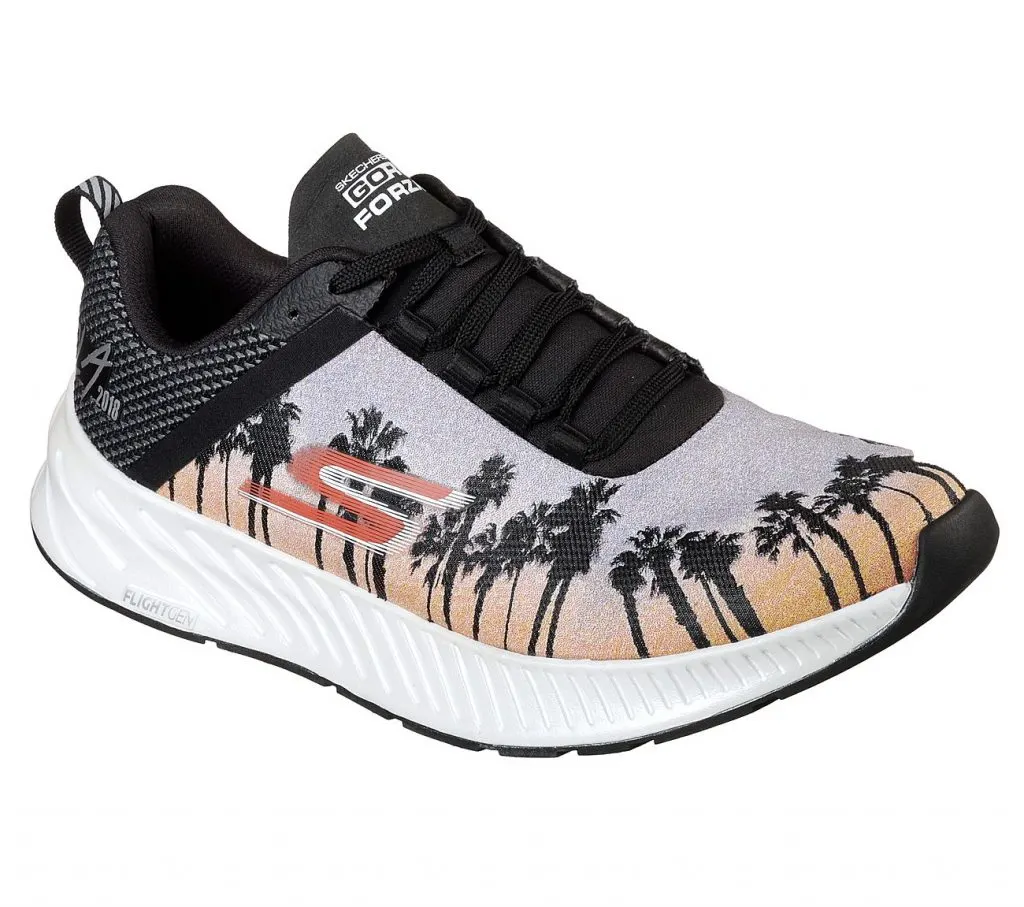 Skechers is known for making cool sneakers but it is now diversifying to performance shoes.
Now, the Skechers GoRun Forza 3 is one of those shoes meant to help runners find their rhythm on a run.
It is also one of those motion control shoes perfect for beginner athletes or let's say just about anyone who loves having a daily fitness routine.
What You May Like With Skechers GoRun Forza 3
It is designed for comfort-it's fabric is made of a breathable mesh while the inner support strap and the heel counter also offer good support.
It also has good cushioning that has a bounce to spring a runner forward
It is has a Resalyte Medial Post meant to reduce overpronation
What You May NOT Like With Skechers GoRun Forza 3
The bonding in the sole unit isn't as strong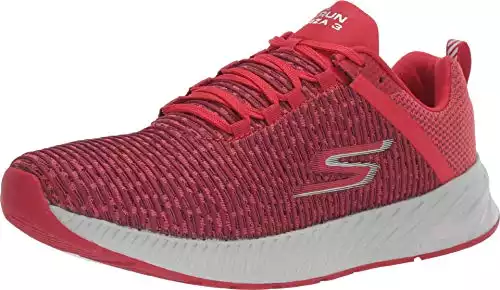 Skechers GOrun Forza 3 Stability Shoe | Amazon
The Skechers GOrun Forza 3 is lightweight and responsive with added support for superior active stability. Seamless minimal upper combines breathable structural mesh and 3D print synthetic. High abrasion rubber outsole for sustained comfortable running.
Buy for Men
Buy for Women
We earn a commission if you click this link and make a purchase at no additional cost to you.
3 Best Stability Shoes Worth Purchasing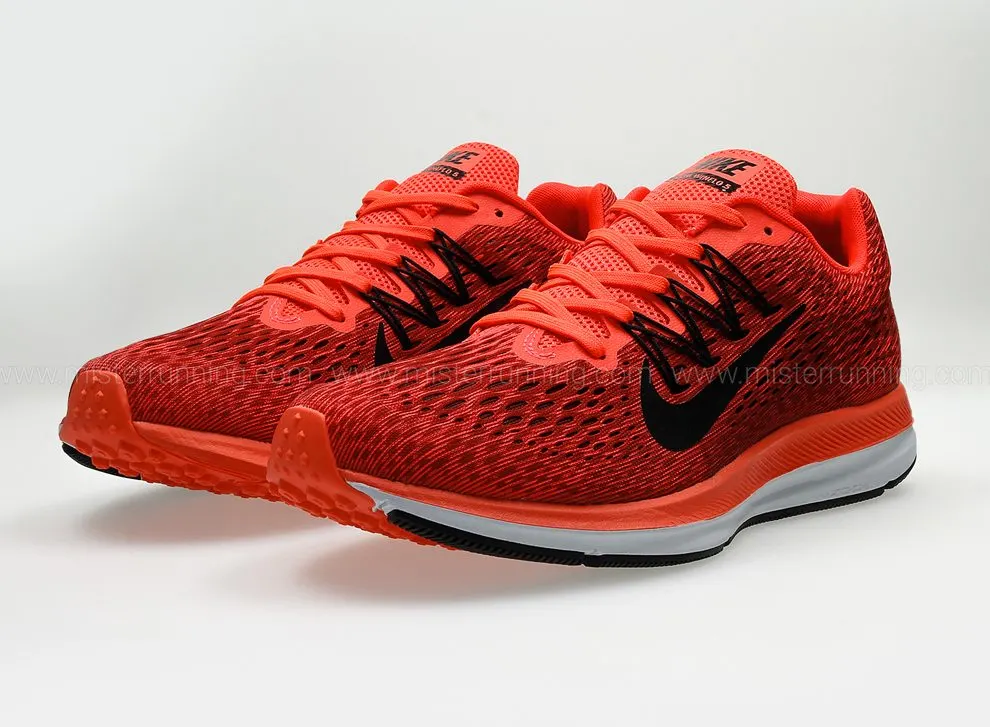 The AirZoom Winflo 5 is one of Nike's collection of marvelous high stability running shoes.
This one was made lighter and more breathable with the midfoot resting on an EVA foam.
What You Will Like With Nike AirZoom Winflo 5
It has the comfort for virtually every runner including those who suffer from plantar fasciitis
It enough toe room on the forefoot
It can handle a good amount of weight without one feeling the sole foam sag
The size and width profiles are accurate both for men and women versions
What You May NOT Like With Nike AirZoom Winflo 5
Some users have complained that it looks a bit bulky while dimensions can also be an issue for others.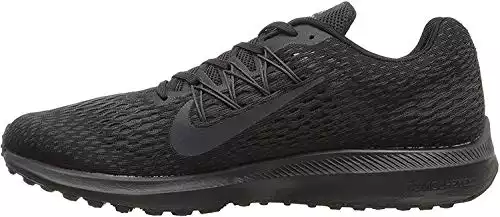 Nike Zoom Winflo 5 Running Shoe
This Nike sneaker is designed for the comfort and durability required by an athletic lifestyle Resilient rubber soles and long-lasting synthetic ensure that this training shoe will weather your most extreme workouts The Zoom Winflo 2 by Nike is sure to be a backbone of your athletic attire.
Buy for Men
Buy for Women
We earn a commission if you click this link and make a purchase at no additional cost to you.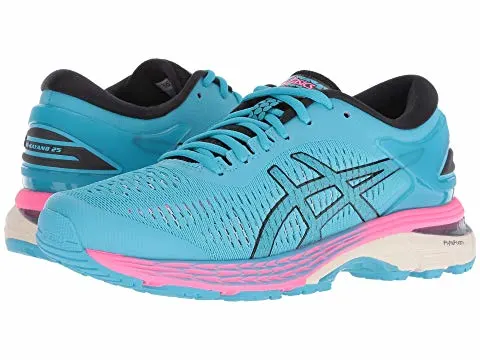 The Asics Gel Kayano is a tested and proven model in the world of stability shoes and it is certainly up there with the very best.
In fact, it is the 25th edition thus it has taken quite an evolution. At the heart of this shoe is the cushioning that mixes the old and new quite well.
We are talking about new cushioning elements in Flytefoam Lyte and Flytefoam propel coupled with the old ones like Gel in the heel and the Dynamic Duomax cushioning aid.
What You Will Like With Asics Gel Kayano 25
It has some of the best stability features you can get around
It has a marvelous sleek design
It has a roomy toe-box
It is quite comfy and versatile meaning you can use it for walks or when you hit the gym
What You May NOT Like With Asics Gel Kayano 25
It's relatively expensive.
Some users complained of ankle pain when using with this shoe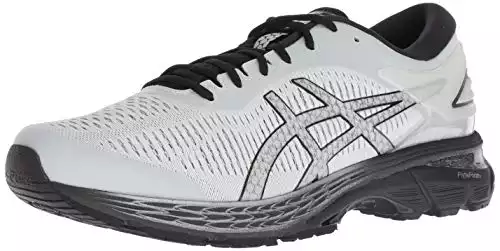 ASICS Gel-Kayano 25 Running Shoes | Amazon
Designed for a lightweight ride, the GEL-KAYANO 25 men's running shoe guarantees high-level comfort and stability. FLYTEFOAM technology employs organic super fibers that resist compression, providing enduring bounce on even the longest runs.
Buy for Men
Buy for Women
We earn a commission if you click this link and make a purchase at no additional cost to you.
02/08/2023 12:29 am GMT

Saucony Hurricane ISO 4 is another stable shoe designed for overpronation and it comes with tons of technology to do so.
For example, the cushioning has been distributed between the heel and forefoot while it is also livelier and responsive.
What You Will Like With Saucony Hurricane ISO 4
It has a soft cushion and design features meant for utmost comfort
It has a fitting technology known as ISOFIT meaning that it will adapt to feet
It has a good grip regardless of the terrain
What You May NOT Like With Saucony Hurricane ISO 4
It's relatively heavier than most stability shoes
The number of color options you can pick is limited
Saucony Hurricane Iso 4 Running Shoe | Amazon
Stability to count on, cushioning to cruise on. The Hurricane ISO 4 brings a full-length Everun midsole to the table and promises to raise the bar for stability shoes. Designed with ISOFIT to secure the foot, while allowing for dynamic motion to adapt to the way you run.
Buy for Men
Buy for Women
We earn a commission if you click this link and make a purchase at no additional cost to you.
The Bottom Line
Well, that's pretty much everything you need to know about stability and motion control shoes. As a rule of the thumb, always buy comfort whenever you are shopping for a shoe!
Read More: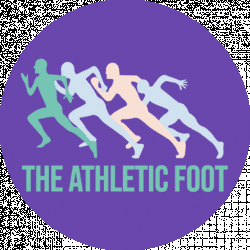 Latest posts by The Athletic Foot Team
(see all)