For all the Brooks fans and those of you who are struggling to find good stability running shoes, here's some good news for you. Just recently, Brooks has launched a renewed version of the Adrenaline GTS stability running shoes.
The shoes come with upgraded features such as the GuideRails support system and many others.
In this article, we will present before you a detailed Brooks Adrenaline GTS 19 review. Keep reading to know more.
Brooks Adrenaline GTS 19 – Product specifications
Here's a quick table with the product specifications of the latest Brooks Adrenaline GTS running shoes.
Brooks Adrenaline GTS 19 – An expert's review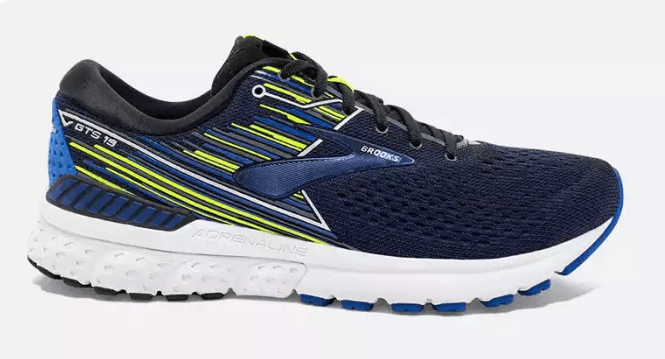 Notable Features:
Robust rubber outsole
GuideRails holistic support system prevents knee injuries by avoiding excess movements
DNA LOFT crash pad
New streamlined construction
BioMoGo DNA and DNA LOFT cushioning provides durability and cushioning
Integrated Segmented Crash Pad offers excellent heel-to-transition
Mesh upper provides breathability and a snug fit
Sole Technology
Outsole Technology
The outsole of the latest Brooks Adrenaline GTS features rubber compound. The sturdy rubber guarantees excellent resistance to wear and tear and hence, increases the longevity of your shoes.
The outsole construction is such that if provides excellent traction on various paved surfaces.
Midsole Technology
For improved cushioning, the midsole of the Brooks Adrenaline GST 19 running shoes features not only BioMoGo DNA but also an enhanced soft-cushioning called DNA Loft.
The BioMoGo DNA midsole cushioning remains the same as Brooks Adrenaline GTS 18 running shoes.
It adapts to your stride and works with the DNA Loft to provide you with a soft, bouncy feeling.
The cohesive Segmented Crash Pad provides you with a subtle landing that works well with all foot types. It also provides stable heel-to-toe traction.
The GTS 18 running shoes come with a shallow heel that does not provide adequate support. The more flexible heel foam provides you with a quicker transition.
Upper
The upper of the Brooks Adrenaline GTS 19 running shoes is much more streamlined and nominal than the upper of GTS 18 running shoes.
The upper features a slick mesh with better breathability and stretchiness in the forefoot. When compared to the GTS 18 shoes, the upper looks less luxurious.
Brooks has added a 3D Fit Print to the existing engineering mesh upper to provide enhanced stretch and an excellent fit.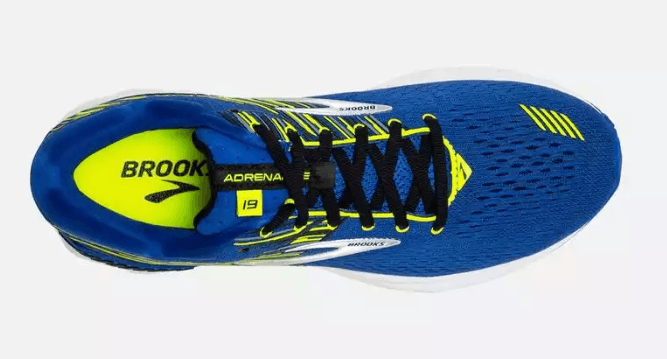 What's new?
The new Brooks Adrenaline GTS 19 running shoes come with a GuideRails support system that delivers smart support and emphasizes on steadiness at the most injury prone location in a runner's leg – the knees.
The GuideRails system has replaced the Progressive Diagonal Rollbar and provides runners with versatile support. If you're a neutral runner, you can make the most of the GuideRails system if your stride is falling out of place.
The best and the most useful thing about the GuideRails support system is that it greatly reduces added shin and heel rotation to maintain the natural movement of your knees, so you can run stress-free, without discomfort and pain.
The two significant parts of the GuideRails support system are:
An interior wall to alleviate the calcaneal eversion.
An exterior wall to limit enhanced calcaneal fluctuation.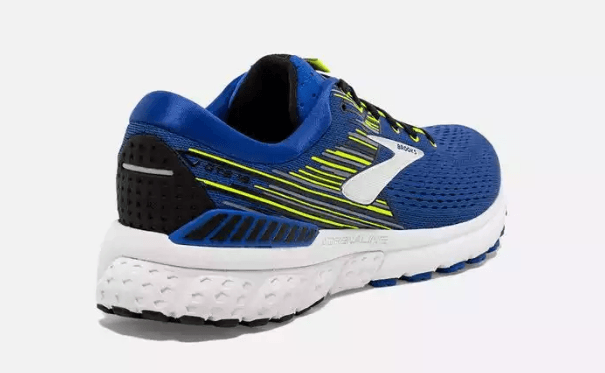 Fit
The new Brooks Adrenaline GTS 19 running shoes come with a pretty typical fit and then engineered mesh upper offers more room for broader feet.
It's almost same as the GTS 18 running shoes on the heels; however, at the forefoot, they're a bit more tapered.
The toe box is extremely generous in volume and accommodative too. The arch is reduced in the new GTS 19 running shoes.
So, if you prefer a deeper arch during brisk walking or running, you can use insoles or orthotic arch support.
Weight
The shoes are lightweight. You won't feel any increase in the weight from the GTS 18 running shoes.
Size
The shoes are true to their size. However, if your size is an "in-between size," you can go for a smaller size for an ideal fit.
Price
The price of the latest Brooks Adrenaline GTS 19 running shoes can vary between $129 and $160 (Check out the latest rates here!) depending upon the size you choose.
There is not much difference between the price of Brooks Adrenaline GTS 18 and GTS 19 running shoes.
Pros and cons
Pros
A sturdy rubber outsole
Holistic GuideRails support system to prevent serious knee injuries
More stability
Streamlined design and construction
Improved heel-to-toe traction
Wider toe box
Lightweight and comfortable
Cons
Reduced arch makes it difficult for people who prefer a deeper arch while running and walking
Upper looks a bit cheap
The final words
The Brooks Adrenaline GTS 19 running shoes have maintained the established reputation of Brooks in the athletic shoe space by providing users with comfort, responsiveness, and performance that are worth praising.
The GTS 19 running shoes are indeed the Go-To-Shoes for all kinds of runners. Right now, the athletic shoe industry is trending towards softer shoes methods of reducing overpronation.
With the Adrenaline GTS 19, the ride is now softer, springier, and the new GuideRails support system helps to protect your knees by reducing excess foot movement.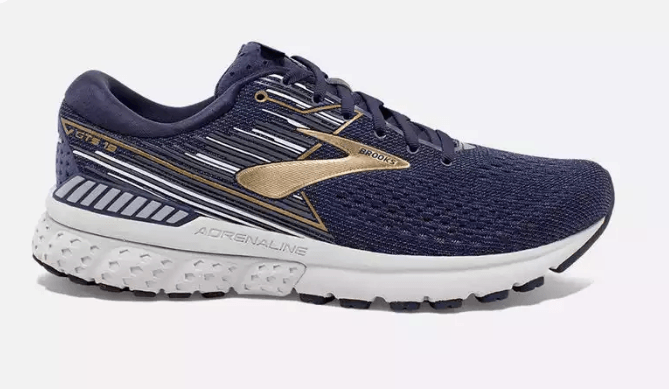 The Brooks Adrenaline GTS 19 shoes were launched on November 1, 2018, and most of the customers believe that the updated version is much better than GTS 18.
However, some customers have also mentioned that the design of the shoes has not impressed them.
Overall, based on the detailed Brooks Adrenaline GTS 19 review, it can be concluded that these stability running shoes are motion-control shoes with some great features that are suitable for all kinds of runners.
Do you agree?
If you have more questions regarding the GTS 19 running shoes, feel free to ask.
Also, if there's any other product that you want us to review, please drop us a note, our experts will be more than happy to help you.
Read More: