Are you working out in your hiking shoes? Do your running shoes double up as your Cross Fit training shoes? Do you often slip on the gym floor while working out? Well, if the answer to most of the questions is "YES," then you're not using the appropriate shoes for training purposes. Nevertheless, you're not alone.
Majority of the people who work out do the same thing. They fail to realize that every shoe is different and should only be used to serve the purpose it is designed for. There are special training shoes on the market that are meant for gym workouts and extensive training sessions.
If you have no idea about what we are talking about, don't worry. In this article, we'll tell you everything about training shoes. We will tell you exactly what training shoes are, why you need them, and how to find the best training shoes. At the end of this article, we will also introduce you to the best training shoes on the market. Keep reading to know more about training shoes.
First things first – What are training shoes?
Training shoes are shoes that allow a wide range of movements such as cutting, breaking, changing direction, jumping, as well as stopping. This makes these shoes very versatile and suitable for gym workouts, as well as other activities. We wouldn't be wrong if we say that training shoes are all-in-one shoes.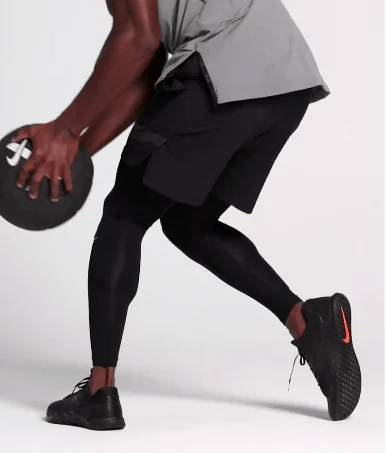 Where can training shoes be used?
As training shoes support an extensive range of motion, they are considered as the most versatile shoes. They are used for many activities such as:
Strength Training: The design features, as well as functional features of these shoes, make them perfect for strength training. The forefoot section of these shoes offers a good amount of space to support the various movements required in strength training.
Weight Lifting: Training shoes provide good heel support. Going into a squat position and then raising your body is easy in these shoes.
Agility Training: Agility training requires fast multi-directional movements. Hence, it is paramount to wear shoes that could provide a better grip to avoid slipping. The outsole patterns and flex grooves incorporated in the training shoes make them an apt choice for agility training.
High-intensity workouts: A high-intensity workout is synonymous to high-impact. The cushioning of these shoes manages to absorb all the impact efficiently making them good high-intensity workout shoes. They also facilitate run training.
Outdoor boot camps: Ideal shoes for outdoor activities require features such as good cushioning, support, security, and protection. Training shoes showcase all these features.
Treadmill: Training shoes can also be used for short distance treadmill runs. But, running long distance calls for a need of running shoes that have high shock absorption capabilities.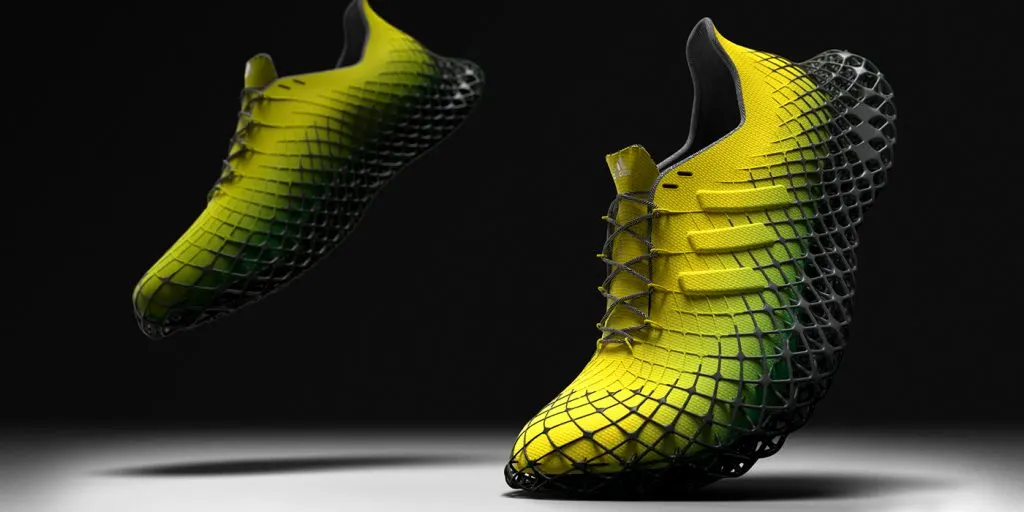 How are training shoes different from running shoes?
Many people get confused between training shoes and running shoes. The similarity only lies in the general appearance of these two categories of shoes but there are some major differences between them.
If you use running and training shoes interchangeably, you should understand the basic difference between these two shoes.
Here are the major differences between training shoes and running shoes:
Heel drop refers to the distance from the heel height to the toe. It provides cushioning and support which is very essential for running. Hence, running shoes feature a high heel-to-toe drop whereas, training shoes are flat. The low heel drop in training shoes keeps them close to the ground to allow smooth movements.
As training demands multi-directional quick movements, it is a prerequisite for a training shoe to be flexible.
On the other hand, running shoes are specifically for the heel-to-toe movement.
Training shoes come with a comfortable upper and a very flexible midsole to allow multi-directional movement. They are light in weight to allow easy movements.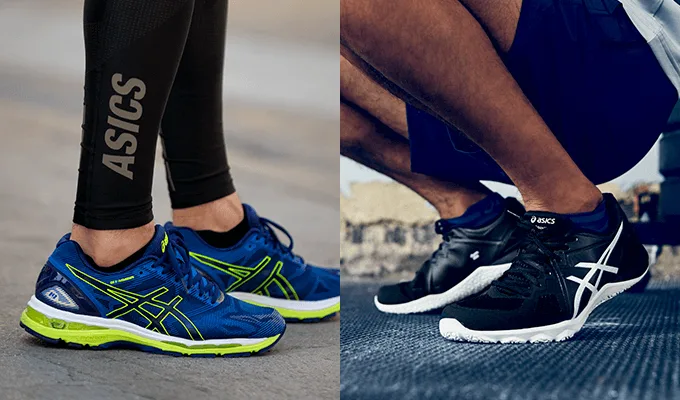 Why buy different shoes for training purposes?
Many people don't care about working out in training shoes. But, this is not the correct attitude.
As already mentioned above, every physical activity calls for the need of specific shoes designed to carry out the physical activity with ease and comfort; you should make it a point to buy training shoes for your rigorous gym training sessions.
Here are 3 primary benefits of using training shoes:
Training shoes are versatile
Training shoes are popular as versatile shoes. They have many features that make them suitable for various activities. Their cushioning makes them an ideal shoe for running, while their stability makes them suitable for sports such as basketball and tennis.
Training shoes improve efficiency
Training shoes are designed in a way that they allow multi directional movements. By making it easy to freely move your feet in any direction, these shoes make your training sessions more efficient.
If you workout in any regular shoes, your movements will be restricted, and you won't be able to derive any benefit from your training session.
Training shoes provide many options
Training shoes are made of different materials. There are shoes with flexible fabrics, as well as sturdy leather. You will have ample options to select from.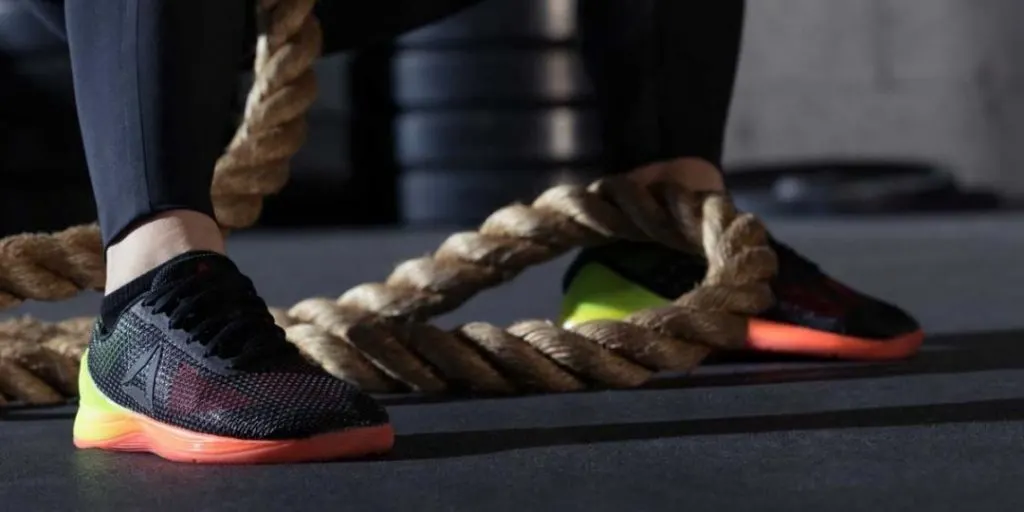 How to find the best training shoes?
If you are wondering how to find the best training shoes, we're here to help. There are a few important things that you must consider while purchasing training shoes. Let's look at them one by one.
The first and the most important thing that has to be kept in consideration is the shape of your foot. Every person has different shape and arch height and should ideally wear shoes that are meant for that specific pattern.
To make your training efficient and spare yourself pain and discomfort, you should first know your shape and then buy the shoes accordingly.
If you don't know the shape of your foot, don't fret. Ask the staff of the shoe store to help you determine the shape of your foot.
If you have a flat foot, you should go for neutral shoes as they will keep your foot in the right position. This will provide you with more control and comfort while working out.
If you have high arches, you should go for cross-training shoes as they have a plushly cushioned sole. In the absence of plush cushioning, you will feel pain and discomfort while doing any activity.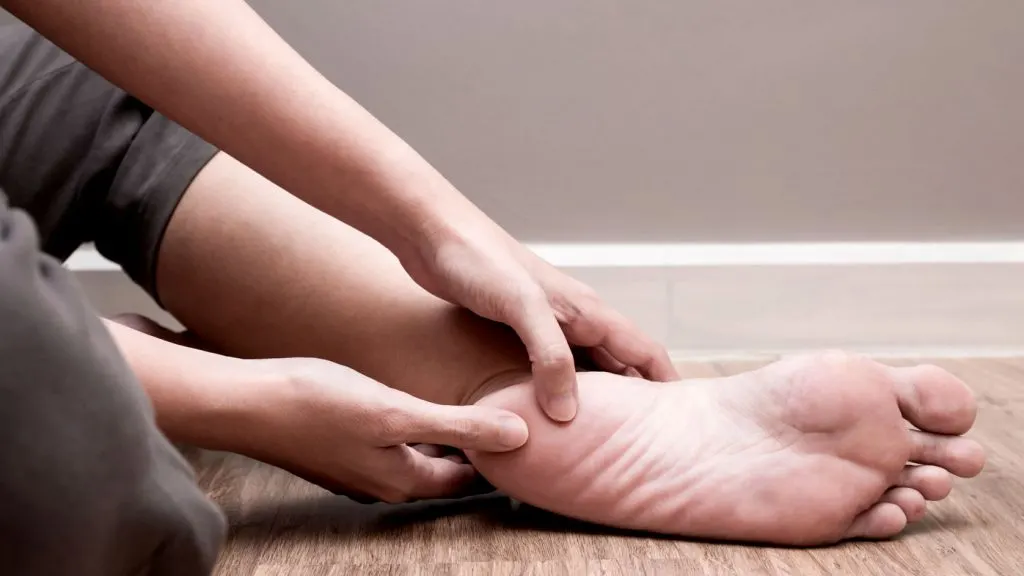 Fitting is one of the most important factors to consider while buying any shoes. You should select shoes that could offer you a snug fit.
If your shoes are too big, they can lead to an eruption of painful blisters. If your shoes are too small, they will cause pain and discomfort.
When you buy training shoes, make sure you first put on your socks and try your shoes in the store. Try on two to three pairs and select the one that fits you perfectly.
As workouts involve lots of agile movements, you must ensure that your shoes provide a good amount of traction.
Training shoes are designed to provide better traction on the ground as compared to walking or running shoes.
Before buying training shoes wear them and try some quick twisting movements in the store to determine traction. Buy the shoes that provide a good grip.
If you are not comfortable in your training shoes, you may not be able to perform efficiently in your gym. And, what determines comfort? It's upper.
The training shoes come with many support and stability features to ensure comfort. But, you should also consider the upper material.
You should always look for the shoes that come with a breathable upper. This is a prime consideration if you sweat a lot while working out. A breathable upper will help to wick away the moisture keeping you at comfort.
If sweating is not an issue for you, you can go with training shoes with leather upper.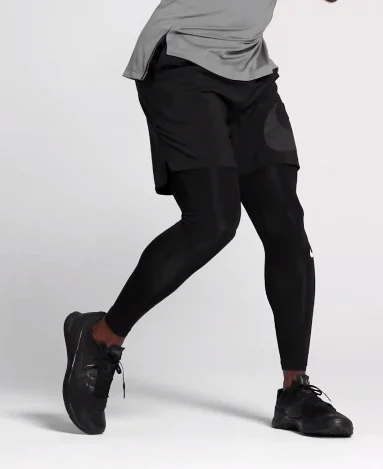 Good brands ensure a good quality. If you are spending your hard-earned money, you would definitely expect a quality product. This is why you should always trust leading brands.
Each brand has something good to offer. While buying shoes, try on two to three brands and select the one that fulfills your tailored needs.
When you are trying a new brand, you should trust customers' review and make a final decision.
When to replace your training shoes?
Wearing training shoes regularly can make them liable to wear and tear. Hence, it is important to change them when the time comes. Ideally, you should give up your old training shoes after they finish 100 hours.
You can use them for one year if you train for one hour, twice a week. But, if you work out for three to four hours weekly, you should replace your old shoes every six months. It is important to ensure your safety while training.
3 Best-Rated Training Shoes on the Market
Now that you know how to find the best training shoes, let's look at the best training shoes available on the market. We've handpicked the products based on extensive market research and reviews and rating from existing customers.
Skechers Relaxed Fit: Equalizer 3.0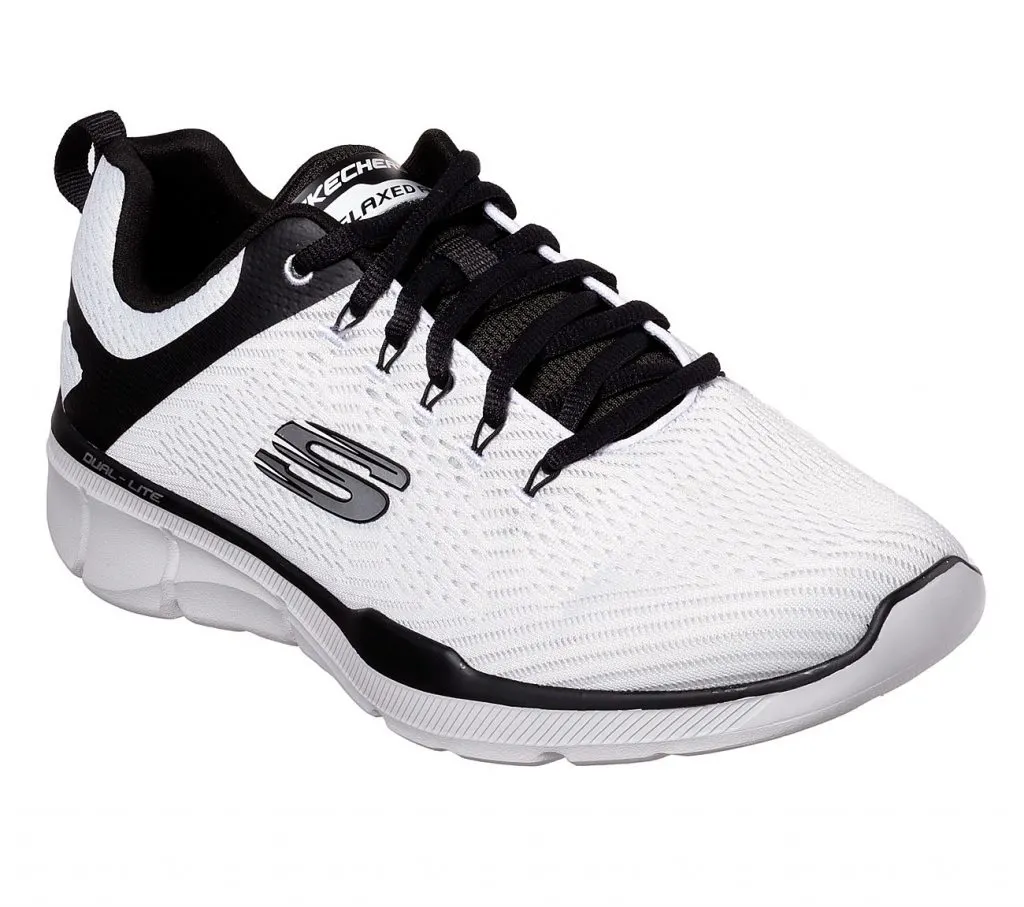 Notable Features:
Flexible and robust rubber outsole
Foam midsole offering a very soft underfoot feel
Lightweight Dual-Lite midsole helps in impact absorption
Skech Knit mesh upper provides a snug fit
| | |
| --- | --- |
| Type of shoes | Training shoes |
| Price | $22.12 – $100.99 (Check out the latest rates here!) |
| Arch Support | Neutral |
| Upper | Skech Knit mesh |
| Outsole Technology | Rubber |
| Midsole Technology | Memory Foam, Dual-Lite midsole |
| Weight | – |
| Width | Normal, Wide |
| Use | Workout |
Sole Technology
The outsole of Skechers Relaxed Fit: Equalizer 3.0 is made of rubber material which is very flexible and provides good traction of various surfaces. In these shoes, you can easily perform quick movements without worrying about slipping.
The midsole of these skecher shoes is made of Memory Foam. The soft and breathable air-cooled foam provides optimum comfort. The foam corresponds to the natural anatomy of your foot to offer good cushioning.
Along with the memory form, the Dual-Lite midsole material comprises the midsole unit. The lightweight midsole material has good shock-absorption quality and hence, absorbs all the impact protecting the feet.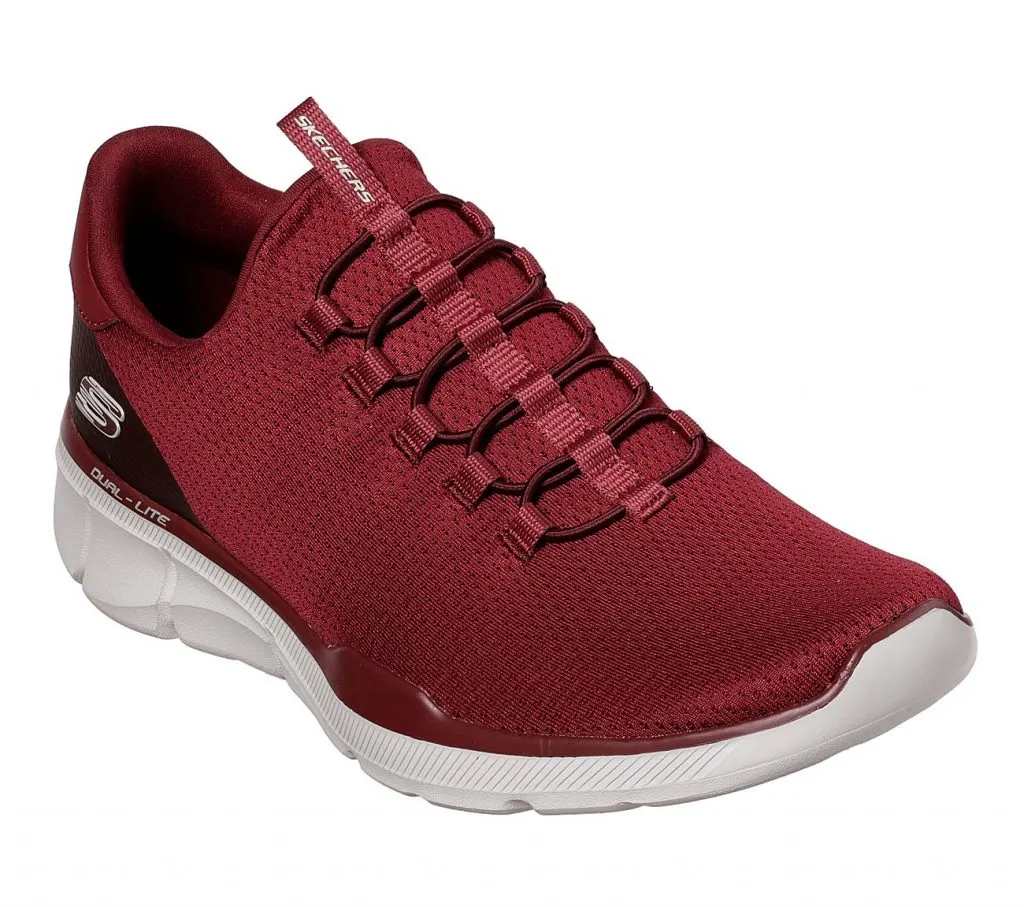 Upper
The upper of Skechers Relaxed Fit: Equalizer 3.0 incorporates the use of Skech Knit mesh which offers a very snug fit keeping your foot comfortable. The seamless upper is very light in weight and breathable.
The stretchable mesh material allows you to flex your foot without any restrictions. The openly weaved front panel allows the air to get inside the foot chamber keeping it cool, whereas, the stabilizing knit on either side ensures proper lateral support.
Synthetic overlays cover the heel area and the sides. It contributes towards making the fit snug and also, keeps the foot steady.
The training shoes feature a traditional lacing system that keeps your foot secure at a place and also offers lateral support.
The padded heel collar, as well as tongue, provides a cozy fit.
Pros 
Comfortable
The breathable upper keeps the foot comfortable
Good arch support
Good cushioning efficiently absorbs impact
Lightweight
Durable
True to size, as well as the width
Cons
Lacks stability
Issues with sizing and fit
New Balance Minimus 40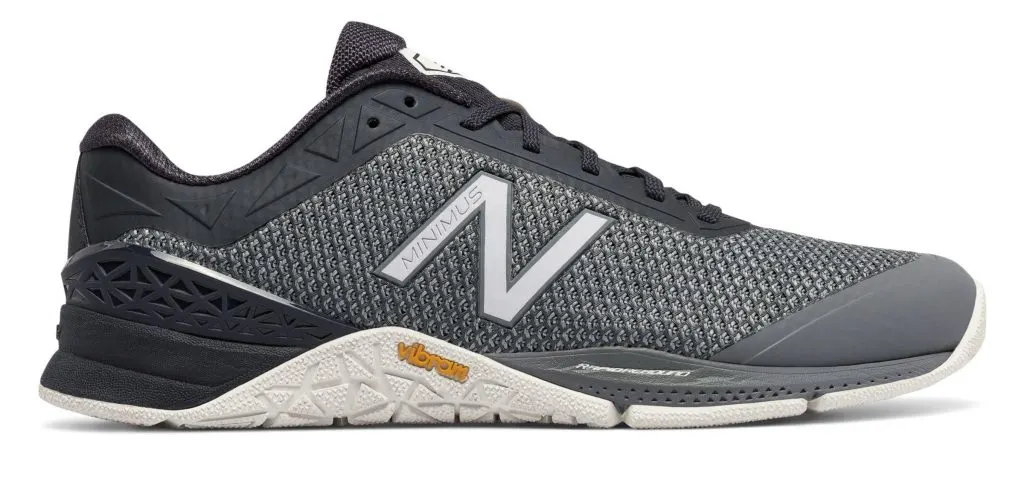 Notable Features
Vibram outsole provides traction
Geometrical flex grooves offer flexibility
Use of Rapid Rebound Foam in the midsole
Use of REVlite technology in the midsole
Breathable and lightweight woven synthetic mesh upper
Synthetic rubber overlays offer support
| | |
| --- | --- |
| Type | Training Shoes |
| Price | $70.99 – $173.47 (Check out the latest rates here!') |
| Arch Support | Neutral |
| Upper | Woven Synthetic Mesh |
| Outsole Technology | Vibram Rubber |
| Midsole Technology | Rapid Rebound Foam |
| Weight | 10.2 oz. (292g) |
| Width | Normal, Wide |
| Use | Workout |
Sole Technology
The outsole of New Balance Minimus 40 brings in use the Vibram outsole which covers the lateral, as well as medial sides, to ensure security and stability. The robust rubber compound provides protection against wear and tear and better multi-directional traction.
The geometrical flex grooves that cover the entire outsole unit provide flexibility.
The midsole of New Balance Minimus 40 training shoes is made of Rapid Rebound foam that provides good cushioning and responsiveness. It guarantees a better energy return as compared to standard foam.
The heel section features REVlite technology that comprises of foam compound which is good at shock absorption. This material is about 30 percent lighter as compared to other foams used by New Balance. Also, it is very durable and responsive.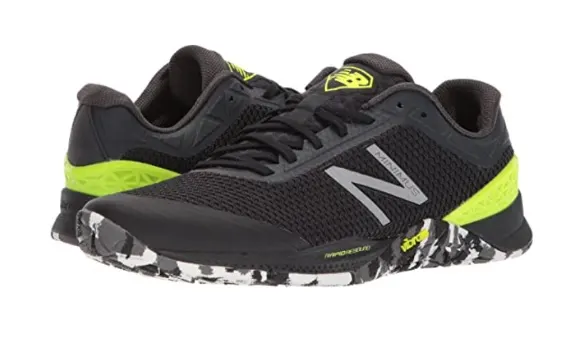 Upper
The upper unit of these training shoes utilizes woven synthetic mesh material which provides a very breathable and lightweight coverage. The material is very flexible allowing multi-directional movements.
The presence of synthetic rubber overlays provides protection from abrasion and structural support.
The heel area features TPU-made molded external heel cup which keeps the heel in place.
Pros
Stylish
Flexible
Provides good grip, energy return, and stability
Good cushioning
Breathable upper
Cons
Narrow fit
Low stability for heavy weightlifting
Outsole is not durable
Nike Metcon 4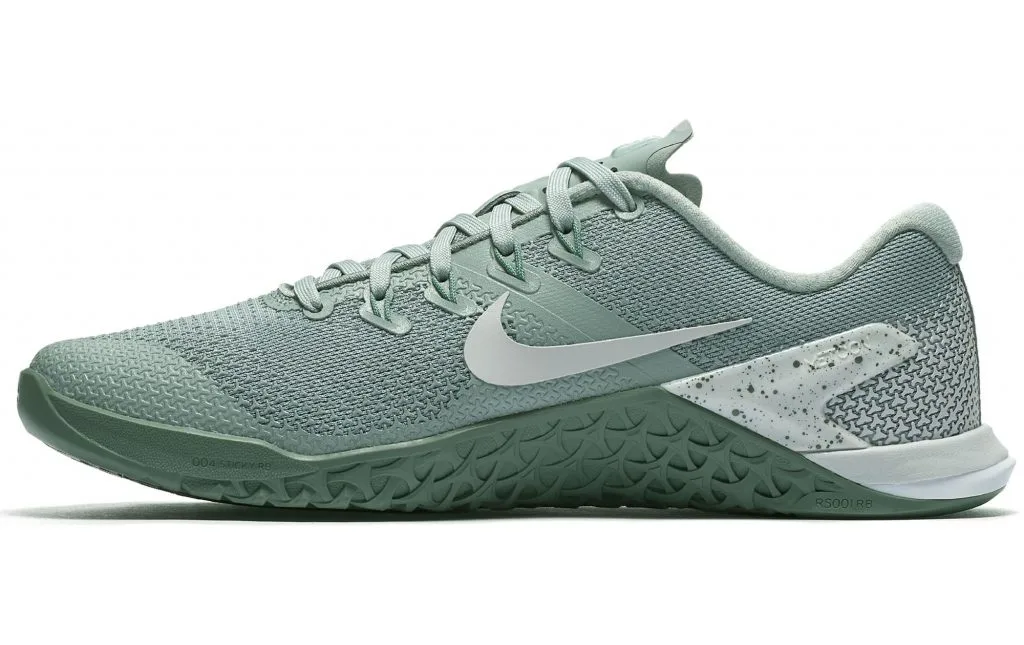 Notable Features:
Sturdy rubber outsole
A tri-tread pattern in the outsole provide traction
Use of a removable foam insole as midsole provides stability
Flexible and breathable sandwich mesh in the upper
| | |
| --- | --- |
| Type | Training Shoes |
| Price | $124.99 – $269.95  (Check out the latest rates here!) |
| Arch Support | Neutral |
| Upper | Mesh |
| Outsole Technology | Rubber Material |
| Midsole Technology | Removable Foam Insole |
| Weight | 14 oz. (396g) |
| Width | Normal |
| Use | Crossfit |
Sole Technology
The outsole of Nike Metcon 4 is made up of a solid rubber material featuring tri-star design pattern. This pattern provides a better multi-directional grip on various surfaces. The forefoot area is sticky.
The medial and lateral sides of the midfoot are covered with a textured material that provides a better grip. The rubber outsole also goes at the back of the shoes.
The midsole of these training shoes comprises of a removable foam insole that lacks proper cushioning and impacts absorption capabilities but provides good stability.
The low height of the shoes keeps the foot close to the ground that helps in training sessions.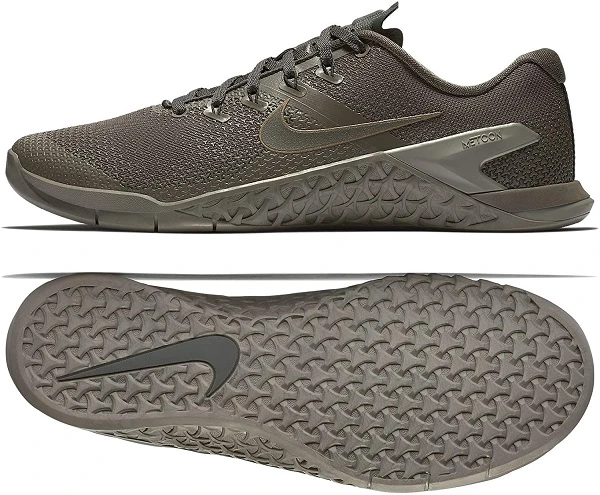 Upper
The upper of Nike Metcon 4 is made of a sandwich mesh material. The top of the upper is very breathable and flexible. The soft fabric provides a comfortable feel.
The areas which are more susceptible to wear and tear feature 3D-printed tri-star pattern called haptic technology. The textured material prevents the mesh from wear and tear. The big toe area is covered with a synthetic guard to provide extra protection.
The shoes come with a traditional lace-up closure that keeps your foot in place while performing agile movements. A TPU heel counter hugs the rear portion of the feet preventing wobbling.
The perforated tongue offers great cushioning between laces and instep and keeps the inside well-ventilated.
Pros
Ideal for crossfit and other training
Sole providing better stability
Lightweight
Better traction
Breathable upper
Many color options available
Cons
Lack of proper cushioning causes pain and discomfort
Not durable
Narrow
May cause squeaking sound
The bottom-line
Wearing improper shoes during strenuous training sessions not just trims your efficiency but can lead to serious foot injuries. We hope that our guide on how to find the best training shoes helped you get a better understanding of training shoes.
While we have talked about the 3 best-rated training shoes on the market, there are many other brands and models out there. On the basis of the knowledge you've gained through the article, you can pick the model that best suits your requirements.
If you have any questions in mind, please share your thoughts in the comments section below. Also, if there's any athletic shoe related topic that you would want us to cover or any particular shoes that you would want us to review, please write to us and let us know.
Further read: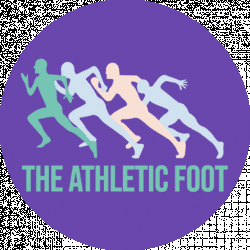 Latest posts by The Athletic Foot Team
(see all)