Heel pain is a common ailment for Americans, but especially hits seniors and athletes. While there are many different causes of heel pain, one of the best remedies is using insoles. But finding exactly what kind of insoles for your feel pain can prove to be a confusing process.
One athlete that knows heel pain shouldn't be taken lightly is Katie Ormerod, a professional snowboarder and a representative for Britain in the 2018 Winter Olympics.
Her career began with a precipitous start when at the age of just fifteen, she was the youngest female to land the daunting Backside Double Cork 1080. She won major awards at the Pleasure Jam and FIS World Cup in 2015 and 2017, respectively.
But in the training days leading open to the opening of the 2018 Olympics, she feels hard on a trial run, breaking her ankle, and sidelining her for the event she'd worked so hard for.
But if breaking bones was not enough, Ormerod later suffered from common heal pain, including issues with her achilles tendon.
Ever resilient, and after undergoing therapy and taking proper care of her ankle, the recovery period hasn't been easy, but what is has shown is how much of a true athlete Ormerod is.
She is now back to competing, has already secured a second place finish, and looking to the 2022 Winter Olympics.
Far more common than Ms. Ormerod's story is everyday athletes or fitness enthusiasts who suffer from chronic heel pain. Heel pain, whether severe or minor, can alter your form, slow you down, or even risk further injuries.
The good news is that there are some simple steps you can take to get back to performing to your full potential–and one of those is finding the best insoles.
In this article, we'll tell you how to find the best insoles for your heel pain, and also brief you on basics you need to know about heel pain so you can get back to feeling your best.
How common is heel pain?
If you're suffering from heel pain and on the lookout for the best insoles, you aren't alone.
While it's difficult to find solid data for the prevalence of heel pain, some surveys suggest that an enormous seventy-seven per cent of Americans may suffer from some form of foot pain (which encompasses heel pain) at some point in their life.
Of those, just a third seek help from a professional podiatrist.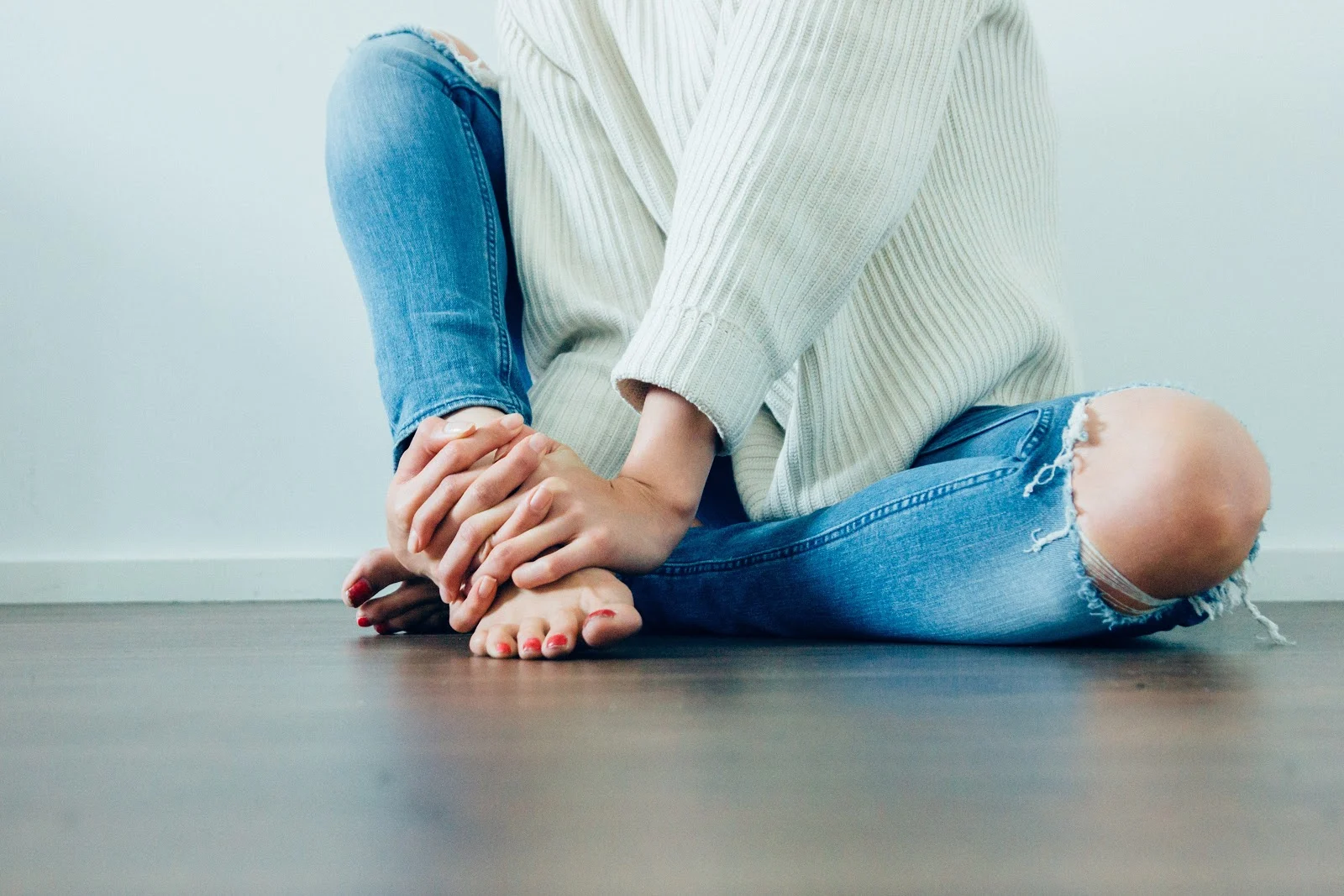 The American Podiatric Medical Association surveyed just under eleven hundred Americans and found that over eight hundred reported at least some form of foot pain within the past calendar year.
About half of those–around four hundred and thirty–reported heel pain.
The study, which has a ninety-five percent confidence interval and a three percent margin of error, seems to be fairly representative.
In other words, heel pain is actually quite common.
What are the most common causes of heel pain?
While you can develop heel pain regardless, these are the most common risk factors:
Poor fitting shoes
Increasing workouts too quickly
Flat feet or high arches without proper insole support
Improper or inadequate stretching and rest
Other medical conditions, such as diabetes, arthritis, and osteoporosis
What conditions are associated with heel pain?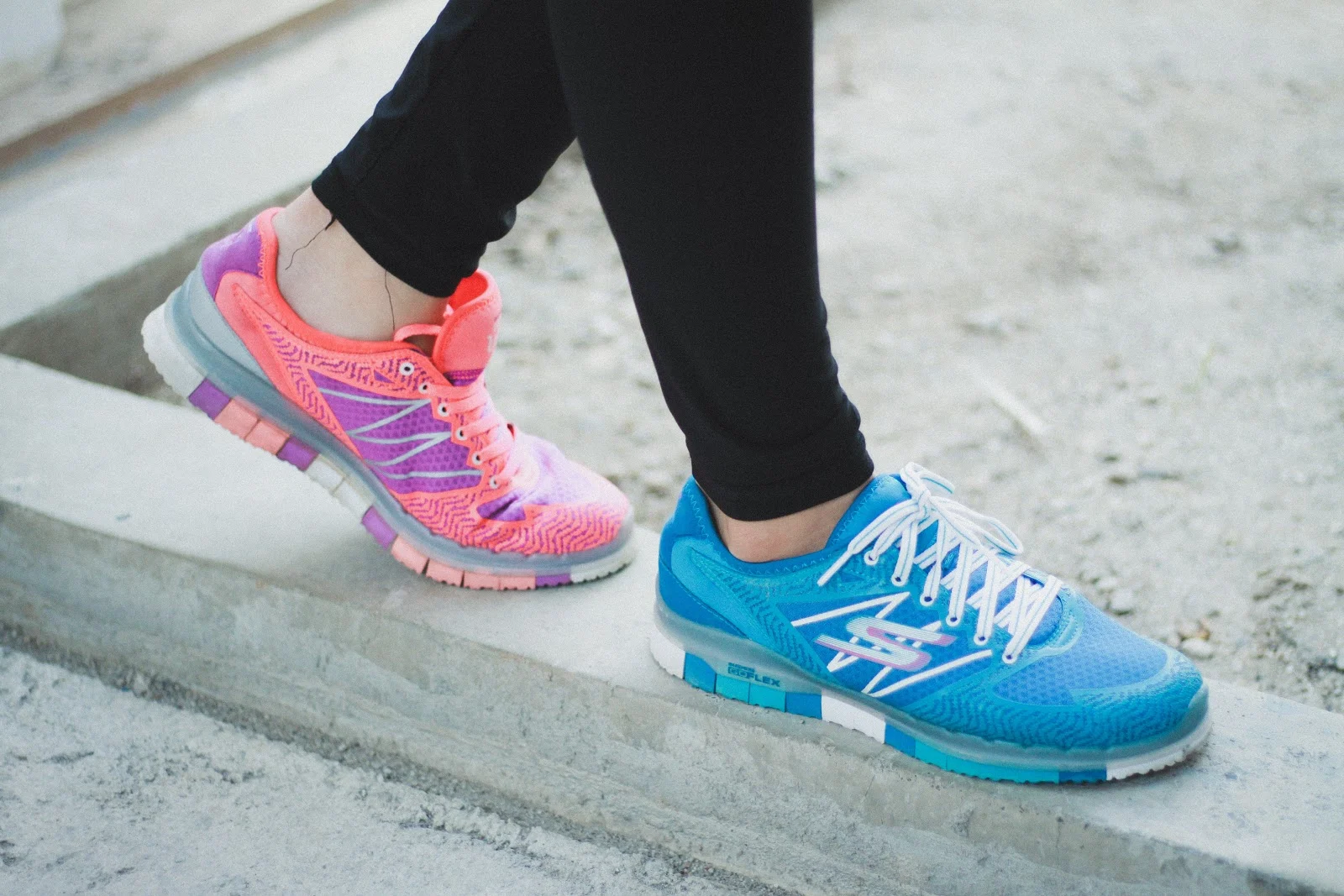 Heel pain itself, of course, is not a diagnosis, nor is it always serious.
Depending on the level of pain, impact on mobility, and duration, heel pain can range from fairly innocuous, simple fatigue to something that could turn into a long lasting injury.
Unfortunately, even with the best advice, runners do suffer from heel pain.
While this list is not all inclusive, the most common causes of heel pain include:
Plantar Fascitis: A common ailment especially with sports that involve repetitive motion, like running or even cycling, plantar fascitis when a ligament connecting from your heel to toes becomes inflamed. Best described as stabbing pain, the pain tends to be the most prominent in the morning and actually lessens some with movement. You'll also find that improper shoes is a common cause of plantar fasciitis, as well as inadequate rest. Those with flat feet or high arches are also more susceptible. The tricky thing about having this condition is many are able to run with it, but doing so without fixing the problem risks improper gait and other injuries, especially with the knees, hips, and even back.
Heel bursitis vs Achilles Tendon: Slightly less known by name, but not uncommon, is heel bursitis, which involves a swollen heel sac. That heel sac called the bursa, cushions tendons and muscles from bones. Walkers, runners, and activities with repetitive jumping, such as HIT intervals, is where this heel pain would be most commonly seen. It is commonly mistaken for Achilles Tendon, and in fact, sometimes can be co-current. Pain gets worse as the day continues, as does swelling.

Achilles Tendon, however, tends to be a more chronic condition. With an Achilles Tendon, the tendon not only becomes inflamed but over time may not repair as well, making it among the most difficult causes of ankle pain to treat.

Tarsal tunnel syndrome: This less common cause of heel pain is actually a pinched nerve near the heel, though it can also occur elsewhere in the foot. Tingling, burning ans numbness occur, as well as shooting pain.
Severs disease and Stress Fractures: Severs disease and stress fractures instead involve bone issues. Severs Disease occurs almost exclusively in teens and children, as it involves an issue with growth plates near the Achilles tendon, and is common in young people with heavy exercise, normally ages eight to thirteen. Stiffness, swelling and general heel pain are symptoms. A stress fracture requires an X Ray to diagnose and typically occurs in metatarsal bones of the foot, though it can be felt in the heel.
Other causes include mild fatigue, Baxter's nerve entrapment, bone bruises, soft tissue mass, and cysts.
What should I do if I'm experiencing heel pain? Even before you start shopping for the best insoles, you need to assess your heel pain:
Try home remedies if the pain is mild. Use ice and heat, mild ibuprofen, and stretch gently. You may want to cut back on your workouts or even take a day or two off to see if the pain lessens. Even if it does, still consider looking for new insoles to prevent future heel pain.
If your heel pain lasts longer than a few days, or if it's severe, consider seeing a doctor, preferably getting a referral for a podiatrist. Getting a diagnosis is a key to knowing what to do next.
Can I do any exercise if I'm experiencing heel pain?
Unfortunately, that depends. Runners in particular, as well as professional athletes, have especially learned to work through the pain. While some you can, doing so blindly risks further injury.
While a professional doctor will best advise you, generally running can continue with some very mild conditions, but others may require rest.
Non-weight bearing activities, such as swimming, as a great option to retain fitness levels while giving your feet rest–though in cases of something severe is not always done.
Cross training will be a good plan to incorporate as you get back to your regular routine.
Why do insoles matter?
Orthotic insoles are in fact one of the easiest investments you can make not only in treating heel pain but also as a preventive measure.
Typically, insoles work by correcting any issues you might have with your natural feet–typically, arch and cushioning.
The goal is not only to alleviate current issues with pain but to address issues that come with low or high arches and lack of cushioning between muscles and ligaments.
Can insoles actually treat my heel pain?
While the best pair of insoles cannot make up for other factors, such as overtraining, improper nutrition, and other conditions, in fact, they can reduce overall pain and inflammation.
It's important to also make sure you have the best fitting shoes possible, and the best shoes for your activity.
Are there any conditions insoles aren't useful for?
It's unlikely that insoles will make a condition worse. With something that involves bones, such as a stress fracture, insoles won't be enough.
But for most ligament and muscle issues, insoles are an excellent way to start addressing pain, swelling and inflammation, and potentially help prevent it from reoccurring in the future.
What should I look for to find the best insoles?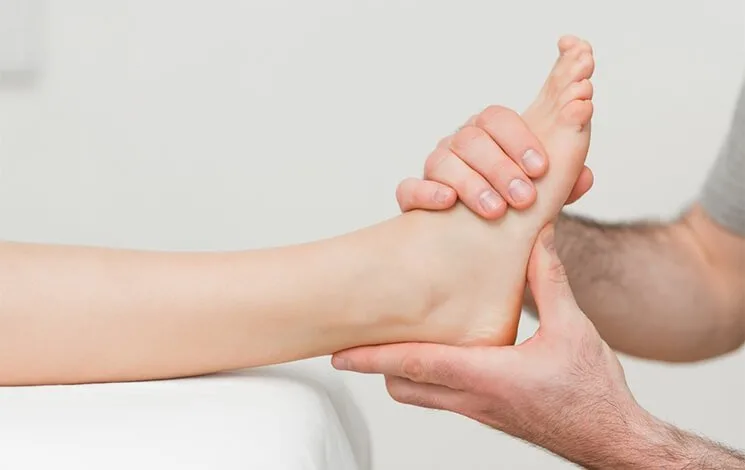 Finding the best insoles takes a little detective work. As you might imagine, there are many insoles out there claiming to be among the best you can buy.
But knowing exactly what factors to look for with an insole can help you locate the best ones for your needs.
Understand the difference between regular insoles and orthotics insoles
Insoles can be purchased nearly everywhere, from drug stores to online sites like Amazon. Orthotic insoles must be prescribed by a professional, and cost far more.
For the most serious or chronic injuries, physical therapists and doctors recommend orthotics, which a sturdy insole that provides constant support. Insoles are meant to be replaced every three to six months are best for more minor heel pain adding arch support or correct the way you walk or run.
Go for insoles if you have tired feet and mild pain and a small budget, but chronic issues that do not resolve may benefit from more expensive orthotics.
Consider material
Most regular insoles are actually quite thin and made of gel, plastic or rubber. You should look for materials that offer a mix of comfort and flexibility.
For orthotic insoles, look for more substantial materials; foam and carbon fibre are popular for providing support and flexibility.
You want a mix of comfort and firmness; too soft materials do not provide adequate ach support.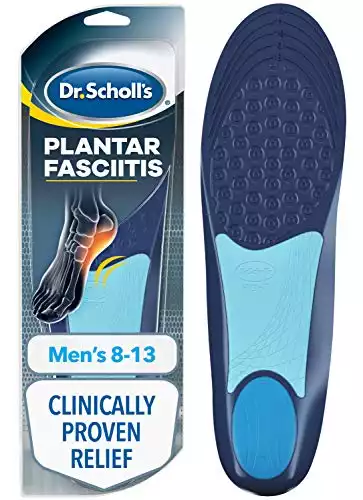 Our Pick: Dr. Scholl's Pain Relief Orthotics | Amazon
Designed for people who suffer pain from plantar fasciitis in the heel. With shock guard technology to provide immediate and all-day relief of pain from plantar fasciitis and can help reduce morning pain from plantar fasciitis.
Buy at Amazon.com
We earn a commission if you click this link and make a purchase at no additional cost to you.
02/08/2023 12:14 am GMT
Buy insoles that are breathable
Too sweaty feet can lead to blisters and bunions. Some athletes might also do well to find insoles that are specifically labelled as antimicrobial.
If you find yourself prone to any of these issues, these features are a must.
Select the proper level of support
Insoles and orthotic insoles tend to come in one of three categories:
Rigid Support is most often available with orthotics. A rigid support insole is best for those suffering from heel pain due to overpronation, or your foot turning in too much.
Soft Support offers shock absorption and is helpful for a number of common heel pain conditions, such as Achilles Tendon, Heel Bursitis, which often occur as a result of repeated pounding. However, for most heel pain, especially seen with athletes, Semi-Rigid Support is a perfect balance: since much of heel pain is caused by high or flat arches as well, that extra support is helpful, while these will offer shock absorption. Semi Rigid is especially suited for runners and hikers.
Purchase an insole for your specific condition
If you have Plantar Fascitis, there is no reason not to buy a PF specific insole.
In fact, if you do, you're better off with a specialized insole because it provides specialized shock absorption and is typically not full length.
For a nerve condition causing heel pain, consider metatarsal pads instead, which are fitted right under the metatarsal bones of your feet.
Consider the toe box
You'll need ample room so your toes are too cramped, Focus on most of the support of the heel area, and look for inserts with lighter support near the toes unless you have a condition from that region.
Fit Profile
This refers to how high/ much space the insole will take in your shoe, and depends on your foot, but also what kind of shoe you'll be wearing.
High Volume Insoles are best for running or hiking shoes and feet with high arches.
Medium Volume Insoles work for medium arches and most general athletic shoes
Low Volume Insoles should be reserved for cycling and skating, or other minimalist shoes and those with feet with low arches.
Heel Cup
The heel cup, as you might imagine, is an important factor to consider when shopping for insoles for heel pain.
A structured, semi-firm heel cup provides both stability and shock absorption, though too much structure may feel bulky.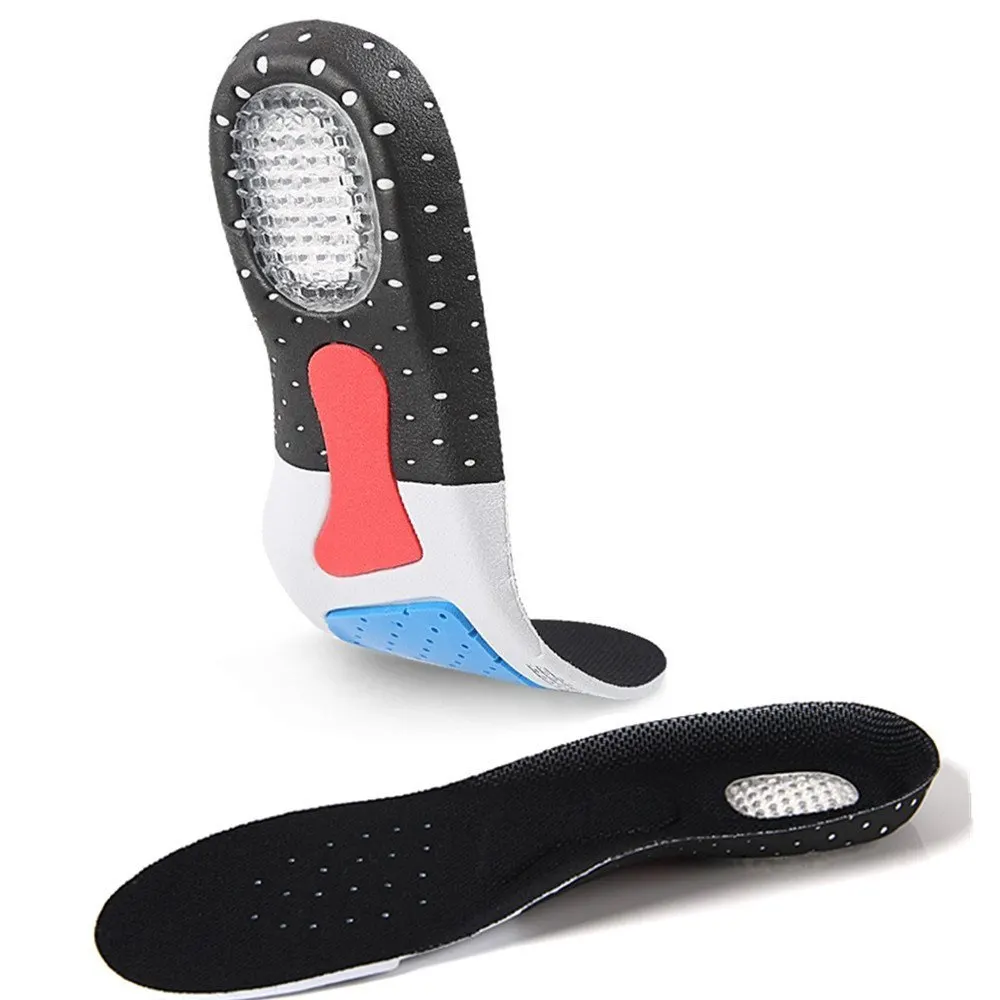 What are some of the best insoles for heel pain I can buy now?
Let's take a look at some of the best insoles you can buy for heel pain. Keep in mind these are not doctor orthotics, and thus they will not provide a custom fit.
If you do have a large budget and have suffered from heel pain for a long time, you might consider getting custom-fitted, especially if you're a regular athlete.
That said, for many, a quality insole will be enough to neutralize pain, add support and help you to your road to recovery.
Especially if this is your first experience with heel pain, you should consider trying one of these insoles first before spending hundreds of dollars.
If you're looking for something affordable in a pinch for all athletic activities, consider KAILEDI Sports Insoles – Unisex Full Length Arch Support Orthotics.
The KAILEDI Sports Insoles are specifically meant to address heel pain with shock absorption, useful for conditions such as plantar fasciitis, general heel pain, and low arches.
The insoles are made to be moisture-wicking and come with a supportive heel cup, metatarsal pad, and forefoot cushioning.
The materials are EVA foam and silicone, and it can be cut to size.
While not the most substantial insole on the market (it will also need to be replaced after several months) it's well-rated and suited for short term, mild heel issues or discomfort.
For Plantar Fasciitis, consider HELLCUP 3/4 Length Orthotic Inserts, Shoes Insoles for Plantar Fasciitis.
This reasonably priced insert comes in at under twenty five dollars, with a three quarter length size meant to specifically address the common complaints associated with both Plantar Fascitis, with semi-rigid arch support, variable cushioning to lessen pressure on the heel, a lower volume profile to fit athletic shoes, a specific heel pad, and moisture-wicking technology.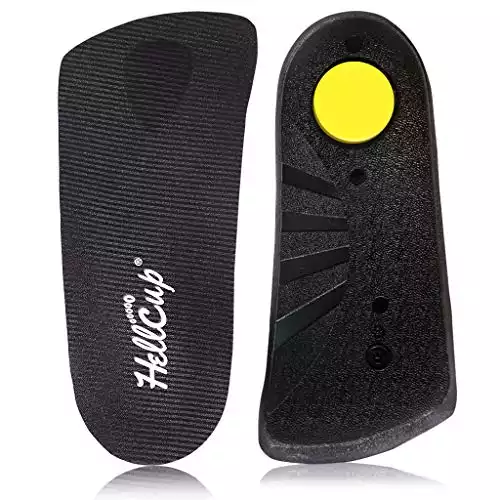 HELLCUP Orthotic Inserts | Amazon
Plantar fasciitis insert and heel cradle for increased support and stability in your shoes. Does not take up too much space in the shoes, is easy to use, can move the insole shoes to shoes at any time, long-lasting.
Buy on Amazon.com
We earn a commission if you click this link and make a purchase at no additional cost to you.
For general shock absorption, consider Physix Gear Sport Full Length Orthotic Inserts with Arch Support.
At just under twenty dollars, these bargain insoles come highly rated, with over twenty-seven hundred customer reviews, and are a good option for general heel pain and athletic endeavours.
They're most useful for those with low arches or those suffering from Achilles Tendon, though they can also help with other conditions associated with heel pain.
With semi-rigid support, ergonomic design, and stabilizing heel cup, these insoles can be worn for leisure and more active activities.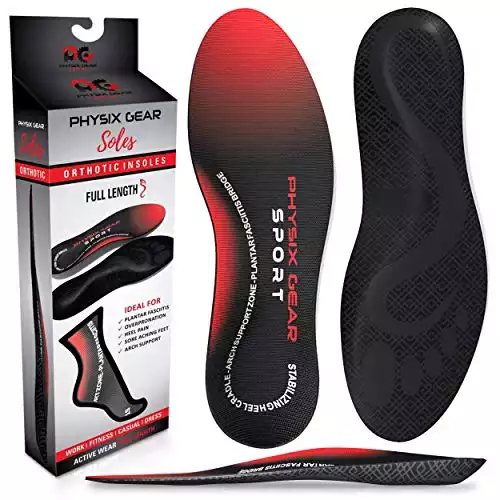 Physix Gear Sport Full Length Orthotic Inserts | Amazon
High arch, deep heel cup, & dual-layered base ensure a reduction of leg & foot muscle fatigue, making our work boot insoles ideal for those on their feet for long periods like nurses or retail employees. Also ideal for sports, camping, hiking, running, & more.
Buy on Amazon.com
We earn a commission if you click this link and make a purchase at no additional cost to you.
02/08/2023 12:04 am GMT
For quick relief from heel pain, try Dr. Scholl's PLANTAR FASCIITIS Pain Relief Orthotics.
From the well-known brand comes an uncomplicated insole meant to target not just heel, but overall foot pain.
Though noted especially for Plantar Fasciitis, the full-length insole provides a doubly supported arch, shock absorption, and a generous heel cushion.
Foam is positioned under the heel cup. You should replace this around every six months, making the list price at under twenty dollars a reasonable cost.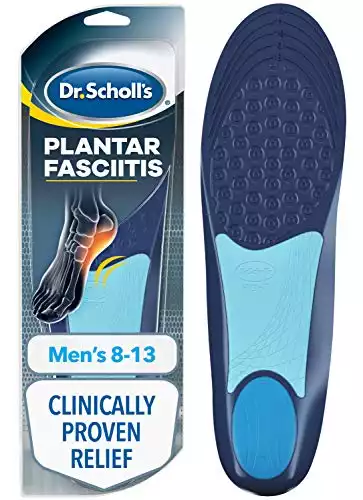 Our Pick: Dr. Scholl's Pain Relief Orthotics | Amazon
Designed for people who suffer pain from plantar fasciitis in the heel. With shock guard technology to provide immediate and all-day relief of pain from plantar fasciitis and can help reduce morning pain from plantar fasciitis.
Buy at Amazon.com
We earn a commission if you click this link and make a purchase at no additional cost to you.
02/08/2023 12:14 am GMT
For a higher-end option, consider Upstep Custom Orthotics Everyday Insole – Comfort Arch Support Inserts for Men & Women – Experts-Designed & Approved Orthopedic Shoe Insoles for Foot, Plantar Fasciitis. These cost around three hundred and sixty dollars, but are still less expensive than many upper-end orthotics, and may be worth the investment in the case of rather chronic and more serious cases.
These insoles are suited for a variety of shoes and activities. What makes this an excellent option is it's a compromise between seeing a podiatrist for insoles and merely shopping online. You'll receive a kit in the mail, provide and send back a print of your foot, and receive custom insoles for your feet and also your lifestyle and activity level.
They offer both comfort and sports line, including for specific sports. The sports version are a blend of foam, polypropylene, and provide a high degree of breathability. Insoles are meant to target foot stability, provide arch support, shock absorption, and reduce general heel pain.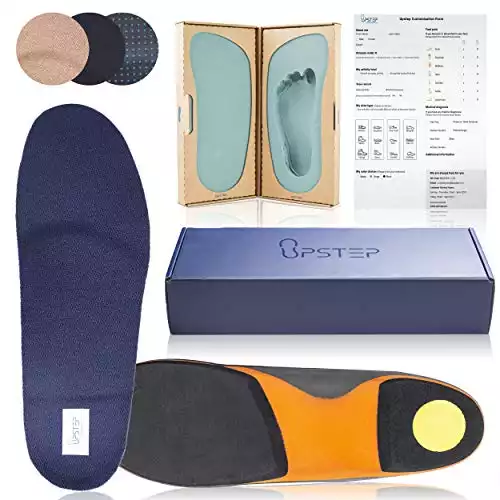 Upstep Custom Orthotics Everyday Insole | Amazon
Problems with unequal weight distribution, poor standing posture, or even something as simple as a naturally high arch can cause pain throughout the whole body...
If buying pair after pair of new shoes isn't providing you with relief, it's time for a change in pace. It's time to Upstep your life.
Buy on Amazon.com
We earn a commission if you click this link and make a purchase at no additional cost to you.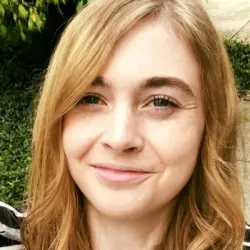 Latest posts by Erin Jamieson
(see all)