Two of the undisputed leaders in the running shoe space continues to be Asics and Saucony. Both companies started by focusing on other industries but really hit their stride as running companies.
As a result, while other companies have ventured into other avenues, Asics and Saucony continue to remain true to its running roots. That commitment has paid off considerably as runners continue to turn to these brands for their running needs.
In this article, we compare Asics vs Saucony along with their core offerings and fit for runners. We specifically look at:
History of the brands;
Comparison of their flagship models,
Cushioning technology and;
Commitment to Running.
History
Asics History
Asics was started by Kihachiro Onitsuka, as Onitsuka Co. Ltd. at the time, in 1949 to provide sneakers for schoolchildren. Asics or "Anima Sana in Corpore Sano" is Latin for "If you pray to God, you should pray for a sound mind in a sound body." This phrase inspired Onitsuka to promote a healthy lifestyle for young people through footwear.
In 1950, Onitsuka Co. Ltd. released a basketball shoe as its first pair of competition shoes. Because basketball shoes were considered extremely difficult to produce, Onitsuka believed that accomplishing this challenge would build momentum for future challenges.
It appears that he was correct as the momentum buoyed the release of a number of different shoes including volleyball, golf, and a marathon tabi, which was used to win gold at the Berlin Olympic Games in 1936.
During this time, Onitsuka contributed a number of core elements to Japanese running shoes including using a synthetic rubber outsole, promoting breathability, and making artificial leather more pliable.
Onitsuka Co. Ltd. later rebranded in 1965 to the Onitsuka Tiger releasing a number of successful marathon shoes over a 12-year period. Onitsuka Tiger later merged to form Asics in 1977 under the slogan, "Sport: the Universal Language."
It was also during this time that the United States began to experience "jogging frenzy." Capitalizing on the jogging boom, Asics released the California jogging shoe, which featured a flared sole and reflective tape for night runners.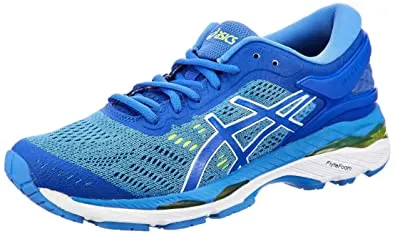 From there, Asics went on a tear during the 80's and early 90's with innovative "jogging shoes" from the Tarther to the Nevada to the Gel Saga. All of these shoes catered toward making the runner more comfortable through pronation support, stabilization, and shock absorption.
However, all these technological improvements truly came together when Asics released the Gel-Kayano trainer in 1993. Named after its designer and inspired by the protective exterior and horns of a beetle, the Asics Gel-Kayano married all the technological improvements Asics had made thus far.
The Gel-Kayano was a massive hit with runners and it immediately elevated Asics as a serious running company. That tradition continues today as Asics continues to provide high-quality running shoes for runners of all skill-levels while leaning heavily on their decorated history of being an innovative company for runners.
Saucony  History
In 1898, two years after the first Olympic Marathon, four men, Donnoyer, Levan, Snyder, and Reider, founded Saucony in Kutztown, PA. Named after Saucony Creek, Saucony is derived from the Lenni Lenape Native American word for "saconk," meaning where two rivers run together. As a result, the logo represents a running river marked by three boulders.
Saucony began by making children's shoes and over the next half-century, Saucony became a shoe-producing mega-machine producing close to 1,000 pairs of shoes a day. They also dabbled in producing racing spikes for competitive athletes.
However, Saucony really entered the consumer running market in 1968 when Saucony was bought by Hyde Athletic Industries and moved its operations to Boston.
Like Asics, Saucony also rode the wave of America's obsession with running during the 1970's. Pouring its resources into developing running shoes, Saucony received the "best quality" award from Consumer Reports in 1977 and two years later, received national attention when Runner's World selected two of its offerings in their annual top ten.
Similar to Asics, Saucony also went on a tear in the 1980's developing innovative technologies and unique running shoes such as the Trainer 80, the Jazz, and the Shadow for mass consumption. These shoes featured flexible and natural foot movement, unique traction patterns, and Vertical Ionic Pillars, to assist with stability.
Saucony has maintained a lot of organic buzz throughout its history with many of their successes because of word-of-mouth or magazine recognition. They have also produced numerous shoes that have developed a massive following such as the Guide, Triumph, and Hurricane, which are flagship models in their own right.
However, Saucony's Kinvara series has taken the brand to new heights and demonstrated their continued commitment to running.
Winner – Tie. Both Asics and Saucony have come from genuinely humble beginnings to be leaders in the running industry. They have both, throughout their history, demonstrated an honest commitment to runners and each shoe represents that tradition.
Runners of all skill level will appreciate the history of both companies and rest assured that they are dedicated to running. Plus, we're not deciding a winner based on history.
Flagship Model Line
Flagship models are important for all runners because they set the tone for the rest of the brands' running shoe offerings.
If a brand has a successful flagship running shoe, runners can rest assured that the rest of the brands' running shoes will be equally tried and tested and may even include some of the cutting-edge technology used on the flagship model.
The Flagship model for Asics is and continues to be their Gel-Kayano. Now in its 26 iterations, the Gel-Kayano continues to be the standard-bearer for the brand. It has also been an extremely popular choice for runners for years.
In fact, the Asics Gel-Kayano is normally one of the first shoes runners with overpronation issues will consider.
As a result, Asics continues to refine the Gel-Kayano series making each version better than the last. The Gel-Kayano also continues to receive the Seal of Acceptance from the American Podiatric Medical Association (APMA) as well.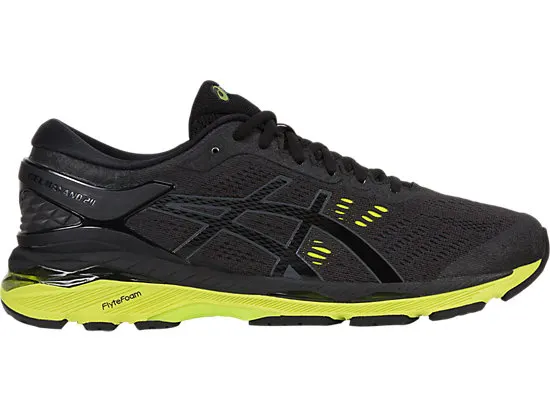 The Gel-Kayano is Asics' top-shelf stability model targeted toward overpronators or those looking for more support and stability thanks to their adaptive fit technology.
The Gel-Kayano features a rigid heel structure, strategic overlays to prevent lateral movement, and a generous midsole to prevent pronation.
The Gel-Kayano also continuously features Asics' best technologies. The Gel-Kayano 26, for instance, features a triple-density midsole featuring Flytefoam.
Flytefoam for Asics was a game changer, as many stability models tend to be noticeably heavy, which could impact the benefits of stability running shoes. Asics addressed this problem by introducing Flytefoam, which is lighter, but just as durable.
We found that runners commented that the Flytefoam provided ample cushioning combined with responsiveness.
The latter is a rarity in stability shoes. As a result, we found that many runners found the newest iteration of the Gel-Kayano to be equal parts fast and cushioned.
However, we found that runners commented that the Gel-Kayano is still a "profile or silhouette tank" and can often time be a little inflexible.
We also found that some runners commented that the Kayano line could be a little narrow for wide-footed runners.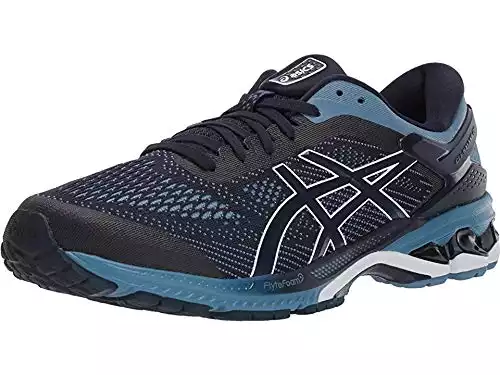 ASICS Gel-Kayano 26 | Amazon
Allows your feet to breathe, this ASICS running shoe is all about going the distance, providing exceptional support and comfort over long periods of time.
Buy for Men
Buy for Women
We earn a commission if you click this link and make a purchase at no additional cost to you.
02/07/2023 05:01 pm GMT
Asics also continues to offer the Gel-Kayano in a number of aesthetically pleasing colorways. Stability shoes, by design, are usually bulky and ordinary.
However, Asics offers the Gel-Kayano in a number of aggressive colorways such as their annual NYC and Lite-show editions. As a result, the Gel-Kayano has also adopted a small fashion-forward following as well.
Saucony continues to make splashes in the running shoe industry with the introduction of the Triumph ISO and the Hurricane ISO.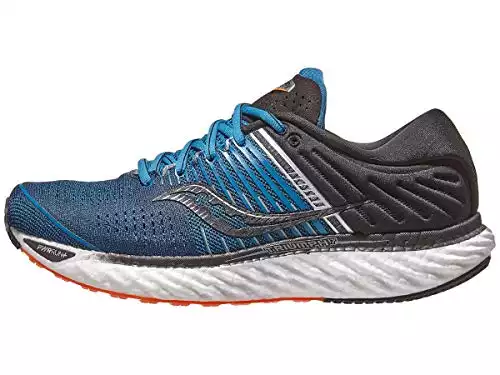 Saucony Triumph 17 | Amazon
For those who crave the ultimate in protective cushioning, the Triumph 17 is our most cushioned shoe, giving you everything you need to cruise through the longest of runs. Make running hangovers a thing of the past.
Buy at Amazon.com
Buy directly at Saucony
We earn a commission if you click this link and make a purchase at no additional cost to you.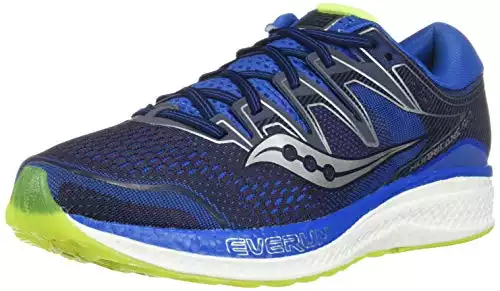 Saucony Hurricane ISO 5 | Amazon
The Hurricane ISO 5 features our maximum EVERUN underfoot along with the perfect amount of medial support to keep your run rocking, without the unwanted rolling. This stability running shoe sports an engineered jacquard, breathable mesh upper with ISOFIT that wraps your foot and reduces excess motion. 
Buy at Amazon.com
Buy directly at Saucony
We earn a commission if you click this link and make a purchase at no additional cost to you.
02/07/2023 07:24 pm GMT
However, with the introduction of the Saucony Kinvara line, Saucony reestablished their presence in the running shoe industry.
Now in its 8th edition, the Saucony Kinvara has developed a cult-like following amongst running enthusiasts and is frequently on nearly every "best-of" running shoe list.
The Saucony Kinvara line features neutral runners focused on "functional minimalism."
The Kinvara features ample cushioning, amazing flexibility, and their unique 4mm offset. Saucony also continues to push its most promising technologies into the Kinvara line.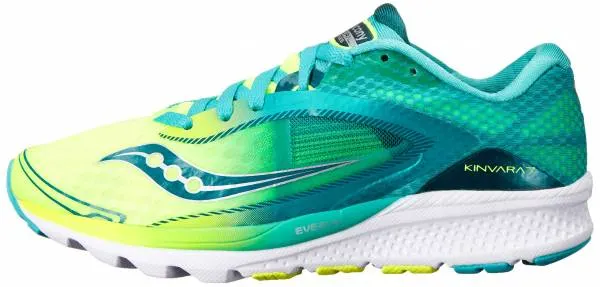 For instance, the Saucony Kinvara 8 features the Everun topsole (more on this below) and their Flexfilm upper, which is their breathable answer to the knit materials offered by other brands.
We found that runners continuously gravitate toward the Kinvara line due to its increased flexibility and natural ground feel. Runners also continuously praised the Kinvara for its secure and comfortable fit along with its low offset.
As a result, many runners looking for a reliable shoe for long runs with moderate speed find the Kinvara the go-to option. However, we found that some runners complained that the Everun may sacrifice some of the core ground feel that made the Kinvara so popular.
We also found that runners felt that the Kinvara line, in recent iterations, struggled with perfecting its lacing and lockdown structure.
The Kinvara Line is equally as aesthetically pleasing as other running shoes as well. Much of this is due to Saucony's leaning towards making the Kinvara a sleeker silhouette.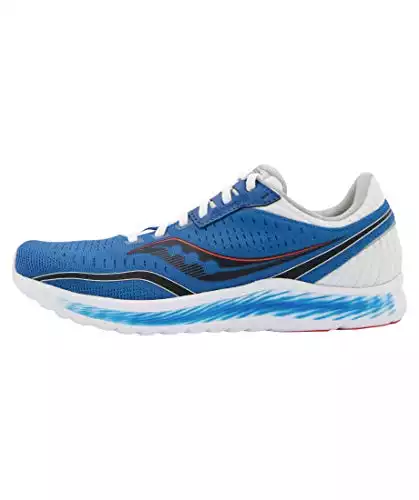 Saucony Kinvara 11 | Amazon
For those working hard to achieve their goals, the lightweight Kinvara 11 has been whittled to be exactly what one needs to be efficient, go fast, chase PR's, and break personal barriers.
Buy for Men
Buy for Women
We earn a commission if you click this link and make a purchase at no additional cost to you.
02/07/2023 11:10 pm GMT
The Kinvara is also noticeably lightweight given its stripping of correction technology that may bog down even other neutral running shoes.
Winner: Asics. Despite the rise of its flagship models and the continued improvement of the massively popular Kinvara line, the Asics' Gel-Kayano line continues to be the standard-bearer for flagship models.4
It could be argued that among all running sneaker legacy lines including Nike's Pegasus and Brooks' Glycerin, the Asics Gel-Kayano is one of the most successful flagship running models both commercially and from consumer opinion.
The success of the Gel-Kayano line has also literally birthed other successes for Asics due to the testing and implementation of their groundbreaking technology. As a result, we think that Asics has the edge over Saucony for runners due to this model.
Cushioning Technology
Flyknit, Primeknit, Fluidfit, uppers are generally uppers. The same goes for laces, heel cushioning counters, and reflective material. The true separation between running shoe brands is in their chosen cushioning technology.
It is also one of the first things runners will comment on when they purchase a new pair of running shoes. Therefore, we compare each brands' best cushioning systems for runners.
Saucony Everun
In 2015, Saucony introduced their Everun cushioning system replacing the Powergrid cushioning system that kept elements from the early 90s. Everun is a TPU (thermoplastic polyurethane) material that allows for more energy return, maintains better durability, and does not heat up like traditional EVA foam carriers.
Everun is almost exactly like the Adidas boost midsole in both construction and consistency.
However, Saucony has been more judicious in their use of Everun through what they call "topsole," which essentially is a thin sheet of Everun under a traditional foam sock liner on top of a traditional foam sole. Saucony will also utilize Everun in certain places such as a heel wedge to provide more shock absorption.
We found that runners enjoyed the prudent use of Everun in their running shoes. Technology is not only about cutting edge, but also the strategic deployment of it. We found that runners commented that the use of Everun in the Triumph ISO 2, for instance, was a good mix of responsiveness and cushioning.
It was particularly popular for runners used to minimalist shoes, but for various reasons wanted a more cushioned experience but not overly so.
The most common complaint with TPU materials such as the ones used in the Adidas Boost running shoes, for example, is that it can be too much-limiting stability and in some cases, causing running pain.
The advantages of Everun is that it still employs a traditional insole and midsole, which restricts the sinking feeling that a full TPU foam like Boost can have on the runner while providing some responsiveness.
However, we found that those used to maximum or minimum cushioned offerings still found the ride too firm or too soft requiring some adjustment time.
Asics Flytefoam
In 2015, Asics also introduced a new foam cushioning system called Flytefoam. Asics wanted a cushioned, yet a durable cushioning system that was also lightweight and provided some stability.
To accomplish this, Asics built Flytefoam as a lighter midsole with organic fibers within the foam, which help elasticity and durability. However, unlike TPU based foam midsoles, Flytefoam also provides stability as well and keeps the runner from too much uneven movement.
On Flytefoam, we found that runners most commonly praised Asics on their ability to marry lightweight with comfortable cushioning. The lightweight composition of Flytefoam allows Asics to do other creative things with the upper.
For instance, Asics employs Flytefoam in the Asics Dynaflyte 2 along with sleeker uppers and fewer materials. As a result, we found that runners consistently praised the shoe for its lightweight and speedy feel along with its slim silhouette.
On the Asics Gel-Kayano 23, the first Kayano model to include Flytefoam, runners commented that the addition of Flytefoam allowed for an improved heel to toe roll and better foot to foot transition as well.
Also on the Kayano models, Flytefoam may allow Asics to continue to be a little more aggressive in the upper design and may eventually work toward lighter and slimmer Kayano models.
However, being that Flytefoam is still a foam-based cushioning system, there will be some depression over time, but not nearly as fast as traditional foam midsoles.
Winner – Saucony. Everun and more importantly, its deployment in topsole is a creative implementation of TPU that clearly speaks to runners that feel that Adidas Boost is too "squishy" or unstable.
To answer this, Saucony employs TPU more judiciously which gives runners a cushioned experience in a variety of options, while still maintaining a reasonable amount of ground feel and responsiveness.
Additionally, Flytefoam, while revolutionary, still feels like an unfinished product both in the actual cushioning system and how Asics plans to build around it.
Commitment to Running 
Asics, while primarily noticed for their running shoe dominance, still has tentacles in numerous other sports including volleyball, wrestling, and tennis. However, they are most famously known for their running shoe offerings.
Asics offers running shoes for a variety of audiences, but motion control and stability is really where it shines with offerings such as the Gel-Kayano, Gel Foundation, and the GT-1000.
As a result, they have continued to pour resources and refine their stability offerings for overpronators, which makes them usually the first choice for those falling into this category. Asics does offer shoes for neutral and trail runners, but they pale in comparison to their stability line, which is an industry leader.
Saucony is a running company only and while that limits their mass-market appeal, it allows them to focus purely on running as a result. While other companies focused on producing other types of shoes, Saucony churned out running shoe after running shoe and remained committed to the sport.
And it shows with innovative technologies such as Everun and Flexfilm. It also offers shoes in 4mm and 8mm offsets, which are perfect for those looking for a lower to the ground feeling or depending on if you have high arches or low arches.
They also offer stability shoes for pronators along with racing and trail-running shoes as well. Saucony does offer lifestyle based shoes, but its core is still running shoes.
Winner – Saucony. Asics is a beast and deservedly so. What they've done for overpronators alone has won numerous awards. However, for runners, we feel like Saucony is a dedicated brand without the noise. They specialize in running shoes and we feel that they are plugged into runner's needs of all types.
Additionally, we feel that when it comes to running shoes, Saucony has more quality offerings in running than filler shoes that may end up in clearance stores.
Q&A
What are the best running shoes if you have plantar fasciitis?
In my opinion, followings are the best shoes for a runner to wear for plantar fasciitis:

1. ASICS Gel Cumulus 17 Running Shoes

2. Saucony Men's Guide 10 Running Shoes

3. ASICS Gel Nimbus 17 Running Shoes
Overall: Saucony vs Asics Final Word
Winner – Saucony…but by a TRIVIAL margin. In fact, we could just as easily say Asics and still sleep well at night. Asics is a major beast buoyed by their Gel-Kayano line. They continuously push the envelope with technological advancements such as Flytefoam.
And when it comes to overpronators, the joke is true, Asics tends to be prescribed just as much as physical therapy.
However, Saucony continues to be committed to running shoes and have quietly become a fan-favorite amongst the hardcore running community. They offer a unique line of neutral, quasi-neutral, and stability shoes with minimalist foundations. Additionally, we feel that their use of Everun could be a game changer the way Boost was for Adidas.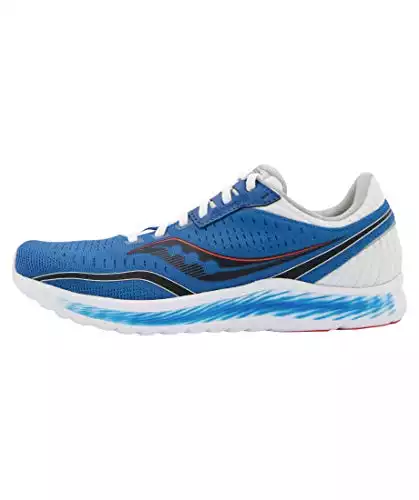 Saucony Kinvara 11 | Amazon
For those working hard to achieve their goals, the lightweight Kinvara 11 has been whittled to be exactly what one needs to be efficient, go fast, chase PR's, and break personal barriers.
Buy for Men
Buy for Women
We earn a commission if you click this link and make a purchase at no additional cost to you.
02/07/2023 11:10 pm GMT
Further Research: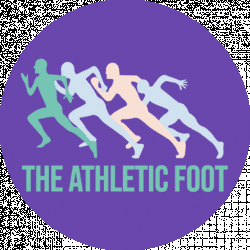 Latest posts by The Athletic Foot Team
(see all)