Saucony continues to be one of the consistent leaders for runners in nearly every category.
However, New Balance remains a consistent challenger brand that continues to offer aggressive running shoes for a competitive price. Both companies are dedicated running companies with a rich history and commitment to improving running performance.
While other brands may dominate the flashier headlines, these two brands consistently offer quality offerings focused on their core strengths.
While both have had some different approaches in their running philosophy, they still remain consistent go-to options for a large number of runners.
In this article, we compare Saucony vs New Balance along with their core offerings and fit for runners. We specifically look at:
History of the brands;
Comparison of their flagship models;
Cushioning technology and;
Commitment to Running.
History
New Balance was started in Belmont, Massachusetts by William Riley in 1906 primarily as an orthopedic support company.
While it did well in this industry, in the 1930s, New Balance shifted gears from offering pure orthopedic supports to manufacturing footwear with orthopedic tendencies.
As a result, many athletes during that time began to gravitate toward the brand and their unique, yet comfortable footwear.
In 1961, New Balance took roughly 30 years of footwear manufacturing research and development and released a running shoe, the Trackster.
The Trackster was a unique offering at the time as it was the first shoe to feature a ripple sole and be offered in a variety of different widths.
Even without dedicated marketing, the Trackster became a favorite among athletes at multiple levels of skills.
Building on the limited, yet the significant success of the Trackster, New Balance pivoted to offer more aggressive offerings. Beginning with a change in ownership,
New Balance began to increase the visibility of the Trackster along with other running shoe offerings to a more general, leisure-focused audience.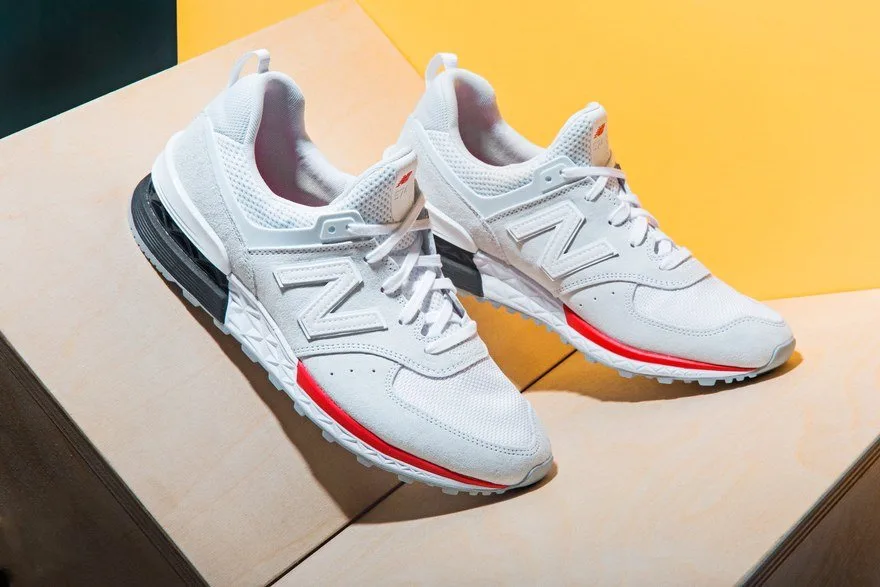 By 1975, New Balance had gained national attention. By 1976, New Balance became a leader in the running shoe industry with the introduction of the New Balance 320.
Riding the running wave of the 1970s and boosted by national recognition, New Balance went on a tear in growth.
Despite a brief blip in the 1980s, they grew their profits, their audience, and their popularity exponentially over the next 30 years.
During this time, New Balance focused on two key components to differentiate themselves from other companies.
First, New Balance offered running shoes in a variety of widths to provide customized comfort. Drawing on their experience as an orthopedic company,
New Balance understood that foot width would be an important consideration in choosing proper footwear. Secondly, and more famously,
New Balance maintained a domestic production philosophy as other companies were shipping manufacturing overseas.
New Balance leadership believed keeping the production domestic would ensure complete control over the manufacturing process.
Saucony was founded as a "casual" shoe brand in the 19th Century after the first Olympic Marathon in 1898. With rich roots in Pennsylvania, Saucony, named after Saucony Creek, began offering shoes for a variety of audiences and only really dived into running in the mid-20th Century.
However, today, they remain one of the most successful running brands in the market.
Unlike other running brands, Saucony focused on children's shoes. However, this approach allowed them to perfect the industrial footwear process and soon became a shoe-producing machine.
It was not until corporate restructuring, an American love affair with running, and a geographic change that they fully committed to the running market.
During the 1970's, Saucony began taking their successes in making children shoes along with some lessons learned in running spikes to begin developing active running footwear.
And almost immediately, Saucony began to realize success in the industry. In 1977, Saucony received the "best quality" award from Consumer Reports.
Shortly after, they received more national recognition for their running shoes from Runner's World.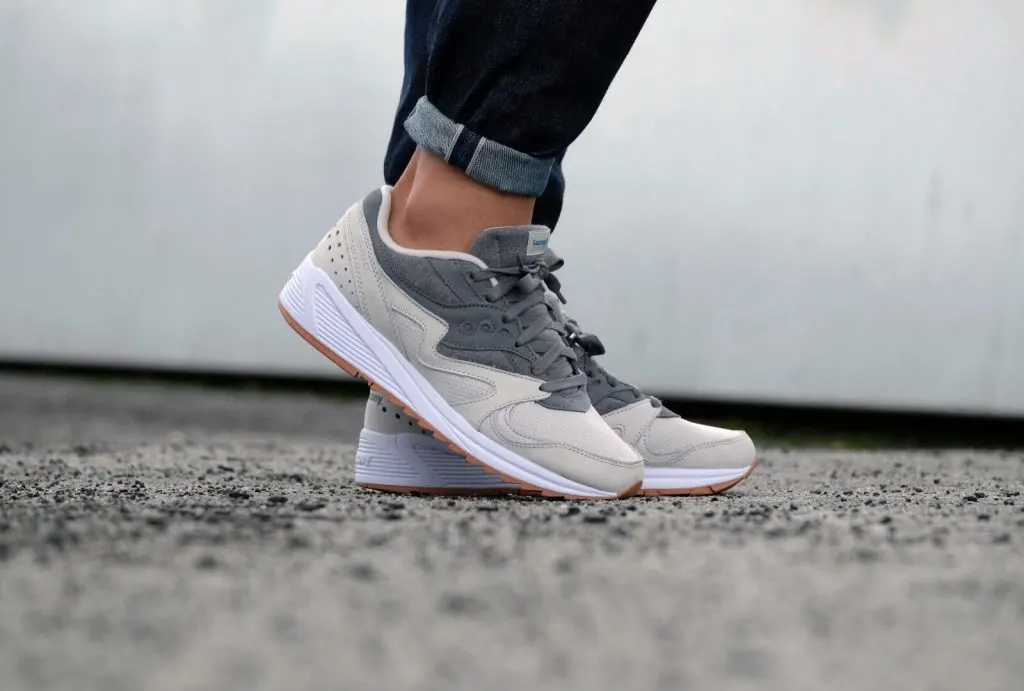 Buoyed by this momentum, Saucony double downed their running line in the 1980's.
By making small, incremental, yet innovative improvements on prior designs, Saucony was able to produce some of the most iconic running shoes in history including the Trainer 80, the Jazz, and the Shadow.
Specifically, Saucony remained true to a consistent formula which was to allow the runner natural foot flexibility on top of reliable traction and moderate assistive technology.
Fast-forward to today and Saucony continues to remain an aggressive running brand for both road and trail running. Their offerings are consistently in the "best buy" lists and they remain a popular choice for runners of all levels.
For instance, their Peregrine series consistently ranks among the best off-road shoes available on the market. Their road running shoes have also developed a massive following.
Saucony's reliable stable of road running shoes such as the Guide, Triumph, and Hurricane continue to be popular options for all runners.
Lastly, their groundbreaking and immensely popular Kinvara series continues to be one of the standard bearers in the running industry.
Winner – Tie. Saucony and New Balance have unique and different origins that are the core of what they do today.
Both have stayed true to running and providing a good running experience to a variety of runners.
Runners and running enthusiasts will appreciate the history of both companies and find that their commitment to running has remained uncompromised. Plus, as always, we are not deciding a winner based on history.
Flagship Model Line
Understanding a brand's flagship model is extremely important for runners. Flagship models signal a direction for the brand and more importantly, the very best of what is available from it.
A successful and well-received flagship running shoe will propel a brand's success into other parts of their business. It is also a great opportunity to get a sense of how the brand will evolve.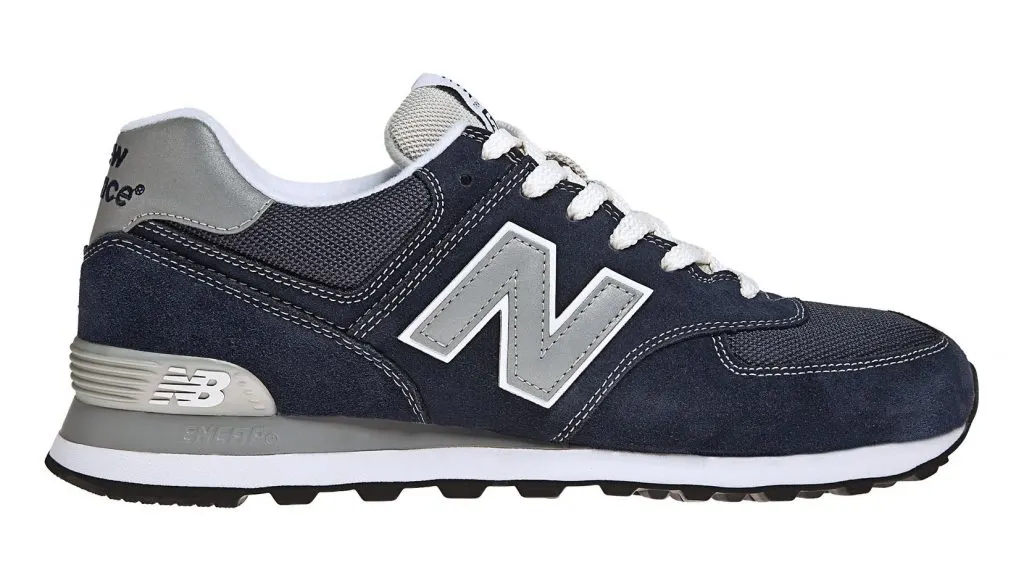 New Balance offers many models that are supremely popular and have a cult following.
For instance, the New Balance Minimus is consistently one of the most popular minimalist shoes, while the 860v8 is a constant go-to shoe for stability-seeking runners.
However, when speaking about New Balance, we would be remiss if we did not highlight the iconic place the New Balance 574 had in shaping not only New Balance but the athleisure market in general.
The New Balance 574 was originally introduced in 1988 as a running and training shoe for endurance athletes. During that time, the New Balance 574 was one of the peak performers of its time.
Most famously, Dick Beardsley ran in the New Balance 574 and finished second in the 1982 marathon. After that, the New Balance 574 exploded in popularity amongst not only endurance athletes, but also casual enthusiasts as well.
The New Balance 574 is a lightweight, durable unisex neutral runner that offers little correction and little bulk.
Simply, it is a no-frills runner that works well in a variety of circumstances. It has maintained its sleek, low profile over the years.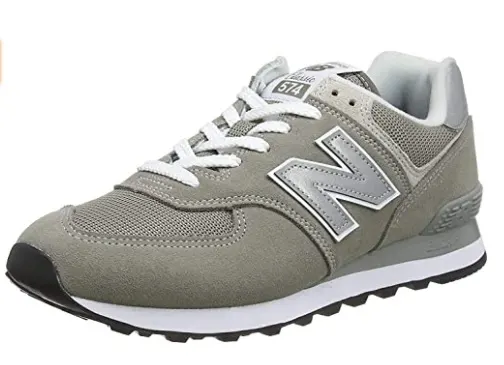 The New Balance 574 features a breathable mesh upper with strategic overlays to provide upper stability for the runner.
It's a neutral shoe and offers little stability or corrective assistance. Users can remove the insole to replace it with a custom orthotic if necessary as well.
The New Balance 574 features an EVA foam midsole combined with durable materials to maintain its shape.
New Balance calls this ENCAP, which focuses on providing comfortable support and maximum durability.
It also serves a pressure disperser to ensure the wearer does not unequally experience impact. This also helps in maintaining durability.
In fact, we found that the upper of the New Balance 574 will often fail long before the sole and the cushioning give out completely.
As a result of a comfortable cushioning system, the New Balance 574 has remained a popular choice for a wide-variety of audiences for a number of different activities including running, gym-going, casual and office wear, and general comfort.
We found that the New Balance 574 was popular among medical professionals to active gym enthusiasts. We have even found the New Balance 574 to be immensely popular as a cult icon like the Converse Chuck Taylor.
Lastly, the New Balance 574 remains a consistently attractive option for its aggressively affordable price combined history and comfort.
At any given time, the New Balance 574 can be purchased for less than 50 dollars and that makes it a popular and attractive option.
The New Balance 574 is also offered in a variety of colorways and we have even found a burgeoning custom 574 market in many communities.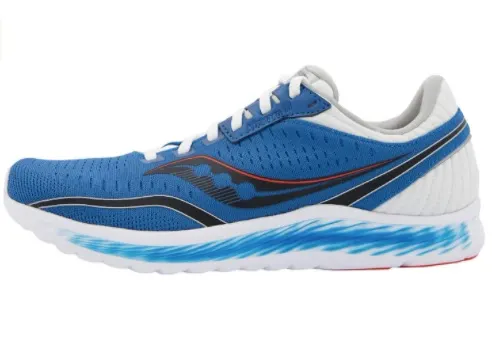 In the past ten years, Saucony made a number of splashes in the industry with the introduction of the Triumph ISO, Guide, and the Hurricane ISO.
The Triumph ISO has been a well-received neutral shoe for those looking for a plush daily trainer.
The Guide offers those looking for a comfortable, yet performance-focused stability shoe with equally impressive cushioning.
Finally, the Hurricane ISO offers an alternative stability trainer for those looking for additional assistance.
However, the crown jewel of the Saucony running line continues to be the Kinvara line.
The Saucony Kinvara line is now in their 9th iteration and continues to be one of the most-popular and well-reviewed running shoes offered each year.
In fact, we found that runners consistently look forward to the newest Kinvara to update their collection.
The Saucony Kinvara is a neutral running shoe with a sleek profile and minimalistic tendencies.
Nearly all the Kinvaras feature a unique blend of plush cushioning, great sole flexibility, and a low 4 mm offset.
Saucony also makes small, yet impressive updates to the line with each iteration.
In the Saucony Kinvara 11, Saucony offers their ground-breaking Everun midsole, a redesigned and lighter Flexfilm upper, along with a continued focus on comfort and responsiveness.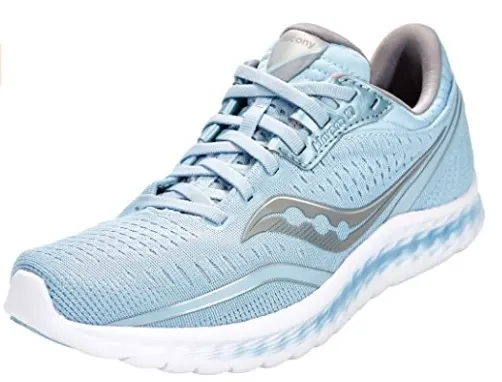 The Kinvara line continues to bring new and old runners to the model due to their impressive flexibility and focus on promoting a natural ground feel.
The Kinvara line also consistently offers some of the best lockdown for runners to ensure a comfortable, yet unrestricted fit.
Saucony also maintains its low offset to provide runners with the additional ground feel and foot-strength-developing opportunities.
The Kinvara line is versatile enough to serve 5K's to full marathons and everything in between. It continues to be a reliable shoe with impressive speed offerings.
It also promotes a secure, ground feels to keep the runner secure and stable. The only remote complaint with the Kinvara line more recently has been their decision to enter the TPU based foam market.
Everun, which is an amazing piece of tech, may reduce some of the core ground feel that the Kinvara line specifically specializes in.
Lastly, the Kinvara Line simply looks good. It is a sleek, almost minimalist silhouette with attractive color options and designs.
It is also an extremely lightweight shoe and remains a popular option for casual wear as well.
Winner: New Balance
The Kinvaraline is amazing and massively popular. It offers some of the best techs that Saucony has to offer and continues to be a leader in the industry.
However, when thinking of iconic running shoes of the last 30 years, it would be hard to have a discussion without the New Balance 574.
Its status is on par with running shoe brands such as the Asics' Gel-Kayano, Nike's Pegasus, and Brooks' Glycerin.
Additionally, it is a history rich as the Converse Chuck Taylor and the Vans Old Skool.
Lastly, it is a perfect representation of what New Balance does well; minimalistic, simple, and no unnecessary bells and whistles.
As a result, we think that New Balance has the edge over Saucony for runners due to this model.
Cushioning Technology
While there are a number of technical advancements in running shoes such as the upper material, lace design, and midfoot cage, the true piece of technology for running shoes is in their cushioning systems.
This is the most noticeable part of the shoe and the thing that can make or break most runners' experiences.
As a result, companies continue to attempt to refine and perfect this part of the shoe to separate themselves from the competition.
Here we look at the cushioning systems of Saucony and New Balance.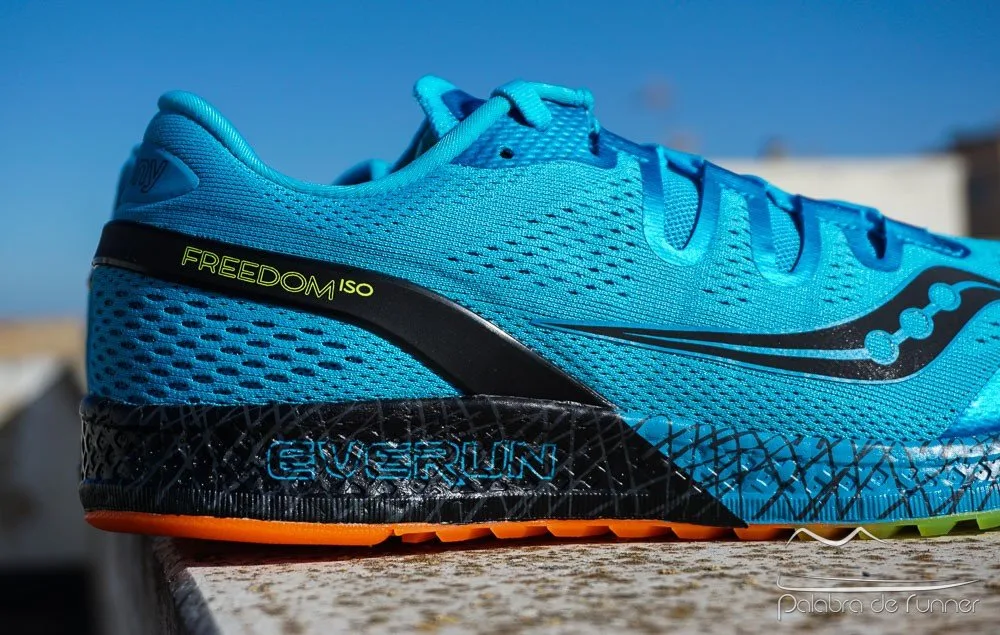 For decades, Saucony used a grid-based cushioning system, Powergrid, that dispersed impact throughout the shoe during impact.
While this system was wildly successful, in 2015, Saucony introduced their Everun cushioning system.
Like offerings from Adidas, Everun is a TPU-based (thermoplastic polyurethane) material that acts like a sponge during impact and a rubber band during takeoff.
It transfers energy to the ground and back to the runner to reduce impact injury and fatigue.
TPU-based systems also tend to be more durable and temperature resistant.
While Adidas uses their TPU, Boost, as the entire midsole, Saucony judiciously employs the Everun as a "topsoil."
They place a thin sheet of Everun over their traditional EVA midsole to provide both cushioning through the Everun and responsiveness through EVA.
Lastly, Saucony will also include Everun in strategic places such as the heel to provide a little extra cushioning.
Since its launch in 2015, runners have grown more and more fond of Everun technology.
While Adidas Boost dominates the market, Saucony has quietly developed a loyal following due mostly to their strategic use of the topsoil.
The use of Everun in models such as the Triumph ISO 5 and Guide 10 allows for a unique blend of adequate cushioning and proper responsiveness.
Neutral runners seeking a little extra cushioning also favored Saucony's offerings almost purely due to Everun.
Lastly, Saucony rectifies one of the most common issues with super soft TPU-based midsoles: instability.
Saucony uses Everun as a part of a "dual-layer" cushioning system which allows the runner to enjoy the firm, responsive properties of EVA along with plush cushioning of Everun.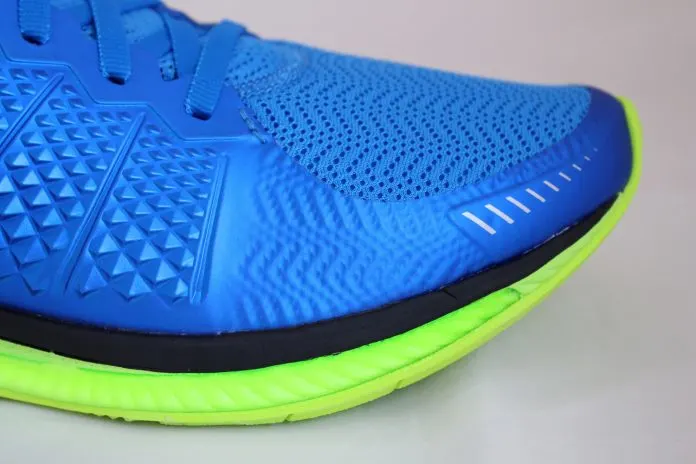 Unlike Saucony, Nike, and Adidas that have a signature cushioning technology, New Balance takes a different approach by offering a number of cushioning systems in their models.
As a result, runners can choose the proper cushioning technology for their respective needs. However, it also makes a direct comparison with other cushioning technologies rather difficult.
It also prohibits the model from having a dedicated cushioning system that it highlights as uniquely New Balance and separates them from their competitors.
Here, we will review their most popular cushioning systems: Fresh Foam and FuelCell.
In 2014, New Balance introduced the Fresh Foam cushioning system through the New Balance 980. Fresh Foam is an EVA foam compound injection molded to form the shoe's midsole.
It is essentially a triple construction process to develop the midsole through imaging and study of the human foot.
Fresh Foam is unique to the convex and the concaves in the midsole. These structures are meant to disperse and absorb pressure during impact.
The unique properties of the Fresh Foam are in its development and the concaves in the shoe.
New Balance has creatively employed Fresh Foam over the years to fit the need of the runner.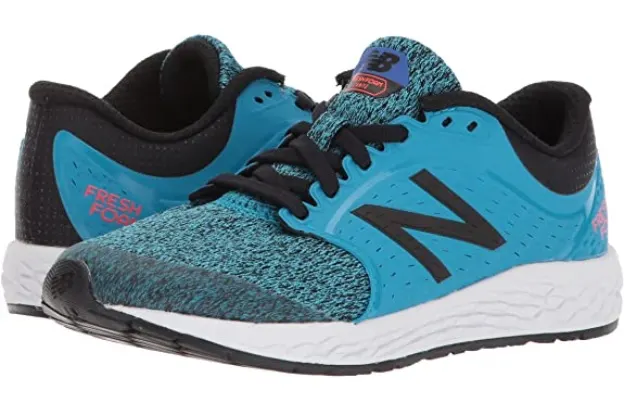 For instance, in some shoes, New Balance manipulates Fresh Foam to focus more on responsiveness and speed such as in the Zante V4.
For others, such as the Fresh Foam Cruz, New Balance manipulates the midsole for a softer and plusher experience.
While this allows New Balance some flexibility, it also limits the user's continued experience.
For instance, someone who tries on the Zante V4 may never consider the Cruz expecting a similar experience.
Riding the wave of TPU-based midsoles, New Balance also began offering a similar setup in 2017.
New Balance's answer was called FuelCell and it offered it on dedicated running shoes focused on speed and responsiveness.
FuelCell is a great answer to Everun and Boost. However, it tends to mirror more Everun than Boost.
FuelCell is a springy, cushy midsole, but does not promote a sinking feeling throughout the run.
Instead, FuelCell offers more responsiveness than Everun and Boost and is more similar to the Fresh Foam on the Zante V4 but in a durable, comfortable TPU material.
We feel that this is an intelligent direction for New Balance. One of the most consistent criticisms we hear from runners in Adidas Boost models is that it is too soft and sacrifices entirely too much responsiveness and speed.
To counter that, FuelCell is a speed runner's dream. It offers enough cushioning for comfort but encourages speed and ground feel for the more seasoned runner.
Fresh Foam and FuelCell are impressive offerings from New Balance. However, the latter needs to be deployed in more models and be able to stand the test of time.
The former has a great following, but inconsistent ride experiences may hinder their popularity.
Everun seems to be a Goldilocks of TPU-based cushioning. It is not as sinking as Adidas Boost but slightly more comfortable than FuelCell and Fresh Foam
Commitment to Running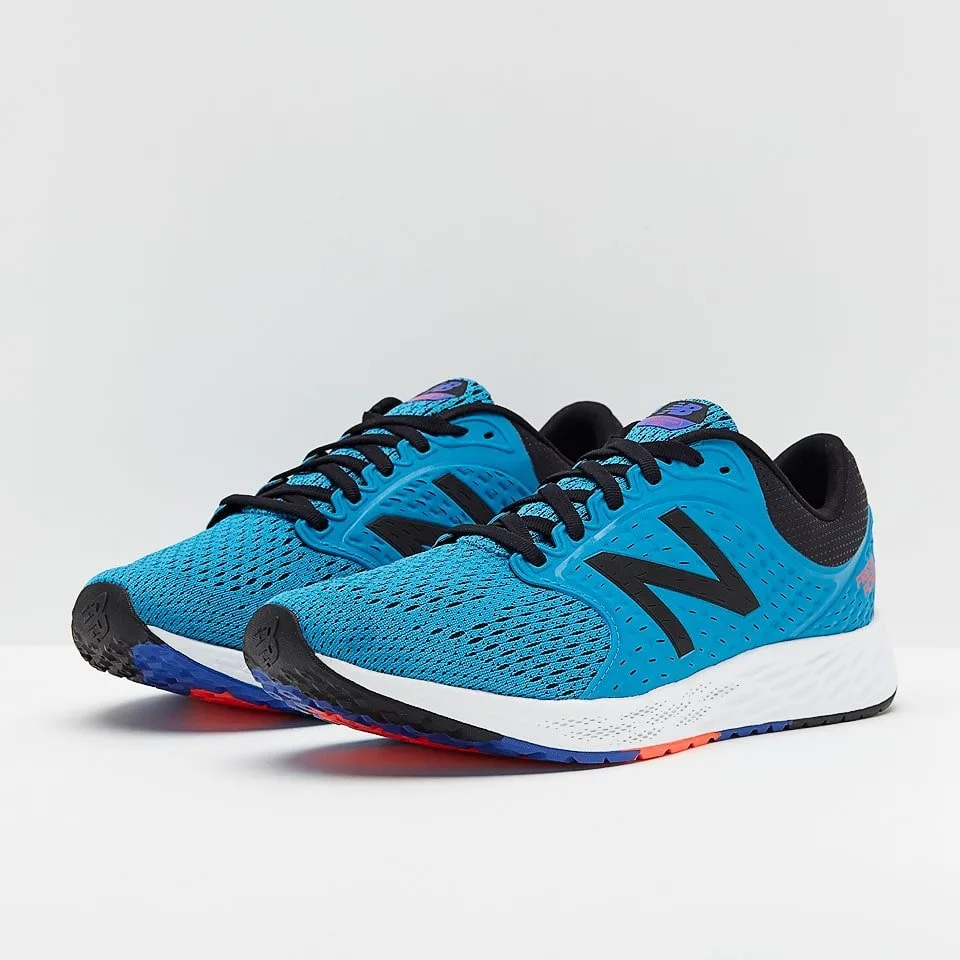 New Balance has an amazing history of supporting runners quite literally. They have remained true to running as a sport and continue to offer iconic models that quickly become cult favorites.
Their new offerings from the Fresh Foam Zante to the 800 series demonstrates that New Balance is constantly pushing the envelope in making better running shoes for a variety of audiences.
Unlike other brands such as Nike and Adidas, Saucony is a dedicated running company with firm roots in the sport.
While this only exposes them to hardcore runners, they continue to grow well in that market each year.
Saucony also continues to focus on what it does really well such as offering shoes with low offset, focusing on responsiveness, and good-looking running shoes.
Not to be left behind, Saucony continues to push the envelope with innovative technologies such as Everun and Flexfilm.
Winner – Saucony
New Balance is amazing and has some wonderful developments aimed at making running a better experience.
They revolutionized the wide-foot running market and continue to offer responsive offerings.
However, Saucony is a dedicated brand with the right amount of technological innovations that demonstrate that they are leading the pack.
Overall View
Winner – Saucony…but again, by a TRIVIAL margin. New Balance is an amazing running brand with a rich history and impressive offerings.
They have a cult following in many of their running shoes and almost always appear on top ten running shoe lists.
However, Saucony continues to grow as a leader in the running shoe market and continues to push the envelope on their technical features.
They offer popular shoes in nearly every category and continue to be a leader in each.
Side Note: Saucony ALSO edged out Asics in our comparison here.
Further Reading on Running Shoe Brands