Marathons are tough and it certainly takes more than good running gear to finish one. Let alone being on the same level as the Eliud Kipchoges and the Mo Farahs of this world! That said, good running gear plays a role in keeping you comfortable on the track which can have an influence on performance.
So which are the best running shorts for a marathon runner you ask?
Well if you're a long distance runner you need the right short to help you brace the long distances and this is what this article is all about. We will be telling you what to look for in marathon shorts while also reviewing some of the best running shorts for a marathon.
What To Look For in a Running Short For Marathon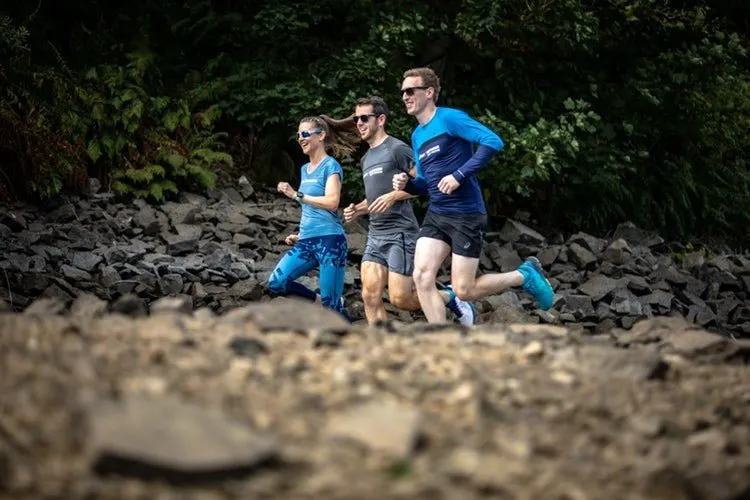 Before we delve in deeper, we need to first understand what to look for in a running short for a long distance race. Here are a few things to keep an eye on when shopping for your marathon short:
Material
Of course, the first feature you ought to look at is the material of the running short. They often come in two types i.e synthetic and natural fiber types. The former is made of a material like polyester which means that they tend to stretch and fit well whilst drawing moisture from the body faster.
Shorts made from natural fibers like cotton are also great in terms of stretch and movement but they are known for holding on to moisture something that can lead to chafing and rashes.
Style
There are three common styles in running shorts-compression shorts, V-Notch Running Shorts, and Split Shorts
Compression Shorts
As you might have guessed, these are running shorts that fit tightly around the body. They are often worn by professional athletes to provide muscle support which in turn prevents issues like chafing, rashes, and injuries.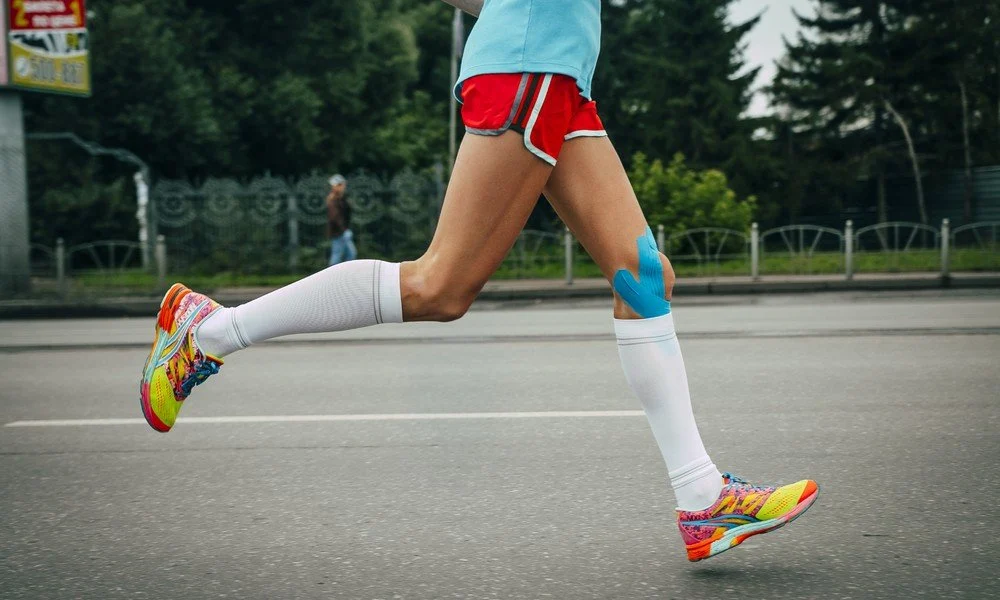 V-Notch Shorts
V-shorts are arguably the most popular style of running shorts around. You can spot a V-short from an upside-down V-shaped cut on the outer seam on the outside of the leg. The cut essentially gives a runner more room for let movement plus they are an excellent choice if you don't like the tightness that comes with compression shorts.
Split Shorts
Not to be confused with V-Notch shorts. Well, they tend to be similar but with one key difference. Split shorts have an upside-down V-shaped cut but this time the shorts are designed in a way that the front panel overlaps with the back panel. It is more cut for performance keeping in mind that it gives the runner a better range of motion but the leg seam is a bit short.
Pockets
Marathon running shorts can also come with pockets either on the outside or the inside which definitely has pros and cons depending on the design. On a positive note, having a small pocket can let you run with some payload such as energy gels. However, some designs aren't exactly tailored to give you comfort running with something in the pockets.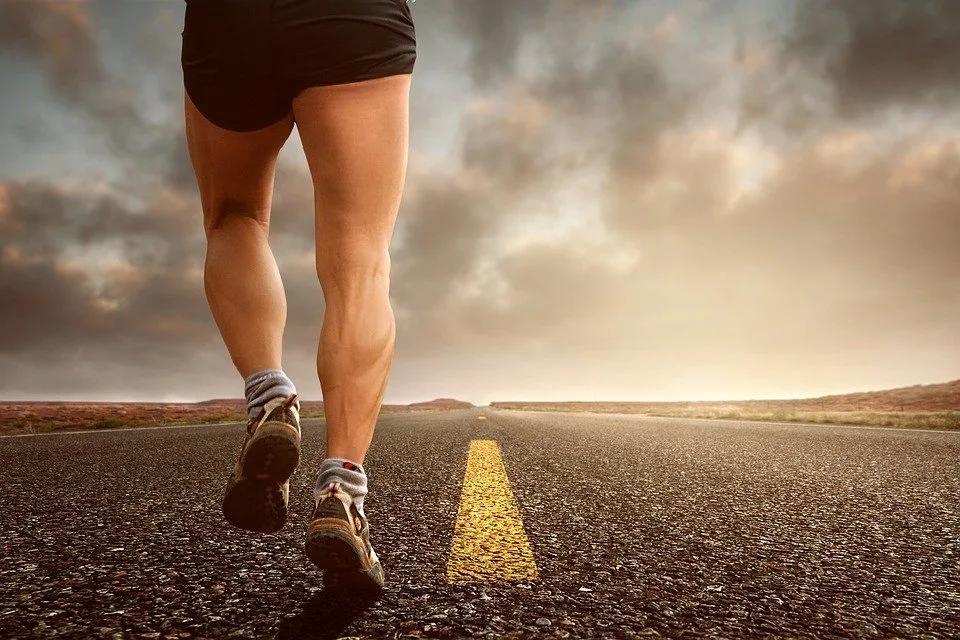 Liner
Running shorts often have liners inside so that you don't have to wear some underwear with them. A lot of people usually ask why there is a liner in running shorts. Well, these underliners will not only keep you comfortable but will also help dry away sweat hence cooling you off as you run.
The good thing with this is that a runner will avoid chaffing, infections not forgetting that they offer support to the male genitals (in the case of male runners).
These are just but a few aspects to help you find the right running shorts for a marathon but it definitely all boils down to comfort. In other words, you ought to look for a running short that it perfect for your body shape and size.
Let's now look at some of the best running shorts in the market starting with a quick comparison table:
| | | | | |
| --- | --- | --- | --- | --- |
| Running Short | Material | Size | Features | Gender |
| | Polyester | It is a 3" inseam split short availed in various sizes, elastic waist | paper thin design, split shortcut on the leg seam, brief more inline, small pocket | Men/Women |
| | lightweight nylon tricot | It is a 2 – 2¼ inch inseam in different sizes, elastic waist | Super short inseam length to ventilation and motion, small pocket inside, thin fabric | Men |
| | Polyester | 3" inseam on all available sizes, a front, and rise in the design, elastic waist | Fancy design, well ventilated, waterproof waistband pocket , audio pocket | Women |
| | A blend of polyester and spandex | It is a 9" inseam compression short with variations for men and women, elastic waist | Muscle tight but soft and comfy, small elegant back pocket, moisture wicking material | Women and Men |
| | 94% polyester, 6% spandex | 5″ inseam V-Notch short available in all sizes, elastic waist | Thin design with rabbit KNIT brief liner, 3 pockets on the outside | Men |
Let's now look at 5 of the best running shorts for a marathon runner and delve into the details of these running shorts: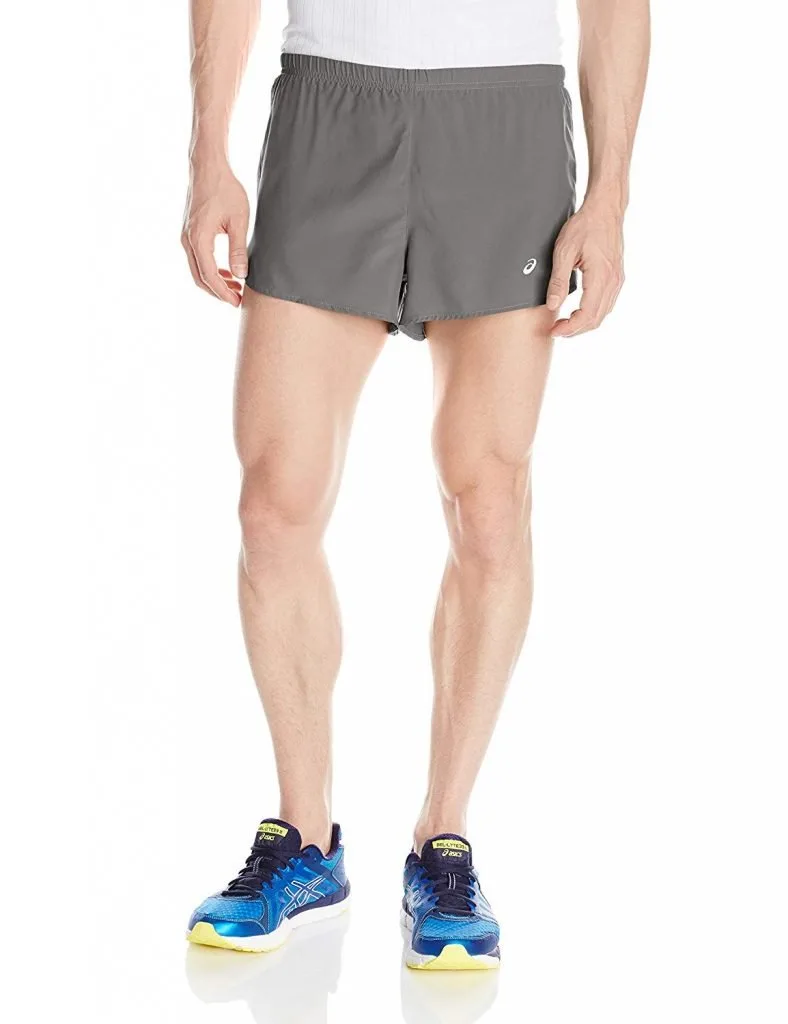 Asics is a company that has made its name in the shoe manufacturing but they have a lot more goodies in the apparel world. They also happen to make some top draw running shorts tailored for all sorts of occasions including long-distance running.
Now, Asics Split Short 3-Inch is one of those running shorts that are up there among the best in the market.
For starters, they have split shorts thus they give runner flexibility in comfort and stretch. It is also lightweight and fabricated to dry out sweat swiftly. Here is a breakdown entailing some of its features.
Material & Design
This short is crafted with a woven fabric that factors in motion flexibility in the design. The material used in this case is a full polyester which along with the paper thin thickness, works very well to dry off sweat and cool a runner.
One other performance-oriented feature is in the brief liner that adds another layer of comfort. There is also an elastic waistband to make it easy to adjust for fit before you hit the road. Did we also mention that it has been laser cut on the sides? Yes, and this definitely implies more ventilation from the sides.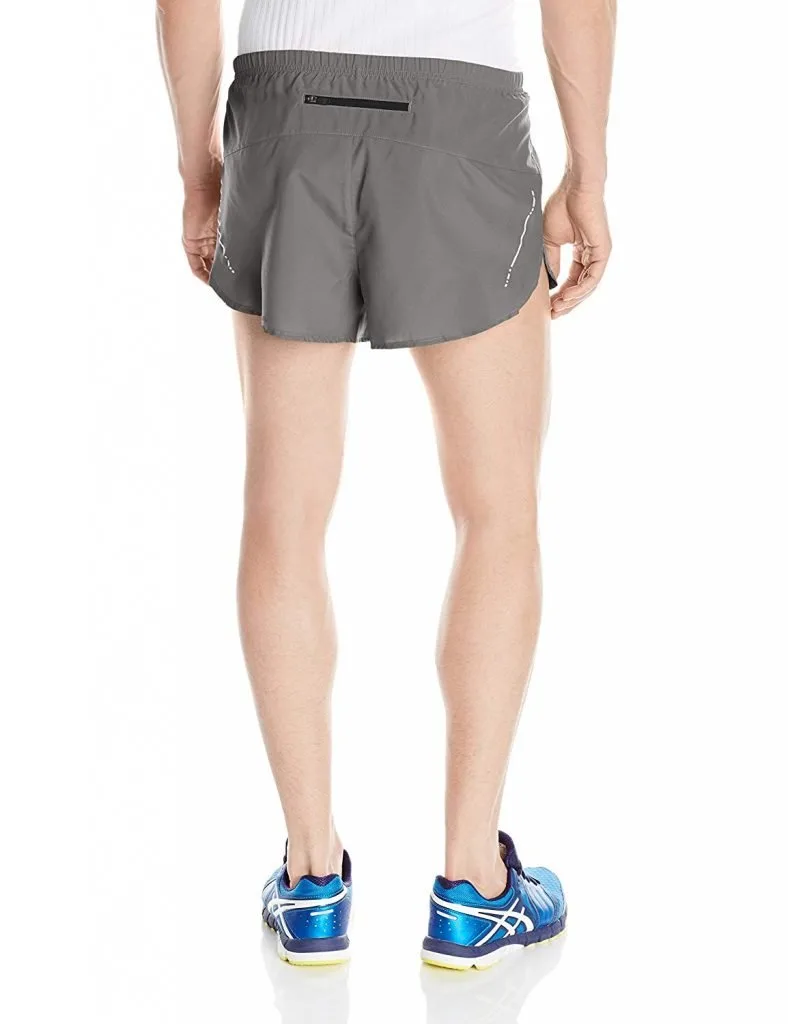 Size
It is a 3" inseam short with different sizing options to choose from. The short also has a side split that increases the range of motion while its waist has an elastic internal cord that makes it adjustable.
Pocket
This short has a minified design which means no pockets have been included on the outside design to stash in something on your runs. There is however a small internal pocket which can hold a small key or a card.
Color
One cool aspect with this short is the color range options afforded to runners. Well, it doesn't come in every color range but you will get short in performance black, Castlerock, Fiery Coral, Sulphur Spring and Victoria Blue among other colors.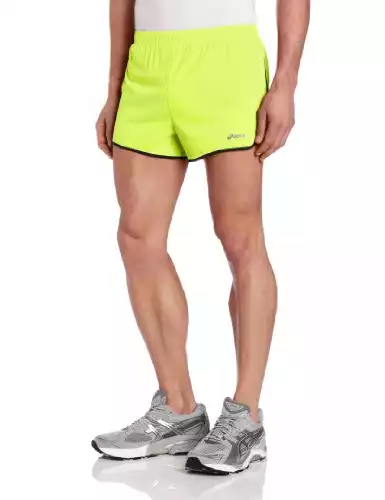 ASICS Men's 3-Inch Split Short | Amazon
ASICS 3" Split Shorts have on old-school vibe blended with modern tech and color-setups with lightweight, 4-way stretch fabric, and 100% moisture-transfer inner liner that literally shoves sweat to the 3 Split Shorts' exterior.
Buy at Amazon.com
Buy directly at ASICS
We earn a commission if you click this link and make a purchase at no additional cost to you.
02/07/2023 09:20 pm GMT
Pros
It has a paper thin design and laser cut split side for comfort and ventilation
The split short design is welcome for those looking to maximize leg stretch and motion
It is made of materials that dry off sweat swiftly
It comes in a plethora of color options to pick from
Cons
It has no external pockets plus it has a relatively short inseam which can be too revealing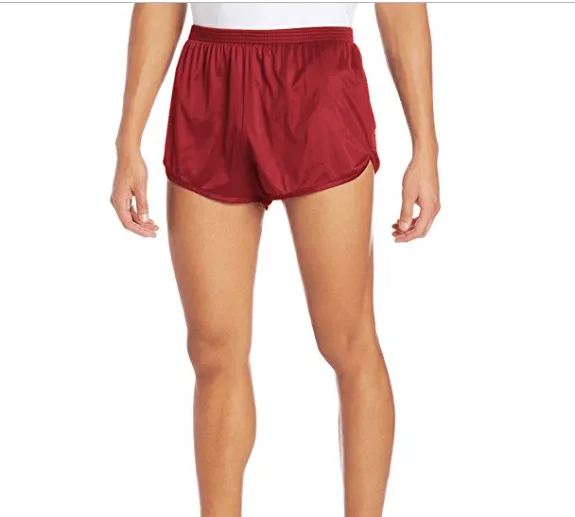 This one is a panty short which essentially means it is short for those who love a running short with shorter inseams. At a 2 – 2¼ inch inseam, the Soffe Ranger Panty is perhaps the shortest on this list but it is one of the reasons it is loved by athletes including those in the military.
It is literally like running with no shorts at all! It has been made with a soft textured material which combines with an internal liner to add extra comfort & good breathability.
Material & Design
The material used to make the Soffe Ranger Panty Running Short is a lightweight nylon tricot. It also has an inner liner around the crotch which helps keep runners dry and comfy. This also explains the fact that the short is extra thin, a feat that helps ventilate a runner.
Designwise, the short is super short with a small v-cut from the heam. Interestingly though, many runners love them this way!
Size
Other than the visibly short inseam, this short is made for virtually every runner size. You will get every size from the small ones to the super large versions in the market.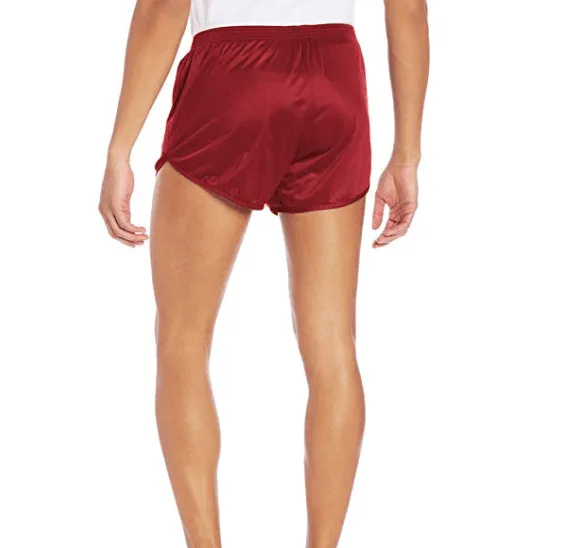 Pocket
As expected, the smaller design doesn't allow a lot of pocket space in the short. But, there is still a room for a small pocket inside where you can carry a key or a card.
Colors
If you are a fan of having color options to choose then this running short has got you covered. This is particularly the case if you fancy shouting colors on a running short as you can select from likes colors like pink, orange, green among others.
Pros
It has a design centered around comfort and breathability
It is relatively cheap
It has a brief liner that gives runners extra comfort
It has a small in-pocket
It has an adjustable waistband that adds comfort
It has an adjustable waistband that adds comfort
It comes in a good range of color variants
Cons
It is very short-some runners might find it too revealing
It is only available for men
Nike needs no introduction in the realm of performance-oriented sports apparel including running shorts. The Nike Dry Tempo Running Short is yet another fancy short out of their amazing brand. Yes, it looks fabulous but there is more.
For instance, it has a mesh side panel to deliver an extra cooling effect to the runner.
On top of this, it is made with Nike's Dry Fabric technology that dries off sweat thus keeping a runner dry and cool. What about the storage? Well, it has also a small pocket at the back and one side pocket.
Material & Design
This short is made of polyester but with design aspects that enhance comfort, breathability, and visibility in low light. The fabric used is moisture wicking to speed up the rate of drying and cooling as the runner burns calories.
The same can be said of the mesh side panel design and the brief liner on the inside of the short that also ensures comfort with no extra underwear needed.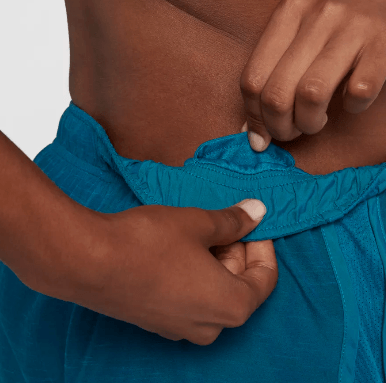 Size
The short has a 3" inseam on all available sizes in the market-from the extra small to the extra large. You will also notice a front and rise in the design which is pretty much tailored for a female athlete. Furthermore, the short has an elastic waist thanks to a flexible inner cord on the waistline
Pocket
The Dry Tempo running short has a hidden waterproof waistband pocket that keeps your items dry. If you want to run with some music on, there is another audio pocket where you can place something like your phone, iPod, etc.
Colors
The short has a marvelous design that is backed up by pomp and color. In fact, the short comes in a nice range of feminine color options.
Pros
It is a well-ventilated short thanks to the fabric selection and the engineering inculcated in the design
It comes in a variety of colors
It has enough pockets to ferry some music devices, snack, or energy gel on your runs
It has an appealing design
Cons
This one is only available for women runners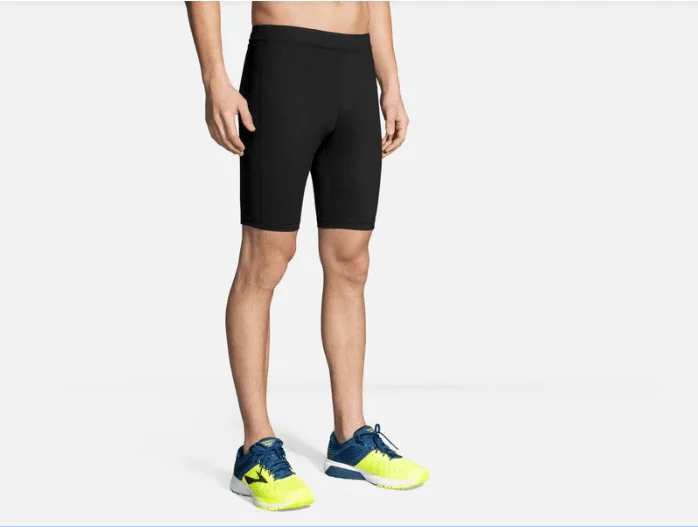 Brooks Greenlight 9″ is one of the best running shorts particularly if you are looking for compression shorts for a marathon.
It is sleek, supportive and fabricated with speed in mind. It has fitted apparel design but with flatlock seams to ensure it doesn't rub your skin roughly. Let's look into the details of this running short:
Material & Design
This short is made of environmentally friendly materials that are a mix of polyester and spandex. Polyester makes up pretty much most of the fabric material used in making this short meaning that it is great at drying out sweat and cooling runners.
In other words, it is a nice choice when running in warmer and hot environments. The liner that does the magic in terms of cooling and absorbing sweating is Drilayer fabric, one of the technologies we have come to associate with Brooks apparel collection.
Just like any compression short, this one is tight and fitting but super comfy. In fact, it has a flatlock seams design that is meant to prevent chafing. It is also marvelous for keeping a runner's muscle in place. This reduces muscle fatigue and reducing injuries.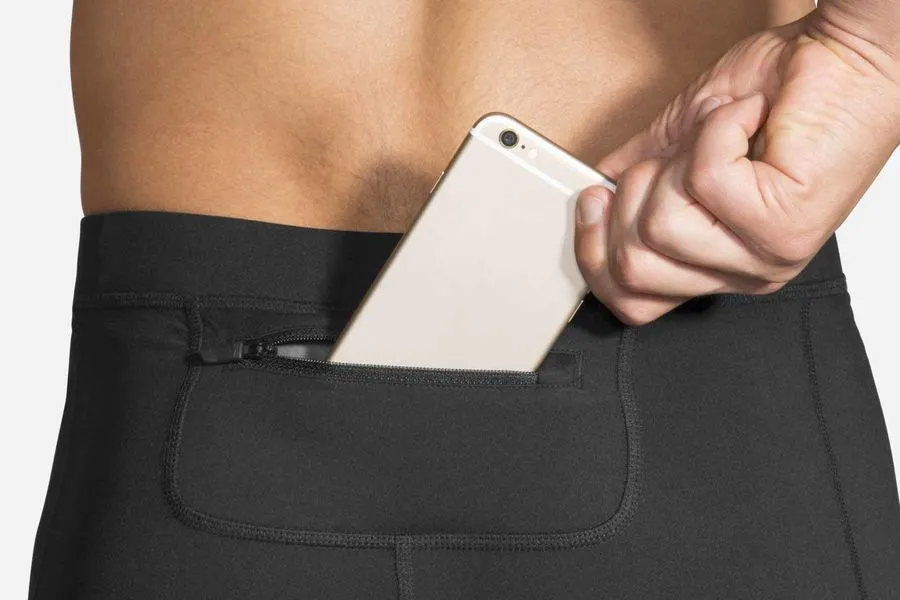 Size
Just as the name suggests, the Brooks Greenlight has an inseam length of 9". The waistline has a flat waistband with a stretch drawcord making it easy to adjust it to your comfort. It comes in a plethora of size ranges suited for runners with different body shapes and sizes. You are bound to get anything from the small version to the XXL option in the market.
Pocket
Want to carry something when running? It looks like Brooks had this in mind thanks to a slim no-bounce zip pocket at the center of backside.
Color
If you are a fan of donning bright colors on the track then Brooks Greenlight isn't for you. It mainly comes in black but there are some dark color variants albeit less popular ones in the market.
Pros
It has been made tight fitting, soft, comfy, and not too revealing
It has a nice cooling effect as it dries off sweat faster
It sticks in place well, not rolling up when you are on the move
It is also made for looks with a fancy design completed by Brooks logo on the side
The outer design has been completed by a miniature pocket on the backside
Cons
Some users have complained that the waistband will occasionally roll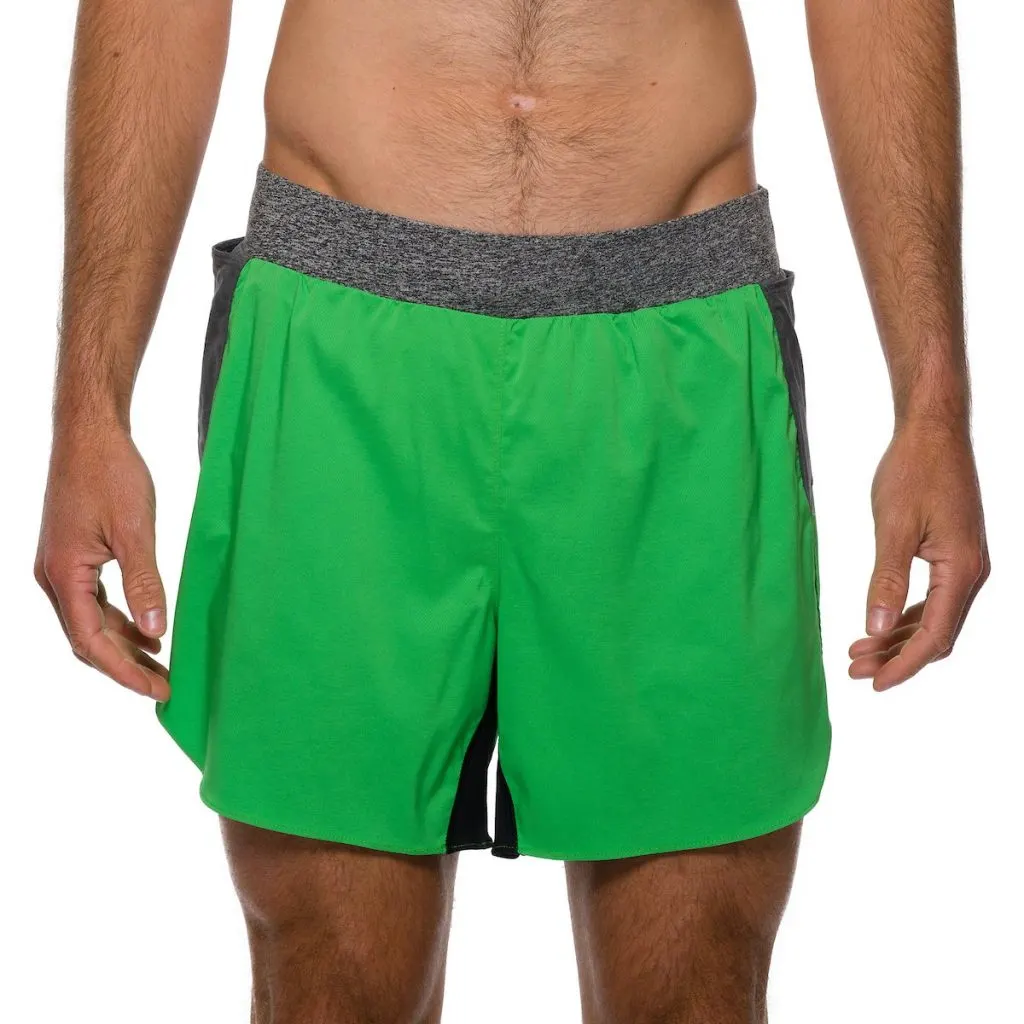 Rabbit isn't a bigwig in the apparel industry but it is certainly one that is producing some nice gear for runners. One of them out of the California based apparel manufacturer is this medium length short designed for runners.
It is a paper-thin lightweight short with a 5" seam and a couple of pockets to stash whatever you fancy(small though) for your race. It is a V-Notch short that affords a runner a 360-degree movement and top-notch comfort.
Material & Design
The Rabbit FKT short is a product of 94% polyester, 6% spandex and some clever fabric technology to wick away sweat fast. The fabric is thin and the liner is the rabbitKNIT brief liner that also works to prevents bruises and chafing plus, it ensures that you are comfortable with no extra underwear.
In matters shape, this short is a medium cut and V-Notch style. This translates to more for leg movement which is perfect for those who aren't comfy running on compressor shorts. On top of that, the waistline has been made with an internal drawstring just to ensure that everything fits.
Size
This short has a 5″ inseam but with various size options to pick from. It is a relaxed type of short that gives a runner space for comfort and leg movement. Let's just say it is a short that lets you run length of your stride.
Pockets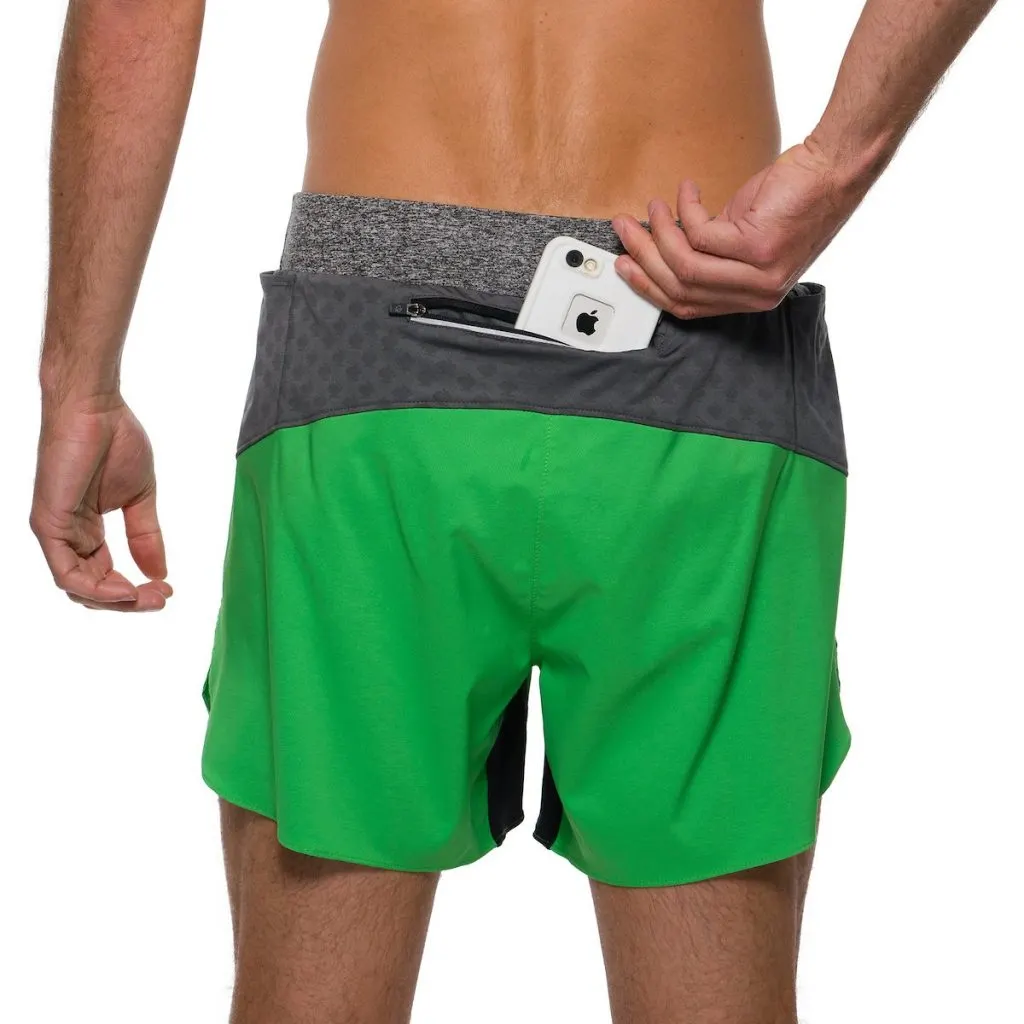 If you love pockets in a running short then this one has lots of options thrown into the design. There are two side pockets that can hold some energy gels or snack if you are training. On the backside, there is another pocket that is big enough to stash in your phone
Color
In terms of color choice, this short comes is available in two colors i.e black and classic green.
Rabbit FKT Shorts | REI Co-op
Whether you're going for a personal best, or just want to get up and down the trail comfortably, the men's rabbit FKT shorts blaze the path with lightweight, quick-drying fabric.
Check Price
We earn a commission if you click this link and make a purchase at no additional cost to you.
Pros
It is a medium length, thus striking the balance for those who don't like short or long running shorts
It is comfortable and well ventilated
Cons
It's only available in two colors
In Summary
This is definitely only scratching the surface. There are other top running shorts for a marathon runner, however the five detailed above are great choices.
At the end of the day, it is just a matter of finding a running short that you are comfortable running a marathon in. Just remember, expensive doesn't necessarily equate to a good running short!
Further read: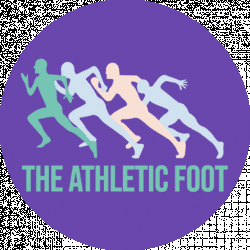 Latest posts by The Athletic Foot Team
(see all)