Running on uneven terrain is not an easy task. To run on a trail, you require better balance that helps you deal with steep inclines, sharp turns, and rocky trail patches. But, with the help of the right train running socks, you can turn it into a comfortable and efficient running experience.
Unlike running on the paved tracks, trail running can be a testing time for your feet and so, you must prepare your feet in the best possible way to take the stress without aches and strains by protecting them with good quality trail running socks.
In this article, we will talk about how to pick the best trail running socks available on the market. Keep reading to know more.
Why do you need trail running socks?
Just as we mentioned above, trail running involves running on a difficult, uneven surface. Therefore, you would require extra support gear to keep your feet going strong.
Trail running socks offer you the extra support that you need. These socks are very robust and durable.
They come with several properties that trail running demands. Superior-quality trail running socks not only make sure that your feet stay away from moisture.
Trail running socks also provide your feet with overall protection, reduce the risk of foot injuries and blisters.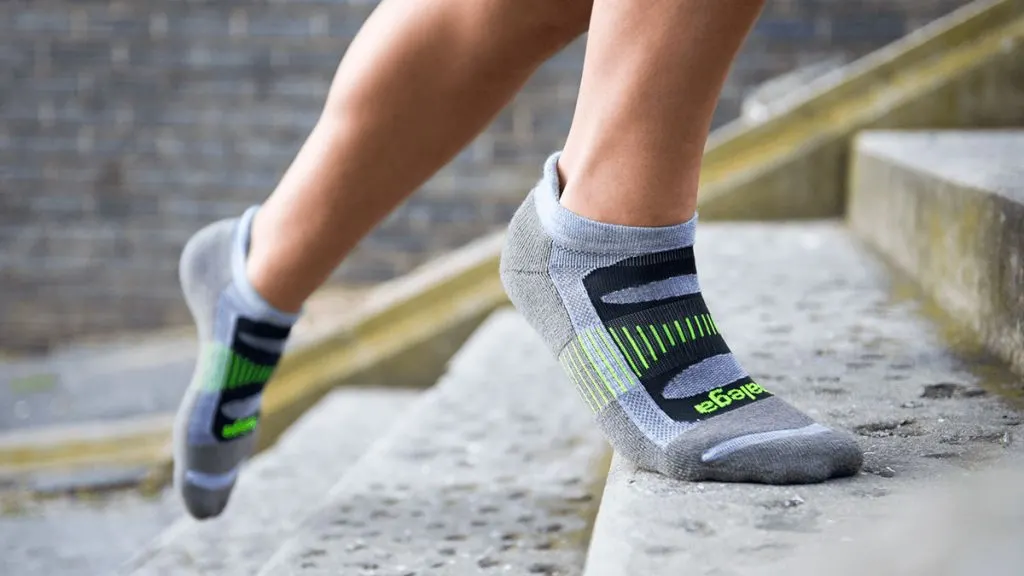 What are the qualities of trail running socks?
Trail running socks come with certain qualities that make them the socks of choice for a challenging terrain. Here are the best qualities present in trail socks:
Trail socks are supportive
Trail running socks offer a great support to your feet while they run, climb, or jump on challenging trails. They offer a certain amount of cushioning to bring down pressure from your feet.
Trail socks wick away moisture
Trail running socks are made using Merino wool and synthetic fibers. They help to wick away all the moisture and keep the feet dry in any weather.
Trail socks are comfortable
Trail running socks are made from breathable fabric that lets the air flow in and keeps your feet comfortable. The moisture-wicking and cushioning properties add to the comfort.
Trail socks are protective
Trail running socks protect your feet from blister eruptions. By forming a soft layer between your shoes and feet, the socks prevent friction due to rubbing of your feet against the shoes while running. They also protect the feet from bugs, rocks, and dirt.
How to choose the right trail running socks?
When it comes to choosing trail running socks, a majority of the runners tend to buy and wear casual sports socks and later, deal with the consequences.
You must buy the right kind of trail running socks for you before you hit the trail to protect your feet and keep it safe from wear and tear.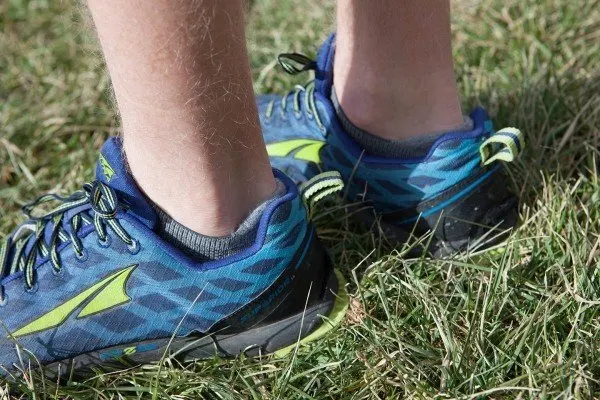 Here are some important things that you must keep in mind while picking the right trail running socks:
Running socks are generally measured in standard shoe size. You must buy a proper fit to keep your feet comfortable while running.
Running in socks larger than your actual fit can cause issues such as eruption of painful blisters and spots. Wearing smaller socks can cause constriction in blood flow, hinder the toe movement, and also, alter the running biomechanics.
You must confirm your foot size before buying trail running socks.
Fabric has a major role to play in defining comfort while running. Many runners tend to buy 100 percent cotton socks and this is the biggest mistake.
Cotton socks are great at absorbing and retaining moisture. They take a lot of time to dry and cause painful blisters. And, of course, you would not like to run in irritating wet clothes.
To avoid all the discomfort, you must buy the socks that are made from synthetic materials like polyester, acrylic or other materials that have sweat absorbing and quick drying attributes.
The socks made from synthetic material are bliss for your feet as they wick away the moisture, keep your feet dry, and prevent the eruption of blisters.
Furthermore, for cool weather, you must look for socks with wool blend that not just wick away the moisture but also, keep your feet warm in cool temperature.
The required thickness of trail running socks varies according to the condition you run in. If you intend to cover a long distance, you need socks with extra support and hence, you must buy socks with added cushions. For a short distance, lightweight socks would be perfect.
For running in cold climate, you must buy thick socks to keep your feet warmer and for a hotter climate, you require thin and breathable socks.
Also, you must keep in mind the shoes you are going to wear. While trying the socks, you must also put on your shoes to confirm the fit.
Pay attention to the style
The style of the socks you are wearing also has a part to play in determining your comfort. Trails with thick vegetation require knee length or crew length socks.
They do not let debris to enter your shoes, prevent insect bites and also, keep your skin safe from the scratches that might occur due to rubbing of skin against shrubs.
If blister eruption is common in between your toes, you must consider buying toe socks.
Compression socks have a massive fan-following accredited to advantages that they serve in the platter of the runner.
These socks help in enhancing the blood flow via graduated compression, boosting recovery, and preventing problems like shin splints and muscle cramps. However, sometimes, they can cause discomfort by becoming extremely tight.
Before you buy compression socks, you must confirm your exact size. Try them on shorter trails as they can cause swelling in the feet if you wear them for long.
If you keep these things in mind while buying trail running socks, you will always end up buying the most efficient pair of socks for trail running.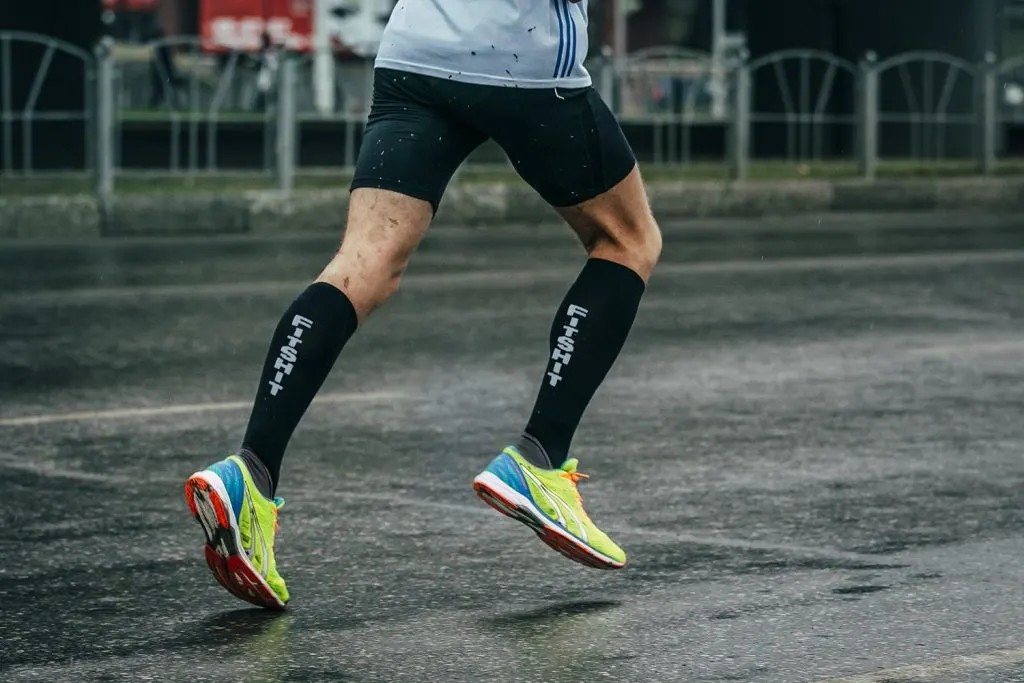 Best Socks for Trail Running 2018
Here, we have reviewed the best socks for trail running. Let's take a look at the features and specifications of each of them.
Balega Blister Resist Quarter Socks For Men and Women
Type 

 

Trail running socks

 

Price 

 

$8.25 – $21.58 (Check out the latest rates here!)
Fabric Content

 

49% Drynamix , 16% Mohair, 16% Wool, 3% Microfiber, 3% Neofil, 8% Acrylic, 4% Nylon, 2% Elastane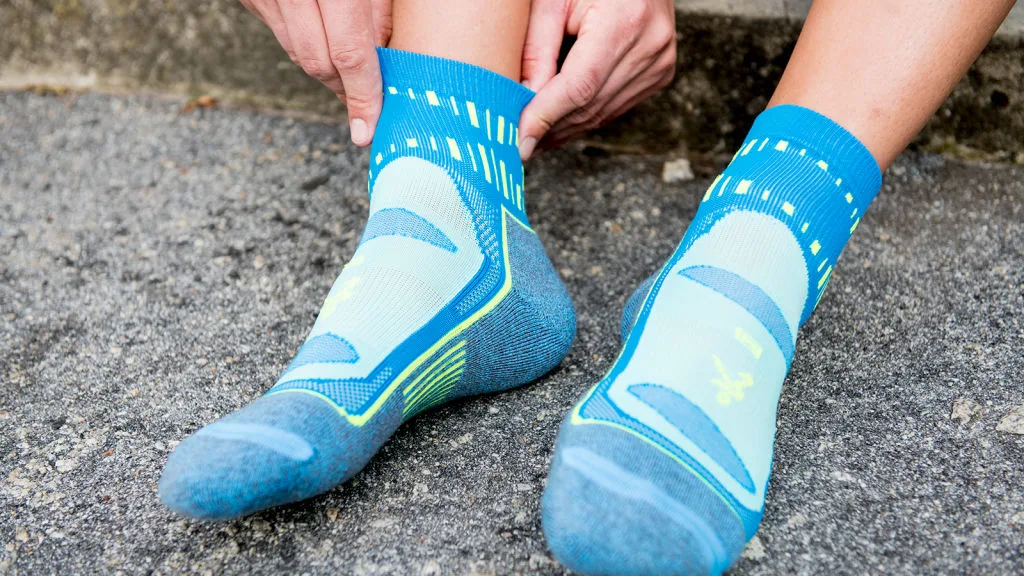 Notable Features
Blister resistant
A concoction of nature and technology
Moisture wicking
Keep feet cool during summer and warm during winter
Seamless Toe
Comfortable
Medium volume construction
Balega Blister Resist Quarter Socks are touted as one of the best socks for trail running. These socks are comfortable and offer an unmatched fit. They keep the feet dry and cool.
Drynamix, which is one of the major fabric constituents, helps in wicking away the moisture.
On the other hand, another fabric, i.e. mohair, helps in holding the moisture. This feature makes these socks perfect for any season, be it winter or summer.
The hand-linked seamless toe of these trail running socks keeps any amount of discomfort at bay. The high tab heel keeps socks in place.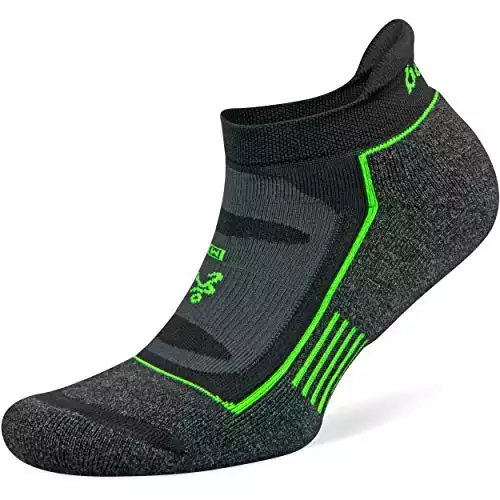 SmartWool PhD Run Ultra Light Pattern Micro Socks
Notable Features
Virtually seamless toe
Achilles tab
Light Elite cushioning
One of the most advanced socks by SmartWool, these trail running socks are packed with features.
The biggest highlight is the presence of a virtually seamless toe making the socks extremely comfortable.
The Light Elite cushioning present in the ball, as well as heel, helps in absorbing shocks. The ventilation zones keep the feet cool and dry.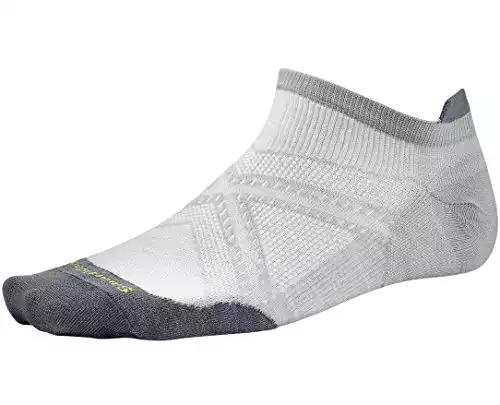 Injinji Women's Trail Midweight Mini-Crew Socks

Notable Features
Secure fit offered by a supportive band
Optimum toe protection
Moisture wicking material to keep socks dry
Ventilation on top
The best thing about these socks is that there is absolutely no skin-on-skin friction and hence, no hot spots and blisters. The socks are fabricated from moisture-wicking material and ventilation on top further keeps them dry.
The use of a supportive band offers a stable fit.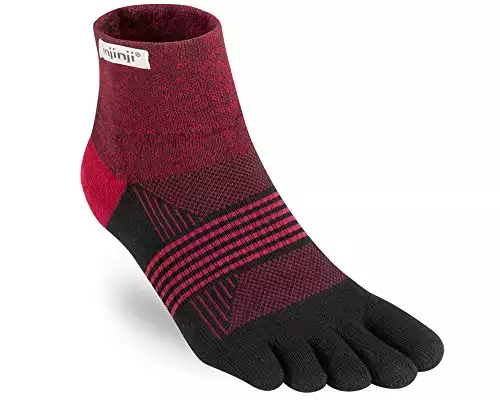 Drymax Run Hyper Thin Mini Crew Socks

Notable Features
Anti-blister system
Use of 3D ADVANCED FIT
Comfortable and durable
Multiple air vents to keep feet dry and cool
Drymax Run Hyper Thin Mini Crew Socks are laden with features. They are super comfortable and last very long.
Their durability can be attributed to the presence of special fibers that maintain springiness and keep the socks from shrinking or getting stiff.
The presence of multiple air vents keep the socks dry and cool by releasing sweat vapors. The socks are designed with the help of 3D foot models and hence, offer the best fit.
The Anti-Blister System prevents blister formation.
CEP Men's Progressive+ Compression Run Socks 2.0

Notable Features
The use of compression technology enhances circulation, performance, and endurance.
Comfortable and better fit
20-30 mmHg graduated + consistent compression
Presence of Halo-top band keeps socks in place
Comfortable, durable, and functional, the CEP Men's Progressive + Compression Run Socks are everything that a runner would want.
The medically tuned compressive yarns used in the socks offer optimum compression and so, the many benefits. The compression technology optimizes the performance by manifolds.
The socks adapt the shape of the feet and do not restrict the toes preventing blister formation. The graduated compression prevents muscle soreness, shin splints, and other injuries.
The design featuring Halo top-band keeps socks in place and the front ribbing keeps the feet ventilated.
So, what do you think?
No matter what, as a trailer runner, always remember that trail running socks are a must for you.
Proper trail running socks will protect your heel, handle moisture, and provide optimum comfort for long trail runs.
We've listed the best trail running socks available on the market based on customer choice.
Pick the one that best suits your requirement and prepare yourself for the most comfortable trail run ever.
We hope we were able to help you. If you have any more questions, you can write to us. We will get back to you as soon as possible.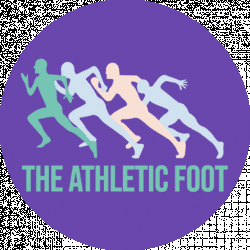 Latest posts by The Athletic Foot Team
(see all)