With Christmas just around the corner, have you prepared the list of gifts for your loved ones? Well, in case you haven't, and if someone at the receiving end is a runner, you're in the right place. We put on our thinking caps and compiled the ultimate guide to the five best gifts for runners to help you make some quick holiday season purchases.
5 best gifts for runners – We bet you'll love them!
Based on extensive market research and gifting trends, we've put together a list of five best gifts for runners. Let's look at them one by one.
Running Shoes
What could possibly be the most important thing for a runner? Well, their running shoes, of course! However, it's not easy to pick the best running shoes on the market, given the wide range of running shoes available. Nevertheless, why worry when we're here. After some quality market research and browsing through existing customer reviews and ratings, we found two great running shoes that can be gifted to any runner. Let's look at them one by one.
Nike Air Zoom Pegasus 35
Nike Air Zoom Pegasus 35 running shoes are a perfect concoction of efficiency and style. Touted as one of the best running shoes, Nike Air Zoom Pegasus qualifies as a suitable gift for runners.
These neutral running shoes can be worn daily and is the perfect everyday running shoe. The shoes come with a robust outsole made of BRS1000 rubber compound. The entire outsole unit is loaded with design features such as traction nodes, flex grooves, and rubber crash rail to name a few. Even the midsole unit of these running shoes is designed to keeping the needs of runners in mind.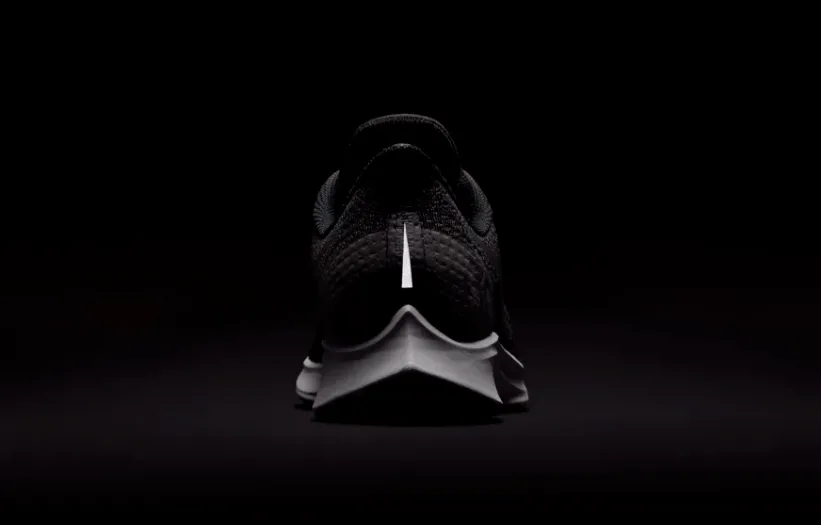 The midsole is made up of Zoom Air and Cushlon making it bouncy and enhancing its shock absorption qualities. The upper engineered mesh material offers good, as well as breathable coverage.
The reflective strip on the upper makes the runner visible at night also, these shoes are very comfortable.
Gift these shoes to a runner so that they can enjoy a safe and long run without any aches and pain.
The shoes are available in a plethora of color schemes such as teal/orange, red/grey, blue, black, grey/blue, black/grey/white, white/red/grey, and many others.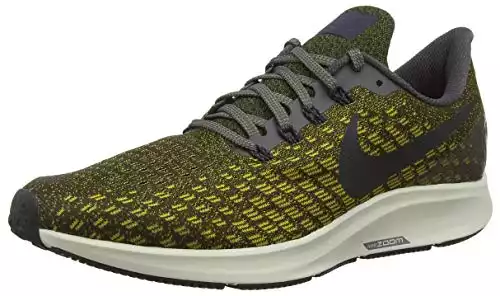 Saucony Peregrine 7
If your loved ones enjoy their time running through the trails, you must consider gifting them Saucony Peregrine 7 trail running shoes. These running shoes perform great even on the roughest off-road terrain.
The outsole of these shoes is made of PWRTRAC rubber material which makes it very durable against rough trails.
The brand uses its patented midsole technology, i.e., Saucony SuperLite Ethylene vinyl acetate or SSL EVA which is durable, responsive, and light in weight. The EVERUN Full-length Topsole provides springiness. The External Bedrock Outsole or EBO sandwiched between outsole and midsole offers optimum protection to your foot from trail debris. Apt underfoot cushioning is guaranteed with the incorporation of Premium Sock Liner.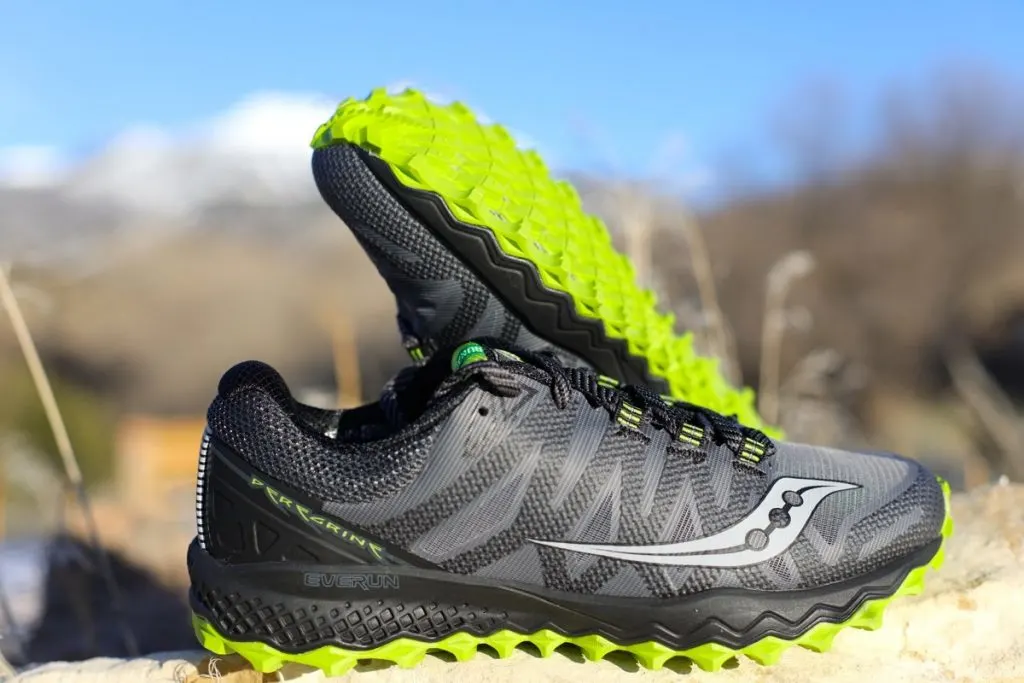 The upper unit of 'Saucony Peregrine 7' is fabricated using tightly-knitted mesh.
The structure of the shoes is maintained by TPU Skeleton which also ensures a comfortable and snug fit. The sturdy upper material protects the foot from debris or other objects that could hurt the runner and added protection is offered by the Gusset Tongue.
RUNDRY, which is a collar lining helps in wicking the moisture and hence, keeps the feet dry and comfortable. The external heel counter keeps the foot in place and prevents accidental shoe removal. The forefoot area is protected with the use of a rubberized toe tip.
There are many color options available such as red/navy, red/orange/blue, and grey/black/lime.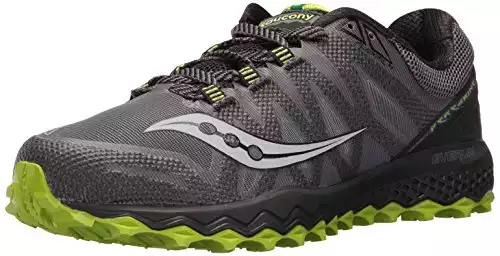 Wireless Headphones
Most runners enjoy listening to music while following their running regime. So, why not gift them a pair of high-performance headphones to make their daily running time a pleasurable experience?
There are many good quality wireless headphones available on the market that put many coming-of-age technologies at the forefront. With these headphones, you wouldn't need to detangle the wires before turning on your favorite numbers.
If gifting wireless headphone is on your mind, here are two best gifting options for you:
Plantronics BackBeat FIT 300
The Plantronics BackBeat FIT 300 headphones are one very good option for you to consider. Featuring a very light-weight design, these headphones are super comfortable to wear.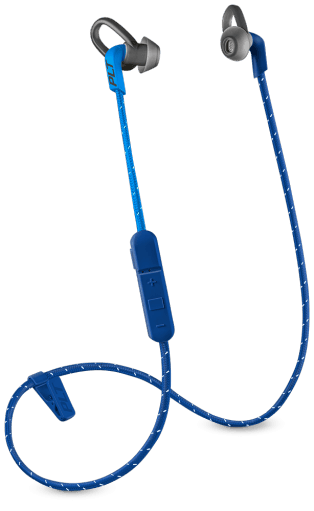 The use of the patent-pending secure-fit ear tips further enhances the comfort by taking off all the pressure. The ear tips, along with a long lasting battery power, allow you to listen to your favorite music for six hours non-stop. Moreover, you don't need to charge your gadget for hours and hours together. Charge them for just 15 minutes, and you'll be good to go.
Other features offered by these headphones include a 2-in-1 cable clip that keeps the earbuds in place while you indulge in running or any other fitness or sports activity. The noise-canceling feature makes sure that you don't get disturbed by the drivers honking alongside the road. The occlusive ear tip design ensures good sound quality.
One of the most celebrated features of these headphones is the presence of Sweatproof P2i coating which keeps your gadget safe even if you sweat profusely during your runs. The headphones are water-resistance, and so, you also should not worry about spills and rain.
These headphones are good-looking too. You will get four color options to choose from including black, blue, grey/lime, and grey/red. Pick the color combination your loved ones would cherish the most and surprise them this Christmas.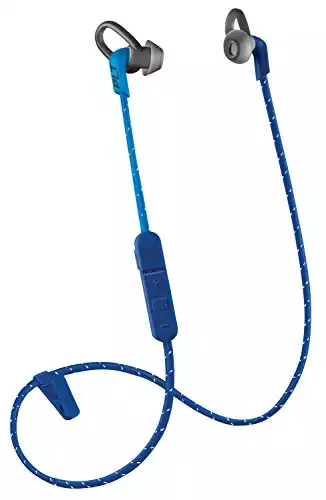 JBL Under Armour Sports Wireless In-Ear Headphones
JBL is quite a popular brand among runners and the JBL Under Armour Sports Wireless In-Ear headphones are trending big time among runners. Everything about these headphones is highly-rated by the existing customers.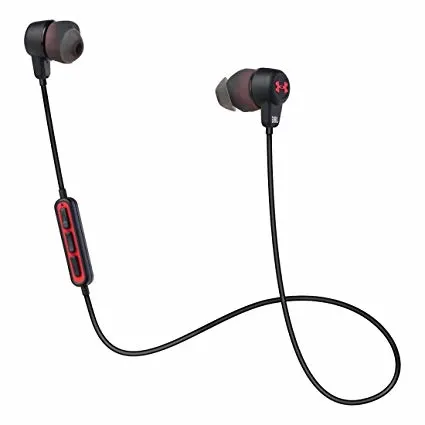 The headphones come with an in-ear design which provides a better and comfortable fit. The design also enhances the sound quality by directing music into the wearer's ears which means that the runner can enjoy uninterrupted, fine-quality audio throughout his run.
In a single charge, the battery lasts for up to five hours. You can connect the headphones with your mobile phone with a Bluetooth 4.2 interface. The wireless pairing makes it very feasible to stream music without any hassle. The headphones support HSP, HFP, AVRCP, as well as A2DP Bluetooth profiles. With in-line microphones, you can easily attend calls.
The headphones are available in two colors- black and white.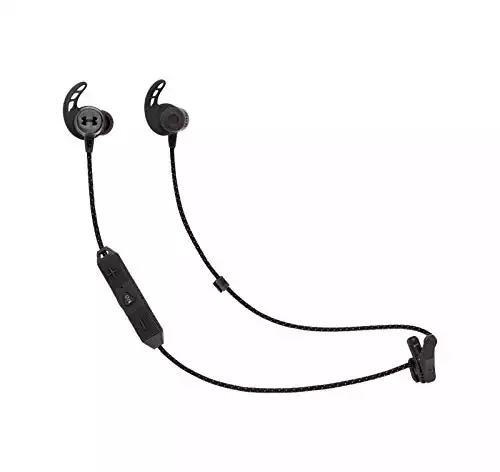 Compression Shorts
Compression shorts are a must-have for runners. Especially because of the benefits that compression shorts have to offer.
Besides improving the overall running performance, the shorts also help in regulating heart rate, oxygen distribution throughout the runner's body, blood flow, and aerobic threshold. They also help in toning the vibration of muscles while running along with reducing soreness in muscles and boosting recovery after running.
Given the benefits of compression shorts for a runner, you should definitely consider gifting compression shorts to your runner friends or family members.
Keep reading if you want to know about the best compression shorts available on the market:
2XU Compression Shorts
The 2XU Compression Shorts make a good gifting option for runners around you. These shorts are made of LYCRA-blend material.
The material offers an adequate amount of compression on many muscle groups including IT band, quads, hamstrings, abductors, and glutes. The medical circular 70 Denier knit fabrication ensures that you feel consistent pressure on your legs while enhances the endurance and power while running or performing any other physical activity.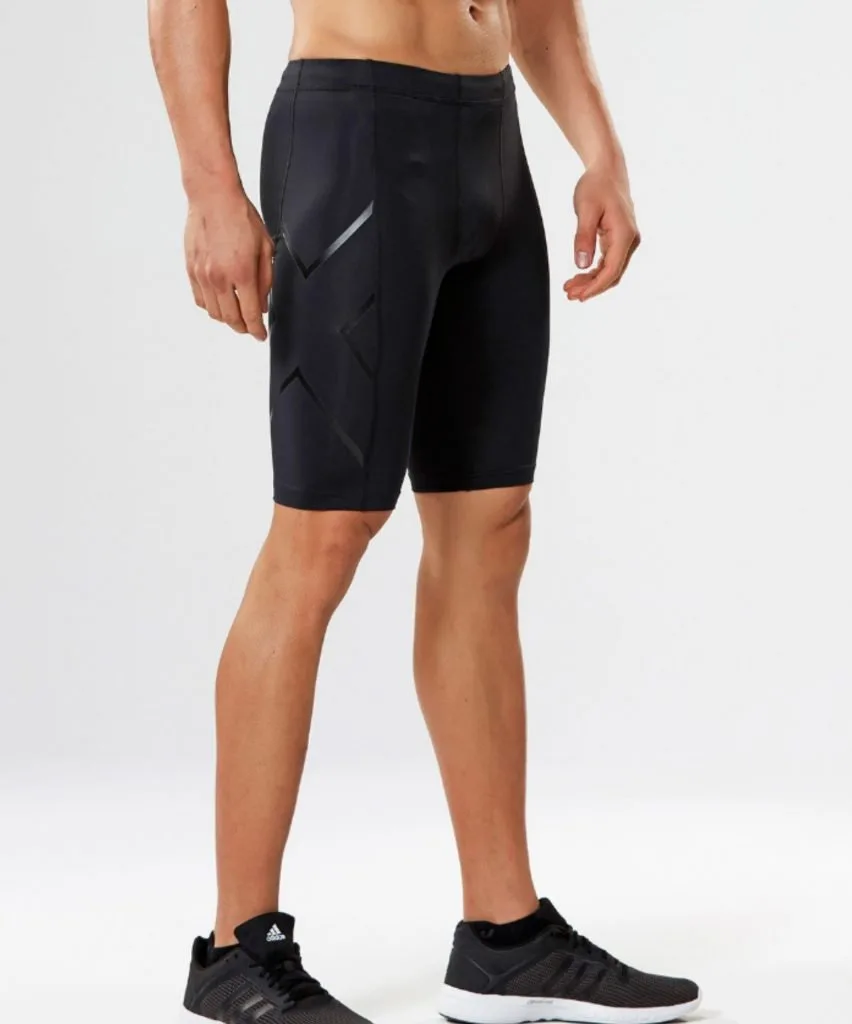 The shorts help in minimizing vibrations which keep the runner comfortable throughout the run and also reduces muscle fatigue, as well as damage.
The lightweight fabric falls very easy against the skin. It is very much breathable and keeps the skin cool and comfortable. The antibacterial treatment on the fabric does not allow microbial invasion.
The runner doesn't need to fear the sun while wearing these compression shorts as they are made of SPF 50 fabric.
These compression shorts are multi-purpose. One can wear them while walking, cycling, training, aerobic sports, water sports, while working out, climbing, hiking, and whatnot.
Under Armour HeatGear Sonic
Another Under Armour product in our ultimate guide to the best gifts for runners is the Under Armour HeatGear Sonic compression shorts.
These shorts are made from polyester and elastane which are very soft fabric and hence, optimum comfort is a guarantee. The runner can run without any inhibitions with the 4-way stretch fabric. The flexible fabric along with flatlock seams facilitates a wide range of motion without causing irritation, as well as chafing.
Another good quality of the fabric is that it very light in weight and wicks sweat and moistures. Hence, the runner can enjoy a long run without having to worry about sweat and irritation.
The shorts feature anti-odor technology and UPF 30+ which means no bad smell and optimum sun protection. The runner can run even in the scorching sun.
All of these things make Under Armour HeatGear Sonic compression shorts a good gifting option for runners.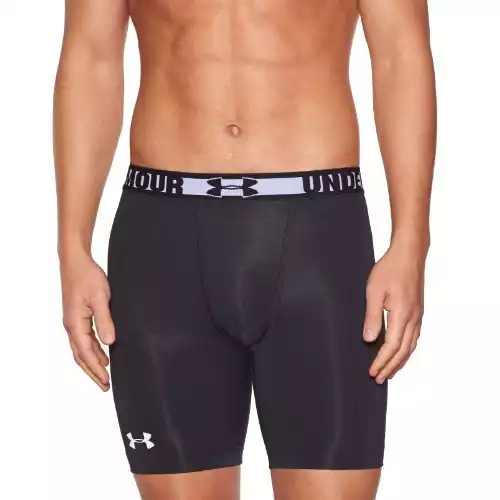 Running Gadgets
What could be a better gift for a runner than an innovative fitness gadget built on the latest technology? These days, a majority of the runners carry fitness or running gadgets that help them keep tabs on their performance.
If you are looking for a unique Christmas gift for a passionate runner in your family or friend circle, here are two of the most popular running gadgets on the market currently. They're trending big time and runners all over the world are simply loving them.
Lumo Run Sensor
Using the Lumo Run Sensor is a good way to boost the running performance, as well as speed. The best thing about this gadget is that you can gift it to a novice or an experienced runner. Both kinds of runners are will have a great time with this running gadget.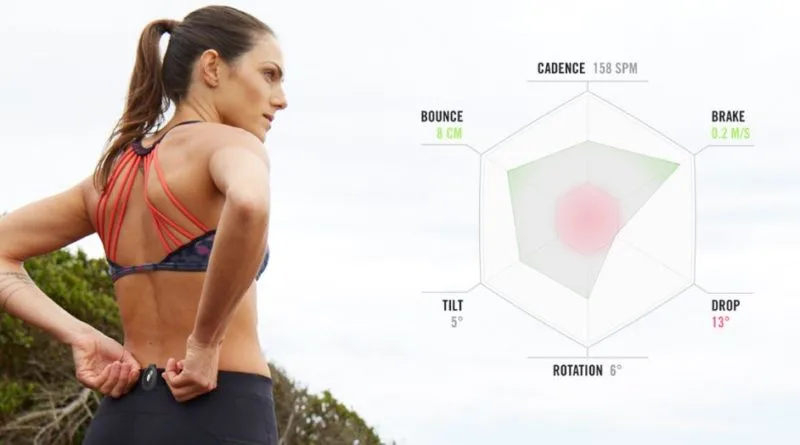 The running sensor is compatible with iOS, which means, to use this device, one would need an iPhone. This somehow restricts the use of this excellent gear. It is only 25 grams in weight. It offers twenty days run time.
With the gadget, beginners can easily learn the correct ways to run while; the seasoned runners can improve their pace without any fear of injury. It tracks the run and analyzes it on the parameters of form and performance. It collects the essential statistics like steps per minute, pelvic movement, bounce, and the number of brakes applied with every step.
The data is sent to the app which can be retrieved after the run. The gadget comes with seven sensors including a gyroscope, accelerometer, as well as a vibration sensor.
Based on the data retrieved after every running session, the runner gets personalized recommendations. It keeps the track record of the runners and helps them analyze their improvement.
The device helps the runners to understand their moves so that they can bring improvements. The runners can take coaching while running to bring about immediate changes in their gait and style.
Lumo Run Sensor
Buy Now
We earn a commission if you click this link and make a purchase at no additional cost to you.
Joby GorillaPod Magnetic
Who doesn't like clicking selfies? Joby GorillaPod Magnetic is a fun device that allows runners to click their pictures while they run.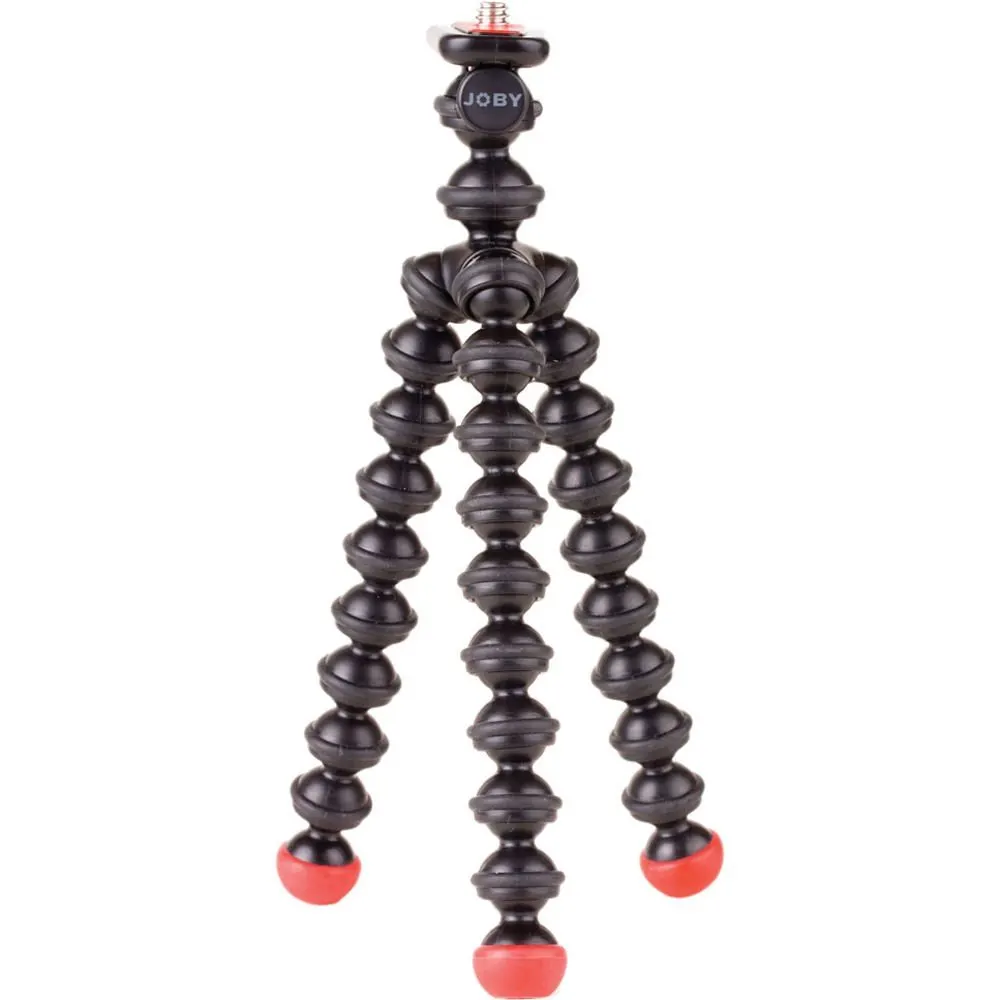 It is a perfect gift for the runners who are active on various social media platforms and love posting their pictures from the track.
The mini magnetic tripod has bendable arms, as well as robust magnetic pods. The tripod holds phones allowing you to take as many pictures as you want on the move.
The joints are flexible and clench various surfaces. The presence of rubber foot grips does not let the tripod slip.
The tripod is 60 grams in weight and 15 cm in length. It is easy to carry it anywhere.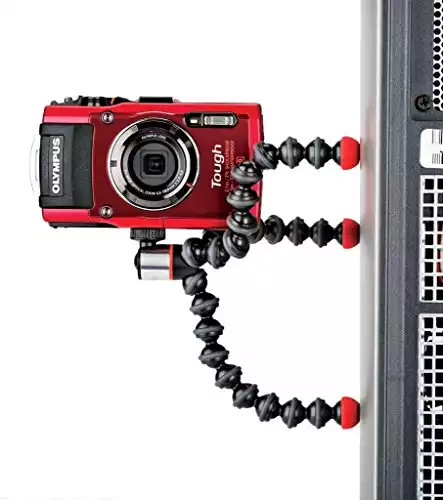 Compression Socks
Runners often experience soreness and pain in their feet, as well as legs. Wearing compression socks while running can help them minimize the soreness and pain. This makes compression socks a good gifting idea for runners.
Check these two top-rated compressions socks:
Zensah Tech +
Zensah Tech+ compression socks offer optimum comfort to the runner while they're indulging in short distance or long distance running.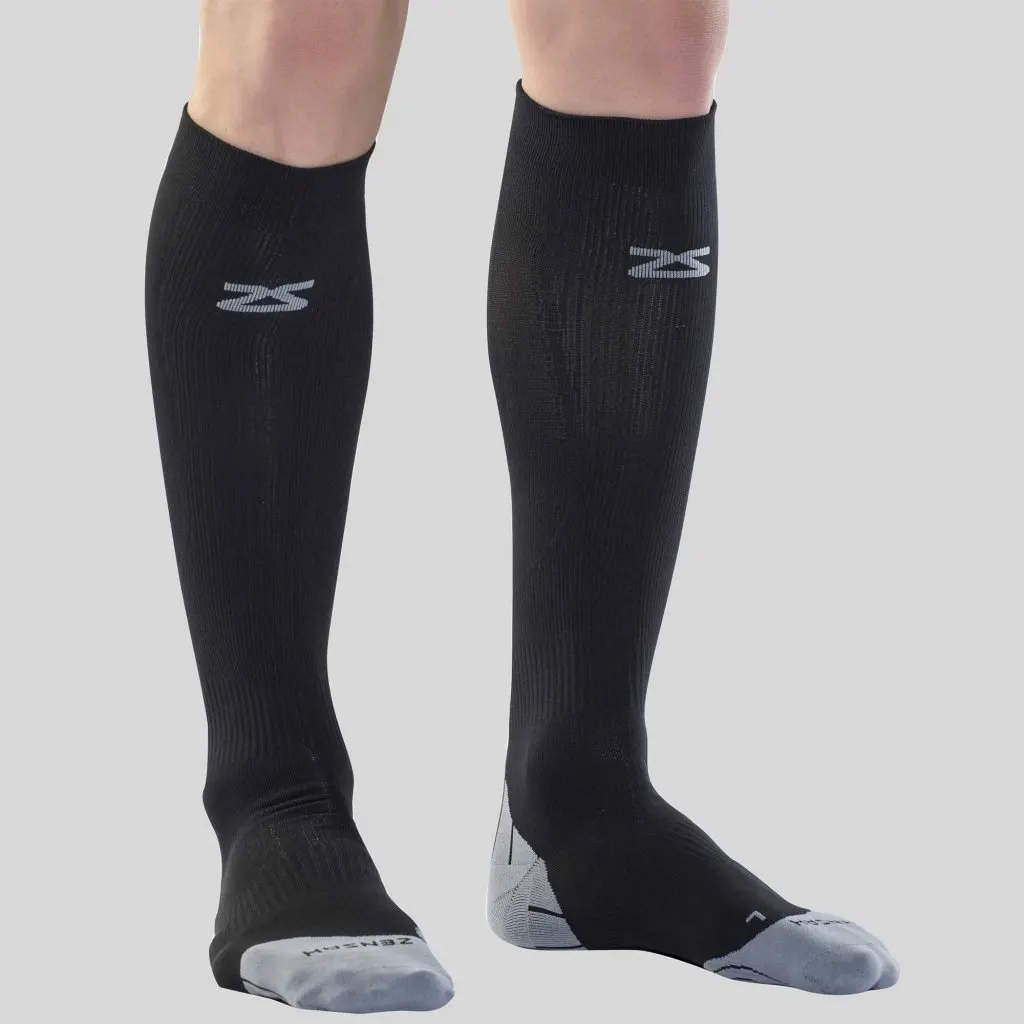 They also provide adequate support. Made of 200 needle count fabric (polyamide and elastane), the socks are very breathable. The moisture-wicking property of the fabric keeps the moisture away and also helps in regulating the temperature of legs and keeping them warm.
The seamless toe construction makes sure that the runner could run in them without having to deal with blister eruption. Support and comfort are enhanced by a padded toe. They also prevent swelling of legs.
The socks boost circulation with the help of graduated compression. They provide support to the shin, calves, and ankle. Furthermore, the arch and ankle get support from the Ultra Ribbing Zone.
These compression socks are extremely durable. They are available in many color options including black, electric blue, white, neon yellow, neon pink, neon green, neon orange, coral/mint/purple, aqua/yellow/purple, red, black/yellow/blue, etc.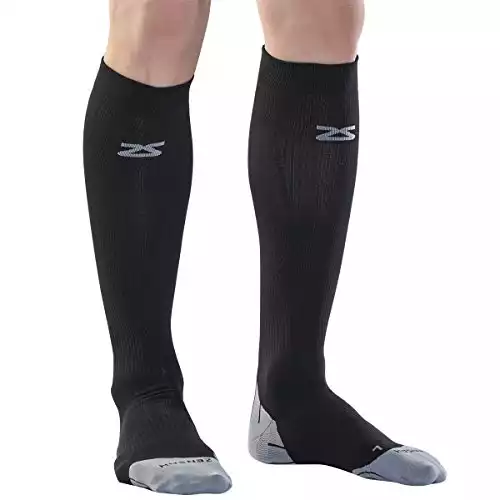 MudGear Premium Compression Socks
Last but not least, we have the MudGear Premium Compression Socks on your gifting options list for runners.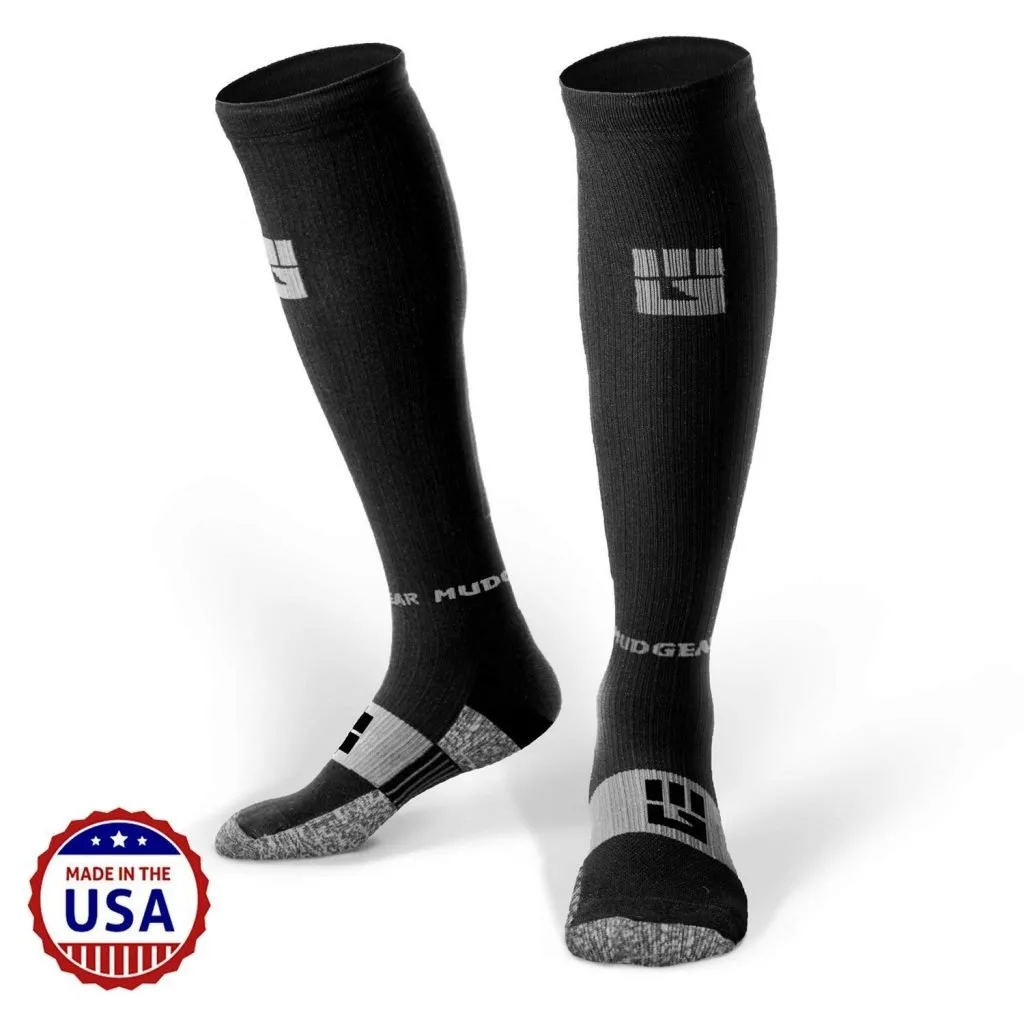 These socks can become a perfect gift for runners who are fond of obstacle course racing. These socks offer great protection to the legs and feet from the abrasive environment of the obstacle course. The fabric and design of the socks enable them to take on the harsh environment without breaking down. They also feature an extra padded layer to protect the lower leg from obstacles and debris. The padding prevents the legs from bruises and cuts.
The material is robust and durable. They are made of a breathable fabric that wicks moisture making the runner feel light, easy, and dry.
These compression socks provide 15 to 20 mmHg compression on the legs and feet. The pressure is more abound the ankle and tapers as it reaches the calf.
One noted feature of these compression socks is that they help in bringing down muscle soreness and pain post run. They also boost post-run recovery.
Apart from using them for running, the wearer can use them for other sports activities too, such as soccer, ski, motocross, ice hockey, as well as field hockey.
These socks are also available in many color options ranging from pop to subtle. The color options include black/grey, black/orange, green/black, pink/grey, blue/red/white, black/blue, and red/white.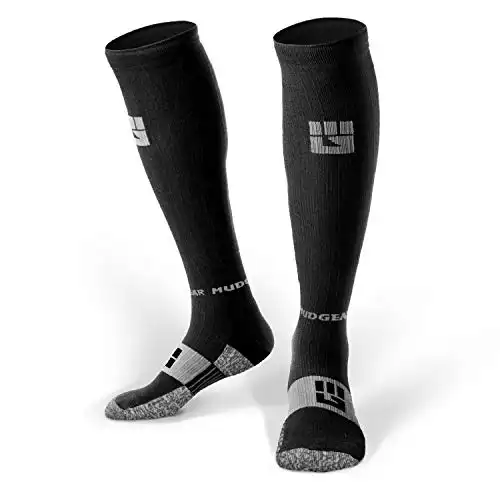 MudGear Premium Compression Socks | Amazon
Tested by top trail runners and outdoor athletes, the full-length MudGear Premium Long Compression Socks were over-engineered to be tough and prevent nasty gashes caused by rope traverses and painful slides across other obstacles during Obstacle Race competition.
Buy at Amazon.com
We earn a commission if you click this link and make a purchase at no additional cost to you.
02/07/2023 09:10 pm GMT
So, what do you think?
Now that we've provided you with five interesting gift options for runners, have you been able to pick the best ones for your family or friends? Finding a suitable gift for a runner can be a daunting task. But, now that you've identified the best gift ideas for a runner, you can make an informed decision. We hope our ultimate guide to the best gifts for runners helps you pick the right gifts for your runner pals or family members!
Further reads: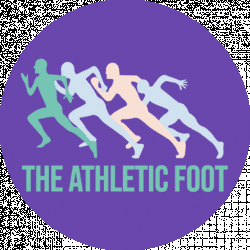 Latest posts by The Athletic Foot Team
(see all)